This may be quite possibly the longest revamp in the history of the world. I first mentioned on stories that I was going to give our bedroom a bit of an overhall back in April, a whopping 5 months ago. I'm usually a 'think of it today, doing it tomorrow, completed it by the next day' kind of gal but unfortunately the covid pandemic has played absolute havoc with supply & stock issues across the UK (which makes my job 100% harder when sourcing for clients over at www.interiorsbycharlottevalentine.com!) so things have taken a little longer than anticipated. I'm actually still waiting on the room to be recarpeted!
We hadn't repainted this room since we moved in over 6 years ago so it was in desperate need of a refresh…the perfect excuse to give it a bit of a makeover & try out a new look.
This whole room was actually inspired by two 'hero' pieces above, which I bought because I saw them when sourcing for clients & they were too much of a bargain to pass up, although I had no idea where actually they'd go. These were the two massive ribbed lamps & the 4 large framed leaf/plant prints. I designed the space around these as my starting point.
First up, I decided to add some tongue & groove style panelling to the back wall behind the headboard to add interest & that all important depth. I wanted something wide & chunky so it didn't look too busy, but couldn't find any premade routered MDF boards (like the EASIpanel we used in our ensuite) that were big enough as our ceilings are really high. I called upon Steve, our carpenter who did the panelling in our hallway towards the end of last year to cut some sheets of MDF which he then attached to the wall. This actually worked out cheaper too & I had control over the width, depth & overall look I wanted to achieve.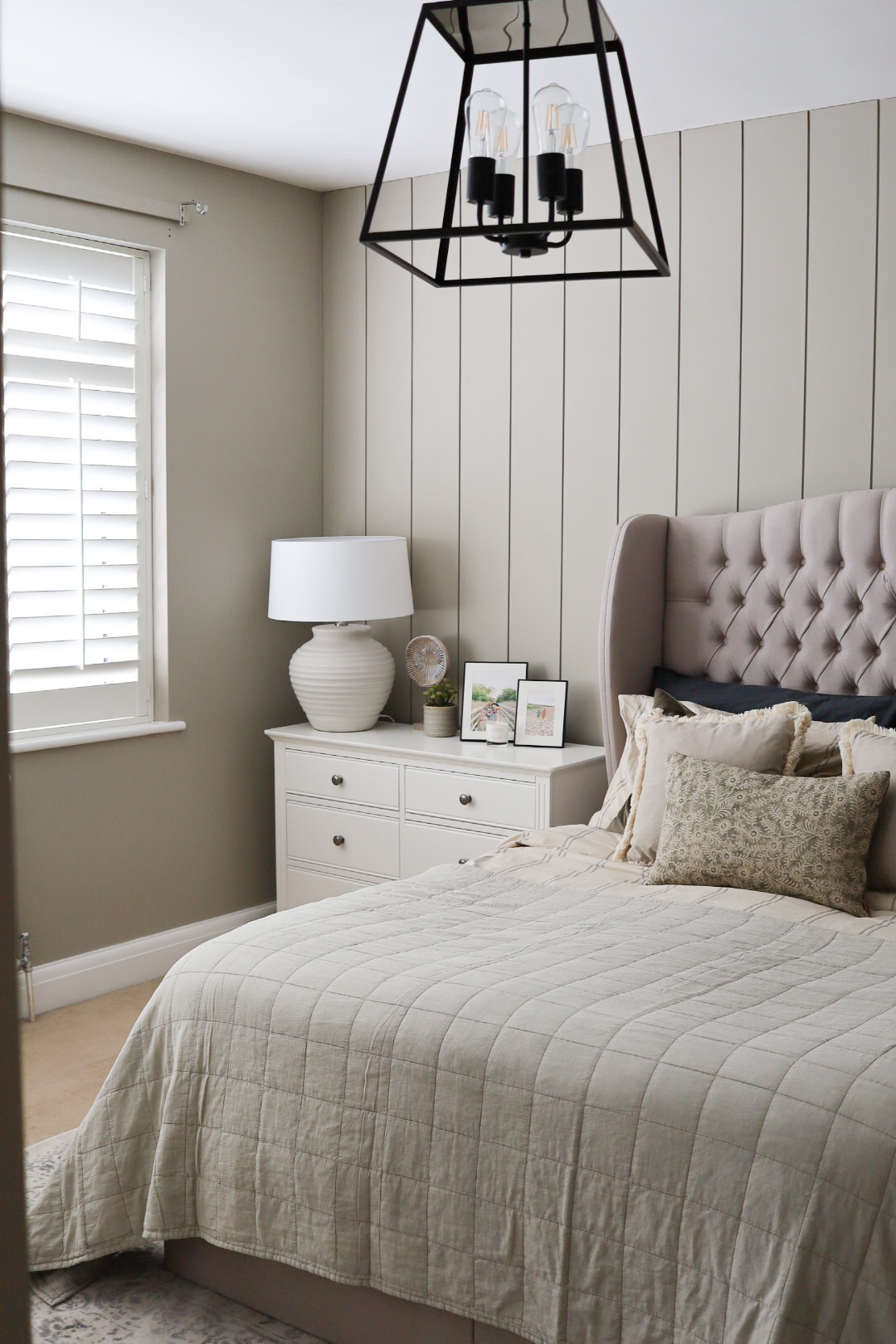 It obviously looked very wooden so with a couple of coats of Zinsser BIN to seal & prime, I was ready to add some colour.
This is a south facing room with a huge window so I decided to go for something a bit darker than my usual bright, light, neutral look & went on a hunt to find the perfect olive sagey-grey green paint…which was easier said than done & I think I tried out about 15 tester pots. In the end, I still wasn't 100%, but after looking at lots of pictures across Instagram & Pinterest, decided to jump head first & ordered 5L so there was no turning back. Half way through I had some serious doubts but persevered & even when it was done I wasn't sold but then once the furniture was put back in & lots of green accessories added, it turned out exactly how I wanted it & I LOVE the colour. It's a mix up of F&B 'Hardwick White' from Decorating Centre Online. It sometimes looks grey, other times looks green, but most of the time it's the perfect inbetween.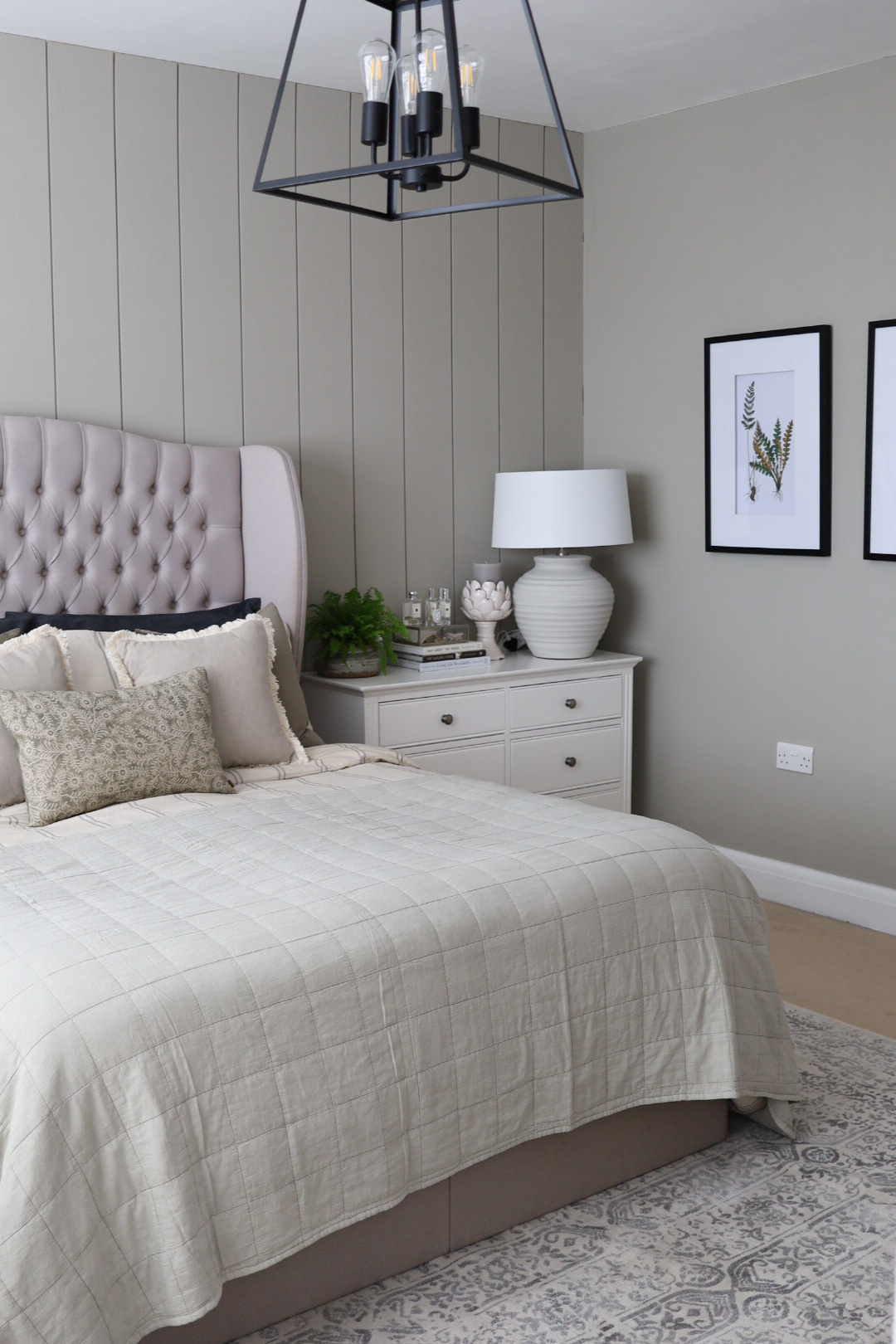 Bedrooms are one of the most important rooms in your home because, after all, we do spend 1/3 of our lives asleep. It needs to be the perfect place to relax & unwind after a busy day, where you feel peaceful & calm. Green is a brilliant colour for this space as it represents nature, growth & safety. Actually, Dulux conducted a study in to bedroom paint colours & green come out top as the most restful to induce the best nights sleep.
Furniture wise, we sold the french style set which included bedside tables, an enormous triple wardrobe & chest of drawers, instead opting for two chest of drawers which fit perfectly either side of the bed. These are the Banbury White from Chiltern Oak Furniture. I have one on my side & Joe has one on his side. We actually don't have a huge amount of clothes & are folders rather than hangers so losing the wardrobe wasn't an issue plus it opens up the space so much more.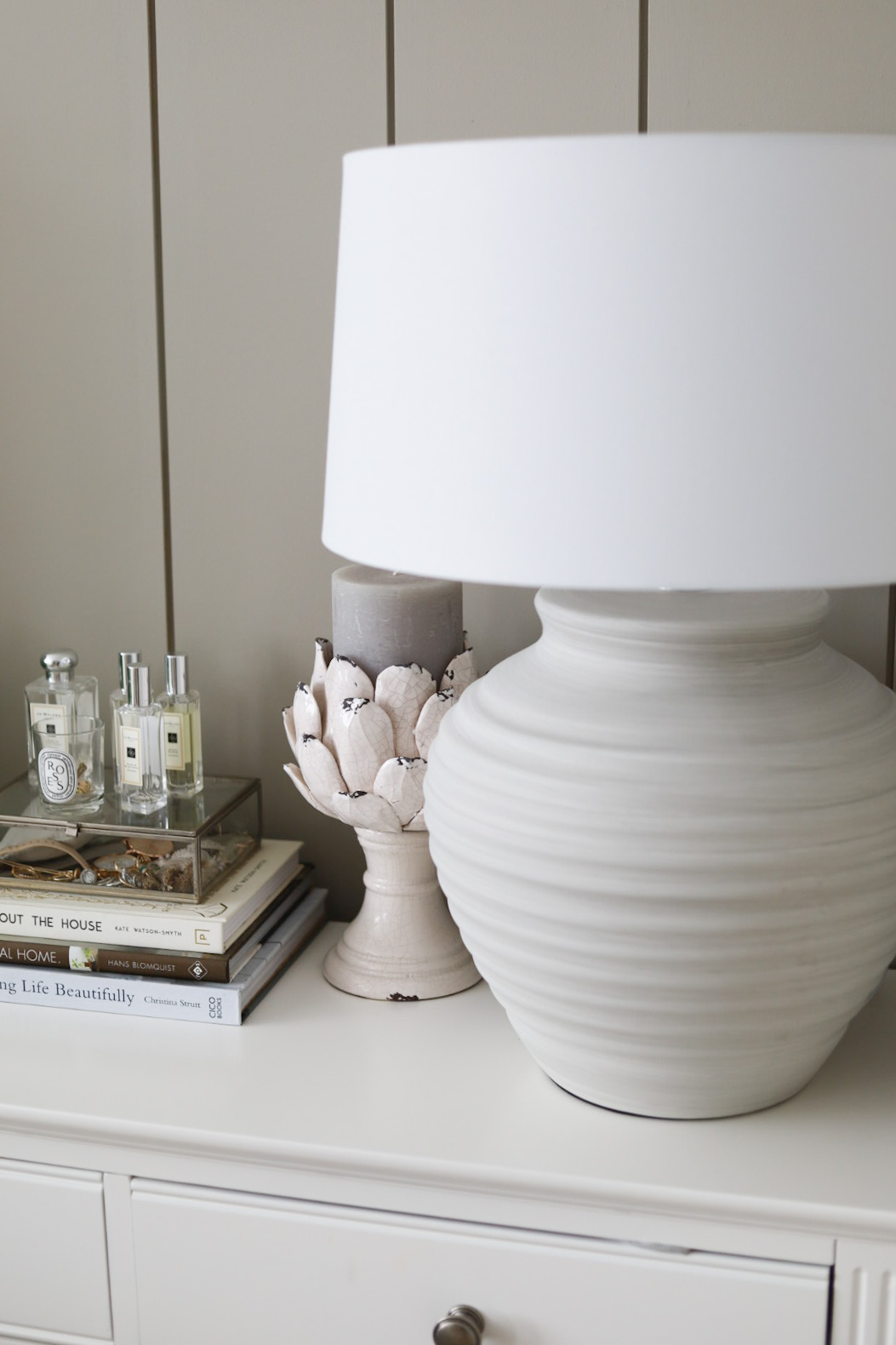 We also kept our bed frame which is amazing for storage as it lifts up so anything additional like shoes/bags/seasonal lives under there happily.
Having chest of drawers means lots more surface space in order to place my two bargain lamps which as I said, were my starting point when designing this space. They were in the 50% off sale from Oak Furnitureland & called the 'Durban'. I paid £60 each. When I linked on IG they sold out immediately but are now back on the website under 'Hambleton' down to £90 (again in the sale, RRP £180).
I also styled the tops with some bits I already had including some 'coffee table' books, a jewellery box (old The White Company), a boston fern in this Neptune pot (which I have miraculously kept alive for about 2 months now), some black frames, a little artificial plant which was a Homesense find, a candle & this wooden ornament which was £1 in B&M!
Bedding wise, I went to H&M Home in London a few weeks ago & annoyingly some of the bits I bought are out of stock on the website but you can sign up for stock alerts. The duvet cover set is linked here & I also added in some dark grey pillowcases behind for some contrast.
The dark green velvet cushion covers at the back are here, then you'll see a little sneak peek of my very own range of cushions I've designed & have been working on behind the scenes with textile designers A&H Wills…this is one of the fringed beauties that works so well & adds that all important texture. These will be available in the next couple of weeks!! In front is a rectangle 'Orla Moss' from Neptune.
At the end of the bed to layer is this quilted bedspread which is actually beige but I think the green walls bring out more of a green tinge in certain lights.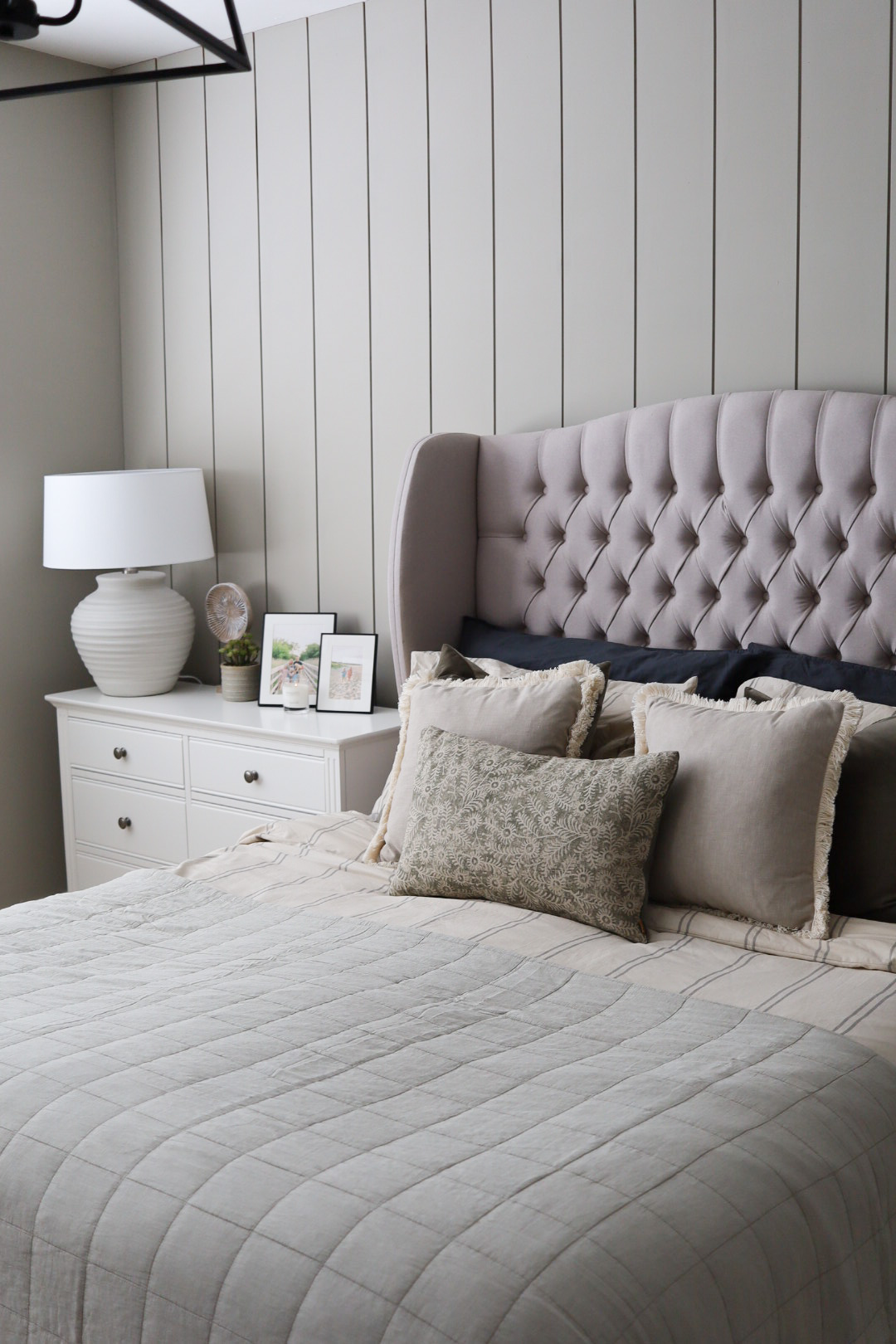 As much as I loved the old rug, it was impossible to keep clean with it's super deep pile & almost knitted texture with little gaps. I wanted something a bit different & a bit of pattern so found this bargain which was £110 for 200x300cm. It doesn't have the same weight so needs to settle & lay properly (hence the little bumps in the photos) but at that price you can't go too wrong & over time it'll flatten, plus when we get the new carpet fitted it'll be easier to move the bed.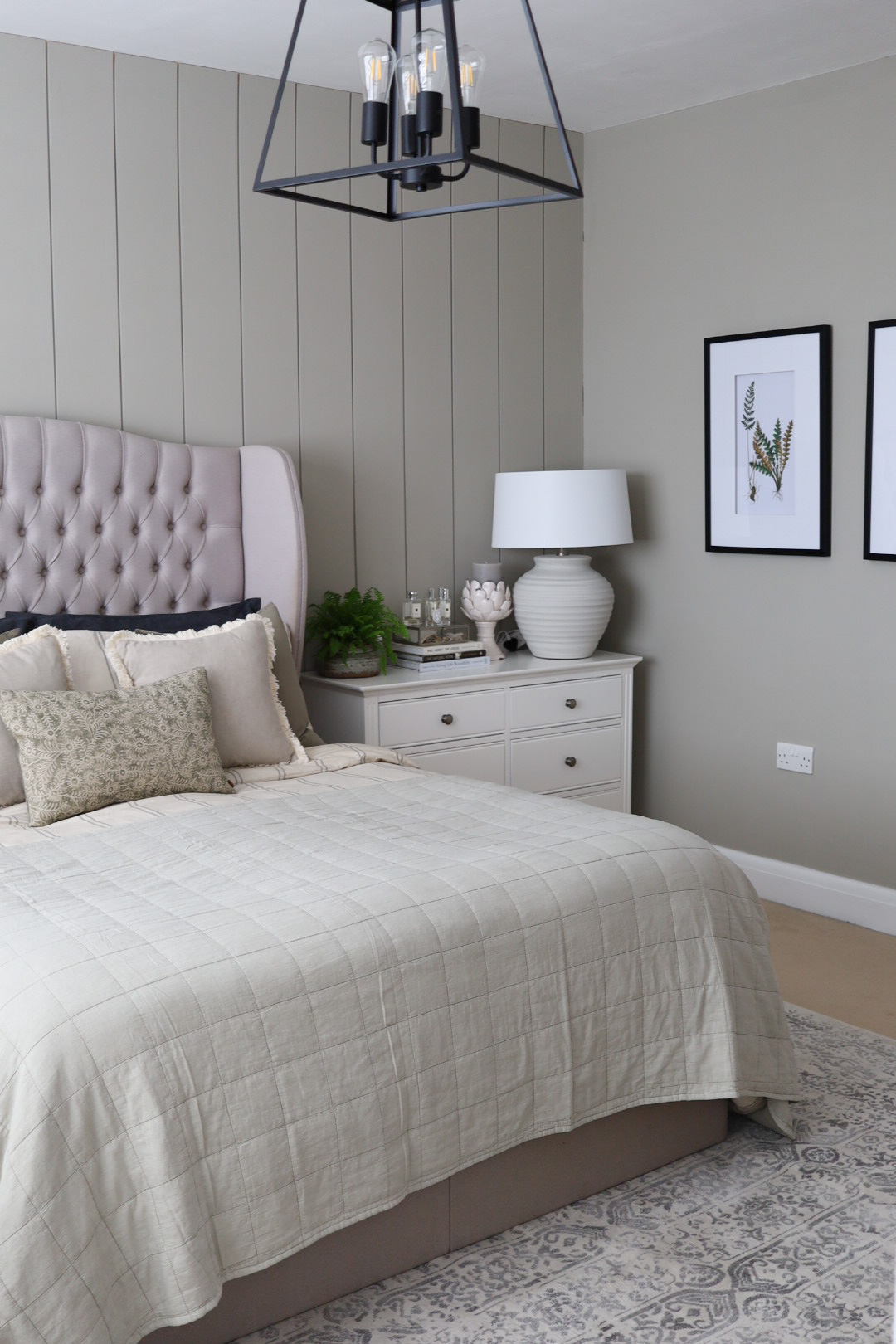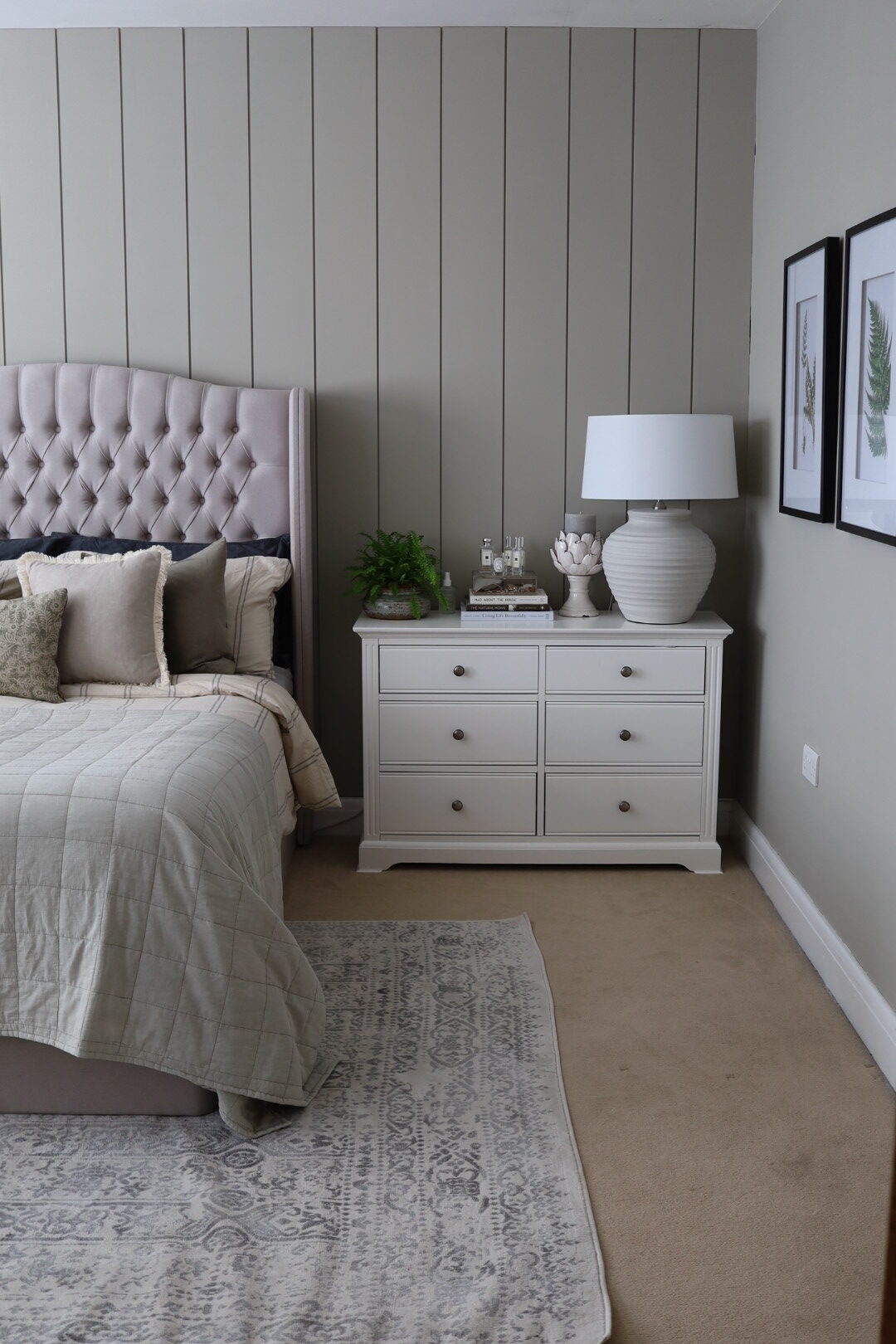 I kept the existing mirror which fills this wall next to the door into the ensuite nicely & the beaded detail adds another texture.
The 4 black framed leaf/plant prints which take up the whole right wall (previously taken up by the wardrobe & chest of drawers) were found on a random outlet website & a bargain at £120 inc P&P. They are 50x70cm each & were again one of the pieces I bought & had nowhere for so this room was designed around. I've hunted high & low for them to link on here & even trawling through my emails I can't find where they were from which I know is going to break a few peoples hearts. I'll keep my eyes peeled & update as/when – I'm sorry!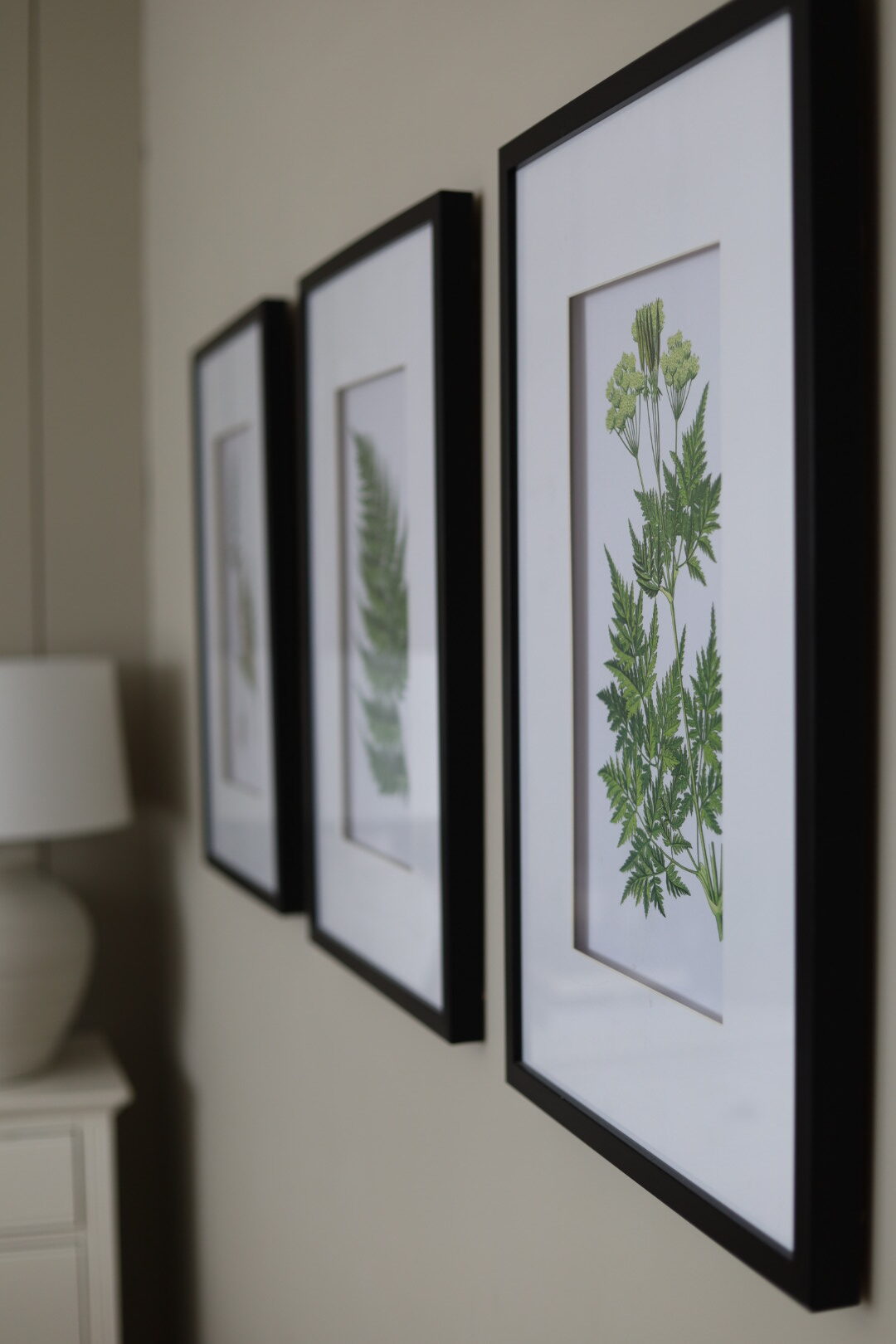 I still loved the light fitting, but wanted to tie in more of the black elements from the frames so decided to replace it with this DAR lighting 4 light lantern. As with a lot of things at the moment, I did have to preorder it & it took a couple of months to arrive but I absolutely love the contrast. The fancy filament bulbs finish it off beautifully, these were from here.
I moved the artificial olive tree (Neptune but discontinued a long time ago unfortunately) in wicker basket up from downstairs which sits in the corner next to the window & adds another touch of greenery.
I am super pleased with the finished look & excited to show you all. It's come together beautifully & has made such a difference to the feel of this space.
Love,