It's been a whopping 9 months since I last wrote a post on here & so much has changed since then…mainly the fact that we have MOVED!! & not just down the road either, we made the spontaneous decision to relocate & swap the beautiful beaches of Bournemouth for the rolling fields of Somerset & countryside life.
I'm going to go in to the whole moving process & our decision in depth another time, but for now, I have an (almost….) finished room ready to show you guys & she is a beauty. The rest of the house is pretty much upside down at the moment whilst I pour blood, sweat & tears in to renovating but this is such a peaceful, calm space that means we can close the doors (which do need to be replaced but they can wait) & almost pretend that everything is done for a second.
This is what this room looked like before which actually really wasn't too bad & apart from cosmetic changes, it's been quite an easy transformation.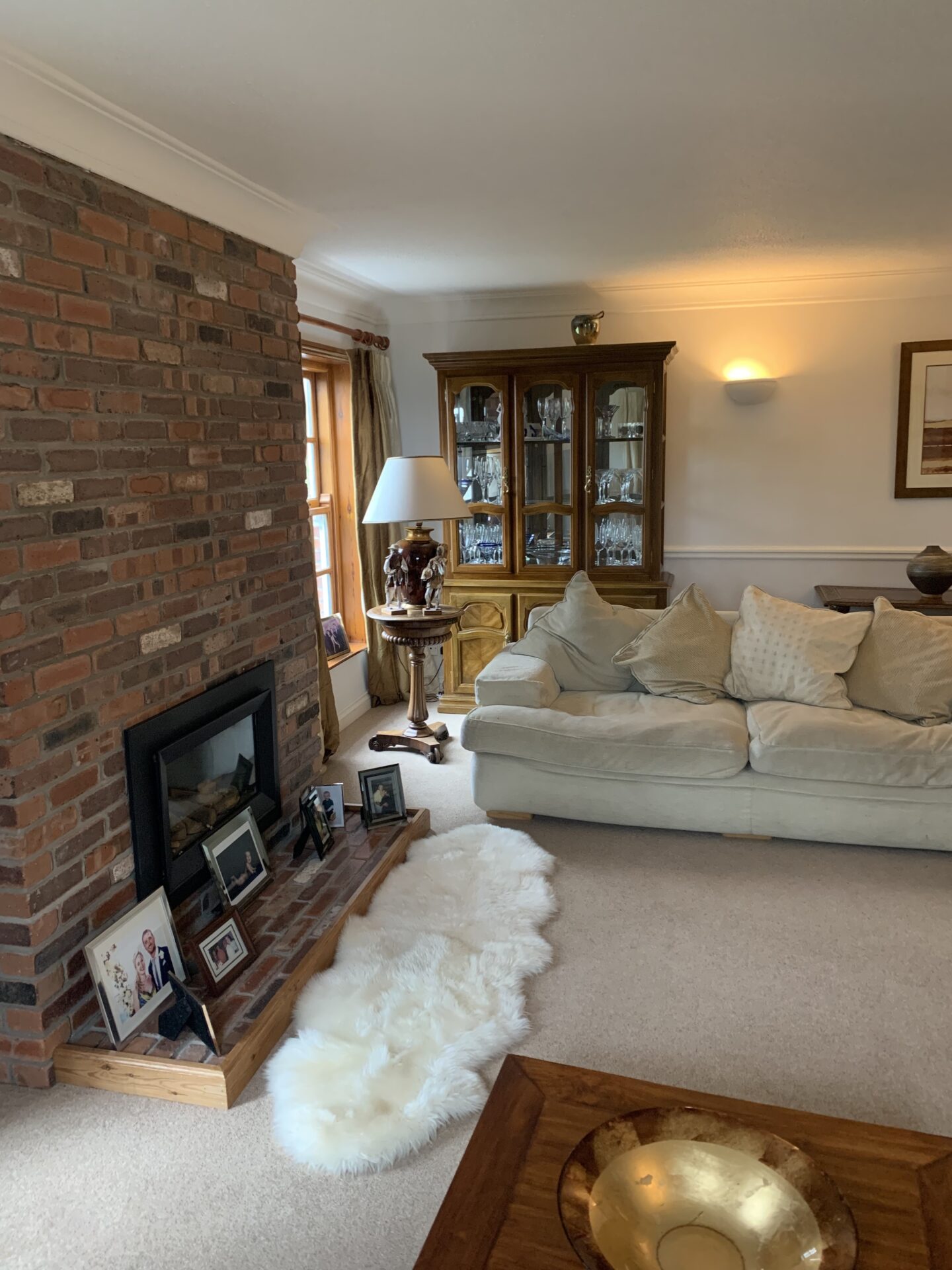 Within about 30 minutes of being handed the keys, I had taken down the curtains which blocked out so much light. We also cut down a large bush in an overgrown area which covered the left window out the front that instantly brightened up the space.
The first thing I did was had the existing gas fire (which was broken…) capped off & removed. We then had a hole cut out in the chimney breast ready to put the Dimplex Sunningdale from our old house put in. I was tempted by a real log burner but at the moment it's not a priority & isn't in the budget so this electric alternative looks the part for now. A handyman took out the bricks opening the space & then put a lintel in to support. I would have liked this gap to have ideally been slightly bigger but the chimney construction meant that wasn't possible so it just about slides in.
We then had the ceiling plastered as all the ceilings are 'popcorn' artex. Once this had properly dried after a few days I did a mist coat (70% paint with 30% water), left that for 24 hours then did 2 coats of Dulux brilliant white including the coving.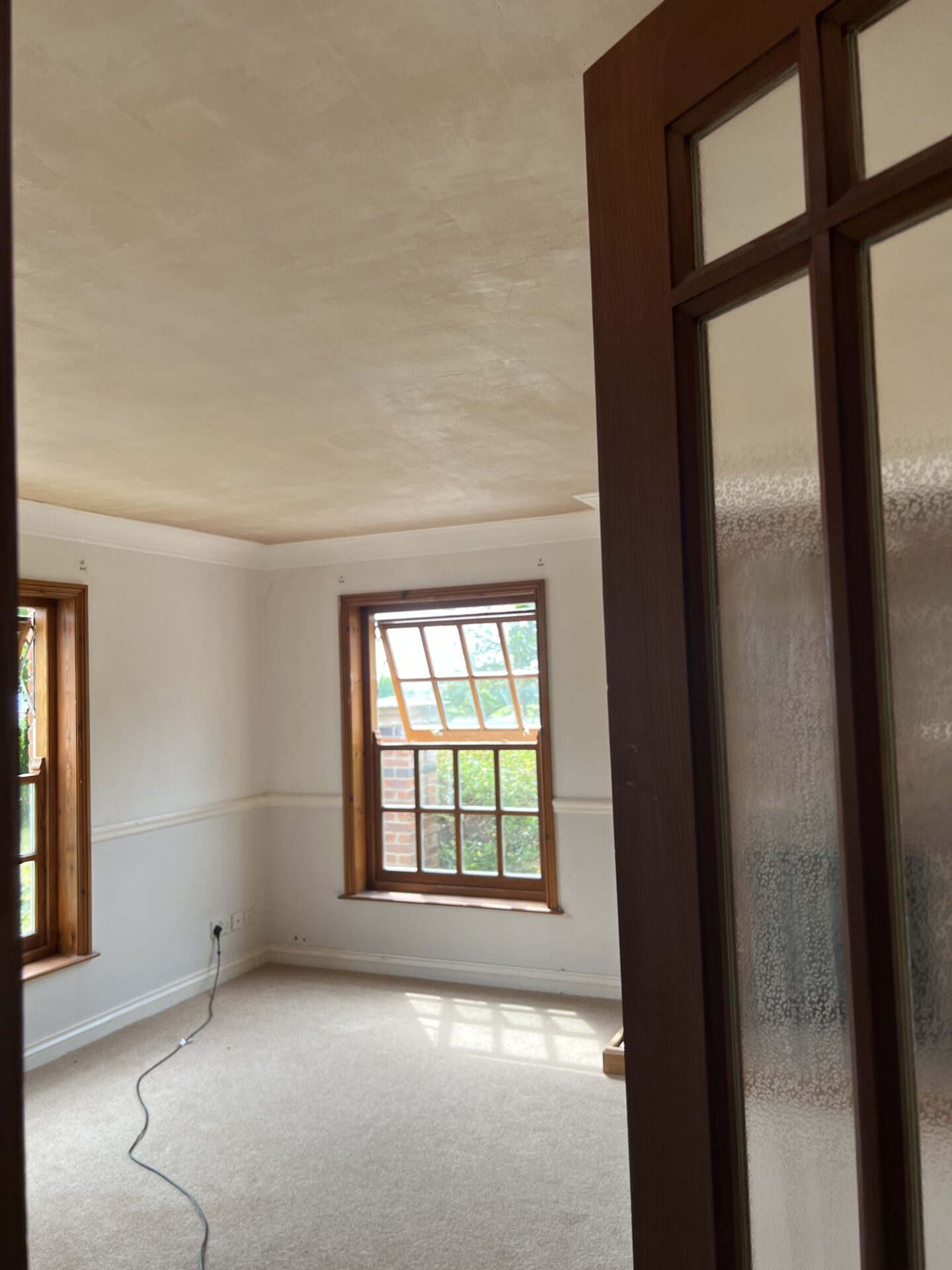 Once the ceiling was done, I got on to painting the windows. All the internal windows in this house are that lovely orange wood so first 2 coats of Zinsser BIN which I absolutely swear by, this primes, seals & stain blocks to stop any orange grinning through & creates a surface for paint to stick on to meaning less prep work & awful sanding back. I then did 2 coats of Dulux trade satinwood, which to be honest I bought by mistake & wasn't massively impressed with so wouldn't use again. Water based is so much easier than oil so eggshell all the way in future!
I then painted the walls, first using Dulux Almond White which I used throughout the open plan dining/kitchen/living in Baylyn House, only to find it looked super magnolia so I ended up repainting the entire room in the next tone down which is Dulux 'Jasmine White'. This is a lovely warm white, without being too yellow (I'm looking at you Almond…).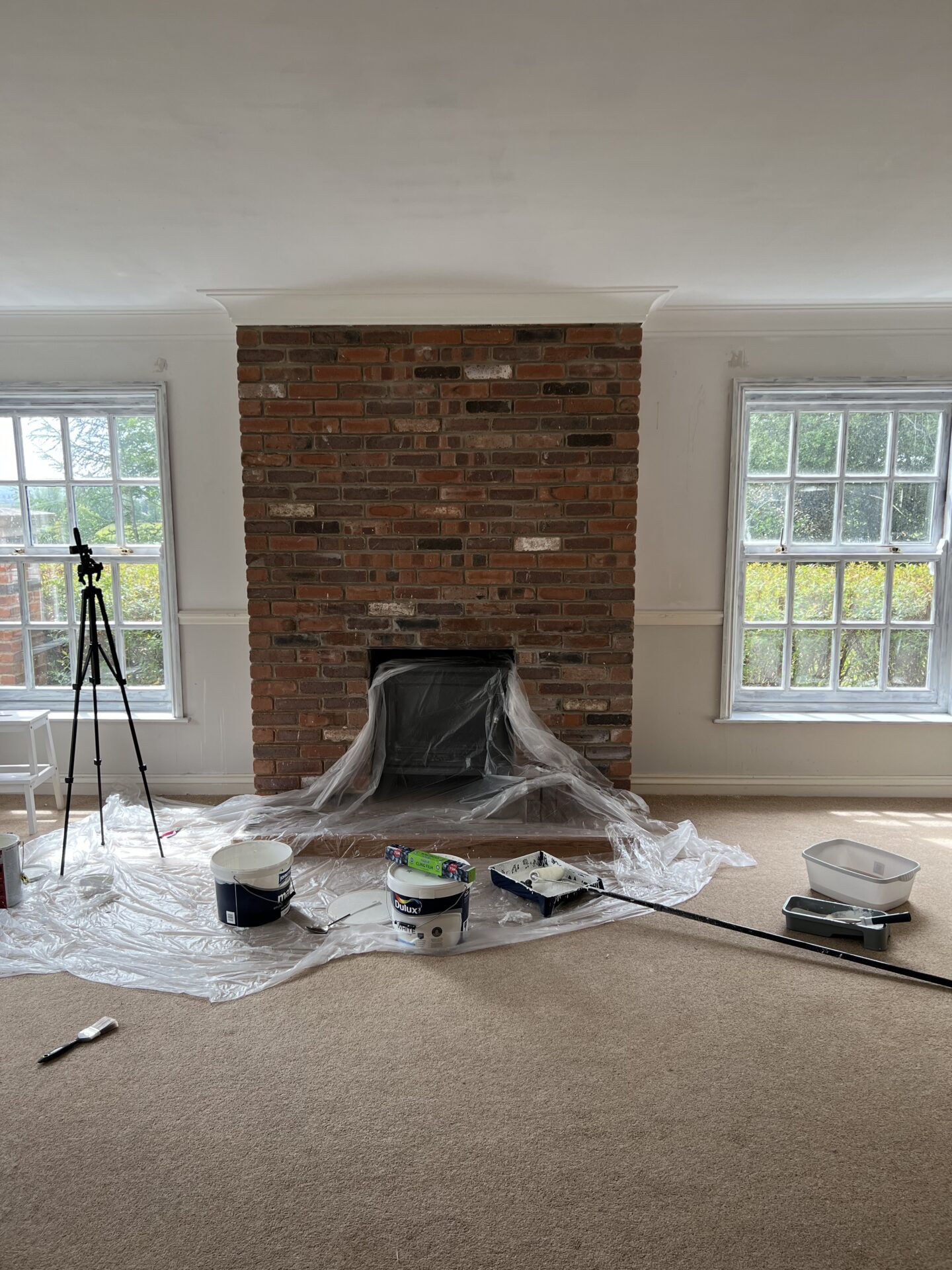 Finally finishing off with the woodwork including the dado rail & skirting board using the same process as the windows. I did wonder about doing panelling in here to make the most of the existing dado but plan to have this throughout the hallway & actually wanted to keep this space really laid back & quite simple using accessories to pop with the fireplace being the focal point of the room & the furniture layout focusing on that.
When we first viewed, I really didn't like the brick of the chimney breast & my plan was to panel it but actually, the brighter the room became with a lick of paint, the more it started to grow on me & I thought it added character to this space so decided to keep it. With the Dimplex fire added, I found this fake beam on Etsy (this is the rustic oak beam aged in 14cm x 9cm) which you literally install like a shelf with the screws provided.
I knew I wanted a big feature mirror to help bounce some light around but to keep it relatively fuss free & this beauty is just perfect. It's the Chiltern mantle arch mirror from The White Company & is absolutely massive with a subtle black frame.
Finally, we were ready for the flooring to go down. I would have loved LVT which we had throughout our living space at Baylyn House but working on a limited budget I decided to go for laminate, especially as the plan was to put down a big rug anyway. I went with this GoodHome Stoke natural oak from B&Q which was £15m2.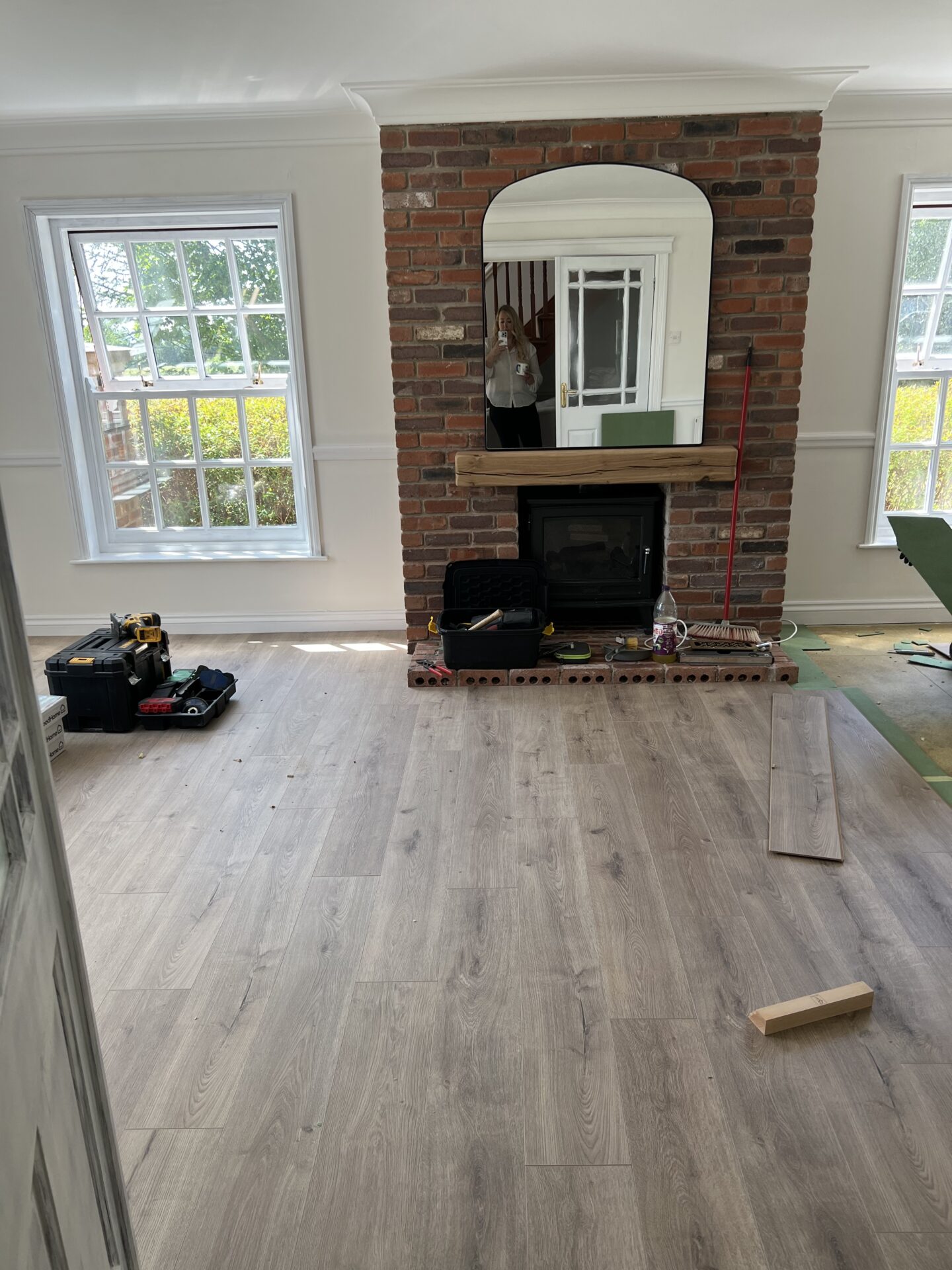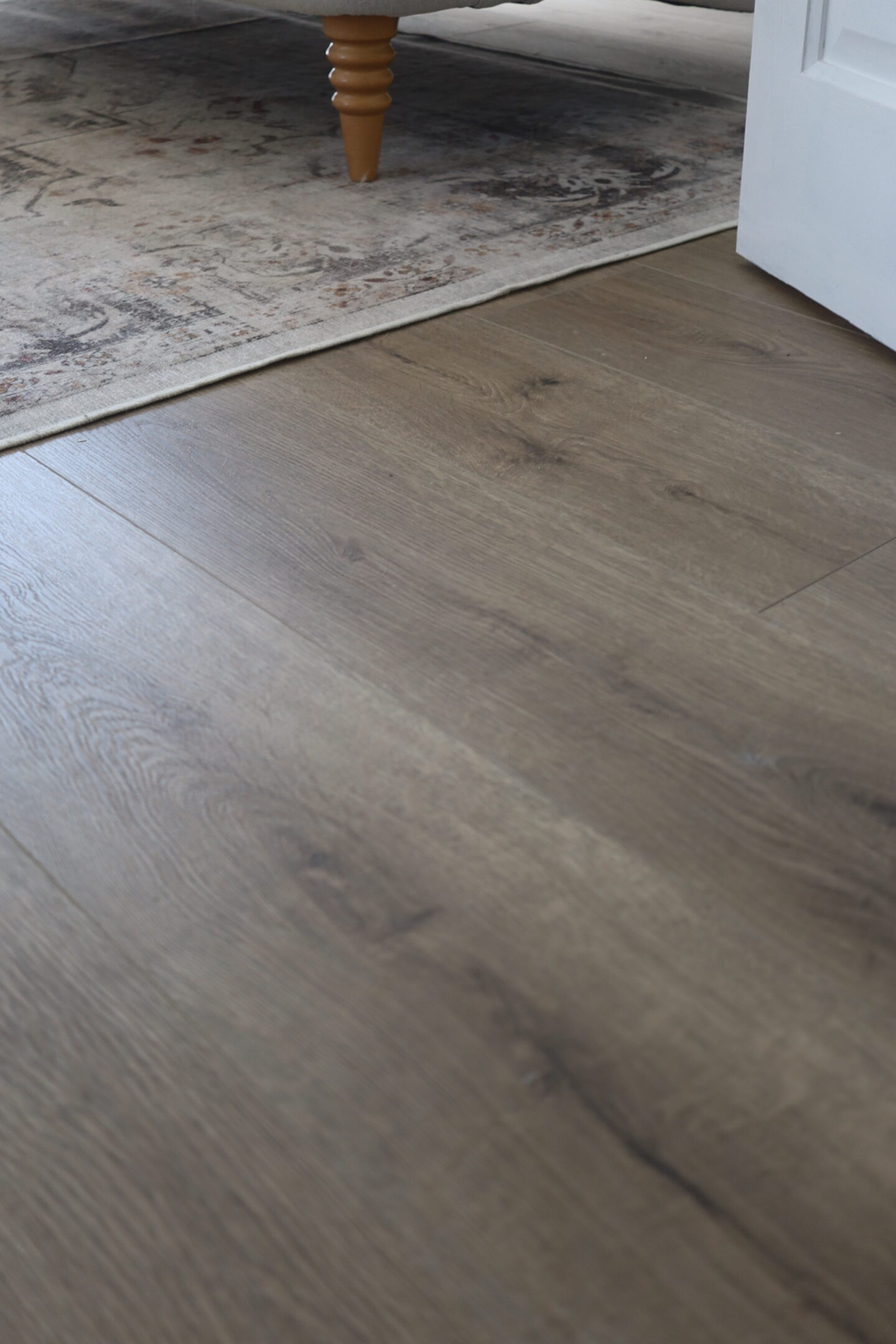 Because I'd made sure the focal point of this space was the fireplace, I was umming & arring about whether or not to have a TV in this space at all as we'll eventually have a cinema/snug room & this room is more of a peaceful relaxing adult lounge vibe. Eventually I came to my senses & realised that I'd need somewhere to watch Love Island so went on the hunt to find something to fill the right hand wall whilst also disguising the TV. This also means more space to style all my beautiful bits which are far too pretty to keep in boxes.
I knew we didn't have the budget for a bespoke built in, but kept trauling FB Marketplace, Gumtree & Ebay for alternatives & eventually came up trumps with an old IKEA unit with the right dimensions which were about 30 mins away at a furniture clearance/reclaim second hand shop. It was listed at £120 but after viewing I managed to haggle them down to £120. It was definitely not screaming media unit of dreams, but I got to work transforming it.
This is what it looked like before –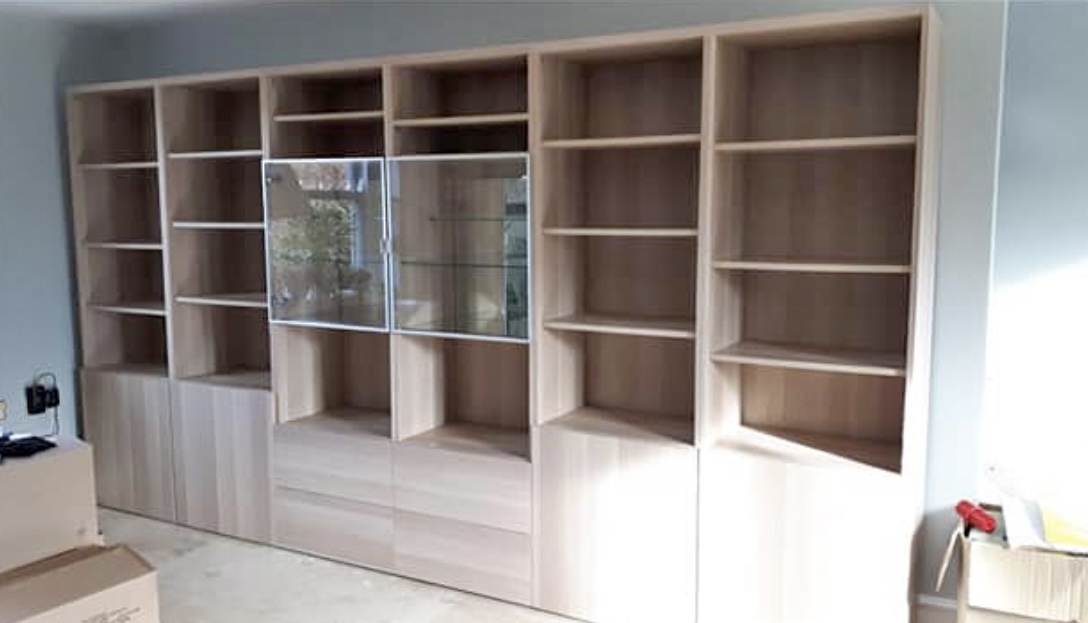 I started with using adhesive & panel pins to attach strips of 6mm MDF (cut in to 10cm wide strips) on to the doors to make a shaker style effect. I pulled out the glass bit in the middle section & my lovely stepdad used a Jigsaw to cut this out leaving a small amount of the back for support. This would be for the TV to sit. I also used this polystyrene coving (which I turned upside down & the wrong way round as I liked the look) from B&Q along the top which instantly transformed it.
After configuring it all & placing the shelves where I wanted, I then used Zinsser BIN on the entire thing along with 3 coats of the Dulux trade satinwood with a foam roller which didn't take long at all. I would have ideally panelled the back of the shelving & at some point might get round to doing it, but at £33 a sheet of MDF & a to-do list as long as my arm I decided to pick & choose my battles & save it for another day.
& this is what it looks like now! I've painted the double doors white to freshen them up, but will eventually change those along with the other internal doors throughout the house.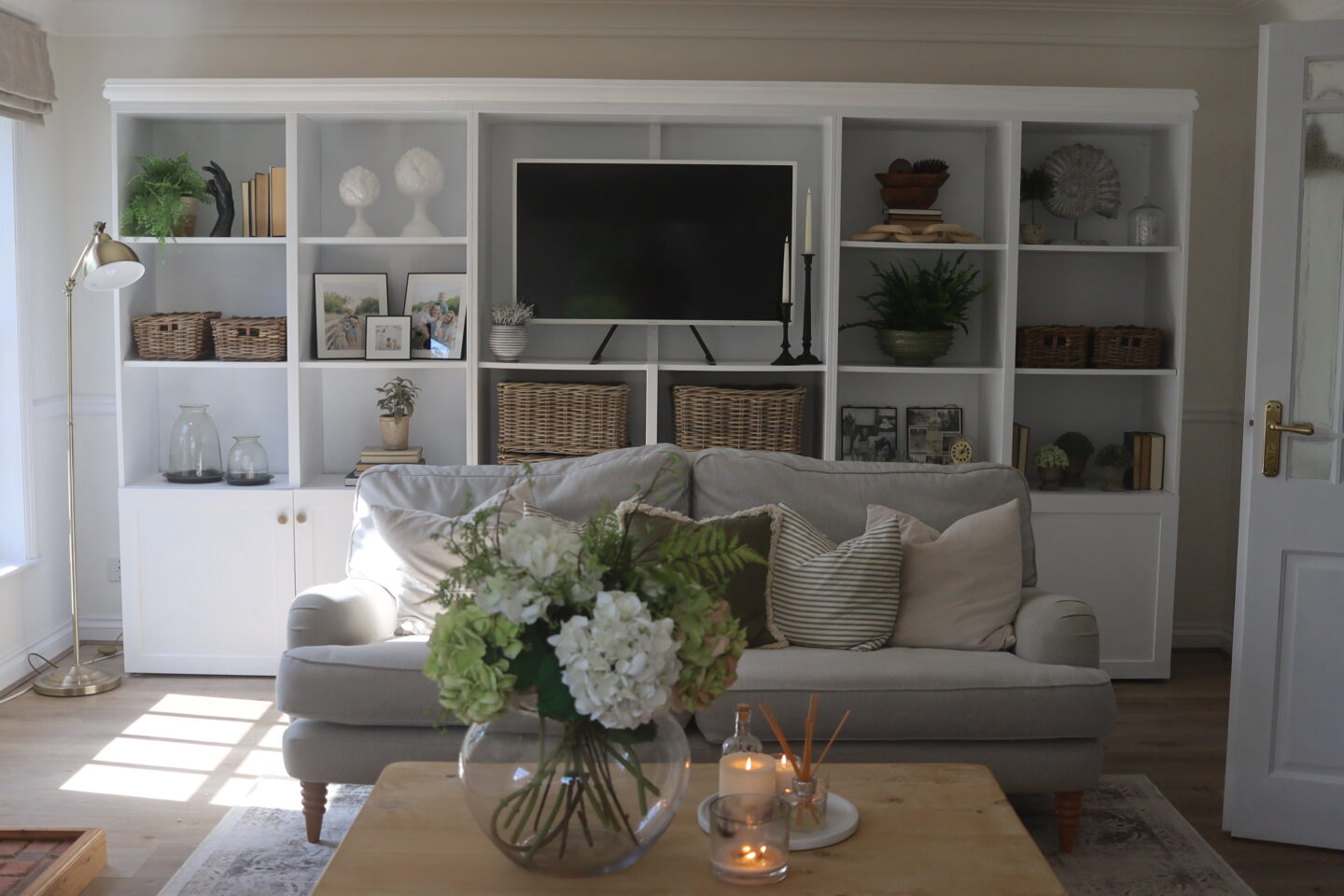 The furniture is mainly from our old house, but you'll see a few new additions which I'll make sure to tag.
The sofas are the large Lynden from Laura Ashley (now available at Next) in Katrina Silver. We've had these a couple of years now & are super comfy. I've styled these with cushions including the beautiful fringed Bertie Olive from my collection with A&H Wills along with 2x olive green simple striped covers from Etsy & then some plain natural velvet from the Sanela collection at Ikea (I've had these for years, they go with everything & are so versatile!). The knitted pom pom throw is a few years old now from M&S.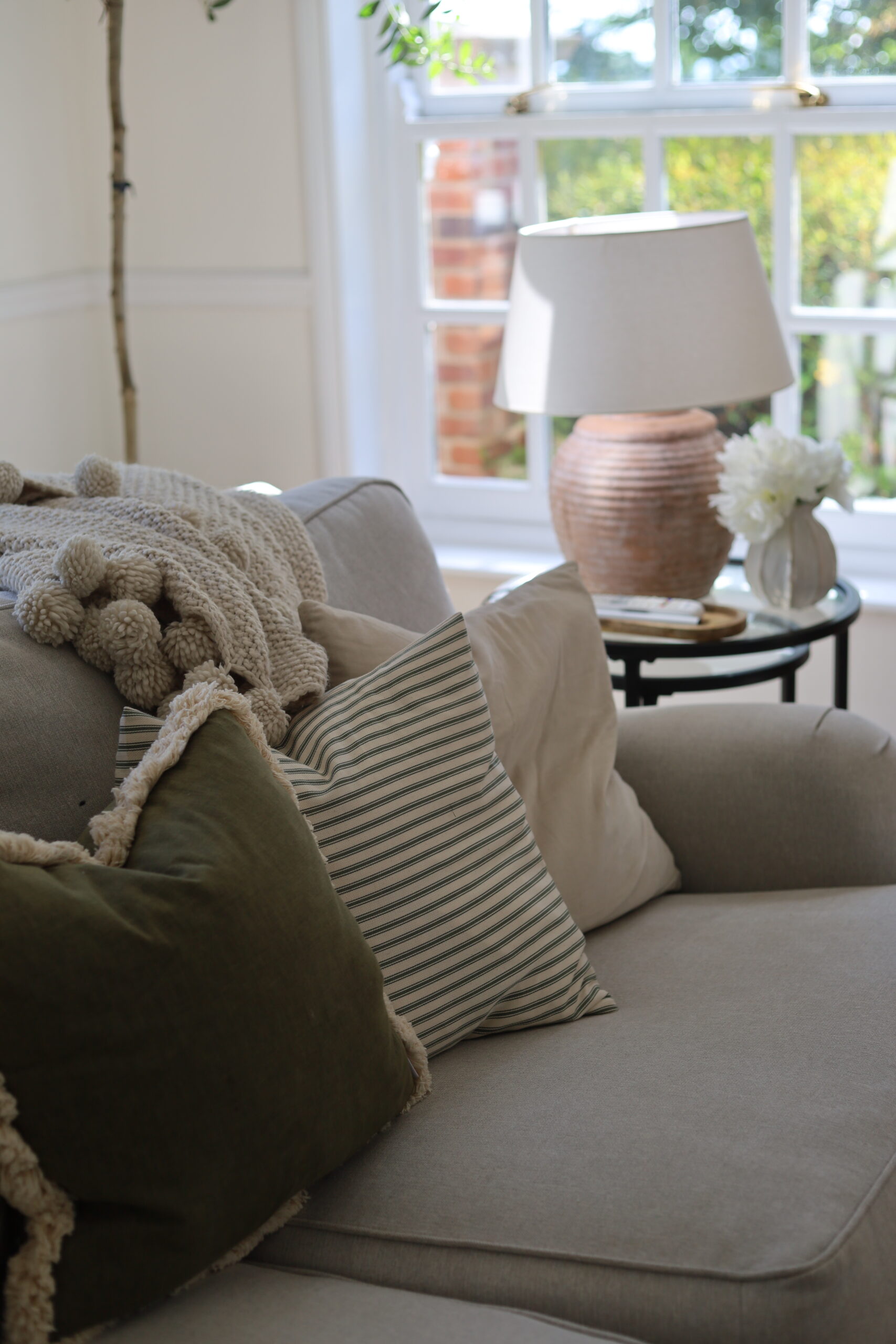 The sofas sit on this beautiful new rug which I have been so excited about & am really impressed with. It's the Sarrah Hazel from Ruggable which are basically a 2 part system with the top peeling off so you can literally stick it in the washing machine. With 2475729 pets, I've had to wave goodbye to far too many rugs & decided that I'd give this a go. So far so good, I haven't had to wash it, but it seems really durable & there isn't a mark on it in the couple of weeks it's been down. This size is the 245x305cm. The rule with rugs is to go big & always have at least the front feet of your furniture placed on to help zone the space & add that all important layering.
The coffee table is a FB Marketplace find that I did the oven cleaning hack on before we moved. You can see how I did it on the reel here. The marble tray is available here (along with all the gorgeous candles on it) & the vase & flowers are all from Neptune.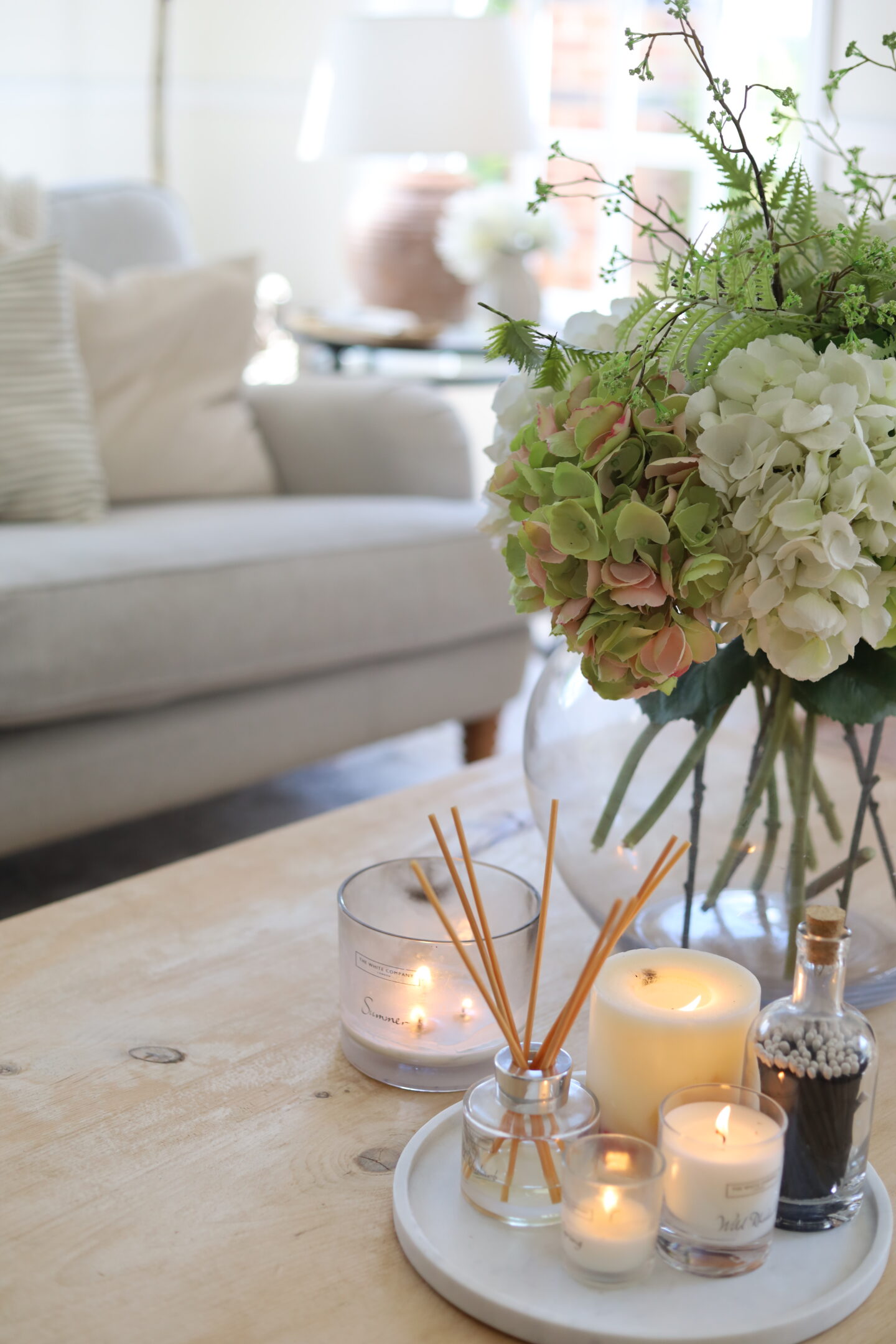 The side tables were from Amazon here & are an absolute bargain, I've had them for a couple of years now. The lamp is the Cassia Terracotta from Hudson Home along with the cute little poppy vase (complete with fluffy peonies – which are real).
Olivia the olive tree has managed to make the move in one piece however I think she'd in shock as she'd been shedding a few leaves. I'm giving her a good feed & talking to her daily so fingers crossed she survives unlike Oliver. RIP.
The roman blinds are from Dunelm called the Atlantic Natural which is a lovely grey/beige tone. These are actually way too short for these windows, but they'll never be rolled down & are more to soften the space.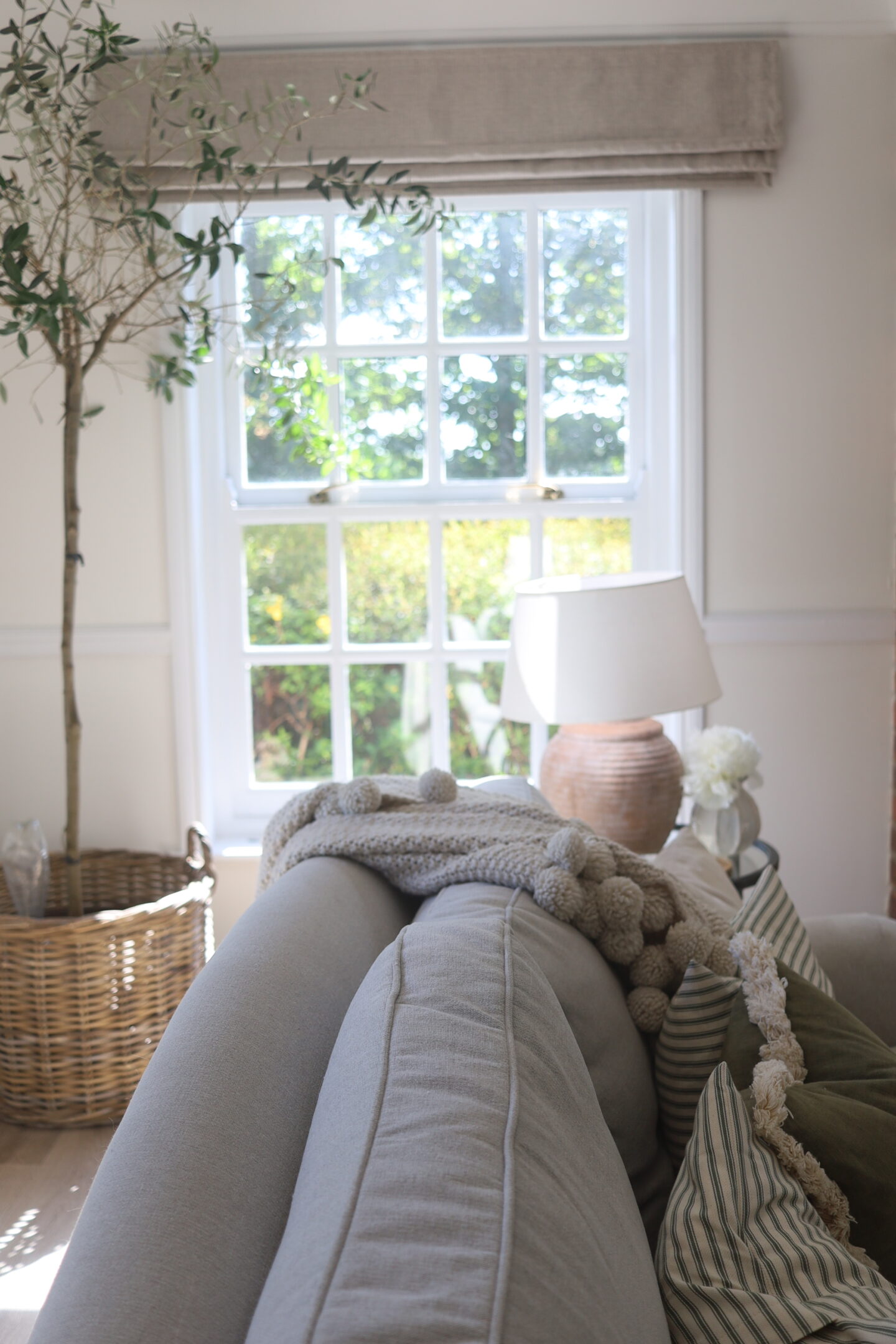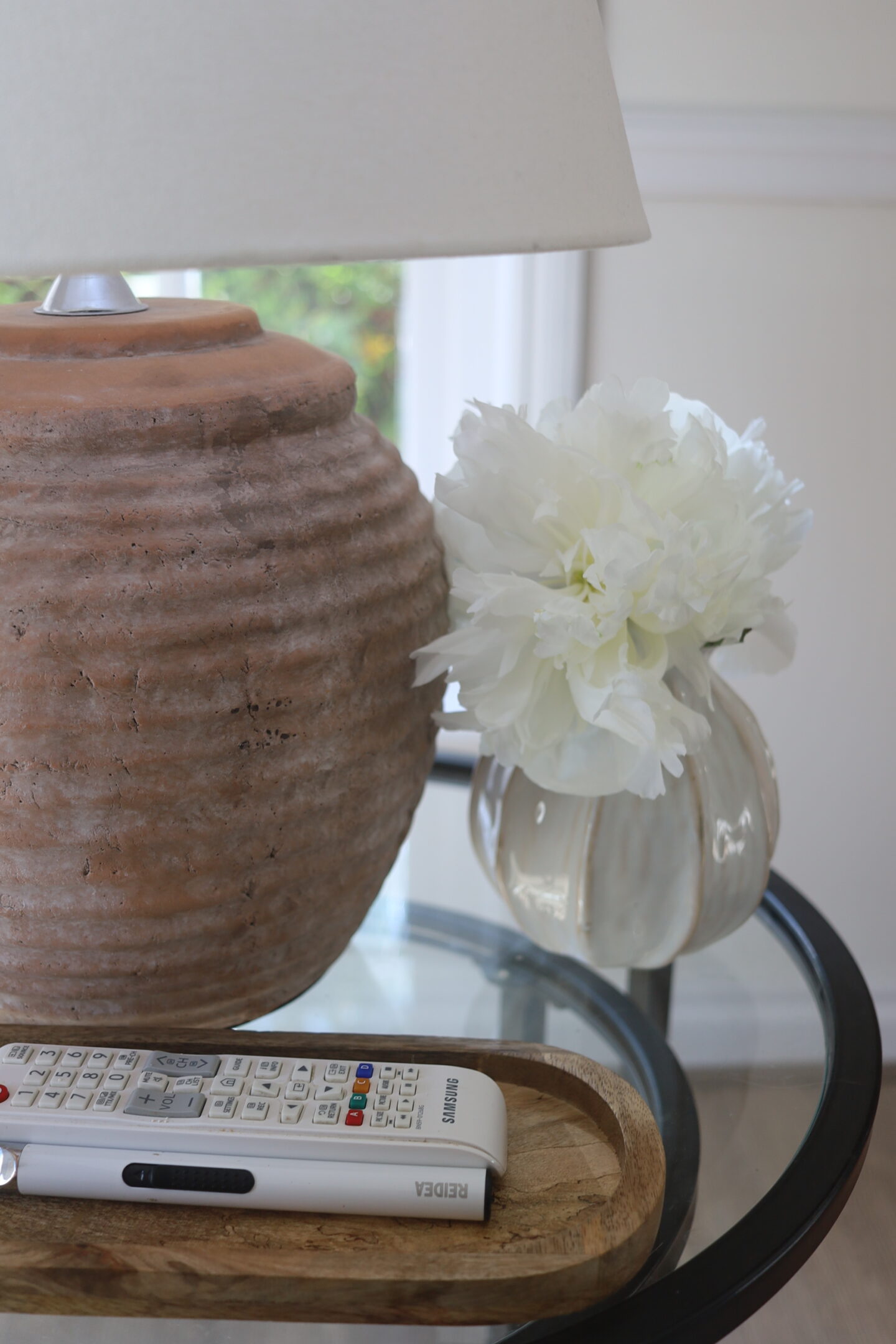 Lighting wise, this house doesn't actually have ceiling lights & at first I was going to get an electrician in to put them in, but then I thought about it & actually we never used our main lighting, instead preferring soft mood lighting from lamps in the evening. I replaced the wall lighting with these antique brass Millhouse from John Lewis & love the soft glow. I'm undecided about putting some art work below them but at the moment want to keep this space feeling fairly fresh & bright. I also got this antique brass lever arm floor lamp, currently in the sale from Dunelm.
& finally, the media unit! The gold handles are from Wickes which were reduced to £5 for 6. In total the whole media unit cost me around £150!
To the left side, the ribbed glass candle domes are from The White Company. The books are all antique/vintage which I bought in bulk on FB marketplace from someone who'd collected them to style their wedding. The black frames are from Marquis & Dawe. The white artichokes are from Neptune which are out of stock but I found them for sale here. The plant is artificial from Homesense & basket from a local garden centre & the hand from La Redoute but no longer on their website.
In the middle is the TV with a small artificial plant from Hudson Home (no longer on the website) & the candle sticks are from the white company with Truglow candles from Amazon which are battery powered but look so realistic, they even flicker like a real flame but obviously no danger next to the TV. Underneath are some gorgeous wicker baskets from my faves at The Basket Company for storage but also I find the grey & buff to add so much texture & warmth to a space. These are the large deep rectangular & to get the right size I've stacked two on top of each other.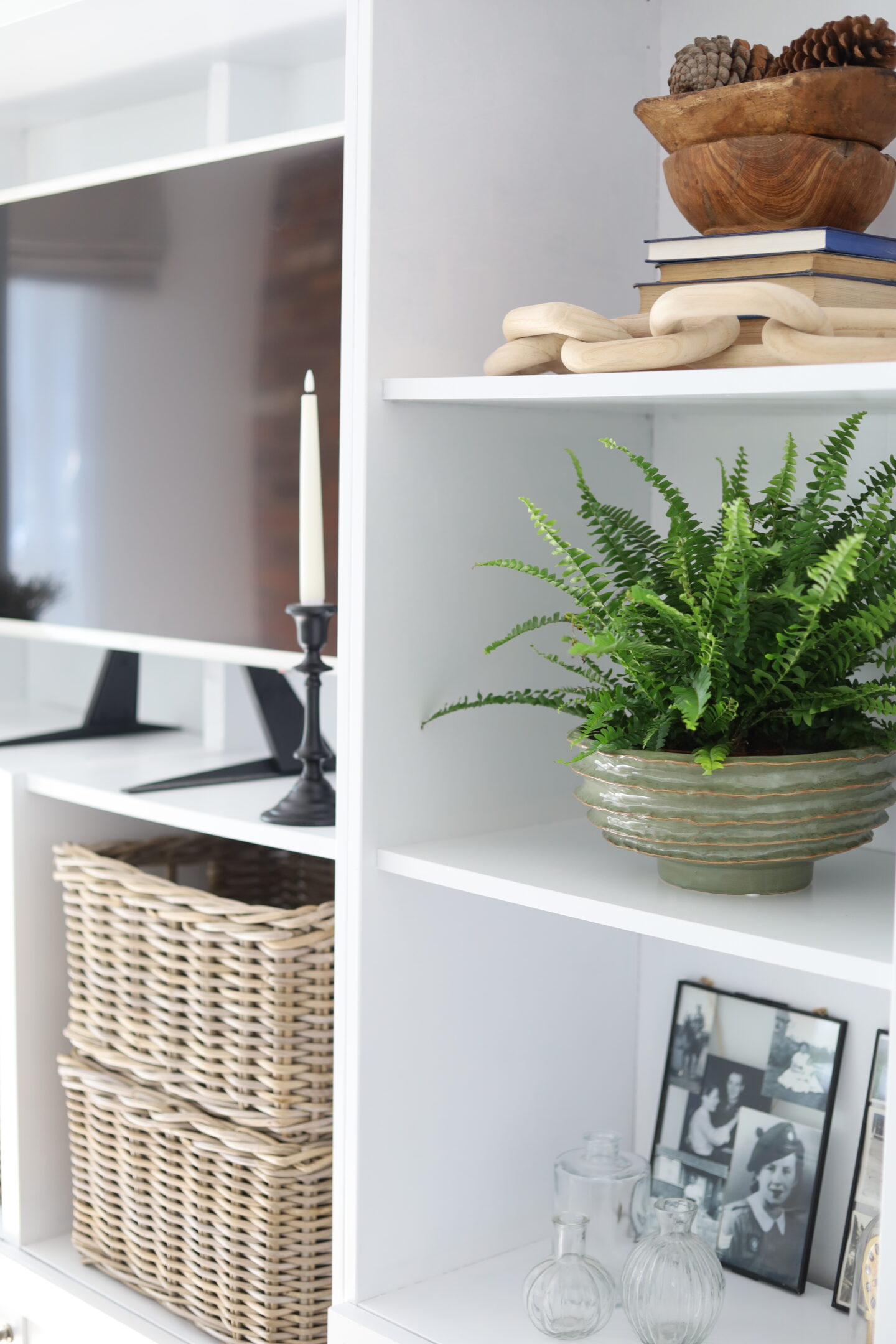 Over to the right I've got a mango wood bowl filled with pinecones on top of some more vintage books & a wooden chain from Hudson Home. Also a fossil ornament which was from Next a few years ago but no longer sold, a glass candle cloche & mini artificial rosemary in pot. The fern is real (& is alive….for now…) & the gorgeous textured green bowl was from a little shop in Lymington but I haven't been able to find it online. Yet more baskets, books & some sentimental items including my Nan's clock, some framed old family photos with some bud vases I've collected over the years.
I've grouped things in multiples, singular statement or varied heights to add interest, texture & pattern. I'll probably end up faffing with this every 5 minutes but for now I'm really happy with how the units turned out & it's finally starting to feel like home.
This room is proof that with a lick of paint, a bit of imagination you can transform a space!
Love,