Those of you that are regular watchers of my Instagram stories will have seen that a new little member of the Valentine clan arrived 3 weeks ago; my best friend, the gin to my tonic, the butter to my bread, my soul sister & soul mate Sian gave birth to a beautiful little girl 6 weeks early.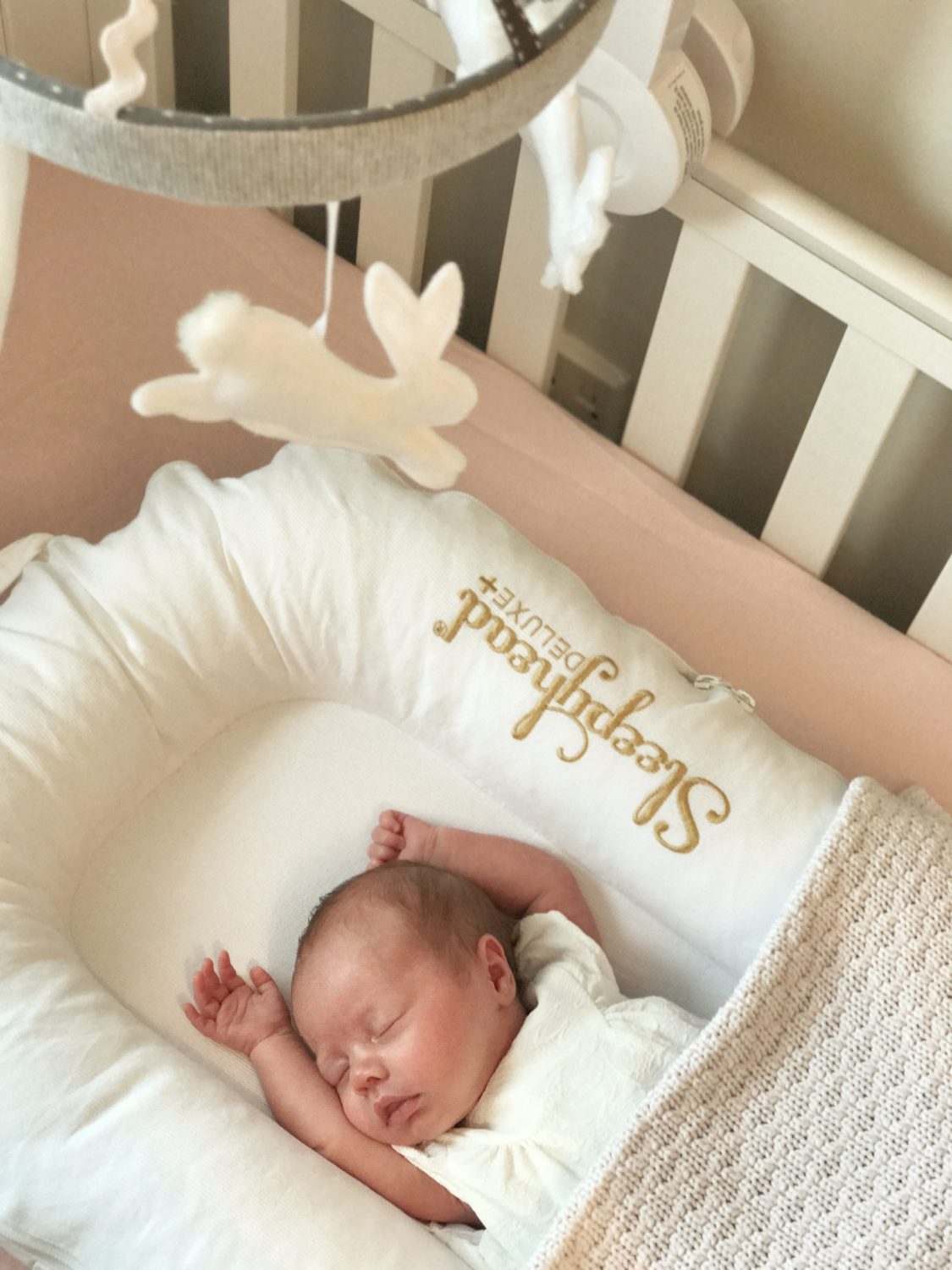 Sian & I have been best friends since we were 12 & have been pretty much inseparable for most of our lives. We've been there for each other through some extreme highs & also some extreme lows in life, always remaining as strong as a rock. She's like a sister to me & we consider each other family so when she announced she was pregnant earlier this year, I couldn't have been more excited for her & her lovely husband Carl.
As my gift to them I thought I'd use the one thing I'm good at & do baby Maxwell's room as a surprise. Unfortunately that went a bit tits up as Sienna was born on 6th August 2017 via cesarean at 34 weeks & weighed a teeny tiny 5lb 1oz. I thought I had another 6-8 weeks but Sienna obviously had other plans & just couldn't wait to meet us all so I then jumped in to action to get her room started. Whilst Sian, Carl & Sienna spent a week in NICU, I took the chance to get cracking on her room & it's now finished so I can't wait to show you all!
Here's a couple of 'before' pictures –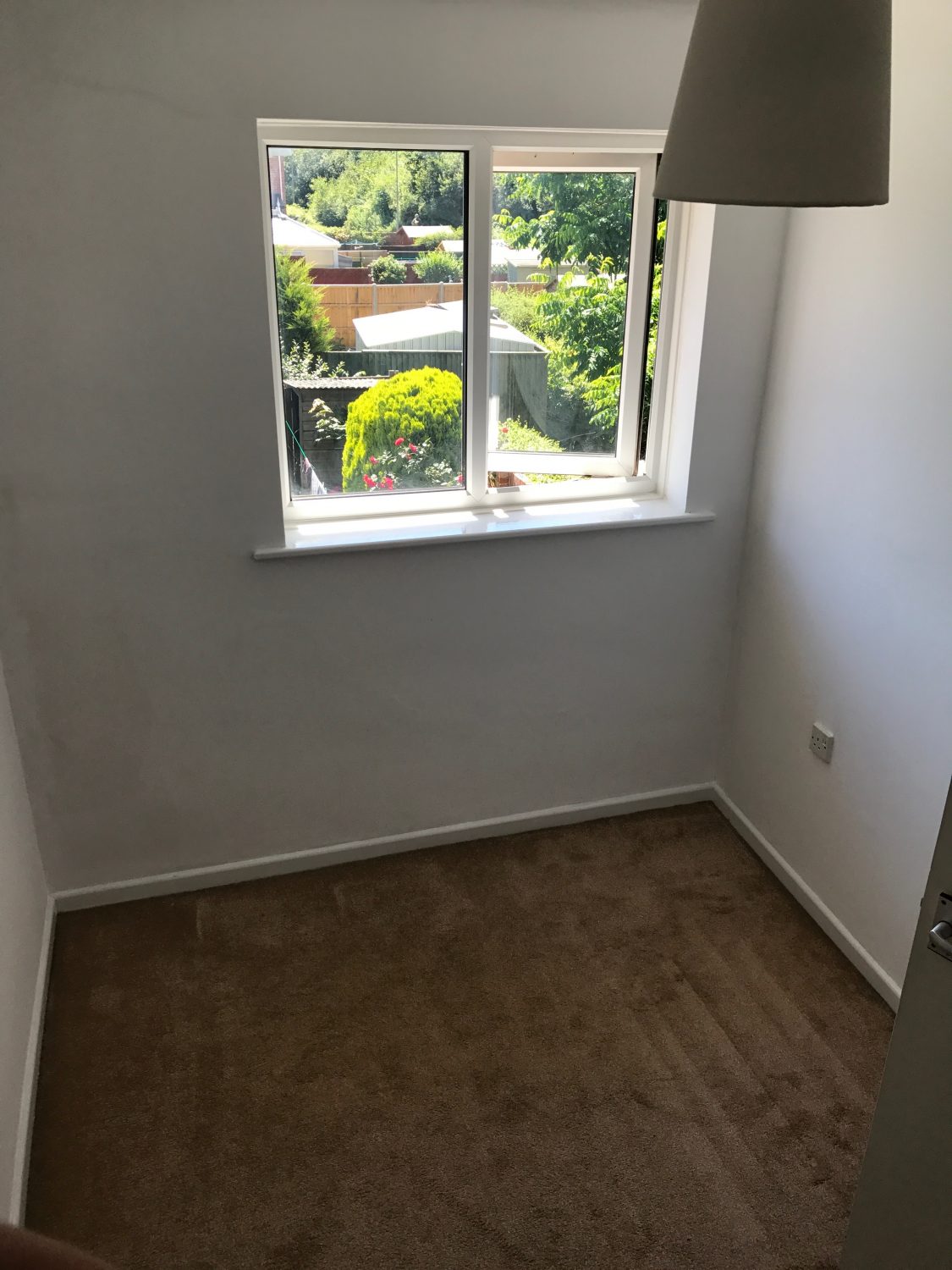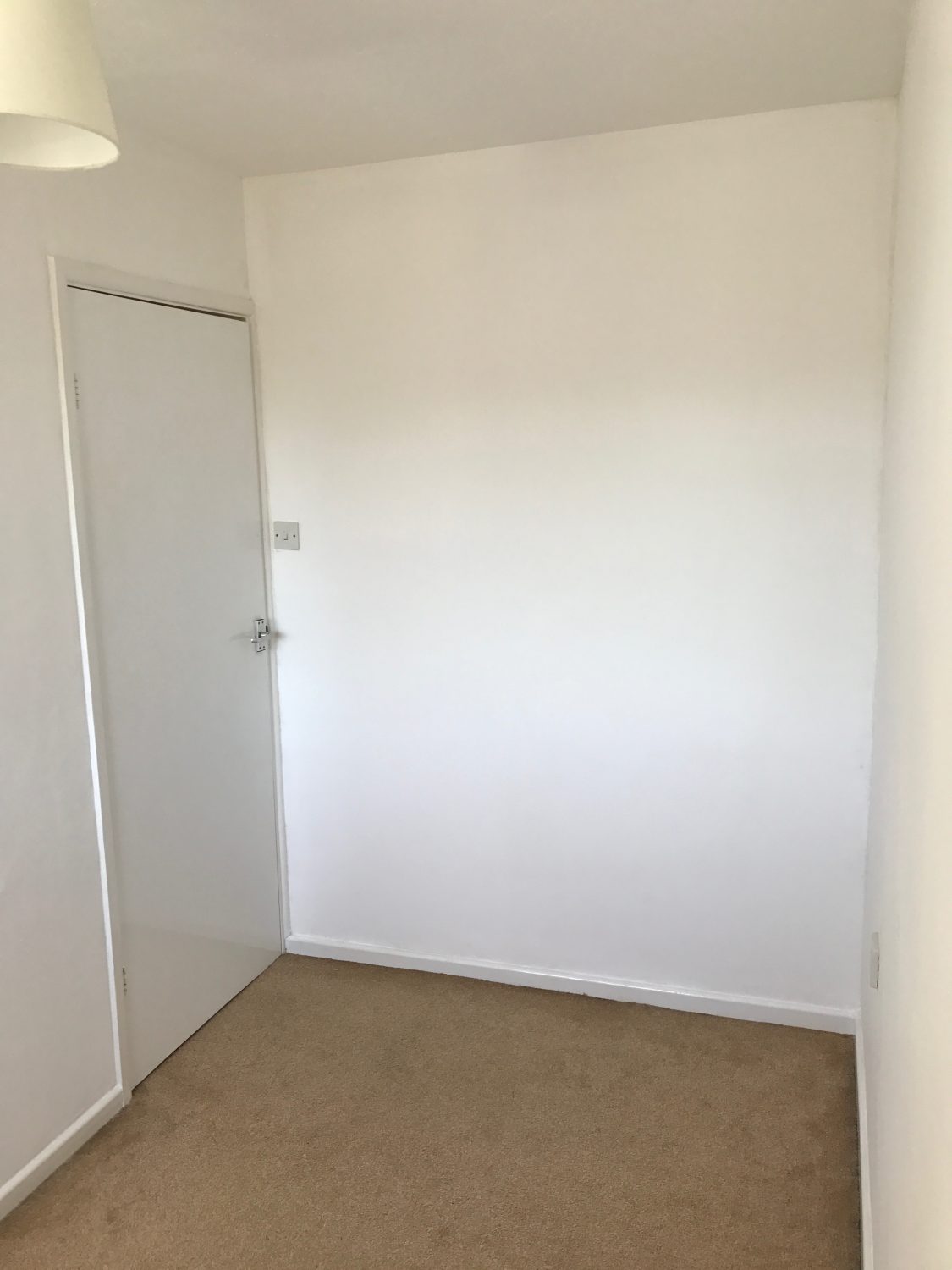 Sian & Carl rent so I had to take that into consideration when designing the room. I didn't want to invest too heavily into things that may not be able to be taken when they move on & also do too much damage that would then be a nightmare to fill/put right again. The room is also fairly small so limited what I could/couldn't get away with but is luckily really light with a large window.
& here is my 'after' –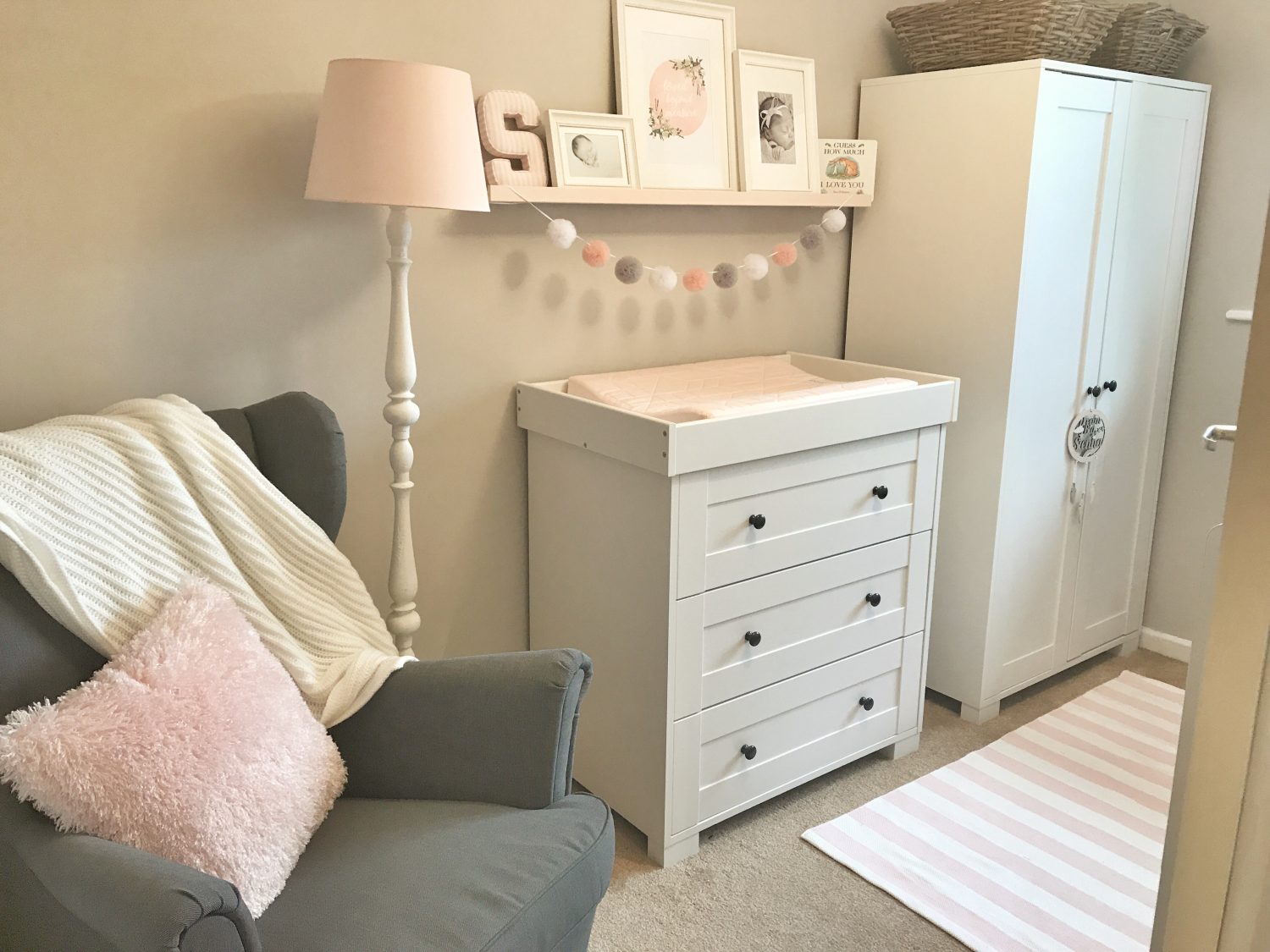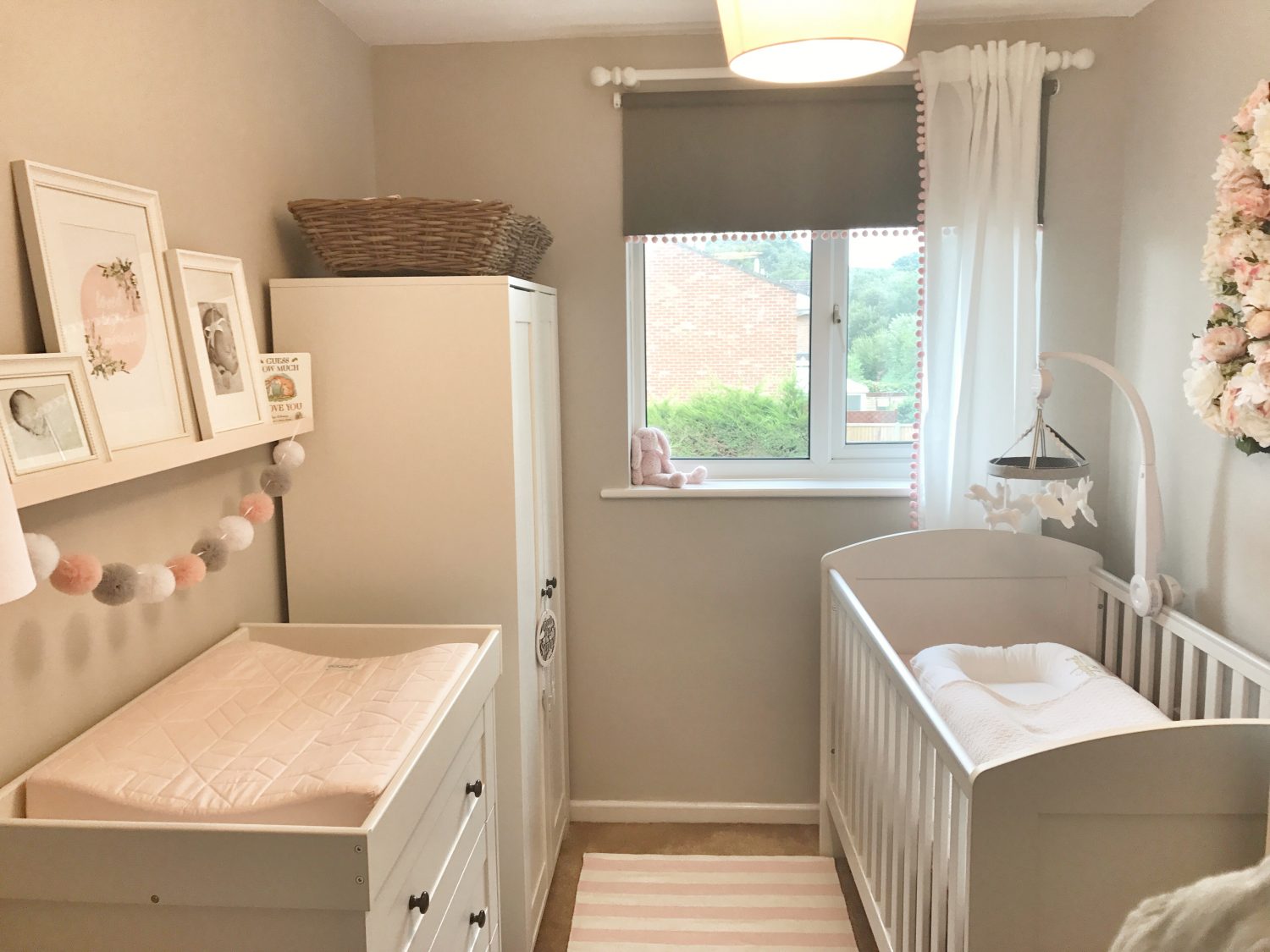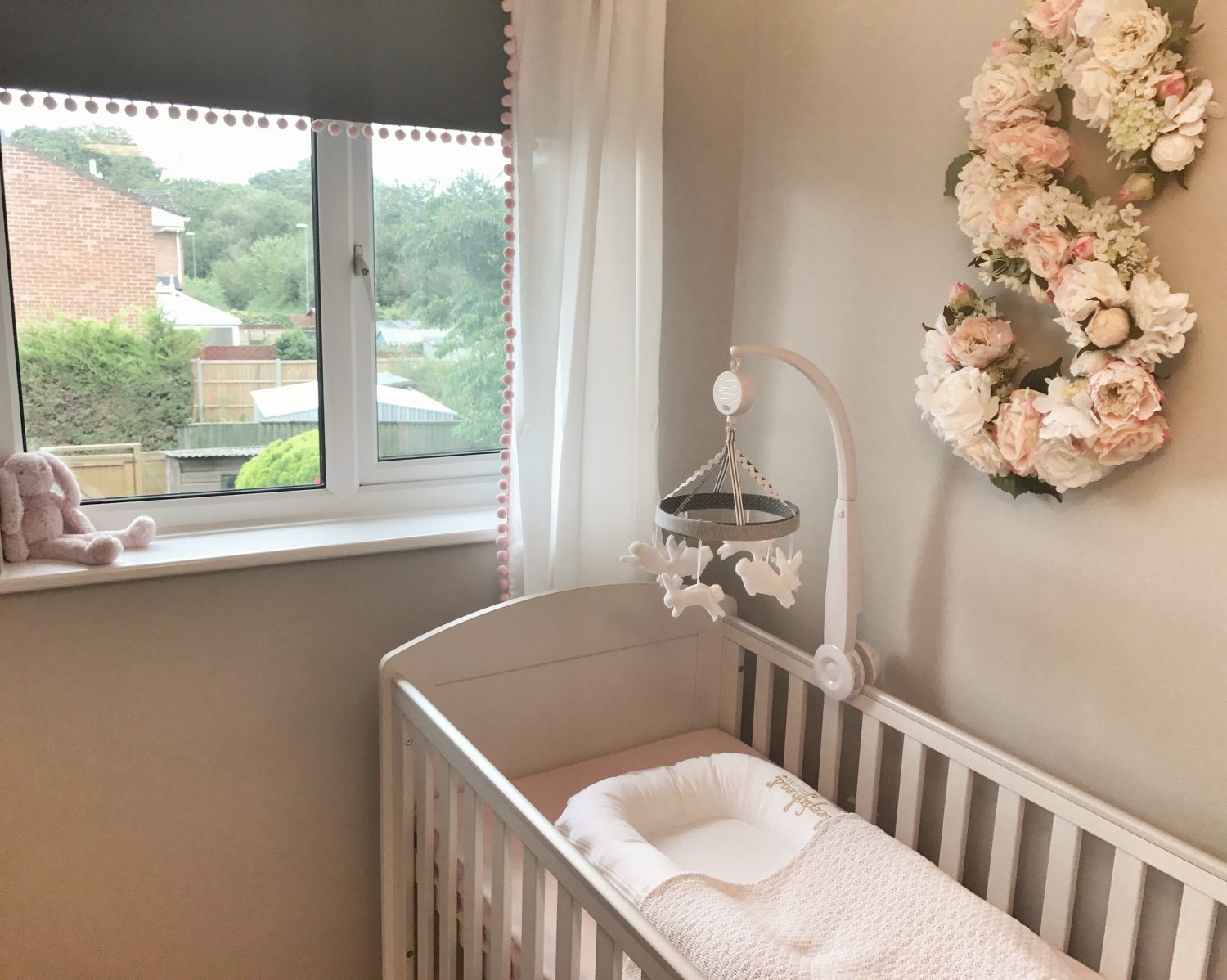 I immediately knew my colour scheme would be grey (as Sian's a huge fan….we were goths back in the day did you know #cringe), white & blush pink. Farrow & Ball's 'Cornforth White' will always be my no1 grey paint & is the most gorgeous tone in a colour that can be so hard to get right so obviously that was my paint of choice.
The furniture was bought from Argos but is the Mamas & Papas 'Harrow' set in white which you can find here. I was initially worried that the wardrobe would be too much for the room but it's quite miniature & fits beautifully. The cot converts to a cot bed when Sienna's old enough so perfect for when she gets bigger although I'm sure by then I'll have got my hands on her room again & designed something else – I'm running out of things to do in my house so turning my paintbrush towards my friends now!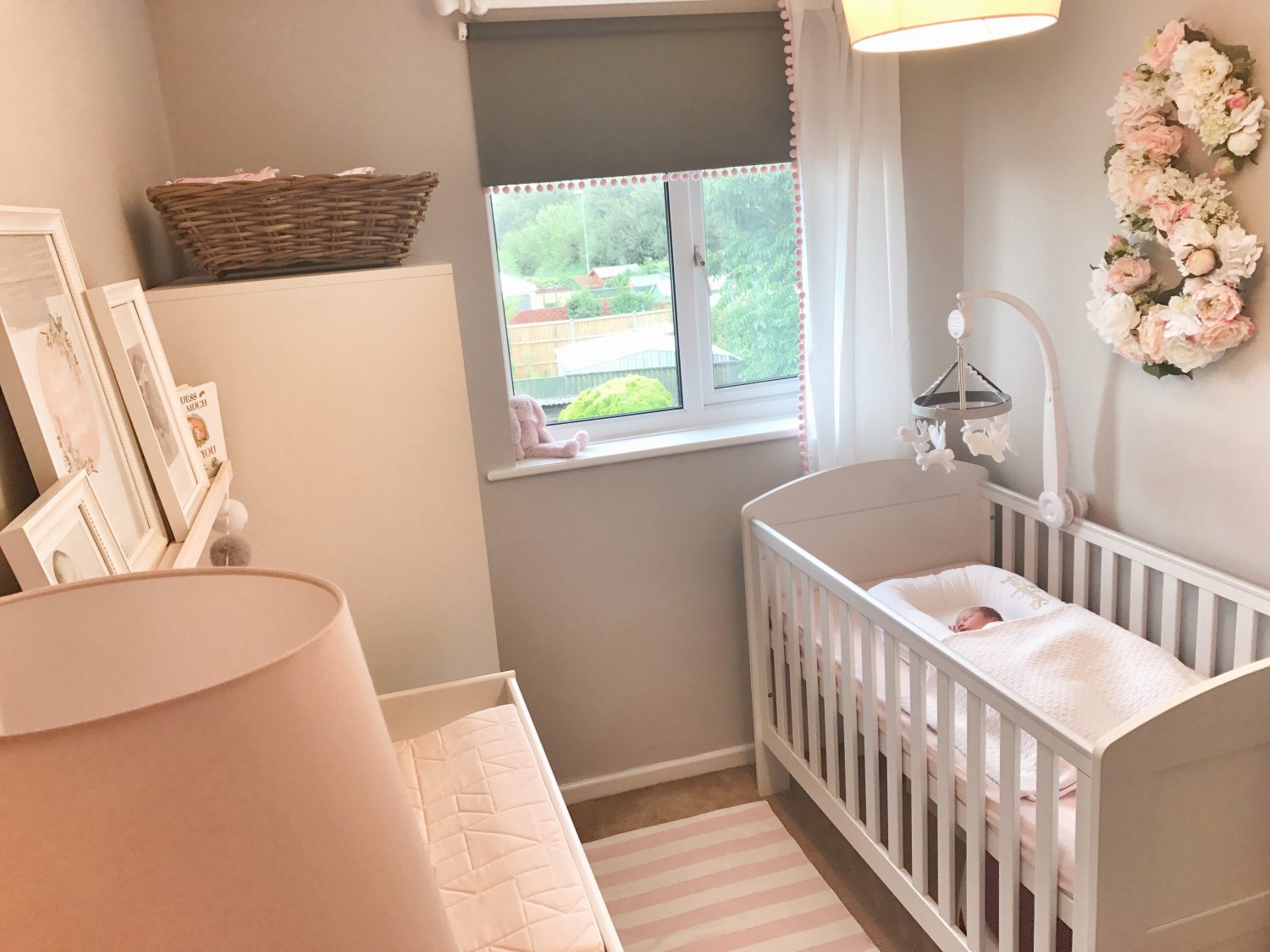 The beautiful cot mobile is also Mamas & Papas from their 'welcome to the world' range with little bunnies here.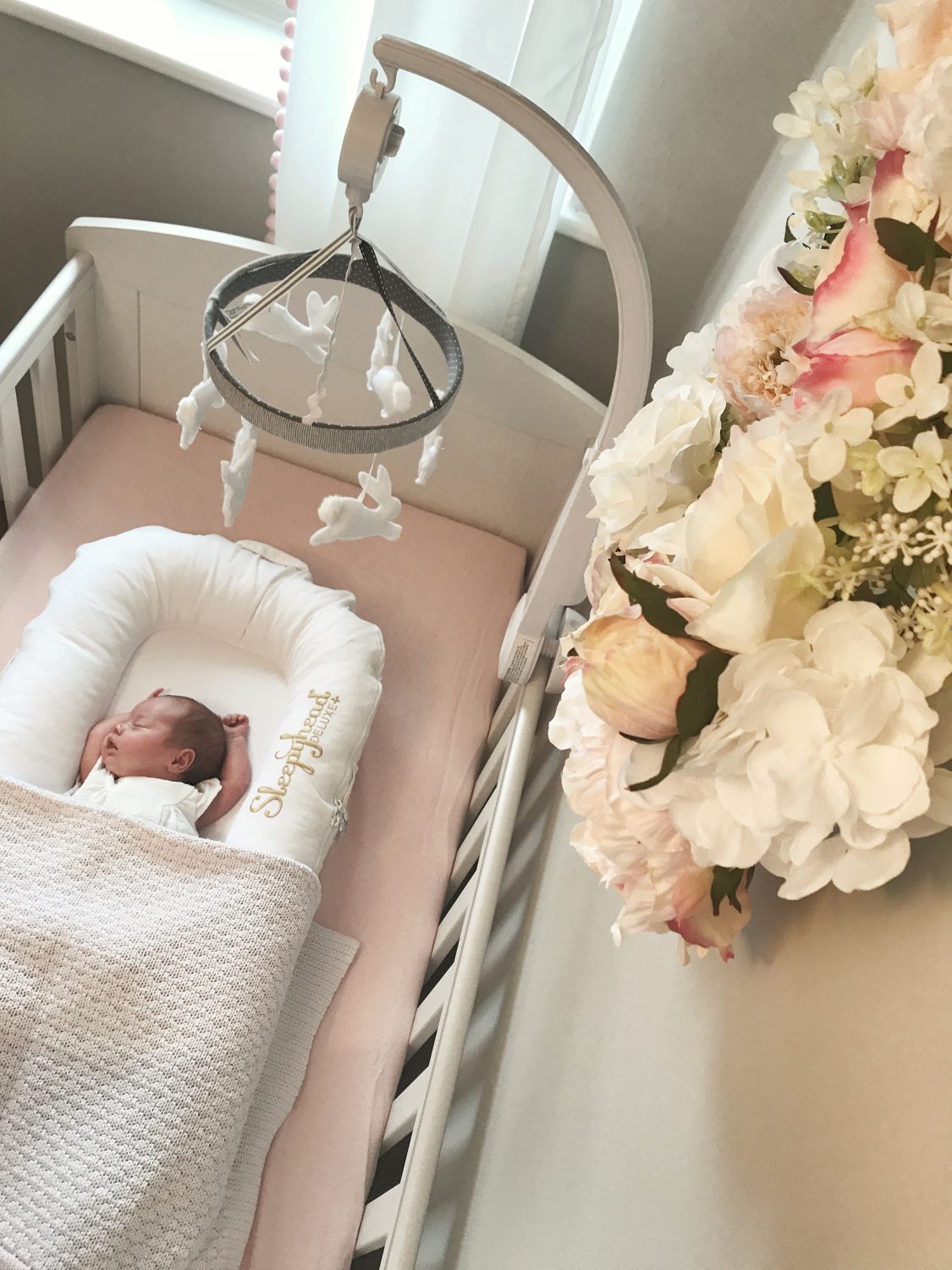 The armchair is the 'STRANDMON' in dark grey from Ikea. I actually have the same one in Rory's room & it is SO comfortable, absolutely perfect for those middle of the night feeds & a bargain for a wingback armchair.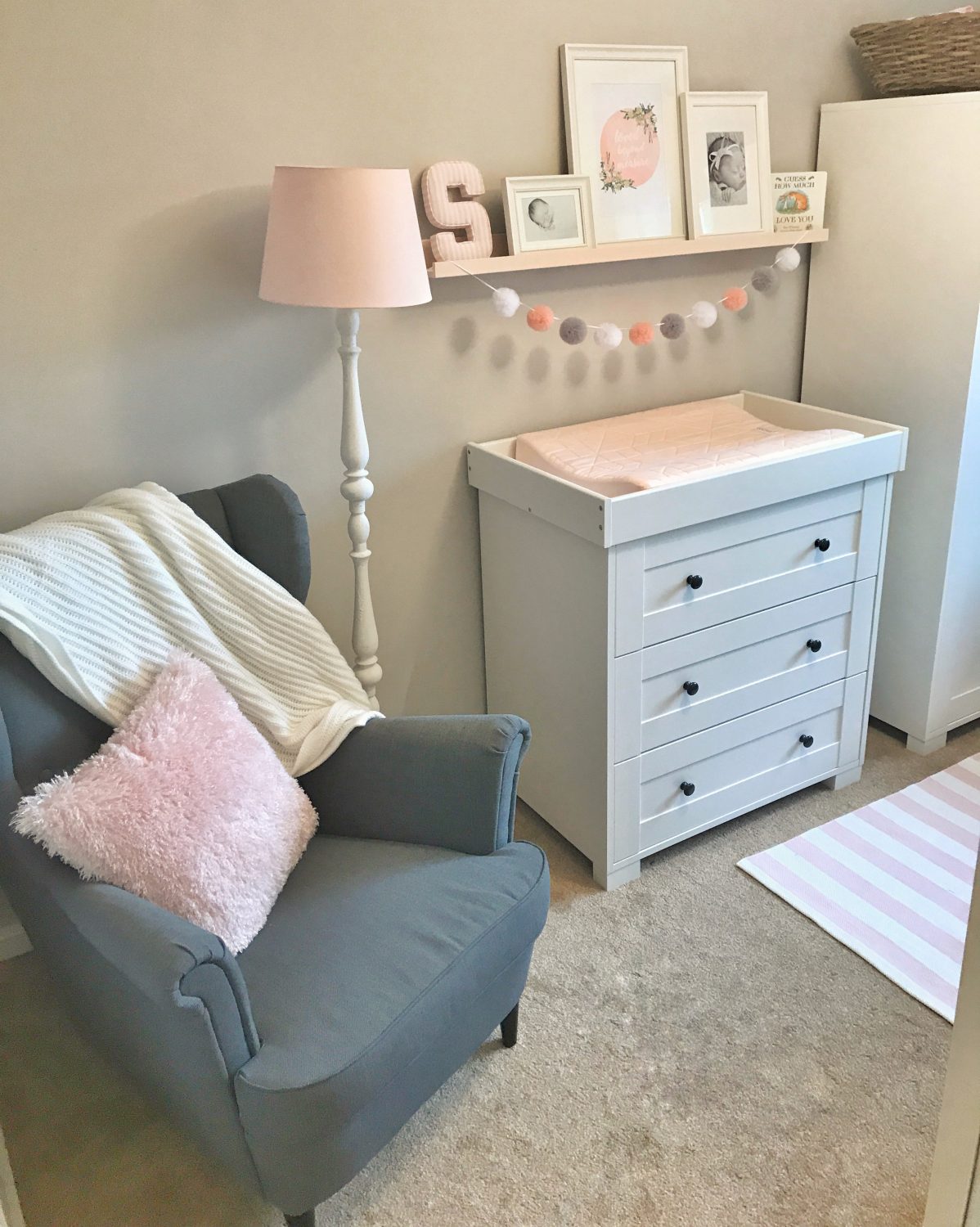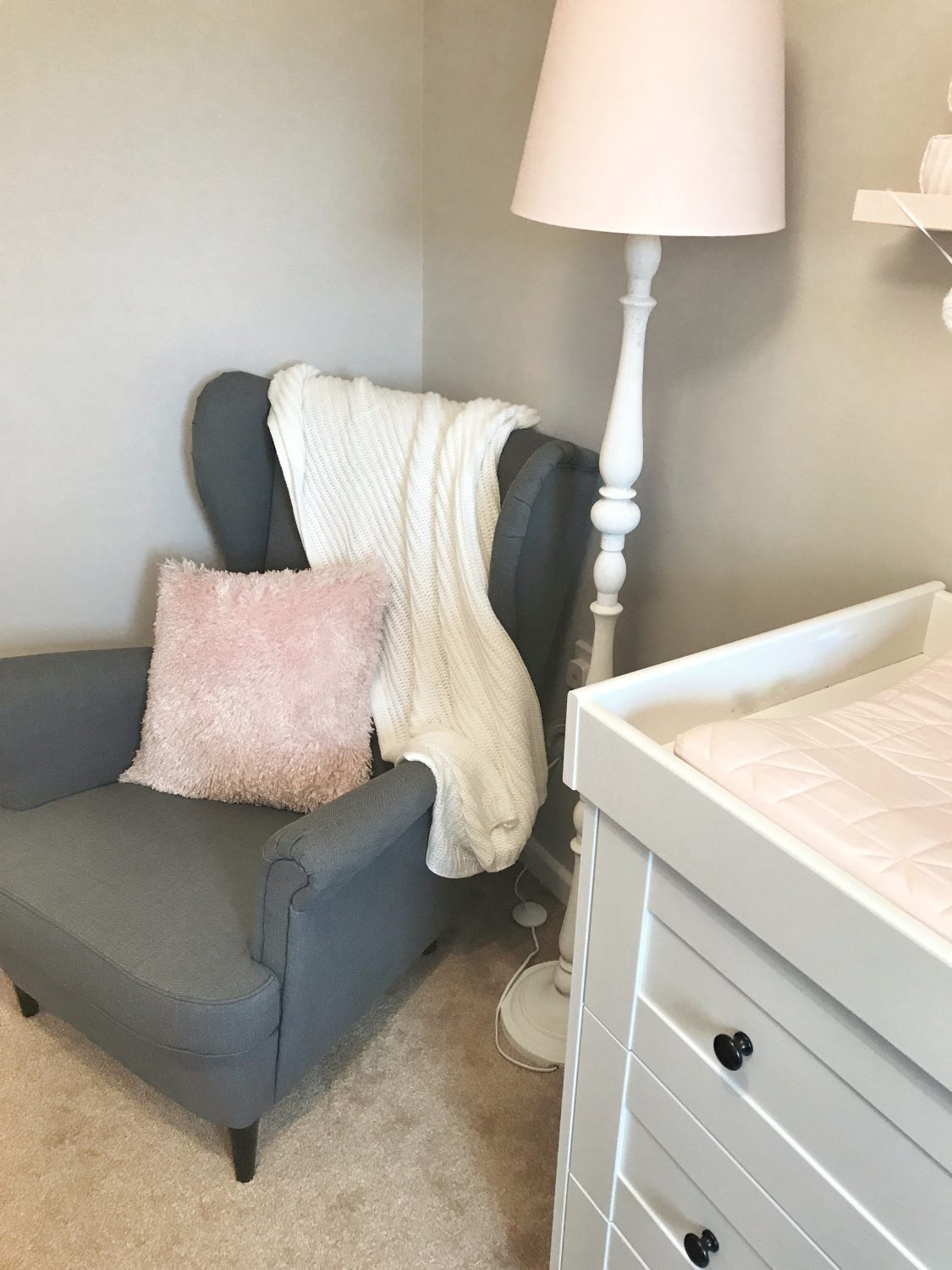 The cushion is this from Heart Of House at Argos here & throw here. I also bought a Felicity Heart of House floor lamp for £28.99  but for some reason it's no longer appearing on the website! It wasn't the colour that I wanted or the right shade but the cheapest option I could find so I resorted to painting the lamp white using Annie Sloan Old White chalk paint & then changing the shade to a pink Ikea 'JÄRA'.
On the note of pom poms…I seem to have gone a little bit pom pom trim crazy & so have all of you guys! Since Elsa's bedroom makeover & those nightmare curtains, I have had so many messages & been tagged in some of your pom pom makes since being inspired. So it would have been rude not to have added yet more pom pom based items into baby Sienna's room, right?!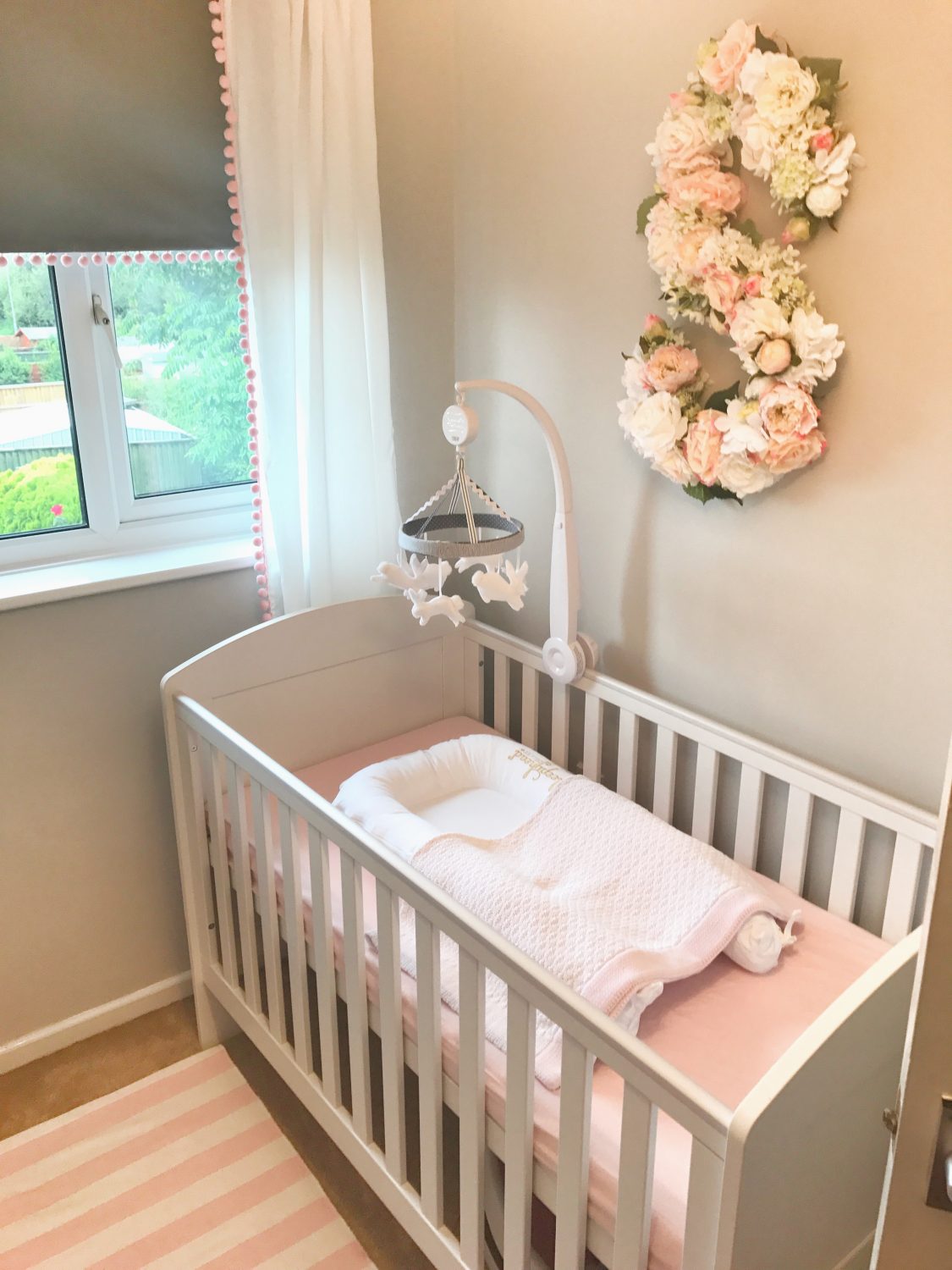 I added some pink pom pom trim which you can find here
 to jazz up an Ikea 'TUPPLER' black out grey roller blind. I also added some down the side of the curtains which are 'VIVAN', again from good old Ikea.
Also inspired by good old pom poms, I came across Hearts & Delights on Etsy who sell tulle pom pom garlands. Look at this beauty!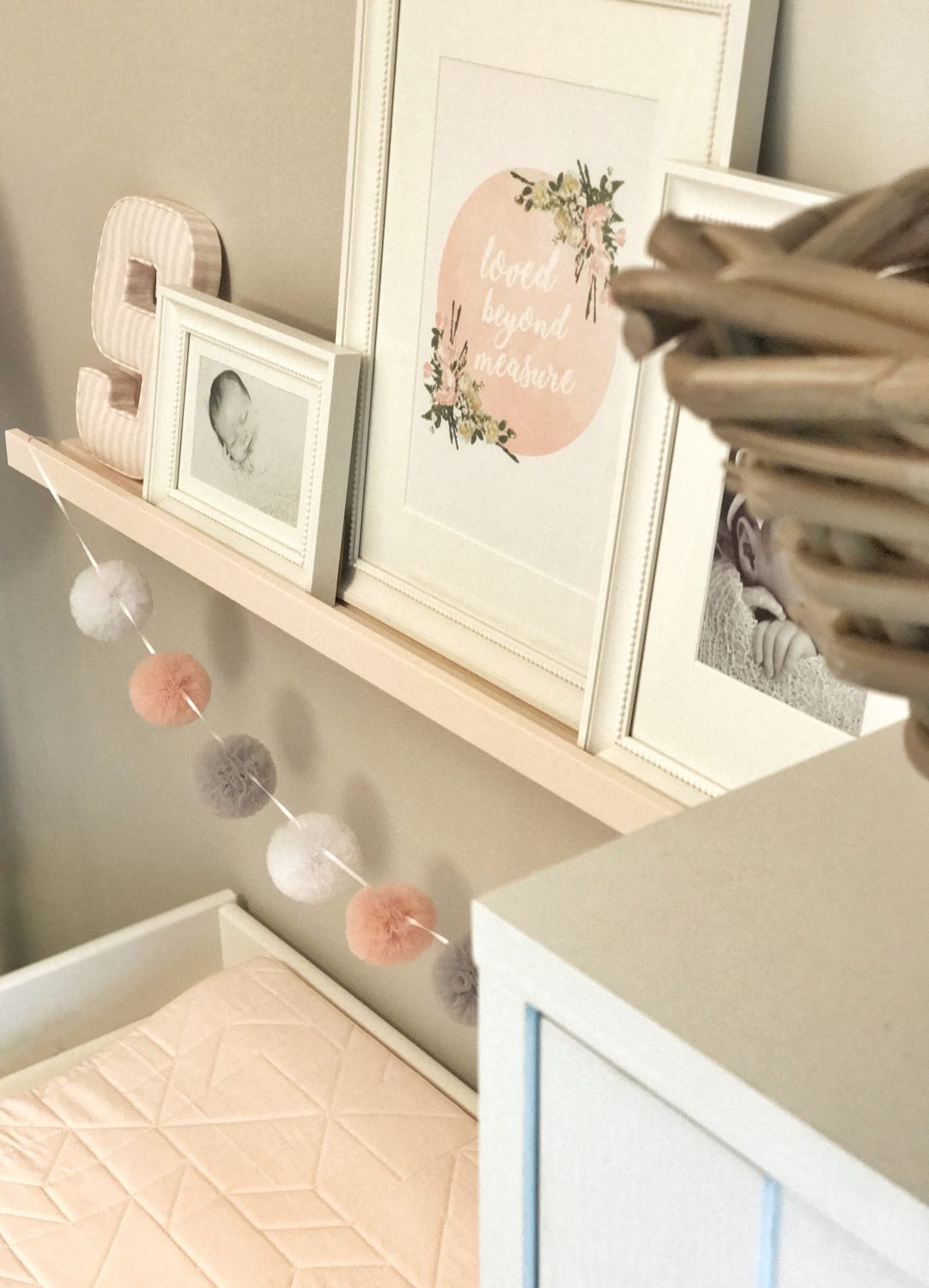 Finishing off the picture shelf ('MOSSLANDA' in 115cm from Ikea which I painted using Farrow & Ball 'Pink Ground') above the beautiful changing table/chest of drawers is 3 white 'SONDRUM' frames. The print is from the lovely Freddie The Kid which you can find here and then finished off with two of the gorgeous shots taken by the oh so talented Charlotte Marie Photography (who also did our newborn, wedding & recent beach shoots!). I also had a striped 'S' made by Laura's Love Letters.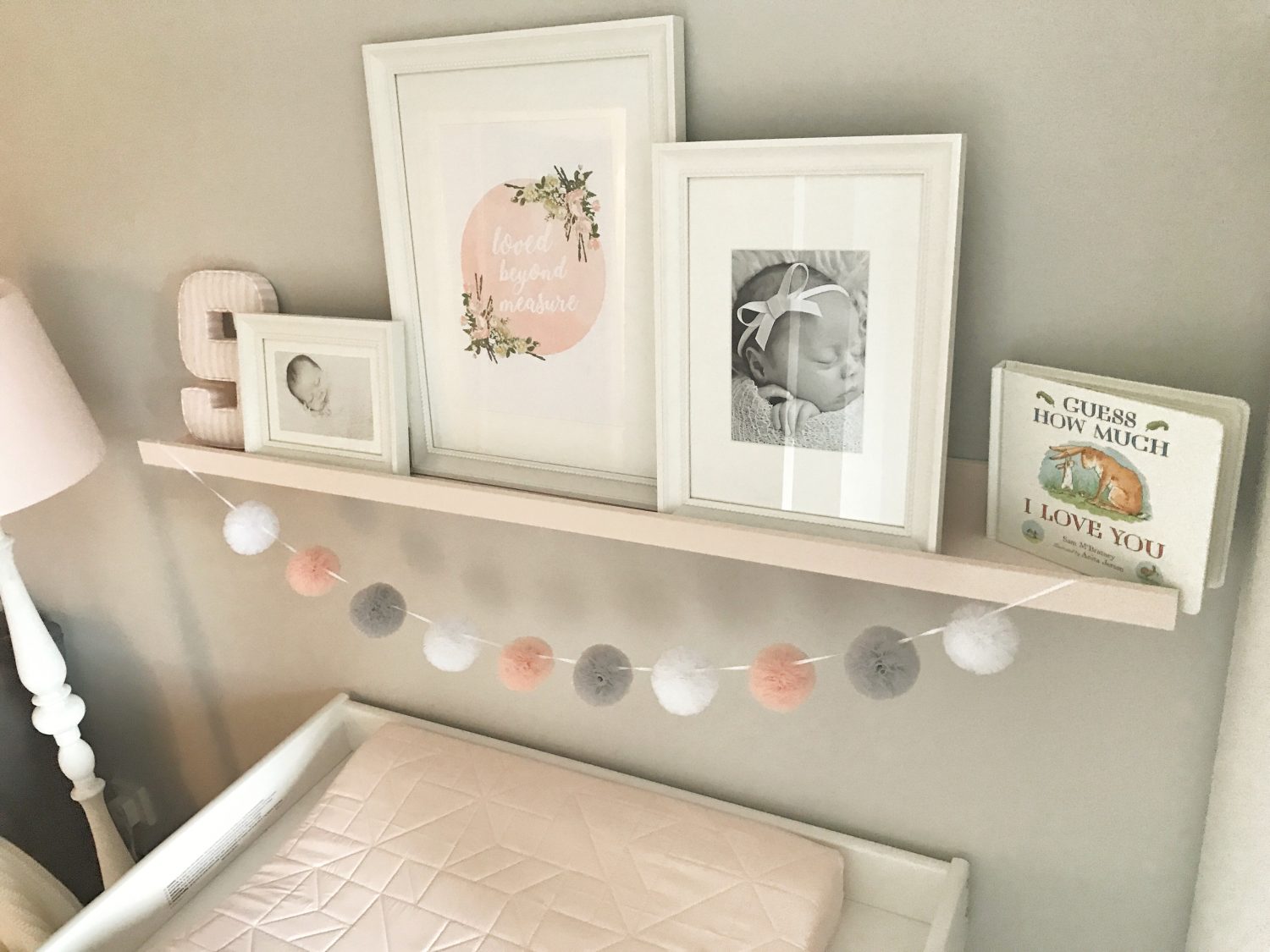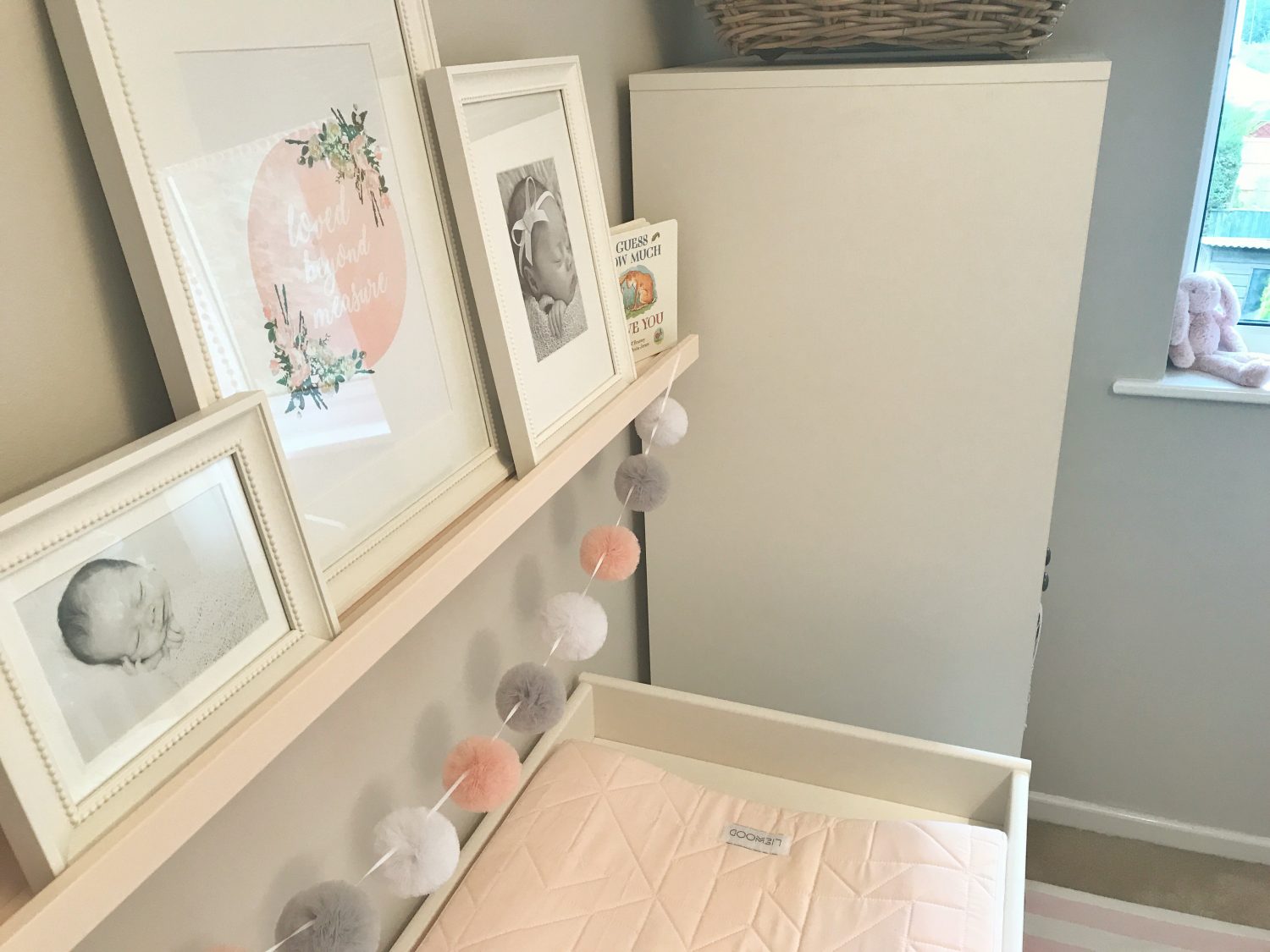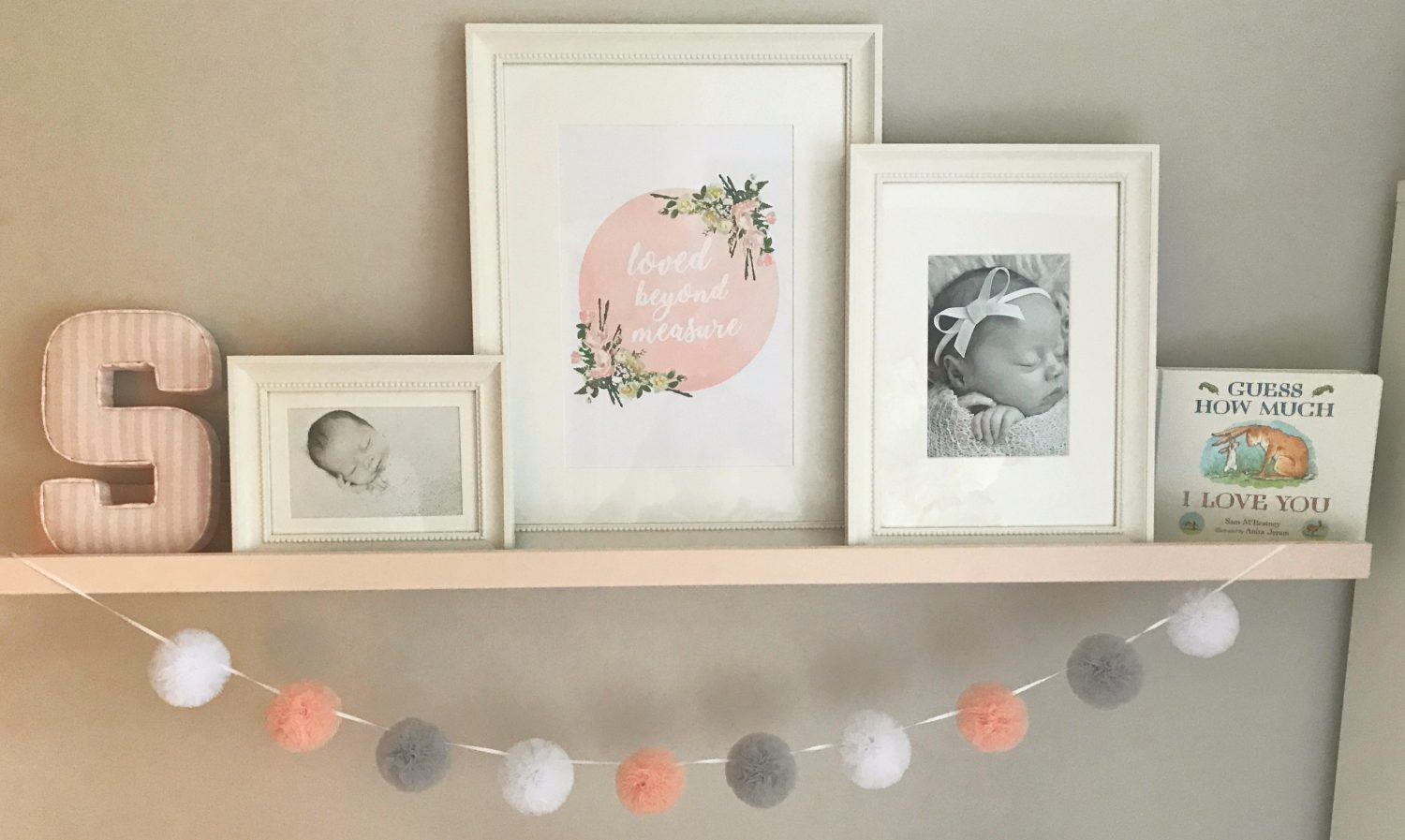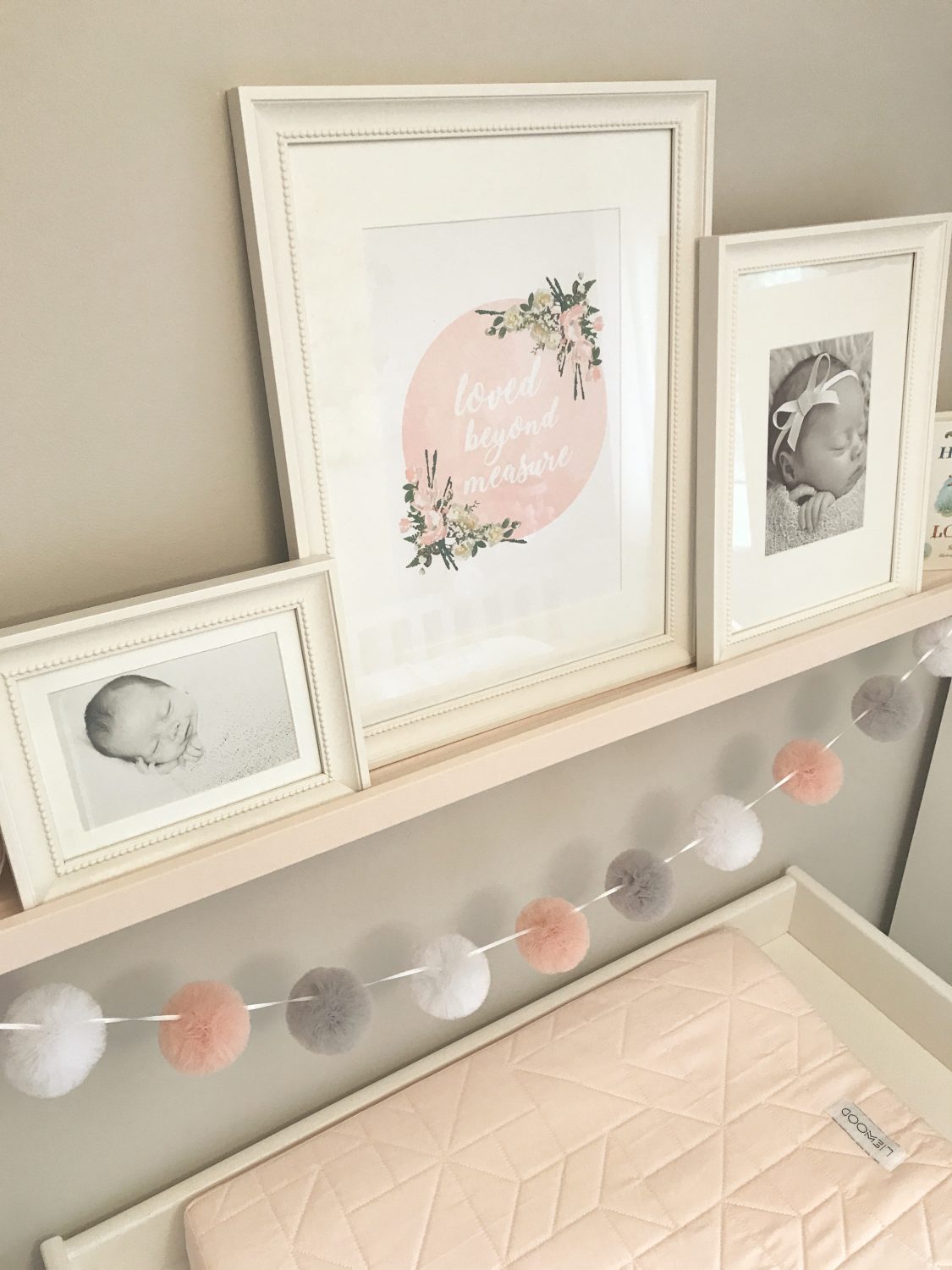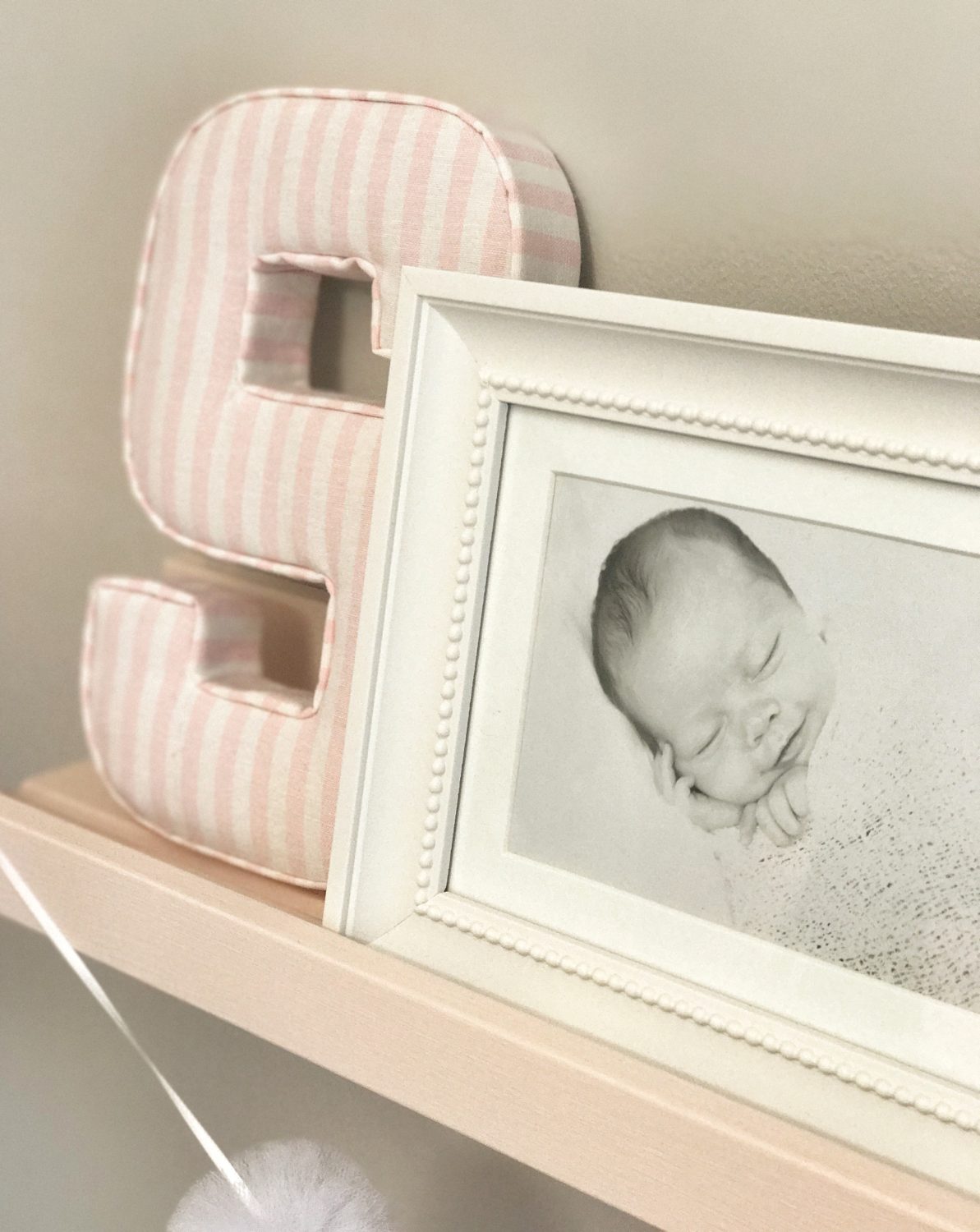 I hunted high & low for a beautiful blush pink changing mat & am SO pleased with this beauty from Scandiborn. Its the Noma changing mat in 'sweet rose' & is so soft, it feels like a mattress so it's hard to believe it's waterproof & washable.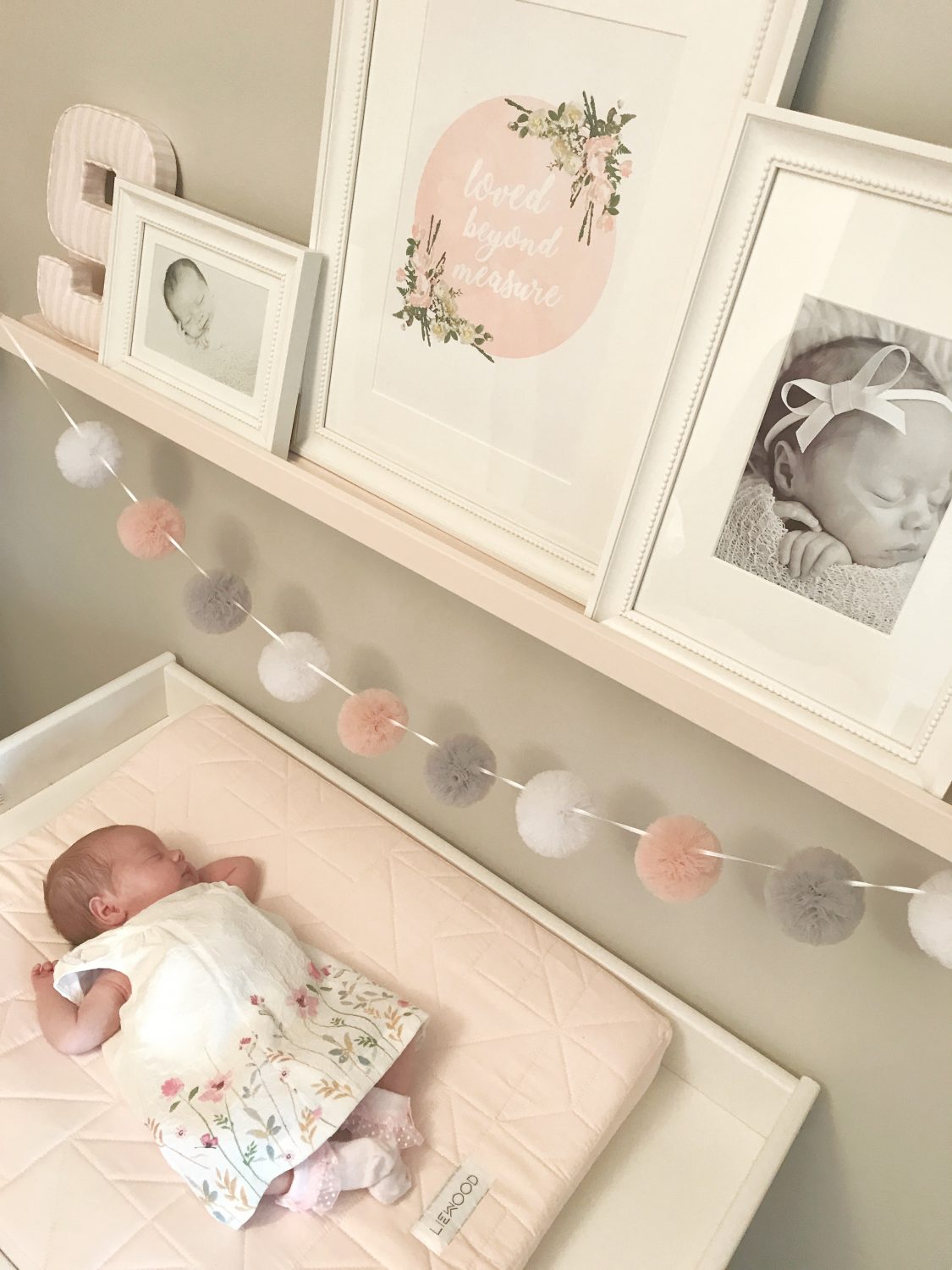 On top of the wardrobe I popped two 'BYHOLMA' wicker baskets to pop some of babies essentials & also to raise the height up slightly. On the handle I added this gorgeous wooden dream catcher made by the oh so lovely The Dotty Design House which was personalised for Sienna with 'Dream Big Sienna'.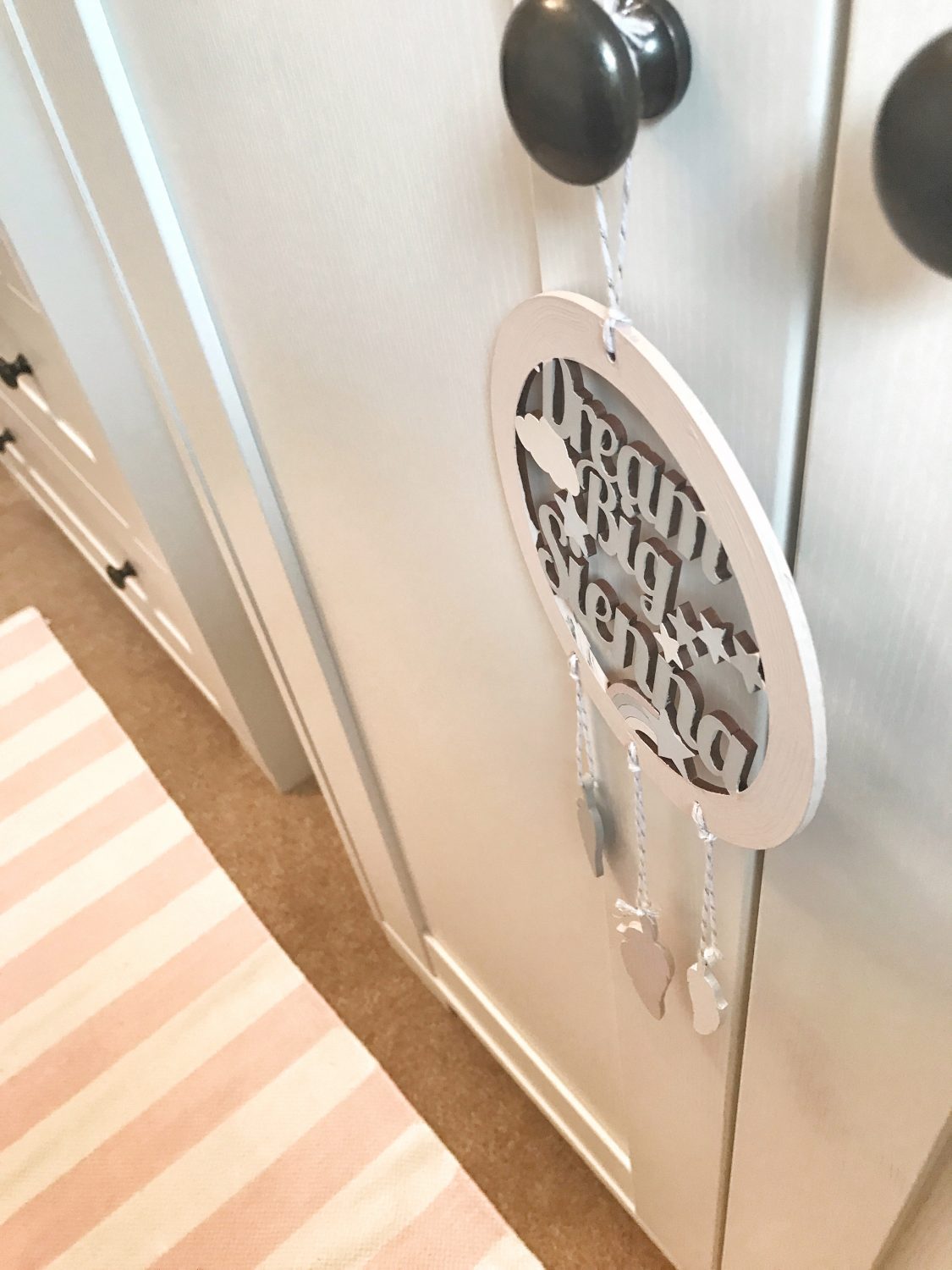 The carpet in the house isn't exactly what I'd go for but as it's a rental, the only way to go was to make do so I found this striped pink rug from H&M which does the job nicely.
Moving on to my statement piece which I am SO excited to show you all!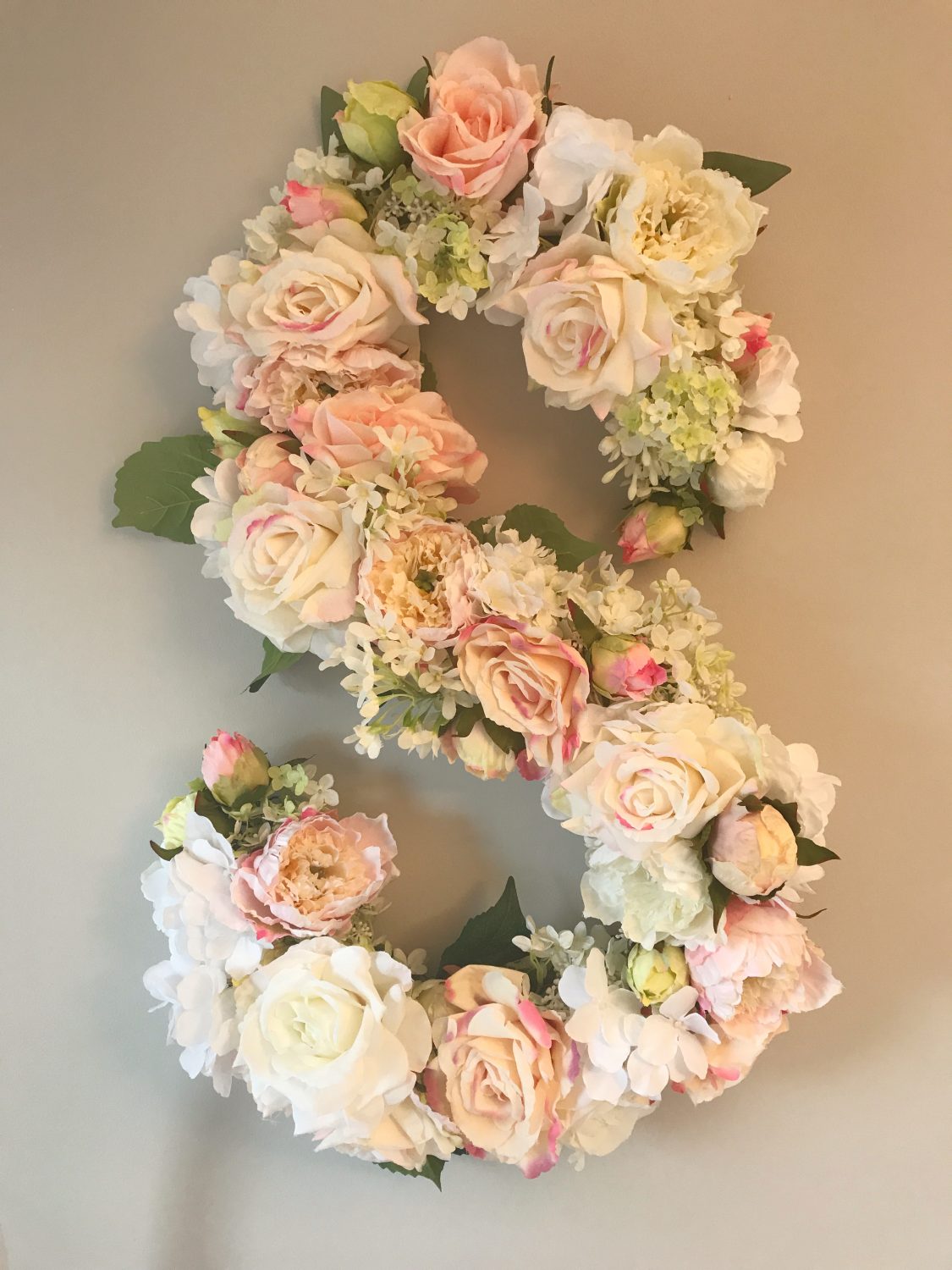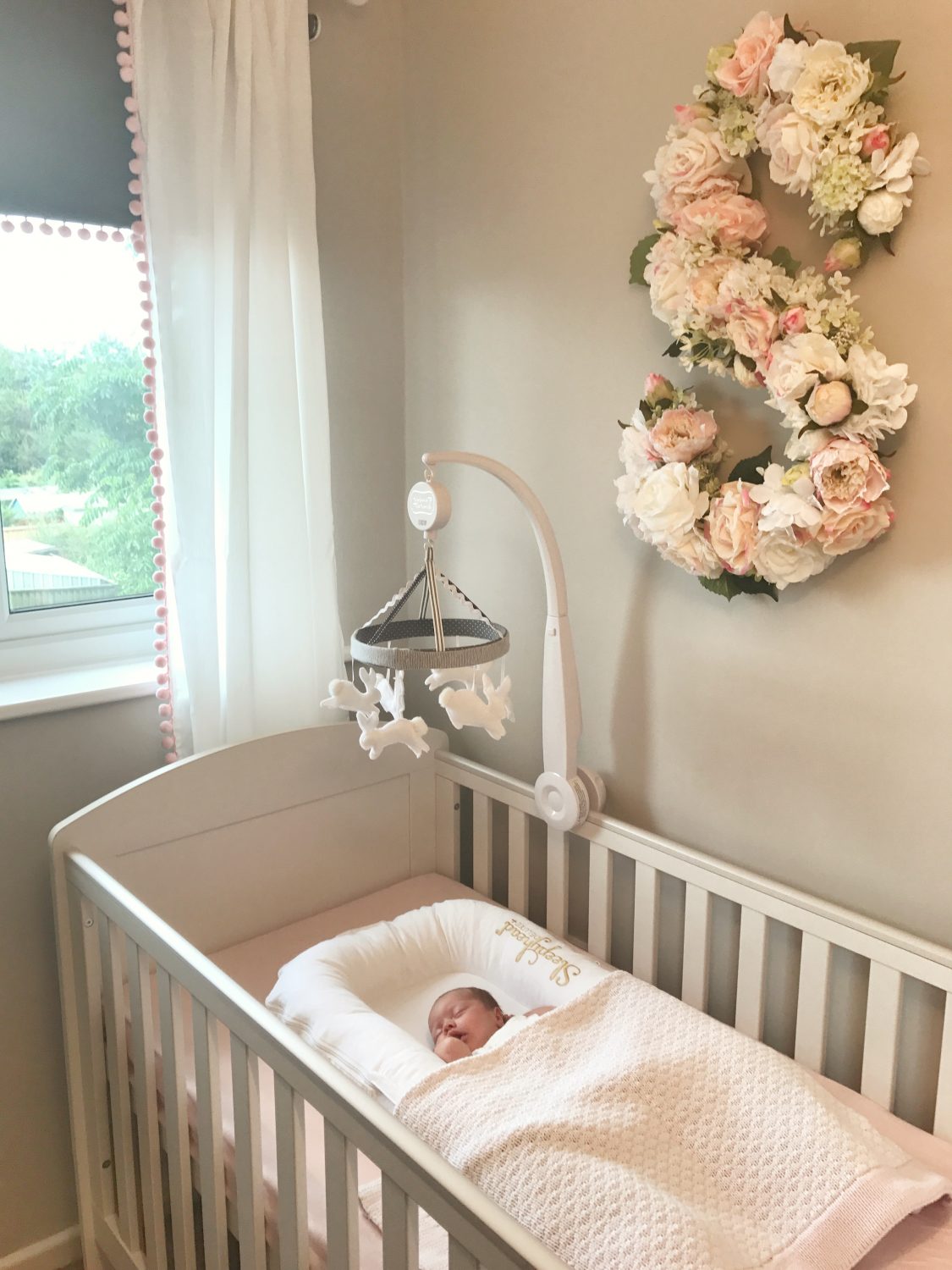 I hope you all love Sienna's beautiful nursery – she's already settled in & is such a little beauty. I can't wait to see her grow & watch the incredible relationship that my two little sproglets will have with her for the rest of their lives.
Welcome to the world Sienna Kelly Maxwell. You are SO loved.
Love,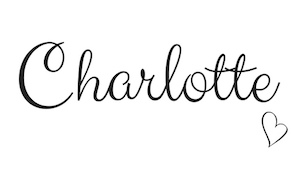 *This is a collaborative post