Before I start, in this post I'm not going to tell you about a secret pill or shake that will magically make you drop weight or mean you can eat whatever you want without gaining. I haven't done anything out of the ordinary or found a 'cure' (I wish I had!) but I've gone down the route of changing my lifestyle with healthy eating & exercise. I can't change your way of thinking in one blog post or stop you from comfort eating that family sized bar of Dairy Milk when you've had a crap day; the one thing I've learnt is that it's all about when you are ready to change & if you aren't, then it'll never work. It takes hard work, determination & most importantly, time.
On 2nd January this year, I made a New Years resolution to lose weight. I had done the same thing pretty much every year previously & ended up sticking to it for maybe a few weeks or the month of January at best before caving in & going back to my old ways. I was the stereotypical yo-yo dieter who'd decide every few months that I was going to lose weight then pile it all back on (plus some) not long after.
Nov / Dec 2017
I was a size 18-20 & hated my appearance so much so that I hid behind the camera rather than in front of it wherever possible. I decided that enough was enough & 2018 was going to be the year that I finally changed my awful eating habits to better myself & be a role model to my children.
For me, it wasn't being pregnant which was the problem, it was the time afterwards when you're too exhausted to cook proper meals or the picking at leftovers post weaning…half a packet of skips here, a few chicken nuggets there, then before you know it you've basically eaten a meals worth before your own dinner. The easy solution was always to reach for the takeaway menu & we'd have 2 or 3 a week which then became a habit.
This blog post has been requested more times than I could count but is also one of the hardest I've had to write as it's so personal & if I'm honest, I look back & feel embarrassed that I let myself get to the point I did. Give me interiors any day of the week but opening myself up is a whole other kettle of fish.
I can't explain what changed inside of me this time around & made me achieve what I have so far this year which is currently a crazy 5 & a half stone but it was like a lightbulb moment.
Unfortunately, I didn't take any 'before' pictures that weren't me completely butt naked in the mirror…so obviously I can't share them, so you'll have to make do with some other horrific ones I've found to grasp how far I've come.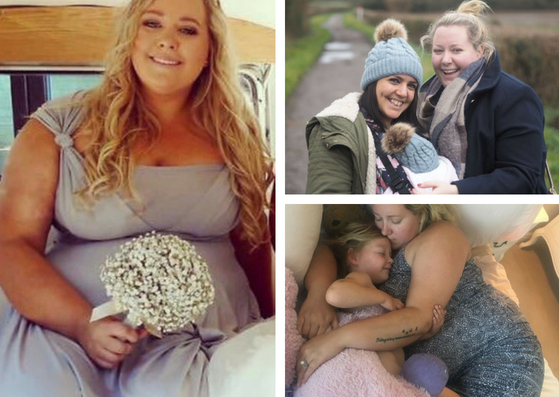 I was at a stage where I felt so down about my appearance that I didn't make any effort with the way I looked at all. I'd scrape my hair back in to a 'mum bun', couldn't be bothered with make up & I remember saying what was the point in buying nice clothes when you won't look/feel good in them anyway. Something needed to change. Now I get up every morning, do my hair & make-up & have a whole new wardrobe (although as I'm not 100% where I want to be, I'm still limiting myself to clothes).
I didn't follow any particular weight loss plan in particular other than 2 weeks of the Slim Fast 123 challenge as part of their 'Wellbeing Walkies' campaign with Mungo back in February. You can read about how I got on in the post here. I suppose in some ways I follow some Slimming World principles after doing it a few years ago, but mainly it's been healthy eating with lots of salad, fresh fruit & veg, lean meat, tons of water & recently some exercise to boot. I very rarely eat carbs & if I do then it's brown pasta or sweet potato in limited quantities. Everything is cooked from scratch to be as healthy & nutritious as possible.
Calorie counting has been a big aspect of my diet. I downloaded 'My Fitness Pal' & it's super simple to log what you're eating. I'd aim for 1200 kcal a day typically & within time this has not only taught me what kind of things to eat (I mean technically you could eat 3 pieces of dominos pizza for that but then be starving throughout the day…or instead you could have 3 healthy but good sized meals with snacks thrown in) but also it's become second nature. I rarely have to reach for my phone to see the calories in items but just know what I can & can't have.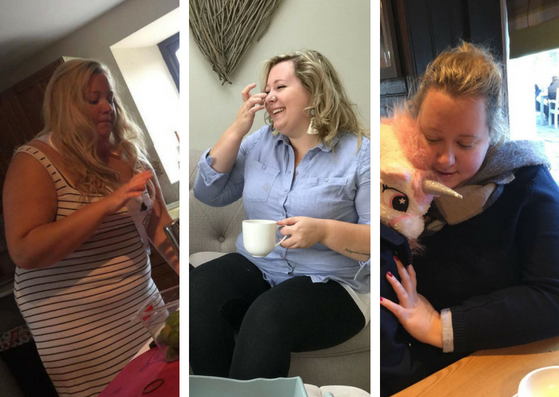 My daily meal plan is what you'd imagine if you think of someone on a diet; lots of veg, salad, fruit & lean meat. I make the right choices 99.9% of the time & yes, it can be pretty boring but I've made this my priority & am prepared to make sacrifices along the way. I've said no to countless invites for dinner or drinks (because we all know drinks leads to cheesy chips when stumbling home…) & instead try to steer social situations towards going for a walk or coffee rather than focusing around eating. Previously, everything I did revolved around food; "oh lets go to the beach to get fish & chips/ice cream", "lets go in to the New Forest for afternoon tea" or "lets go for dinner & drinks". Now looking back I realise I was addicted to food.
The main thing has been that I have been completely dedicated for the vast majority of the time. I think & plan ahead to make sure that I don't slip up. I can count on one hand (pre Bali..) the number of times anything 'bad' has past my lips. Some may think it's extreme but personally, I don't actually want to eat badly.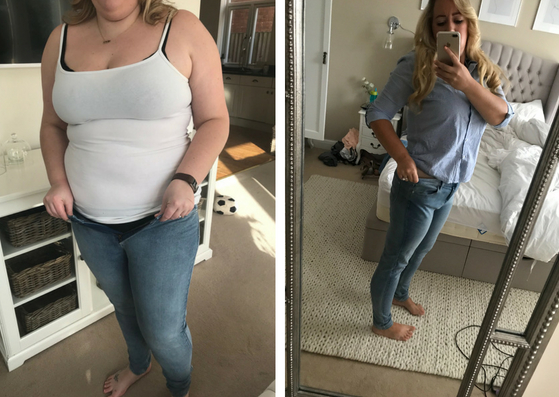 The same pair of jeans, bought in the sale – they wouldn't do up Feb 2018 so I put them away in my wardrobe in the view to wear when I'd lost more weight, I tried them on beginning of August & they were huge! Ebay it is.
What has kept me going throughout this is simple. Each week I'd stand on those scales (Monday AM, after going to the loo & completely naked) in the middle of the kitchen & every week, I'd see the scales going down. After not long, I started noticing my clothes getting looser & then, everyone around me started seeing the difference too & making comments about how great I looked. I'd then be able to buy clothes in a smaller size & not from any plus ranges. That right there, beats eating a Domino's pizza hands down.
I couldn't do this post without talking about my BFFL/sister from another Mr, Sian who embarked on the same mission I did at exactly the same time. We both decided we were going to do it together & having that support there has been absolutely invaluable. We've both been super strong but I know for a fact that if I was going to fall off the wagon then she'd be the one sending me abusive messages & visa versa. We spend far too much time together too so it's nice to be able to make healthy lunches & be in the same boat. She's now 4 and a half stone down. Its safe to say I'm SO super proud of her! You can follow her Slimming World page at @sian.and.slimmingworld for lots of inspo.
Dec 2017 – Aug 2018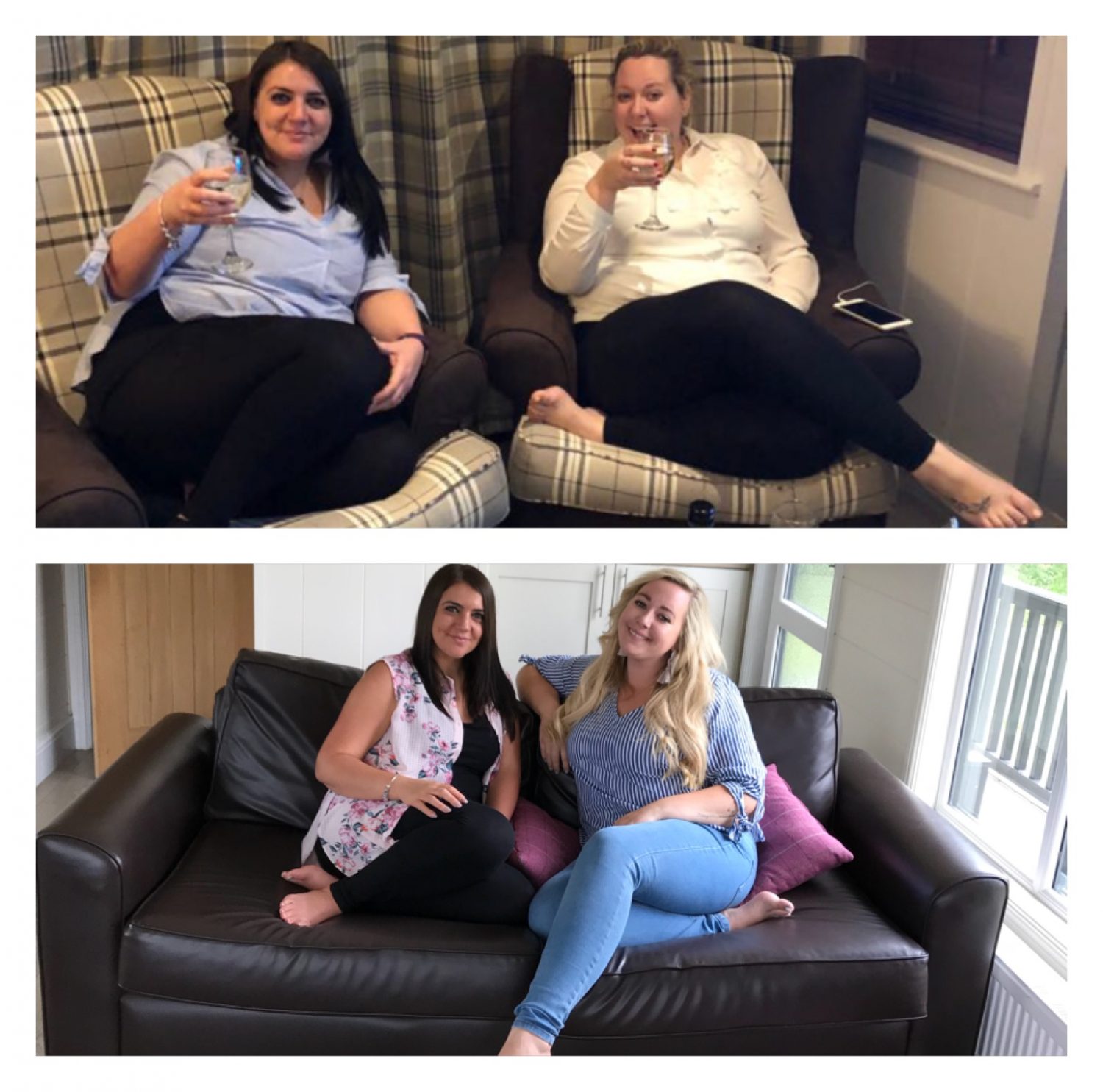 Top pic was at Darwin Escapes 31st Jan (2 days before we started our diet) – second pic is back at Darwin Escapes mid June at 7.5 stone down between us
A turning point for me was going away to Belfast with my lovely Insta-chums in April this year. Spending a few days with ladies who I presumed were 'naturally' slim I felt totally out of my comfort zone but it actually opened my eyes. We had a huge afternoon tea spread put on by the beautiful Fitzwilliam Hotel which we stayed in & as I sat with a glass of champagne, I noticed how they'd allow themselves a couple of little sandwiches & maybe a cake each but other than that, they didn't do what I would have done (& what I thought was completely normal behaviour previously…) of eating the entire spread even if I was so full I felt sick. That wasn't normal, this was, & they weren't 'naturally' thin, they just aren't greedy & set a healthy limit. Food is meant to fuel us & not to always be a pleasurable thing.
Another was at the beginning of August, on my trip to Bali, I did something that I thought I'd never be able to do…I walked up a volcano. I was SO incredibly unfit & unhealthy at the start of this year, so to be able to get to the top was something I'll never forget & that overwhelming sense of pride made everything so worth it.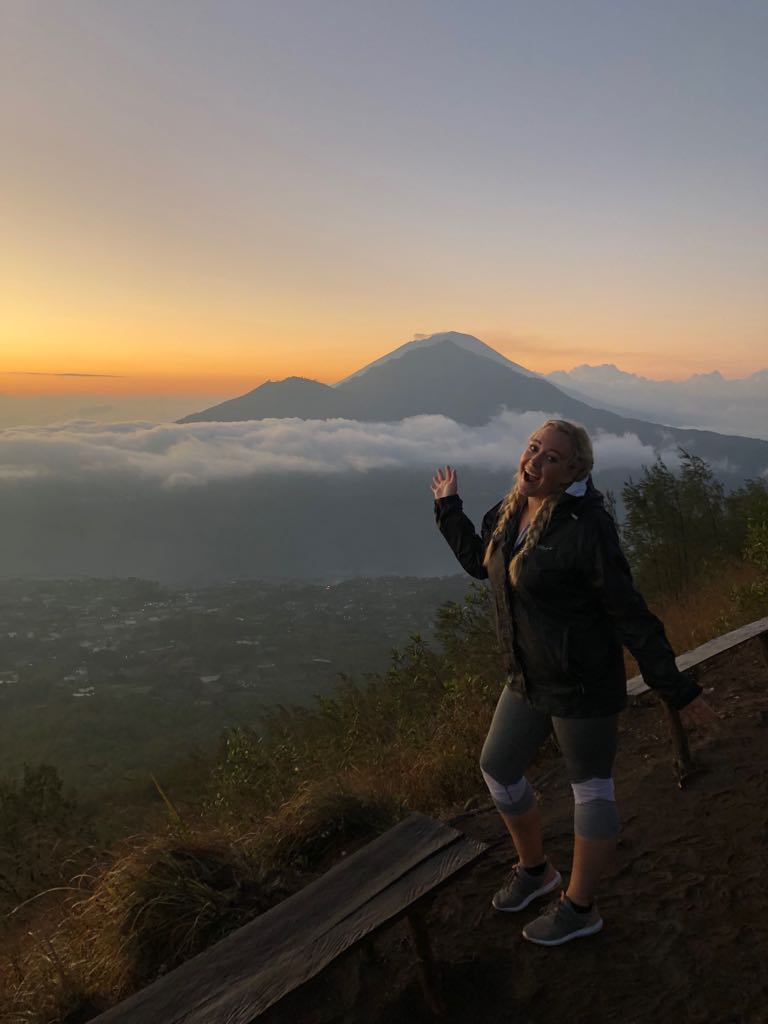 So what are my top tips for anyone about to embark on the huge task of losing weight? –
1. Don't compare – this is something that slips SO many people up & is all too easy. Don't compare your weight loss to anyone else's. Everyone carries weight differently; heights & builds all mean what one person looks like at 10 stone may be completely different to another. If someone is losing weight quicker than you then don't get disheartened, they may naturally drop quicker!
2. Keep going – probably the most important factor is to keep going. It doesn't take a couple of months to put on a substantial amount of weight so don't expect it to come off that quickly. It's harder to lose than it is to gain. I aim for 2lbs a week but as long as it's a loss then I'm happy. This is a lifestyle change & even if it takes years but each week you're going in the right direction then so be it. I found one of the best motivations was setting little targets & rewards so for example when I hit 3 stone I went to a Mac counter & had my makeup done then treated myself to not only look nice but feel nice too.
3. You'll have up's & down's – some weeks you'll have big losses & be super motivated, others you'll have tried really hard, eaten the right things but had an unexpected gain or not lost as much as you expected/wanted. Put it behind you & move on. The body is a funny thing…I found for a few weeks after I started exercising I'd get tiny losses even though I was trying harder than ever before but I persevered & it eventually started coming off plus I felt better in myself & could see a difference in the mirror, rather than on the scales.
4. Don't buy bad food – this sounds like an obvious one but don't buy 'bad' food or have it in your cupboards. Have a big clear out & donate to a local food bank. If you have kids then obviously you can't completely restrict them (because crisps are essentially every childs staple diet…right?) then put them in a separate cupboard & mentally tell yourself that is out of bounds. At the start I had a situation where my two had finished eating their dinner & I'd demolished a few chips without thinking…I started getting out the anti-bac kitchen cleaner & spraying it over to stop myself. Now I've developed the will power (& it comes naturally) to not even look at it.
5. You don't have to exercise – but it definitely helps! Even taking a few more steps a day (I wore a fitbit charge 2 for the first half of the year & couldn't recommend it more to make you consciously think about how much you're moving & to get that all important 10k a day) to joining a local gym. I don't exercise for weight loss necessarily, I now do it because it makes me feel SO good; I leave my PT/bootcamp sessions (with @pwrfitnessuk who I couldn't recommend more to anyone local) energised & with a clear mindset.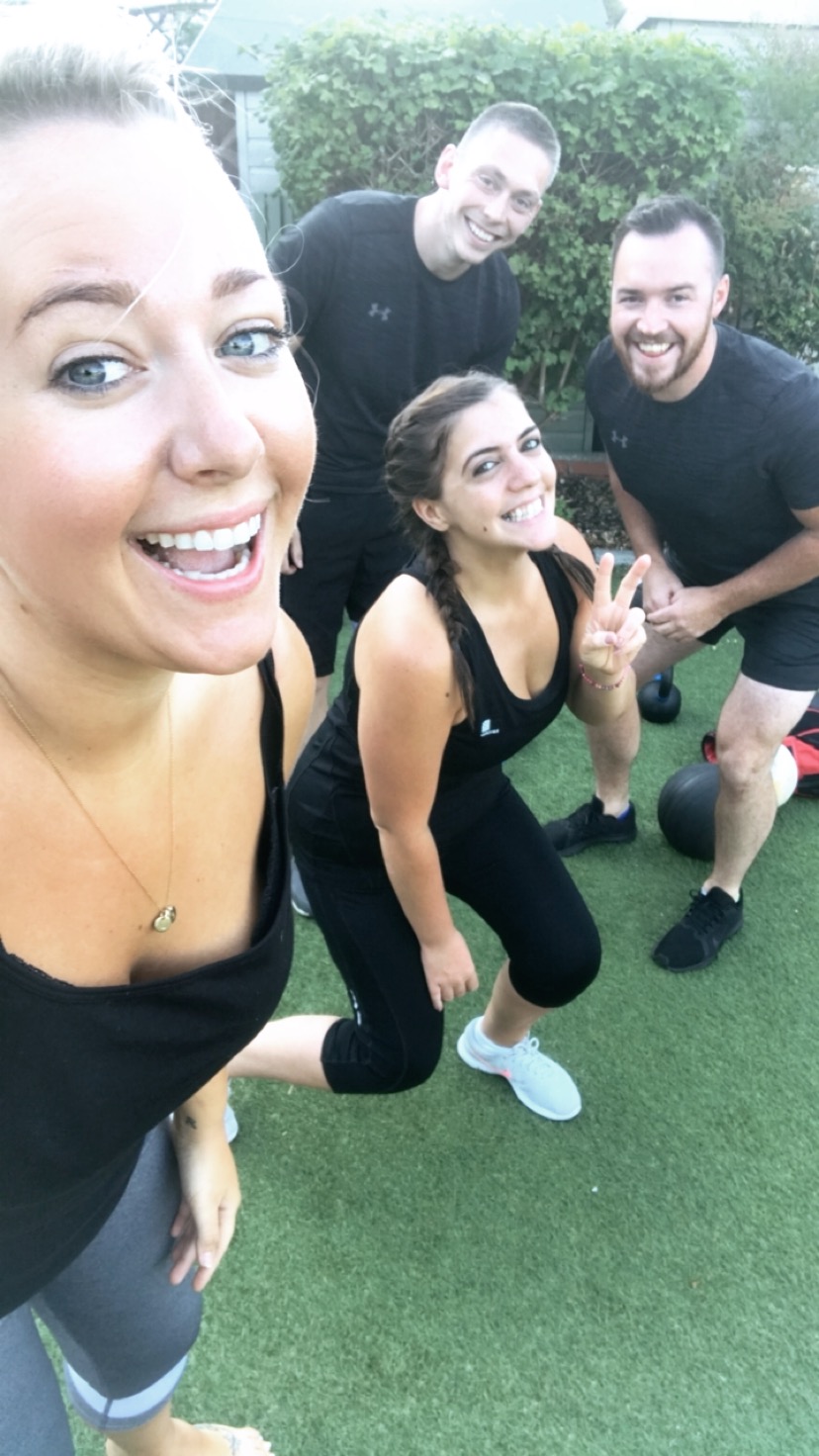 6. Make the right choices – half of dieting is common sense, we all know what we should be eating but lets be honest, if weight wasn't an issue we'd all be eating pizza over salad. If you can make the right choices the vast majority of the time then you can make the wrong choice occasionally.
7. Find a balance – I personally am an all or nothing kind of person & wanted a quicker result so was good 99% of the time but for others that want to take a more scenic approach then give yourself a cheat meal once a week if it's what you need to do…just draw a line under it the next day & climb back on the wagon. You won't be on a diet for the rest of your life so it's important, especially as you get to where you want to be, to make sure it's sustainable & to find what works for you.
8. Drink drink drink – an obvious one but you'd be surprised how often your body is telling you it's hungry when actually you're probably just thirsty. I try to drink 3L a day as an absolute minimum & before every meal I have a glass of water/sugar free squash to fill me up a little bit too.
9. Don't starve yourself – I'm not 100% sure how it makes sense, but the weeks where I am so busy I forget to eat enough or that I'm desperate to reach a number on the scales so restrict myself, I don't end up losing as much. It's the weeks when I feel like I'm constantly eating (the right things…) that I get the best results.
10. Be kind to yourself – remember that you are not defined by the number on those scales. You are a beautiful person & so very loved, so whether you start now or in a year, it really doesn't matter. Don't let anyone tell you any different! More than anything, make sure you're doing it for yourself first & foremost.
Instead of including a 'usual' meal plan in this now very lengthy blog post, I've decided to instead do a week of showing you guys my food on Instagram stories (I can highlight it so it stays up) just to give you an idea of what sort of things I eat on a day to day basis so keep your eyes peeled as for next week starting tomorrow, Monday 17th September. I'll try to keep it fairly quick so not to annoy the majority that couldn't care less!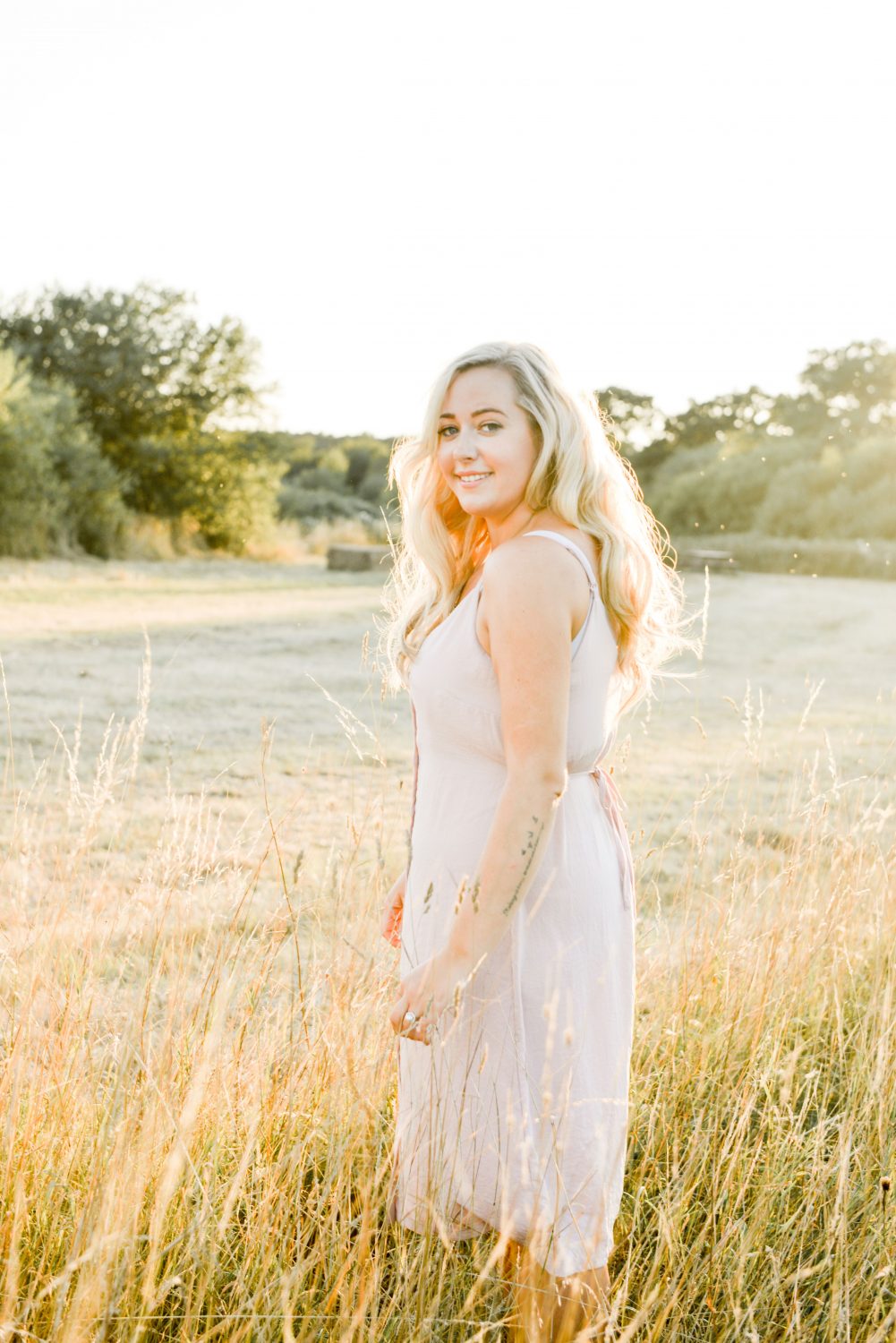 I'm not 100% where I want to be just yet & if I'm honest I probably don't feel 'ready' to be writing this blog post as I'm still knee deep in lettuce leaves but if I can help to inspire even one person who wants to overhaul their diet & in turn lose some weight to be healthier then it's been worth it.
Losing weight hasn't been a purely physical thing for me, it's been so good for the mental side too. I have so much more confidence to embracing life & take opportunities without hiding myself. My energy levels are so much better & I'm smiling for what feels like the first time in so long.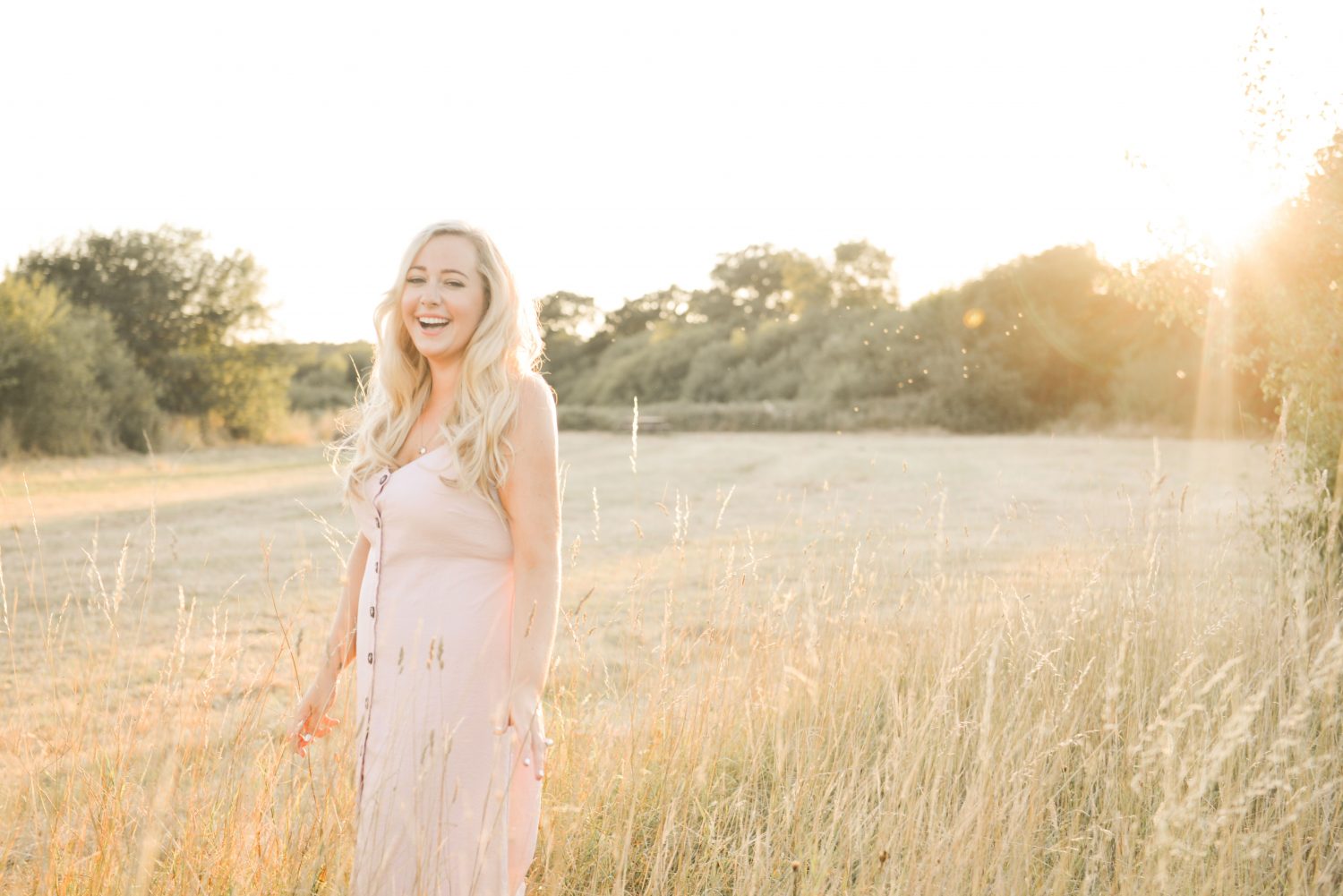 I know it's a cliché but if I can do it, anyone can. So what are you waiting for? Go for it.
Love,