What could a girl possibly want on her 30th birthday in the middle of a global pandemic? No chance of holiday, a big party or even afternoon tea with the girls. So in true THTMM style, I asked for a new hallway. Definitely getting old..
When we bought Baylyn House over 5 years ago, we had one side of the hallway panelled using tongue & grove style boarding (like this) to add some all important character. It made a huge difference, but at the time we didn't have the money to carry it on up the stairs. The landing was one of the main things that I loved with the massive original stained glass window & the multiple level stairs but up until now I've always felt like we didn't make the most of it & apart from a lick of paint we hadn't done anything.
Here are some before snaps…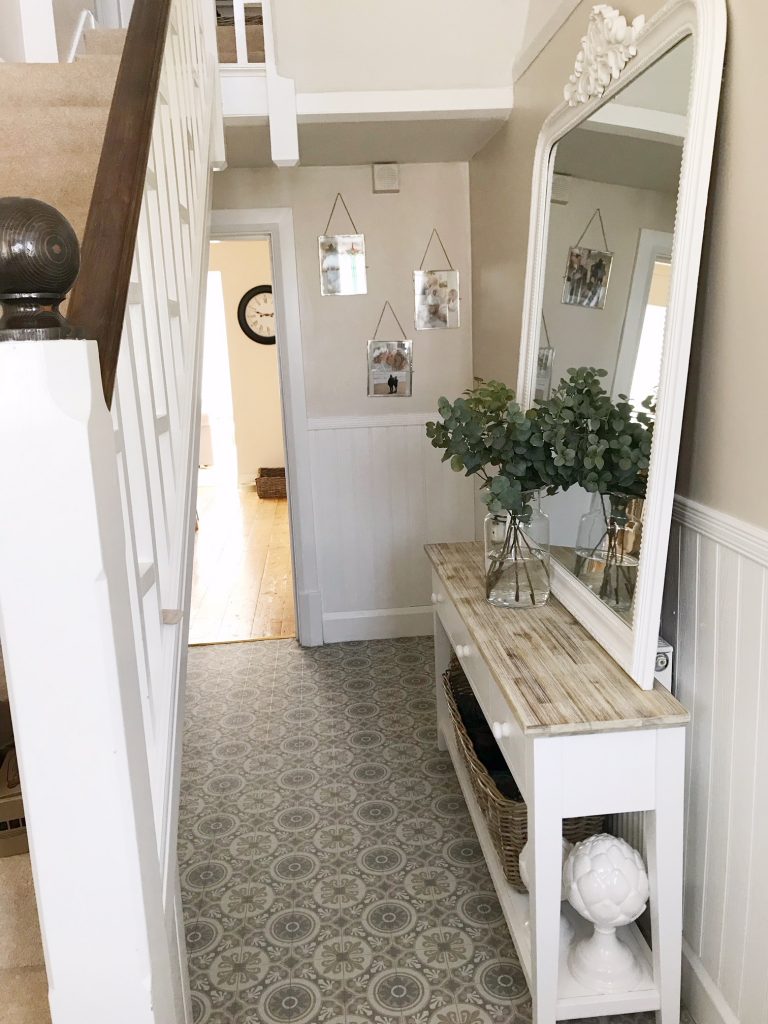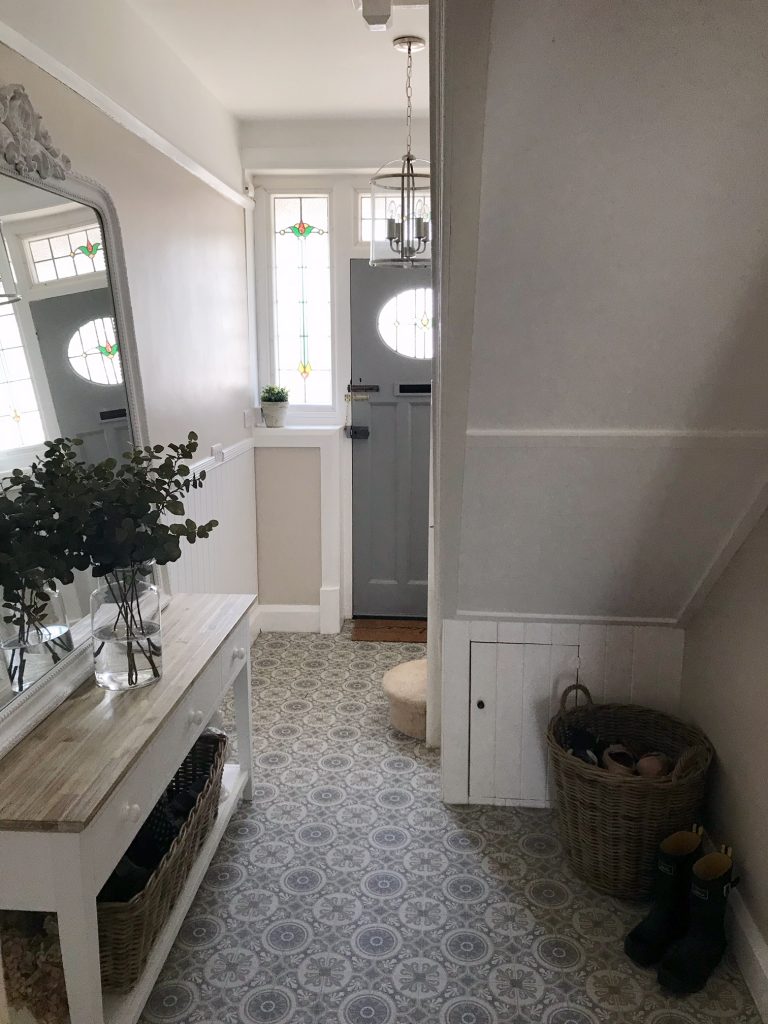 Forever a fan of panelling, I hired a carpenter (Steve Pengelly if you're local – I really recommend!) to transform the walls using strips of MDF. This is something many people DIY as it's fairly simple & if it was a flat wall we definitely could have done it but the stairs are so higgledy-piggledy that I'm really glad we called in a professional.
The MDF strips are 10cm wide & were stuck directly on to the walls using glue & a nail gun.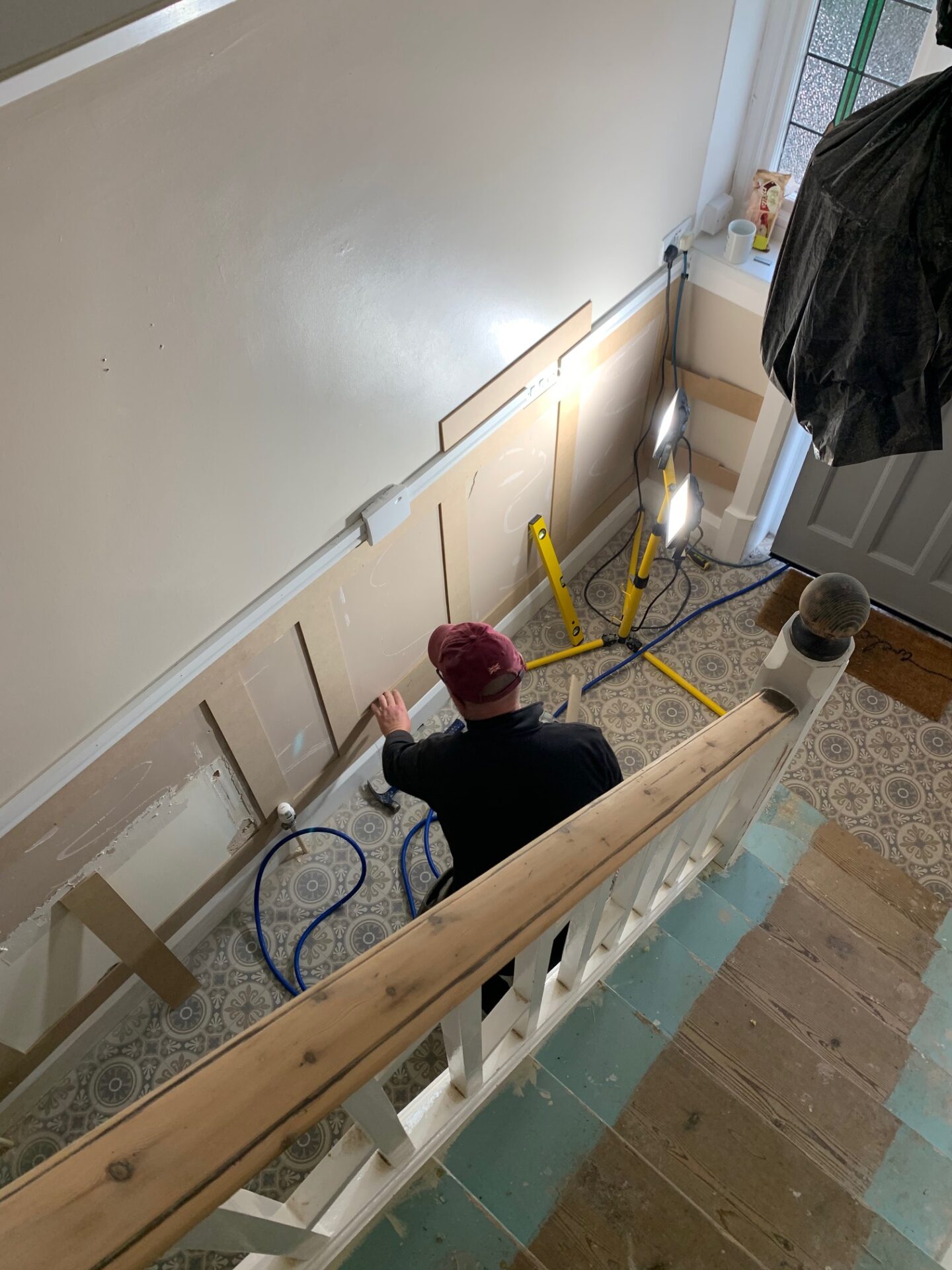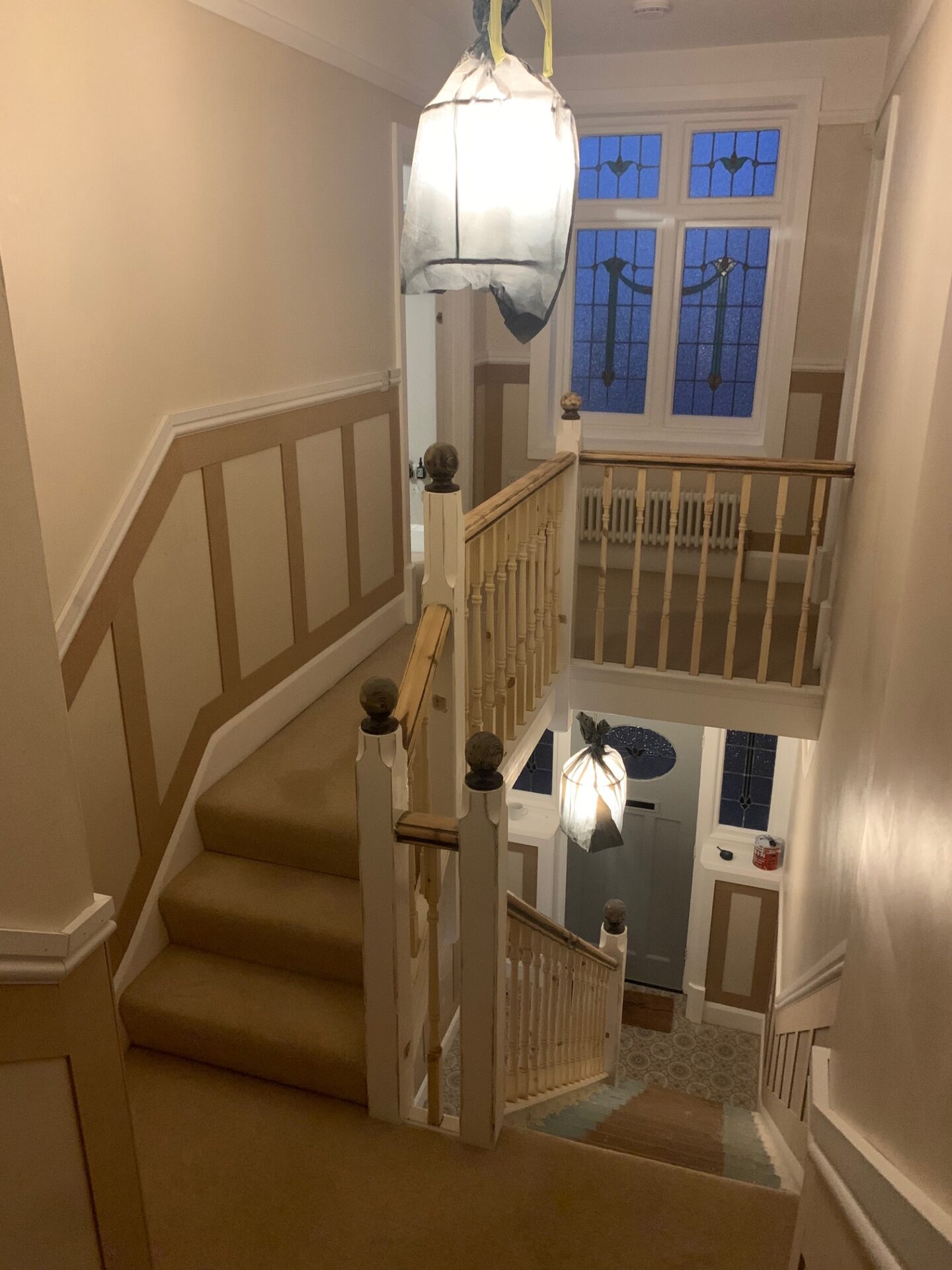 I am a firm believer in injecting character but also being sympathetic to the period of the property & at some point in time the spindles on the staircase must have been replaced as they were quite art-deco style. I was never a fan of them so decided to also replace these at the same time with a traditional Victorian shape & can't believe what a difference it's made.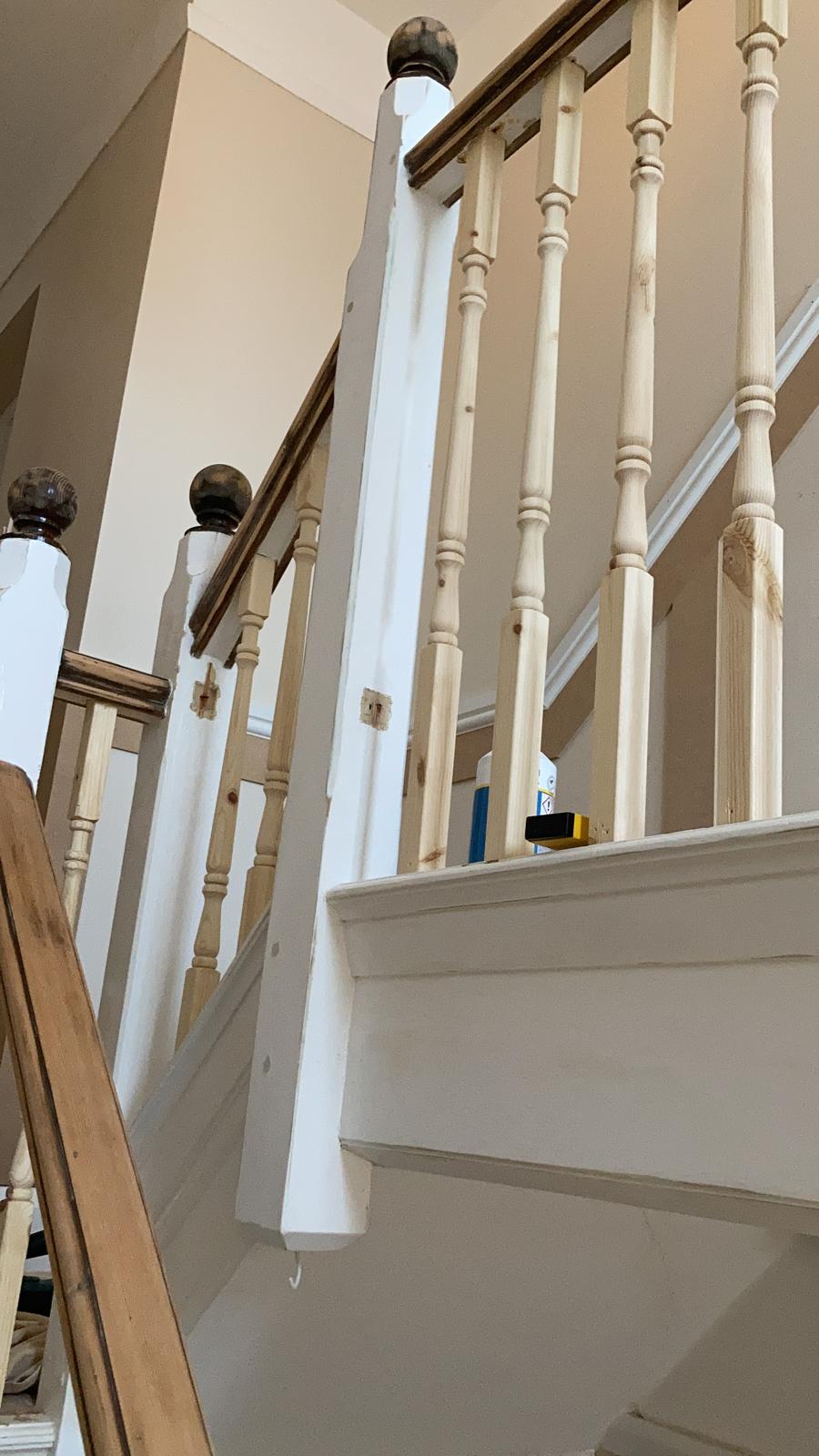 We were finally at the painting stage & I decided to go with Dulux 'Jasmine White' (this is the next tone down from 'Almond White' which is throughout our open plan living/kitchen area) for the walls above the panelling then used F&B 'Purbeck Stone' for the panelling & 'Moles Breath' for the staircase. Both are warm greys & compliment each other beautifully. Although I've technically gone darker, it looks SO much brighter.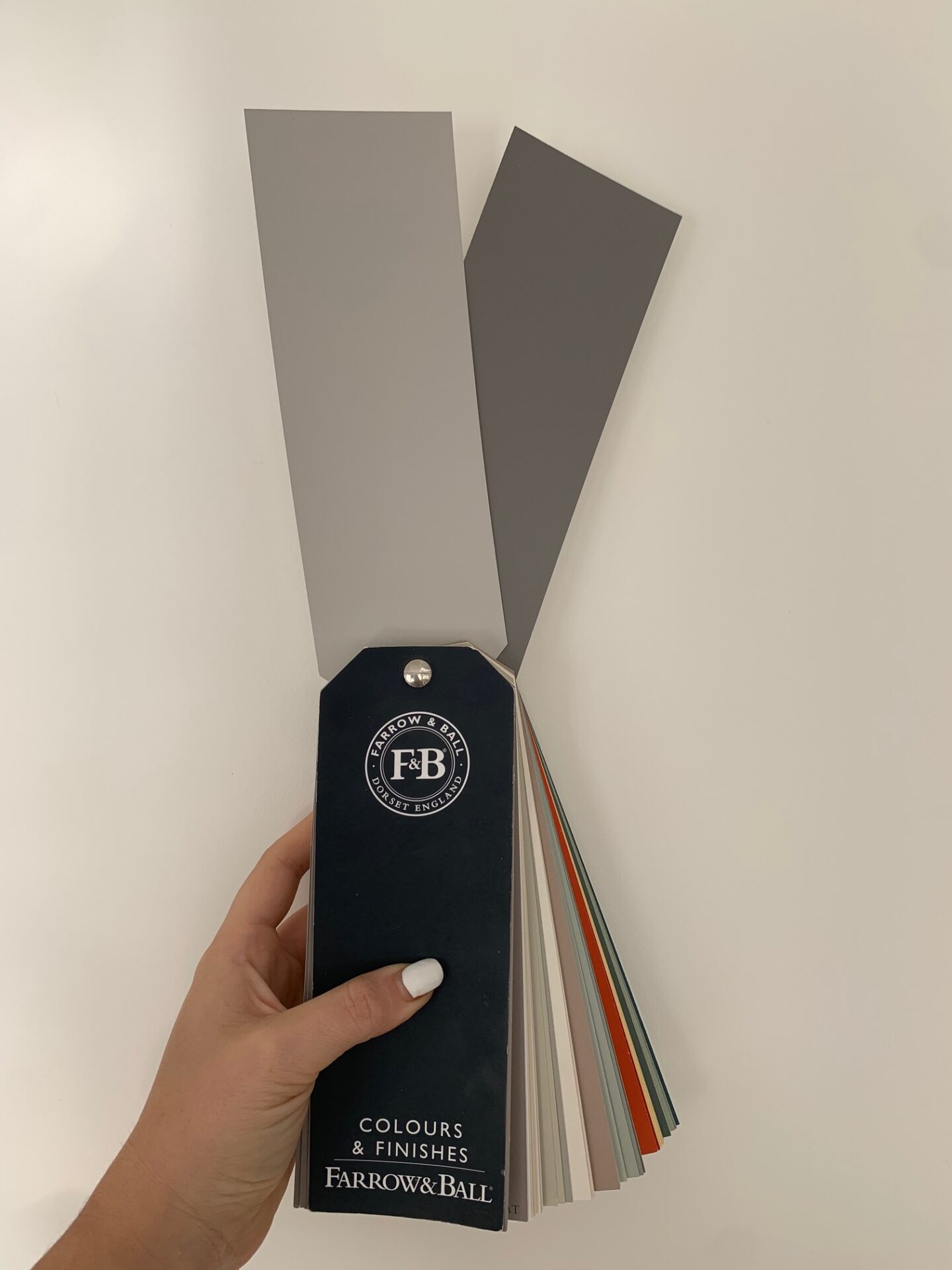 & here is how it looks now! Not 100% finished but it's there for now…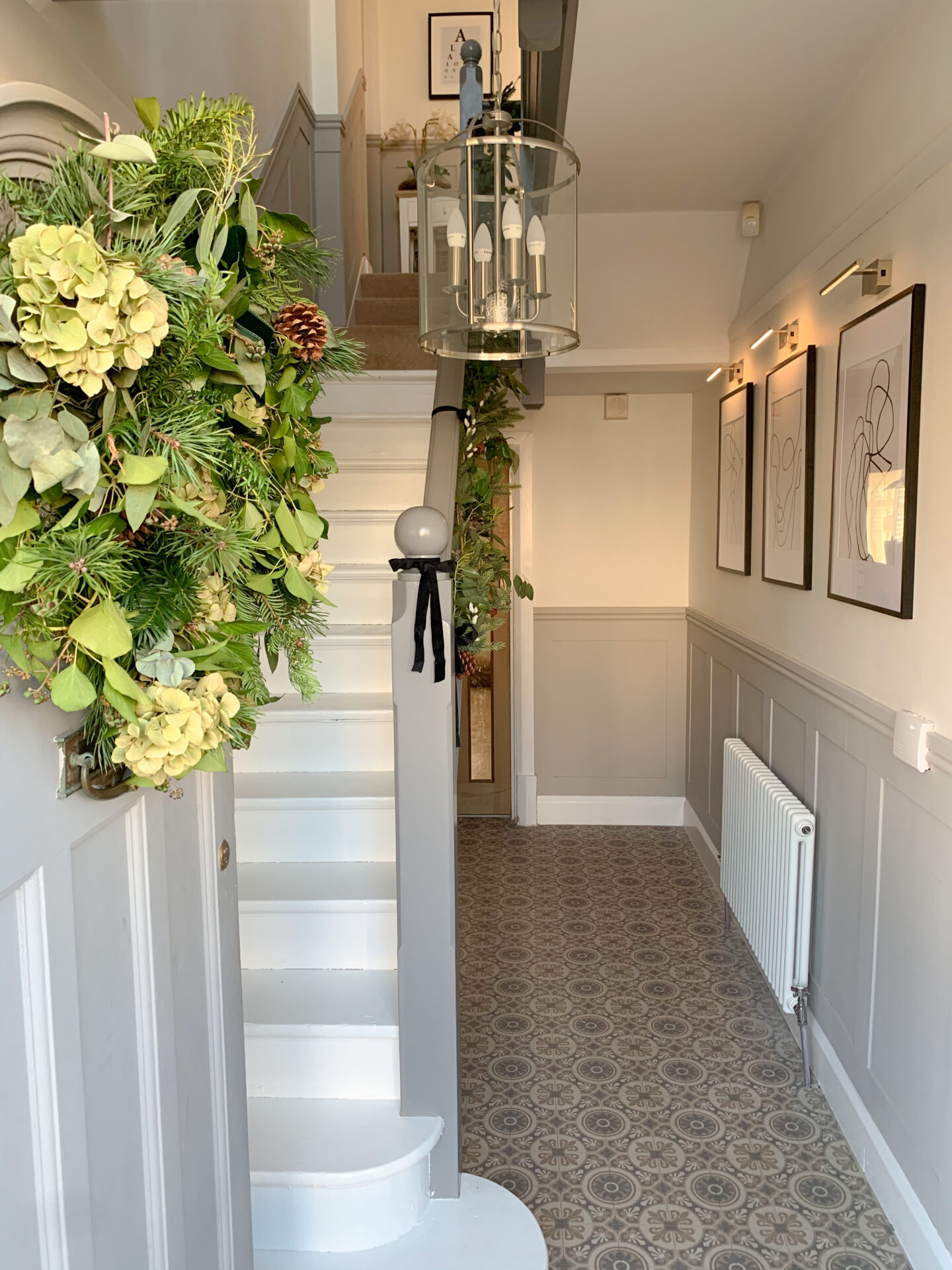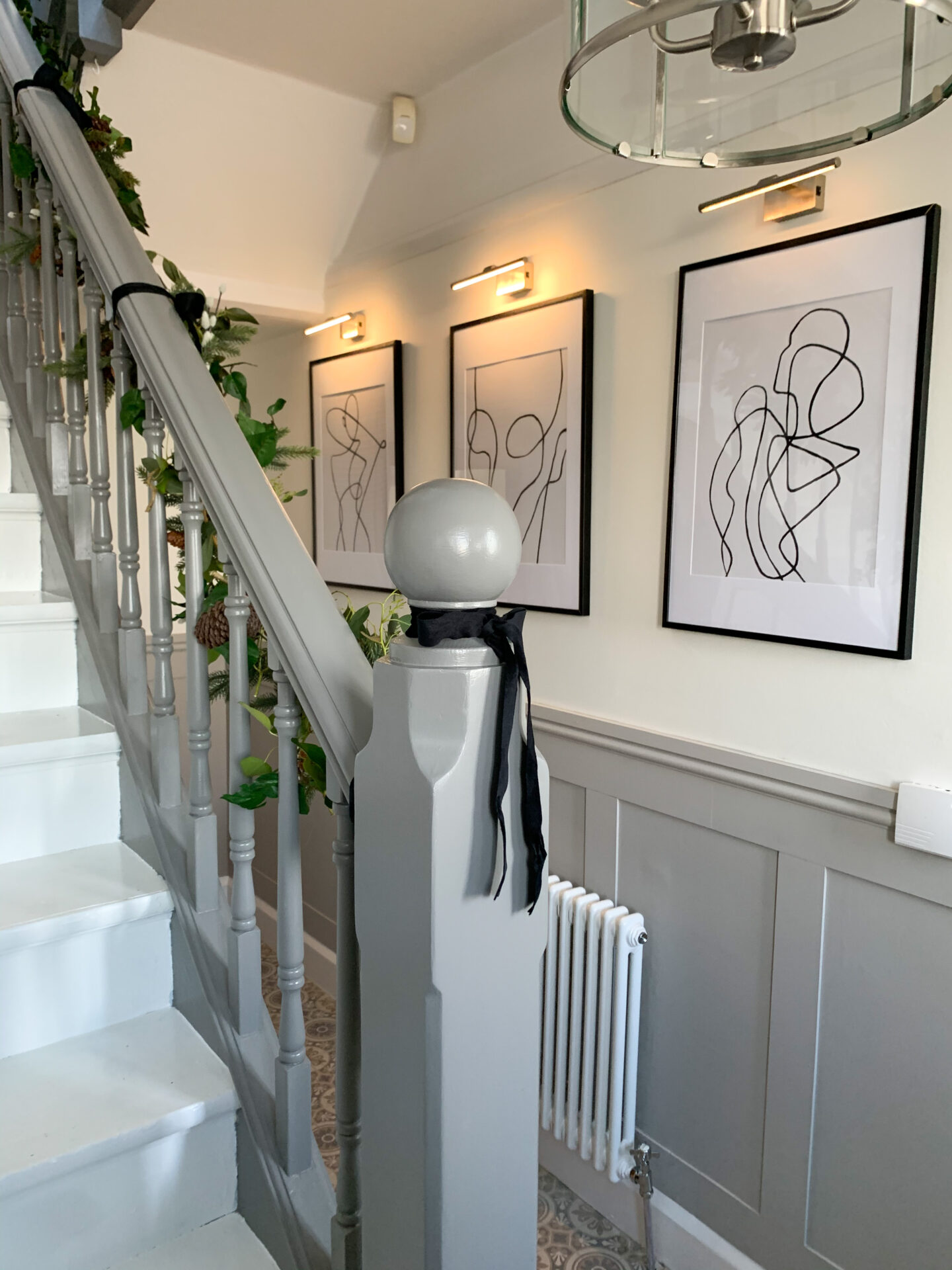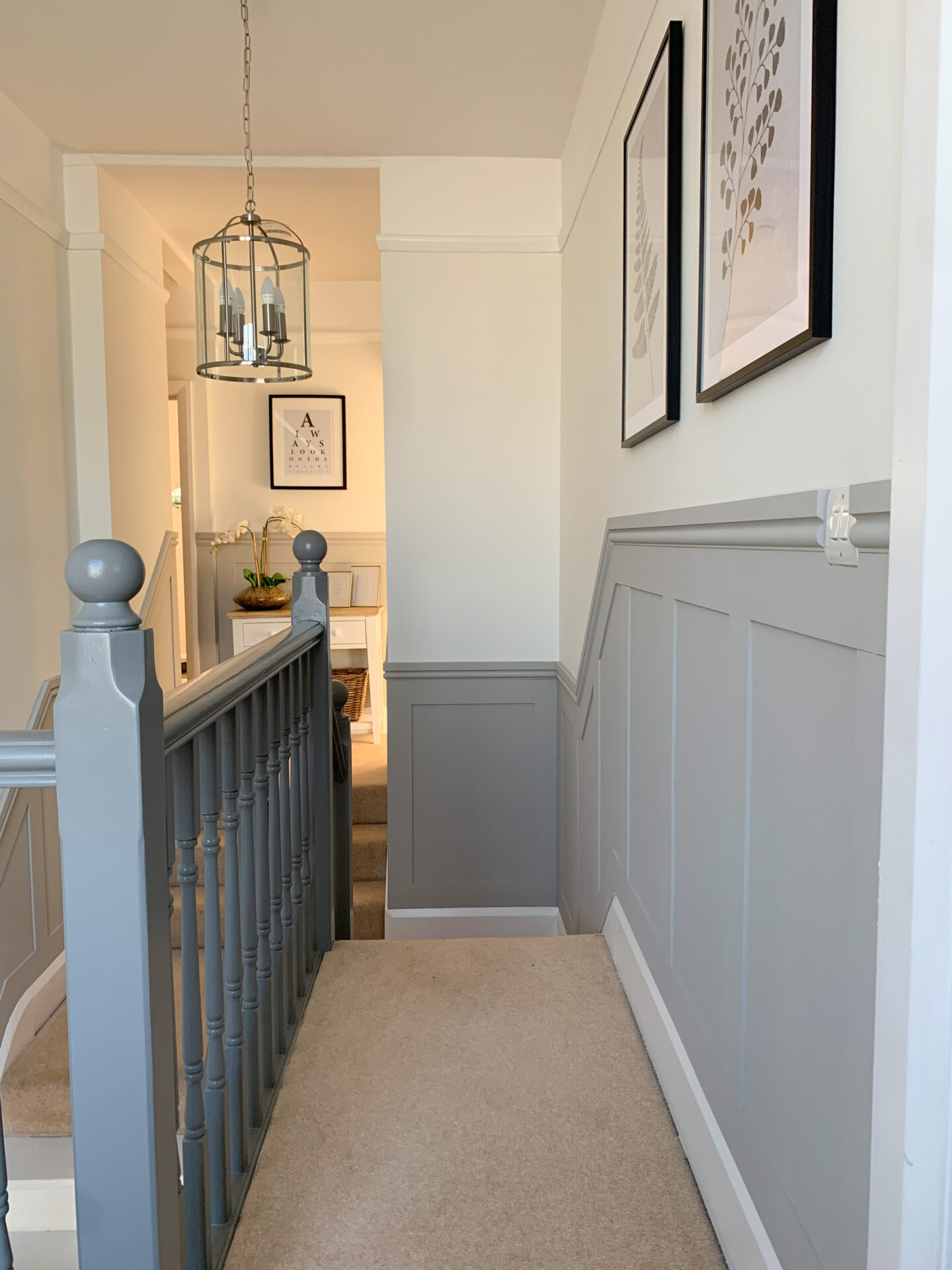 Flooring wise, I still absolutely love the patterned vinyl (Baroque Lisbon 196) so that stayed but I did end up ripping up the stair carpet & have painted them white using Johnstones Floor Paint for now. It's a work in progress with the aim to have a traditional stair runner, but as the carpet continues upstairs it will look a bit odd going from one to another (& I don't really want to replace all of it!) so I'm hoping someone can alter the old carpet in to a runner at some point in the New Year.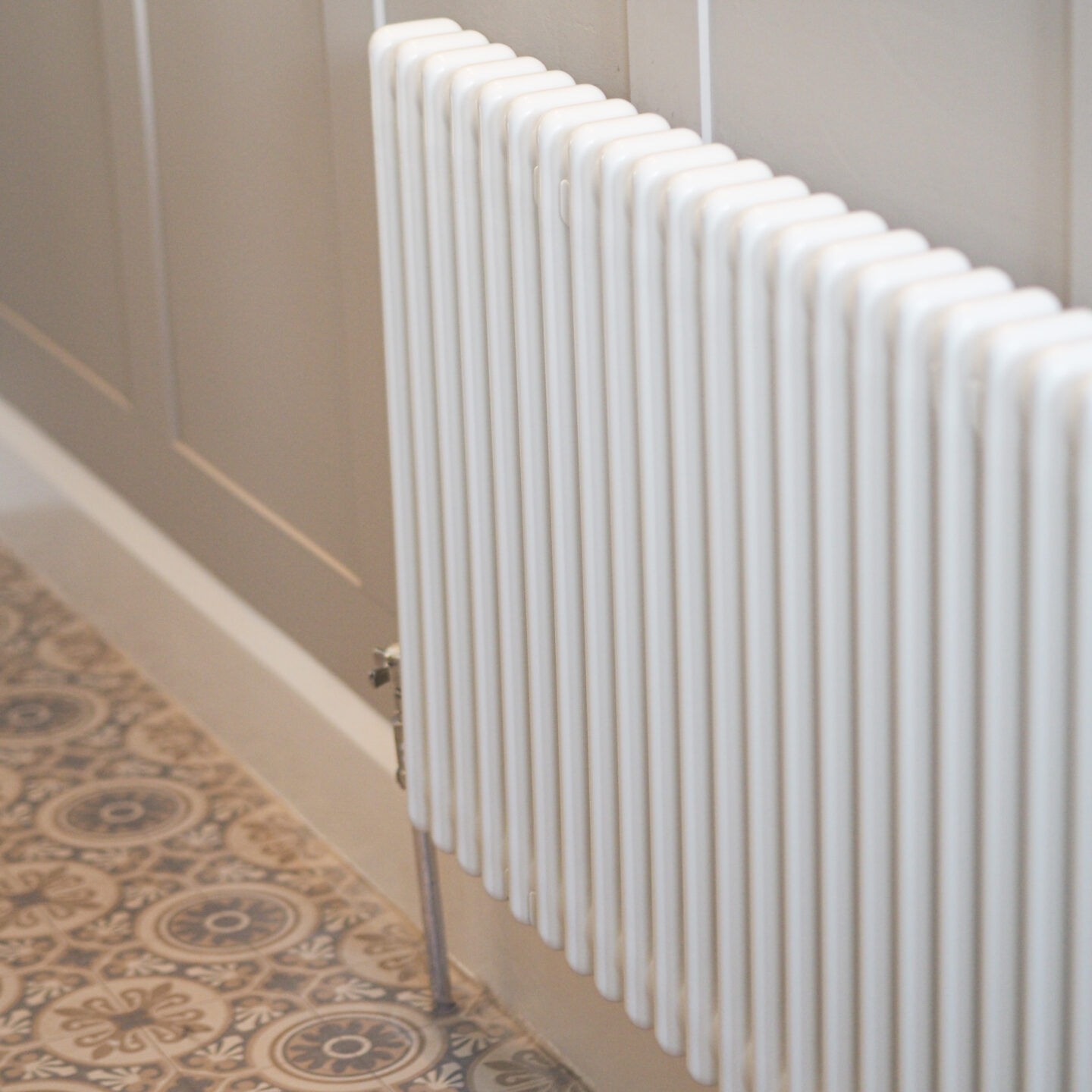 Before, we had a console table with a large mirror to the right hand side of the hallway, purely to cover the old radiator which although practical, was definitely not pretty. It's not really a particularly narrow hallway, but it made it look a lot smaller & took up a lot of space. We've been slowly replacing the radiators throughout the house with beautiful column ones which are a real design feature so I decided to swap this one & have more layout options. This is the Milano Windsor double column radiator from Best Heating* gifted.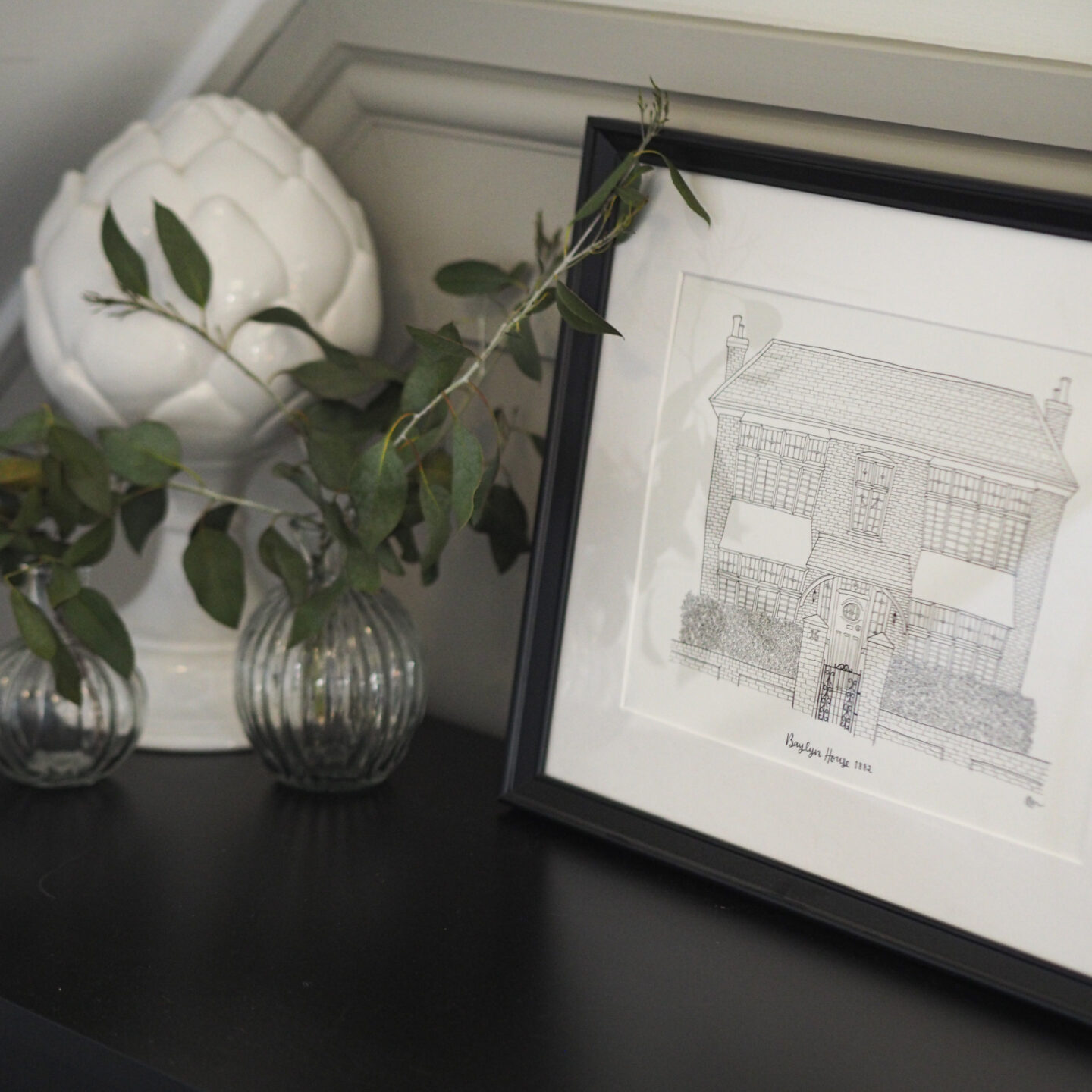 Now wanting to show off the radiator rather than hide it, I ordered this bargain console table from Amazon in black which sits under the stairs, tucked away. On top sits a Neptune artichoke ornament, a couple of little bud vases with some eucalyptus, a portrait of the house from the super lovely Abi at @drawmydoor & a framed quote print (Desenio as below but not part of upcoming promotion – bought myself months ago).
With the right hand wall looking empty, I went on a mission to find some statement prints or art work to fill the space. These are part of an upcoming collaboration with Desenio who are my first port of call when sourcing for interior design clients & I really recommend. I'll be sharing a discount code at the end of December so keep your eyes peeled!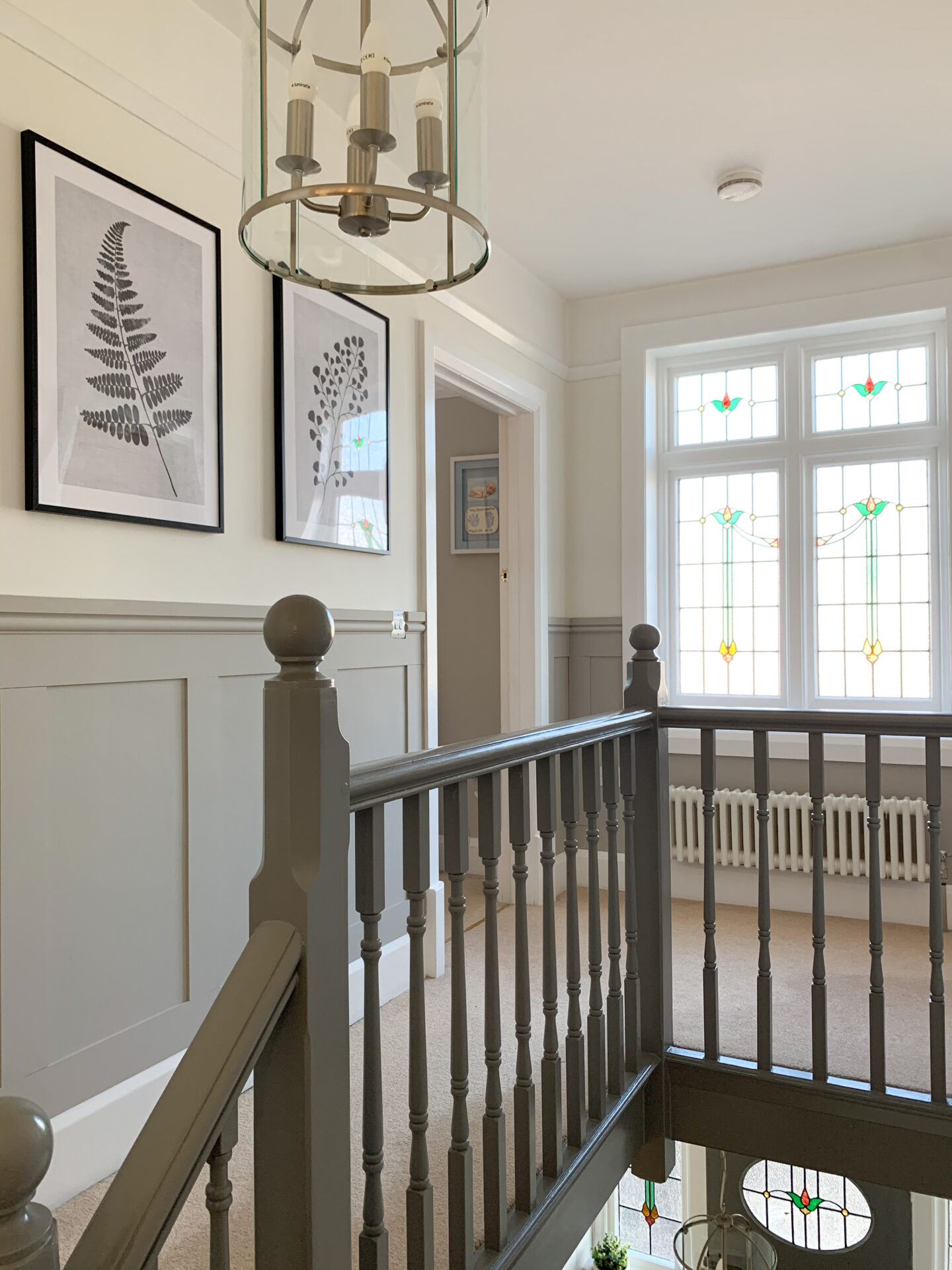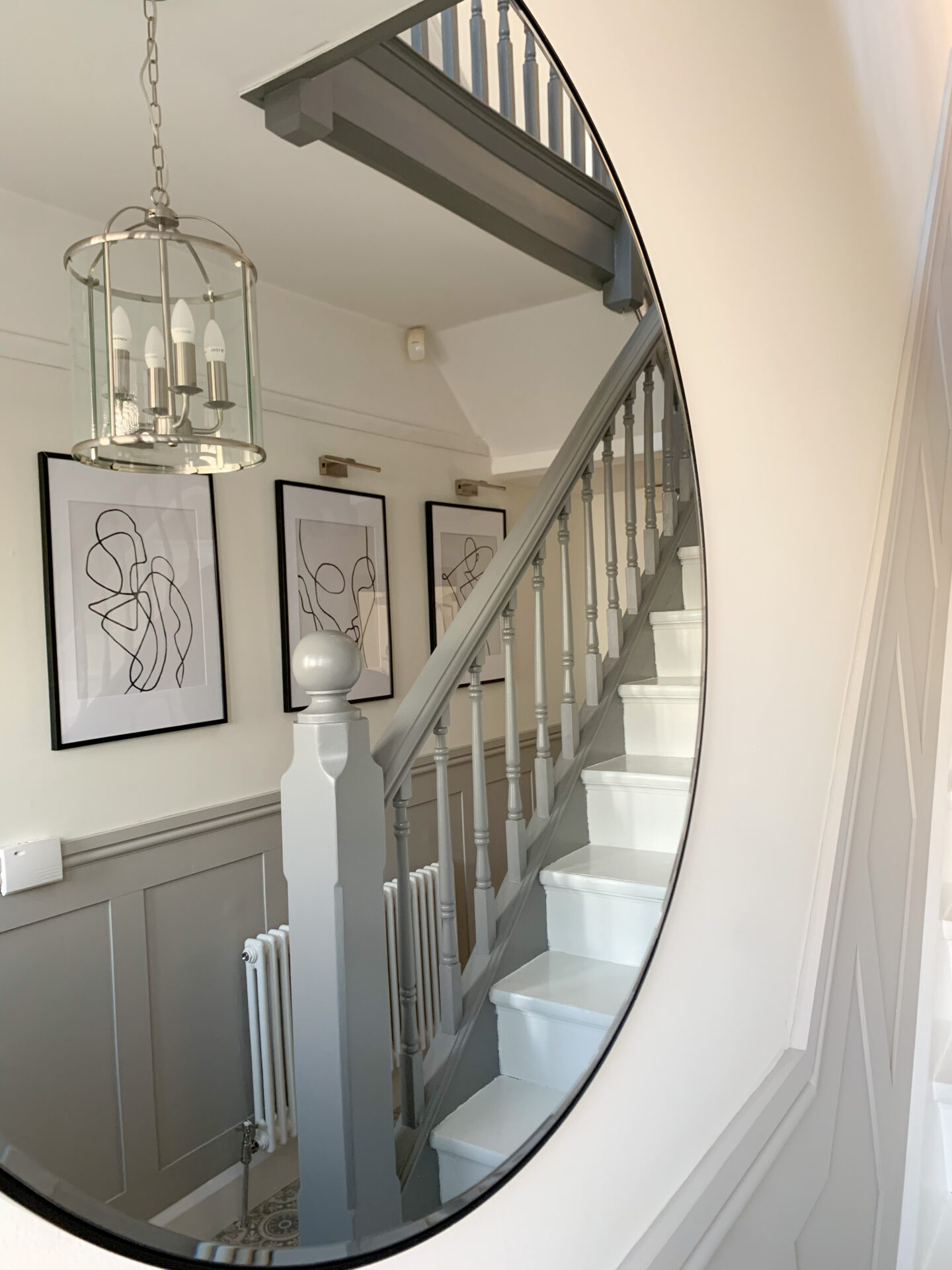 These are the prints I went for in the end – three abstract line art figures for downstairs & then two fern posters for the smaller wall upstairs & an 'Always look on the bright side of life' (which the husband says looks like the eye test at the opticians…) *gifted.
I've kept the old console table upstairs & have ordered a lamp, but for now I've popped an orchid & a couple of photo frames (which I need to fill!).
As a lover of side lighting rather than the harsh ceiling lights, I wanted some sort of subtle mood lighting but as with many hallways, lack of space & plug sockets meant lamps weren't really possible so I found the most ingenious invention ever in battery powered picture lights from Lighting Direct. These are the medium slimline LED in satin nickel & I am SO pleased with them. They show off the frames perfectly, give off a beautiful light & are great quality. I'm going to order 2 more for upstairs too *gifted.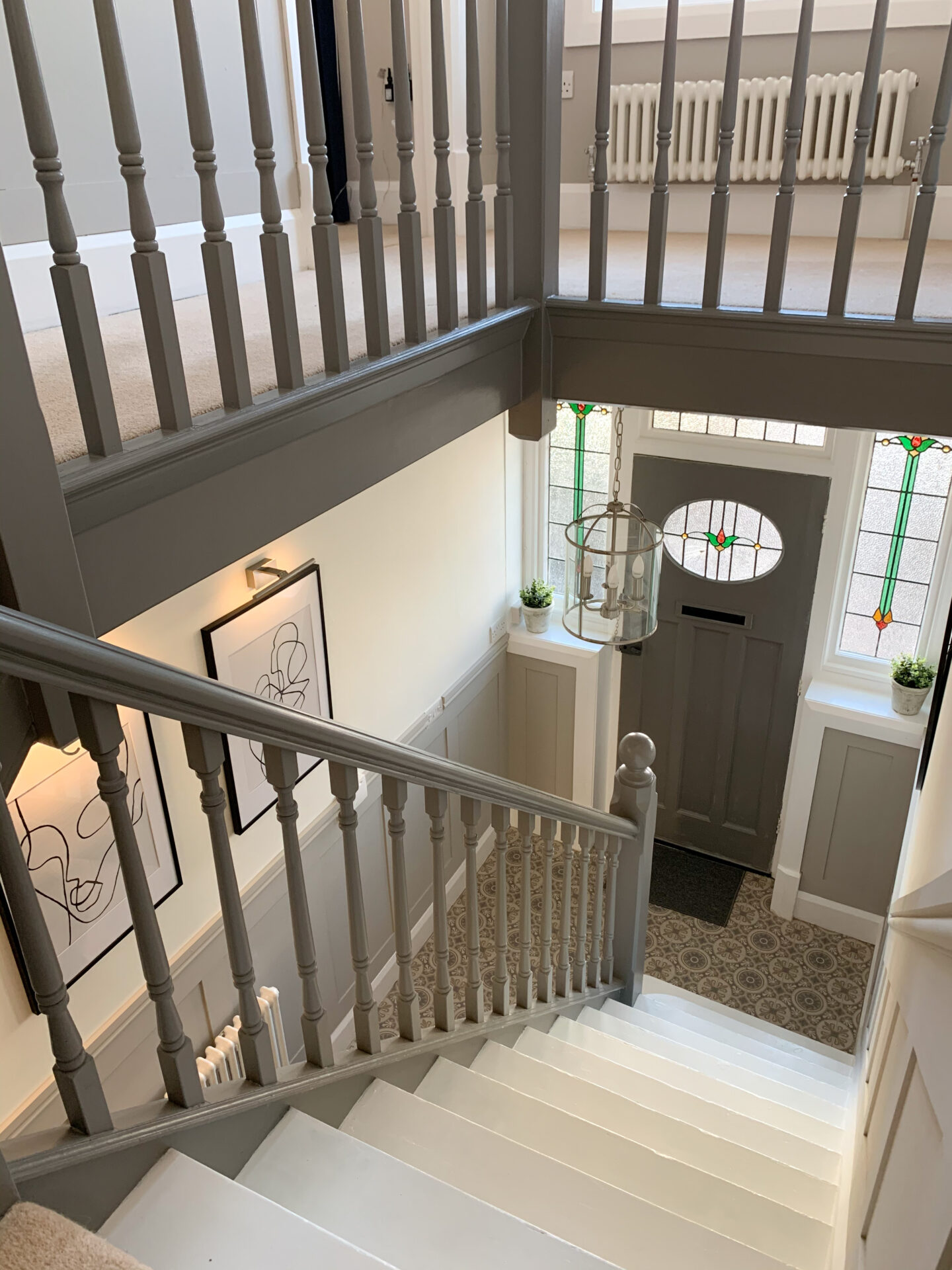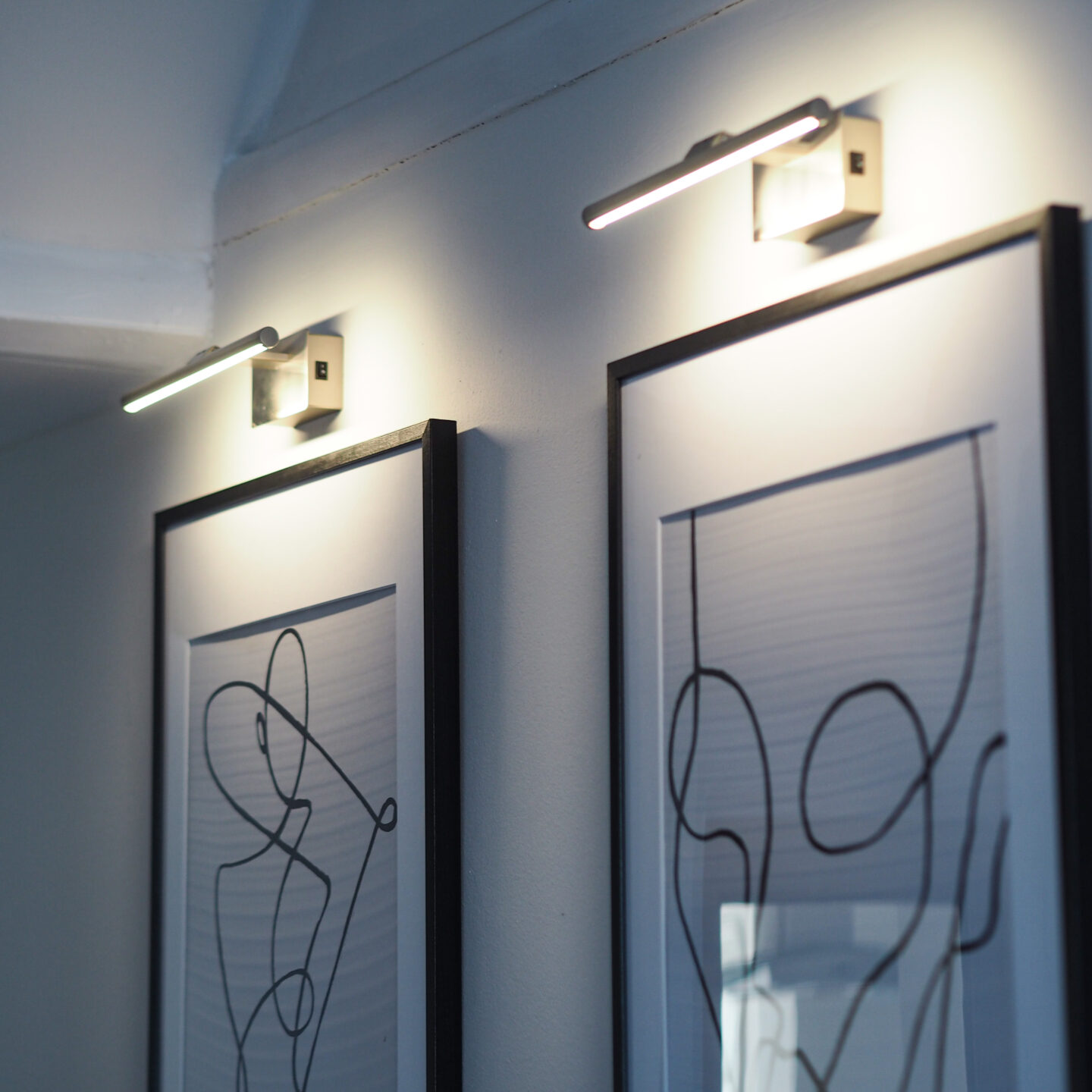 Finally, a new mirror to help bounce some light around & check you haven't got food in your teeth before you leave the house. This 80cm round mirror with black frame was a bargain at £55 from Dunelm.
I am SO pleased at how it's turned out & this beautiful old house is now back to it's former glory. In the New Year I'll be able to add a few more finishing touches but for now, I hope you like it too.
Love,
*This post contains some affiliate links & gifted products.