I've never been a fan of our garden. Over the 5 years we've lived here we've done various projects to attempt to make it nicer (& more importantly as maintenance free as possible as I do NOT have green fingers….or any idea whatsoever when it comes to gardening).
At the start of the year we realised that the decking we inherited with the house (which was splinter central) was rotten beyond repair & had become really dangerous. The large shed was also in a bad way & despite trying to patch things up both needed something doing to them.
We made the decision that if we were going to have to replace them we might as well go for it & have the garden done properly. We had a few quotes from local tradesmen & decided that we'd do the majority of the work ourselves, but have to call in the professionals for some of the bigger bits.
Unfortunately I failed to take proper before photos – I always rush head first in to projects & wish I'd taken more to show you the full transformation but here's a few to give you an idea….it looked a whole lot worse than some of these photos but it gives you an idea of the layout & space beforehand.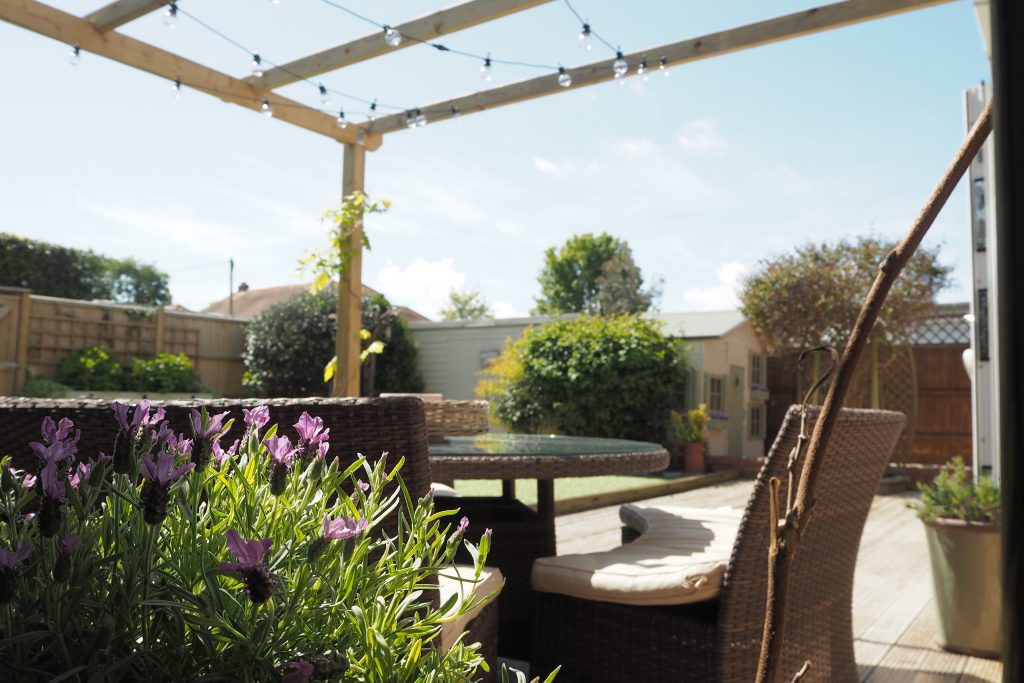 In February we started by taking down the 2 large sheds & kids wendy house we had running down the right hand side of the garden as well as the bushes & plants. These took up a massive amount of room & we instantly gained so much space. We also tore out the decking, leaving a few bits left as a path over the 'concrete moat' for the dogs ready for work to begin.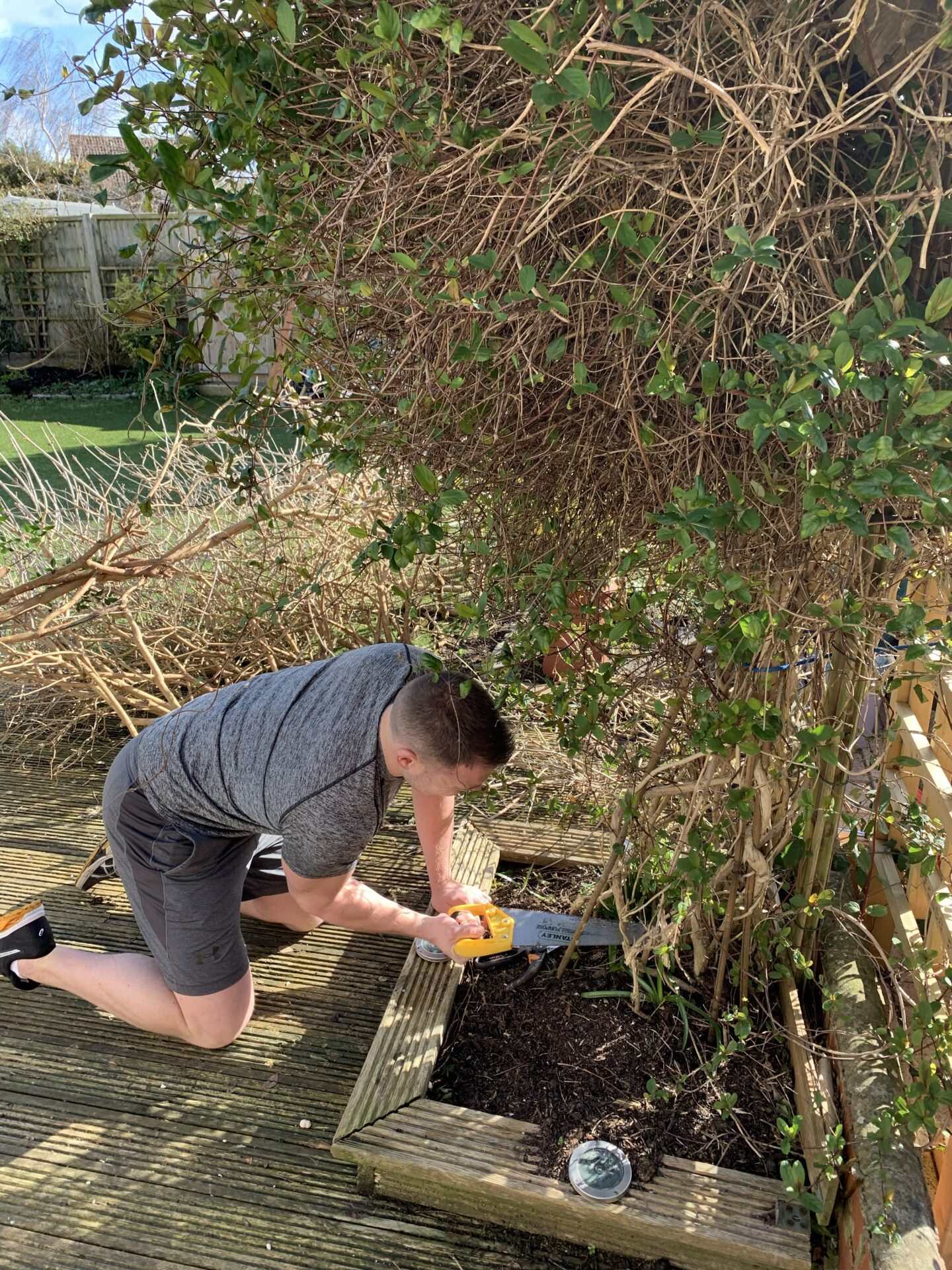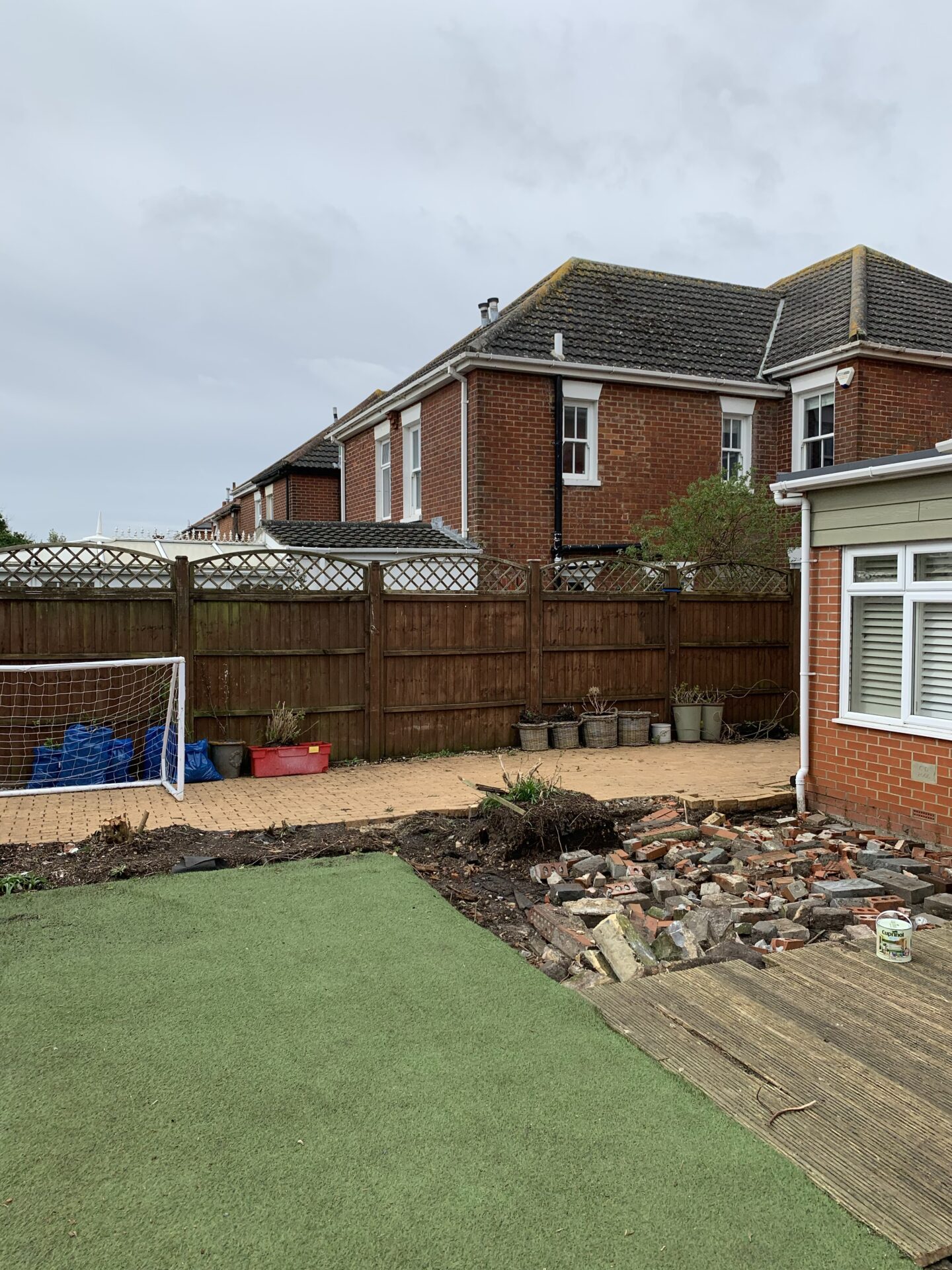 Then corona virus happened.
Through all of the beautiful weather the past couple of months we've lived with it being pretty unusable & now it's finally complete (minus a few little bits including cat proofing for little Mr Percy so he can still enjoy the outside) the weathers taken a turn for the worse. I did make a bet that the second the garden would be done the sun would disappear & have definitely jinxed it so feel free to blame me for the rain.
Anyway, it was totally worth all the waiting & we are really pleased with how it's turned out. It looks SO much bigger & gives the kids/pets more room to play too.
First up, we replaced the rotten decking with porcelain tiles. These wood effect beauties are called 'Terrace Grey' from Porcelain Superstore. I am absolutely in LOVE with them & they are super durable, don't get slippery when wet, easy to keep clean & most importantly…no more tweezing splinters out of the kids feet YAY!!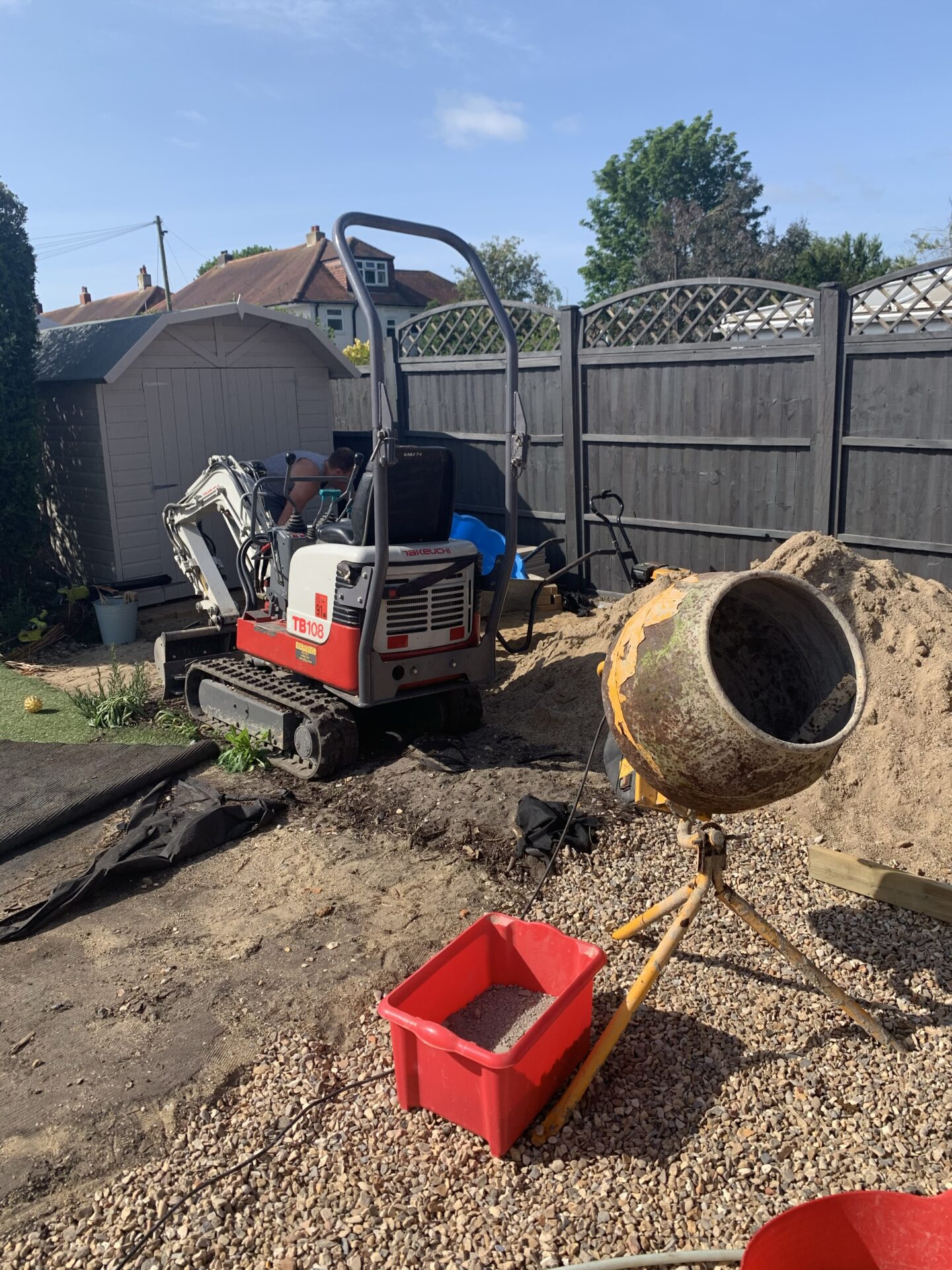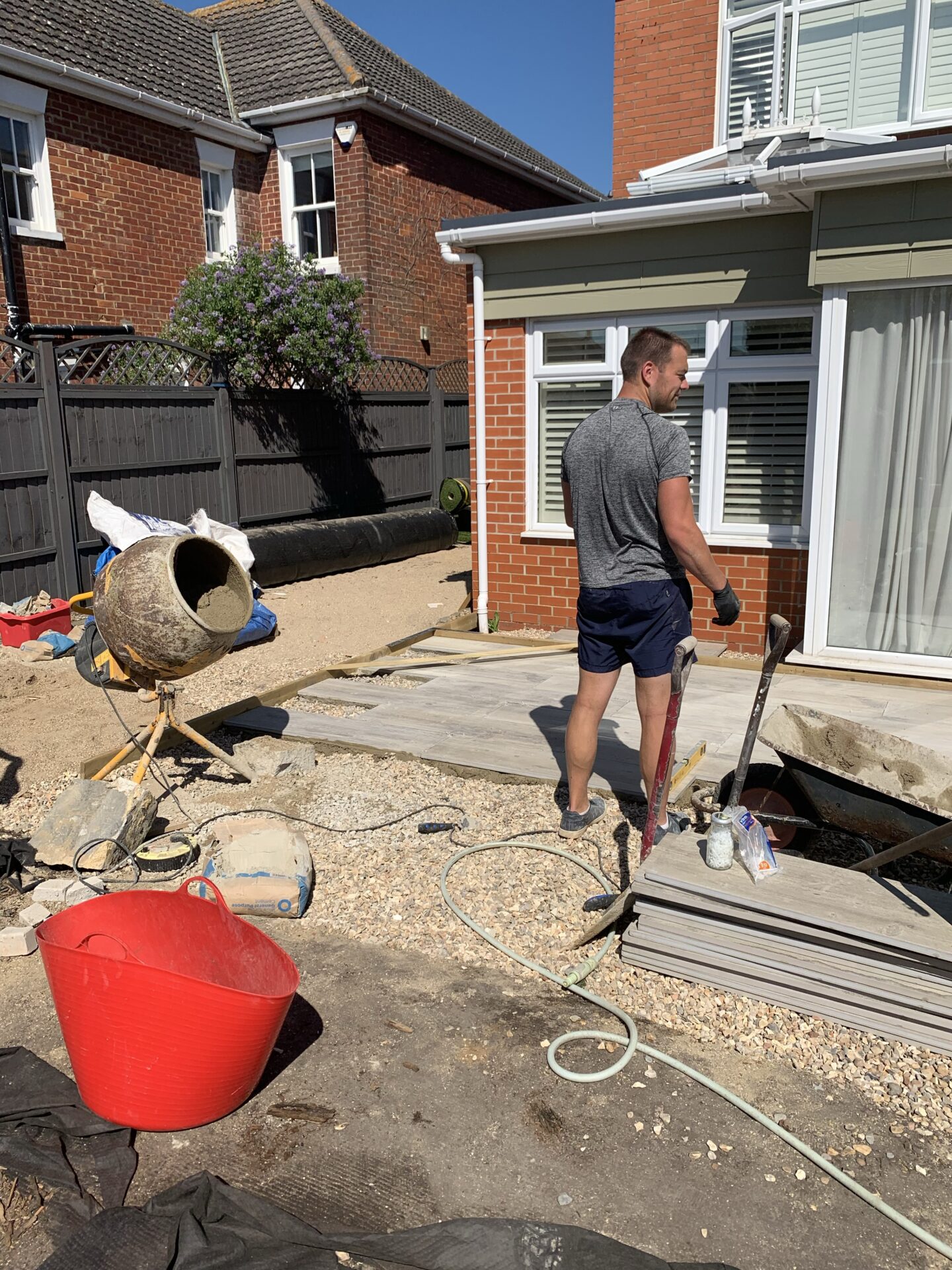 Under the old decking was a big old drop so this had to be filled in, we put a load of rubble from the garden under to raise it up which saved a lot of money not only not having to dispose of this but also in crushed concrete. We still needed something like 8 tons though! It's crazy how much of everything you end up needing. This was then whacked down & then the tiles laid on concrete.
The rest of the garden was levelled. It looked pretty flat to begin with but the amount of soil that had to be disposed of was insane! This was done with a digger & then scalping & sand were put down before we laid the new artificial grass.
We've had artificial grass for about 4 years in this house & a few years before in our old house too. It is amazing stuff & honestly once you go fake I don't think you can ever go back. No mud, no maintenance & it always looks perfect. The last stuff we put down was a pretty budget option as we didn't have the funds & although it was still fine (& now looking pretty laid in my next door neighbours garden!) with plenty of life left in it we knew if we were going to do it this time we'd want to invest.
After lots of searching & ordering about 288492939 samples from multiple different brands I ended up going for 'Senna' from Perfectly Green. It was super soft, dense & it's blades of grass very natural looking. It's honestly like walking on the softest thickest carpet ever – I could sleep on it!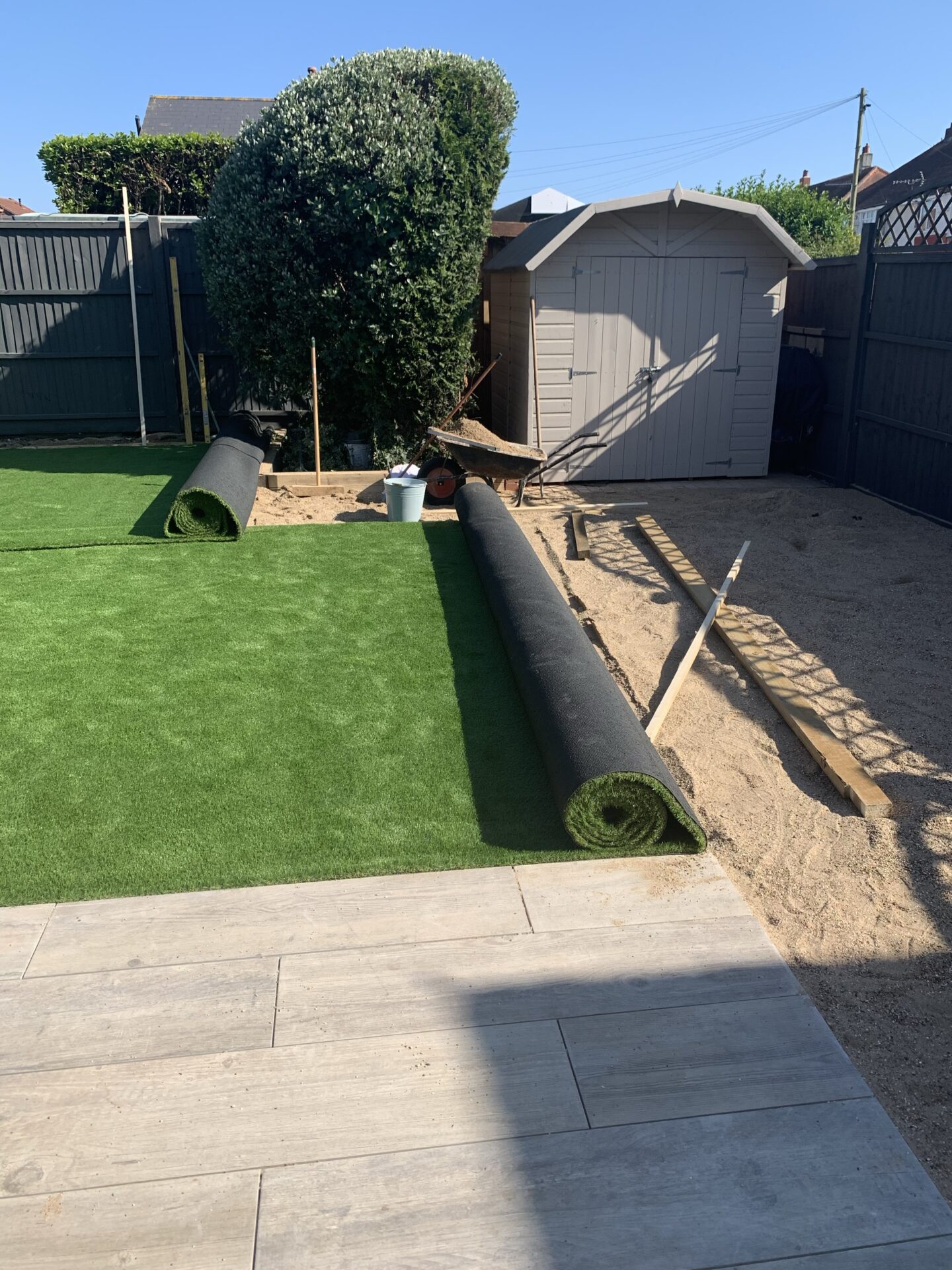 The grass goes all the way from one side of the garden to the other & then down the side of the house to 'poo corner'. I need to get a sign made but this is a section of driveway we've cordoned off with a picket fence for the dogs to do their business. We also keep the trailer & bins there.
Previously the right hand side of the garden was taken up by 2x sheds & a large wendy house as well as further parking/driveway & lots of bushes. It was unusable wasted space & with a big old clear out we've managed to fit everything in to a 7×7 which sits perfectly tucked away behind a bush! This is called Shire Barn from Elbec Garden Buildings & I love it's shape. This is painted in Cuprinol 'Natural Stone'.
Here is the (almost!) finished look!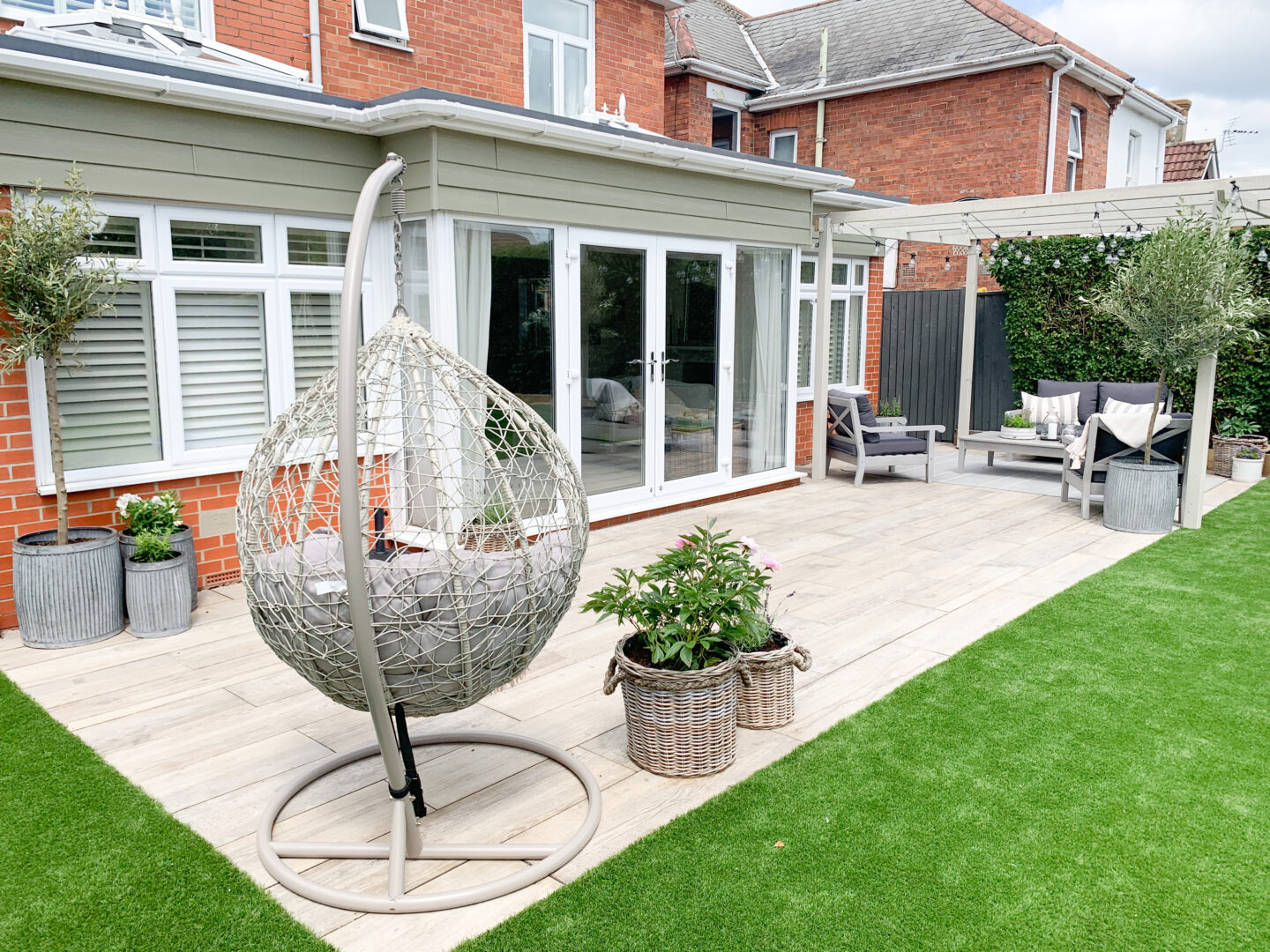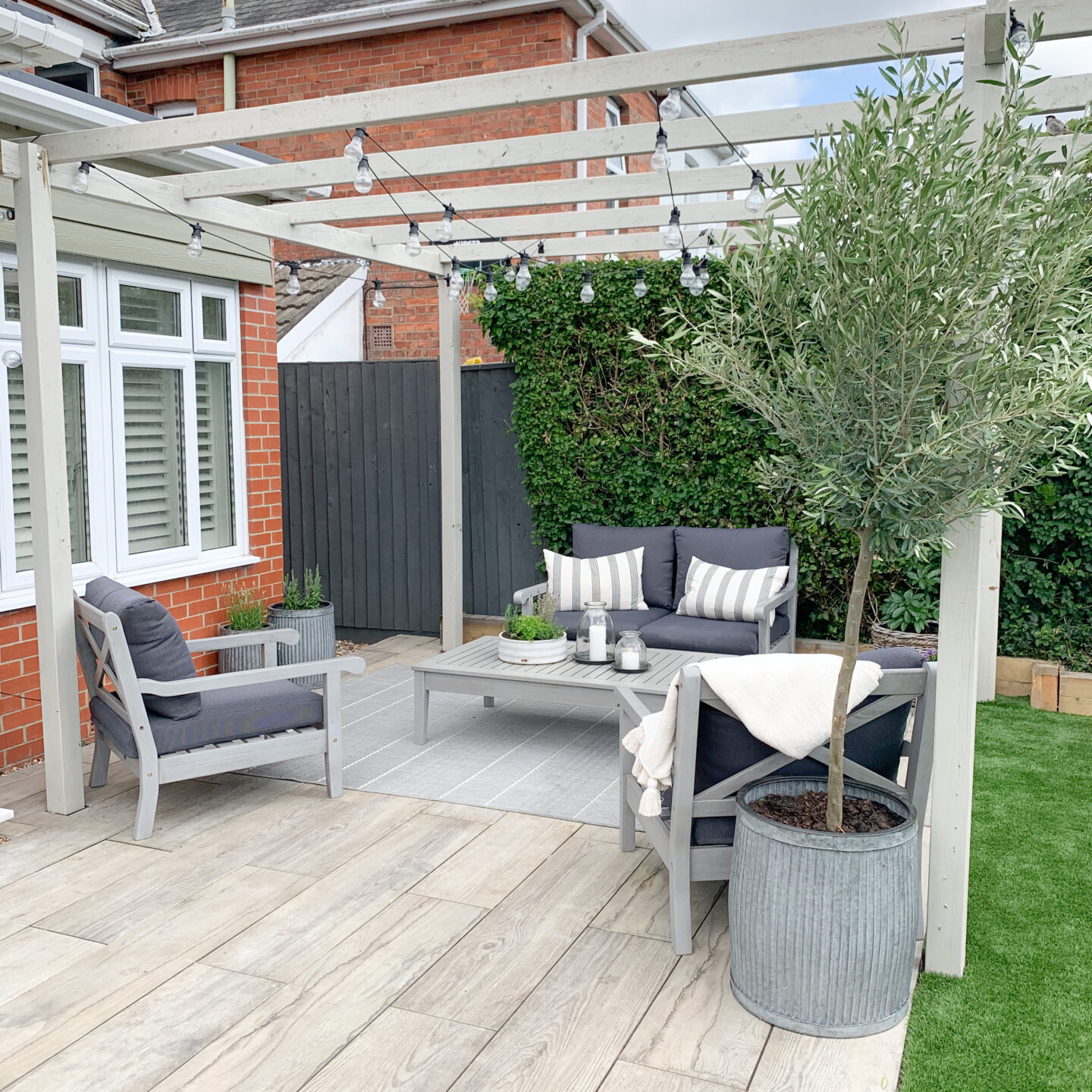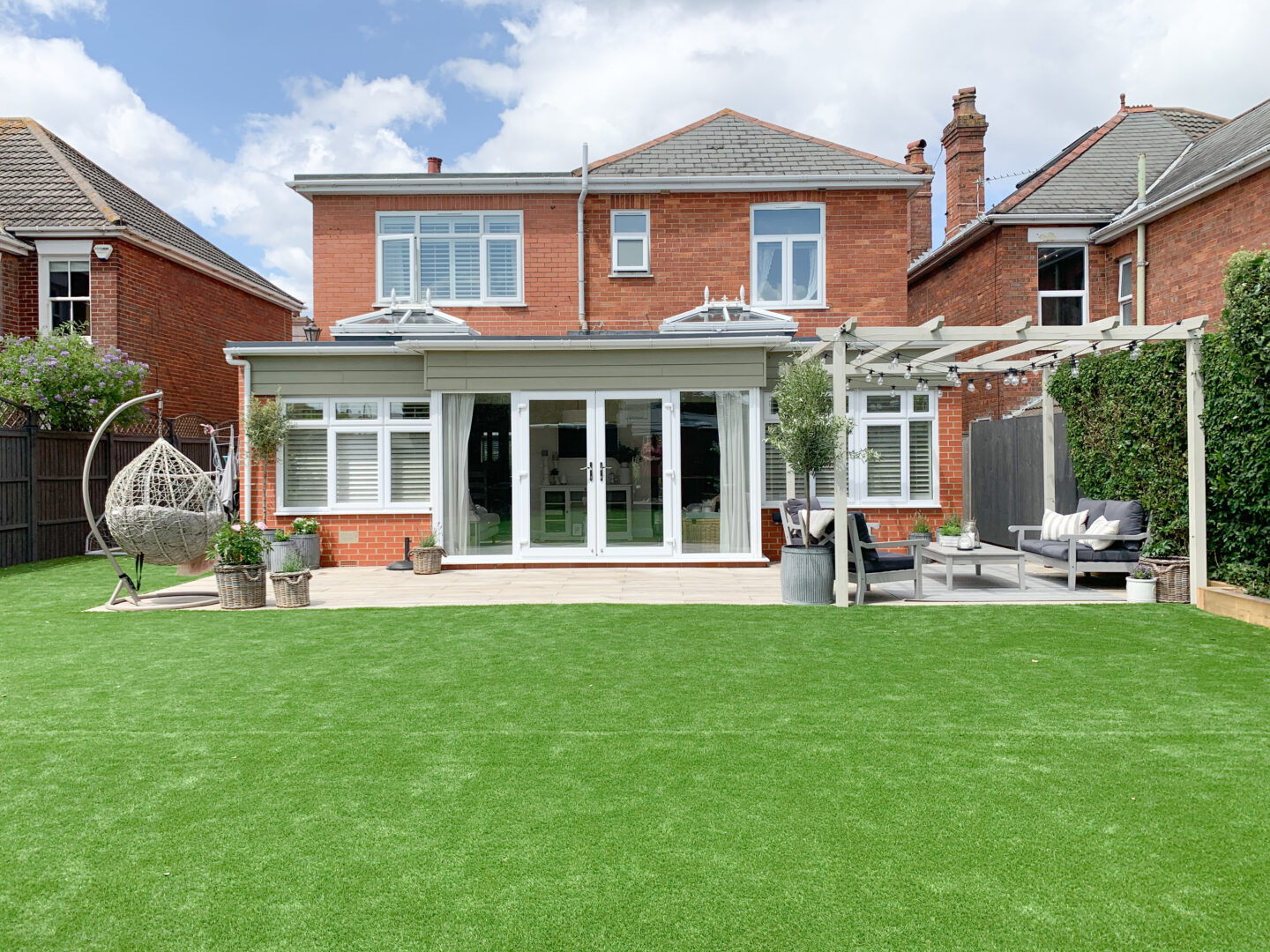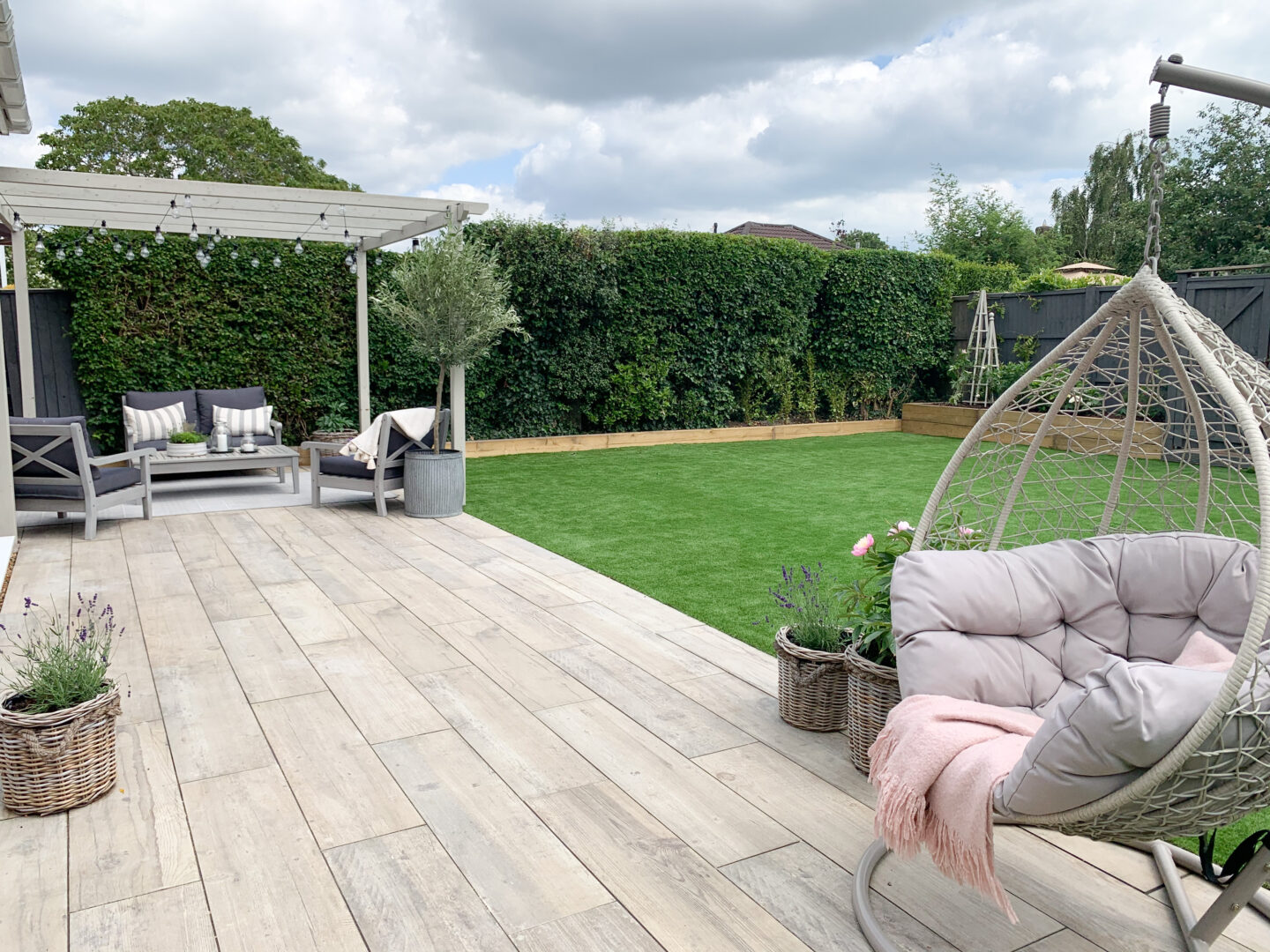 All of the fences have been painted using Ronseal 'Charcoal Grey' which is a real contrast against the greenery & looks really striking.
At the back of the garden we previously had a rockery which was dug out but I still wanted somewhere to put plants & was really concious that I didn't want it to look too square & box like. Our landscaper built us a raised bed using sleepers which also go down the side & make the hedges look so much neater. I actually dug all of these flowers & plants out in February & they've been living in rubble bags down the side of the house so how they are alive & now blooming I have no idea!!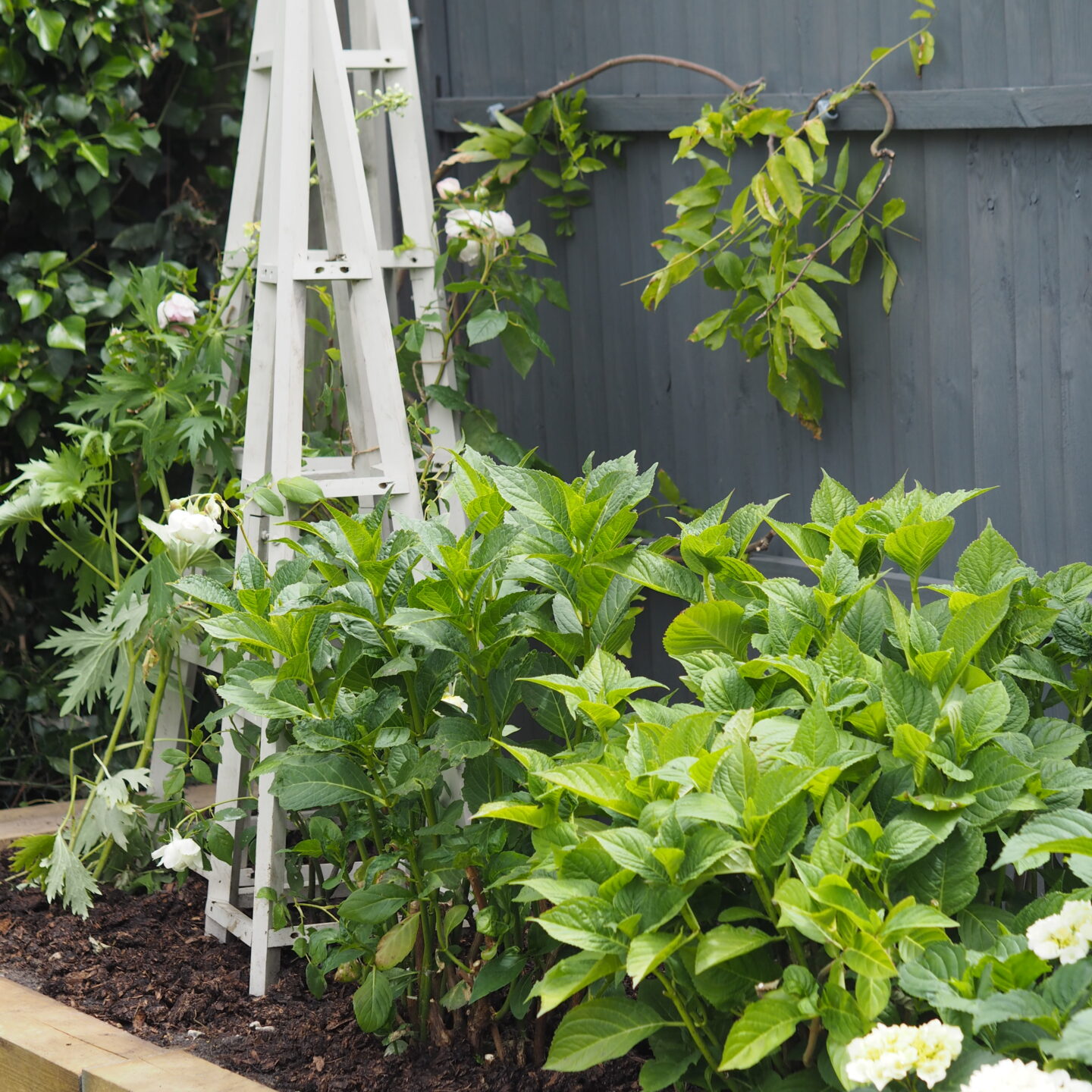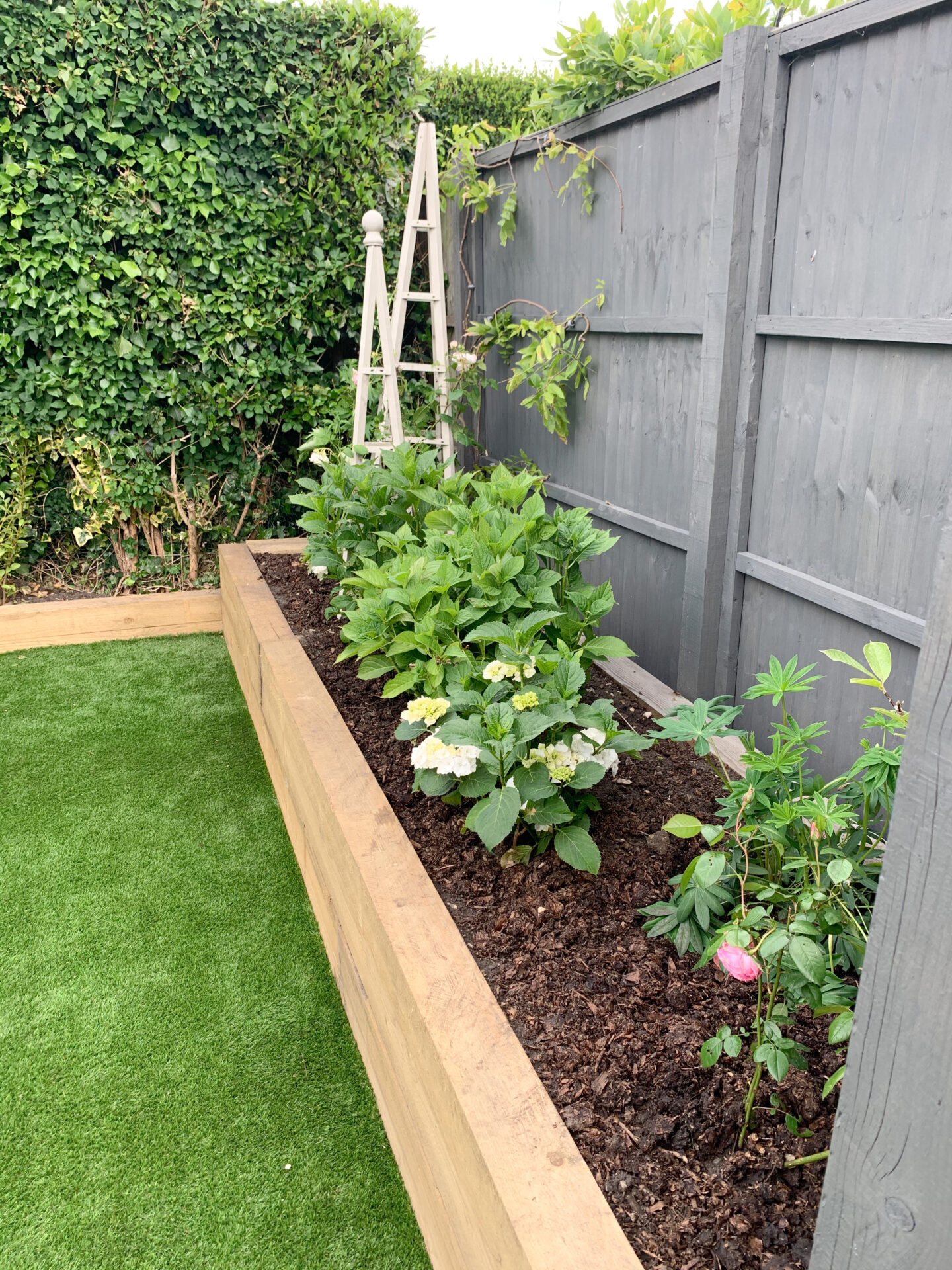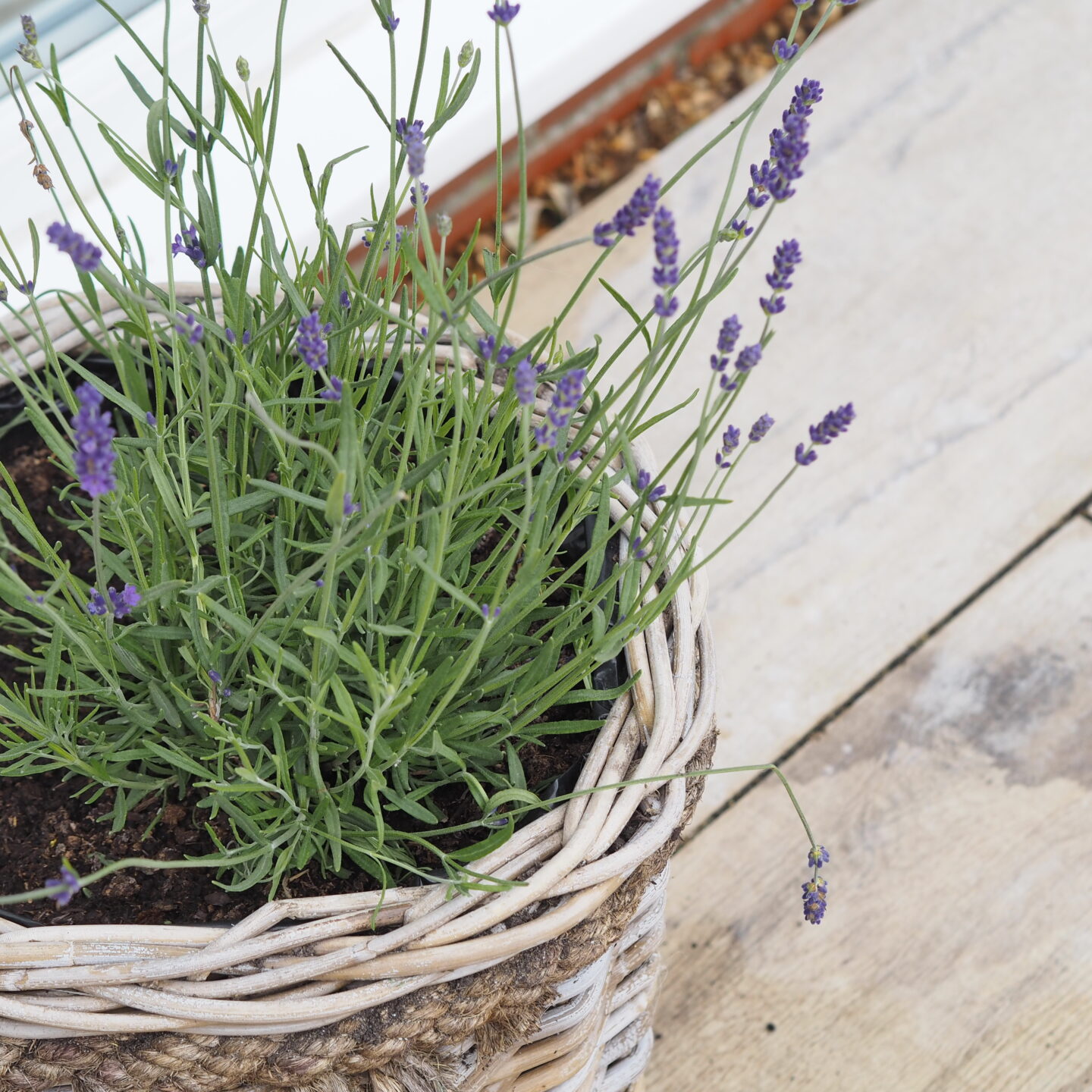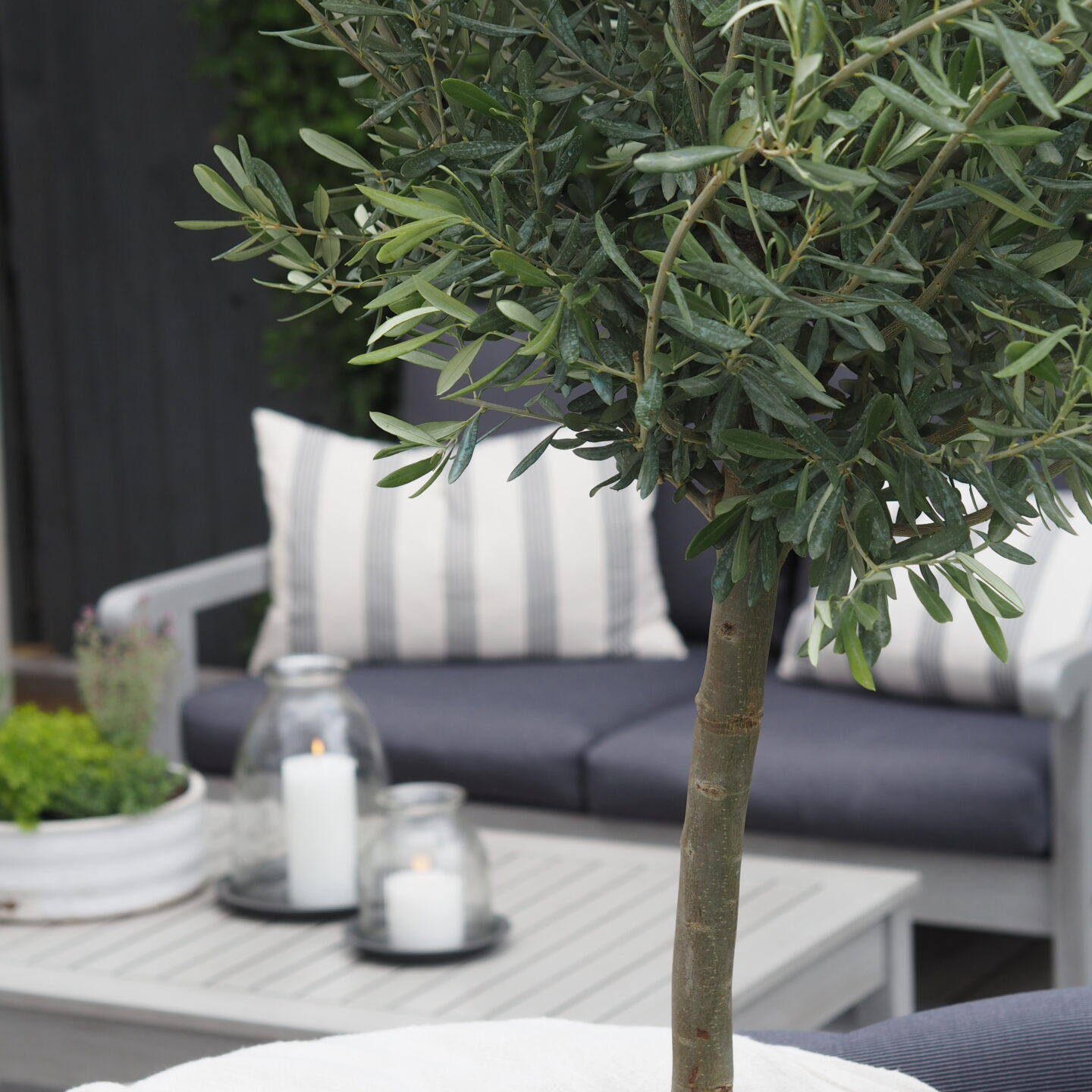 I've also added lots of plants & flowers in pots on the patio & around the garden to give some pops of colour & a bit of personality. Two absolutely stunning large olive trees, hydrangeas, peonies, lavender & some other ones that took my fancy & I will hopefully not kill anytime soon eek! You can find the galvanised zinc planters on Ebay here & the wicker ones are from The Basket Company last year.
I managed to get my hands on one of the 'Sienna' bargain egg chairs from B&M & my only regret is not getting two! We all fight over who can sit in it as it's so comfy & the perfect place to curl up in….in fact, I'm sat in it right now typing this.
Finally, my absolute favourite area. We previously had a pergola to the left of the garden & I knew I wanted to reuse this. Instead of having the attached planters I decided to have it left open & painted it, again using Cuprinol 'Natural Stone'.
We sold our old rattan table, instead opting for a more relaxed sofa/armchair/coffee table set up with this gorgeous set from Amazon. Unfortunately since I linked it on Instagram stories it's sold out though! It's really comfy, roomy & I absolutely love it. I've also ordered a fire pit which is due to arrive in a few weeks so we'll move the coffee table out the way & pop that in the middle when we can finally invite friends round for drinks!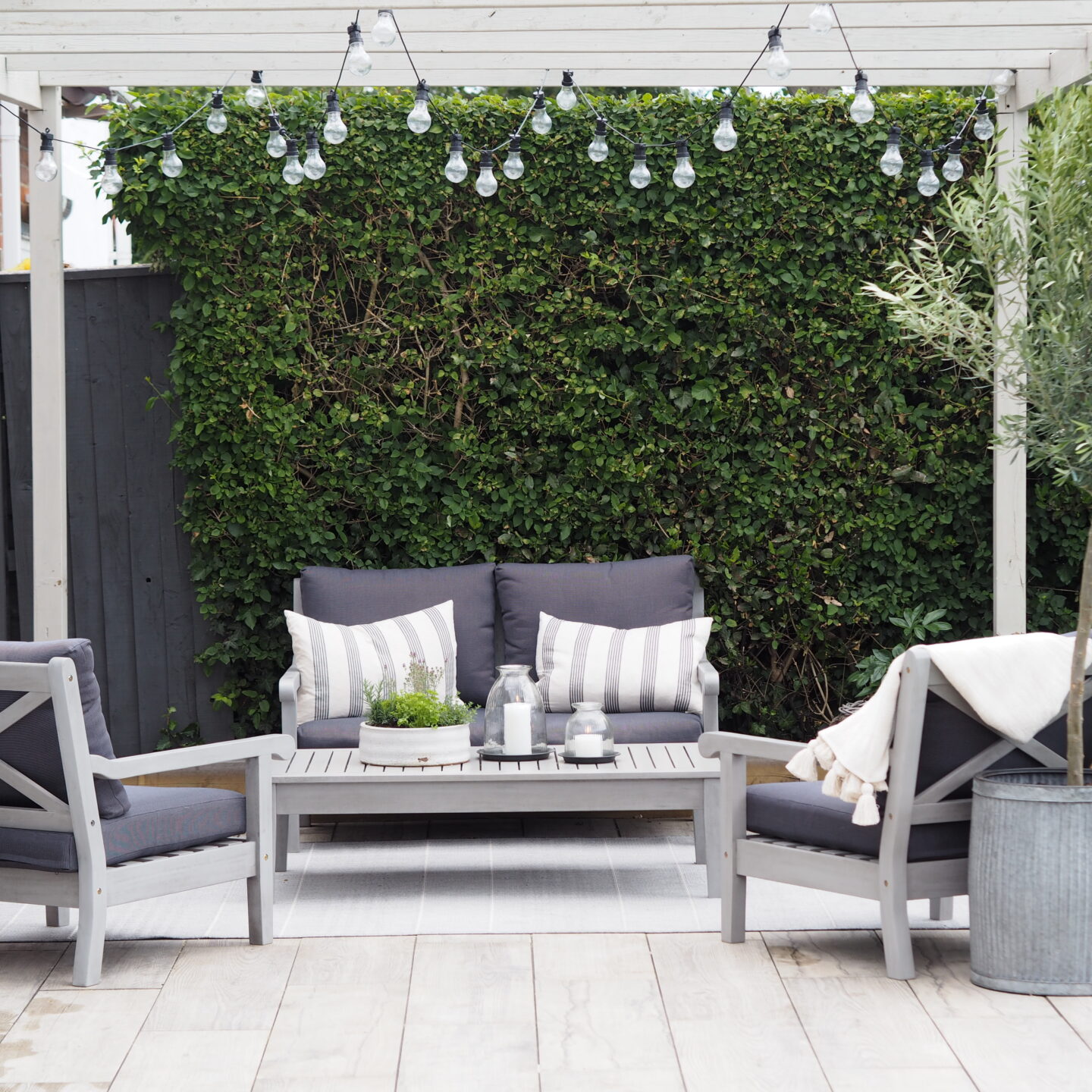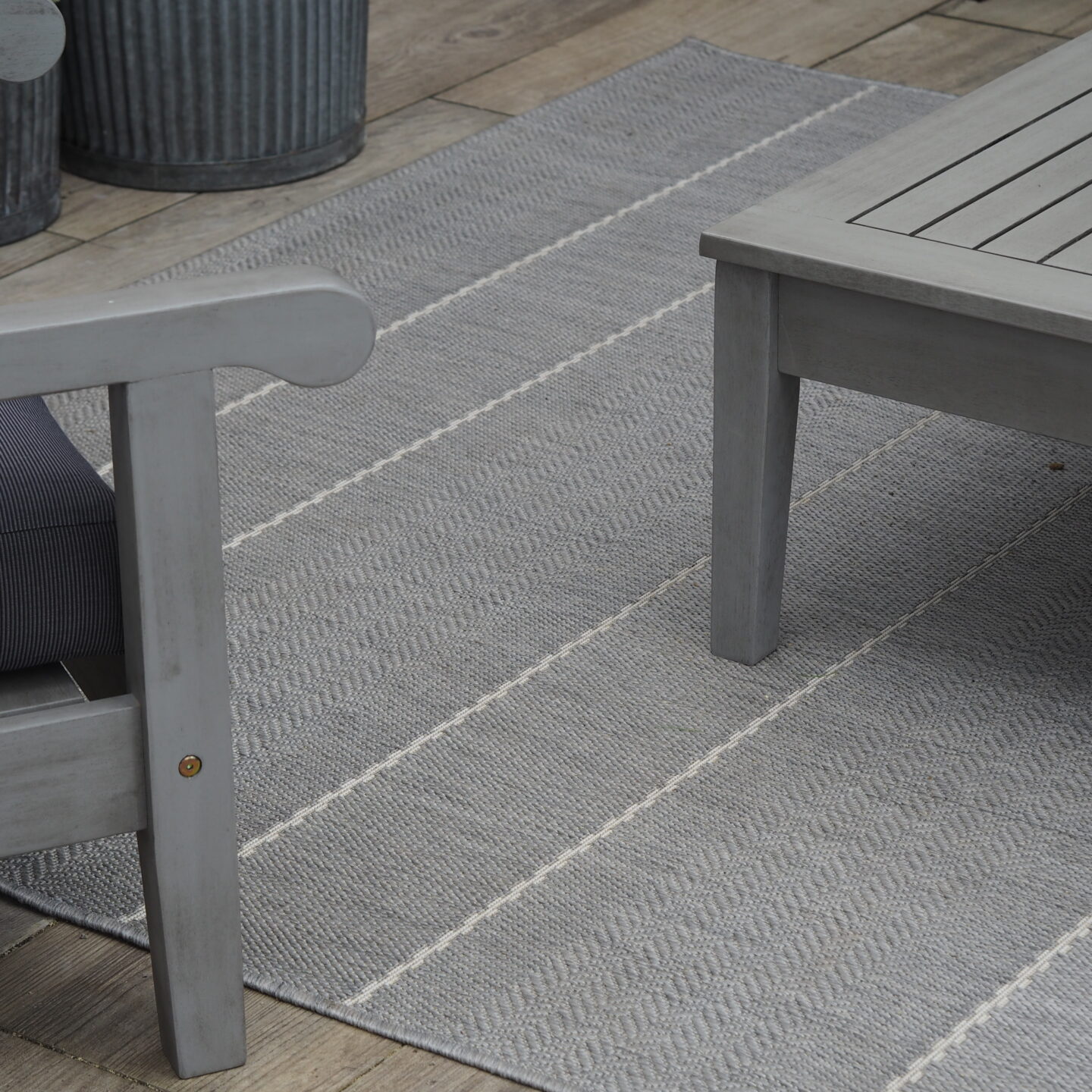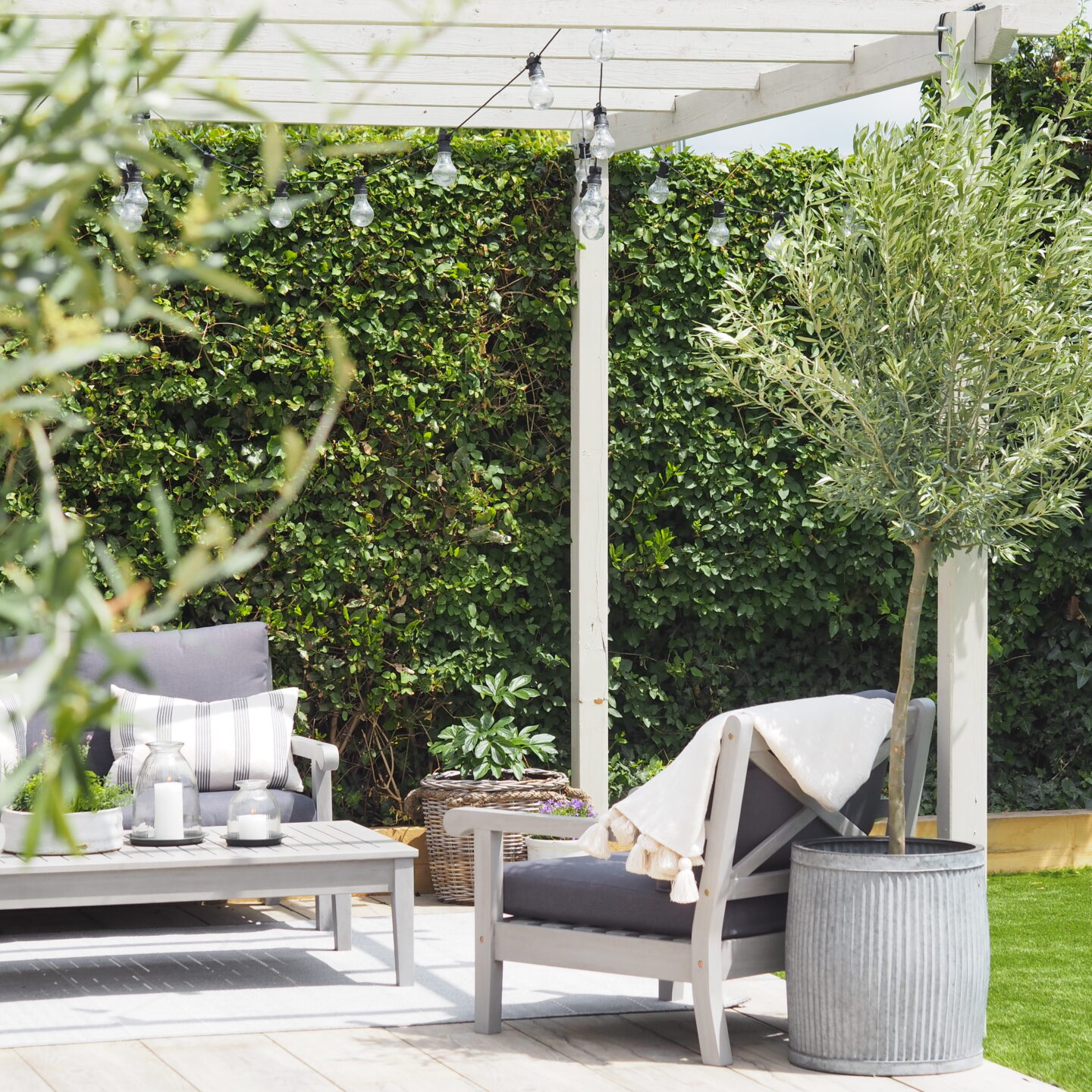 The throw & the cushions are both from H&M (but now both out of stock, I bought them beginning of April!!) & the rug is an indoor/outdoor from Woven Rugs in size 200x300cm. The herb planter & candle domes are both The White Company as part of a previous collab at the start of the year but unfortunately both no longer available! The festoon lights are from Festive Lights LTD as part of their Connect Go range which I worked with them on in 2018, they are still going strong & I absolutely love the glow they give off on an evening.
We've still got a few bits to finish off & no doubt I will lose (& gain) some plants along the way but having a garden we love for the first time is so amazing. I don't think we've ever spent so much time in it as we have the past week since it's been finished & can't wait to enjoy BBQ's & drinks with our loved ones soon.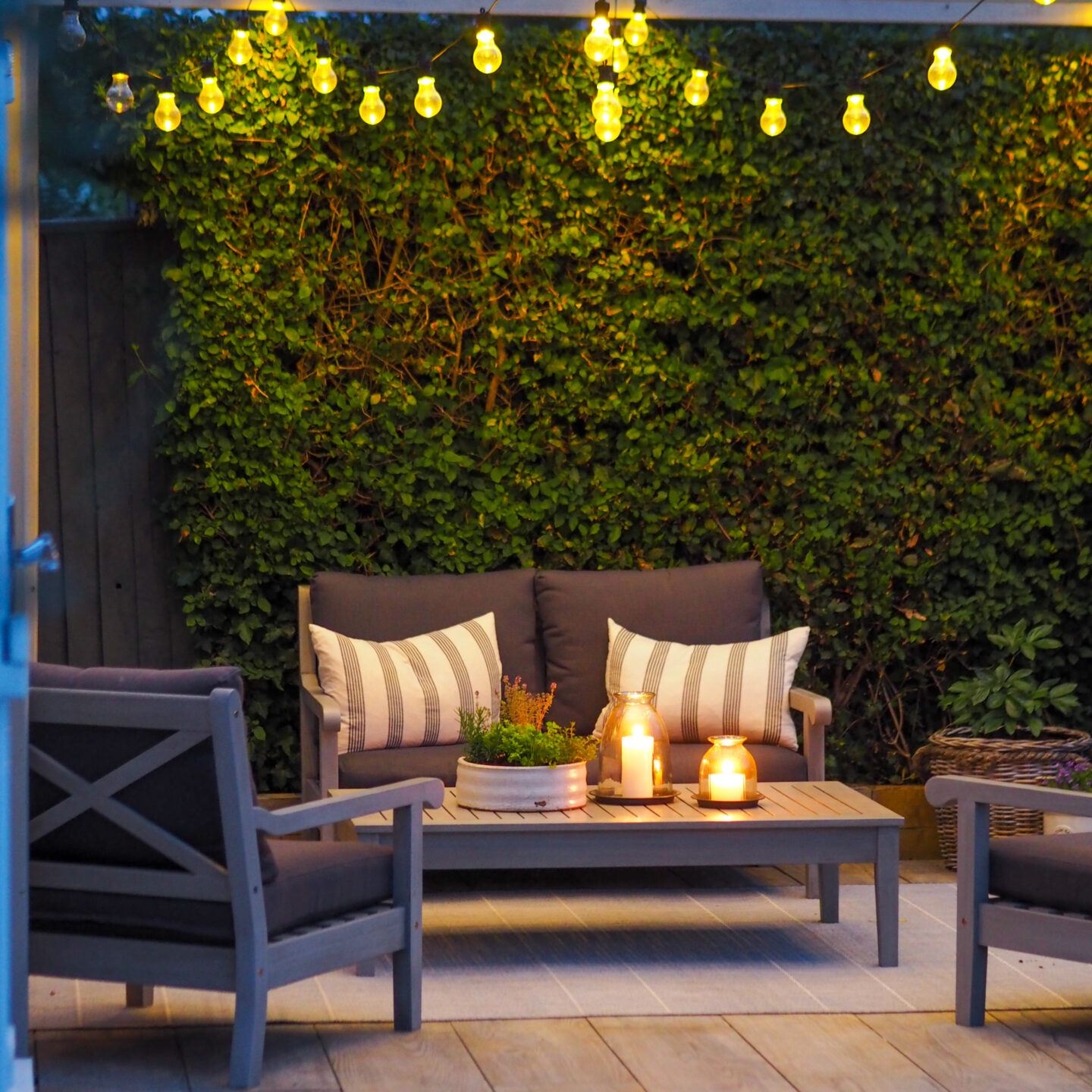 Love,