With 2 dogs (& another one on the way…), a cat, hamster & snail I am well on my way to opening my own zoo. My pets are my babies & anybody who knows me will know how completely & utterly obsessed I am with my furry best friends.
We got Mungo nearly 9 years ago now. He's my firstborn (son from another mum…a furry one with a squished face at that) & has been my sidekick since the day we bought him home. He's had to adapt to becoming a brother to human babies & more recently, to our 10 month old golden retriever Bertie. We put off getting another dog for so long as we were worried a puppy would be too much for him, especially being older, but actually it has been the best thing we could have done. He has been given a new lease of life, loves trying to keep up on our walks & playing with his buddy. It's like he's done a Benjamin Button.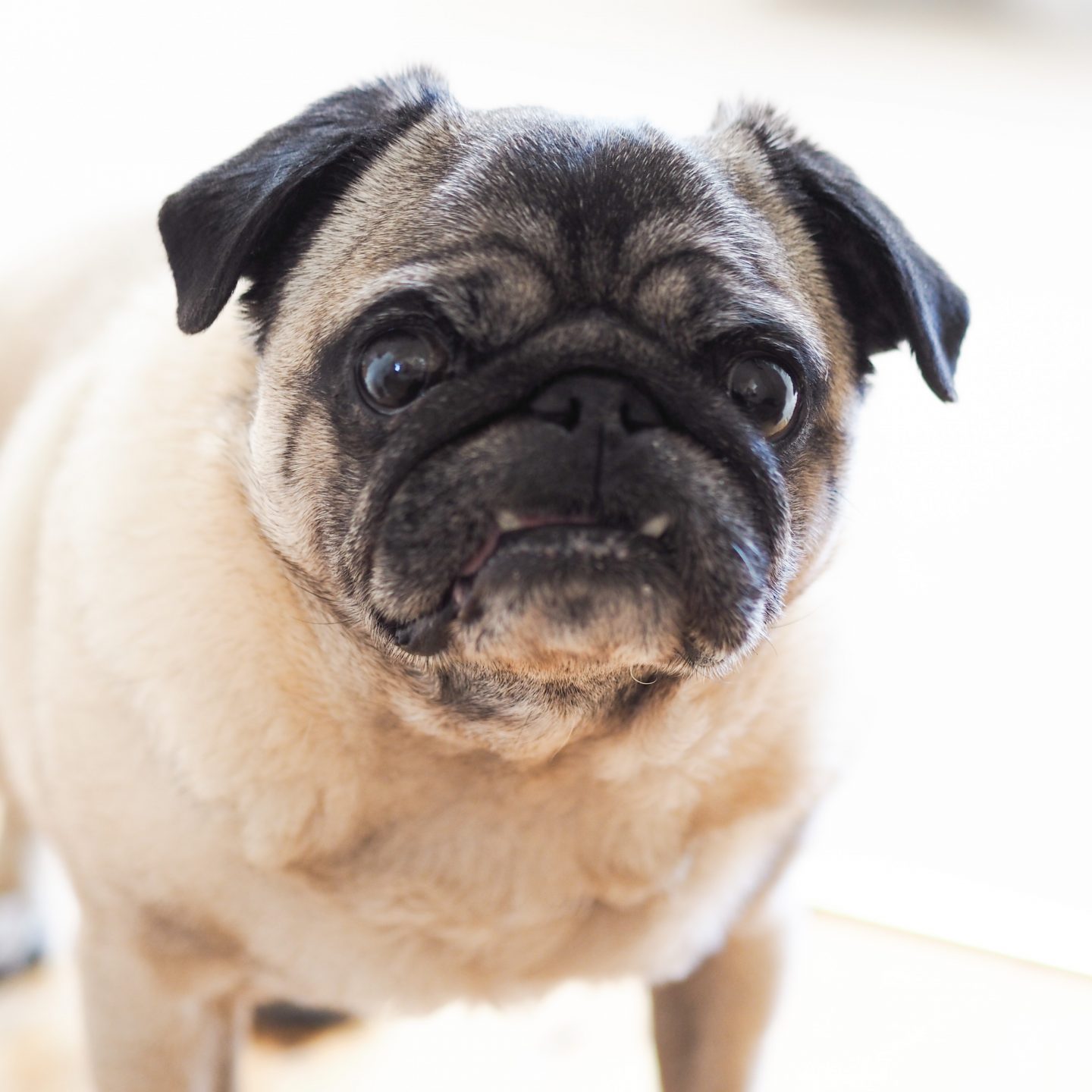 We are soon welcoming another addition to the Valentine family, a second golden retriever called Betty & we couldn't be more excited.
Animals are amazing. They don't answer back or moan, they'll love you unconditionally & are your own personal cuddly hot water bottles. However, the downside is the hair & oh my goodness, it gets EVERYWHERE.
For somebody who is house proud & interior obsessed, the ever growing tumbleweeds are enough to drive anyone insane & I am always on the hunt for tips, tricks & solutions. I have gone through more vacuums than I care to admit as they struggle to keep up with my constant cleaning & the demands of fighting the fur.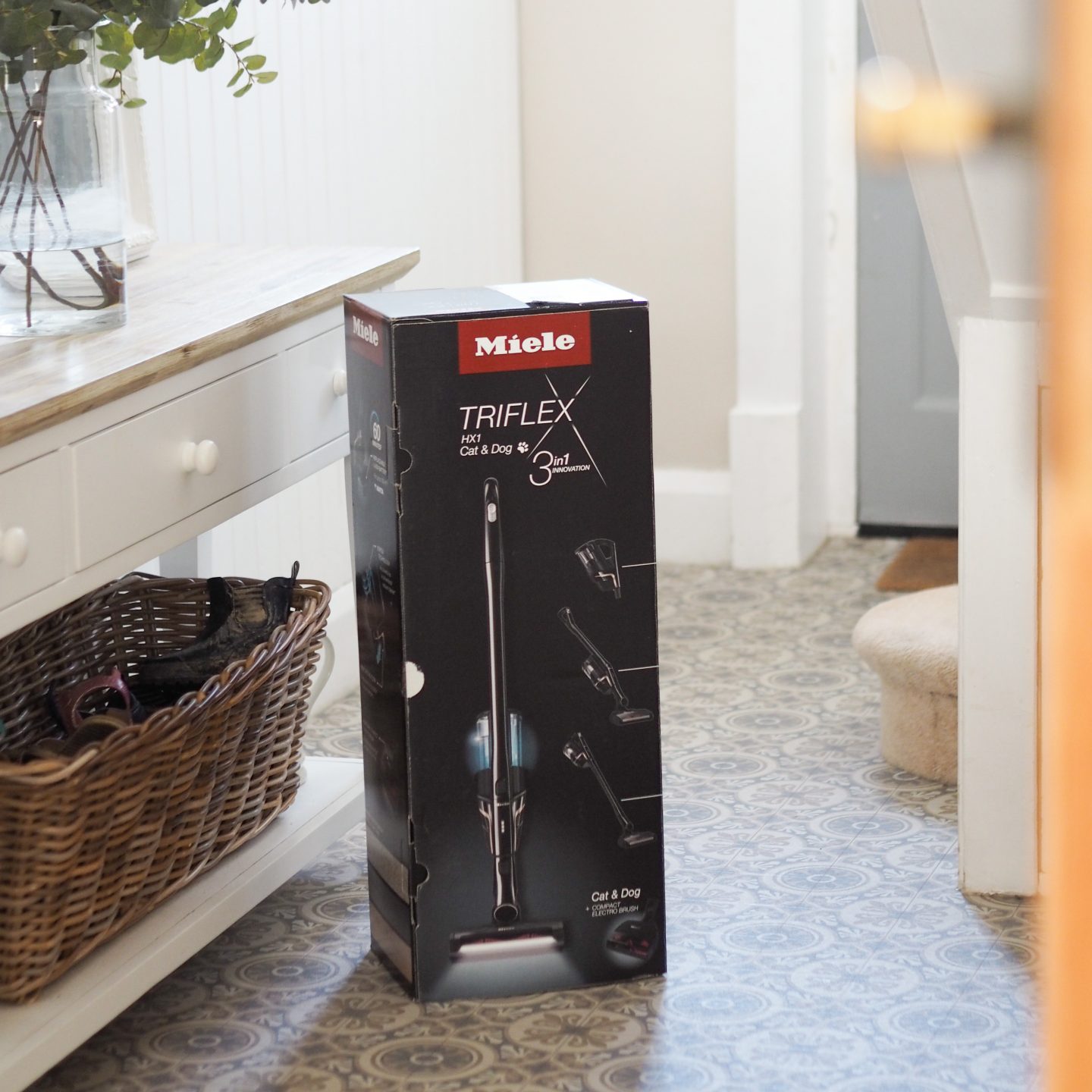 Recently, I have been working with Miele on the release of their first ever cordless vacuum, the Triflex HX1 Cat & Dog. We have been using Miele appliances for years & this is a brand which is renowned for it's quality & high performance which are built to last. It's been awarded a Which? Best Buy for 2020 & promises to be as powerful as their award-winning corded vacuum range. You know you're getting old when you get excited to try out a new vacuum right?!
So in dedication to my hairy sidekicks & all those fur-mums & dads dealing with the constant battle against pet hair, this post is for you. Here are my 8 top tips for keeping your home clean.
1. Match your decor to your pet or visa versa –
When considering what breed to go for, take into consideration your home. If you're monochrome mad with black carpets then a light haired dog will leave leave you pulling your own hair out, if you are a neutral beige lover like me then black hair will have the same effect. If you already have your beloved pooch or feline then it's time to redecorate…they're worth it after all. I think I'm doing pretty well matching my beige decor to my beige pets.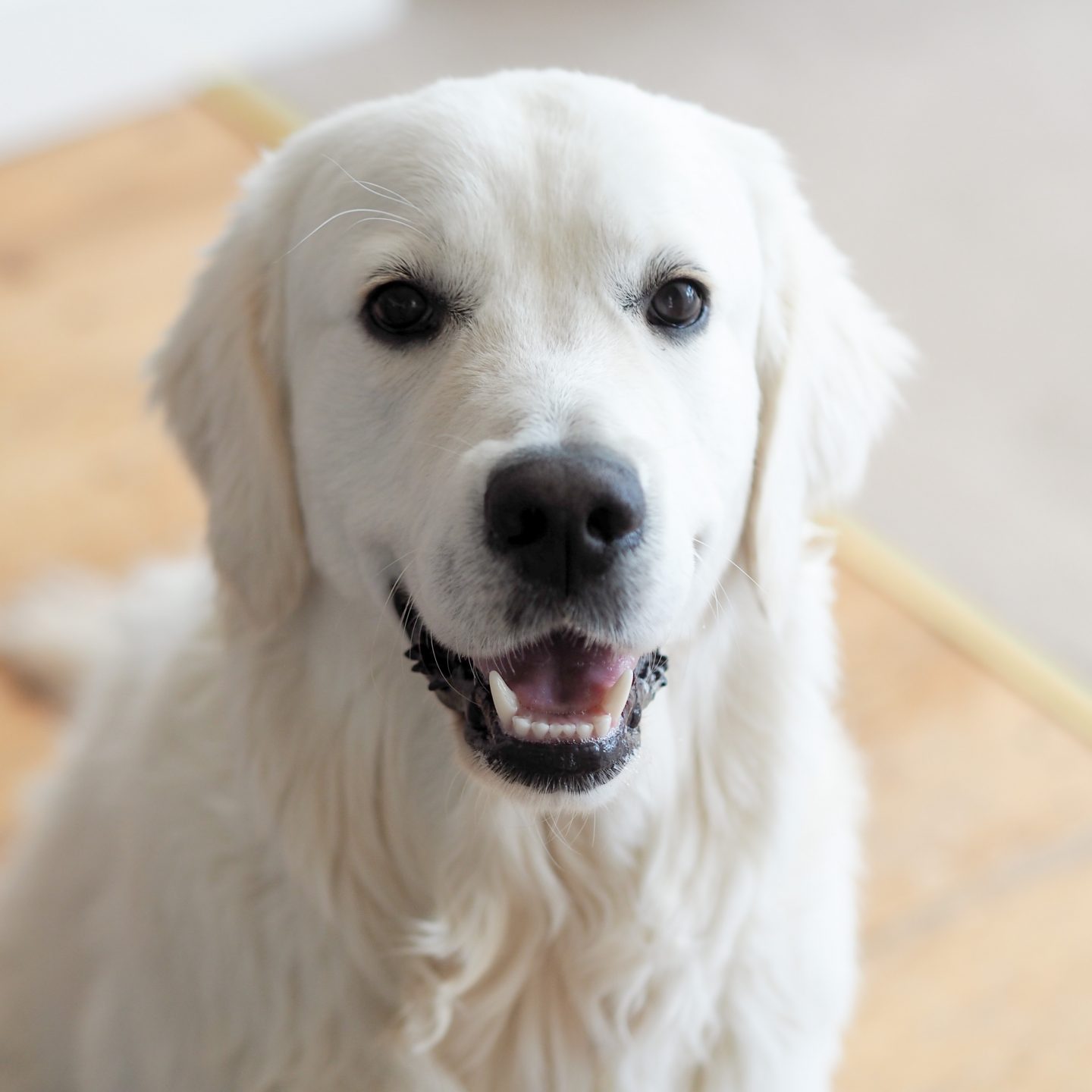 2. Rubber gloves –
I got told this trick a few years back & have used it ever since. Using a minimally wet rubber glove, just brush with your hand & the hair will magically stick to it. Perfect for upholstery!
3. Embrace grooming –
Unfortunately the hair has to fall out someway or another & just like us, they lose a considerable amount naturally a day. Get in to a habit of giving them a good brush a few times a week to remove all this hair rather than it ending up all over your house. Or treat your dog to a spa-day by sending them for a spot of pampering at the groomers. The more hair you remove with a brush, the less hair will be all over your sofa. I'd really recommend the FURminator De-Shedding Tool which is great if they have a double coat.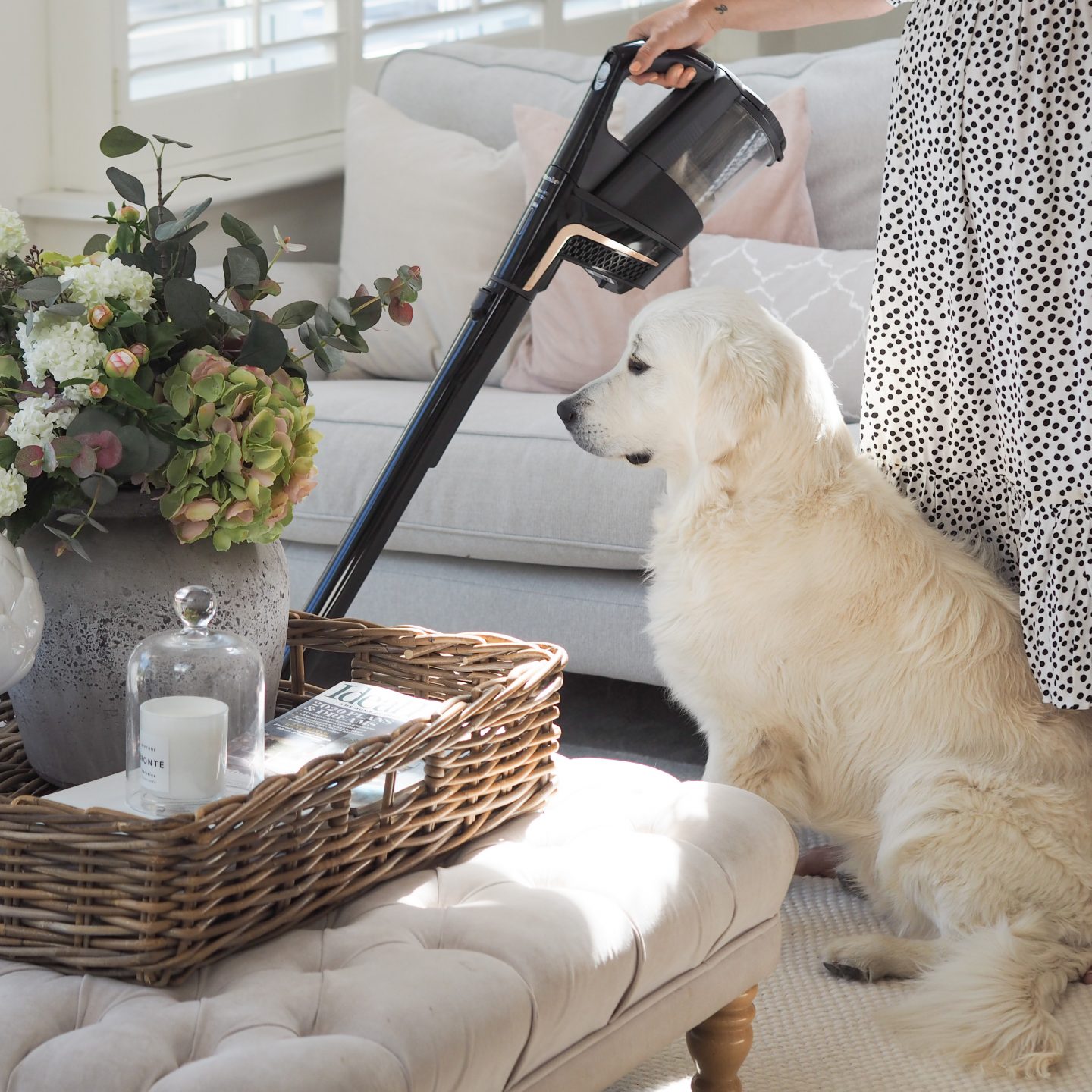 4. Invest in a good vaccum –
By far the most important point. Make your life easier by investing in a good vacuum, preferably one that is designed to pick up pet hair. The Miele Triflex HX1 offers a unique 3-in-1 design; 'Comfort Mode' for easy deep cleaning of large areas, 'Reach Mode' for hard to reach areas & 'Compact Mode' for quick clean ups. Miele has released this new evolutionary cordless vacuum which is just as powerful as it's corded version & offers up to 60 minutes run time to tackle the whole house on one charge. This will be your saving grace in the fight against the tumbleweeds!
5. Be mindful of your choices –
Take your pet into consideration when purchasing new furniture. Don't go for a super thick fluffy white rug if you know that Rufus will love rolling over it after a particularly muddy walk. Go for removable/washable covered when you can to avoid mishaps.
6. Improve their diet –
What you feed your beloved pooch will play a big part in the condition of their coat as well as their overall health. A good quality veterinary approved dog food is ideal, or if you can raw feed has so many health benefits & you'll probably see not only less moulting but also a shinier coat. Do your research & you'll soon realise how much rubbish goes in to the typical bag of kibble & some of the brands you thought were good may not be so good after all. This website is great!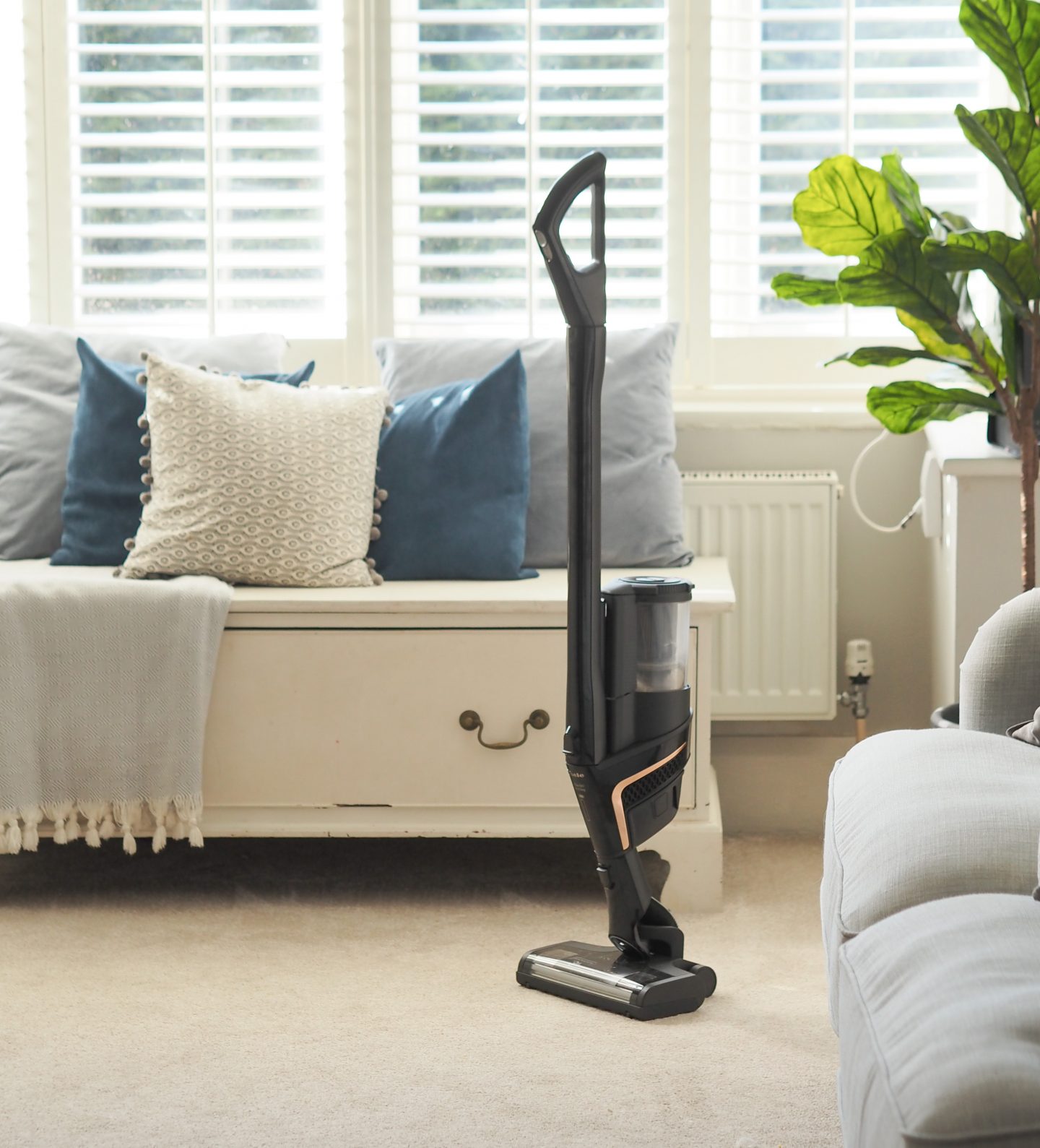 7. Set boundaries –
If you can't bear your new sofa's getting hairy then the best way to do this is to not let your dog up. Set clear firm boundaries but be strict & consistent. Personally I'd rather have cuddles than a hairless sofa but it depends whats important to you. We put a large blanket over the section the dogs like to lie on & alternate these a few times a week whilst the others are in the wash as well as giving them a good vacuum in between.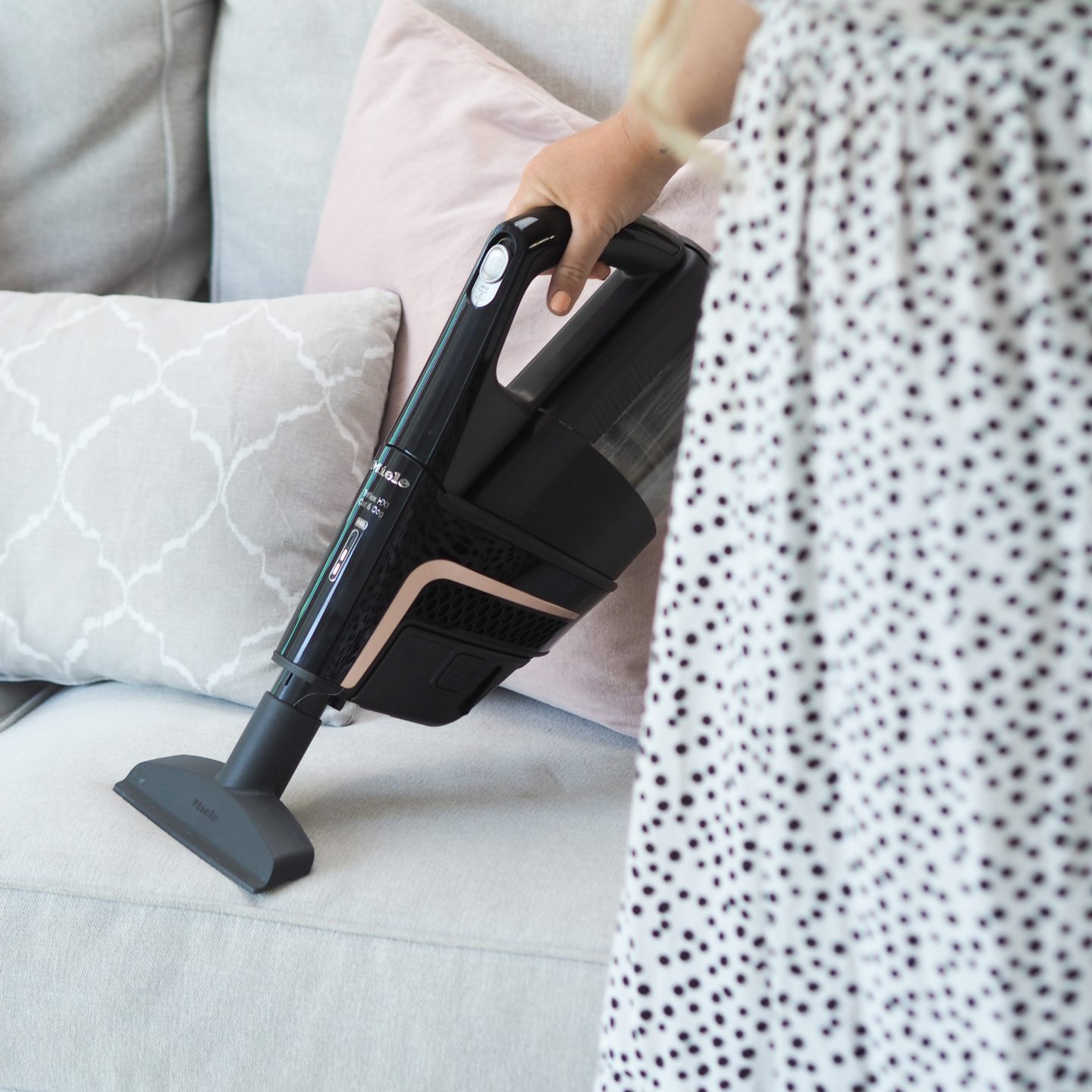 8. Don't let it get smelly –
Dogs smell. Sometimes we can't smell it in our own home but people coming in that aren't around dogs definitely can. To combat this sprinkle bicarb of soda over carpets before vaccuming to absorb odour as well as washing their beds regularly. Open the windows & try using plug in air fresheners or air purifiers.
9. Beware of allergies –
Pet allergies are so common & although some breeds are hypoallergenic it's still important to make sure we can still welcome visitors who may suffer in to our homes. The Miele Triflex HX1 Cat & Dog has a HEPA lifetime filter to trap 99.999% of fine dust & over 99.95% of bacteria & allergens to leave air cleaner than before.
10. Keep on top of it –
Like with all cleaning, I swear by the little & often method. If you don't vacuum for 2 weeks then expect it to be a long hard struggle to get up the new carpet of pet hair off the floor…whereas if you whip around daily it will be much more manageable. Get in to a routine & stick to it!
Despite all the hours spent cleaning, they are so worth it & bring so much joy to our lives. We wouldn't have it any other way.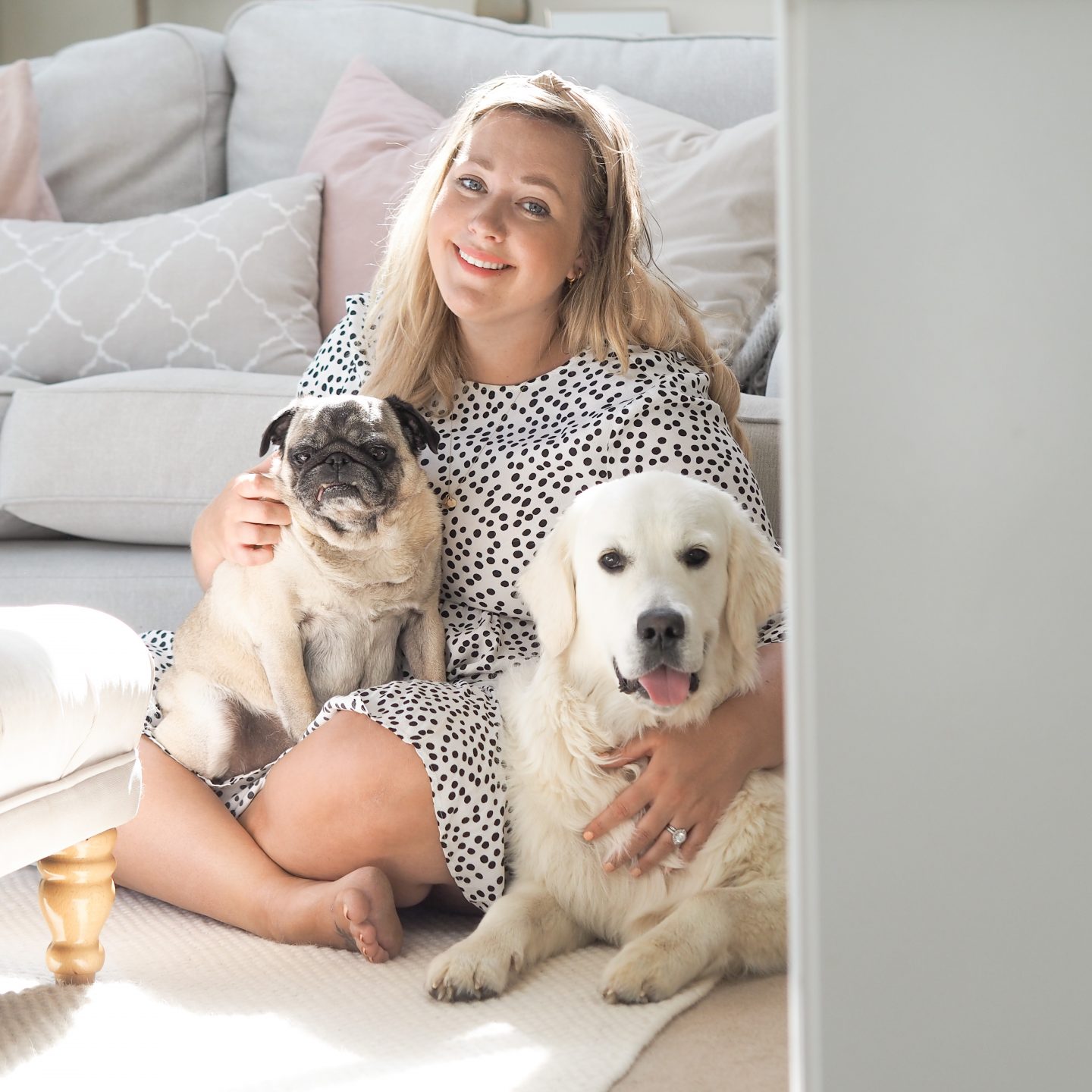 Love,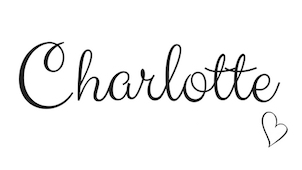 *This is a sponsored post in collaboration with Miele