A few years ago, every Friday I would do a blog post with a tour around a room/area of the house with lots of pictures & links to all of the furniture & accessories which I get asked for. It's been a while & you all know how often I love a good switch up so most of the rooms now look completely different so I've decided to restart the series, starting with the first thing you see when you walk in through the front door….the hallway.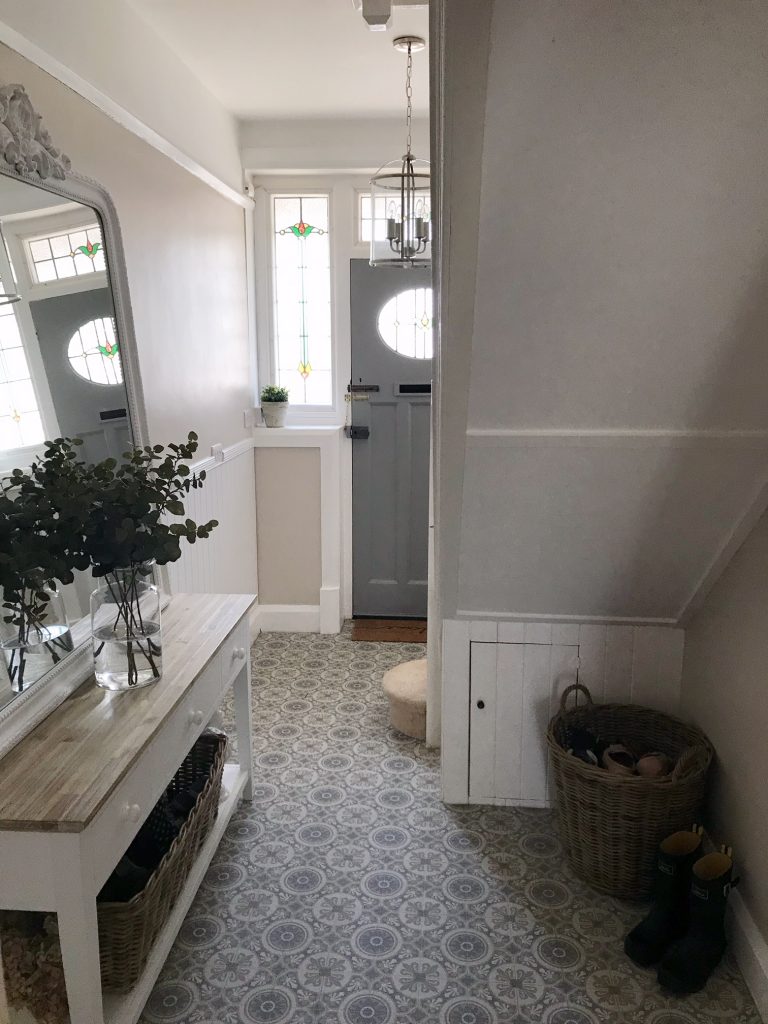 So the hallway was given a bit of a makeover a few months back, changing the walls from green to beige (shock…) to give it a more neutral feel. The tongue & groove effect wall panelling was fitted when we first moved in to add character which runs along the main wall, you can read a bit more about that here.
When designing this space, I really wanted the beautiful original front door & stained glass windows to be able to draw the eye & become a feature so kept with a muted palette that I'm known for.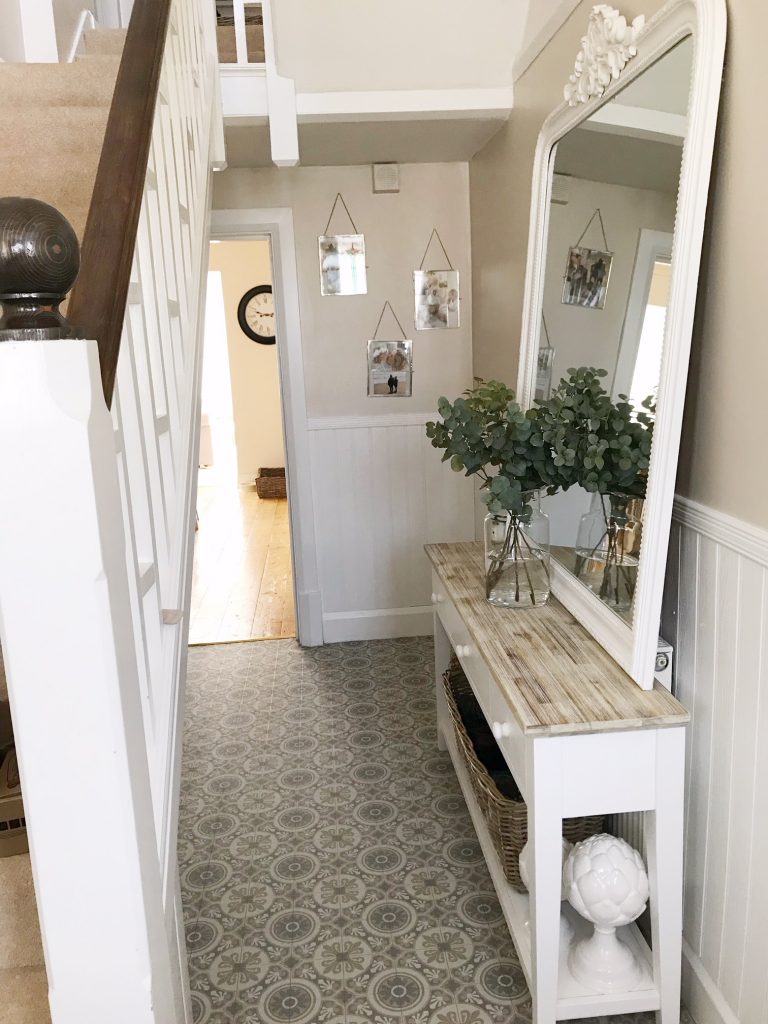 The wall colour is Dulux 'Natural Hessian' in silk which is more durable for this busy traffic area (why do kids have to hold on to the wall instead of the banister when going up & down with grubby hands?! have a read of my paint finishes explained post here) as well as slightly bounces light around. This is a gorgeous warm colour & instantly brightened up the space.
We also changed the flooring from the previous vinyl to a patterned design. This adds so much character & really livens everything up…it's also a little nod to what may have previously been here as the Victorians loved a good patterned tile in the hallway. This was originally found for my Darwin Escapes lodge for the bathroom, however I loved it so much I decided I needed it in my home too.
The flooring is called Baroque 'Lisbon 196' & is available here from Carpets & Floors Online. At just over £9 per square metre it's an absolute steal & cost £78.00 for this area. They also do other colourways!
The focal point of the hallway is the console table, the Chatham in white available here. This sits in front of the radiator, I'd love to change them all to the traditional cast iron style but for now, covering them slightly is the best option).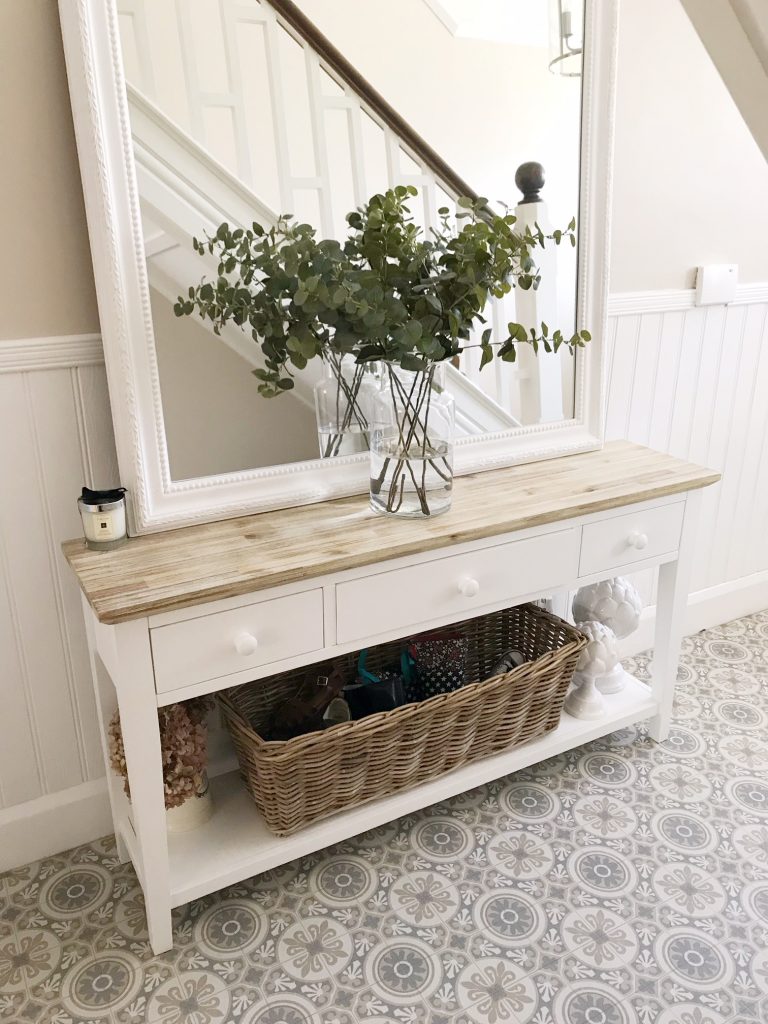 The large ornate mirror makes a huge statement & fits in so beautifully with the house. It's the large Josephine in white from Brissi…if you haven't checked them out then I apologise for your bank balance in advance. I always think that a room isn't complete without a mirror & if you think a space is lacking then it can completely transform the look & feel. It also helps to bounce light so win win!
On the console is a vase (this was a Homesense find but you can find similar here) filled with the most incredible artificial eucalyptus which is from one of my favourite interior Instagram shops @hudsonhomeknowle, it's really realistic but to make it look even more real I pop some water in then just make sure to change it every week or so.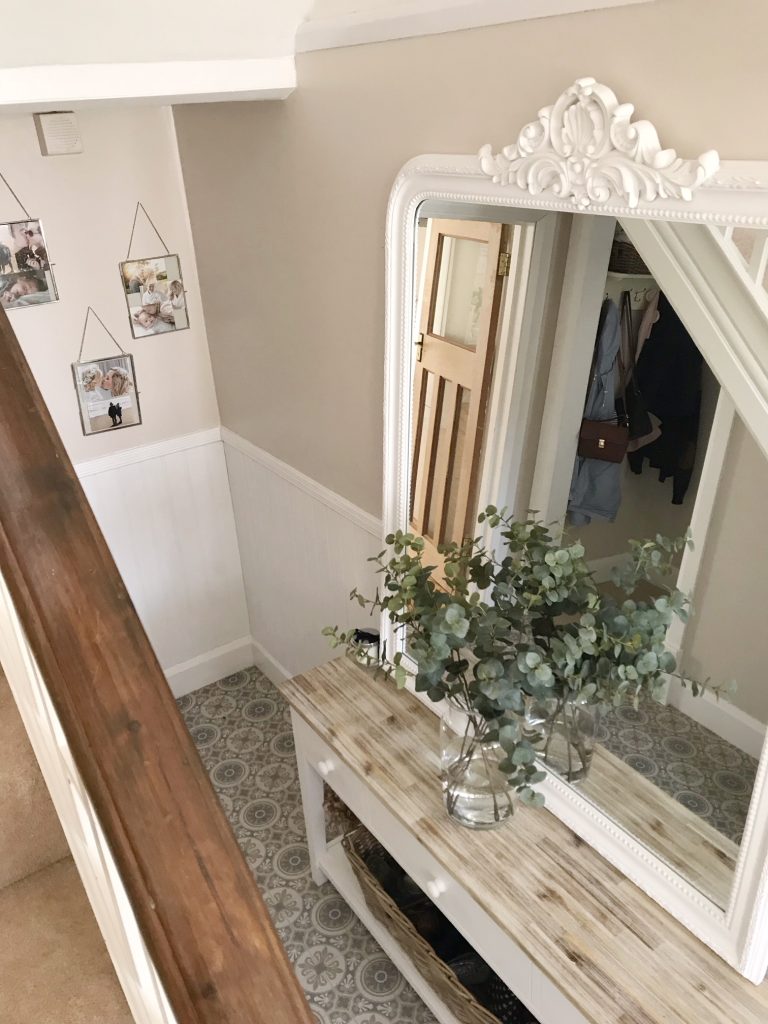 The wicker basket is part of the Somerton range from Neptune Home available here which we keep the kids shoes in. On the other side I've put these artichoke ornaments, again from Neptune here then some hydrangeas I dried a couple of years ago on the other side.
Joe & I's shoes are kept in a round wicker basket underneath the stairs. This was from a small local shop however you can find similar here.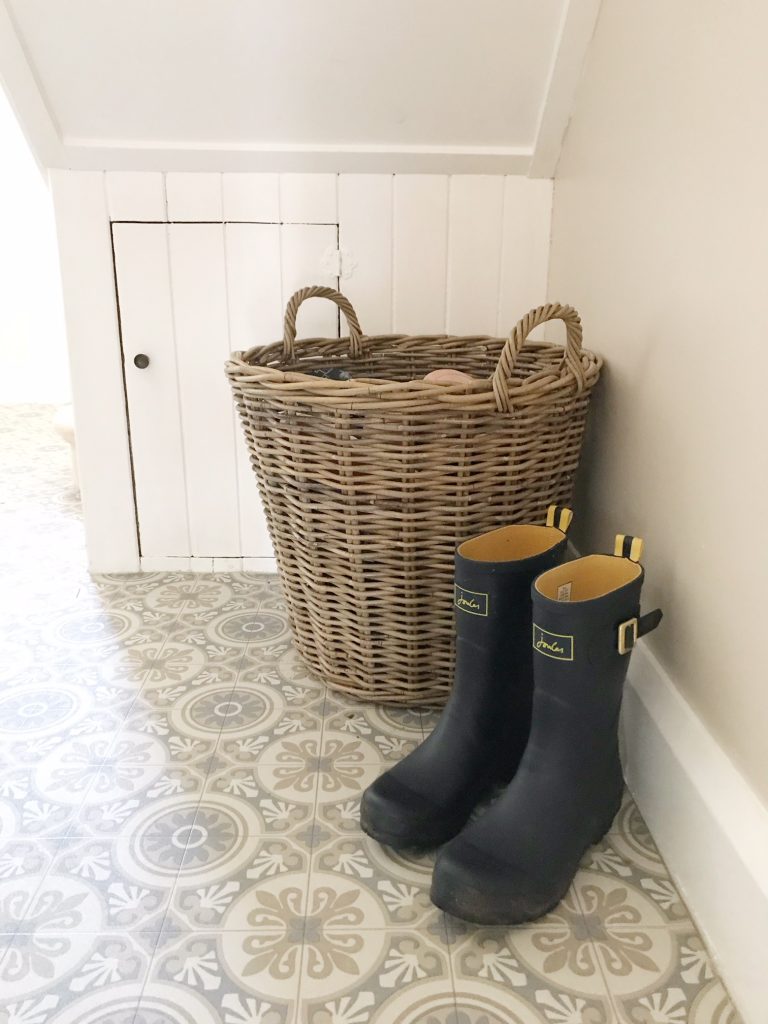 On the wall next to the doorway through to the main open plan living area, I've put 3x silver hanging frames from M&S up with some of our favourite photos. I absolutely love these & have put them in a few rooms, such good value too!
I've again gone for something quite traditional for the lighting with the Endon Lambeth 4 light pendant from Wayfair. It's absolutely stunning & I love how even putting that up made such a difference.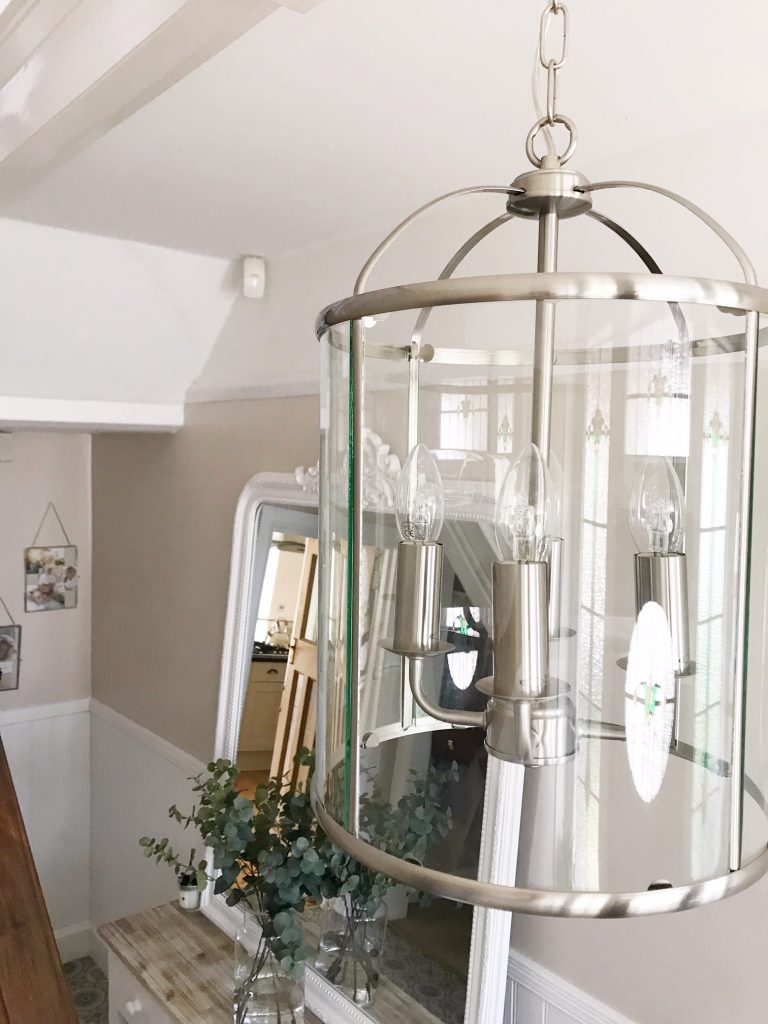 Lastly, a new door mat (super cute & a bargain at just £5 in the sale from Matalan here) & I popped two little artificial plants (Ikea or find similar on Amazon here) in some stone pots here, on the ledge either side of the front door & stained glass.
Head on over to my Instagram page to watch my stories of this space which I'll save to highlights for a week until next Friday's room tour.
At the end of my home tour, when all the rooms have been covered, I'm going to be asking you guys to help me out with tours of your own houses. If you have a home you think my followers & blog readers would love & would like to have it featured on the Home Tour Fridays post then do drop me an email to [email protected].
Love,
*This post contains affiliate links