When we moved in to Baylyn House, the hallway was one of the first rooms we tackled & prioritised to give a bit of character. We installed some tongue & groove panelling along the side wall, used what was our old house front door colour; F&B 'Vert de Terre' on the walls & covered the radiator with a cover. We also put down vinyl over the laminate which was a cheap alternative to replacing.
It was all a rush as I was 8 months pregnant & we knew that everything would come to a halt so looking back; I think the green was too much for the space, especially considering it can be fairly dark at times being North facing & only having the stained glass to let light in.
BEFORE we moved in –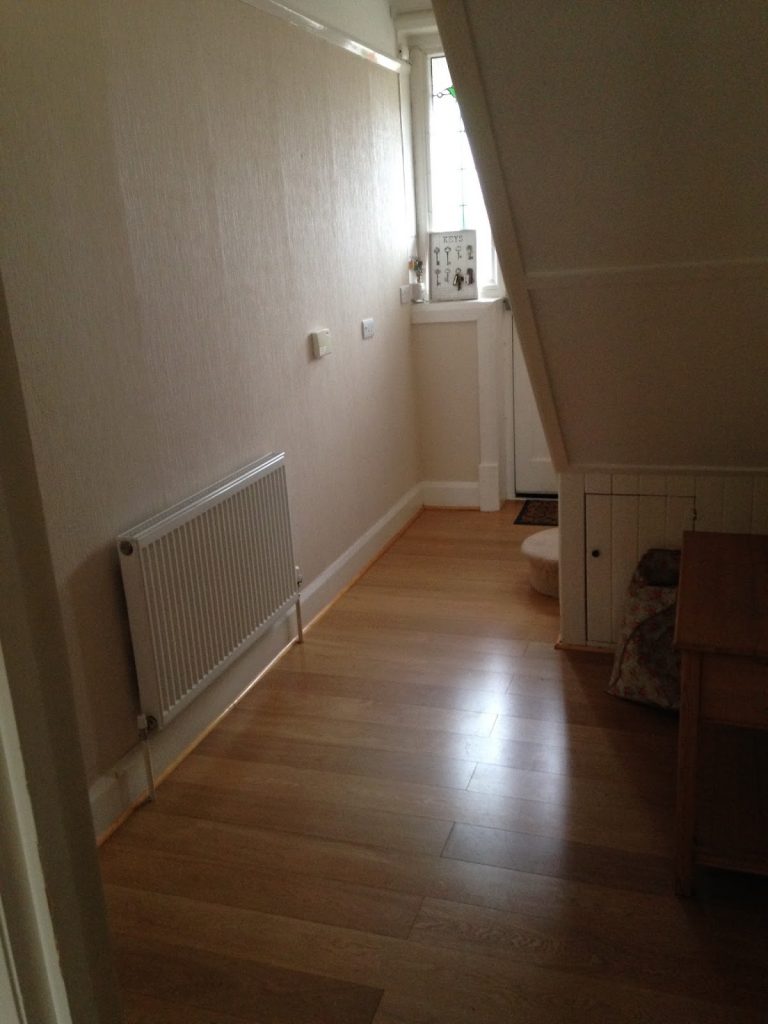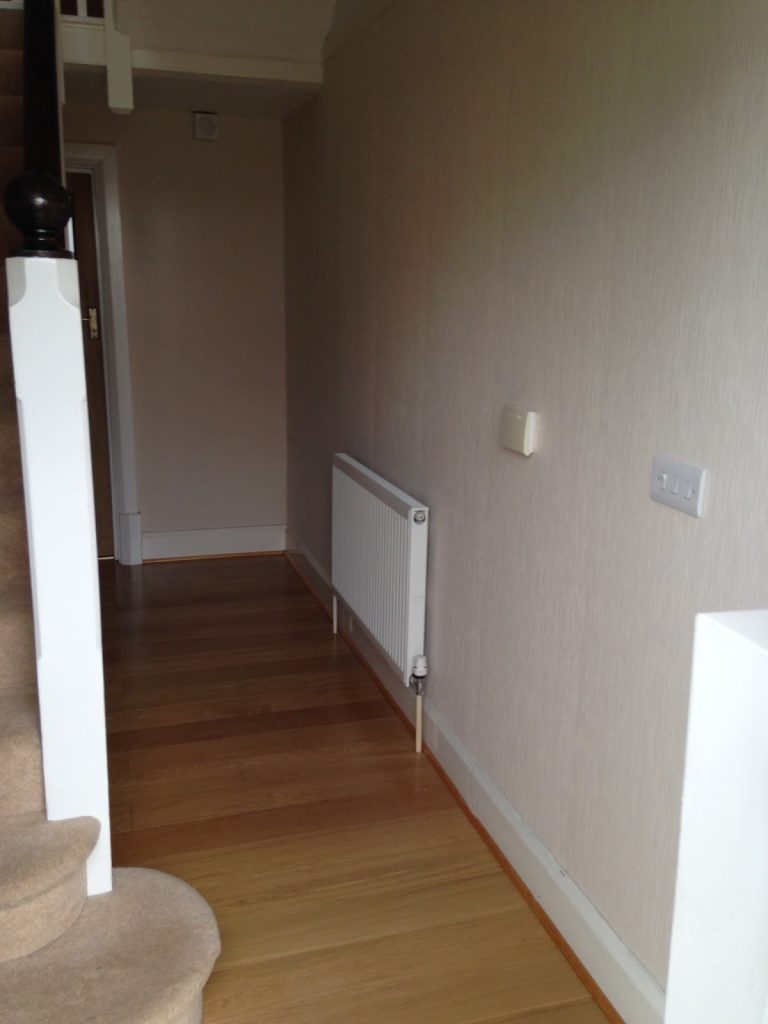 Hallways are the first impression you get of the interior of a house & if I'm honest, I don't think it gave a true reflection (I mean green is just not really 'me' is it?!) & also considering it's such a high traffic area, it ended up looking a bit sorry for itself with marks on the walls & yellowing woodwork which I hadn't repainted so god knows how long it'd been.
Just as in a rush as in the first place (but this time out of pure impatience…) I didn't take any good 'before' pictures that really show the space well. Here are a few but they have been brightened up quite a lot –
The beautiful original stained glass doors & windows should be the focal point & really be able to shine yet they were being overshadowed by the green. So guess what? I went…beige.
Here is my mood board full of the image I had in my head –
The walls, both downstairs & upstairs on the landing were given a new lease of life with Dulux 'Natural Hessian', a beautiful warm beige. I originally thought I'd want to go for 'Egyptian cotton' but when I put a tester on the walls it just seemed too cold & grey for the space which already lacks light. Normally I'd use matt paint however after seeing the scuffs & grubby hand prints on the walls leading up the stairs I decided to go with more hardwearing silk paint which I actually bounces/reflects lights slightly too. Click here to read my paint finishes explained post if you're after some advice.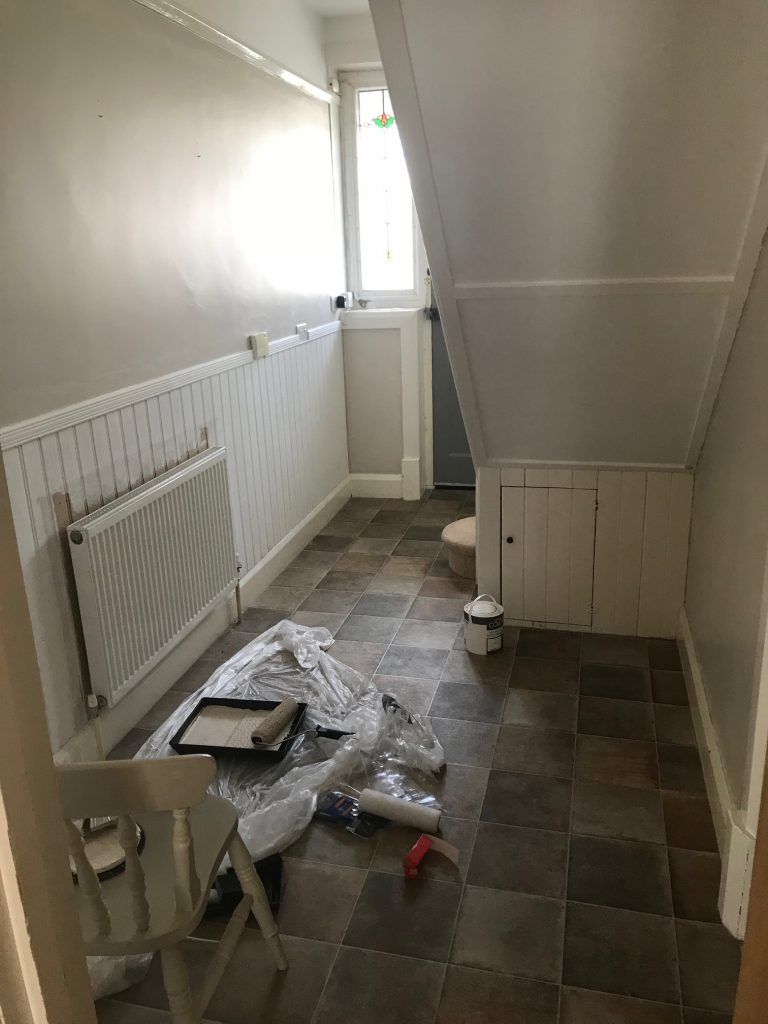 The main difference has been painting the woodwork, which took me SO long but has made it look so much lighter & brighter. I always think that you think somethings white until you slap some new white paint over & then realise how yellow it's become.
So what does it look like now?!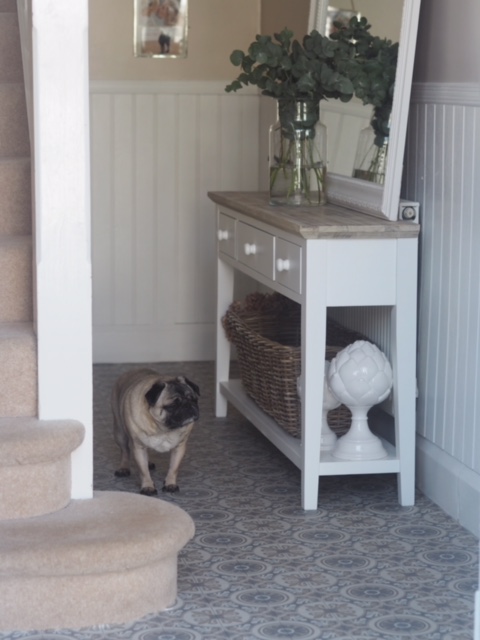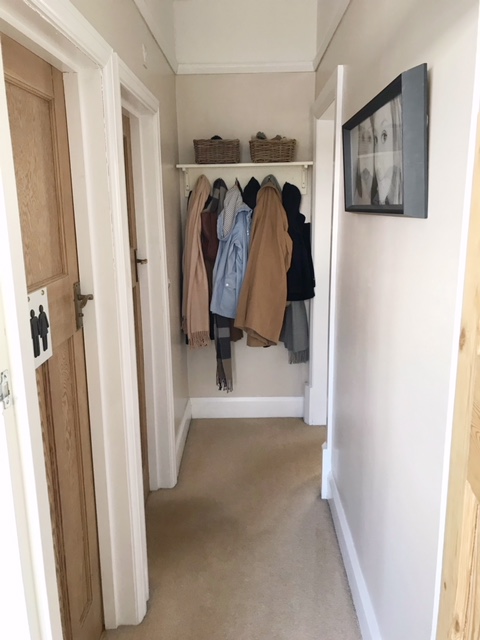 The previous light fittings were absolutely shocking & came down immediately, instead replaced by these gorgeous Endon Lambeth 4-light foyer pendants which are a steal at £69.99 each from Wayfair. Instant transformation!
To bring a bit of pattern/colour & as a statement I found the most beautiful patterned vinyl flooring from Carpets & Floors Online available here. This is the Lisbon 196 however they also do it in a few other colour ways here. This was a bargain at £9.09 per square metre so my roll of 2x5M came to £77.90. This was delivered within a few days then I got Sean Mortan Pro Flooring (who also did the grey laminate in our spare bedroom) to fit it. This is now a real 'wow' factor as you walk in as well as tying in the beige from the walls, white from the woodwork & furniture plus the grey from the front door which is F&B 'Manor House Grey'. Again, it makes it look so much lighter compared to the darker tile effect vinyl. I absolutely LOVE it!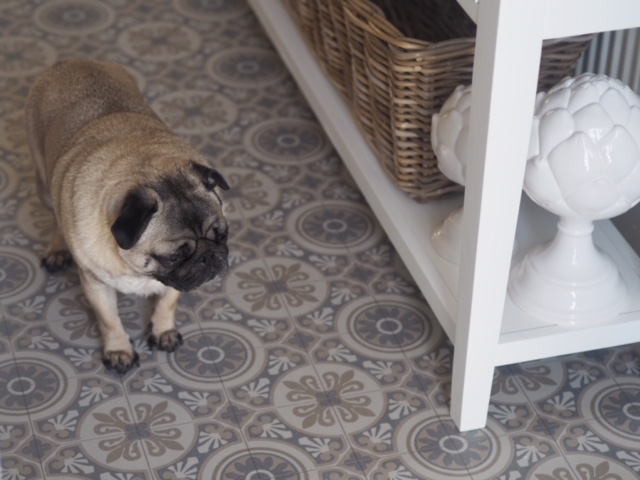 Furniture wise, we moved the existing shoe cabinet in to my office for additional storage & seating instead favouring a console table & getting rid of the radiator cabinet which is now hidden behind.
The console table is the white version of the one in my living room from BedroomFurniture.co.uk which you can find here & is an absolute bargain at £154.99. We also got the smaller 2 drawer one for the landing upstairs outside our bedroom which you can find here.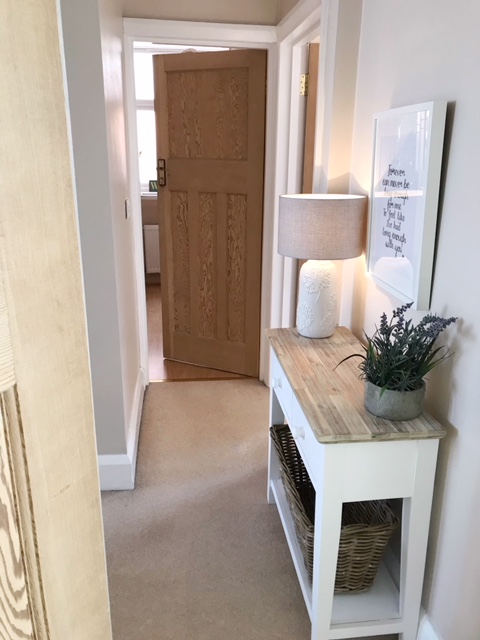 Above the console, you may have seen on my Instagram stories about situation #mirrorgate; the giant mirror I bought which took me multiple trips & borrowing someones car to get home, but I had actually measured it wrong & at over 6 foot tall it ended up basically taking over the entire house. In the end it was returned & I eventually managed to find the mirror of dreams…the large 'Josephine' in white from Brissi. This gorgeous mirror is the perfect size & creates a statement as you walk in plus makes it look so much bigger.
I've accessorised & added storage using the Somerton console basket in large & medium from Neptune & a wicker log basket from Thomas & Lucia (a small local shop) now holds our everyday shoes, the rest live in wardrobes upstairs.
I found this cute door mat in Matalan for a bargain £5.00.
On the wall next to the door to the kitchen, I used three silver hanging frames (8×10 inches) from M&S here to display some of our favourite family photos.
This reveal isn't 100% finished;  I'm going to be doing a gallery wall running up the stairs with all my findings about the history of the house. A nod to the people who once lived here & held on to that same banister as they walked up & down.
I'm also planning on changing the carpet leading up the stairs to a traditional runner so keep your eyes peeled over the next few weeks to see those bits added in.
The changes have made such a huge difference; the space is so much lighter, brighter & I'm now prouder than ever to open that beautiful front door.
Love,