Photo by Colin Poole for the February 2018 Ideal Home magazine edition
I always find this time of year so reflective, the cross over from one year to the next & contemplating what you've achieved, what you haven't, how you've felt, whether it's been good or bad & then of course the looking ahead to make resolutions for what you want the next year to bring.
Many people aren't a big fan of making New Years resolutions, for one reason or another (& I 'get' the thought process; why wait until a new year to change things & 99.9% of people probably don't stick to them ultimately anyway). However, I'm a big believer in self improvement & challenging yourself as well as setting goals so I always set things, most of which don't get achieved but at least I've tried.
This time last year I wrote a post on my resolutions as well as reflecting on 2016 which you can read here. The one that keeps being repeated year on year, is to lose weight & guess what? It's no1 on my list this year too. Last year I started Slimming World & going to the gym in January & by the end of April when I had my Ideal Home magazine shoot, I was 3 stone down. But then it all went to shit & I've managed to put it all back on again so I'm back to the very point (& weight) that I was at the start. Instead of seeing this as a failure, I'm going to see this as the fact that I CAN do it if I set my mind to it (& this year, I just have to not go off the rails & see it as a lifestyle change rather than & restrictive diet).
Although I didn't achieve what I wanted to & am back at square one weight loss wise, it has taught me something which is the most important thing, so what else did I learn this year?
You can do anything you want if you set your mind to it –
This is my no1 revelation as I am SUCH a big self-doubter. Taking yourself out of your comfort zone can be extremely daunting but this year I've really pushed myself & seen tremendous rewards for it. My main example is the launch of my workshops from my home, starting with the interior styling with Laurie Davidson then going off alone with a blogging & social media then ending the year with a fun Christmas wreath making workshop, all from my home. I remember releasing the slots for the first one; would anybody even want to come? What if it was a massive flop? But all of that was unnecessary as each workshop I've done has sold out within an hour or so (& that's without even making it on to my Instagram, it's just from emailing out to people who expressed interest & were on an advanced contact list!). I was so unbelievably nervous on the lead up & then on the day of the first one…I remember talking to all of the absolutely amazing ladies that attended & literally shaking when I had to speak (public speaking was not something I'd ever had to do). By the blogging & social media I had learnt that actually, I could do it & all these ladies have supported me via social media so of course they'd be supportive in real life too. The feedback I got was incredible & I couldn't be prouder of myself, proving that taking a risk & taking a leap of faith does pay off.
Believing in yourself is SO important –
Linking to the above, I am constantly doubting myself & this is something that over the year I've improved upon. Instead of worrying that I couldn't do something well enough, I've learnt that if you try your best you'll always succeed. I don't claim to be the best blogger, the best photographer or have the best home but I know that I have (nearly!) 100k people who for some reason or another find me inspiring enough to follow & I will forever be grateful for that.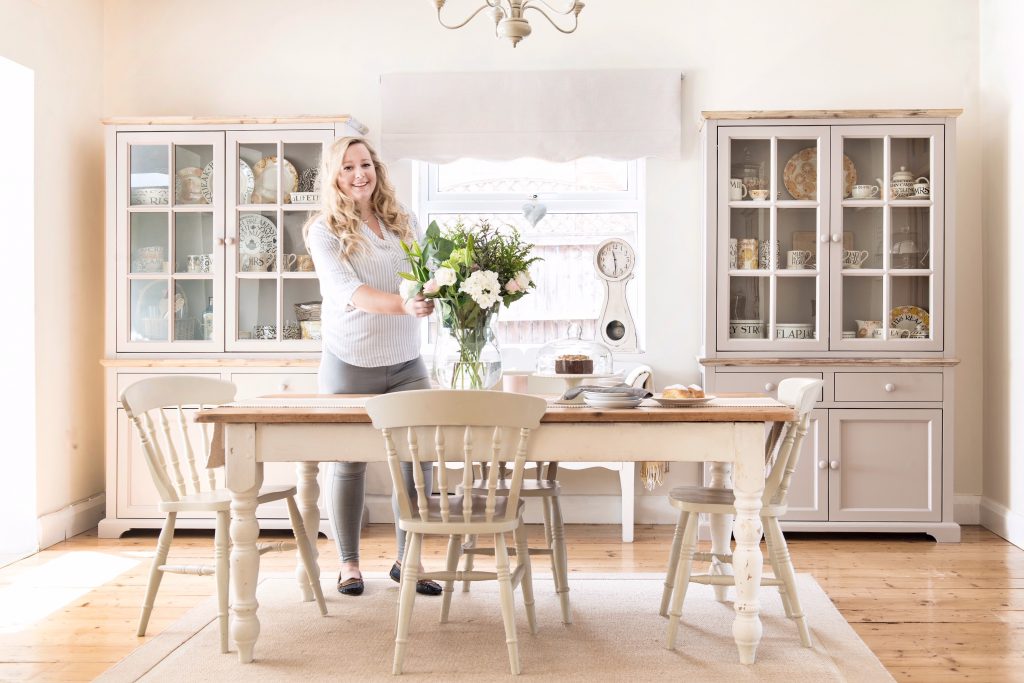 Photo by Colin Poole for the February 2018 Ideal Home magazine edition
The power of positive thinking –
Some people may think this is a big 'hippy-dippy' but I really believe the power of positive thinking & the law of attraction work. I'm not a naturally positive person (in fact quite the opposite) so it's been a learning curve to not suddenly jump to the bad rather than the good. Changing my attitude to things has been a big eye opener & although hard work & determination obviously play a huge part, it's also about making sure to think positively in order to attract good things in to your life. Focusing on the good will bring you good, always.
People come & people go –
In real life & online; sometimes you have influence over this & other times you don't. Over the past few years I've lost contact with some family members (some of which I'm aware I'm better off without) & some friends have drifted more than I'd like. Sometimes you have to have the strength to walk away from toxic relationships. In the world of social media it's exactly the same but on a wider scale (if only the block button could be manifested in to real life..). I know some accounts obsess or find it all consuming when they see X people have unfollowed them but my one bit of advice is to delete any 'follower' apps & to focus on those that do stick around. As the saying goes, you can't be everyones cup of tea & that is actually okay. If somebody clicks that unfollow button then they obviously weren't right for you, for whatever reason, so let go.
Sometimes you need to turn off –
In my line of work, it's incredibly hard to switch off or have a day off. Christmas Day 2016 I was actually sat writing a post for AO.com after my kids opened their presents, but I was so invested in my 'brand' & had a last minute deadline which I'd agreed to that I felt like I had no other option but to make sacrifices. This year I worked my arse off through December & said 'no' to opportunities that came up so that I could put my out of office on & enjoy the festive period. However, the internet doesn't sleep & I've still been on Instagram stories as per usual, answering messages, replying to urgent emails & a few sneaky posts (which I said I wouldn't do!). I've actually LOST followers from not posting pictures on my main feed from taking this step back. Because of this pressure, I'm ALWAYS on my phone & recently, my 4 year old daughter has been saying 'mummy why are you always on your phone?' which really stuck with me. I am going to make a conscious effort in 2018 to restrict this & spend more quality time with my littles as well as vow a 30 minute technology (that means no TV either!) time with the husband every evening as we find ourselves too wrapped up in a Netflix series to actually ever engage in conversation about our day.
It's okay to not be okay –
Since my cervical cancer scare at the end of 2016, I'm a completely different (& better) person. It taught me that life is too short & my newfound change in outlook has continued through 2017. I was a sufferer of anxiety for years & it got to the point of ruling my life so I decided to take control & admit that actually, it wasn't okay. I'm now less of a worrier, even in stressful situations.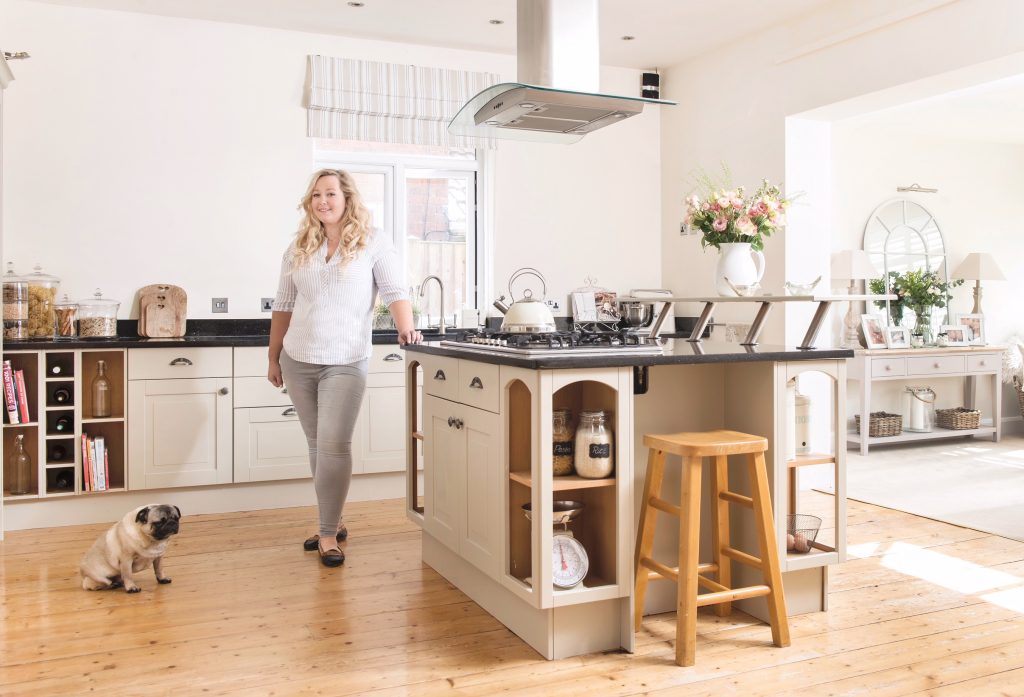 Photo by Colin Poole for the February 2018 Ideal Home magazine edition
So what do I want for 2018?
Well firstly to continue with what I've learnt & grow on it. I want to develop myself mentally, physically & in forms of myself as a mother, wife, friend, family member & as a blogger/Instagrammer.
I've got some pretty incredible things lined up for 2018 already & although I think that 2017 will be hard to beat, life does just seem to be getting better & better.
I'm exited for my Ideal Home magazine feature to come out TOMORROW (eeek!) & to begin to style the lodge I'm in the middle of designing with Darwin Escapes to show you all.
As I spoke about, I desperately need to get back to my pre-Rory weight, I want to expand on my business with possibly some online workshops for those too far away to attend ones held at my home & to save money each month so that hopefully at the end of 2020 (by my 30th birthday) we'll be able to buy a do-er-upper to get into property renovation.
I'm going to give up one thing every month, whether it's chocolate, takeaways, spending & so on to improve myself & make me realise that we can go without.
One of my resolutions was to blog 3x a week, but I've come to realise that firstly thats not realistic with a young family & that life sometimes gets in the way! This year I'll be sticking to twice a week.
Although I've still got lots to work on, ultimately I can sit back & say with all honestly that 2017 has been the most amazing year & life just keeps getting better & better.
During this year I've met so many lovely ladies, from people that attended my workshops to fellow Instagrammers & bloggers who've turned in to real life friends. Isn't it amazing to meet like minded people who can talk Farrow & Ball paint colours without their eyes glazing over?
I've also worked with some incredible brands like Matalan, Argos, M&S, Tesco, Christy, Homesense & Dyson to name just a few.
Finally, I have one great big THANK YOU to make to all of my loyal readers & followers for supporting me throughout 2017. You have no idea how much it means & seriously, if it wasn't for all of you, I wouldn't be where I am right now. I appreciate every like, comment & message more than you'll ever realise.
Thank you, thank you, thank you, from the bottom of my heart.
What have you learnt this year? Do you have any New Years resolutions?
Love,