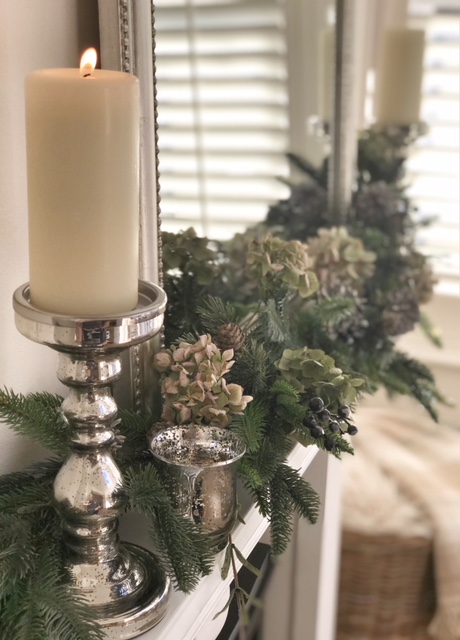 Christmas is one of my favourite times of year & seeing as I LOVE 'styling the seasons', it's the one time of the year where we can all go wild with making our homes look as beautifully festive as possible.
Obviously I'm a neutral girl so my Christmas decor is very much in keeping….I also have a weird issue with the colour red so you won't see anything (apart from the odd berry on a garland…that I can deal with, just about) within these walls. The one thing I love about Christmas is that everyone does it slightly different – from bright fibre optic trees with clashing colours to a laid back rustic/natural vibe.
I tend to embrace the Scandi style Christmas with lots of natural greenery from the Christmas tree & eucalyptus, adding colour using reflective glass & a simple white & silver theme.
So here's my look for Christmas 2017!
First up is the Christmas tree. This tree is a 7.5 foot prelit from B&Q which you can find here (but I think is sold out!). It's super realistic with PE needles rather than PVC & is basically a more affordable version of the one I really wanted from The White Company here which I saw last year & fell in love with so tried to recreate.
I found the wicker tree skirt to replicate the look which was a bargain from Longacres garden centre for £14.99 here or you can find similar from John Lewis on the shop my tree below.
Baubles are a mixture of The White Company & The Range – I've gone for whites, silvers, glass & crackled silver with a few pine cones added in for good measure & some white painted wooden decorations.
You may notice that the console table has now been moved to the other side of the living room & I no longer have the arched mirror – you'll see why at the end of this post. On the table are these crackled silver Christmas tree's from last year which were from Culinary Concepts & you can find here
 & here
 or the new style large here
.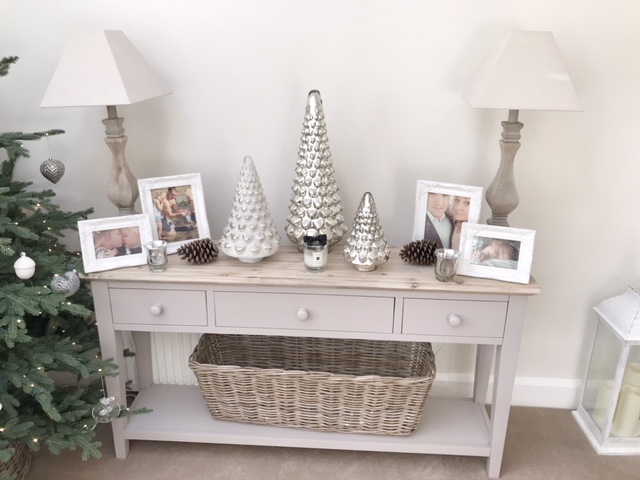 Coming over to the sideboard, I've added in this stag from The Range last year, some pinecones, this bargain star which was on sale in Sainsburys (but is basically a rip off of the Nkuku star lantern, see here). The vase was a sale item at B&Q (£8!!) here which I've filled with dried eucalyptus & then the little house was last years version of this from Matalan.
My sofa's have been given a new look with some new cushions made by yours truly with fabric from Ramnant Kings. You can see the full tutorial on how I made them here. Also the pom pom blanket of dreams is just to die for at this time of year.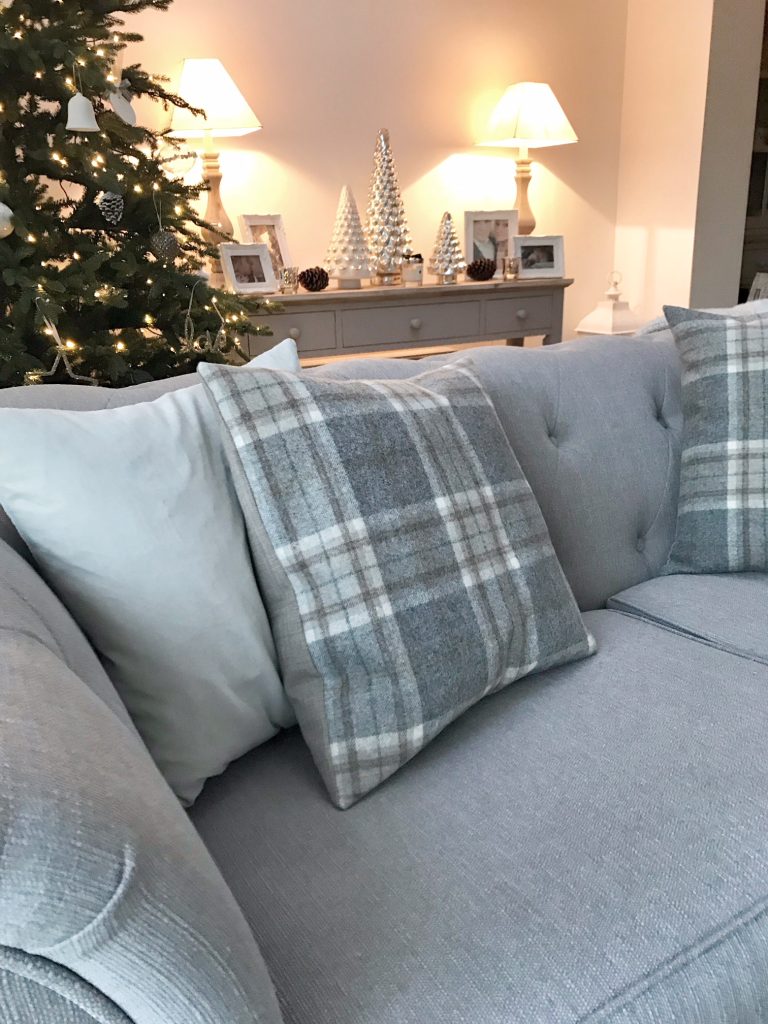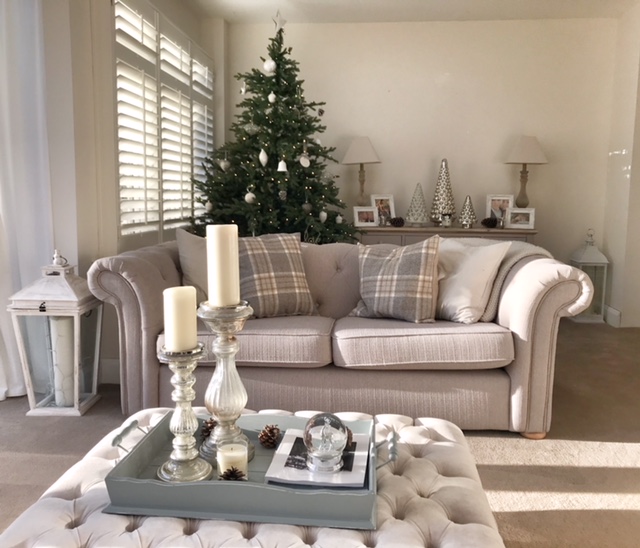 On my footstool tray, I've gone with a laid back look with two crackled silver candle holders (from Homesense about 2 years ago but you can find similar here & here to vary the height), the candle that EVERYONE needs for Christmas in The White Company's 'winter' candle (if you haven't smelt it then oh my god, you need to) & this gorgeous little silver stag snow globe from Laura Ashley here on top of one of many piles of interior magazines that I hoard.
In the dining room, my Christmas table centrepiece is this hurricane candle holder from Laura Ashley here with their prelit wreath from last year (see this years version here) around it.  I've also hung this White Company star from the dresser.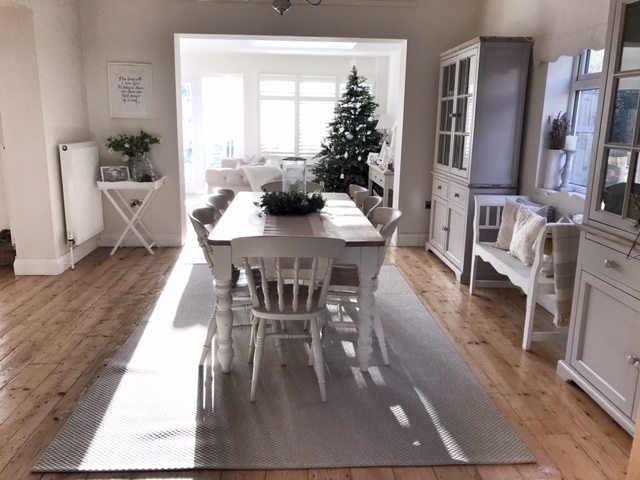 I've also popped the same wreath & hurricane candle holder (from when I extend the table & put two on there) on my 'aeroplane' wing in the kitchen & a garland over the back cupboards.
Going up the stairs I wrapped around a couple of garlands I bought a few years ago – these aren't the kind of look I'd ideally want seeing as they are the typical 'fake' PVC needles & aren't as rustic as I'd like BUT beggars can't be choosers & maybe next year I'll treat myself to some new ones. Because the staircase is so big I'd need a few!
On the front door I'll be popping my wreath I'm going to be making at my first ever 'The Home That Made Me wreath making workshop' this weekend with the lovely Kim from Signature Flowers – can't wait to show you all!
Now we've got to basically the end of the post…I can now show you something that I've been working on to add a bit of personality to the extension (previously a conservatory – to read about this click here). It's such a large room & is so long/thin that the only layout option is how we currently have it with the two sofas. I decided that I wanted a fireplace & originally thought about putting it on the wall where the sideboard is & TV wall mounted above but this would mean bringing that wall out which would then be hard to get past.
I decided to utilise the unused space behind the sofa's & build a false chimney breast where the console table used to live. I've ordered a beautiful armchair from The Cotswold Co to create a reading area next to the fire. It'll go on the left but it won't come until January so for now, this Ikea trunk is sitting there now the Christmas tree has taken it's place.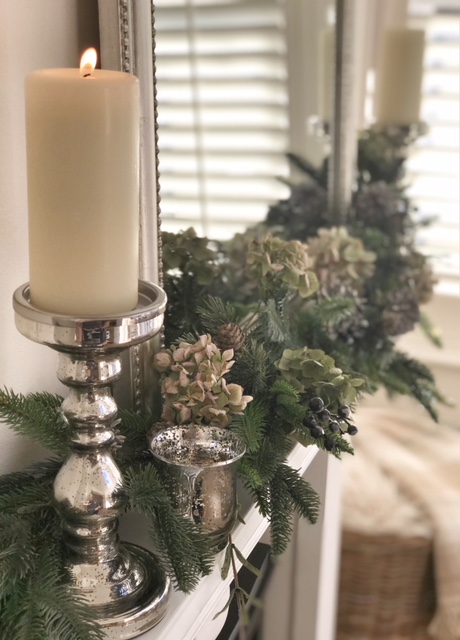 I'll be blogging about this process next week (Tuesday) & how our carpenter achieved the look but for now, here's the finished look complete with Dimplex Sunningdale stove. This is an electric but looks just like a log burner (without the maintenance & hazards that comes with it!) & even crackles. It's the most realistic I've ever seen & I'm so in love. Keep your eyes peeled for a competition to win a stove coming up on Wednesday!
For the Christmas fireplace look I bought this mirror (silver – 101.6cm x 76.2cm) then added these gorgeous crackled silver effect candle holders either side from The White Company. To add that Christmas magic (& so Father Christmas definitely comes down the new chimney…even if it is stud wall) I bought this 'Rosemary & Pinecone' garland from The White Company which again is super realistic & decided to add some dried hydrangeas (which you can read about how to do on my tutorial blog post here) to bulk it out slightly & add a bit of 'something' extra.
No doubt I'll be adding to the look seeing as it's only just turned December – I'll be adding real tree to the playroom on top of the trunk in the window soon & will have try my hardest to allow Elsa & Rory to decorate it without having a nervous breakdown #baublepositioningsyndrome.
Love,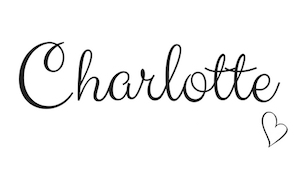 *This post contains some affiliate links