One of the things I pride myself on is bargain hunting. Nothing makes me feel more smug than coming across something for an absolute steal which looks like it should have cost mega £££.
It's no secret that I'm a complete sucker when it comes to pretty homeware & have a bit of a shopping habit but surprisingly, as a family our income isn't as high as many would expect so I definitely have to be savvy so tend to go down the high-street option.
I always find that shopping around REALLY pays off & you'll be shocked at what you can find if you spend a bit of time researching & looking at different websites. Sometimes you'll come across a near enough identical product for half the prize…which surely means you can then go & spend that money you've saved on other beautiful (& obviously essential…) interior goodies, right?
So how do you go about achieving a high-end look on a high-street budget?
1.Keep it neutral –
Keeping walls light & neutral will go a long way in achieving a luxurious setting. Light colours will bounce light around a room as well as making everything look bigger as well as clean, crisp & fresh which is exactly what you want to go for. Think hotel rooms.
2. Invest in upholstery & soft furnishings –
Seats should be upholstered, sofas should be scattered with thick, plump cushions with throws draped over arms. Windows can be dressed with cheap curtains (see how I updated these £10 Ikea curtains with pom pom trim for a statement in Elsa's bedroom here) & rugs can be picked up to provide under foot texture. Soft furnishings don't have to be expensive but they should definitely make an impact & are the ideal way to add colour to a room without the commitment.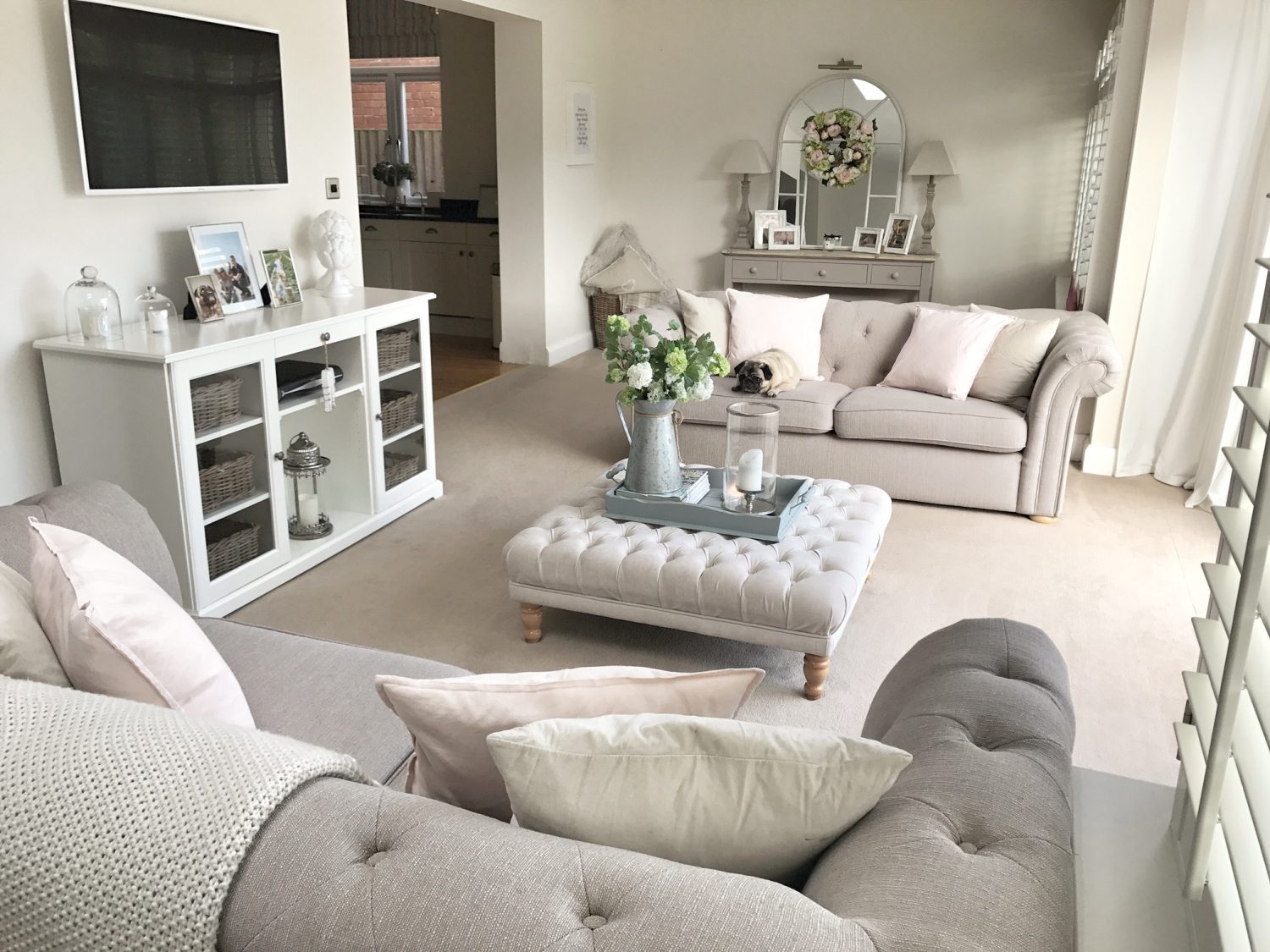 3. Go for a big mirror –
Mirrors are every interior designers best friend. Not only do they look nice but they also play tricks on your eyes by making a room look bigger & bouncing light around. Remember you want the room to look as large & luxurious as possible. You can pick up affordable mirrors from many high street stores.
4. Splurge on a statement piece –
I believe every room should have one piece that you absolutely LOVE. Most of the time this is how I start designing a room as it becomes the focal point to build from. Sometimes however you fall in love with something that isn't exactly 'budget', but if you love it that much then save up & if you still love it after those months then go for it & no doubt it'll make the room.
5. It's all about lighting –
I cannot express just how important lighting is in the visuals of a room. Nobody wants to walk in to a dark, gloomy room as it instantly sets our mood to miserable to play around with lighting. Side lights such as table & floor lamps are ideal for setting a relaxed tone so don't overlook this when designing a room. You can even change shades for a new look for a fraction of the price.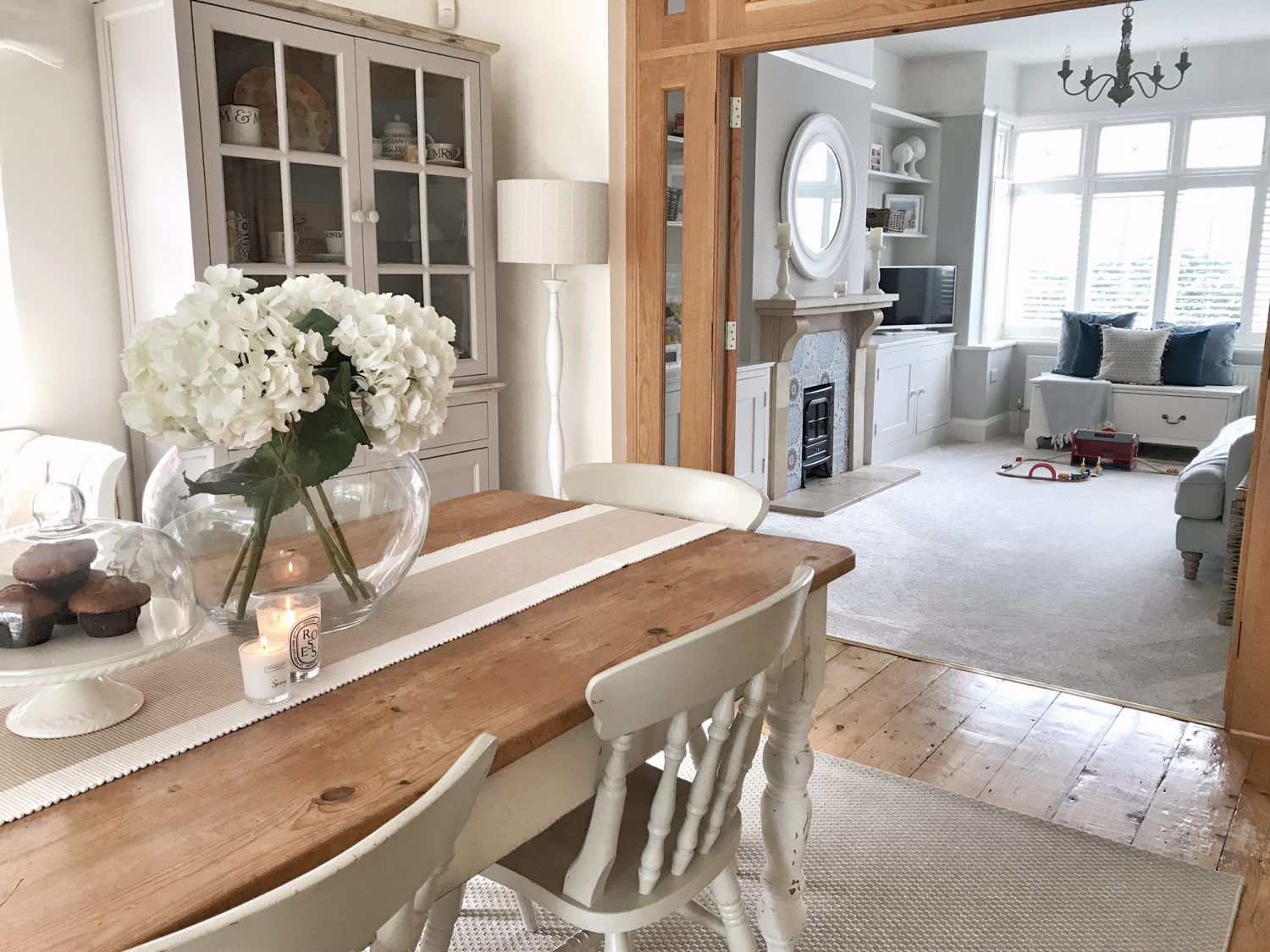 6. Oversize –
Go for BIG. The bigger the better when it comes to interiors. From rugs (small rugs are an interior n0-no in general) to art work, lights to cushions. If you look at high-end interiors images, you'll see that nothing is small.
7. Make your own art –
Some of us aren't born with artistic ability but you'll be surprised what you can either pick up on the highstreet (my fav shop for this is Homesense) or buy a big canvas & get creative to master up some abstract art work for your walls.
8. Use metallics –
Using gold or silver in interiors will add in instant £££ look. In fact, using natural materials as a whole will add towards that luxe look but can work out more expensive going for a marble worktop vs a silver lamp from The Range. Shiny & dynamic, you can turn a space from drab to fab by adding some gold, silver, rose gold, brass or bronze accessories.
Love,