I last decorated Elsa's room about 18 months ago & still really loved it but with the new addition of window shutters to complete the front of the house, I felt that it would just be too 'white'. Shutters give off the most beautiful calming crisp white light to a room so with already white walls & furniture, I didn't want it to feel cold….plus you know me, I love a good excuse to decorate.
What started as 'I'm going to paint the walls grey' actually turned into a pretty big makeover & although the room still has the same furniture & basic principles, it's changed quite a bit & has an entirely new feel to it which hopefully you'll agree is even more beautiful than before.
So first up is some 'before' pictures to give you an idea of what I was working with –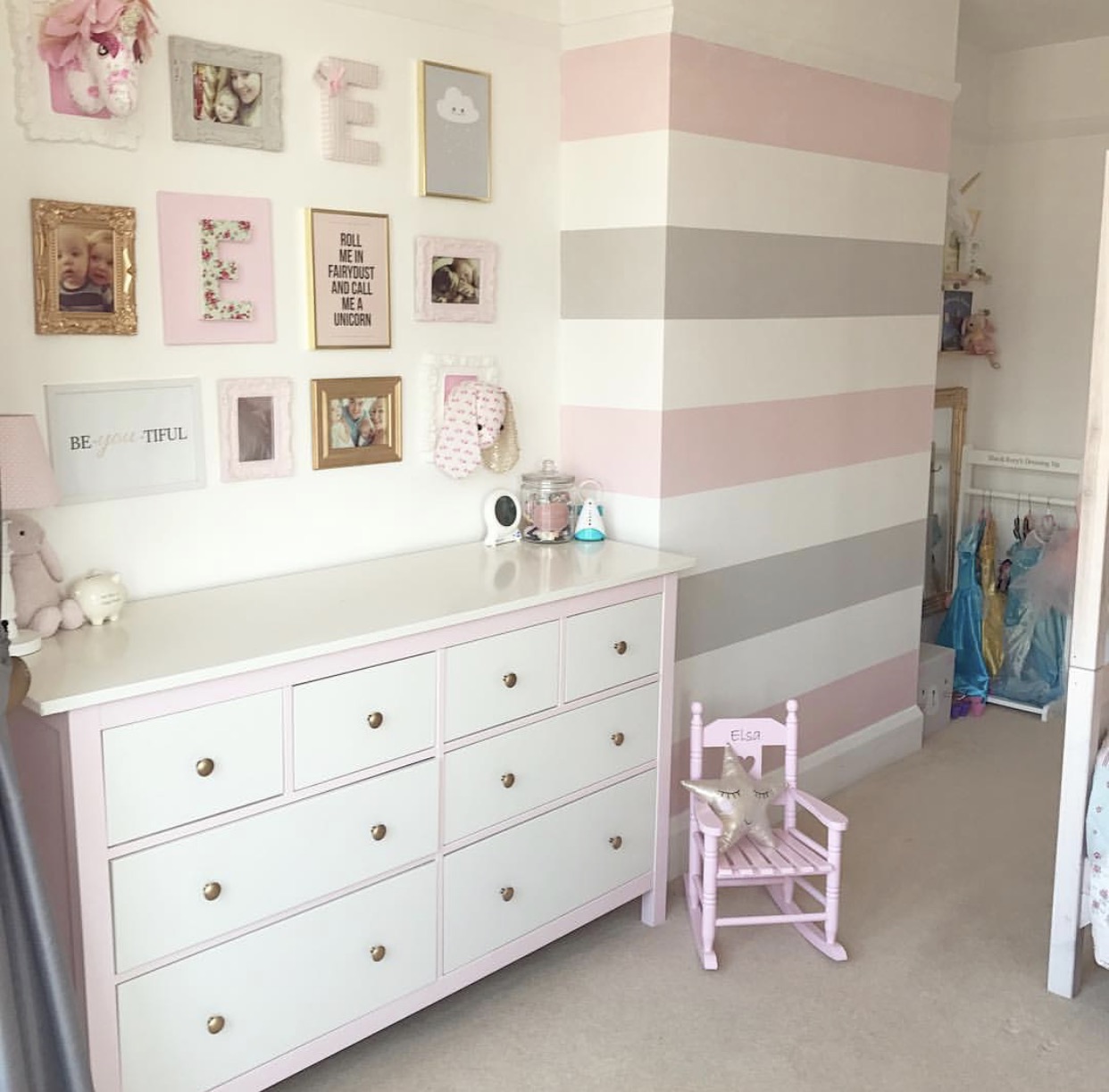 I immediately knew I wanted to use Farrow & Ball 'Cornforth White' which I've also used in the playroom & really is the most gorgeous 'true' pale grey. I always find that grey can be a really hard colour to get right as it has so many undertones which can definitely play with paint & give off a blue, green, violet or taupe look.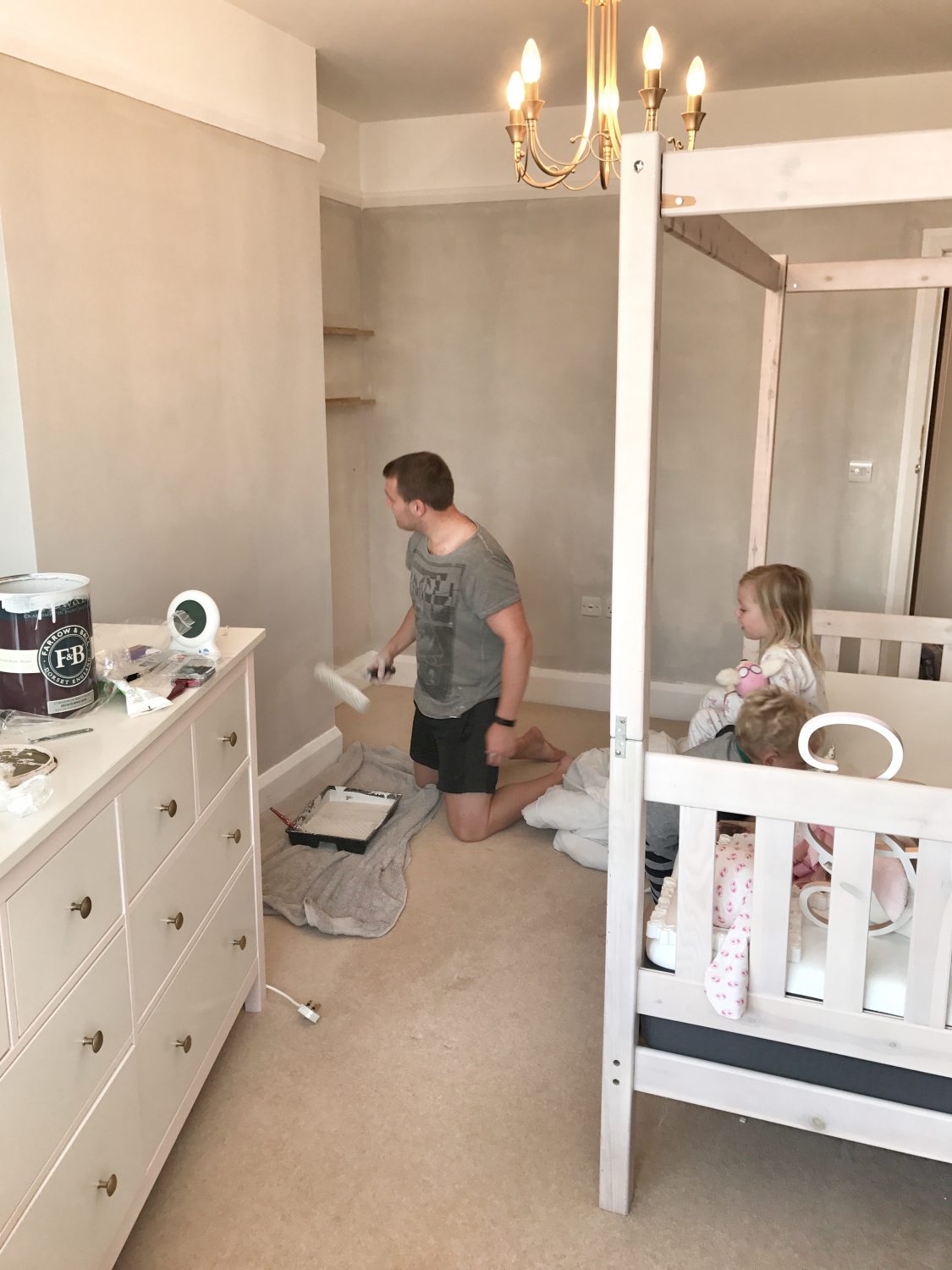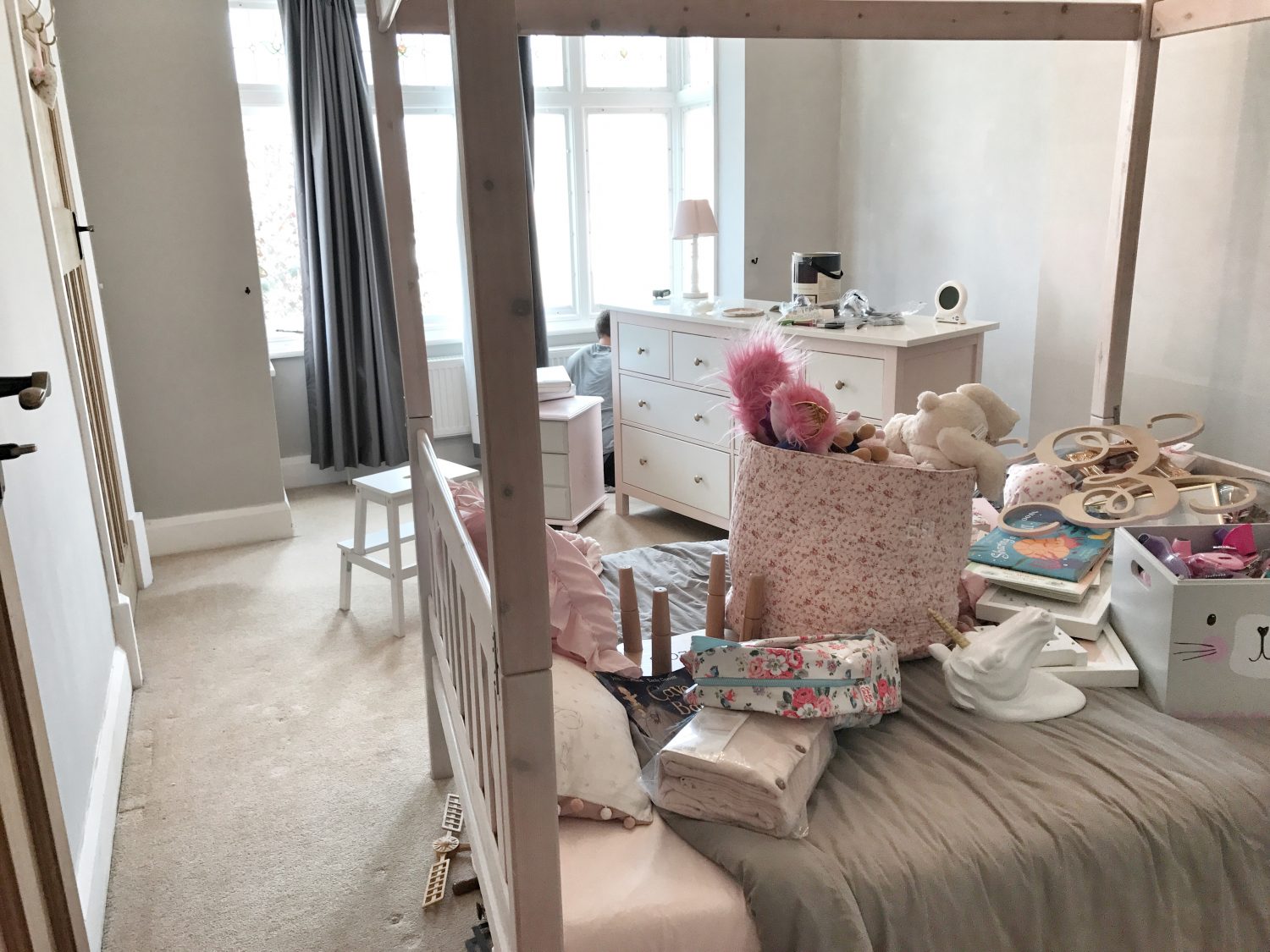 Considering grey is quite a cold colour, it actually warmed the room up massively compared to the previous white walls.
I also used Farrow & Ball 'Pink Ground' to repaint the chest of drawers as I was never really happy with the existing tone of pink, it was too 'baby pink' rather than blush/peach. You can see how I did it originally here & here.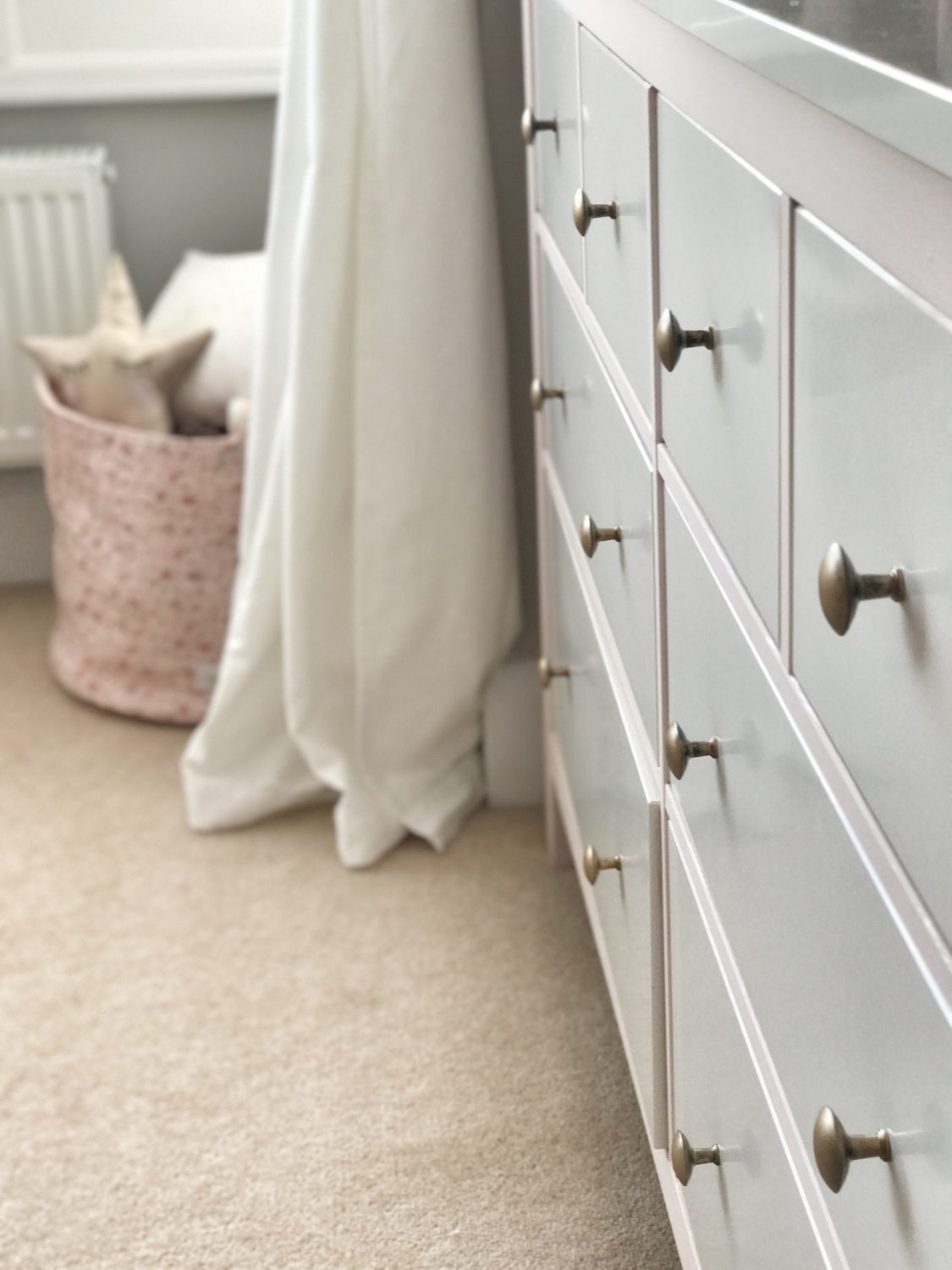 The shutters arrived last week & Mr The Home That Made Me got to work fitting them. I buy all my shutters from California Shutters & honestly couldn't recommend them more…we did a little time-lapse of fitting them & in total it took 36 minutes to fit a large box bay window which isn't bad going!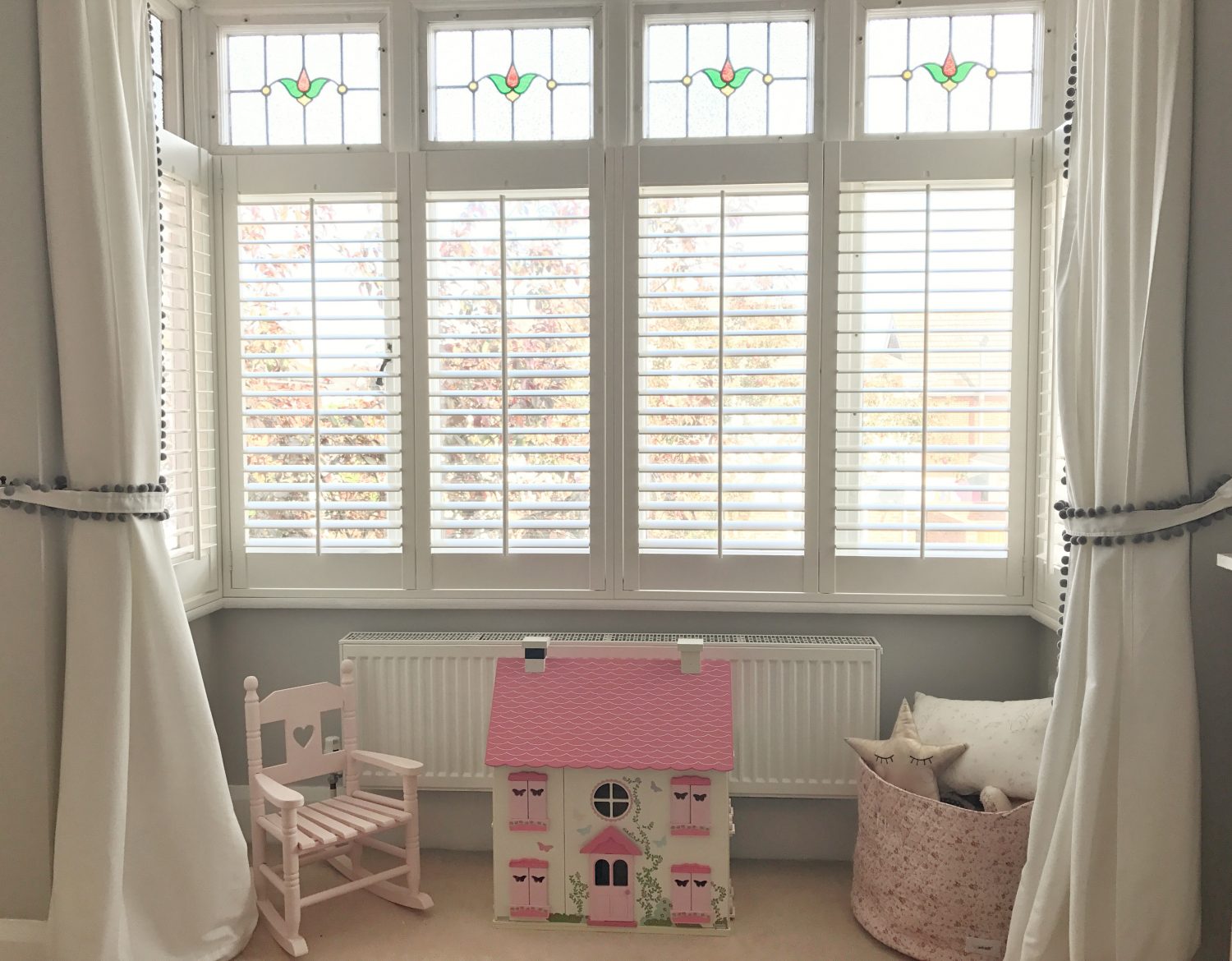 If you're looking for shutters then they've extended my 25% off discount code until the end of September with 'MHTMM25'.
As I'd gone for cafe style, we still needed curtains to block out some of the light from the top stained glass proportion of the window & also soften the room with the use of soft furnishings so off I trotted off to Ikea. I found these LENDA curtains which are the same as the ones in our bedroom & living room….they are fairly thin so not great at keeping light out but I thought with the shutters it wouldn't be too bad.
If you watch my Instagram stories then you'll have seen my mental breakdown over spending hours taking these up then sewing on some heading tape to make them pencil pleat style but the WRONG WAY ROUND. Ahhhh! Anyway, luckily my lovely Mum came to the rescue & sorted them out before I abandoned all hope & set fire to them.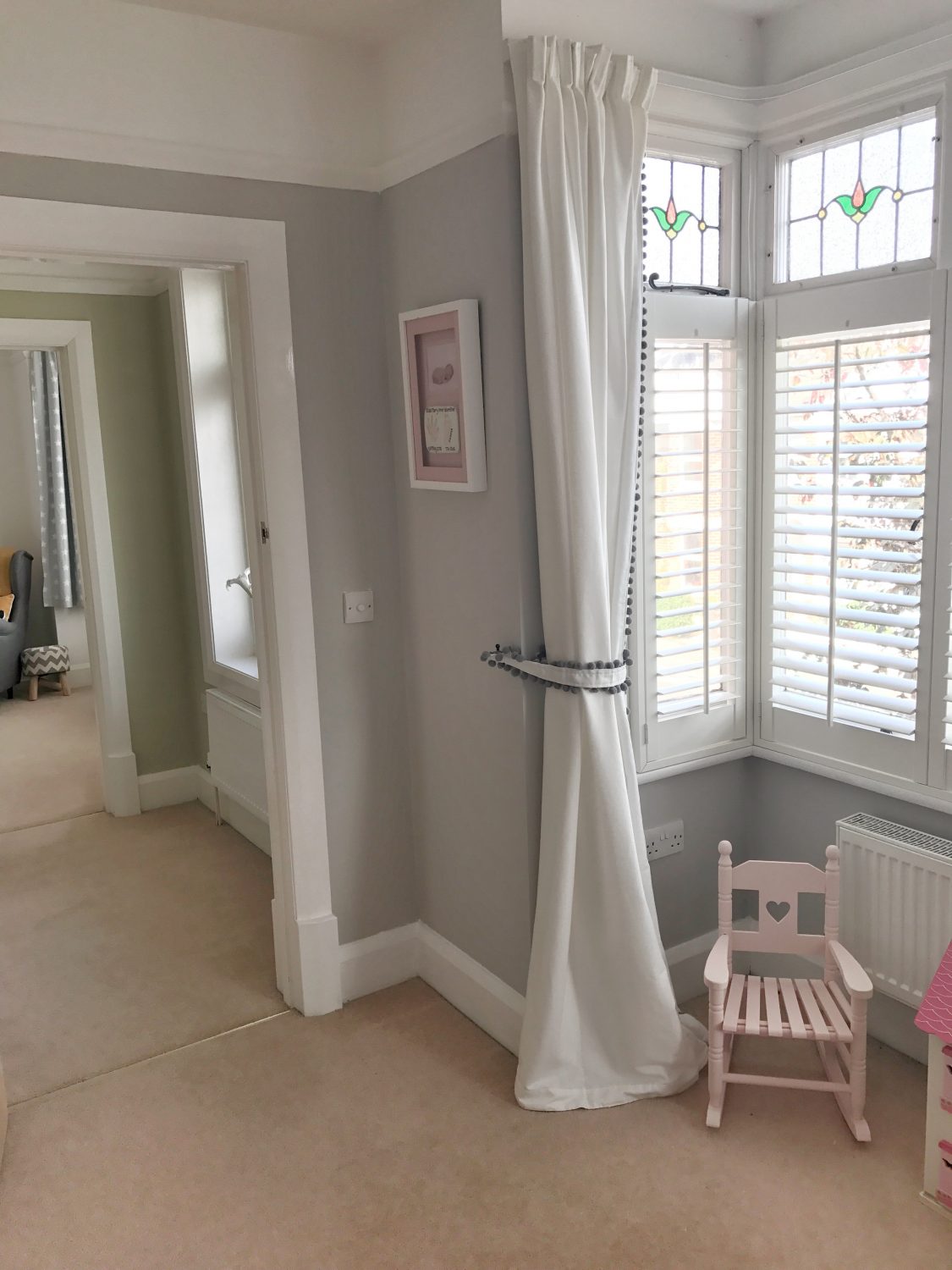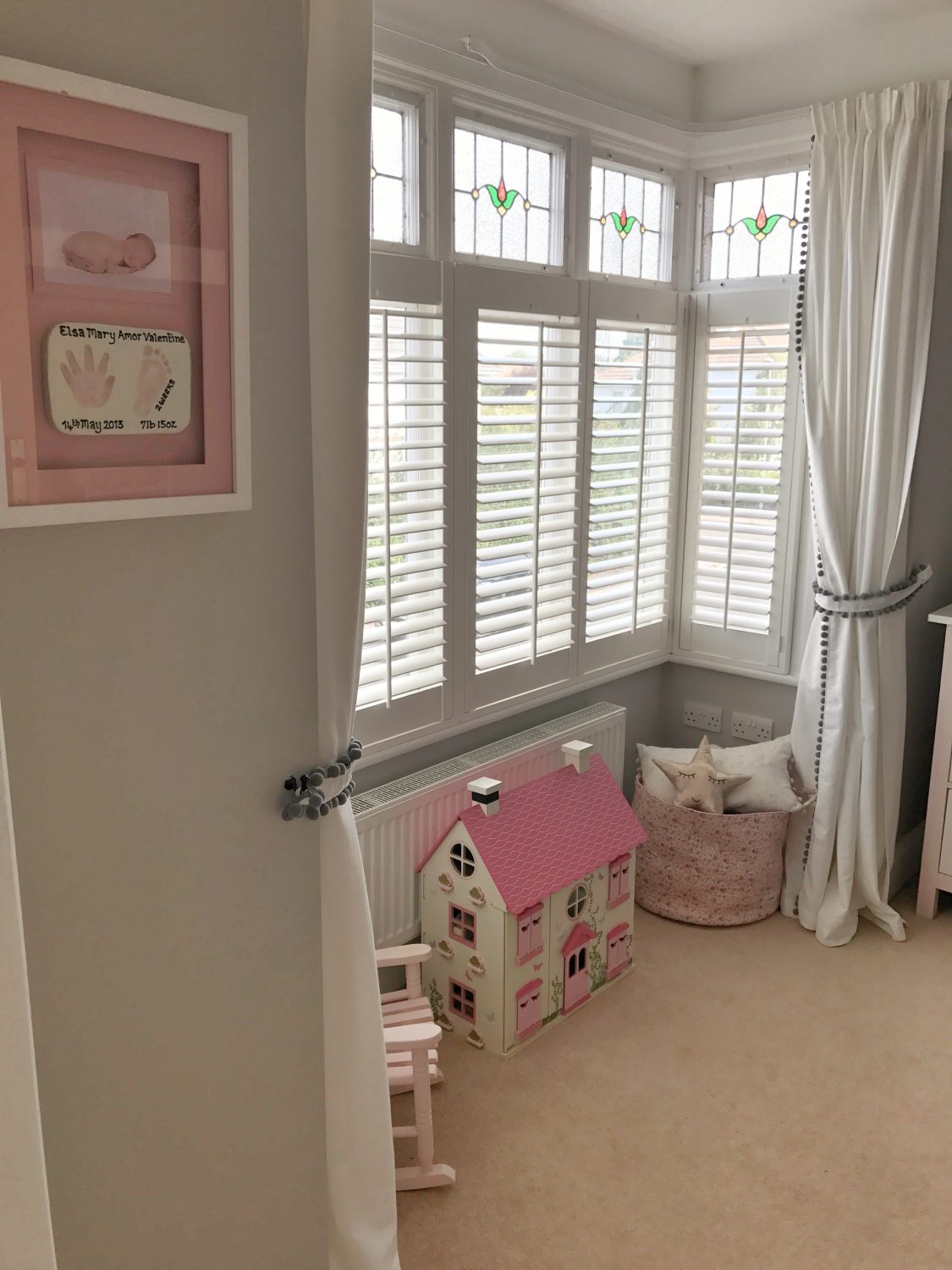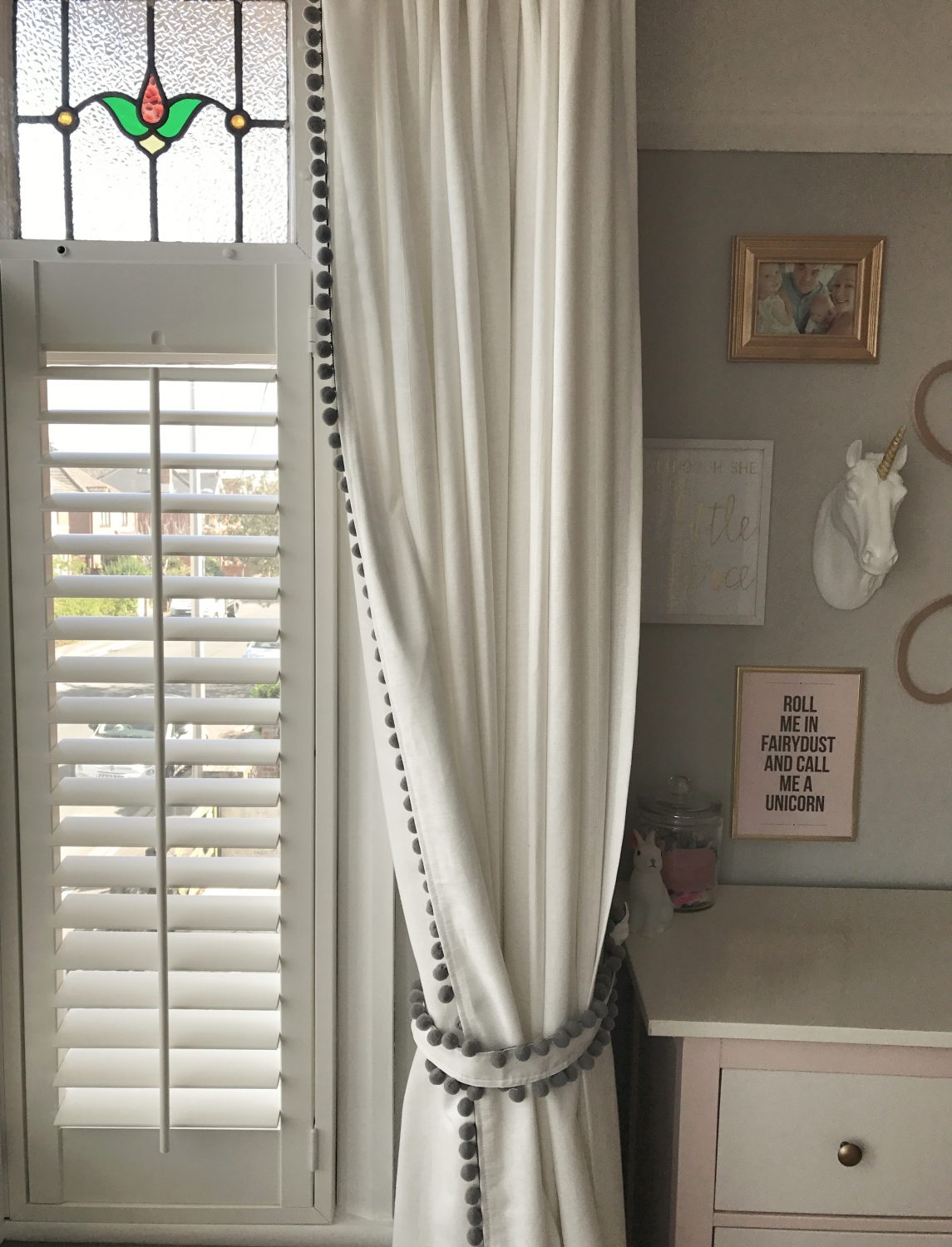 I also decided to jazz them up a bit by adding some grey jumbo pom pom trim
along the edges & also on to the tie backs just to give them a bit of character. I absolutely love how they've turned out! I even used my glue gun to pop some leftover around the lamp.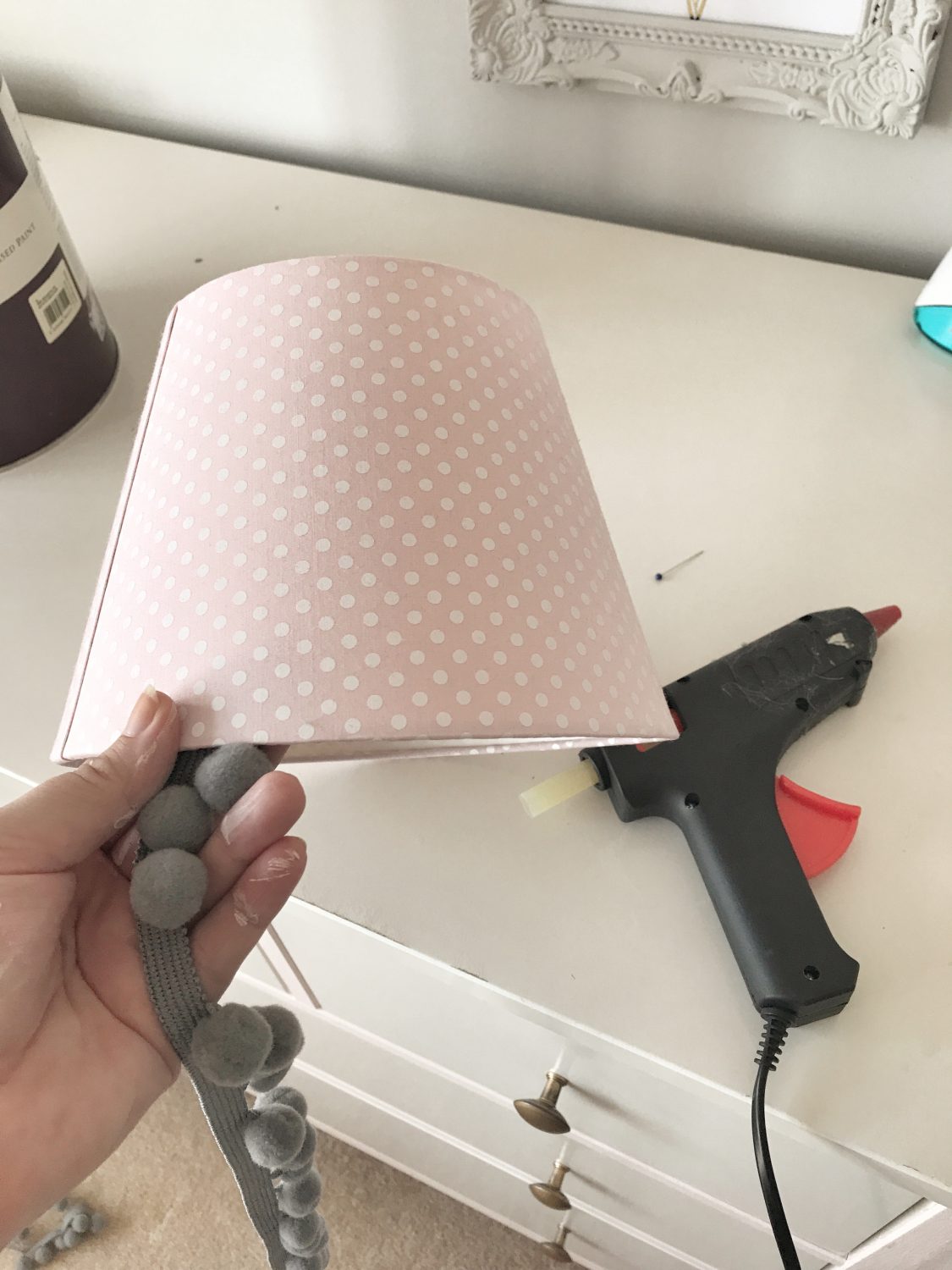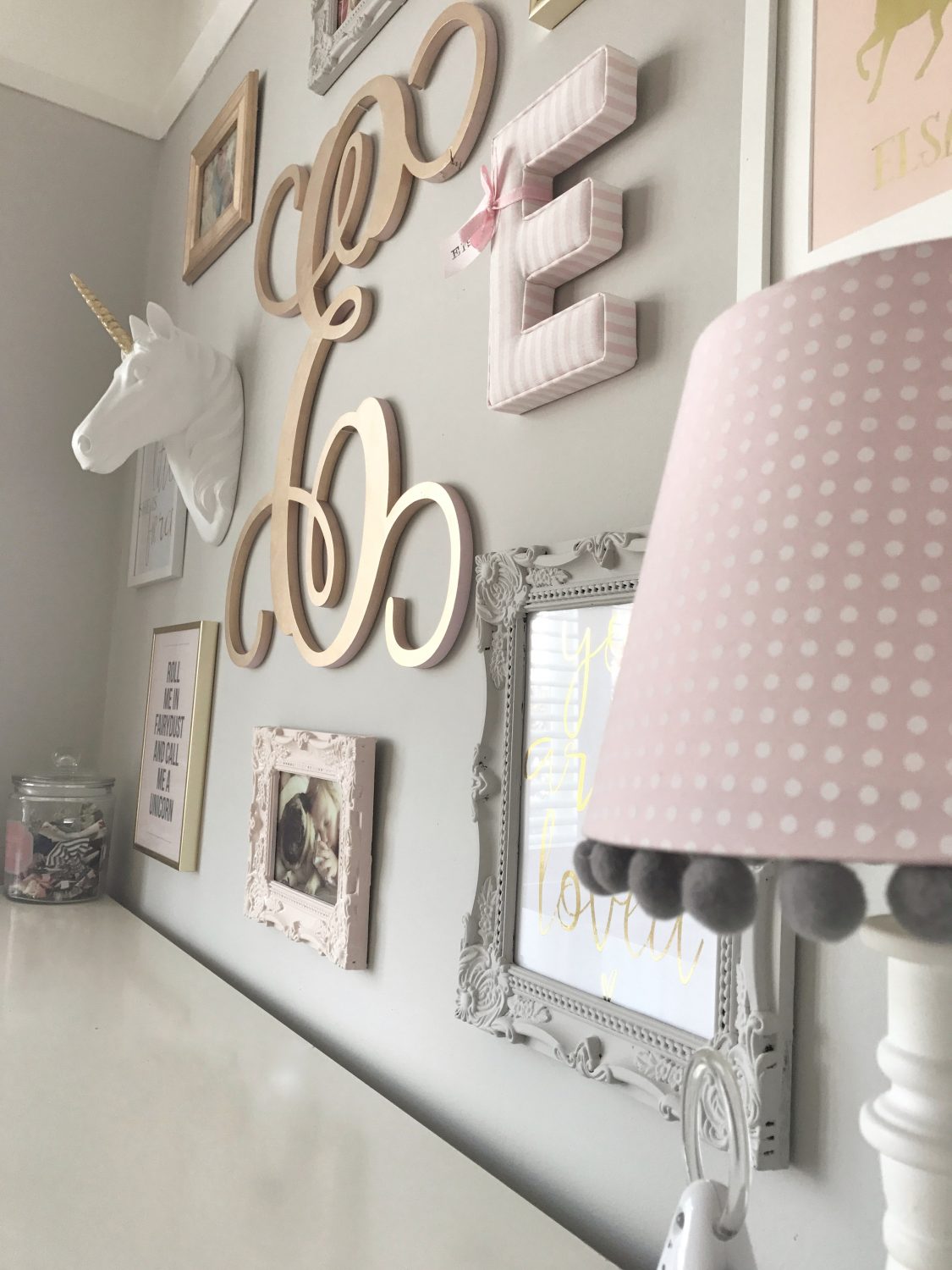 The gallery wall was given a bit of a rearrange & we added the large E wooden monogram which was originally on the wall over the bed. This was made by Loupy Designs who has now closed unfortunately!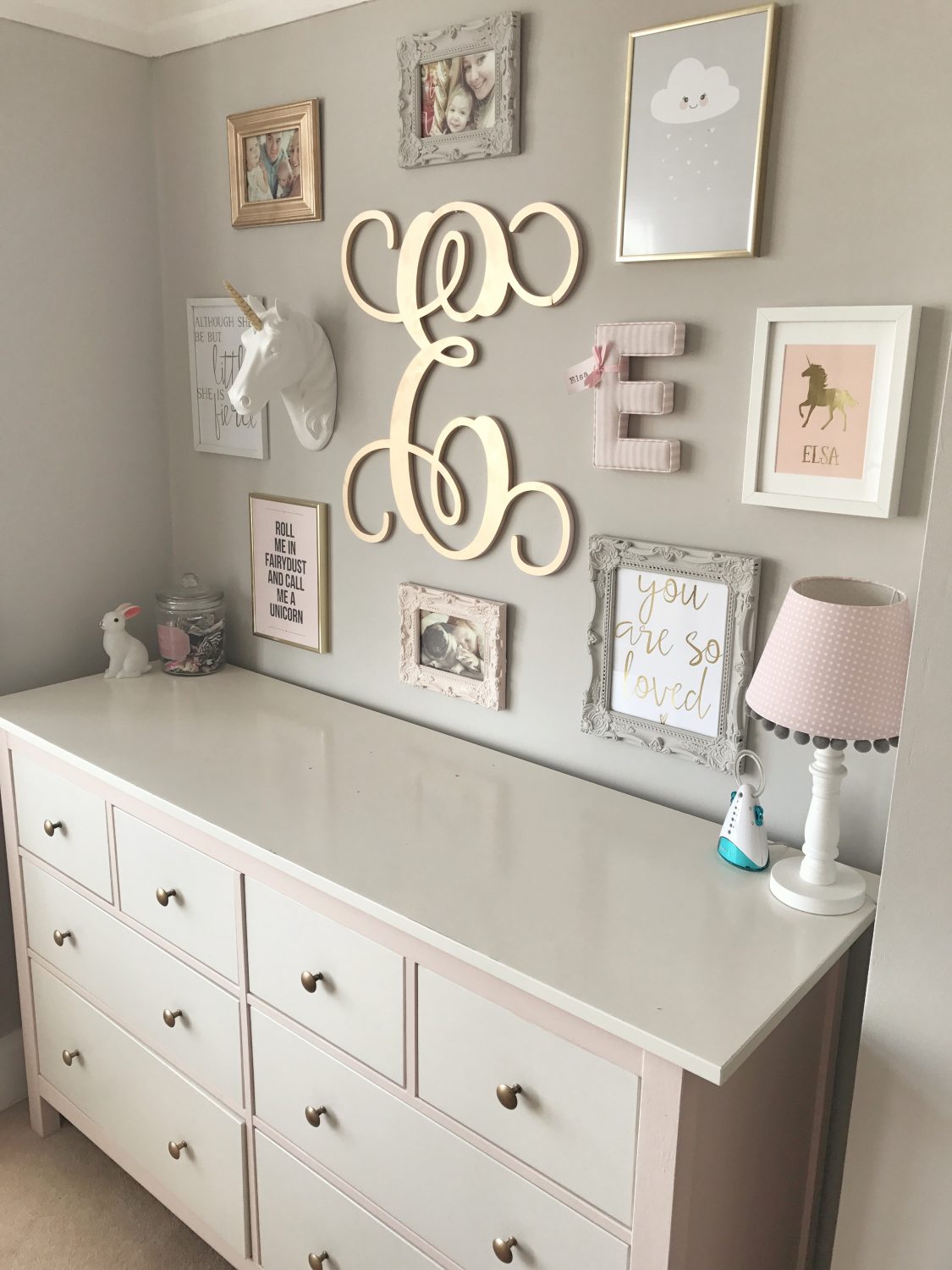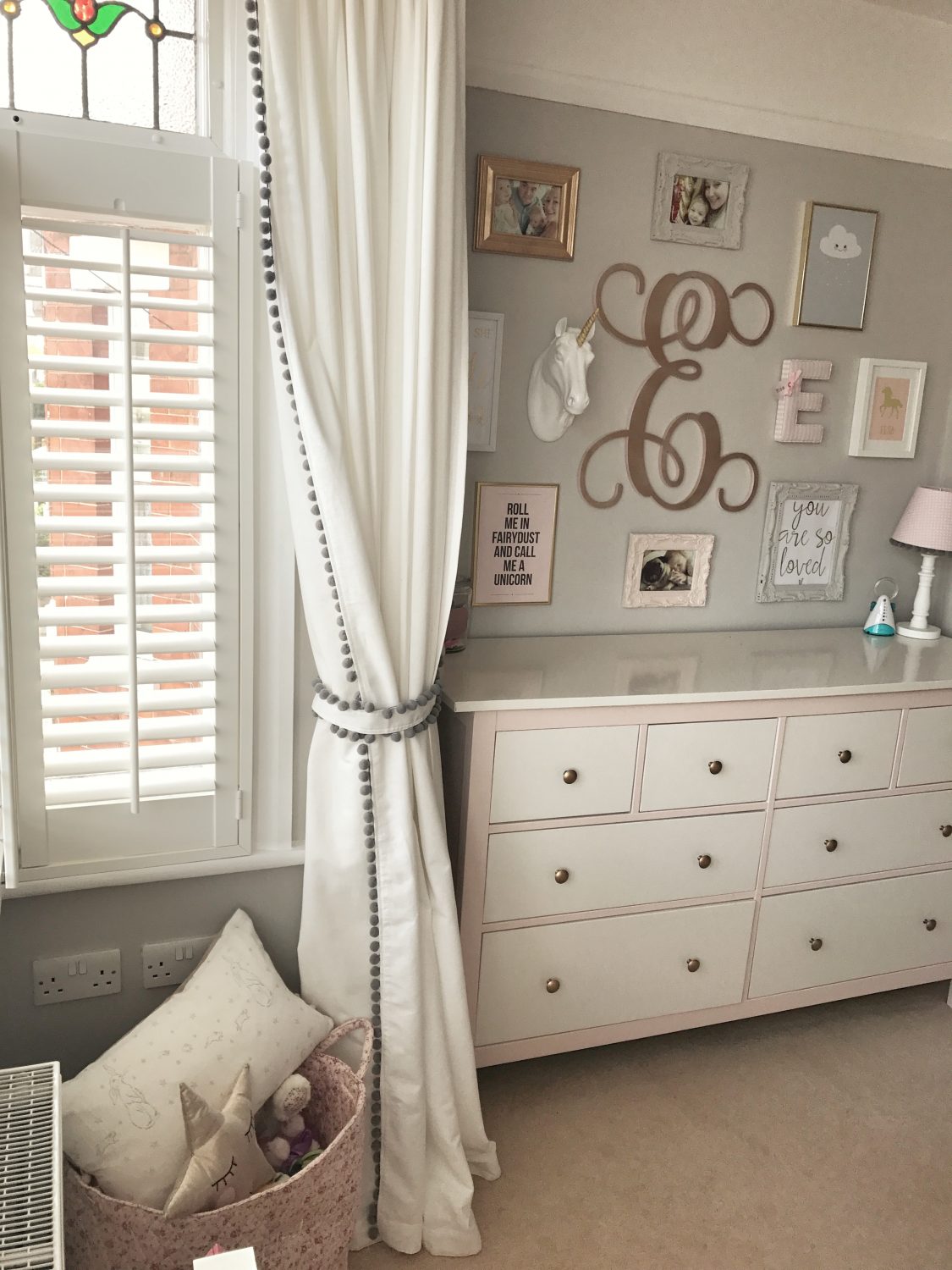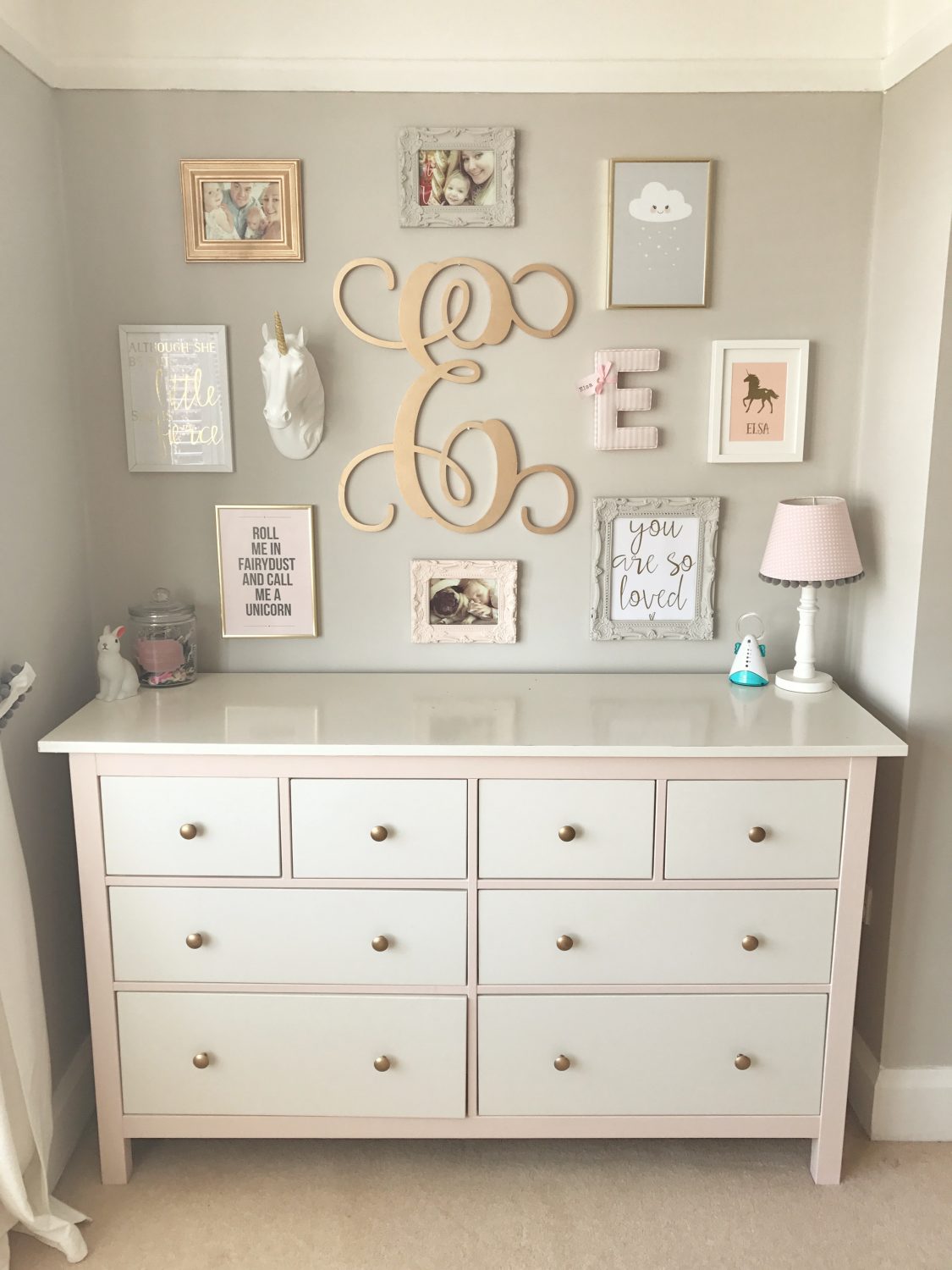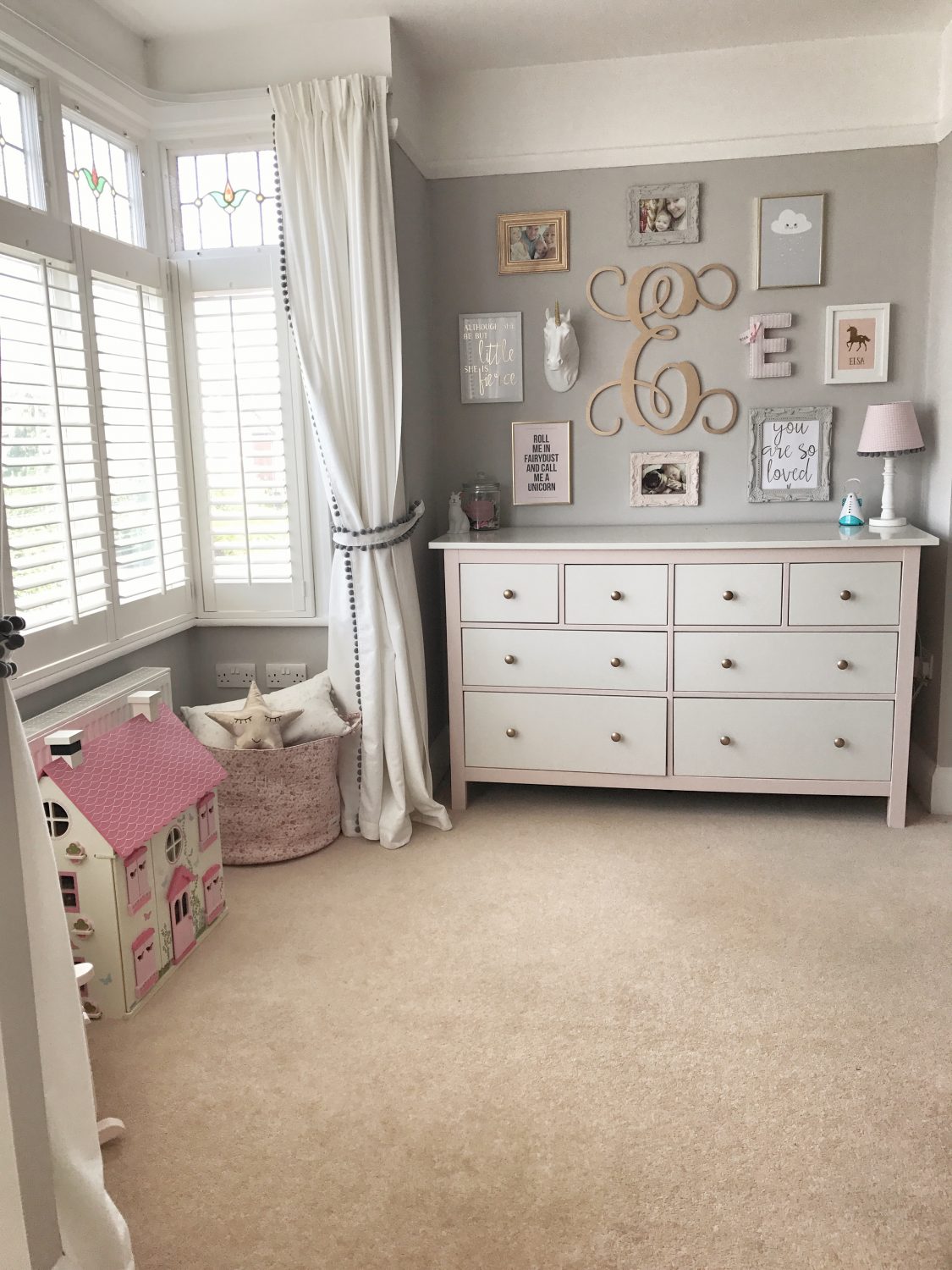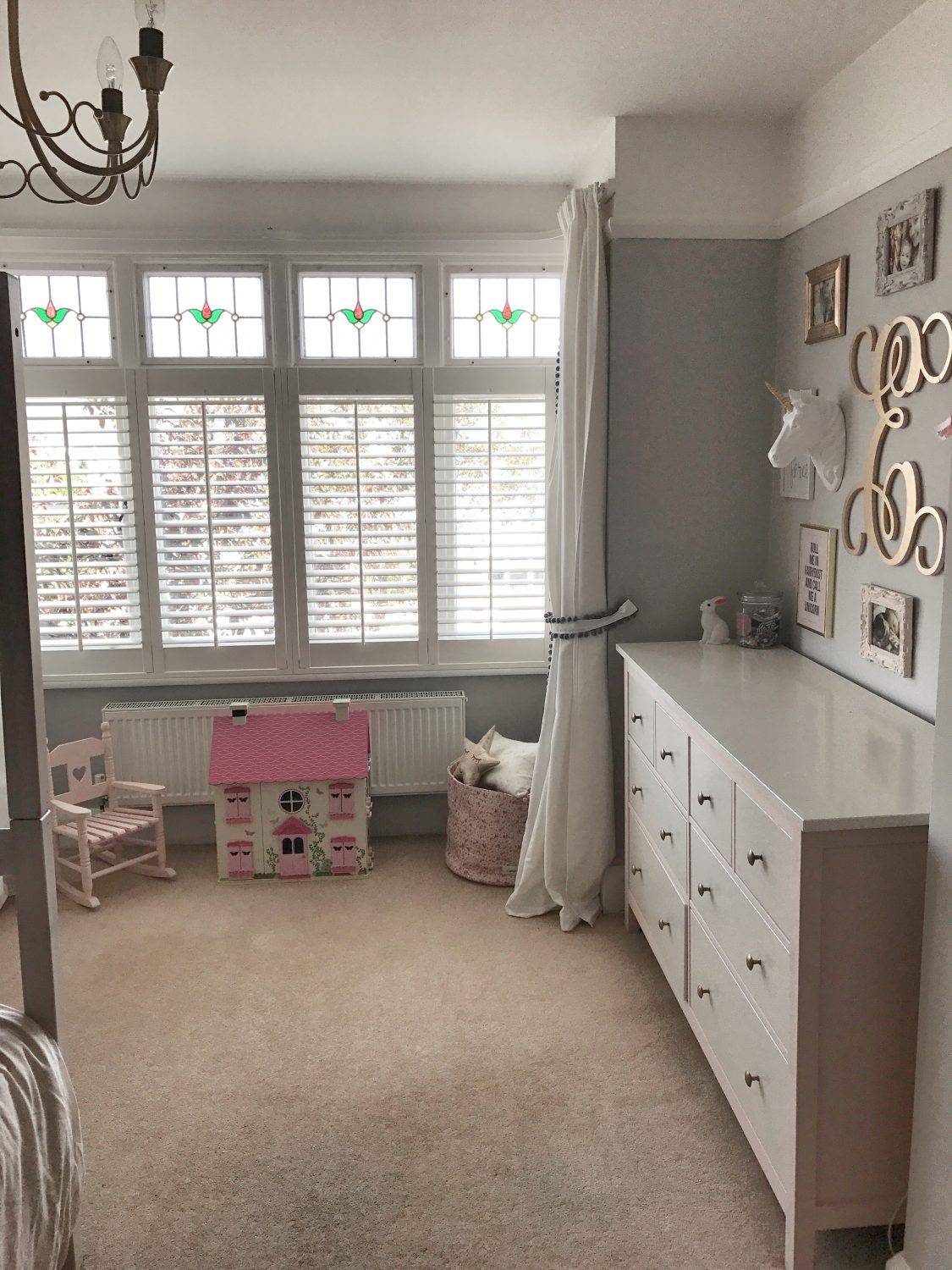 The plan for the chimney breast wall was to put striped (vertical rather than horizontal) wallpaper & use just simple white & blush pink however the design I ordered came yesterday & had a strange mottled effect through it so the room isn't technically finished just yet as I'm still on the hunt for some paper OR if not then I'll have to resort to painting the stripes myself (tutorial here from when I painted the previous stripes).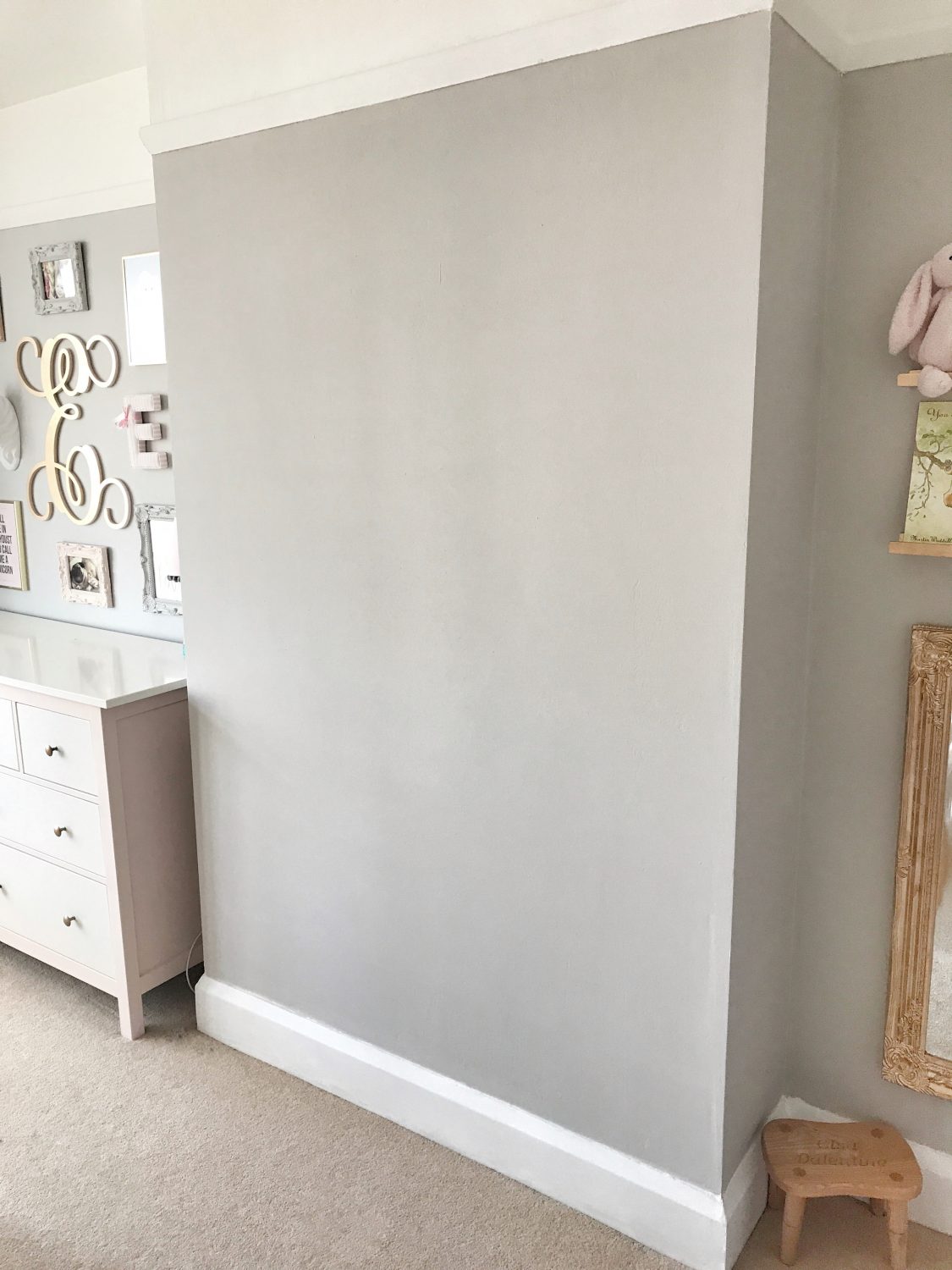 The bed was moved sideways to increase floor space (although the room is huge already) & give it a bit of a change up…also she's still so tiny that if she lies that way then she just has a giant bed to roll until her hearts content. I added new bedding which is the VAGTISTEL from Ikea, a gorgeous soft pink. I'm still on the hunt for cushions & other pretty bits to accessorise the bed but these things will come together over time.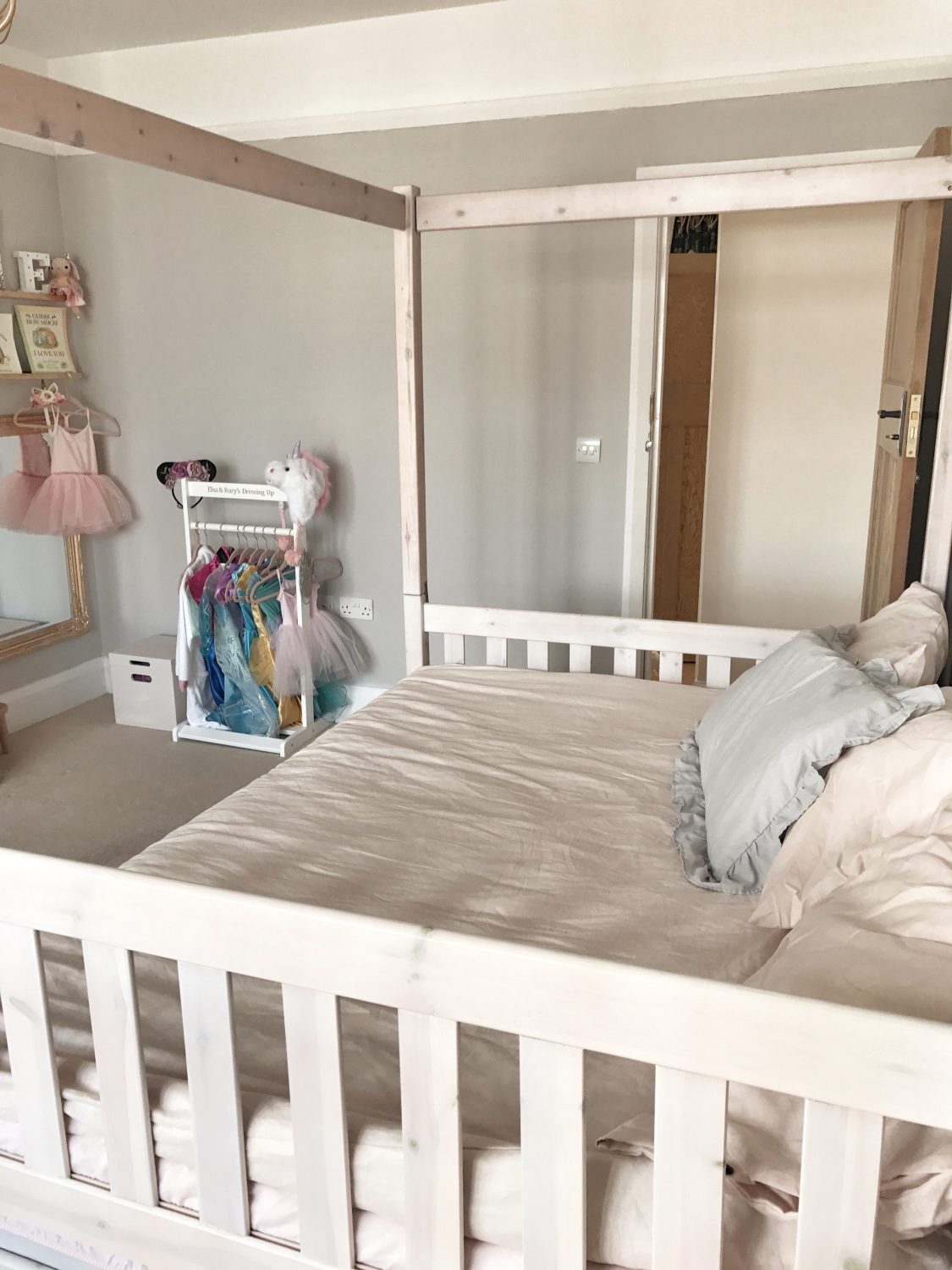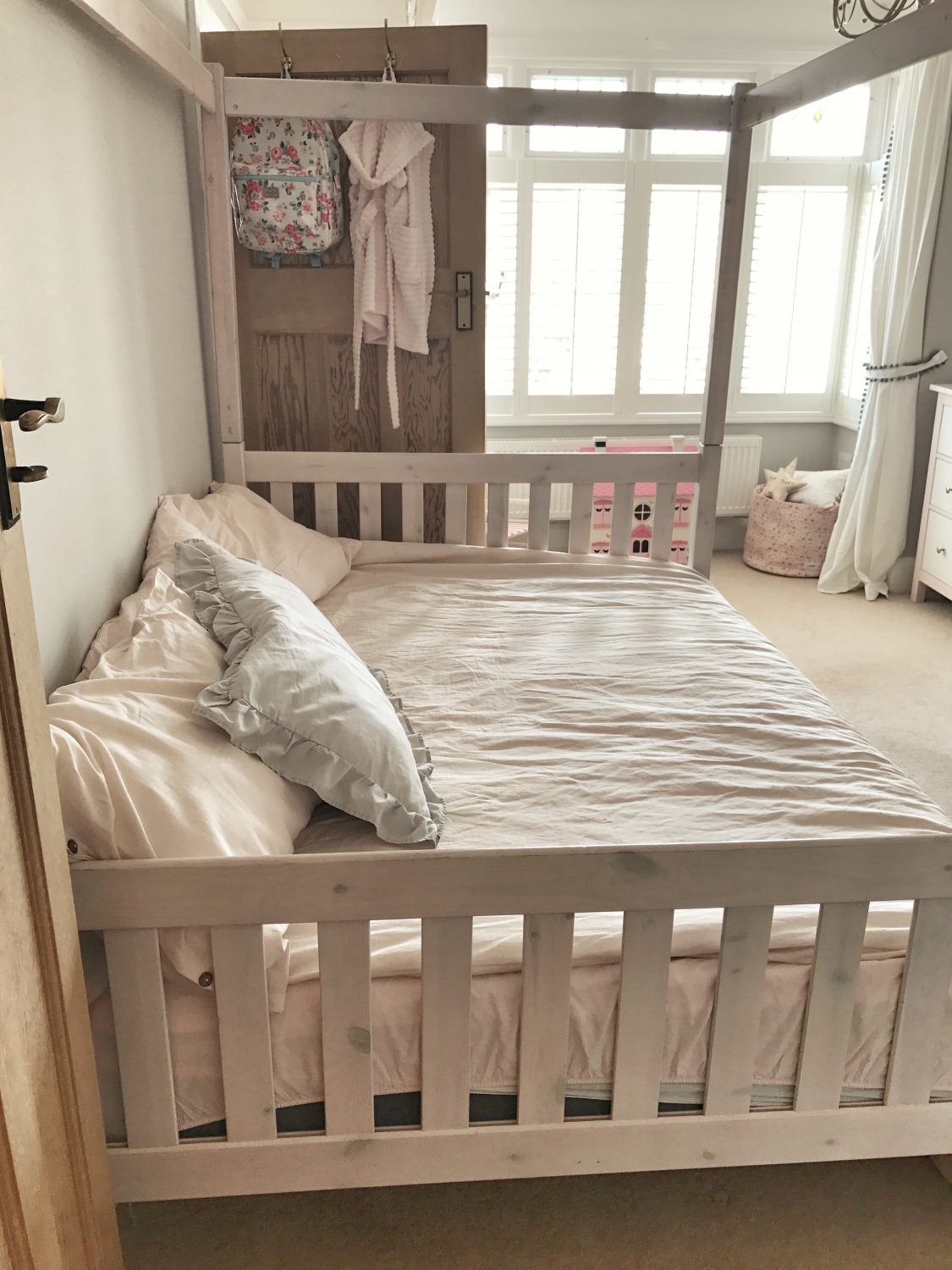 Lastly, I changed up some of the little accessories such as adding these gorgeous blush & gold hangers from Primark to the dressing up stand
.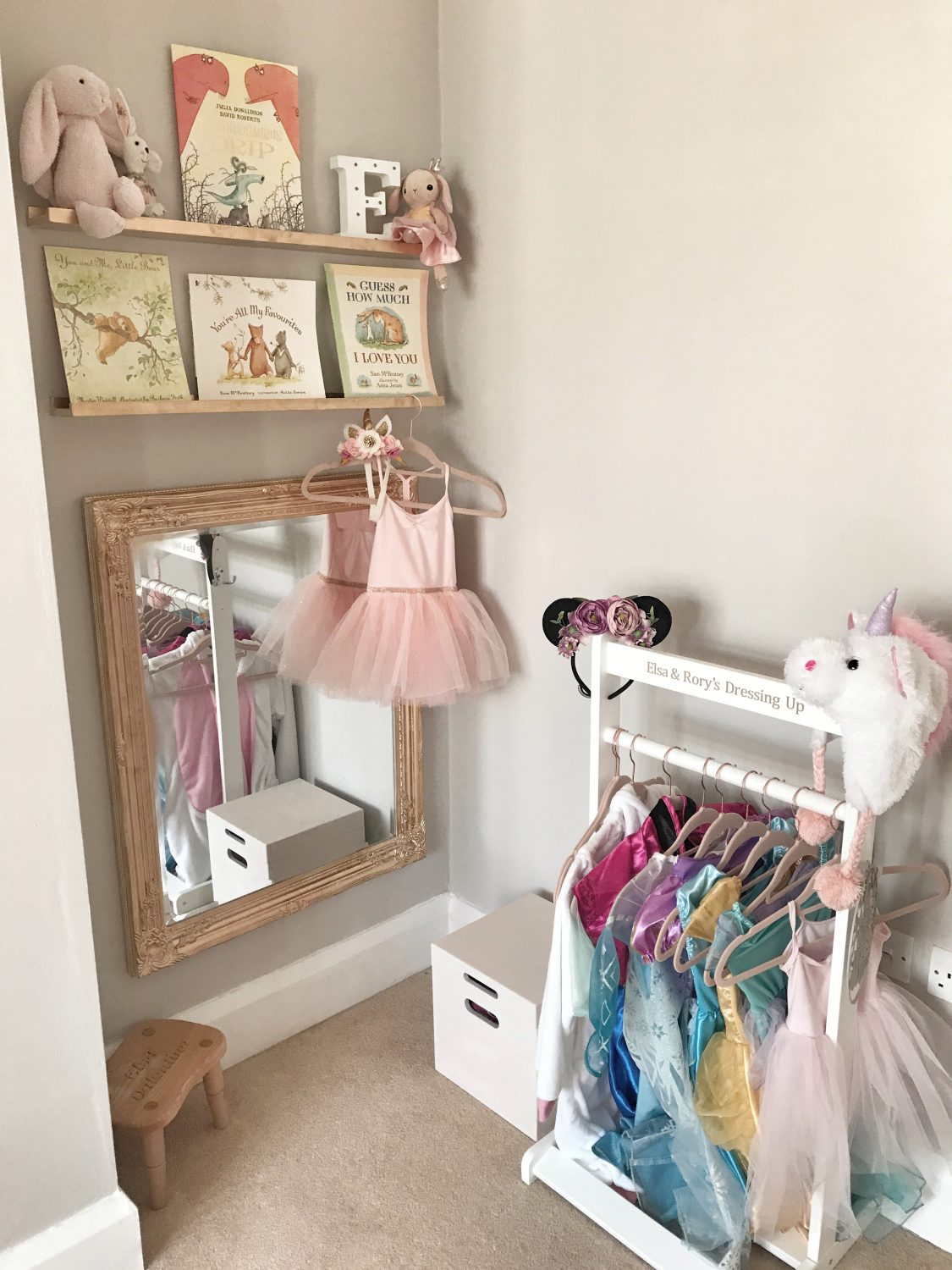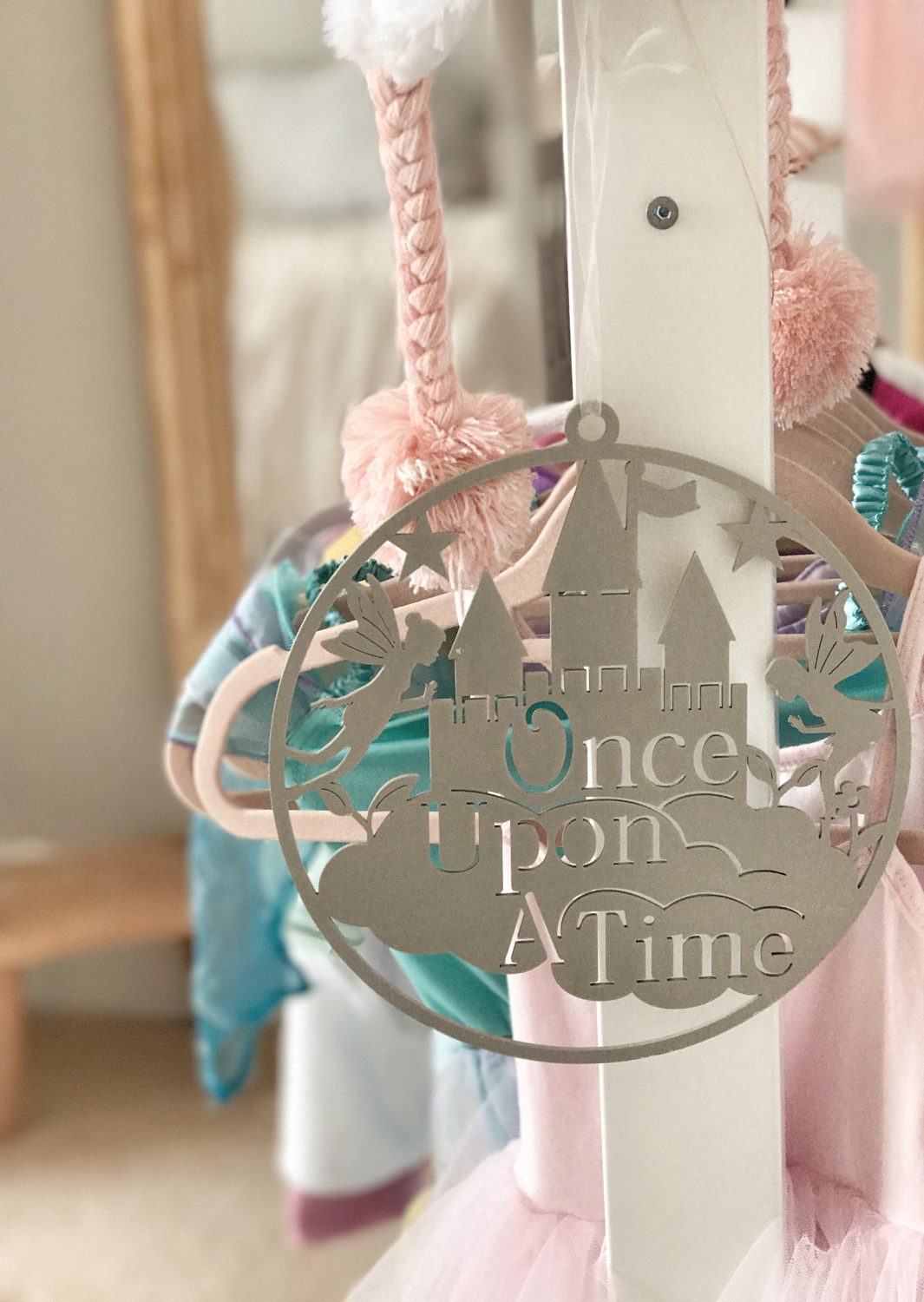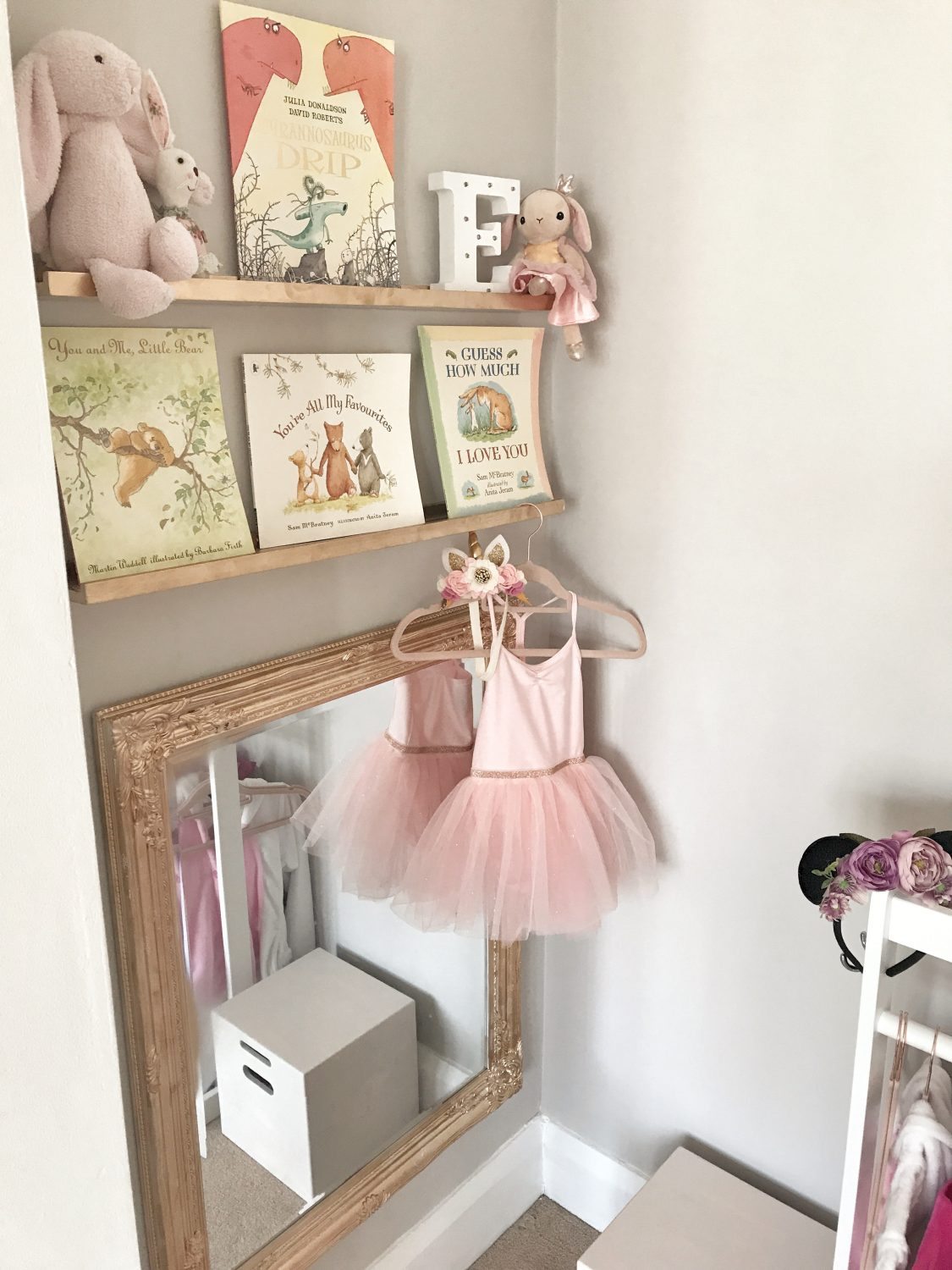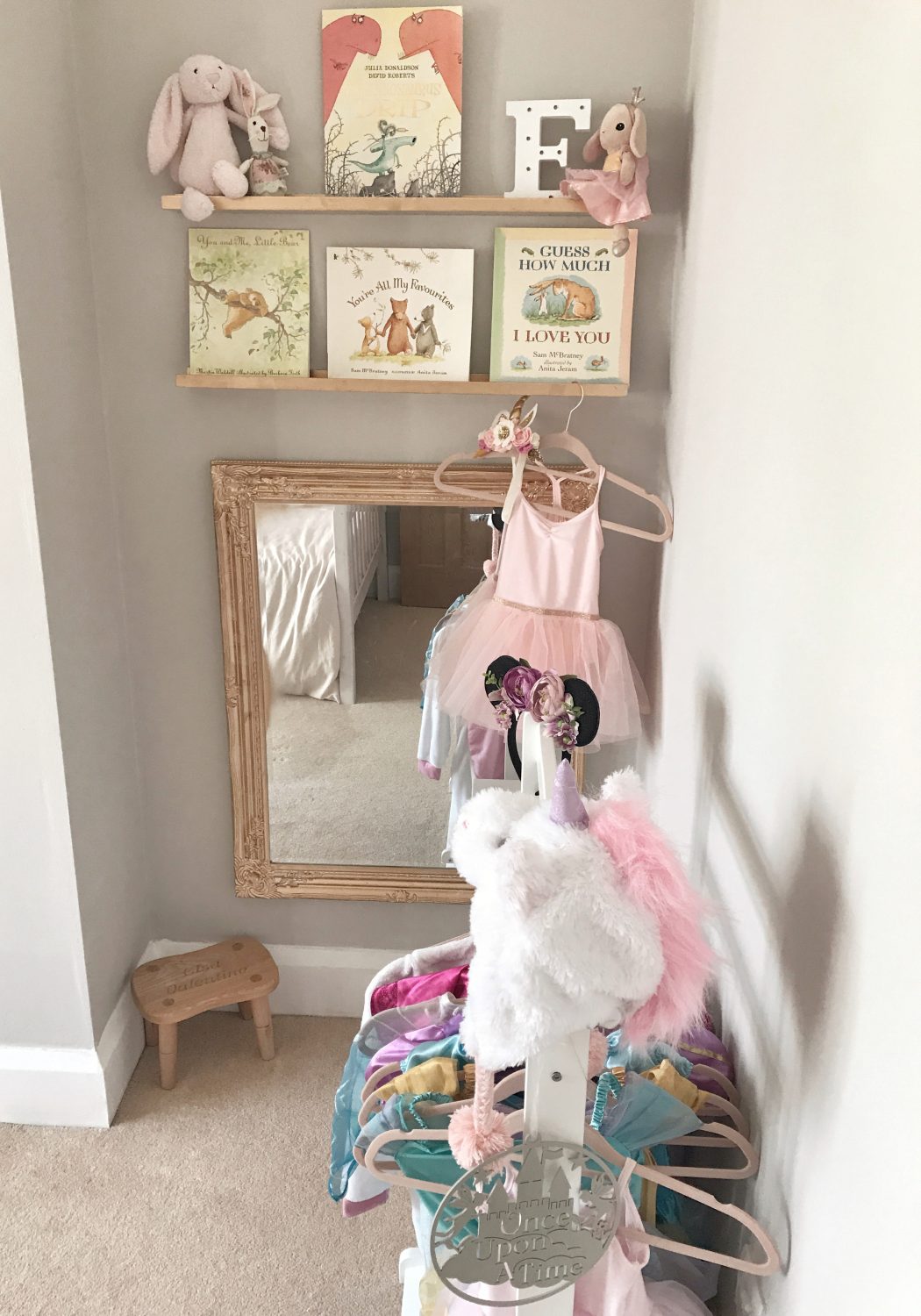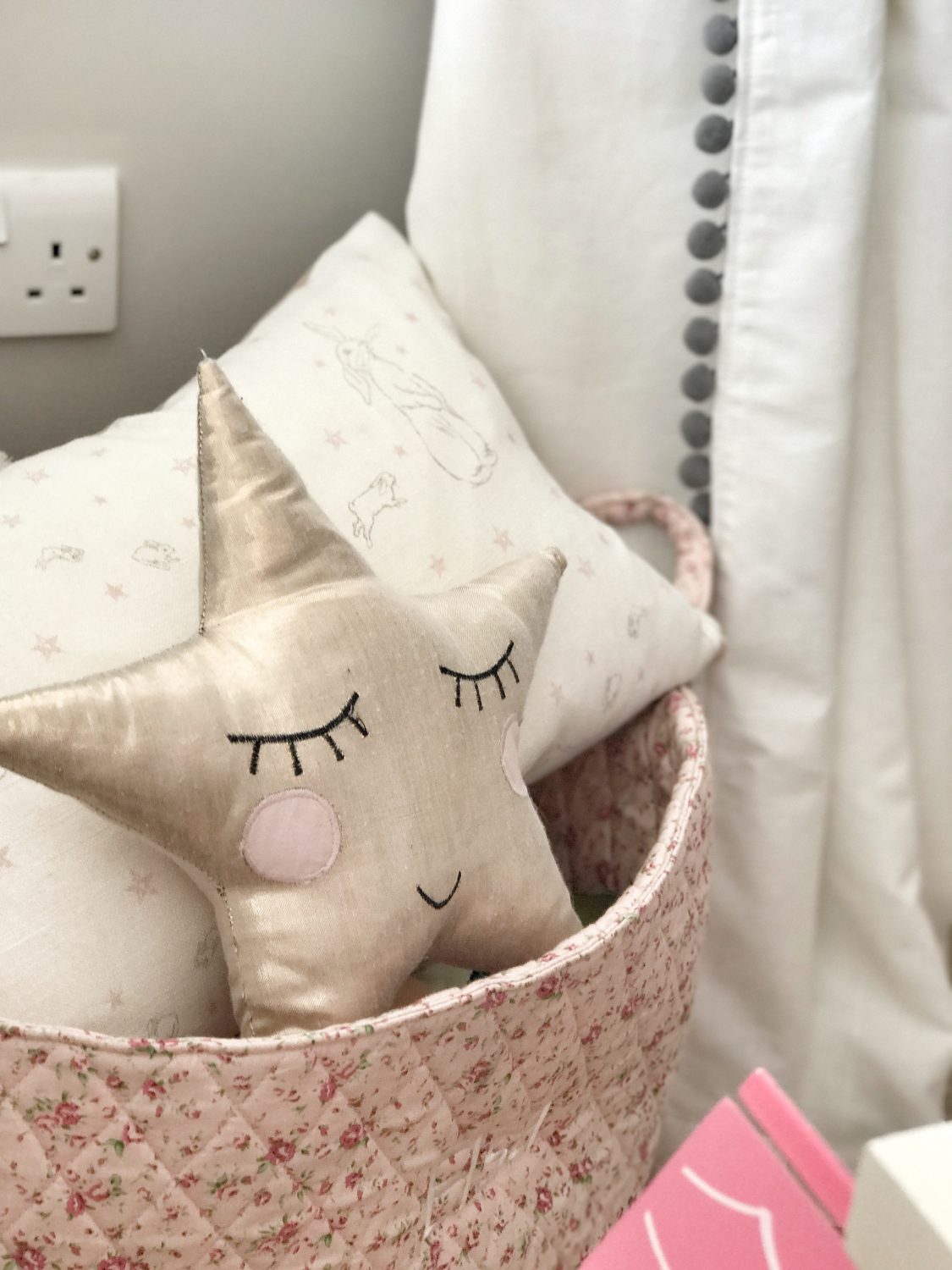 I really hope you all love it as much as I do!
Still a few bits left to do such as the chimney breast wall & I'd also love a big fluffy white sheepskin rug, some cushions/throws to accessorise the bed but these things all come with time, something I've been lacking the past few weeks. I can't wait to show you once these bits have been completed too.
Love,