I wrote a post recently about decorating a period property & how you should make the most of/bring out the beautiful character &  personality behind an older building….but what if your house is a newer model which lacks the high ceilings & fireplaces?
New builds can be brilliant & many people prefer them as lets face it, they are far less of a money pit than an 100+ year old house with cracked walls, outdated plumbing/electrics & creaking floorboards. It can be a blank canvas for you to express yourself rather than having to design around existing quirks like big ornate fireplaces that probably wouldn't be your style but you can't face being the one that rips out after all this time (I please don't be!).
You'll never have to face any decorating disasters such as horrific flowery carpet or 15 layers of wood chip wallpaper which requires dynamite to remove. You'll never have to live with anything massively horrific (olive or peach bathroom suites, I'm looking at you) whilst you save your pennies to rip out & replace.
Instead it'll mean you have a house that's probably fairly energy efficient so unlike Baylyn House which costs hundreds a month to heat during the winter months, you'll have lower bills & no drafts.
So how do you go about adding personality through interior design to an otherwise blank space?
1.Scheme –
Design a scheme that you love & then stick to it throughout the house. The last thing you want is to have one monochrome super modern room & then walk through to the next to something shabby chic with florals. Find your interior style through using inspiration & then going for it. Create a moodboard to include pictures of ideal furniture, paint samples & fabric swatches so you can see it all coming together before your eyes.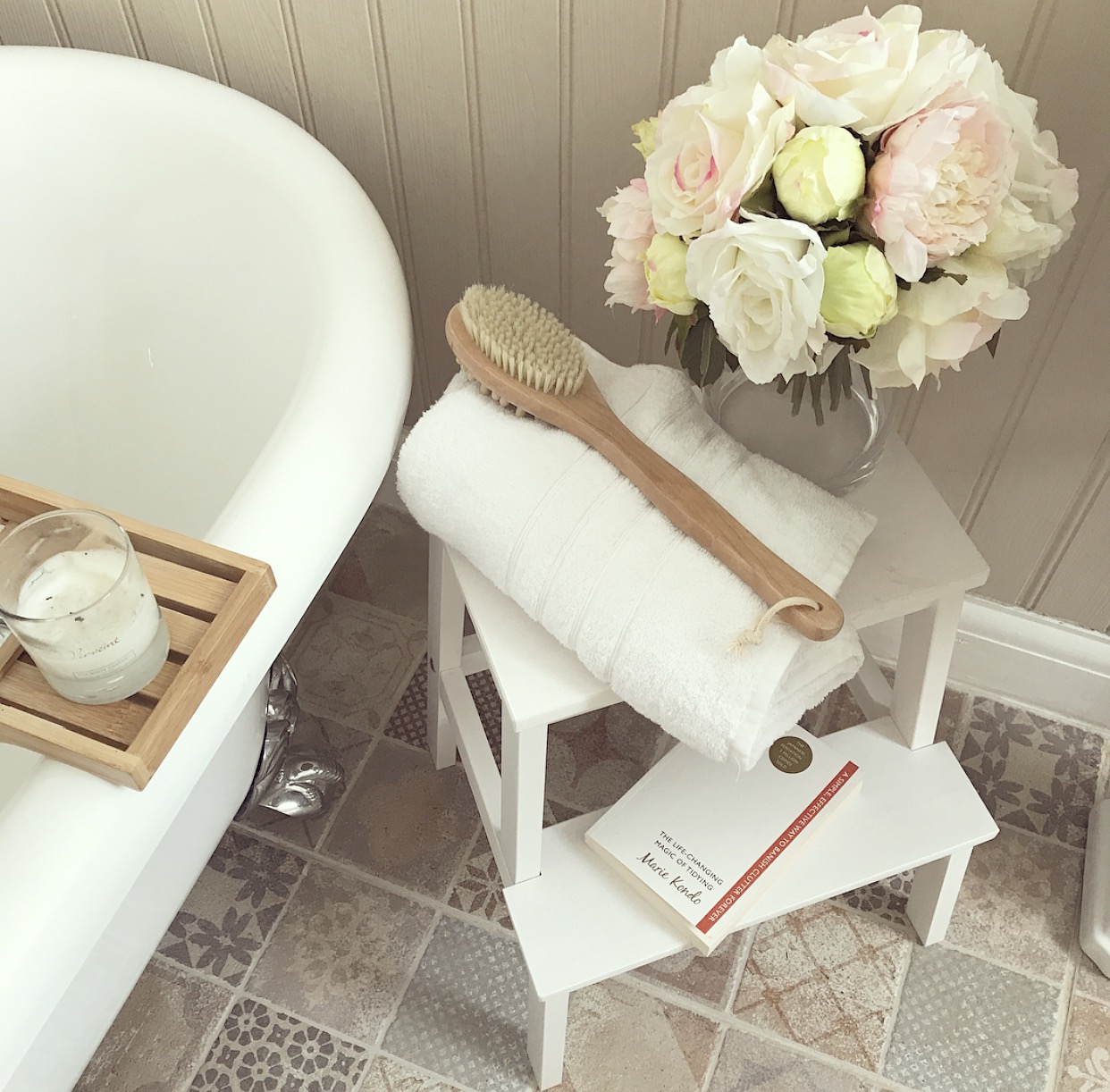 2. Paint –
Nothing changes the look of a room than the colour on the walls which is why it's essential to get this right (preferably first time but we've all been there at some point when we've thought we were painting a room grey then realised after spending 5 hours painting, it's actually lilac). Whether you're a neutral light lover like me or if you bend towards the moody mysterious dark side, choose your paint colours well depending on what furniture you have already & what you intend to buy. Feature walls are generally a no-go in the interior world at the moment but it all depends on the shape of the room such as where the doors/walls/chimney breast are located.
3. Soft furnishings –
I cannot stress enough how important soft furnishings are in 'finishing' a room. Blinds, curtains, rugs, throws & cushions all soften a room whilst adding character. You'll most probably find that your new build house will have white or magnolia walls & grey or beige carpet which mean that you won't have to worry about clashing colours within curtains or rugs. Add colour, texture & pattern simply as well as affordably but implementing soft furnishings; also if you're anything like me then it saves completely redecorating a room vs replacing a few cushions when you get bored.
4. Wallpaper –
If you've moved in & the white walls are just too clinical for you then spicing things up with wallpaper may be the route to go down. Wallpaper can add interest & texture to an otherwise plain room. You don't have to necessarily go for a pattern either as many current trends include wood, marble or brick/stone effect wallpaper. Just remember, you're going to have to live with this & stare at it every single day for the foreseeable future so don't go for something that'll give you a headache after 5 days.
5. Art –
Again, if the plain white/magnolia walls are lacking then another less permanent option to wallpaper is to add artwork. Create a bespoke gallery wall using family photos, prints or relatable quotes. Decide whether you fancy a mismatch of frames in a random pattern, matching symmetrical frames or one big piece of art.
6. Lighting –
Most of the time, new build houses will be fitted with spot/down lighters throughout which is great for adding lots of light on dark evenings but probably isn't ideal for when it comes to creating mood & obviously the aesthetics of the room. If you're buying off plan then you can normally ask to scrap this & leave a single middle electrical point for lighting but if you've already bought then it can be a bit trickier. Options including adding pendant lights anyway regardless of the spot lights to make a feature, for example over a dining room table, or using side lights such as table & floor lights to set a more intimate mood light.
7. Add in old –
Just because you've got a new build house doesn't mean that everything needs to be new. In fact, one of the best ways to add character is by mixing things up with old & new. A second hand Gumtree table that you've upcycled or a ornate victorian mirror to bounce light around. Ultimately, you want to avoid it looking like a show home & more like a real life home.
8. Bring in the outdoors –
The current trend for plants is big & it's just set to get bigger. House plants are taking over the world of interiors & I may have yet to jump on the bandwagon (green is totally going to ruin my beige everything look…) but they definitely do their bit for adding a splash of colour & a new 'alive' dimension. If like me you think a palm tree in the corner may look a teeny bit out of place then go for flowers (real or artificial).
Do you have a new build? How have you turned it into 'home'?
Love,