2 blog posts in a matter of days? Surely not!! But I'm on a bit of a roll & trying to be more present online so that means showing you all the results of all the hard work you've seen over on Instagram stories over the past year.
When we first moved, the kids hadn't secured school places & everything was very much up in the air. They were both excited for a new adventure, but sad to leave behind their friends, family & our beautiful old house which they adored. We took them up to view the house & they loved the outside space but when we showed them their soon-to-be bedrooms they were less than impressed. They were dated, dark & a lot smaller than the generous Victorian proportions of Baylyn House. They did however both have ensuites (albeit again very dated & as we now know, leaking…).
Joe took 2 weeks off & the day after we were handed the keys we got to work on their bedrooms to give them their own space & help them settle in to what would become our new home. I'd ordered all the furniture beforehand & had the delivery men move it up with us ready. We worked 7am – 3am for 3 days & in that time completed both rooms. We got rid of the yellow for an off white & kept things fairly simple but it instantly brightened up the space & adding textiles such as new bedding & a roman blind were a subtle pop of colour. Carpet came a while later once we were ready for the whole upstairs to be finished.
Despite being 'done', I was never entirely happy with Elsa's room & I think we were so rushed that it wasn't as beautiful as it could/should have been. I don't have a huge amount of pictures of it because I knew I'd eventually change it but here's one. It just seemed very white.
So fast forward nearly a year & during the school strikes last week, Elsa & I decided it was time to give it a bit of personality & make it more 'her'.
I have to give it to her, she worked so hard & was better than most of the adults I know. I taught her (& Rory before he got bored & wondered off to go play football…) how to panel then after multiple trips to B&Q we got to work painting.
I also ordered some new accessories to tie it all in & add lots of different colours & then rearranged the furniture to give her more floor space.
Here's what it looks like now……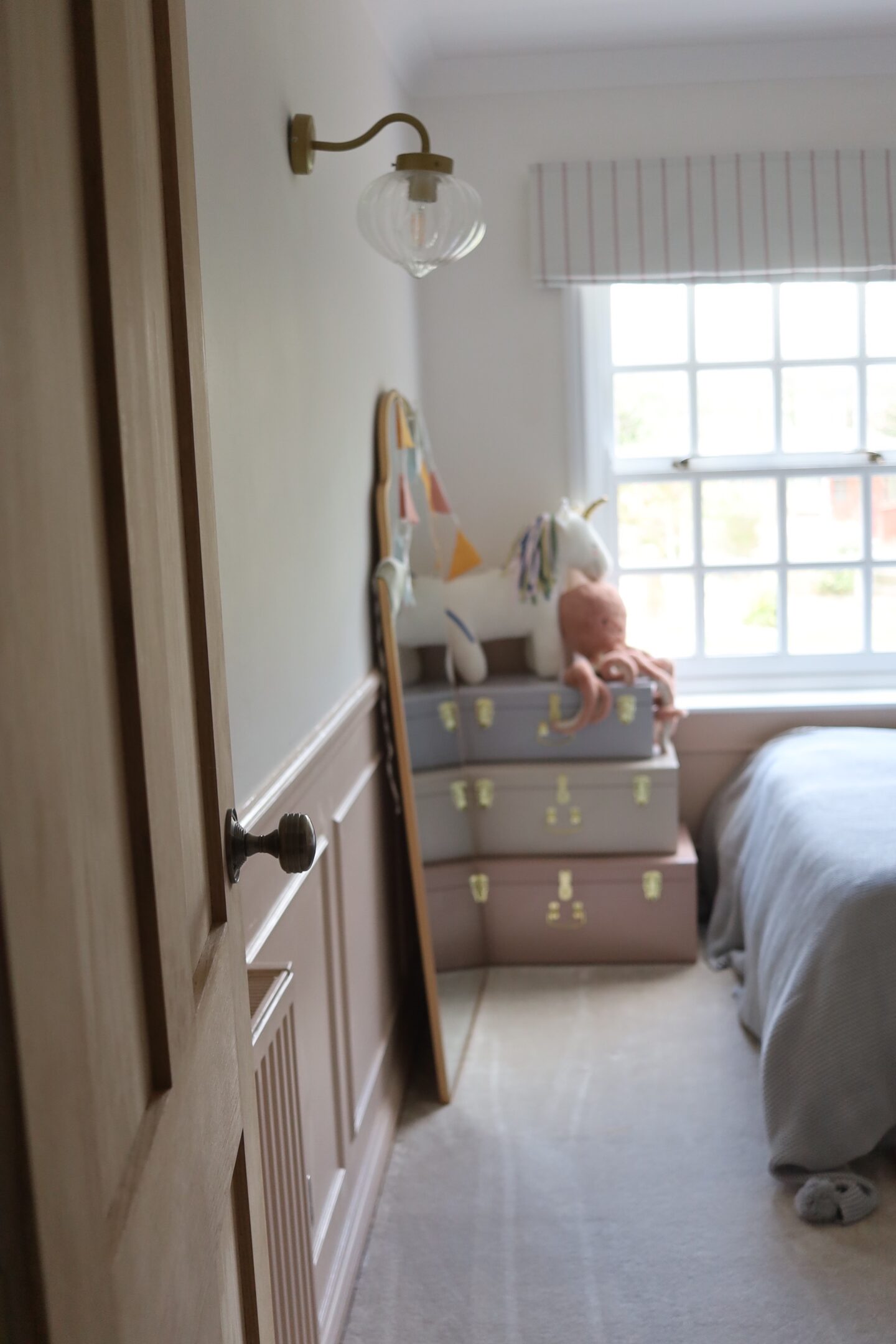 For a panelling how to, head over to my Instagram highlights where it also links to the moulding I used. This was painted in F&B 'Setting Plaster' with is a gorgeous peachy pink without being too sickly. The top is Dulux 'Jasmine White'. We also painted the cupboard & ensuite doors in F&B 'Light Blue'.
The carpet in here & through the upstairs of the house is Cormar Sensations in colour 'Ventura Opal'.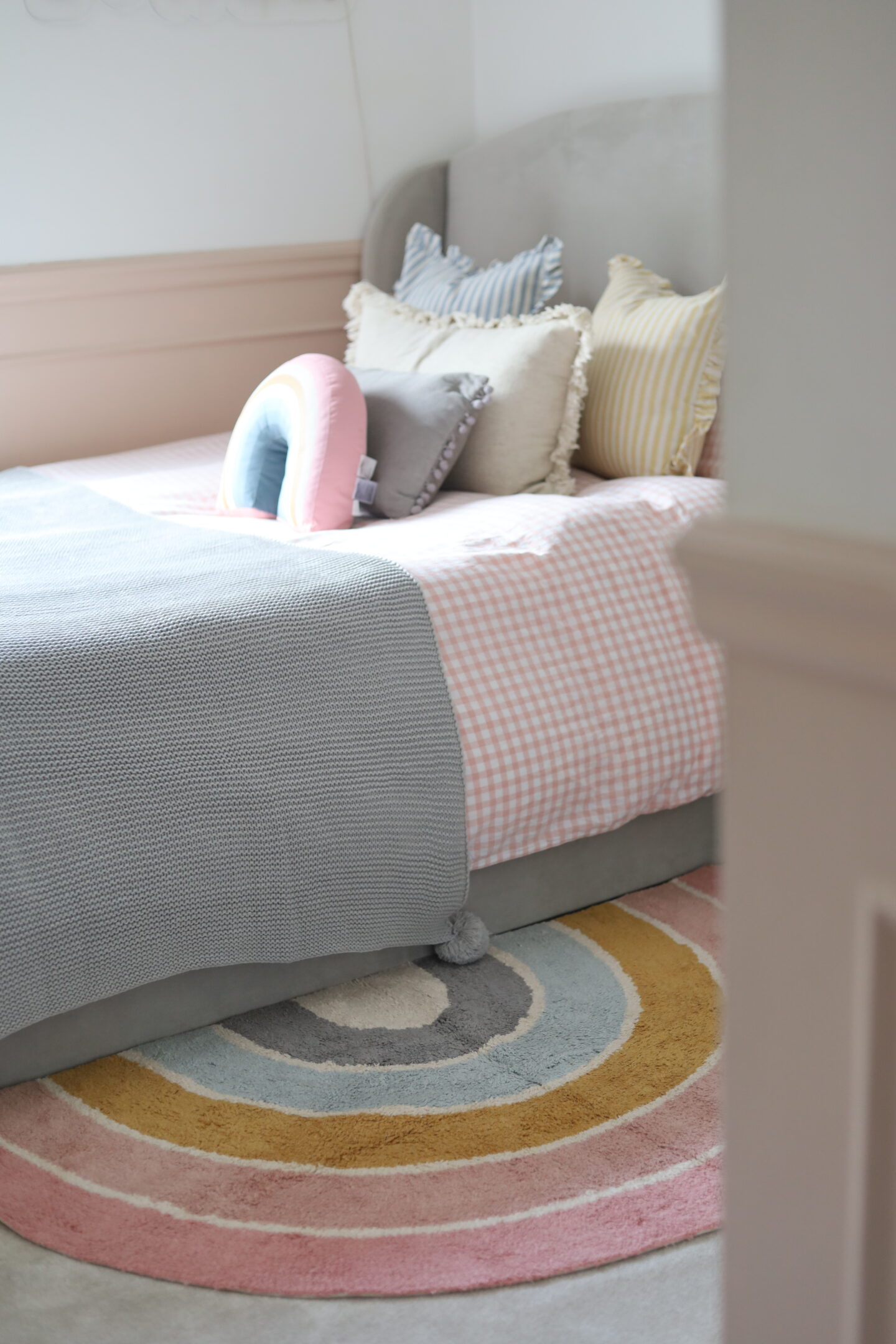 Her bed is a good few years old. As far as I can see it's been discontinued unfortunately! It's called 'Blenheim velvet wing ottoman bed' & provides so much storage space for all her toys.
The pink gingham bedding was H&M, then I've popped this Dunelm pom pom throw as a bedspread & combined with some cushions. The yellow & blue striped frill edge at the back are Dunelm, the large beige & grey pom pom are both old & then the rainbow cushion was H&M.
The rainbow rug next to the bed is a 'Little Dutch' design & comes in 2 colour ways from Kidly.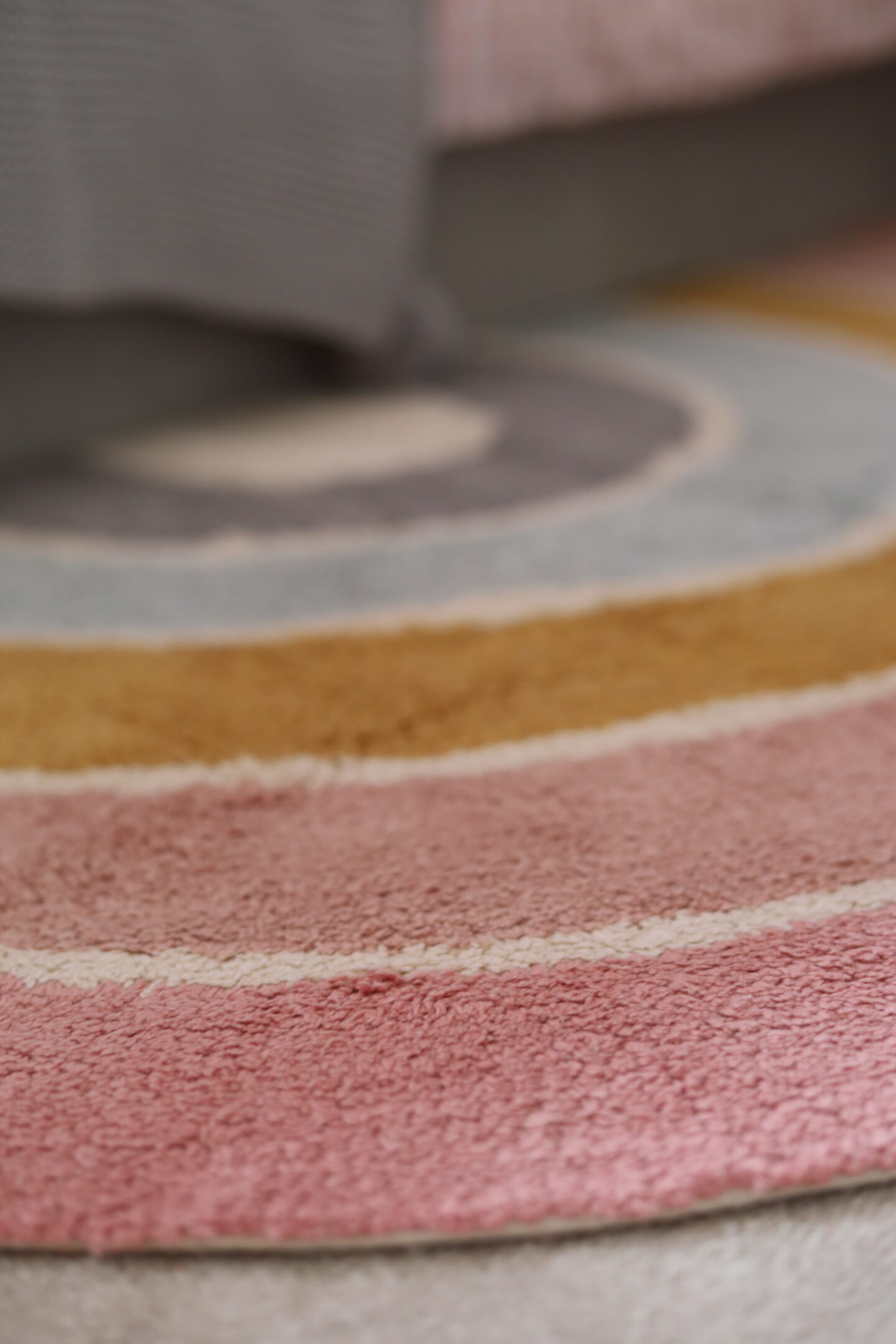 Above the bed is 2 prints from Alices Accessories which were in her old bedroom & I still absolutely love. Her 'Girl Power' neon sign also takes pride of place, this was from Etsy but the seller is no longer trading.
The wall lights in here are just beautiful & I love the light they cast out from the ribbed glass shade at night. They are the 'Rio Voyager' from Dunelm, they are supposed to be outdoor ones but are a much better size & a nicer toned gold than the interior ones I've found.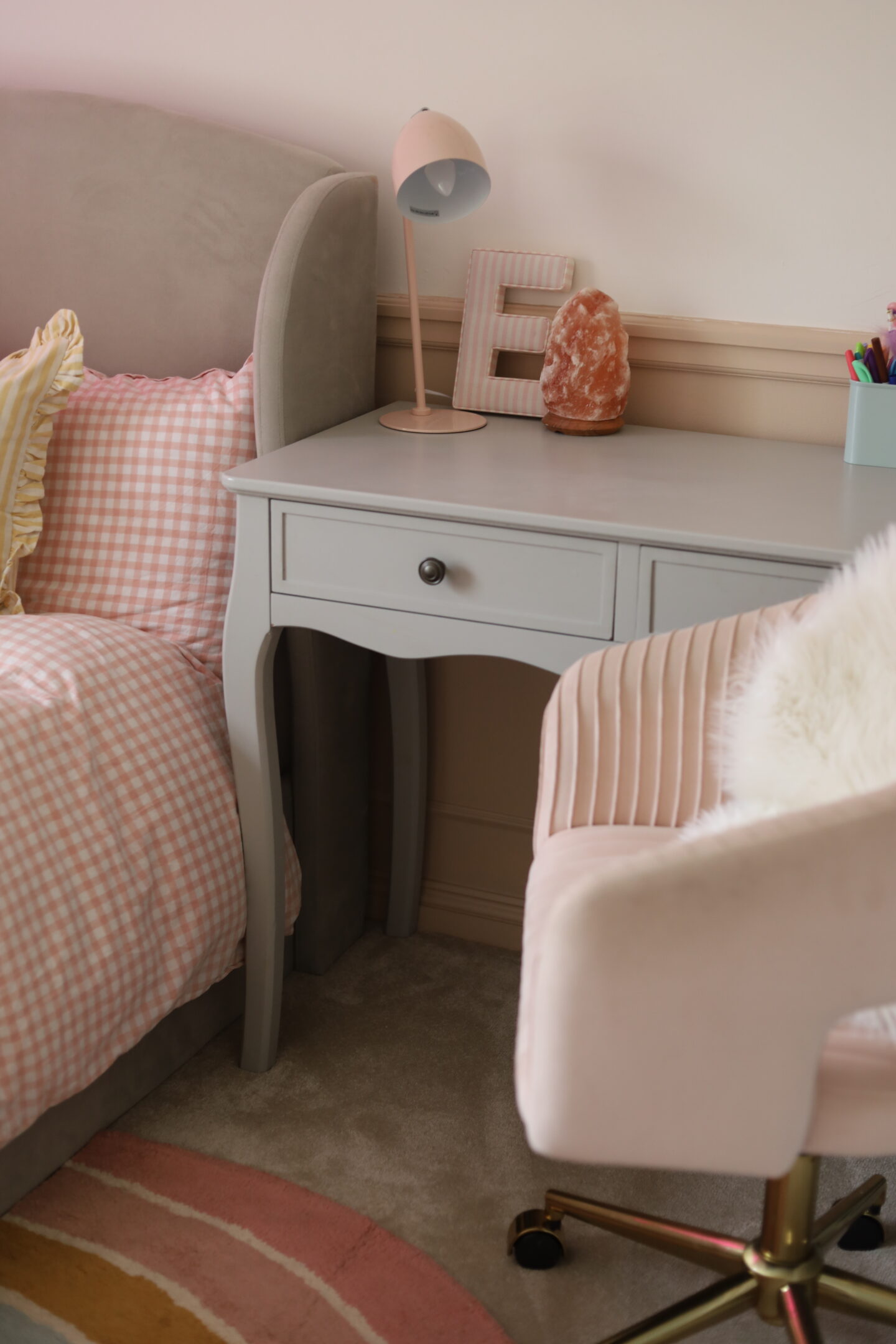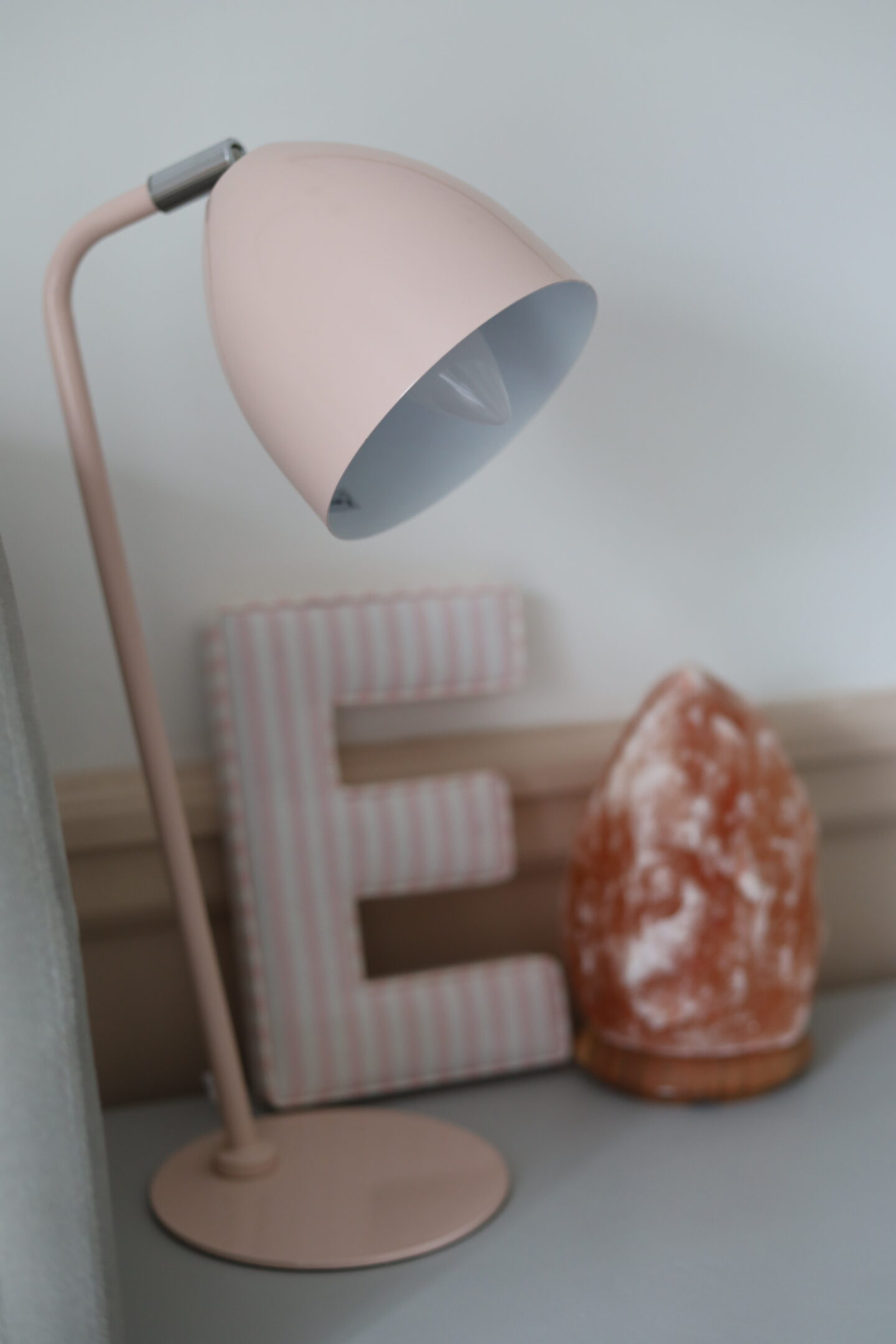 One of the main things they both asked for in our new house was a desk each. This was from Dunelm but I can't find it on the website anymore which is a shame! The chair is the 'Lottie' in light pink from Cult Furniture. Next to the desk I've popped this trolley from Hobbycraft so she can put her excess art/craft bits.
The little hanging rainbow was from Etsy.
Her personalised rosette holder was again from Etsy.
The roller blind was from Blinds2Go, the fabric is the 'Twill Stripe Blush'.
The 3 trunks were from Made.com last year which have sadly gone in to administration, however I found this set on Amazon which is really similar!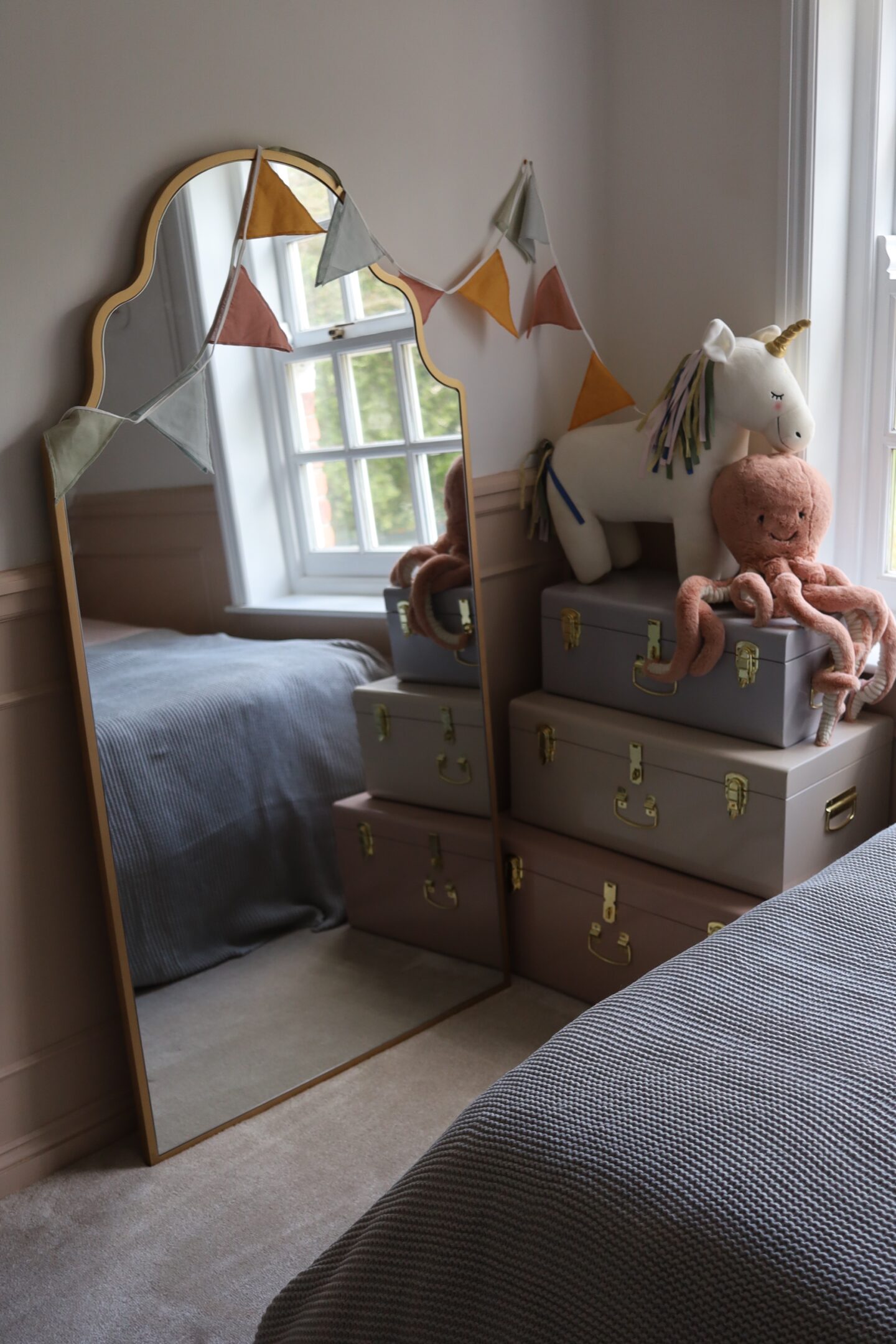 She loves dancing around in her room so as I was shuffling furniture around I decided to bring in the tall Moroccan style leaner mirror from my bedroom…it looks great so I guess it's staying here for now & I'll find another for our room. Then draped this cute bunting from H&M around it.
A few little changes has made such a difference! She absolutely loves it & it's bright, happy & beautiful, just like her.
Love,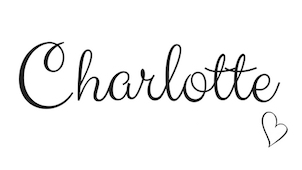 *This post contains affiliate links