This room has been finished for what feels like a very long time, but when entirely renovating an entire house in less than a year, it can't have been too long. It's one of the rooms that were done pretty much immediately & was (for once) nice & easy with only one slight hiccup.
I personally love a dining room & think it's a place where everyone comes together, without any distractions from phones or TV's, to eat, drink & chat. I love that it's such a social space & since moving in & most weekends welcoming our lovely friends & family to stay, it's definitely been a well used room. From the everyday catching up on the kids days at school, all the way to Sunday roasts with everyone squeezed together.
Thought I'd show you a couple of before pictures of this room, which wasn't actually used as a dining room (they had a table in the kitchen, now where we've put an island) but more of an office space. This is what it looked like when we first viewed & on move in day.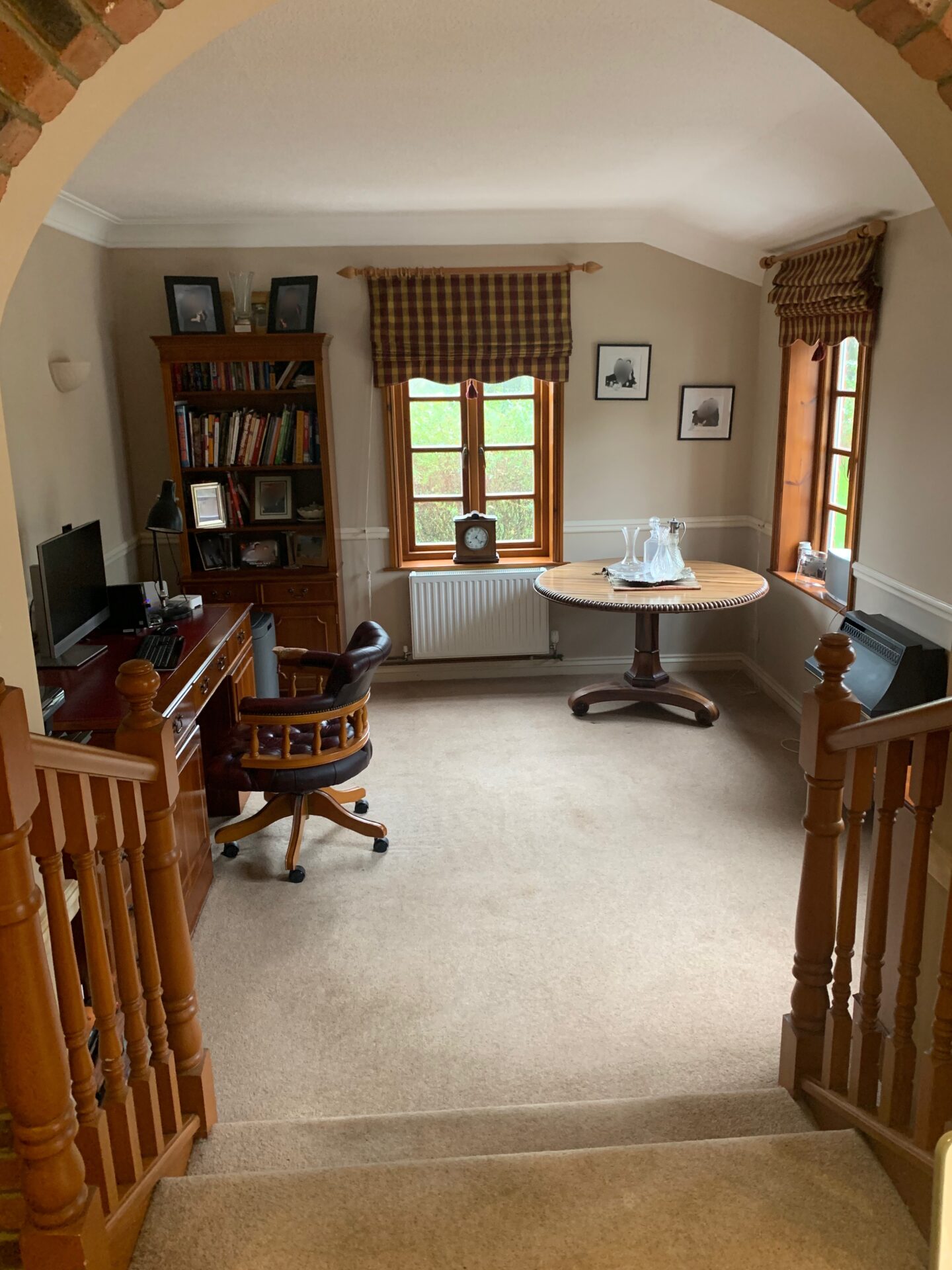 It was, like much of the house, very dark with lots of orange wood (I'm looking at you, windows) & the bannisters which aren't really needed for 2 little steps down in to the room. Removing them instantly made it look so much bigger!
We had the old gas fire capped & then the ceiling plastered to get rid of the artex. This has been a big expense in every room, which we didn't originally budget for but has been something that we knew we had to get done rather than living with it for a while & you can't DIY it!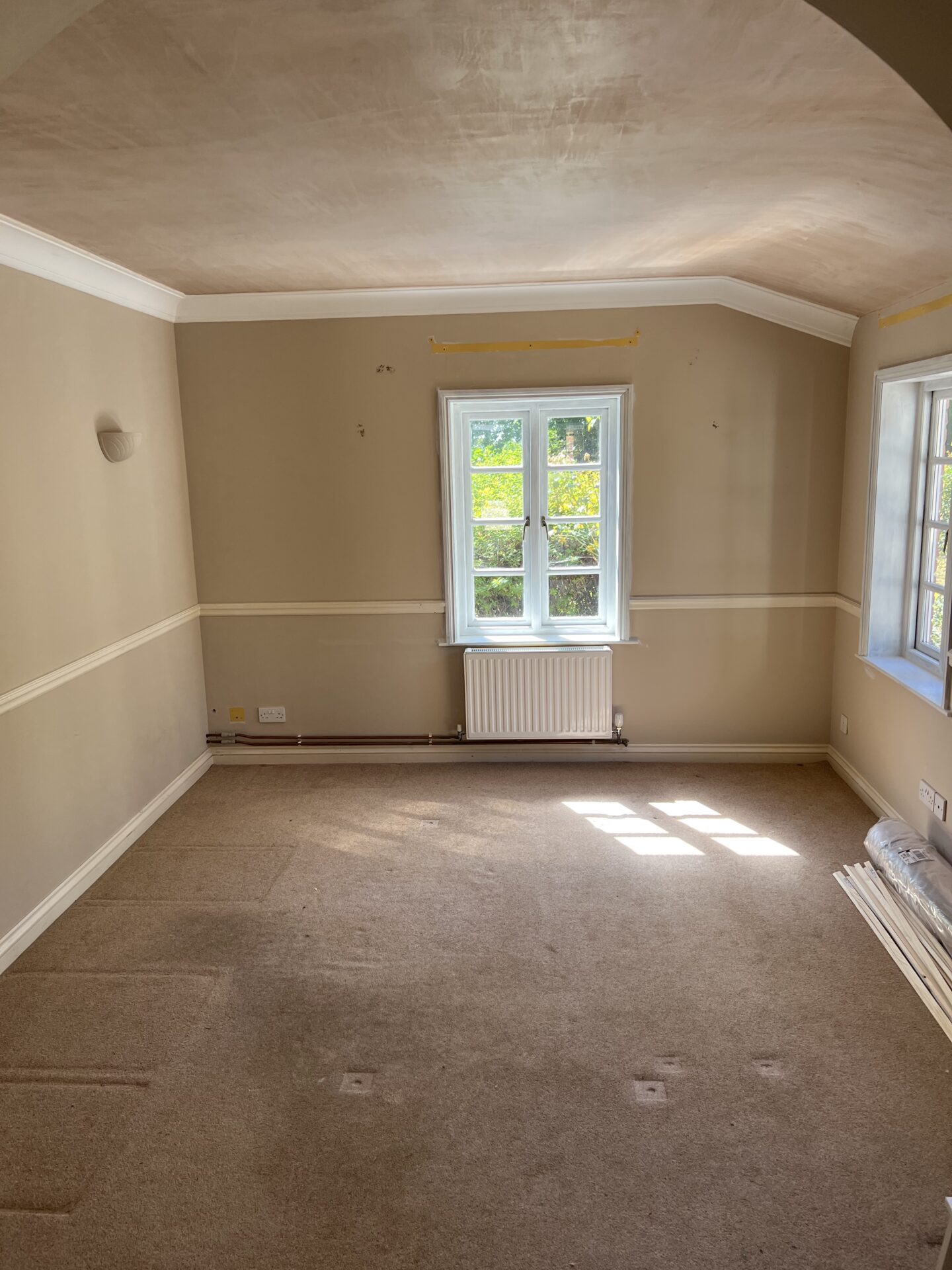 After this was done, I got to work painting, panelling & bringing it to life. I knew I was going to put a big rug down to zone the table & add some texture, so didn't want to invest too much in the flooring. I ordered some herringbone effect sheet vinyl for £159.84. It arrived whilst I was at my uncles funeral & I came home to it fitted & realised the company had sent the wrong colour! After contacting me, they said that because it had been cut/fitted they wouldn't be able to replace/exchange it but offered me a discount if I wanted to replace. By that point I'd already had to pay for fitting so my budget floor would end up costing me more than having something nice fitted. I'm still not a fan & will eventually replace but it's fine.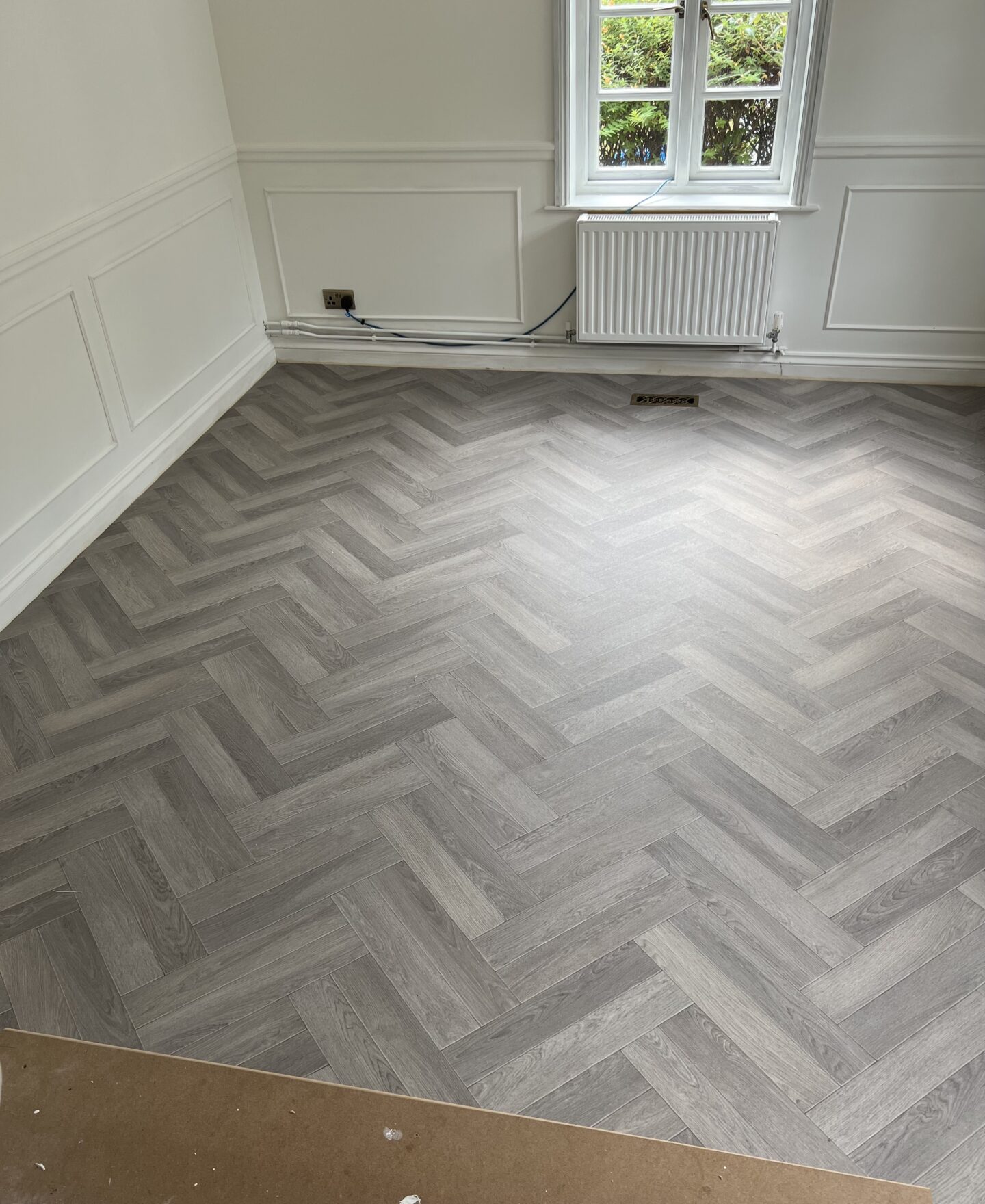 & here's how it looks now….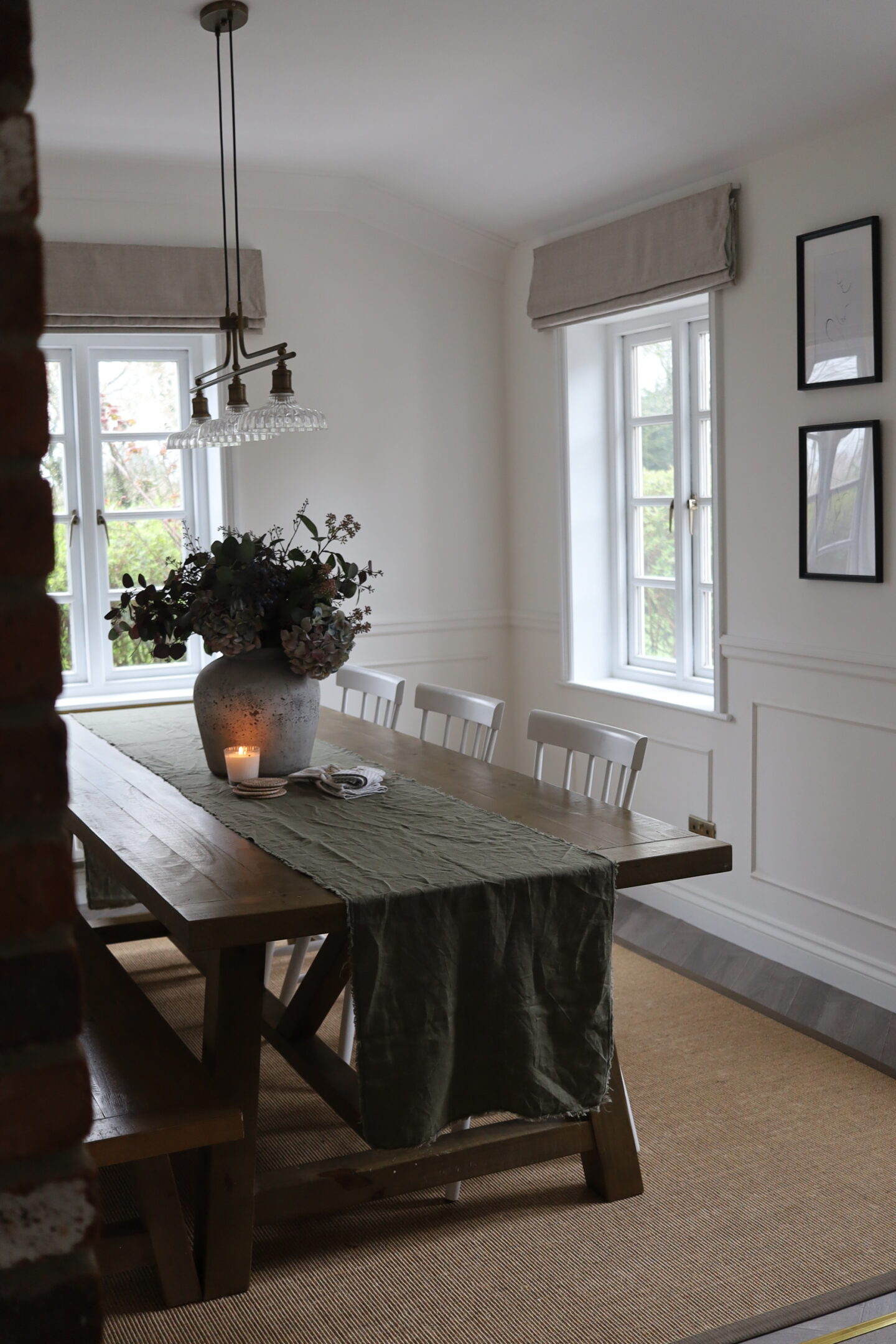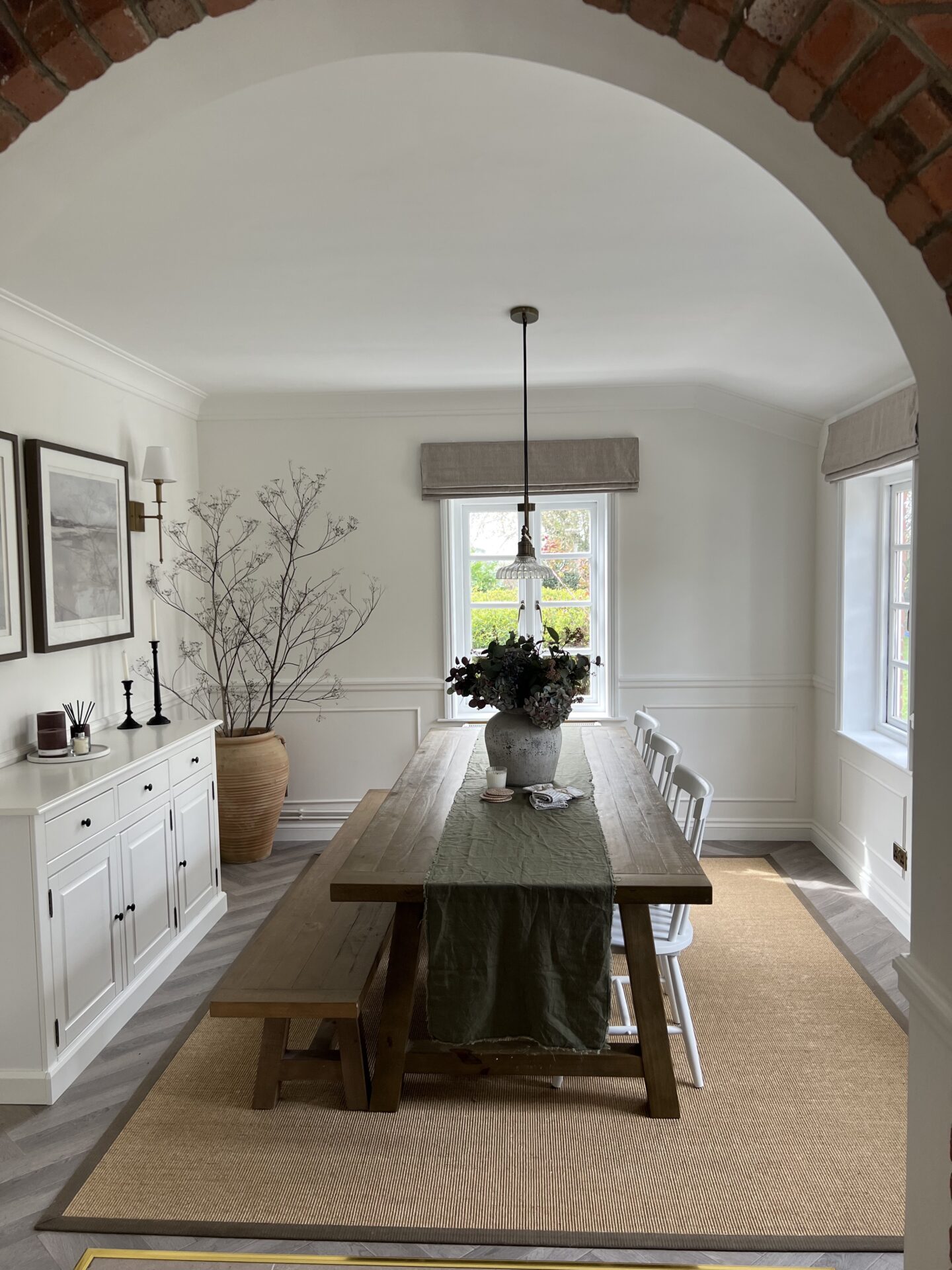 The wall colour is Dulux 'Jasmine White'.
Our old dining room table & chairs, from @farmhousefurniture, was unfortunately far too big for this room. We had it made specifically for the dimensions of Baylyn House, so there it stays complete with the rug (which I also had made specifically to my dimensions for the table) & 2x dressers with the new owners.
I went on a hunt for something for this space & struck gold on FB Marketplace from a guy selling seconds/outlet. It had a few tiny little dings/scratches but nothing that wouldn't have happened within a week of use. I originally thought I'd sand it back & white wash it but now love the darker tone & warmth it brings. It's from MADE.com & is called the 10 seater Iona with matching bench. I paid £250 plus arranged a courier for £60. Made have since gone into administration which is a shame!
We personally love having benches as you can fit lots of people around, but understand it's not for everyone & wanted the option of chairs the other side with good back support. I bought these white spindle back chairs from La Redoute here. I have 3 sets (6 in total) so we can put more chairs around when we need more seating.
The rug was an eBay find, this is the natural – dark olive colour in size 250x300cm available here. They have a few different options!
The runner I've had for a couple of years from Neptune, vase is Neptune & flowers are a bit of an assortment from Hudson Home, Ikea, Homesense that I've collected over the years. I'll soon swap them over for more of a Spring/Summer look. The coasters, napkins & candle are from The White Company.
I'm absolutely obsessed with the lighting in here, starting with the antique brass ceiling pendant from Dunelm over the table. The 3 ribbed glass shades! It's such a feature & a really reasonable price too. I've also changed the wall lights to these beauties (which we also have in the hallway) which are a bargain from Amazon as a set of 2 for £86.99.
They sit either side of the sideboard which was from La Redoute available here. They always have big sales so despite this being £699 now (& no doubt, like with everything at the moment, the price has gone up) but I paid £287.50 so it's worth waiting for a sale/discount code – as I post this they're currently running 40% off with code 'SPRING' for example.
Above the sideboard is two pieces of wall art which I put in a client design & ended up falling in love with. They are the 'Misty' range from Anniemo's here. They come framed with mount & are absolutely stunning.
Then over to my giant dried weeds that I found out on a dog walk which despite being apparently poisonous, are such an amazing feature & I love how they've turned out without costing a penny! I found the vase at a local garden centre, it's called the Aagean handled beehive urn from Apta. I paid £120 but they seem much more expensive online!
Finally, I've got my bar cart/gin trolley in here which was from The White Company but discontinued. Perfect for boozy dinner parties!
This room was done on a budget but what a difference it's made!
Love,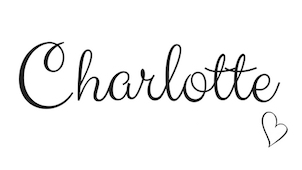 *This post contains some affiliate links