Those of you that follow me over on Instagram will have seen I've been working on our master bedroom. When we first moved in we immediately did the kids rooms so they felt settled & had their own space, but typically our own bedroom wasn't really a priority & now it's finished I've realised just how much I've missed having a tranquil space to retreat to at the end of a busy day.
Like pretty much every room in this house, this space felt dark & flat. It had two large built in wardrobes which took up a lot of space & some delightful floral feature wallpaper (which was totally 'in'…in circa 2000!) running along the back wall.
Here's some snaps of when we viewed & then when we moved in & plonked our furniture in.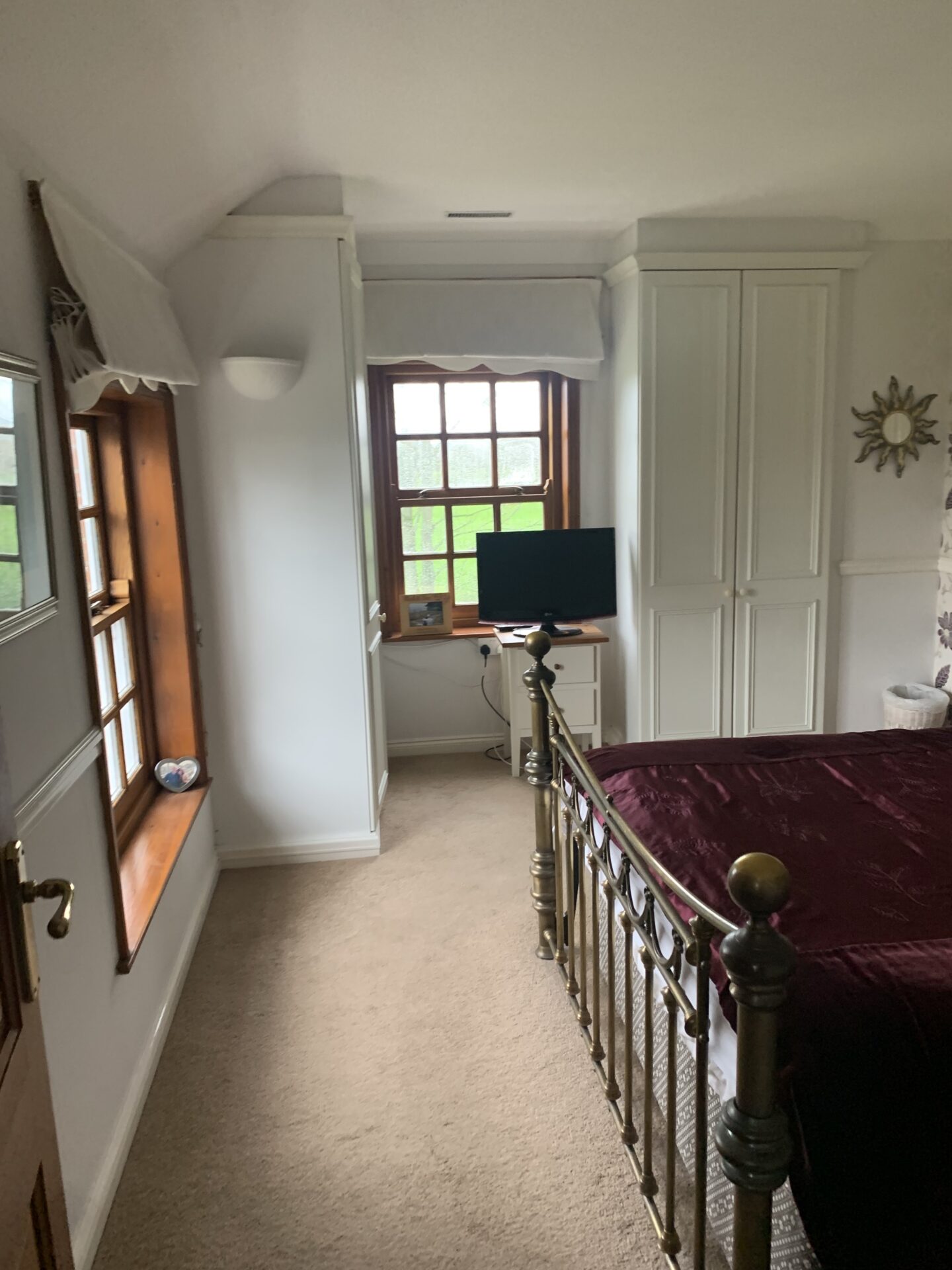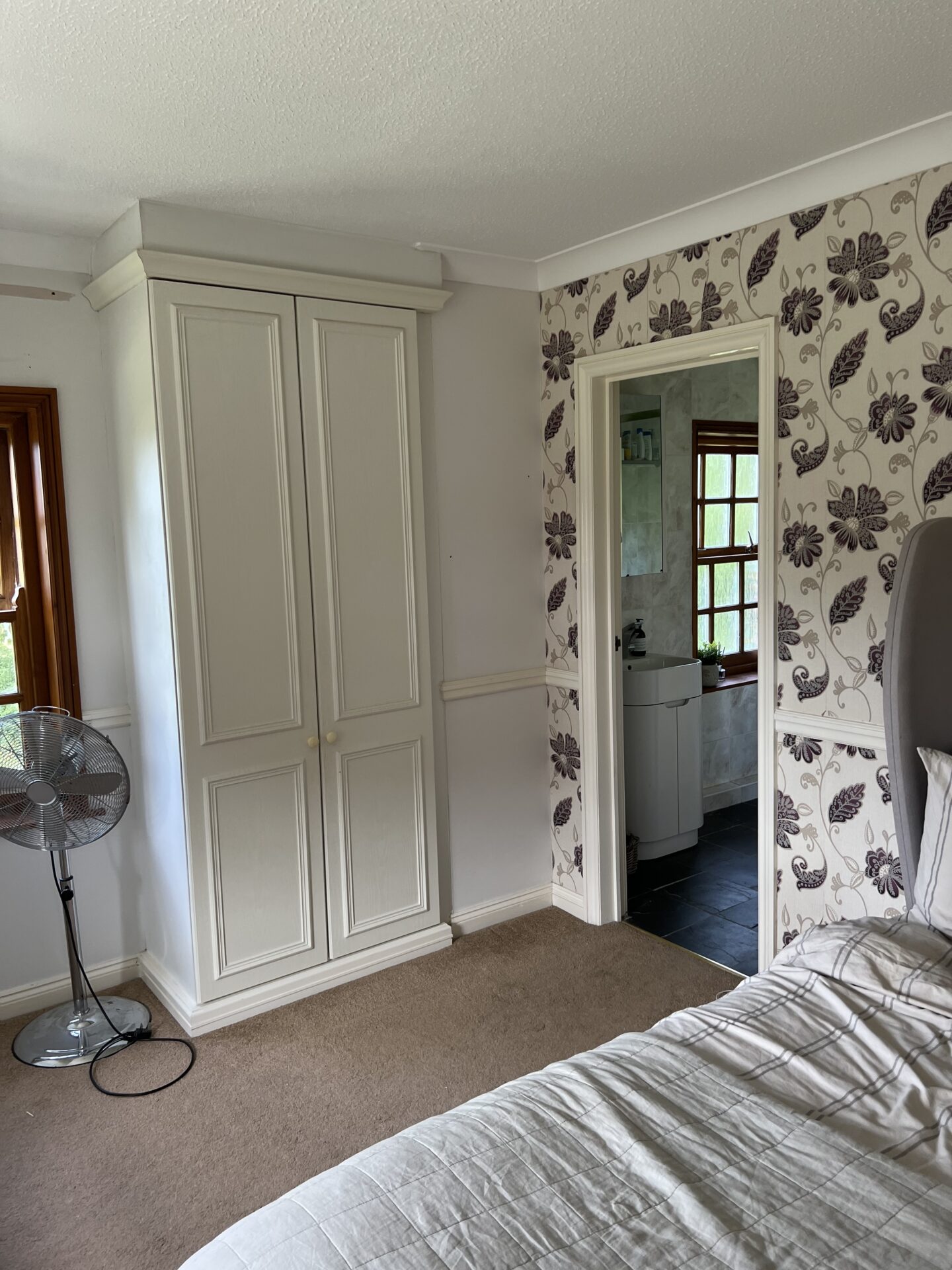 First things first, I started by ripping out the wardrobes. The space this gave & light it let in was insane & has made such an immediate difference. We have an ensuite off this room & next to it, a small spare bedroom which we're planning on reconfiguring so they'll swap round. The ensuite will become a dressing area then the bedroom a larger ensuite….when I can find a plumber which may be 2057 at this rate. In the meantime we're using the spare bedroom off this as a dressing room which means I didn't need any big bulky furniture in here.
Surprisingly, as I seem to be uncovering all sorts of issues (leaks galore….) with each room I touch here, the wardrobes came off beautifully & they'd been fitted over the skirting, dado & coving & also didn't rip any plaster off the walls which meant that I didn't have to patch anything in.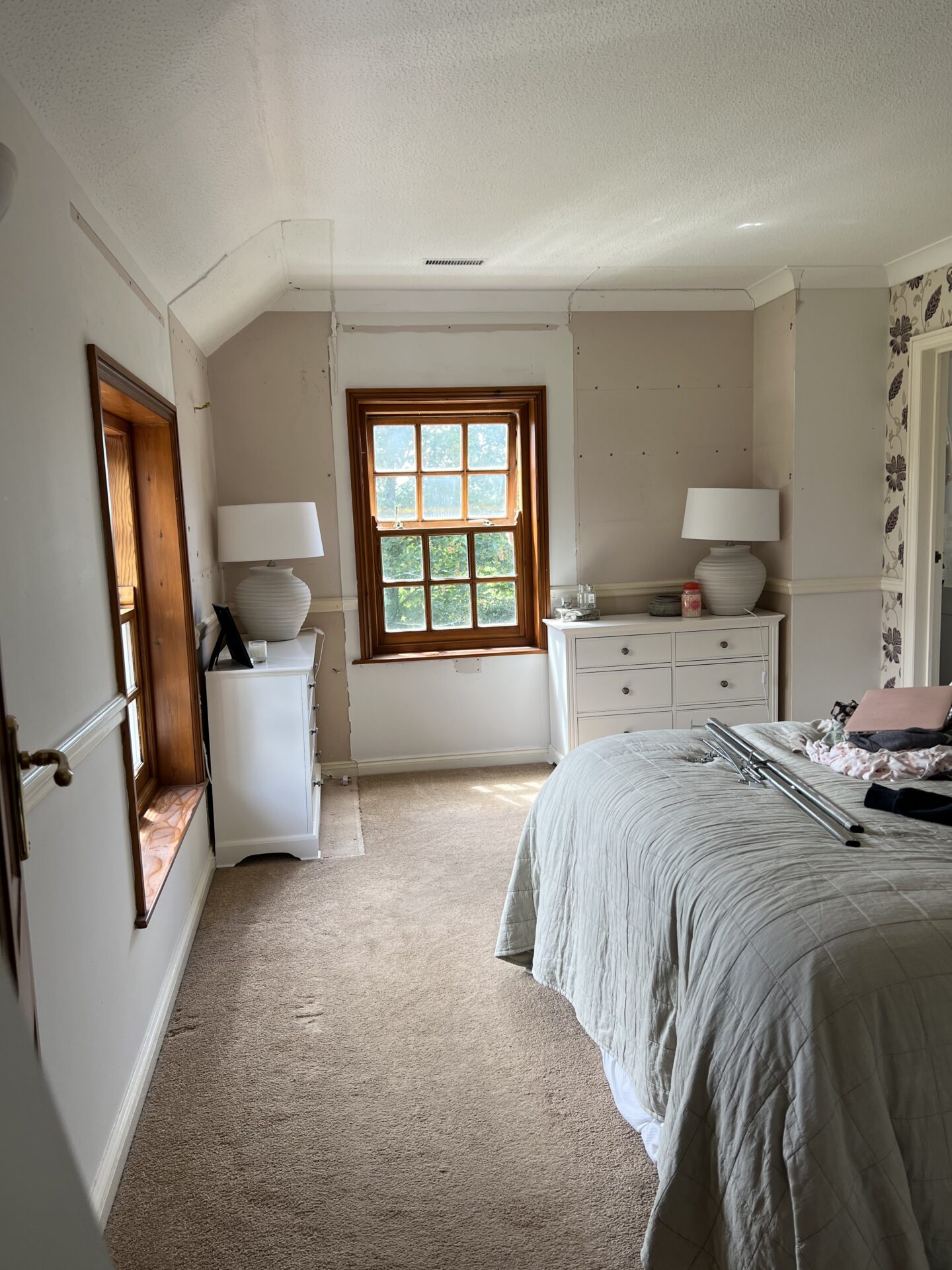 I did need a plasterer to get rid of the stipple effect artex on the ceilings that run through the house. Why do we not notice things like that when viewing? Getting the ceilings replastered has added thousands on to the budget that I didn't account for but ultimately, if you don't do it then it becomes 100x harder to do in a couple of years once the rooms done & filled with furniture as well as the mess it makes so we're cutting back on other things to make sure this is done. This was done when we had the insane weather & dried SO quickly so was ready for a mist coat then a couple of coats of paint after no time at all.
I painted the windows white, something that again runs through the house & instantly makes such a difference. I used Zinsser B-I-N followed by 2 coats of Dulux Diamond in eggshell.
It was then time to start panelling the walls. I wanted to do this to add a bit of interest to this space & actually found it so easy to do with just a mitre box, saw & some moulding from B&Q. It took me about a day & a half to complete this & was a fairly inexpensive project that really has made an impact. I used a strip of MDF I found lying around which was 10cm to draw pencil lines on the wall to act as my guide then pretty much just cut my angles & stick on the strips with adhesive to create boxes below & above the existing dado rail.
With this complete, I then went round with some decorators caulk to fill in any gaps, around the edges etc. I also filled the walls to get rid of any imperfections & when dry gave them a rough sand back.
Then it was on to the fun bit of painting the walls. Not long before we moved from Baylyn House, I redecorated our bedroom & used F&B 'Hardwick White' which is such a gorgeous colour & the perfect olive sagey-grey green paint so I decided to reuse it. I always get my paint mixed at Decorating Centre Online & they are a near exact match but without the price tag & the paint is such great quality.
I also painted the radiator which stick out like a sore thumb. In an ideal world I'd change all the radiators to column effect ones but this is a great alternative & means it blends in to the wall.
With the messy stuff out the way, I removed the carpet to reveal some pretty gorgeous floorboards as with the kids rooms. I love them & would happily sand them back & stain them so we could keep them exposed but Joe is a very much 'you must have carpet in bedrooms so it's cosy' person. Even with rugs, considering rising gas prices I'm sure I'd regret it in winter with drafty floorboards so once upstairs is done, we'll be laying new carpet throughout.
Finally, with the carpet up I painted the skirting board & door frames before adding back in furniture.
So this is how it's turned out! Still a couple of bits to do including changing all internal doors, flooring, deciding if I want to put any artwork on the walls etc but I'm on to the next room now & will eventually come back round to all the rooms I've done to perfect.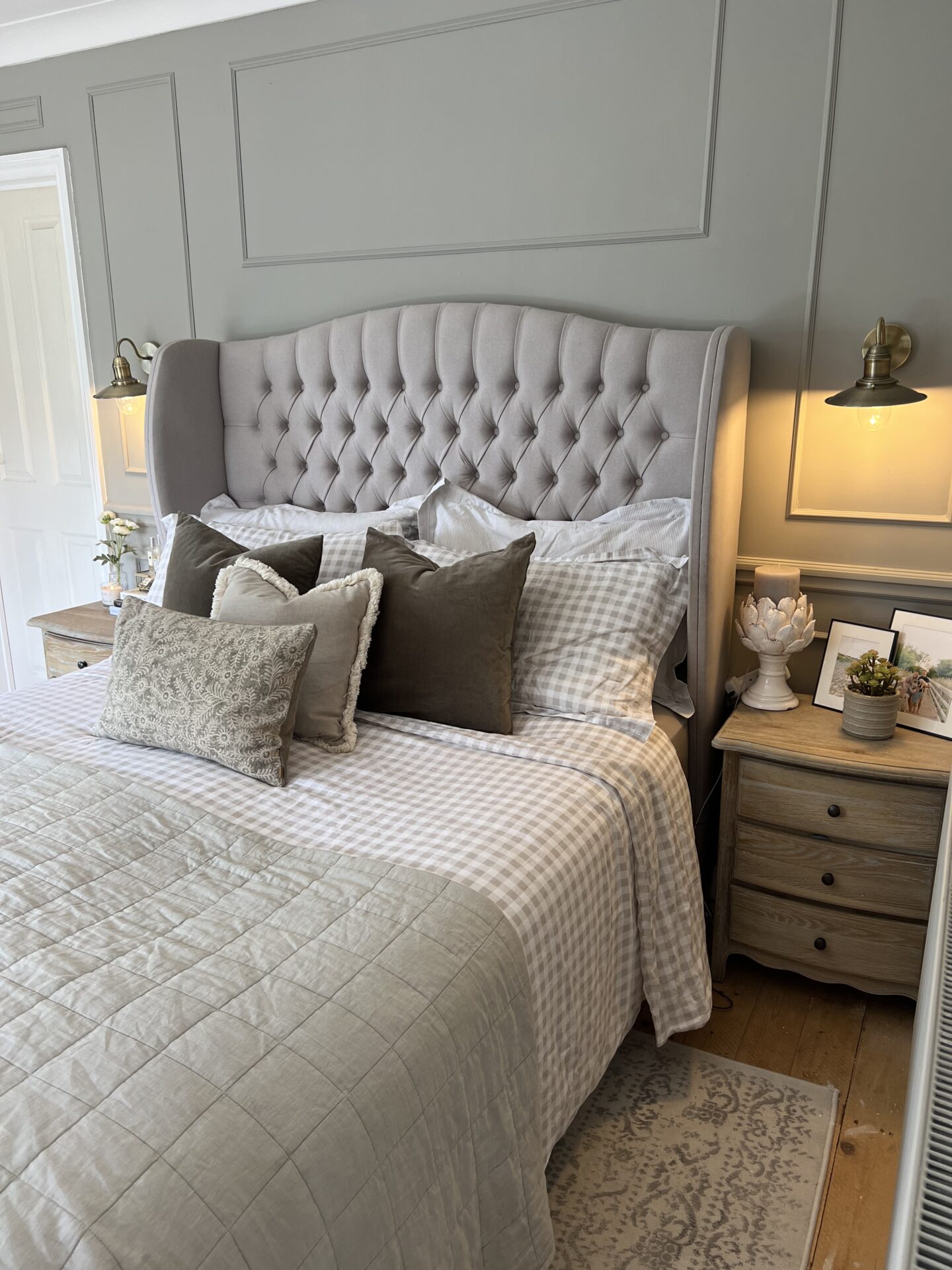 We have kept our old bed which is a gas lift ottoman so great for storage but I found this gorgeous gingham bedding in Dunelm. It comes with 2 pillow cases but I love oxford style so went with these matching ones also bought these pinstripe cases to mix it up & they are a great match colour wise. I've then styled 2x green velvet cushion covers with one of my THTMM fringed 'Bertie – Linen' beauties then a Neptune cushion in Orla Moss (currently not on their website but this is the fabric). Finally, this quilted bedspread sits at the end for some layering & texture…this is the beige but definitely has green tones.
I've also reused the rug, previously from The-Rugs which I finally got to sit flat by cleaning it with my Bissell carpet cleaner & leaving to dry out in the sun to flatten out the big creases. It was a bargain at £140 for 200×300 (I paid £110 but like with everything at the moment, prices have gone up insanely!) but is quite thin & lightweight so I think it being sat on thick carpet under a bed meant it struggled to not crease.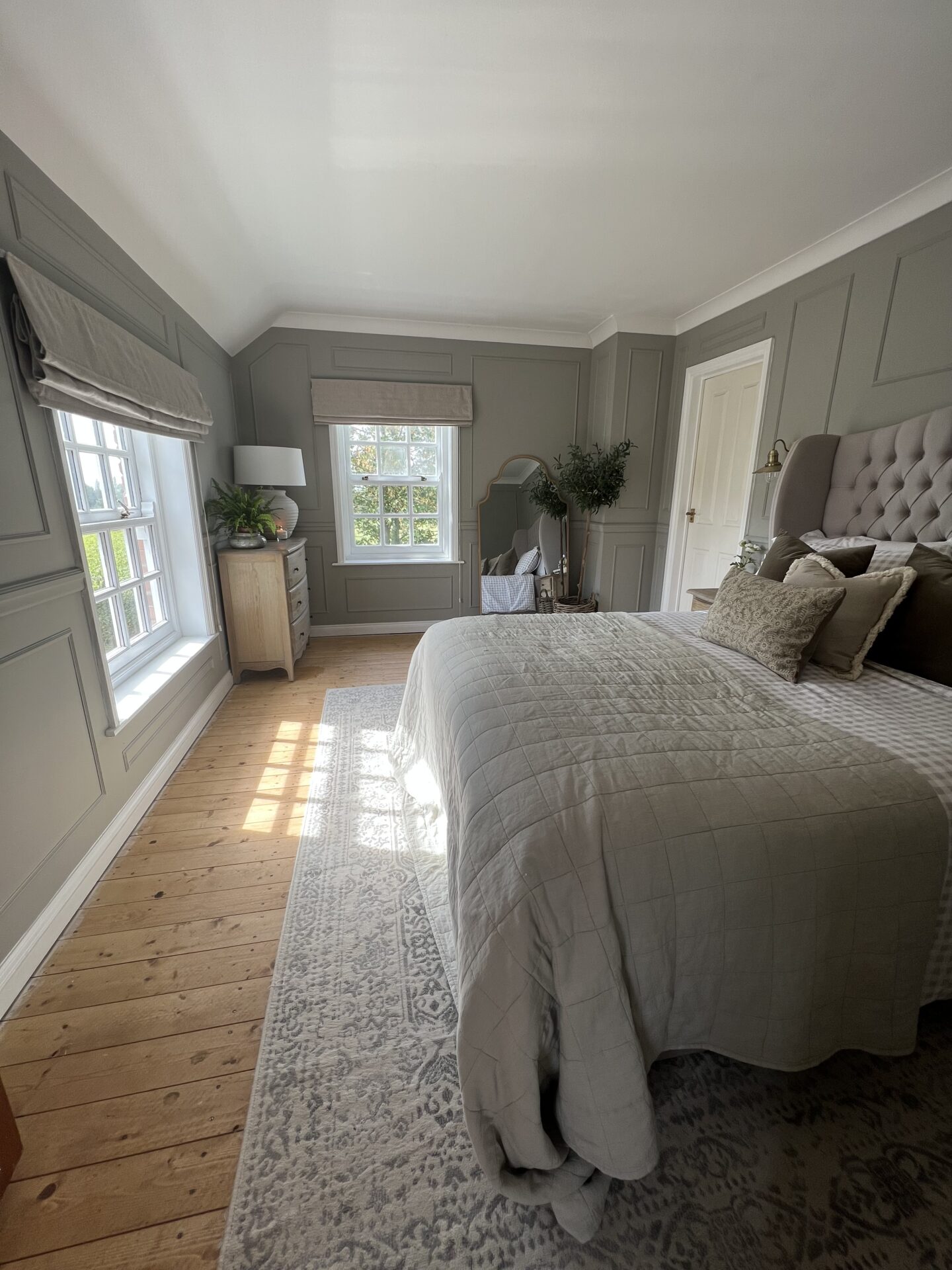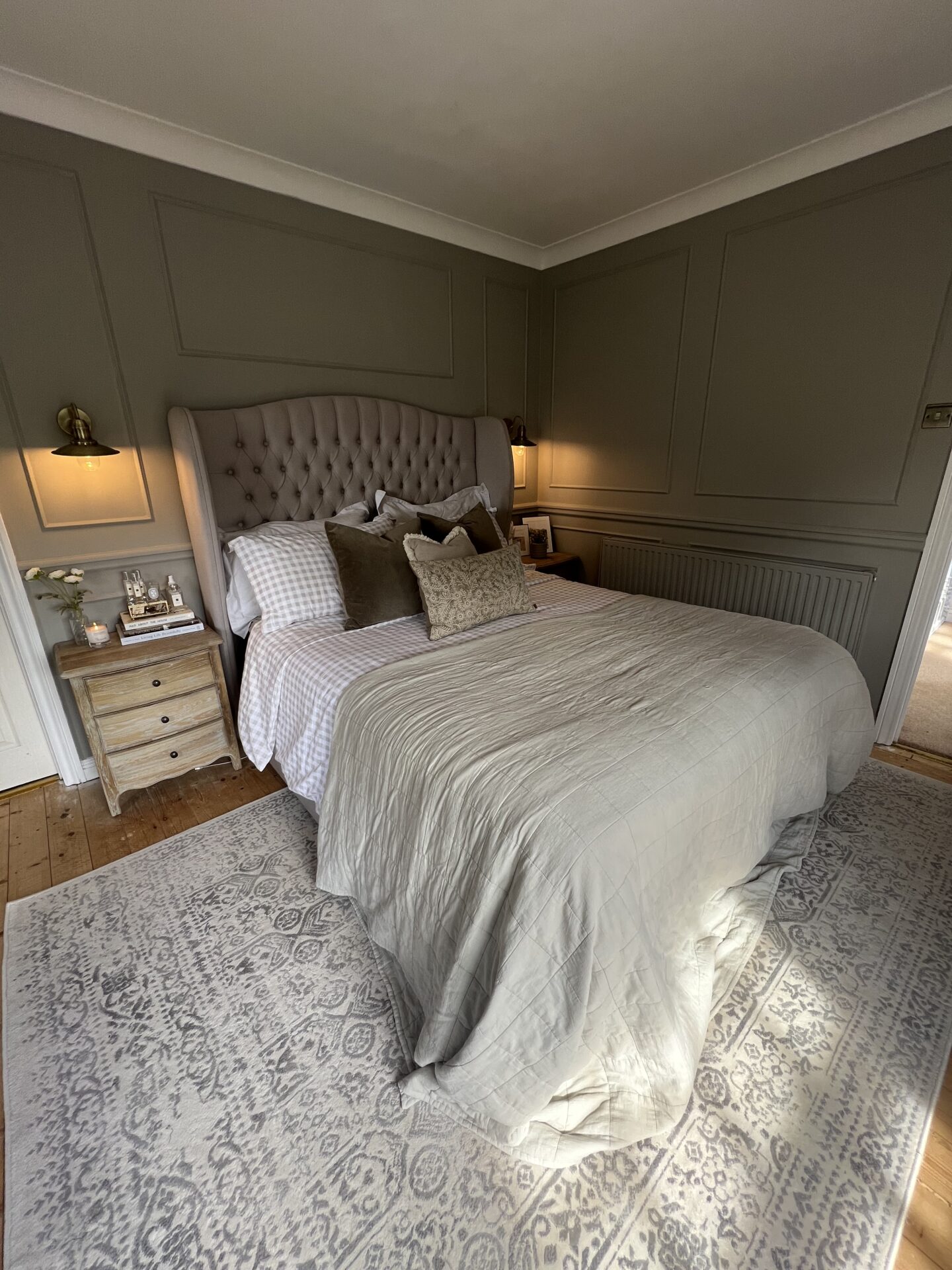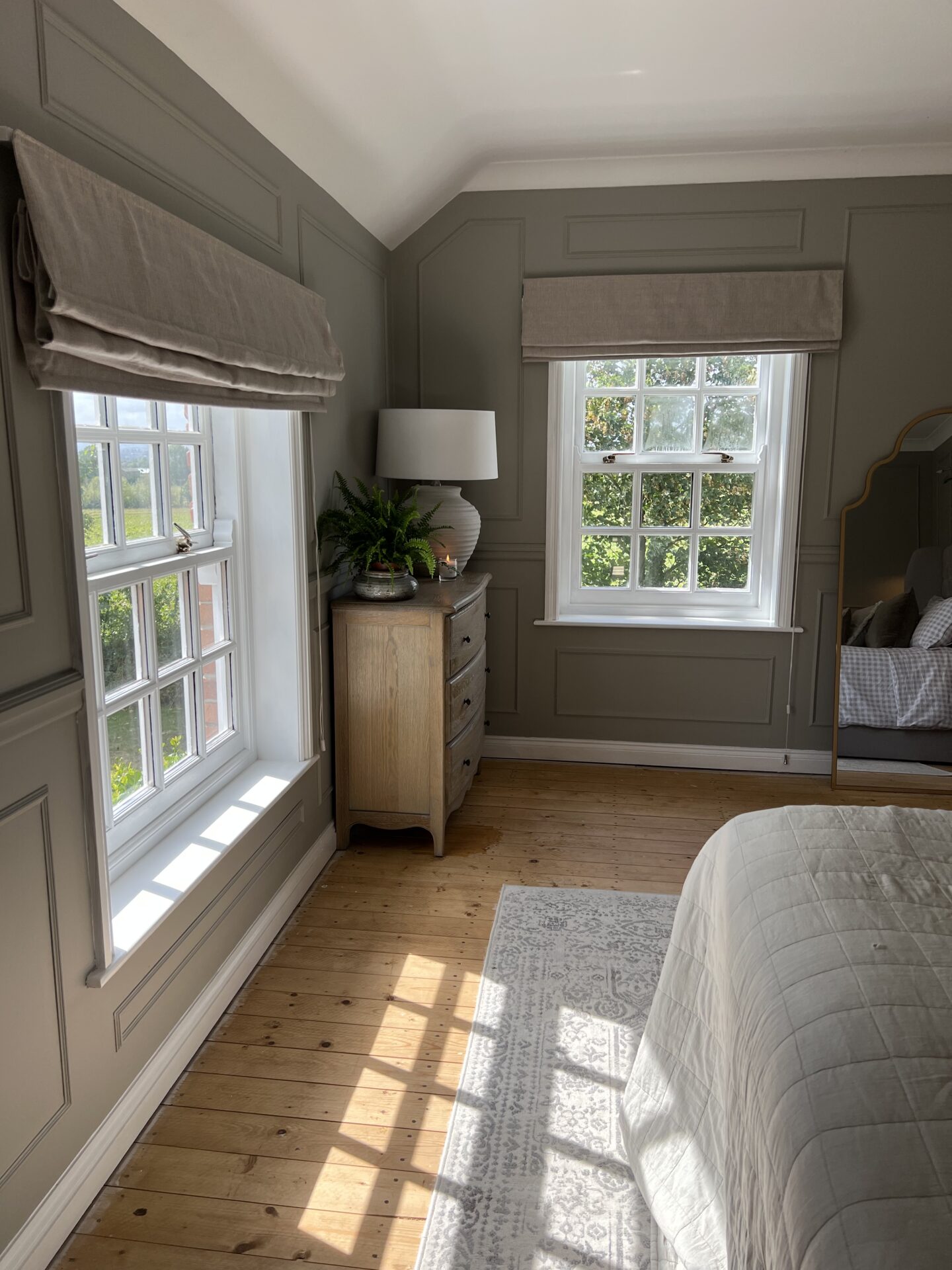 The roman blinds in here are Dunelm, however the cord has broken about a million times when pulling up/down & we were so used to sleeping without anything up at the windows that we now actually close them. I will eventually change them for something better quality which is a shame as the fabric is great but the quality is definitely lacking for everyday use. I have these in the lounge & dining room but they are more for look rather than to actually function.
The bedside tables are part of the Camille Limewash range from The Cotswold Company* & I couldn't love them more if I tried. They are the perfect tone of natural wood against the green of the walls & are great quality being made of solid oak.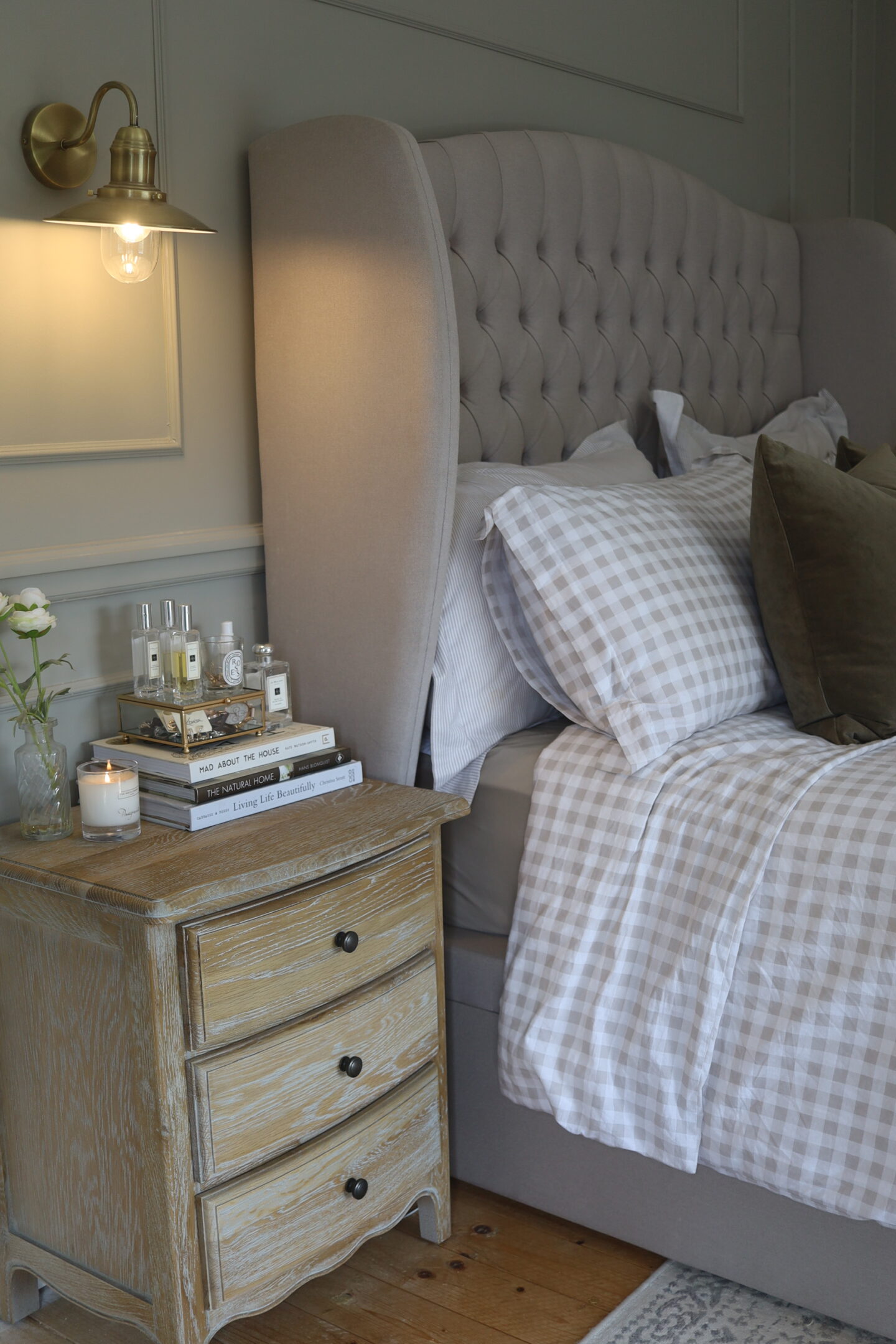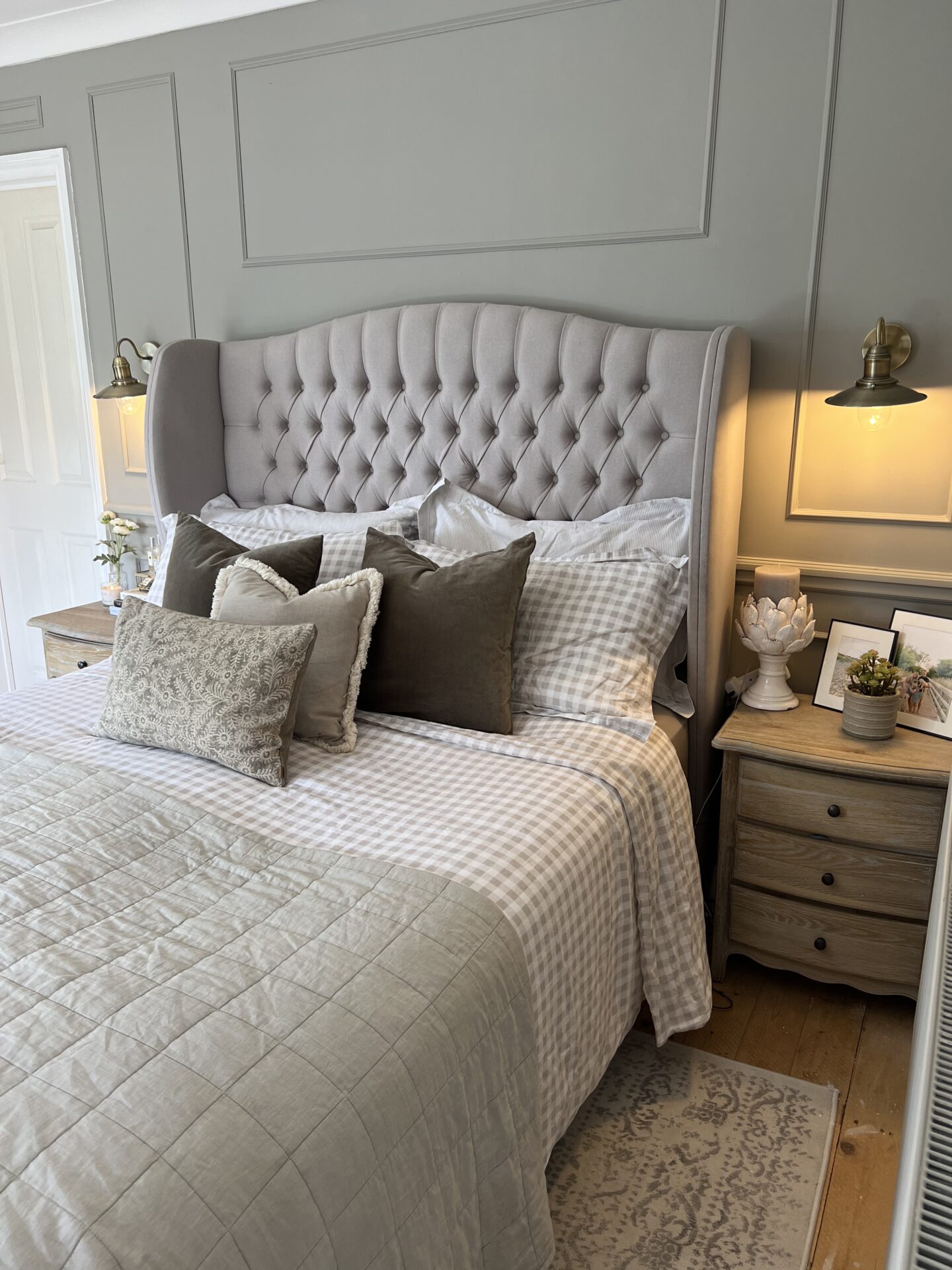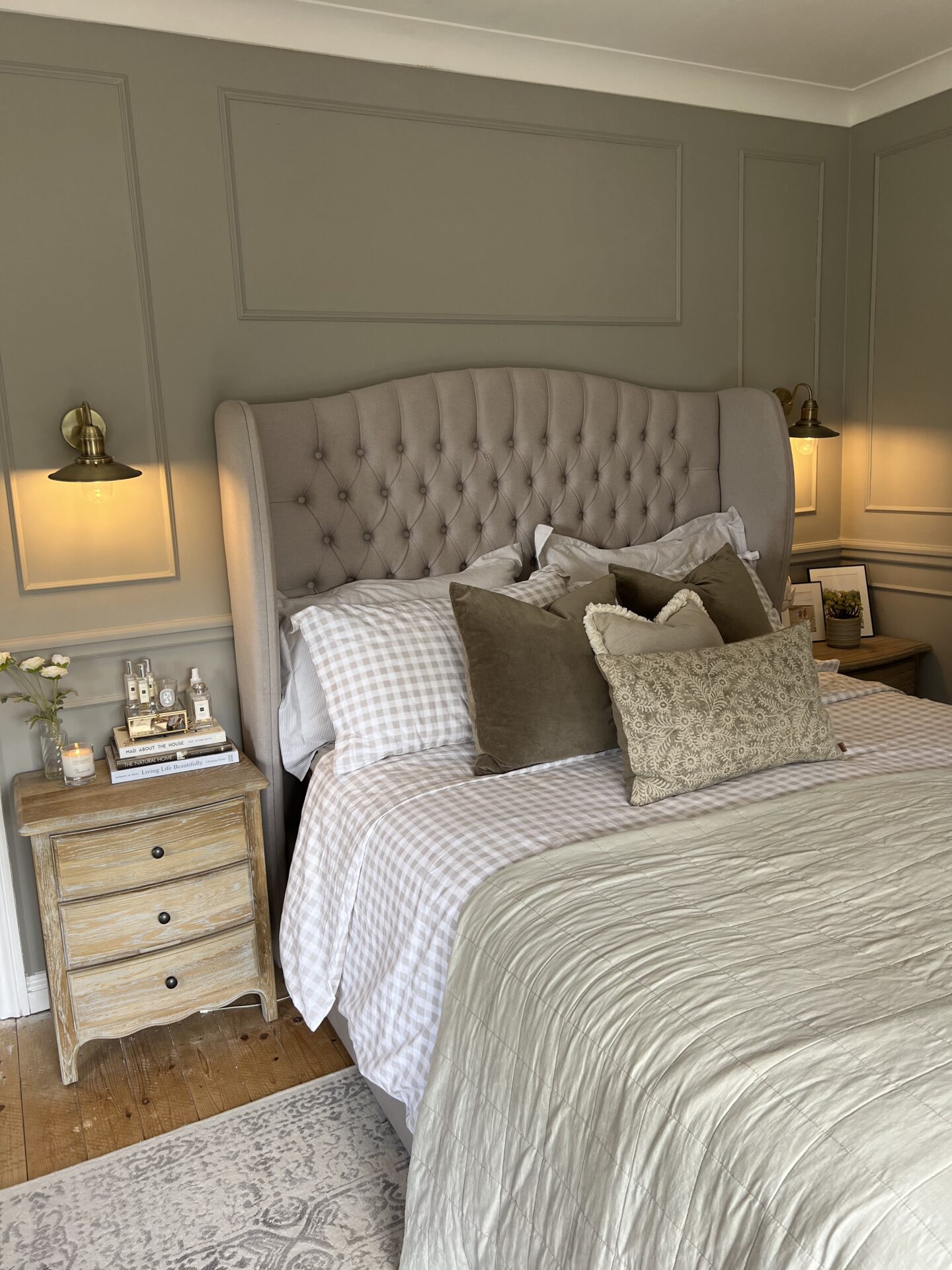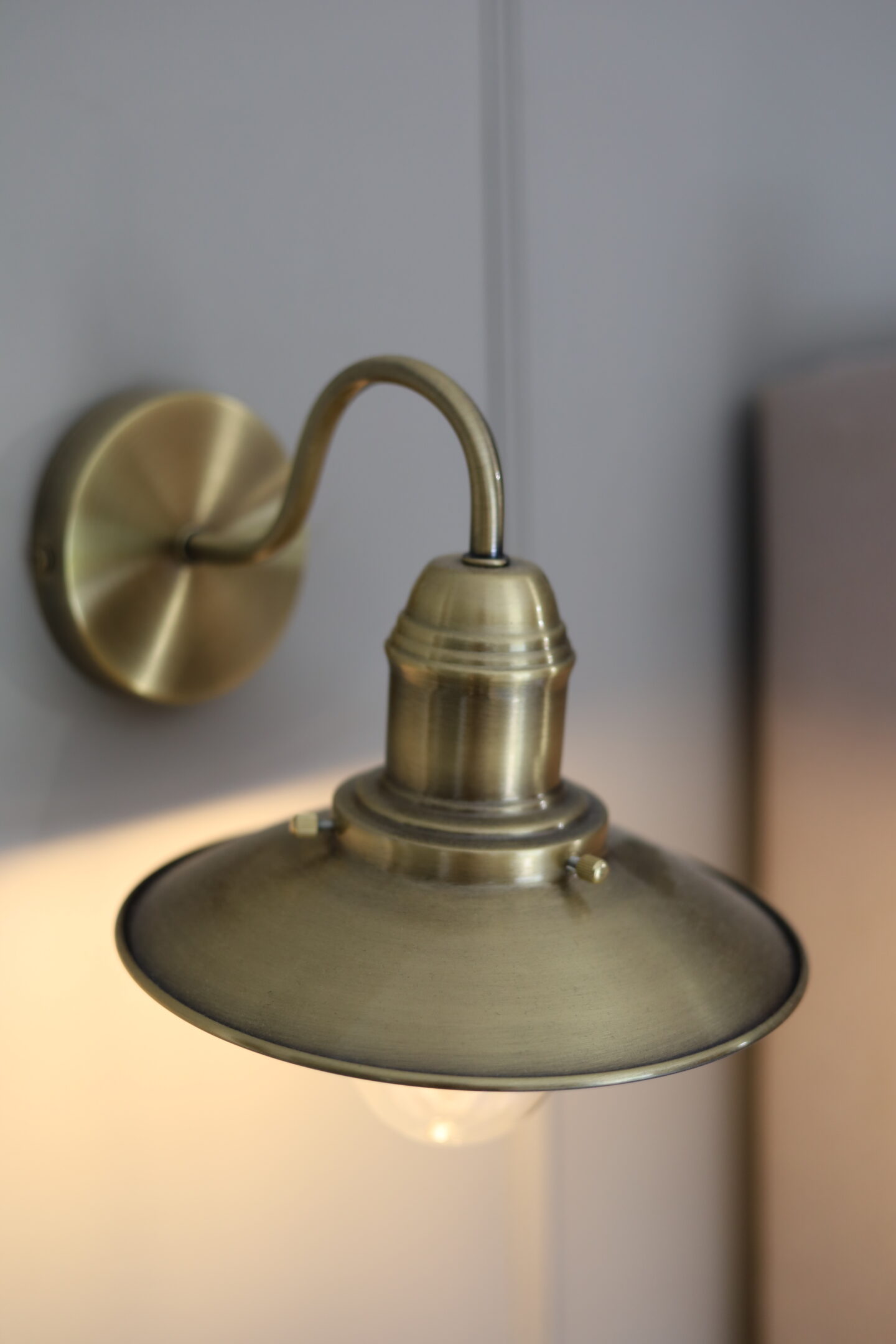 We don't actually have any ceiling lighting in this house, so I went with 2x wall lights either side of the bed to free up space for pretty things on these. They were a bargain from Amazon & the antique brass matches in with the plug socket & light switches I've also changed over. It's all in the details after all.
I actually loved the bedside tables so much I had to get the matching 3 drawer chest of drawers & have styled with this Hambledon lamp which I had in our old house (& is reduced to £70!) & a fern in this Neptune pot. It compliments this space so well!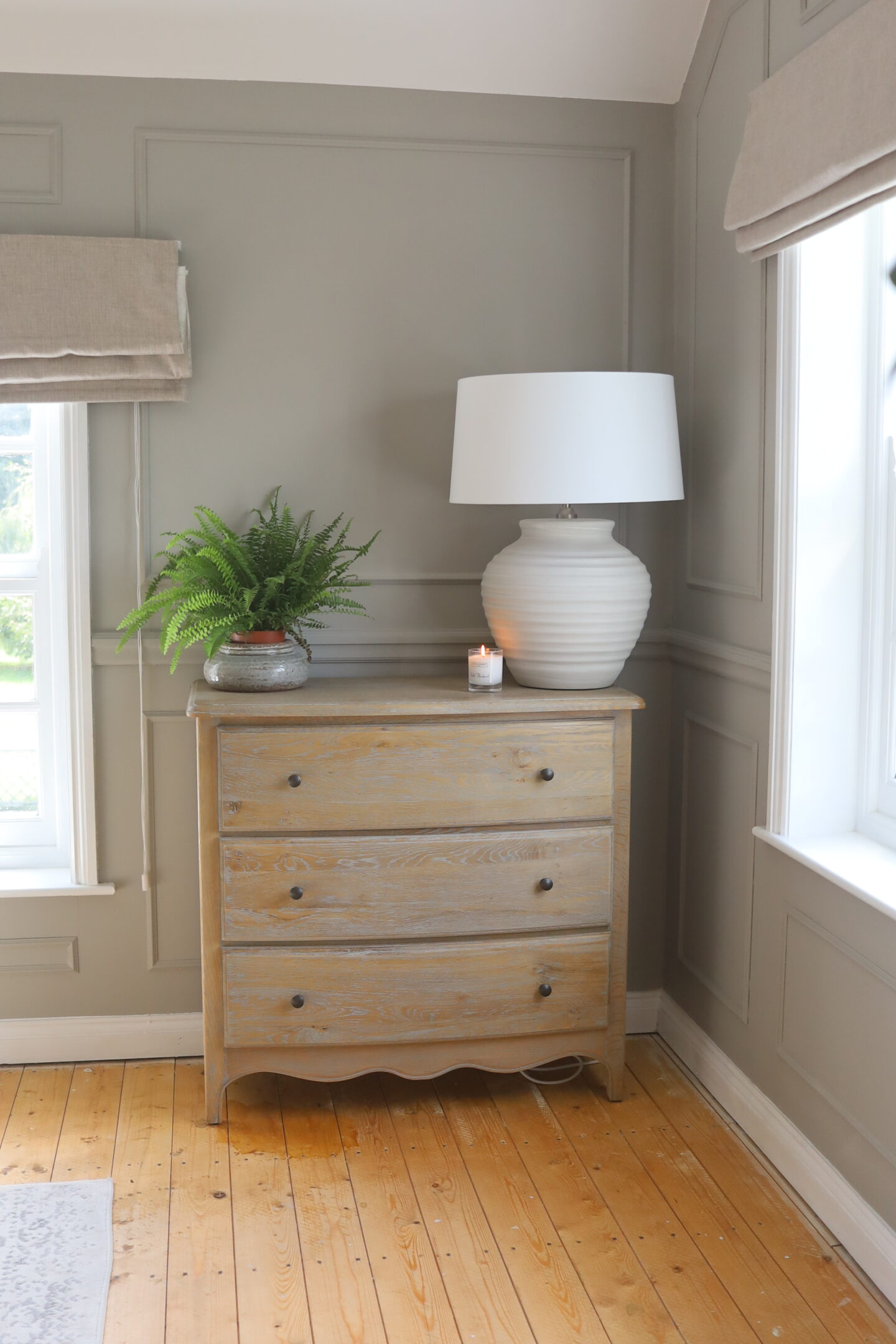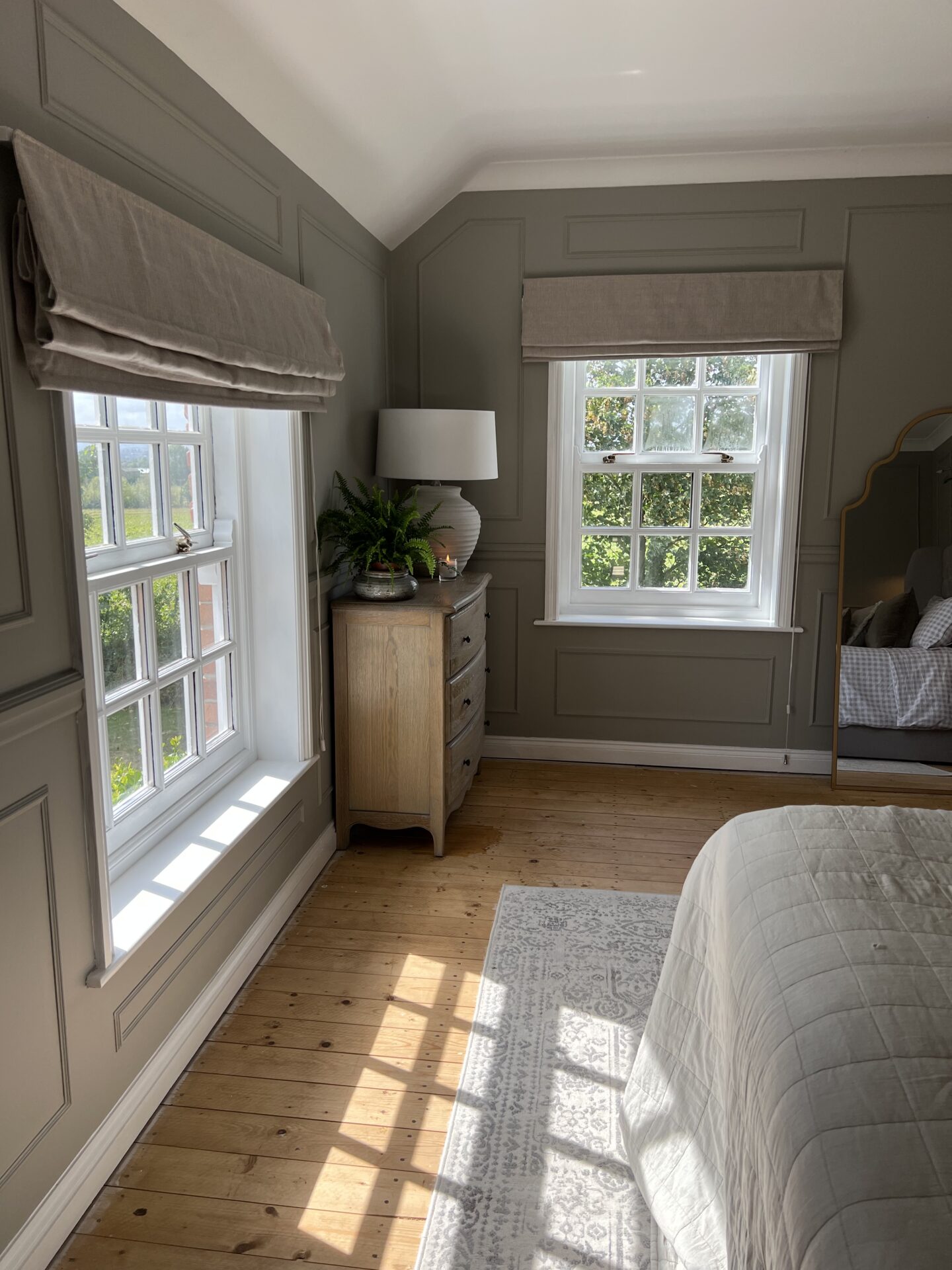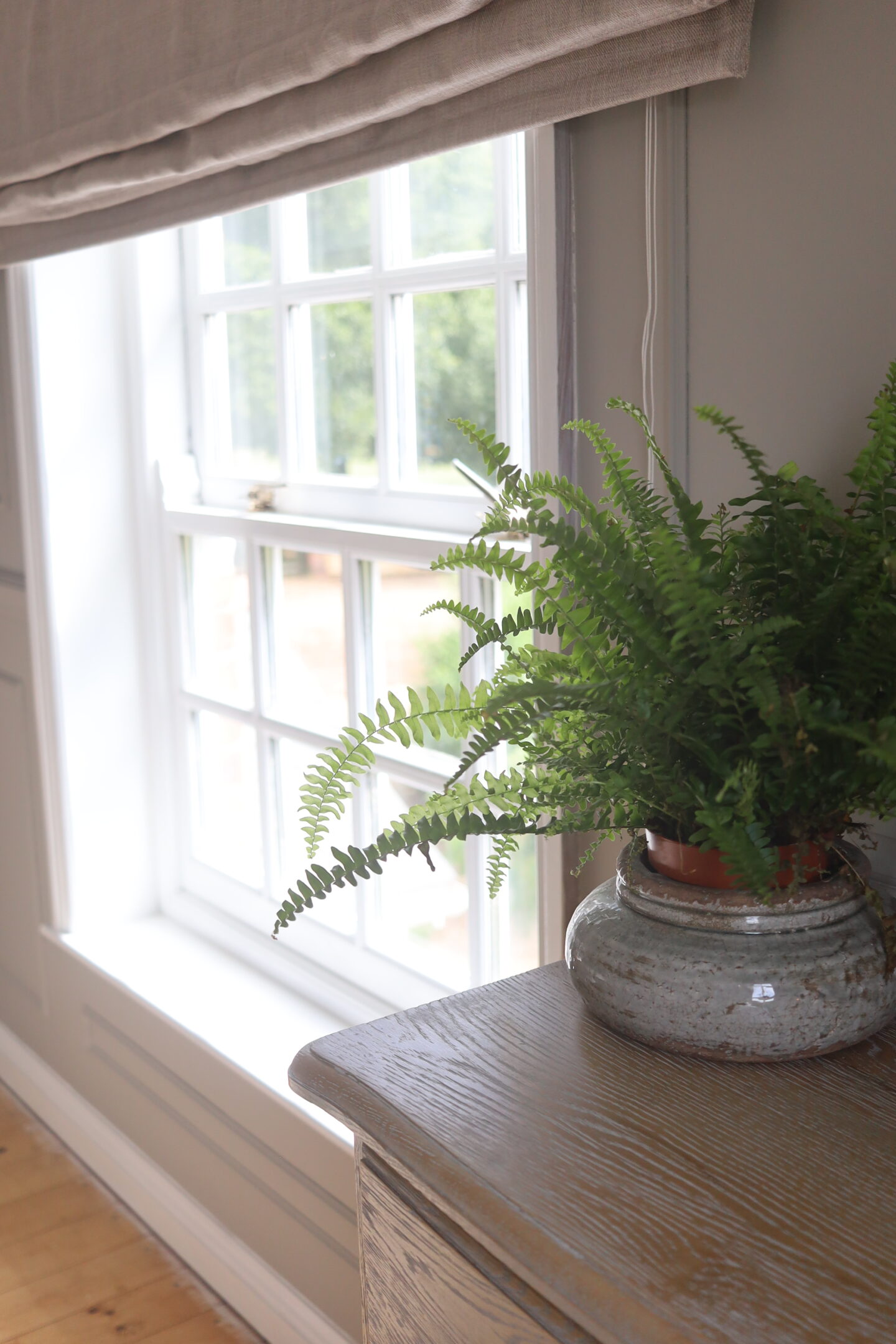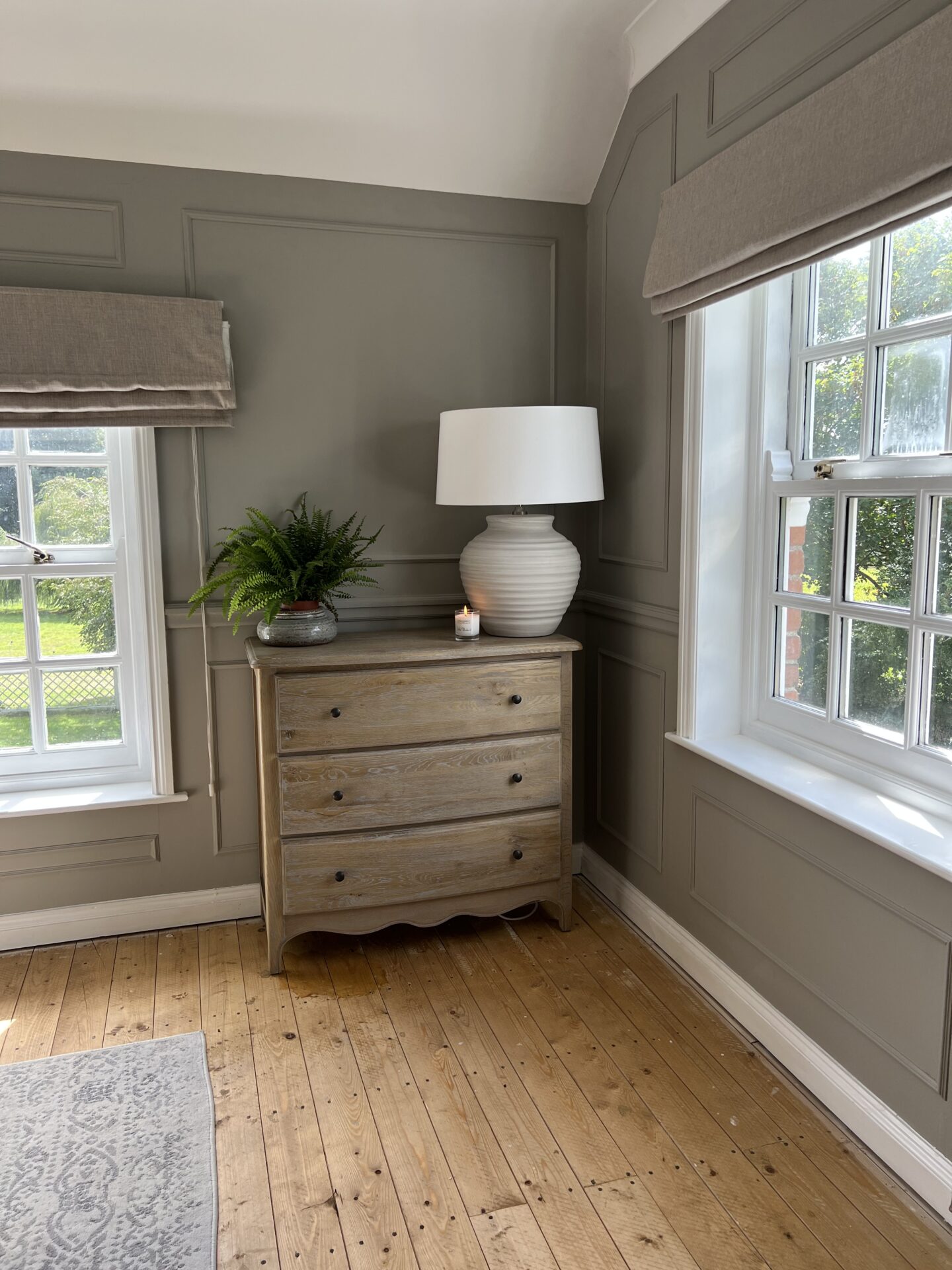 I moved the artificial olive tree (Neptune but discontinued a long time ago unfortunately) in wicker basket from The Basket Company up here & adds another touch of greenery then added this Moroccan leaner mirror.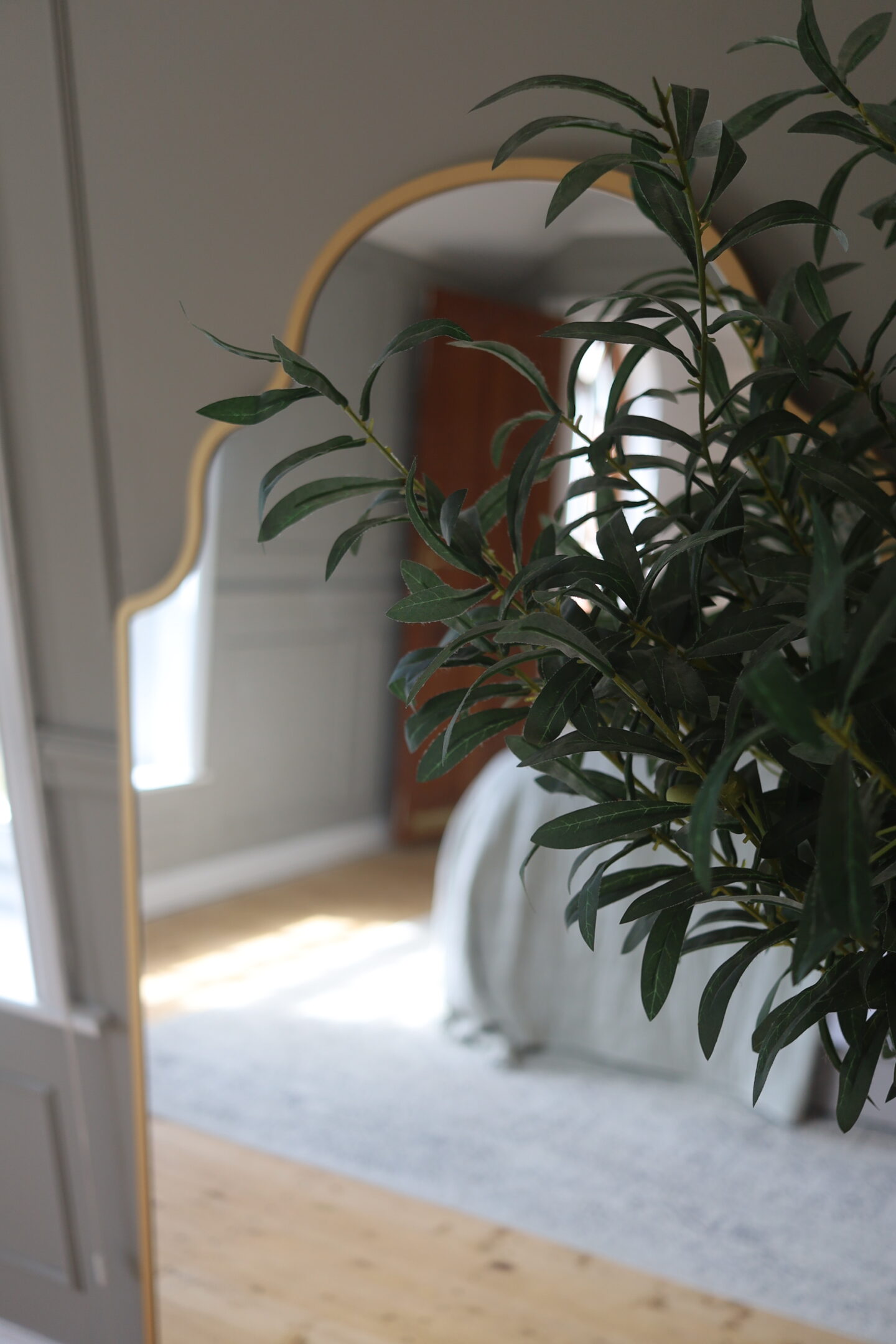 Love,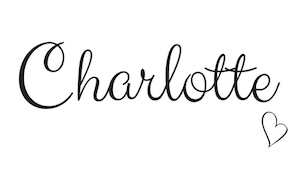 *This post contains affiliate links & some gifted items. To see more about how this works on my blog, click here.