2020 is almost coming to a close & what a funny old year it's been. For many of us, a year we would rather forget & the restrictions around Christmas mean many a difficult decision for larger families.
This year December won't be bringing markets filled with mulled wine, twirling ice skaters & the sound of friends laughter filling the air. It won't be taking the kids to see Father Christmas but the hardest part of it it all is that we it won't get to see all of our nearest & dearest.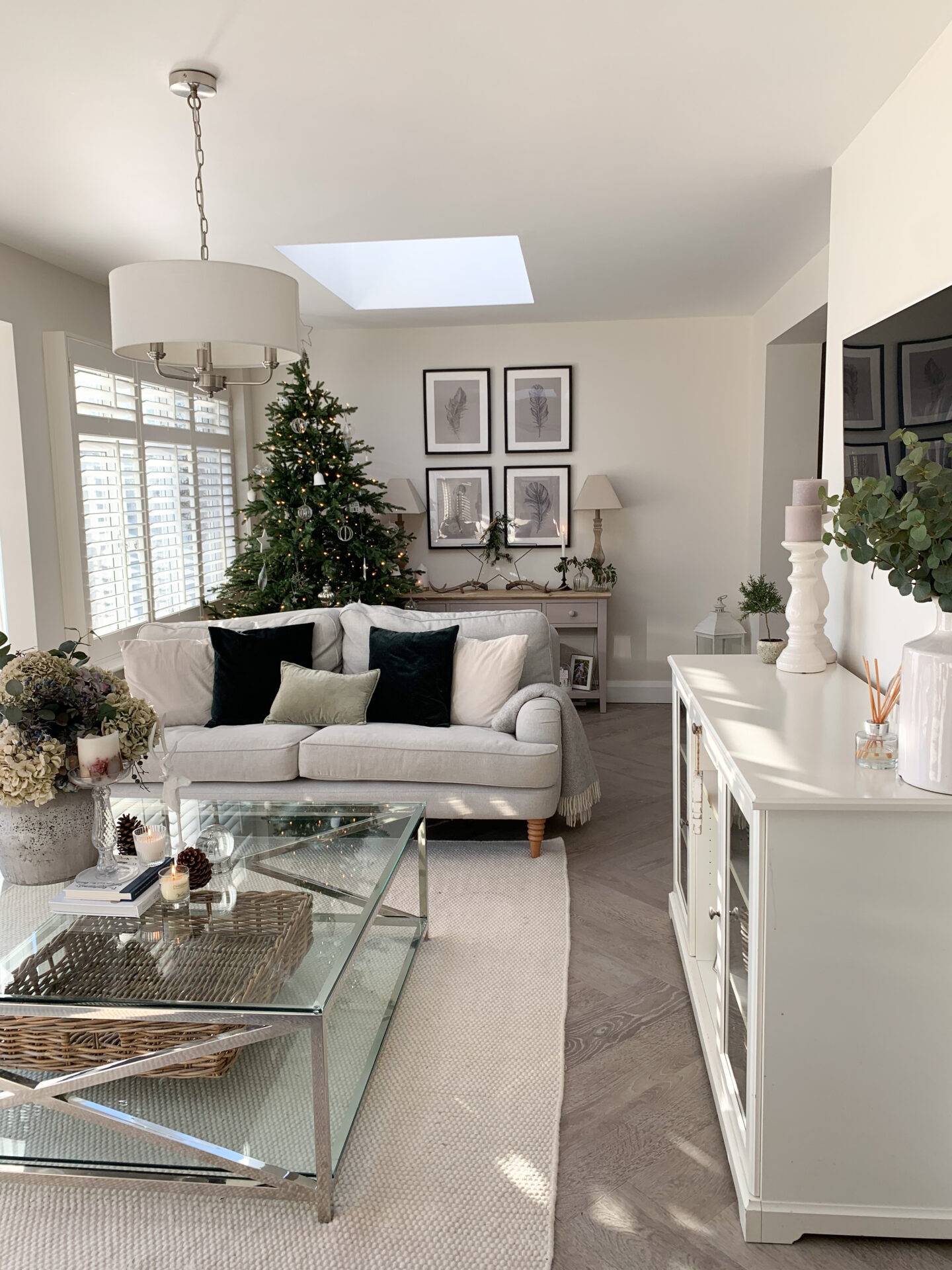 But through the doom & gloom comes the festivities we can (& should) enjoy no matter what tier your in. Like decorating the homes which have meant more to us than ever before (& this year it's been totally acceptable to whack the tree up in November, hallelujah!), it's spending entire days under a duvet watching back-to-back films (Elf, Home Alone, Love Actually, The Holiday….) & eating ALL the Terry's chocolate orange.
I've been busy decking my halls (literally – we've had our hallway revamped as my 30th birthday present seeing as I won't get the lovely holiday I desperately wanted any time soon…) & thought I'd show you around Baylyn House in all of her Christmassy glory.
For the first time quite possibly ever, I haven't bought any new decorations so these are all collections from other the past few years but I will link anything I can find still available.
We've had our Christmas tree for a few years now & I honestly couldn't recommend it more. It's the 7.5ft pre-lit (a game changer – once you go pre-lit you'll never go back…) Thetford from B&Q. It's super realistic & although I love the idea of having a real tree, I don't think it would last 5 minutes positioned next to a radiator & with my hoard of animals so fake was always the way to go.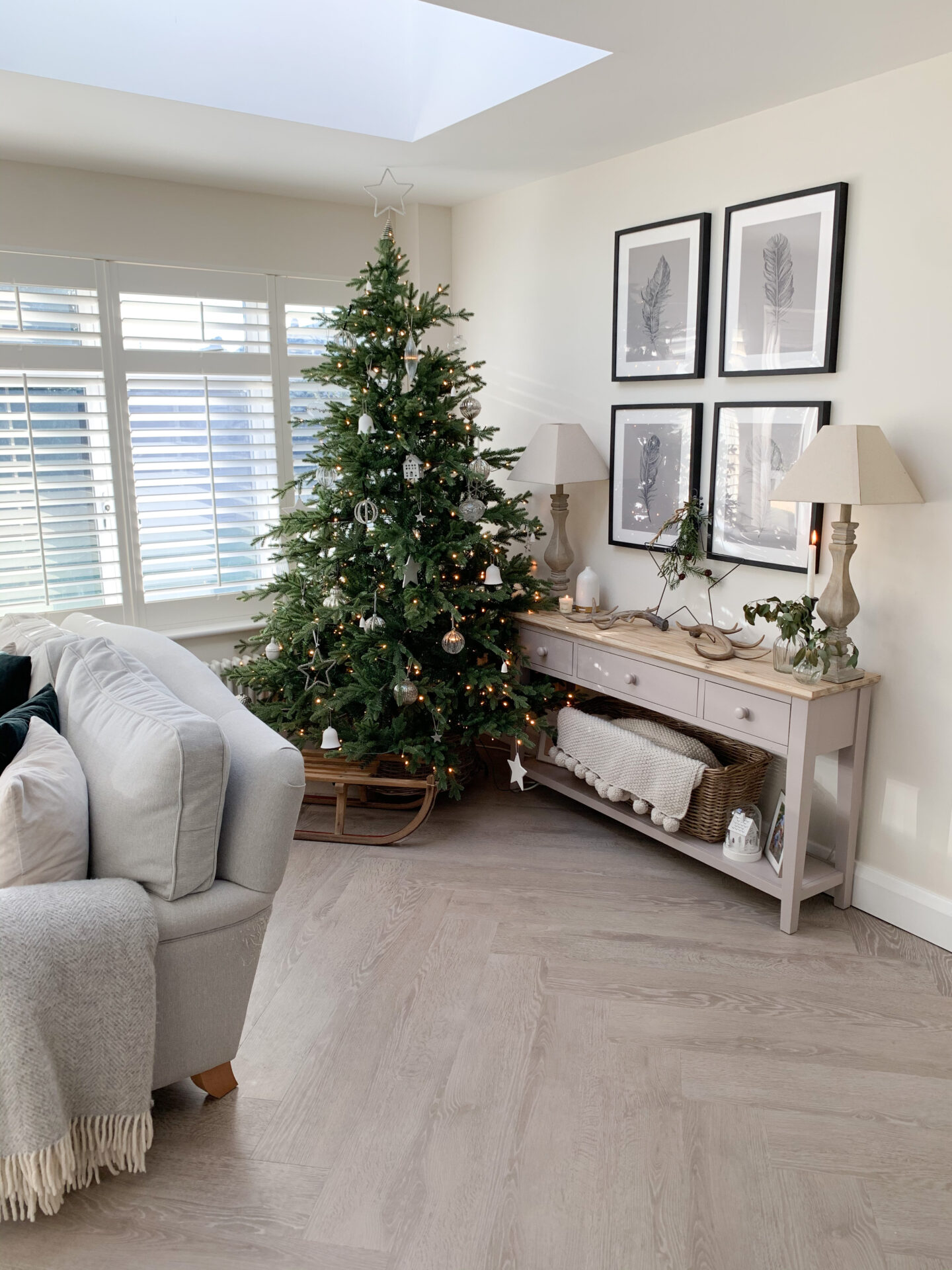 The baubles are a mix of The White Company, Neptune, The Range & Homesense. The sleigh is vintage bought second hand but I did spot this beauty for anyone wanting similar.
As always at this time of year, our home is filled with the scent of The White Company's 'Winter' which to me just encapsulates the smell of Christmas. For the first time, I actually braved another scent too also bought a 'Fir Tree' candle which smells EXACTLY like a real tree (without the pine needle vacuuming every 5 seconds).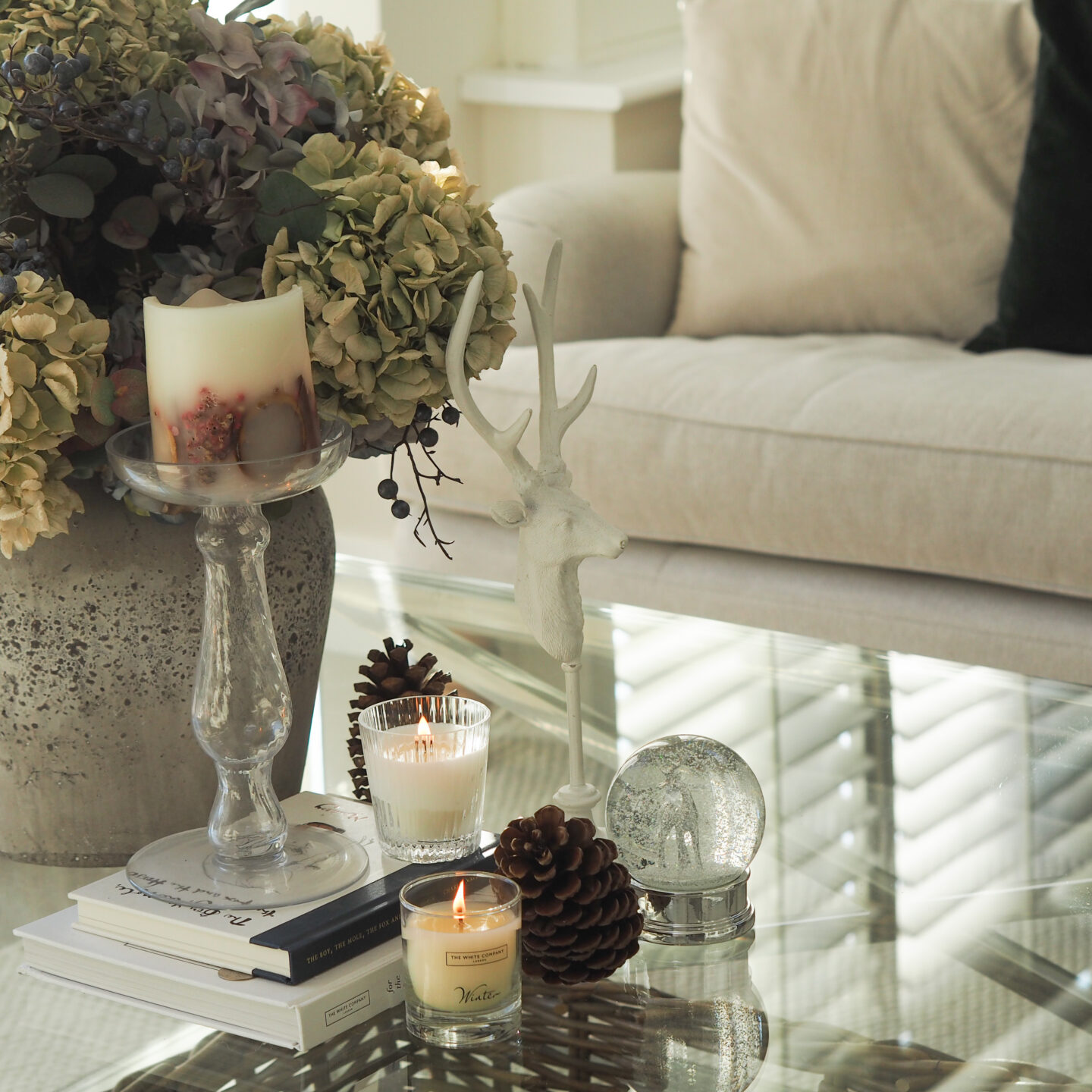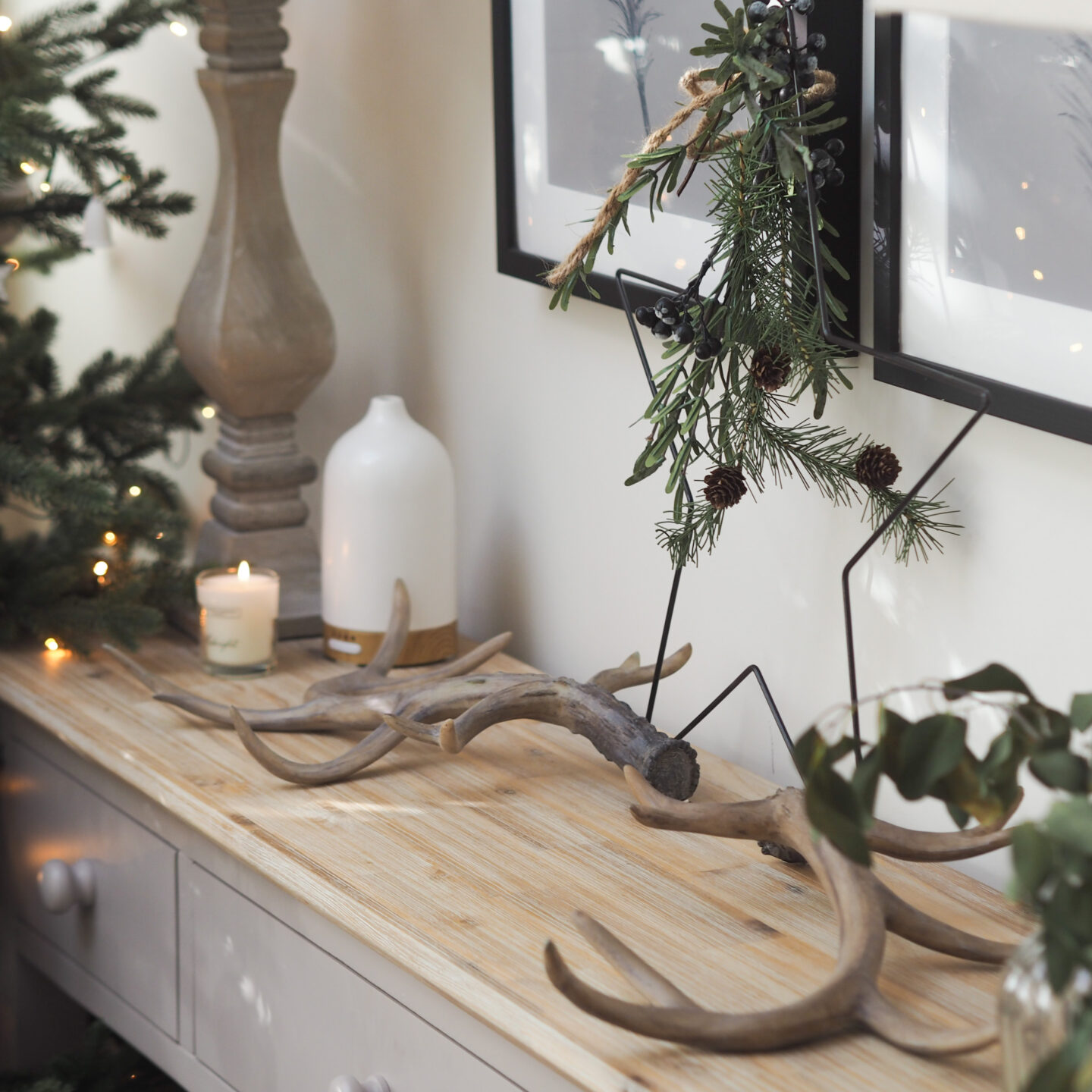 Over on the fireplace, I jazzed up an artificial garland with lots of foraged foliage & some dried hydrangeas. You'll see I have a few of the black candle sticks around the house including on the dining table.
Last year's Christmas table has been recreated including the beaded chargers (I am still OBSESSED, they are so beautiful!) & for the table centrepiece I've used some cheap artificial eucalyptus garlands from Ebay (similar to this) with 2x berry garlands & then added in some real foliage including euc for that all important smell. Again with the black candle sticks!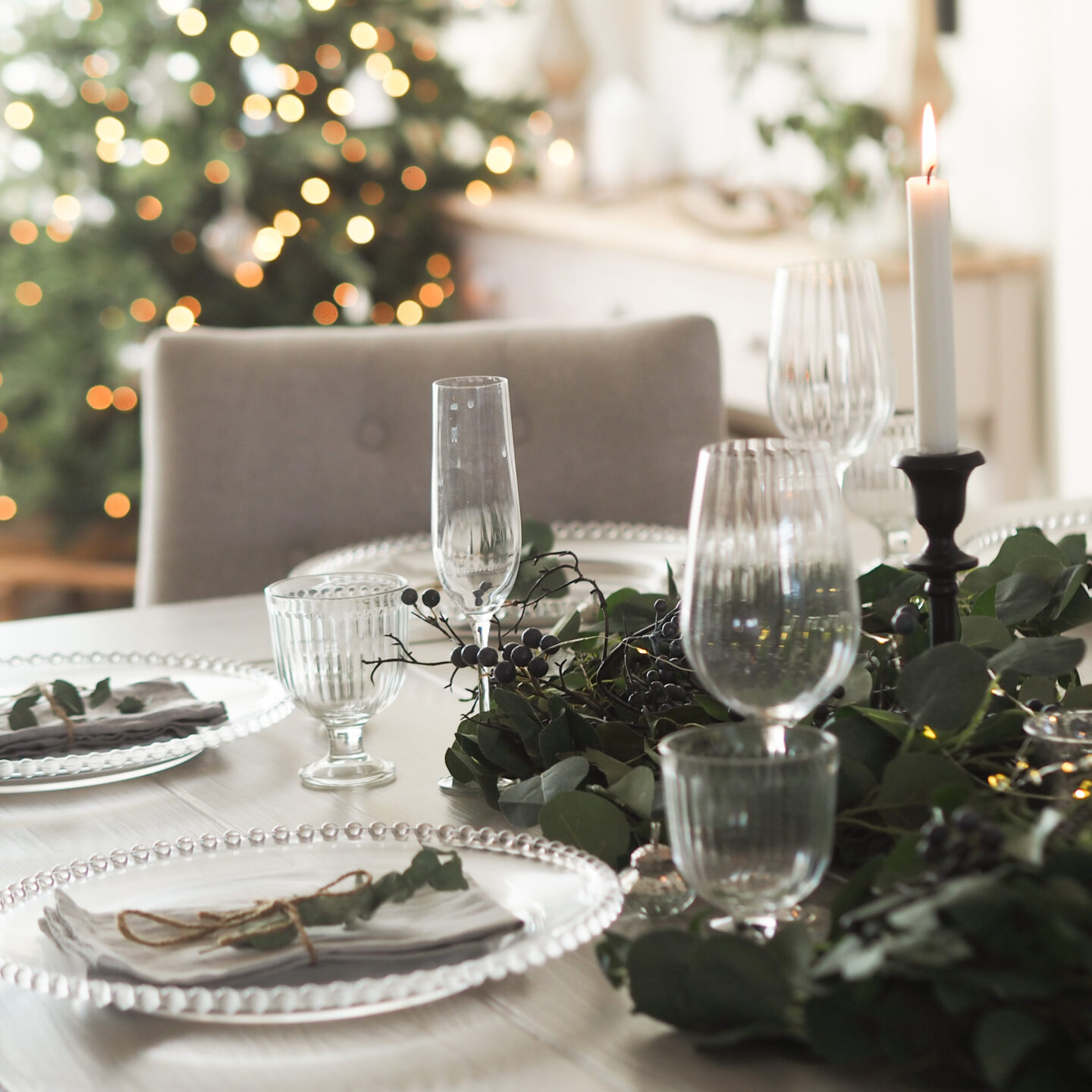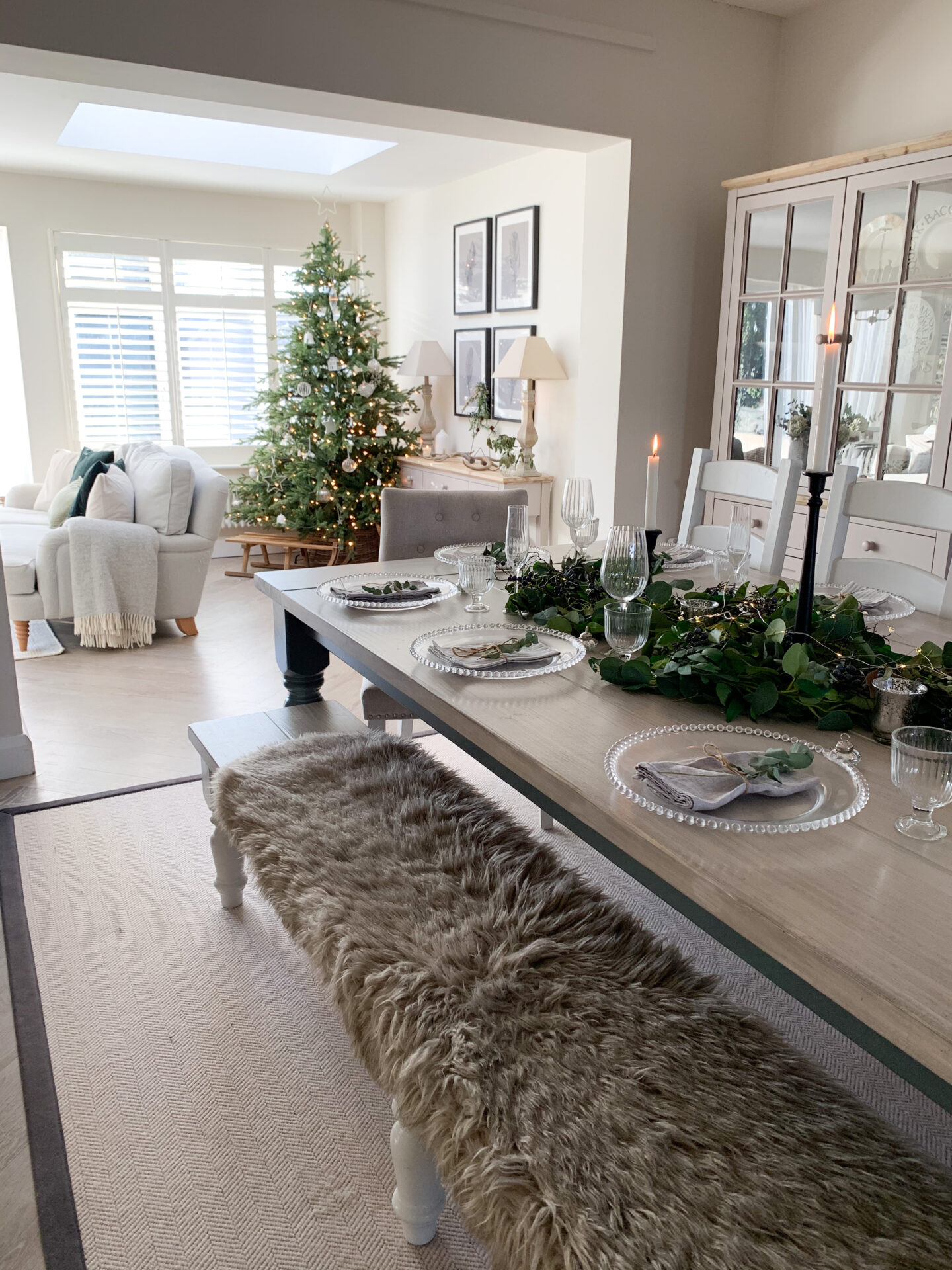 Now out in to the new look hallway which I haven't shown you all just yet! I promise I'll do a full blog post soon but for now, it's looking a bit too festive & I want to wait until it can be photographed how it'll look 11/12 months of the year with some before/after shots.
The new stairs (goodbye art deco spindles!) have been painted in a dark grey which really pops against the greenery of the garland. This is 2 joined together for length, again from The White Co but this particular design was from a few years back & now discontinued. I've popped some real foliage in with it too.
The front door has a wreath made by yours truly. Usually I host wreath making workshops at my home every year but unfortunately this year that obviously hasn't been able to happen so instead I got a kit from @mickys.flowers & did a spot of foraging out on my daily dog walks to make this beauty.
Finally, if you're looking for neutrals that I am known best for & bright colours offend you…you might want to look away now because upstairs the vibe kids are totally ruining my vibe.
The one thing this year has made crystal clear is that there is only one thing that matters in life…& that is the people we love. So if you're stuck on what to spoil them with, I've popped together a Christmas gift guide below filled with ideas to make someones day just that little bit more special, even if really all they'd want is a hug from you right now.
Hope you all enjoy a wonderful Christmas.
Love,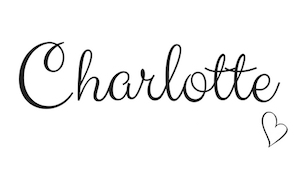 *This post contains some affiliate links