Christmas day is nearly upon us & every year I'm tasked with making the table look pretty…probably because I can't be trusted with the turkey & unless you like soggy sprouts, it's probably best to give someone else that job.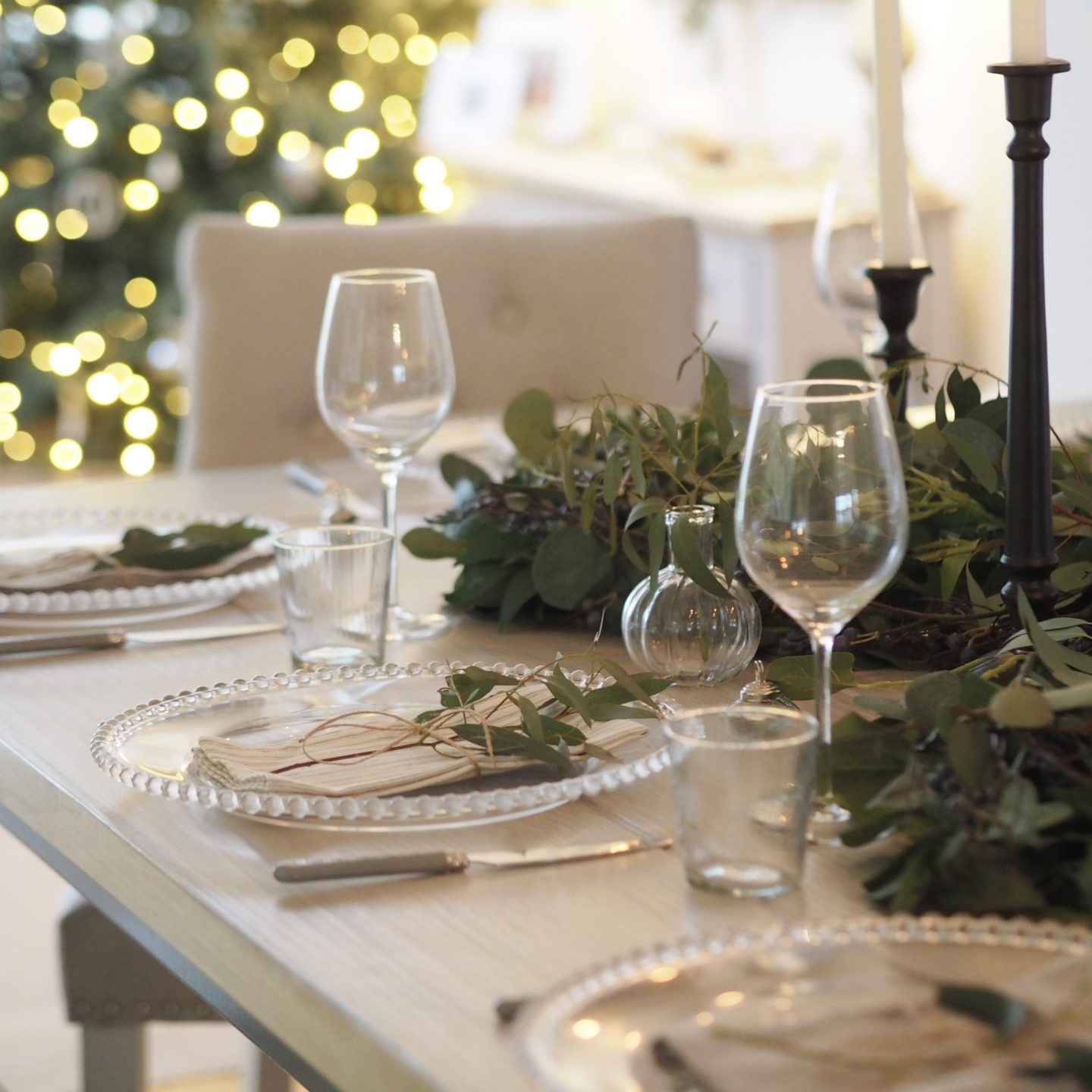 This year, for the first time, we're having a fairly quiet one & with my best friend due any day now, we decided to just do something laid back with the four of us plus the three (I'm hoping four…newborn snuggles would be amazing!) kids. I've ordered all the food from M&S, pre-prepared & ready to shove in the oven rather than slaving away so I can drink prosecco & not have to stress.
Not one to do things by halves though, I still wanted a beautiful table & love making it look pretty with lots of foliage & candles. Hopefully it'll disguise from the food if it doesn't go to plan (& I end up forgetting to check on the roast potatoes from drinking too much prosecco….).
Introducing, the new love of my life…..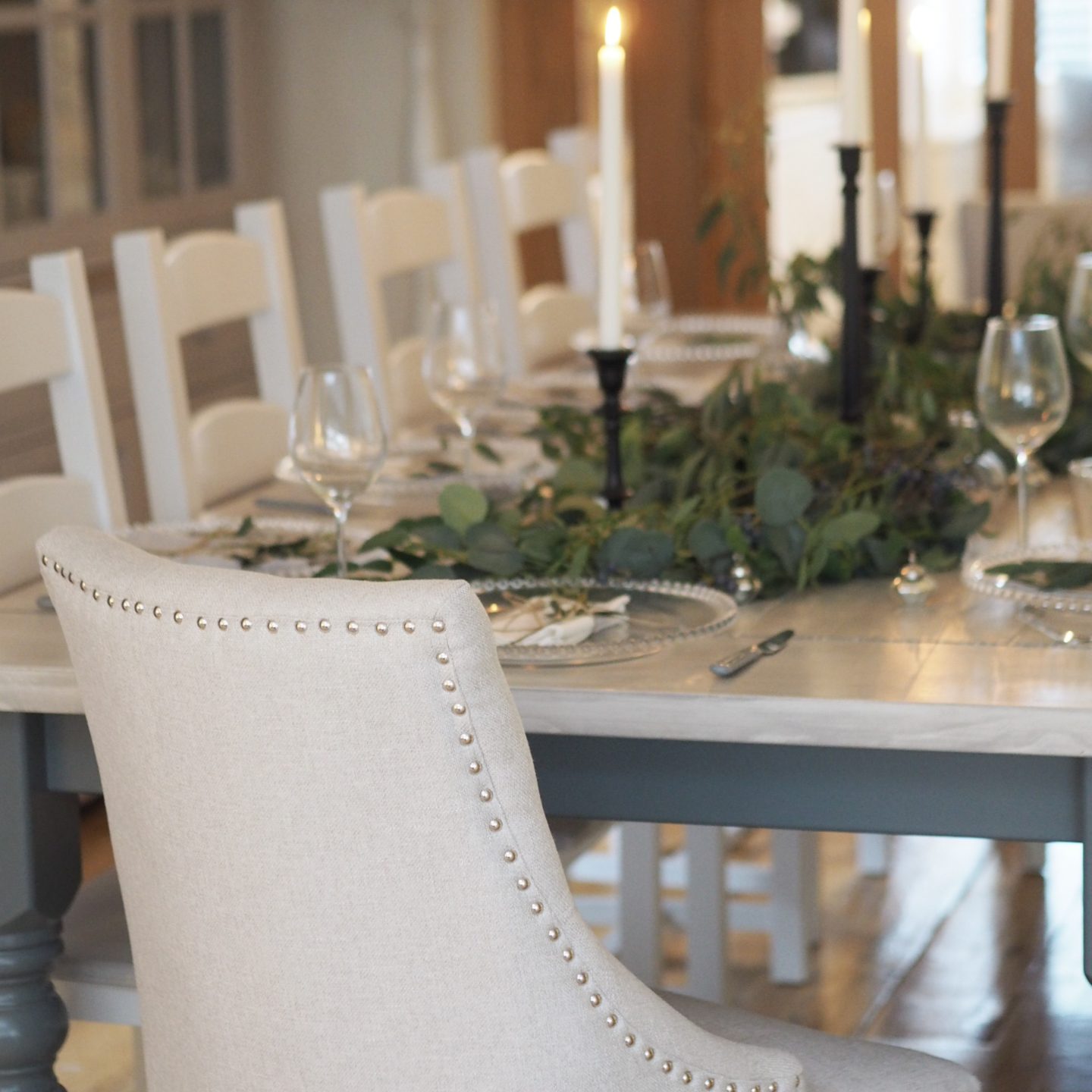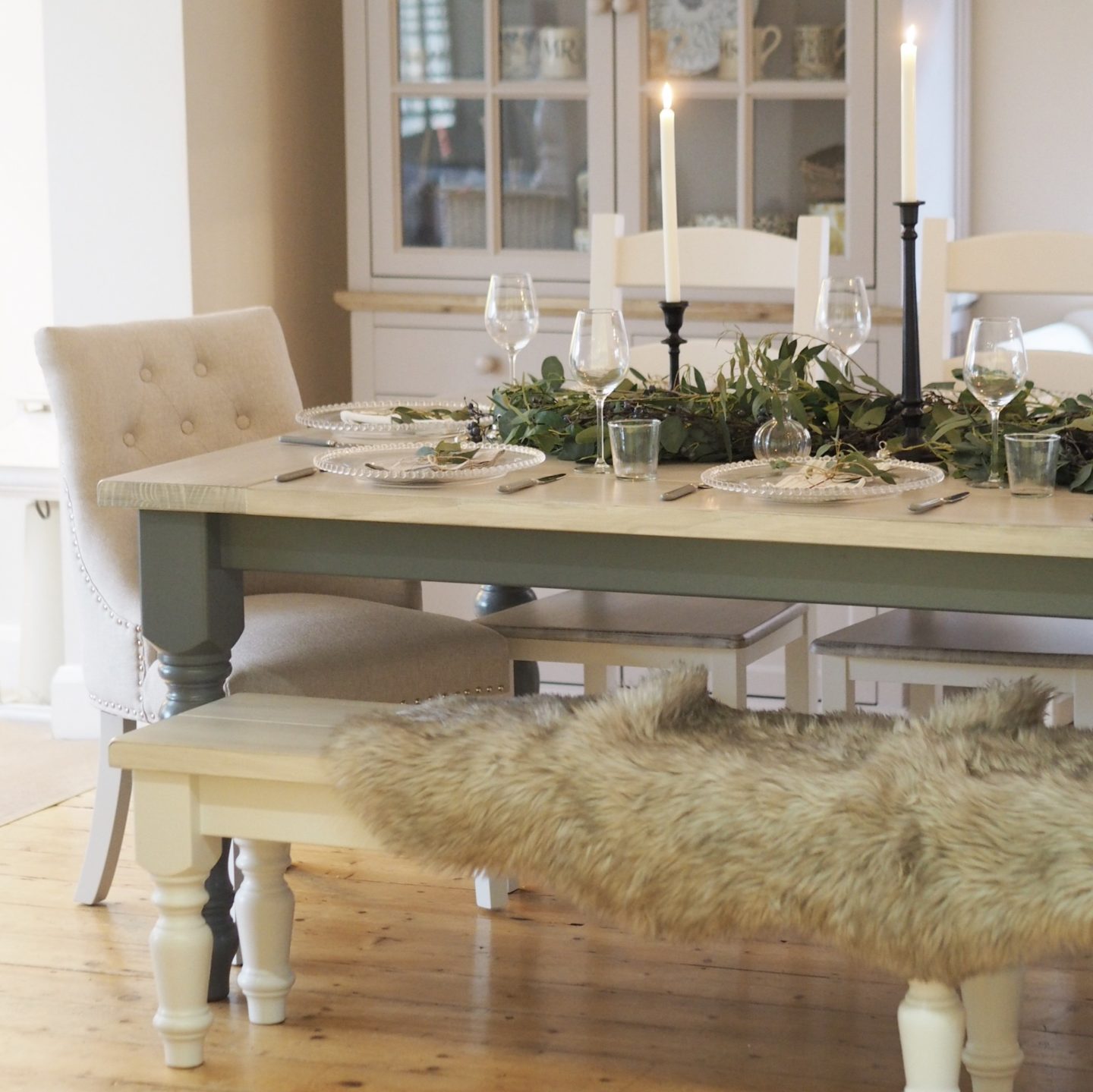 I've been thinking of upgrading our table & chairs for a while now & have been lusting over the idea of having a bench along one side for more open & informal dining. We often have lots of friends/family round so although our old table was a bit of a beast, I decided the room could definitely take even bigger & this beauty is 9ft long & made by the wonderful Farmhouse Furniture.
I went for 4x ladder back chairs in F&B Ammonite along the back, 2x statement upholstered chairs at either end & then a long bench across the front. The table legs are painted in F&B downpipe….I'm slowly introducing some subtle darker (but still very much neutral) tones in to the house & although I'll never be one for the #darkside, I love the look & the contract against the lighter shades.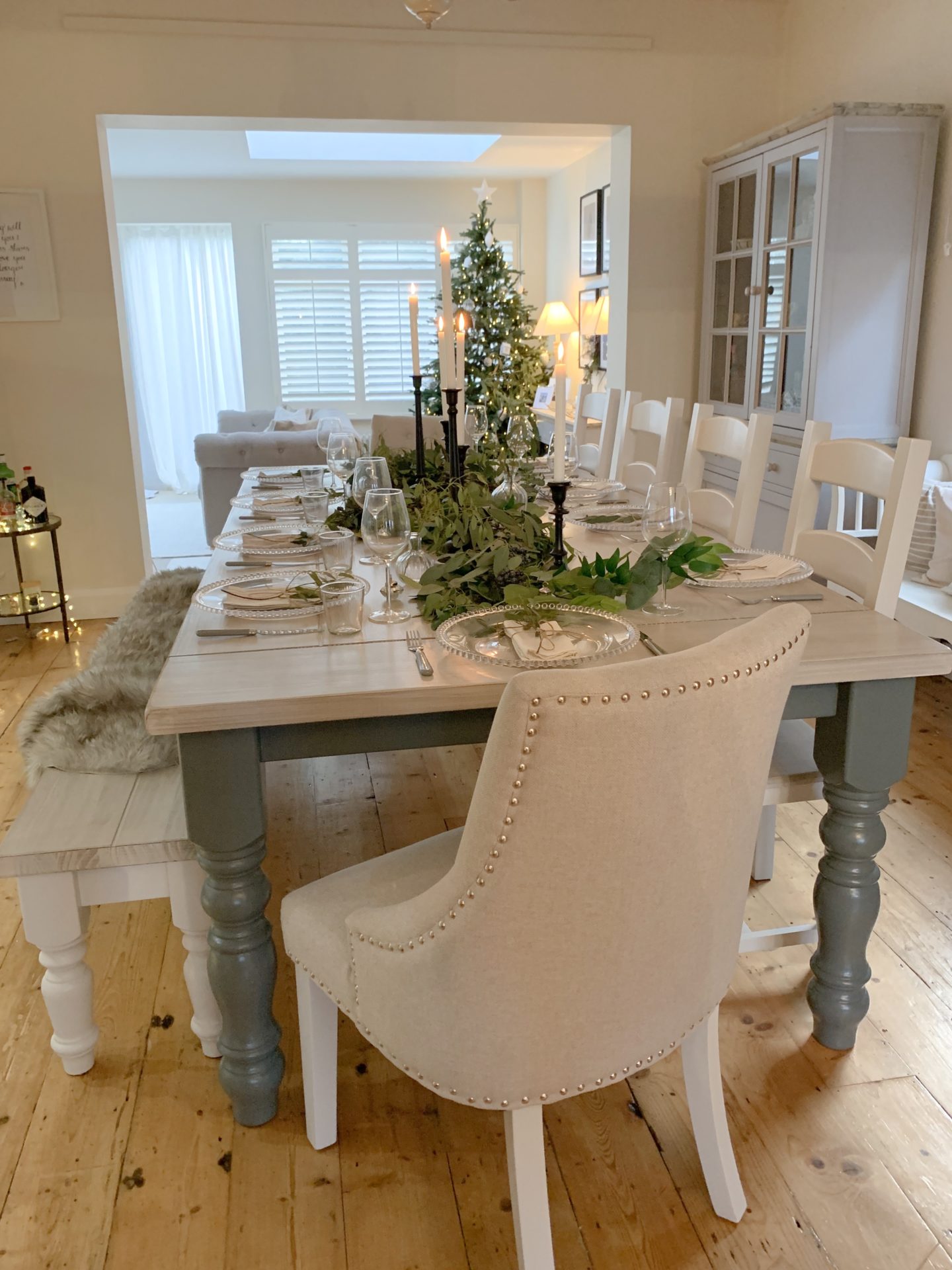 Now on to dressing the table. I started by using some eucalyptus garlands which were a bargain from Ebay, they were doing an offer of buy 3 get 1 free so I ended up with 4 of them. I also bought 2x berry garlands from Annie Mo's which are placed in-between the eucalyptus (think these are now sold out as I can't find them on the website!). I popped in a few bits of real euc stolen from my mums garden too!
Inbetween the foliage I placed these black candlesticks from The White Company (part of a previous paid promotion but this is not an AD). This was both the tall & short to add height. I also used these little mercury glass bauble name holders (although I haven't actually done any name tags this year!) from TWC a few years back.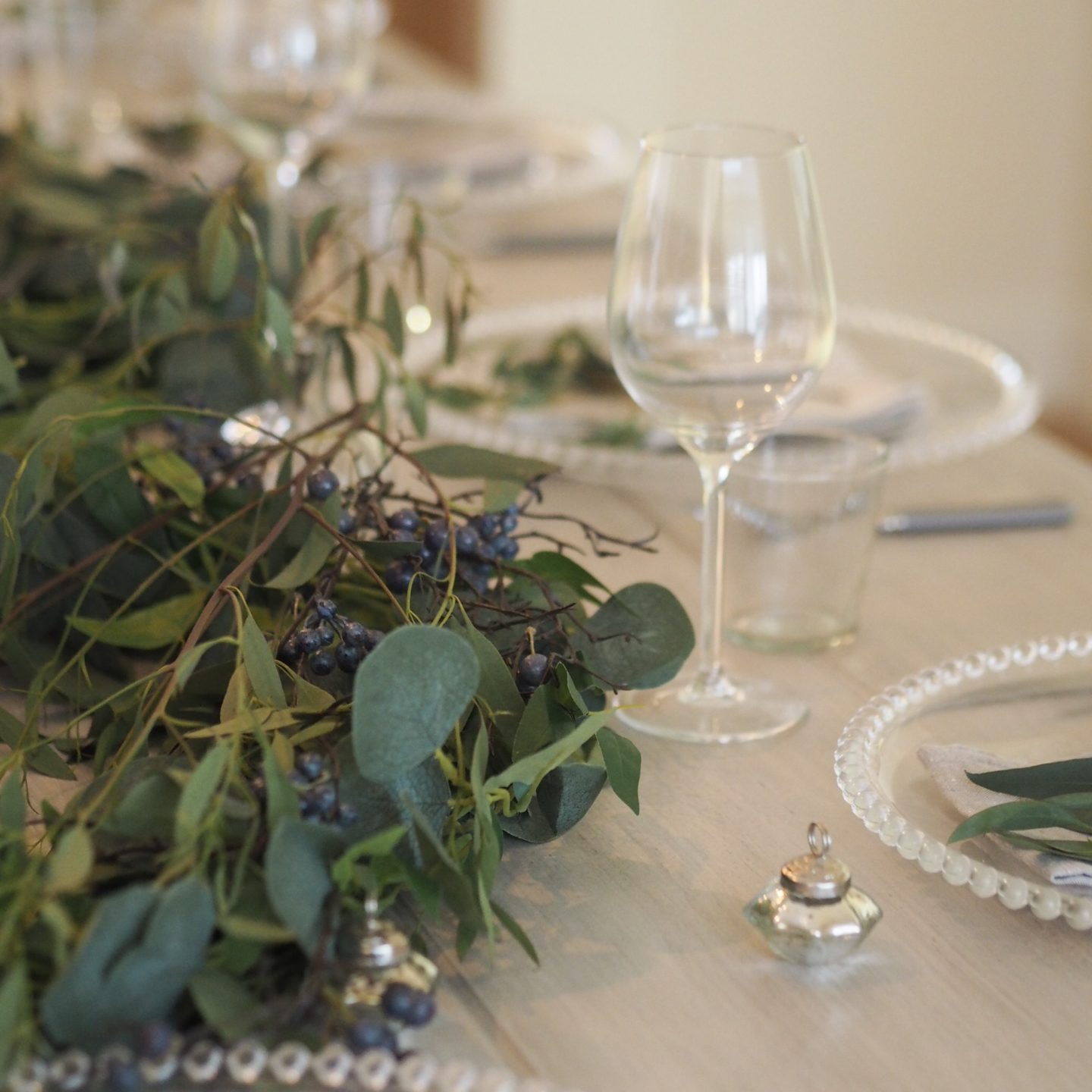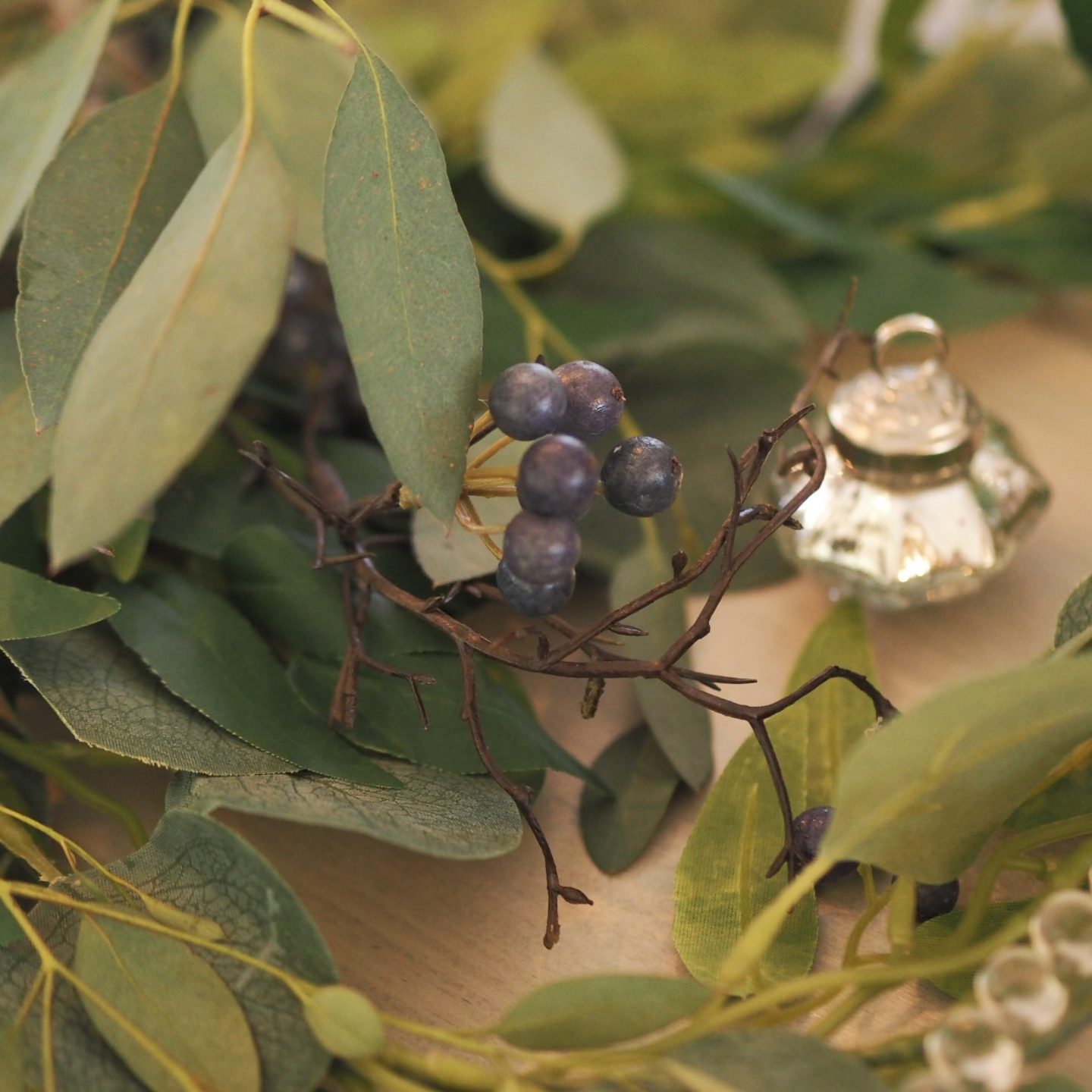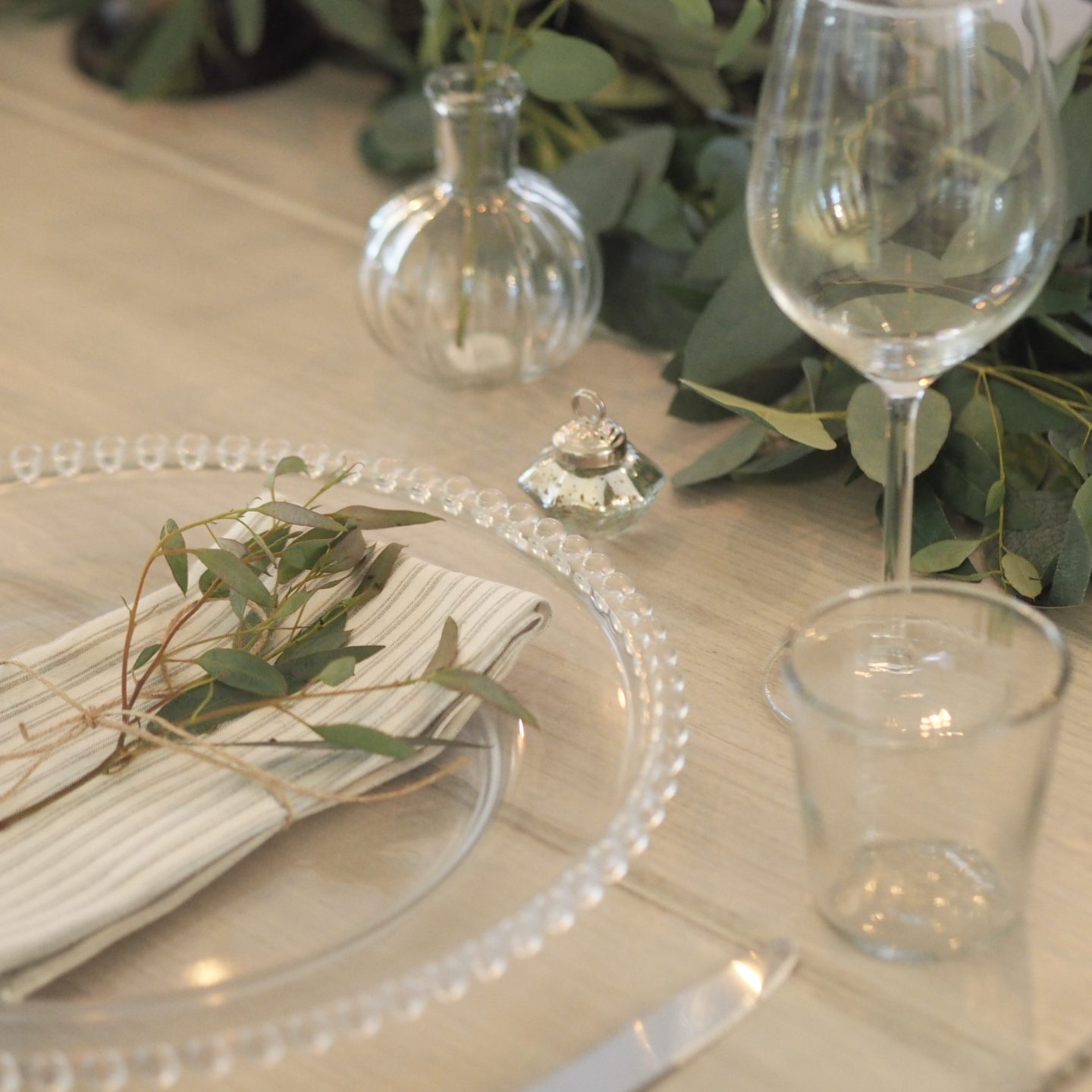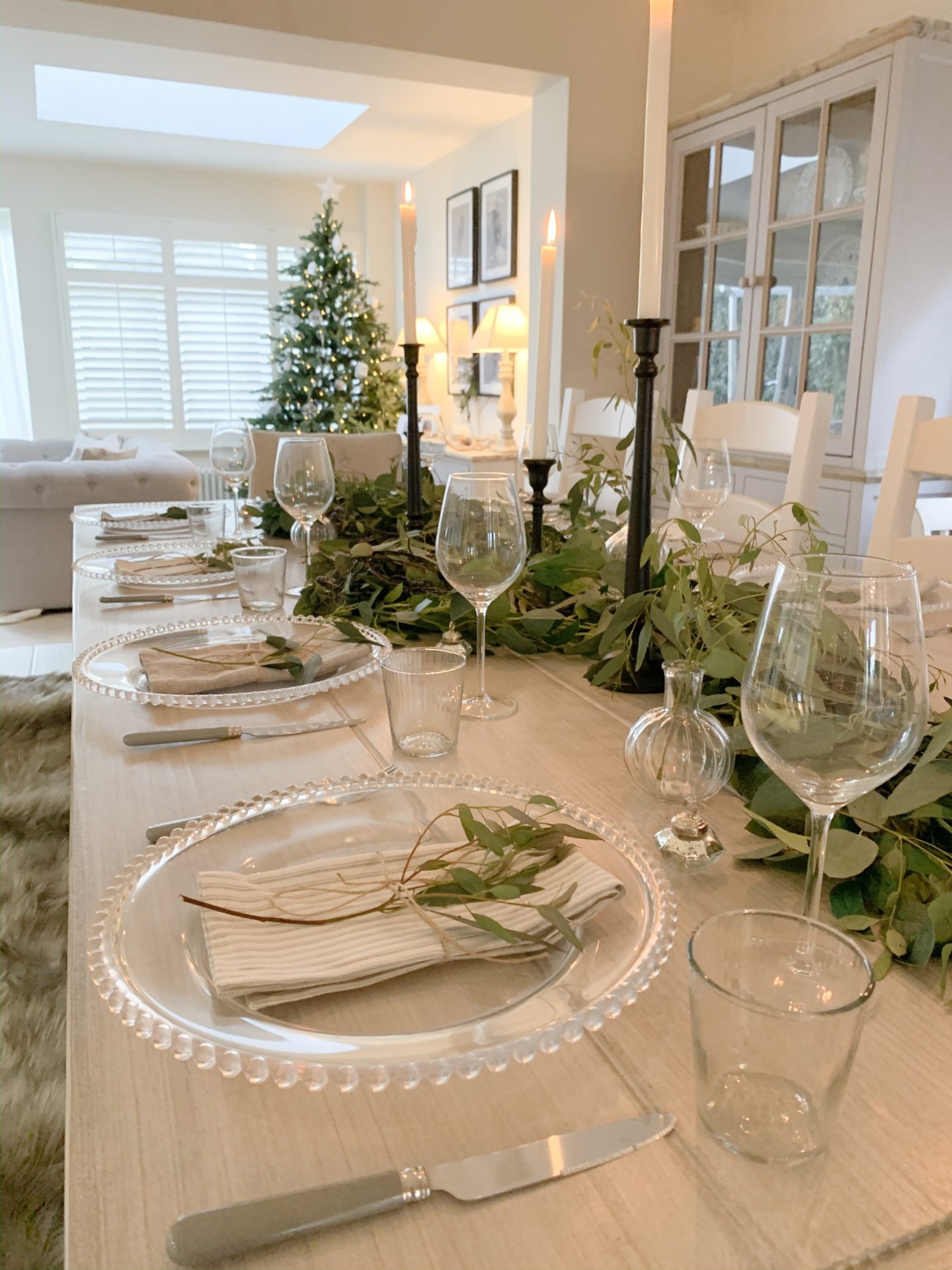 Although it's only 7 of us this year, I decided to set the whole table properly & make use of my amazing new glass beaded charger plates which I honestly couldn't be more obsessed with. These were from Charlested Interiors & are so subtle but super stylish #gifted.
On top I've placed a simple white napkin (these were from The White Company last year…) tied with twine & some sprigs of euc placed on top.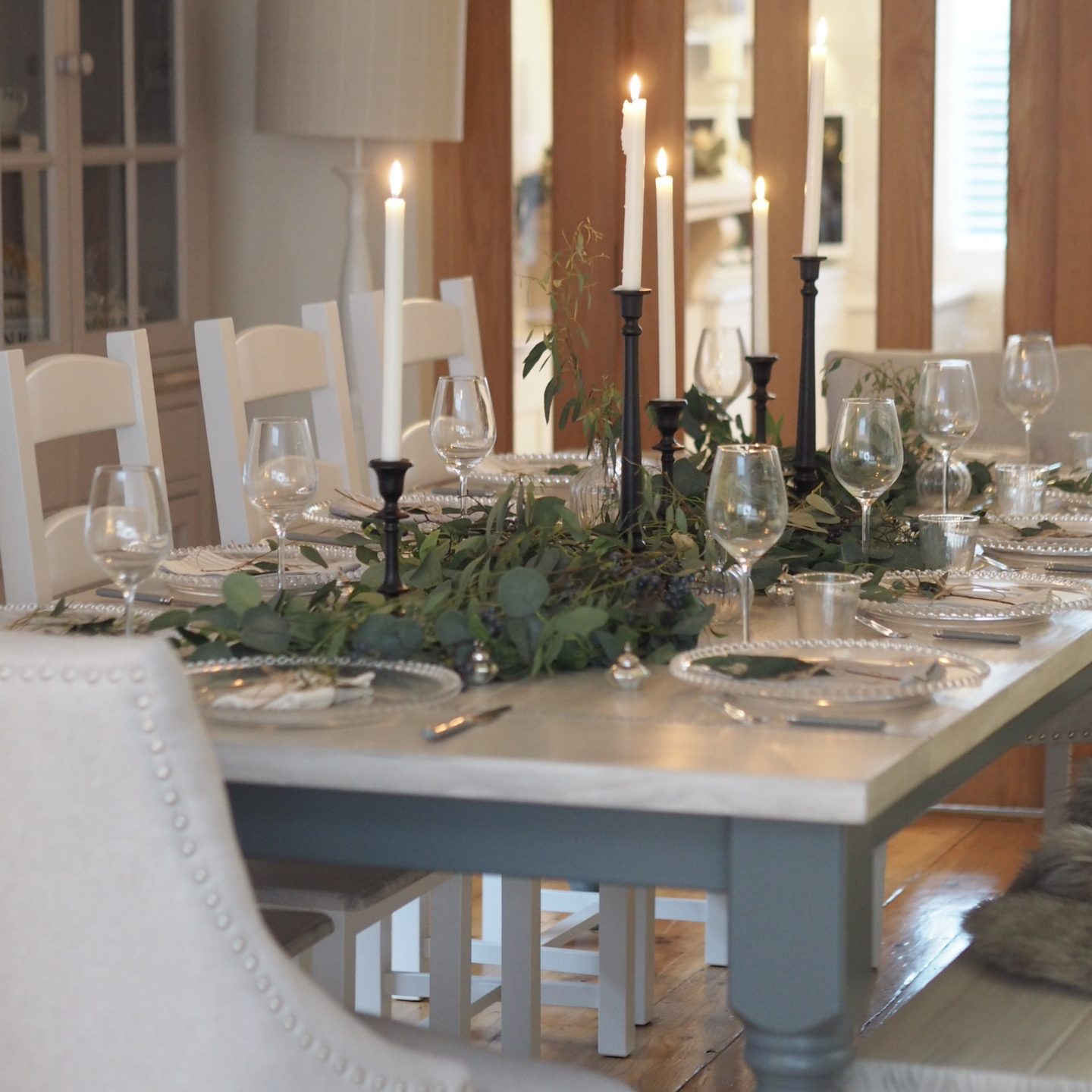 All that's missing is a rug, but due to the size of the table our old one at 200x300cm wasn't big enough so I'm on the hunt for a super huge one to go underneath. To add a bit more texture & detract from the missing rug situation I laid a furry sheepskin from Homesense over the bench.
Over in the corner I used the little side table Joe got me for my birthday last week as a gin station & used little star fairy lights to add a bit of Christmas.
Now we're all set up & excitement is building within Baylyn House ready for Tuesday. I wanted to wish you all a very Merry Christmas & will be back in the New Year to no doubt be setting some resolutions & making some changes along the way.
Love,