In 2 weeks time we will have lived in Baylyn House for 5 years & we've done so much in that time. I was 8 months pregnant with Rory & pretty much the first thing we did was get the kitchen painted as I knew I wouldn't have time with a newborn & a not even 2 year old running around so it was a bit of a rushed decision & we were on a very tight budget. It was painted in F&B 'Stony Ground' by NV Kitchens & despite a few little touch ups over the years lasted so beautifully.
You can see lots of before pictures here but this gives you an idea!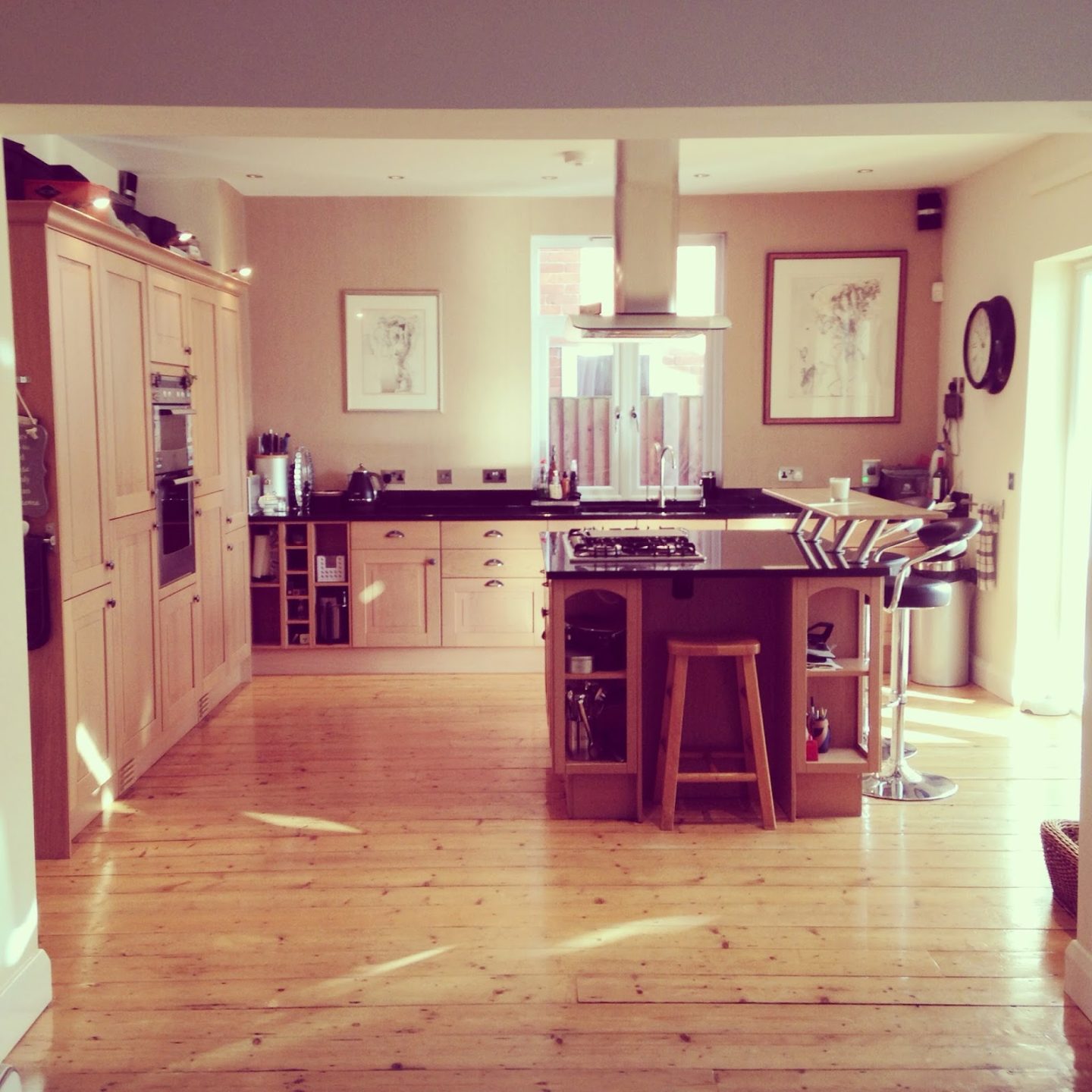 Last week it looked like this.
5 years later, we decided having not touched it in all that time to give it a bit of a revamp & invest a bit more money to turn it in to something we love rather than just a quick fix. The cabinets & doors were in great condition & being solid wood it seemed such a shame to rip it all out so instead of going for a completely new kitchen I spent time looking on Pinterest & Instagram for kitchen inspiration & decided to revamp it.
The main things were repainting, new handles, new worktop & my absolute dream, a traditional butler sink.
Work started about 10 days ago so it was a super speedy turnaround & wasn't too disruptive apart from not having a working sink/tap (washing up in the bath is not fun, let me tell you…).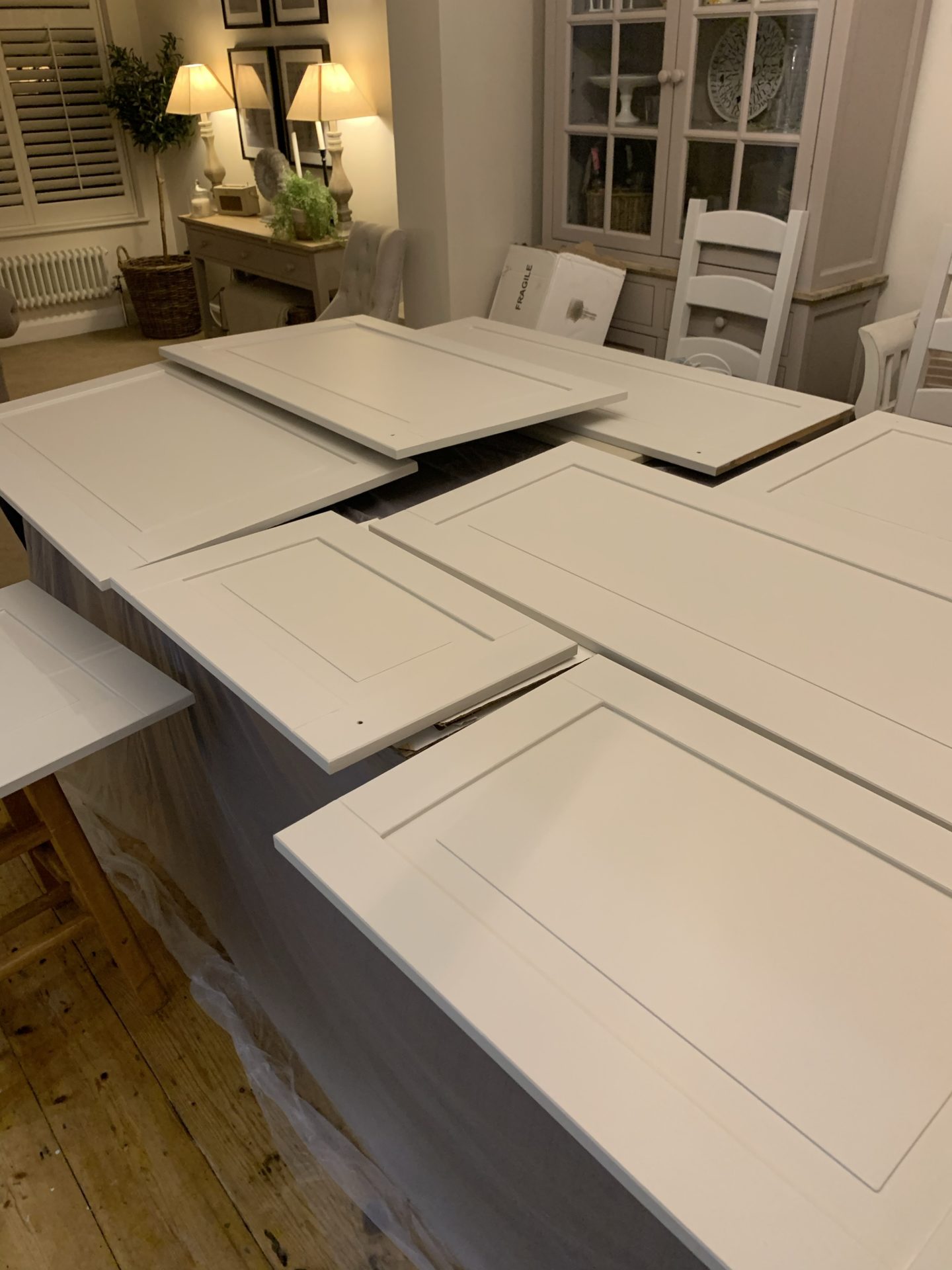 Firstly everything was cleaned thoroughly with degreaser & then the doors were taken off & painted in sections, starting with the tall back units, then the island, then finally the long side.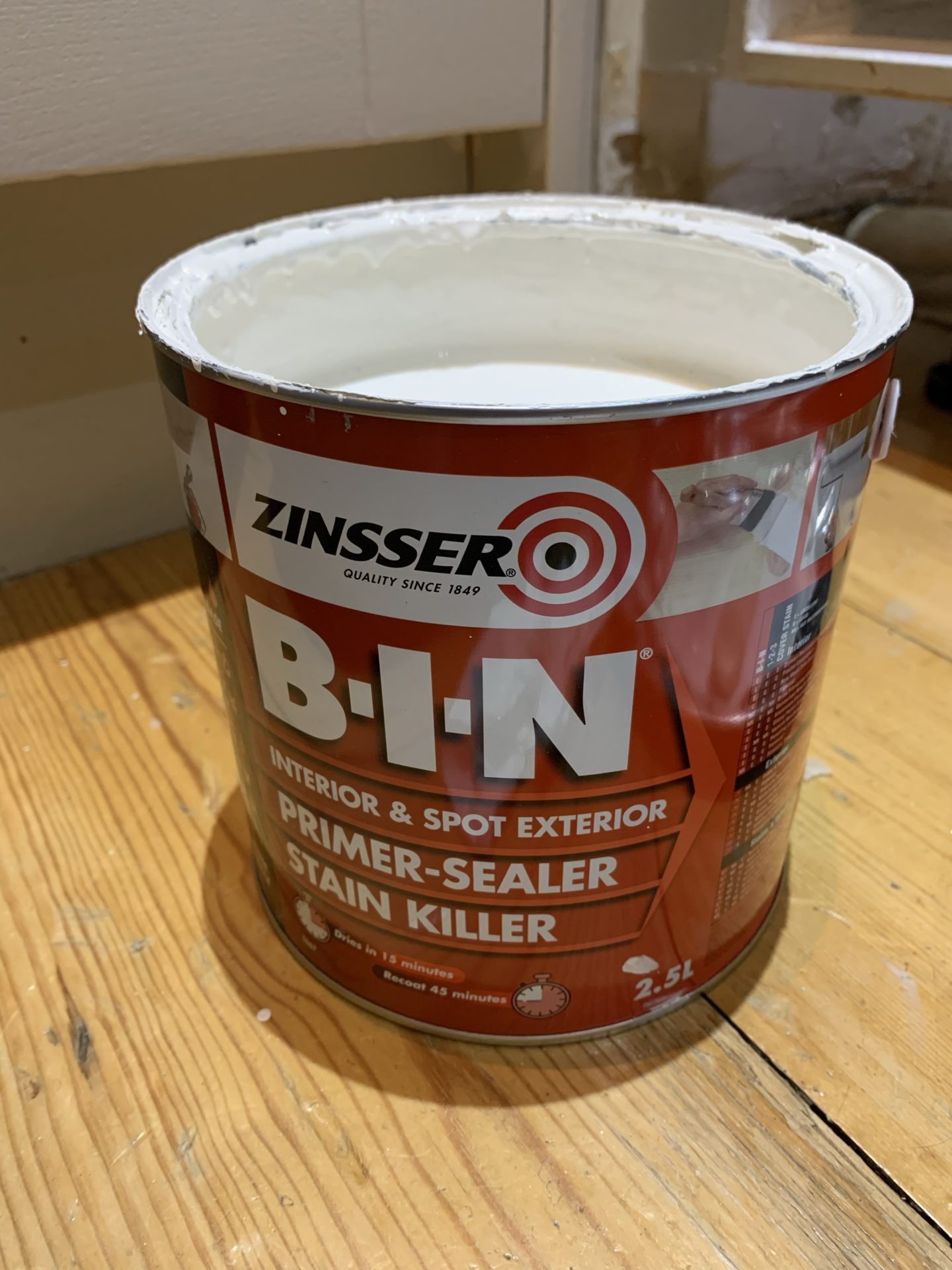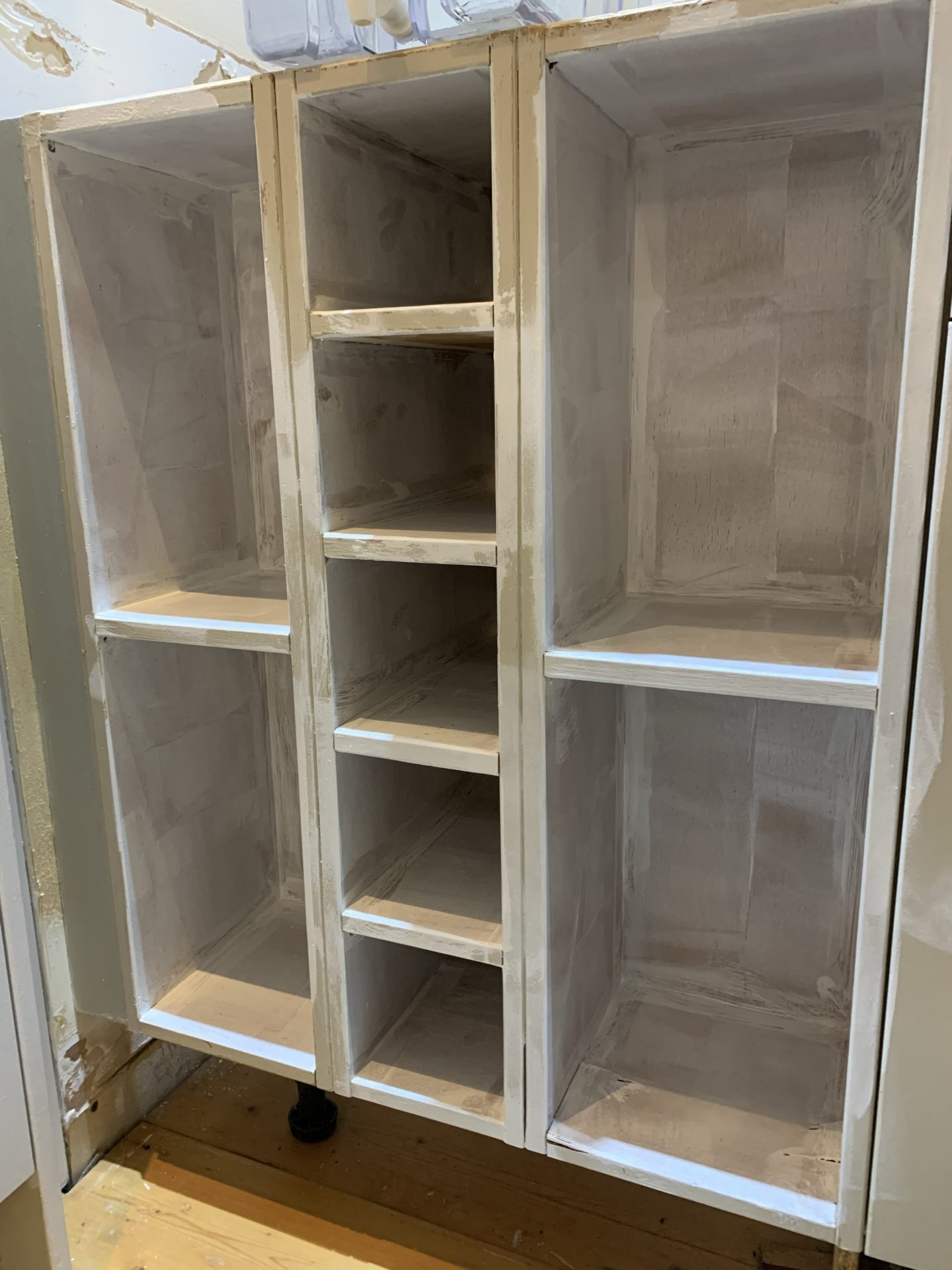 As they'd been painted previously, we roughly sanded to 'key' the surface then used Zinsser Allcoat in Matt from Decorating Centre Online* #gifted. This was colour matched to F&B 'Ammonite' so a very pale grey for the main & then F&B 'Downpipe' which is a very dark grey/black/blue . They actually do kitchen painting bundle which include a degreaser spray, primer & then the Allcoat paint.
The process –
Remove doors & all handles/hinges etc
Clean everything thoroughly with degreaser
Sand back lightly to create a surface for paint to stick
Clean again using warm soapy water
Use BIN primer on anything that hasn't previously been painted which acts as a stain block & also helps paint to stick
Use a small foam roller to do your first coat of Allcoat, making sure to get in all corners & avoiding overloading the brush to stop any drips
Once fully dry, feel with your hand for any imperfections & then sand slightly if needed
Repeat coats until you have the desired coverage (2 or 3 usually)
Refit handles & attach back on to cupboards
Allow 7 days to cure & harden fully, be careful until then & avoid placing anything on them or too much touching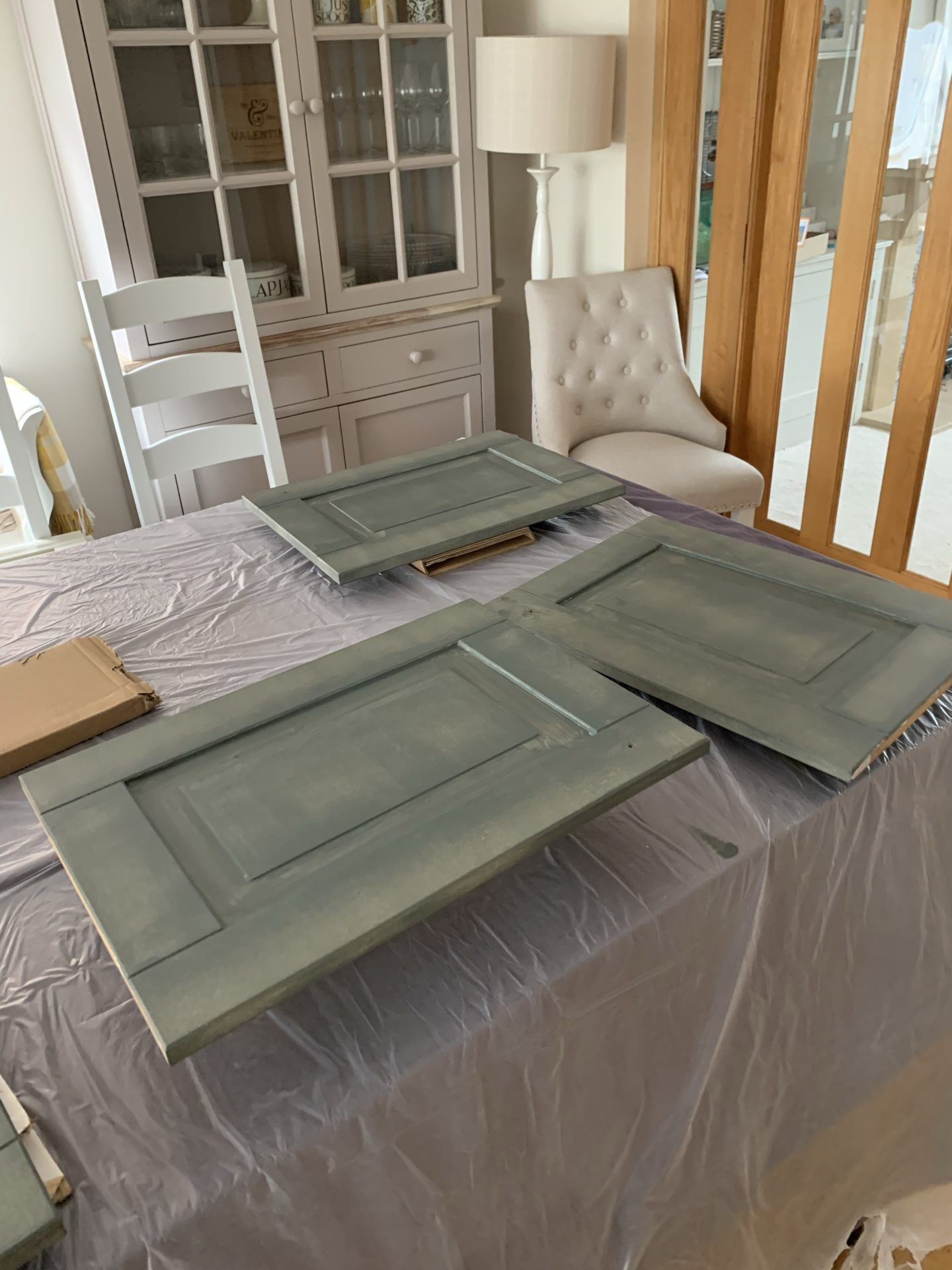 Any sections that hadn't previously been painted (the little sections on the corners of the island & the wine racks) we primed using Zinsser BIN to stop any of the original orange wood from grinning through. This took two coats.
My mum is the absolute queen of all things painting & cutting in so I roped her in to help & she's done an amazing job!
The most important thing when painting is to take your time, use a good quality specialist roller & in-between coats sand any imperfections. It needed 2 coats of Ammonite to cover & we did 3 coats of the darker Downpipe. I still need to do some touching up now the worktops on but all in all I'm so pleased with the finish.
Changing the handles has made a massive difference too & all in all cost under £50 which I think is amazing. They are Fingertip design Oxford knob & the matching cup handles, both from More Handles.
The worktop was changed from the black granite to Carrara Quartz from Portman Stone. This instantly brightened up the kitchen & I absolutely love the subtle marble effect (but this is a much more user friendly surface & I'd never recommend proper marble for kitchens!).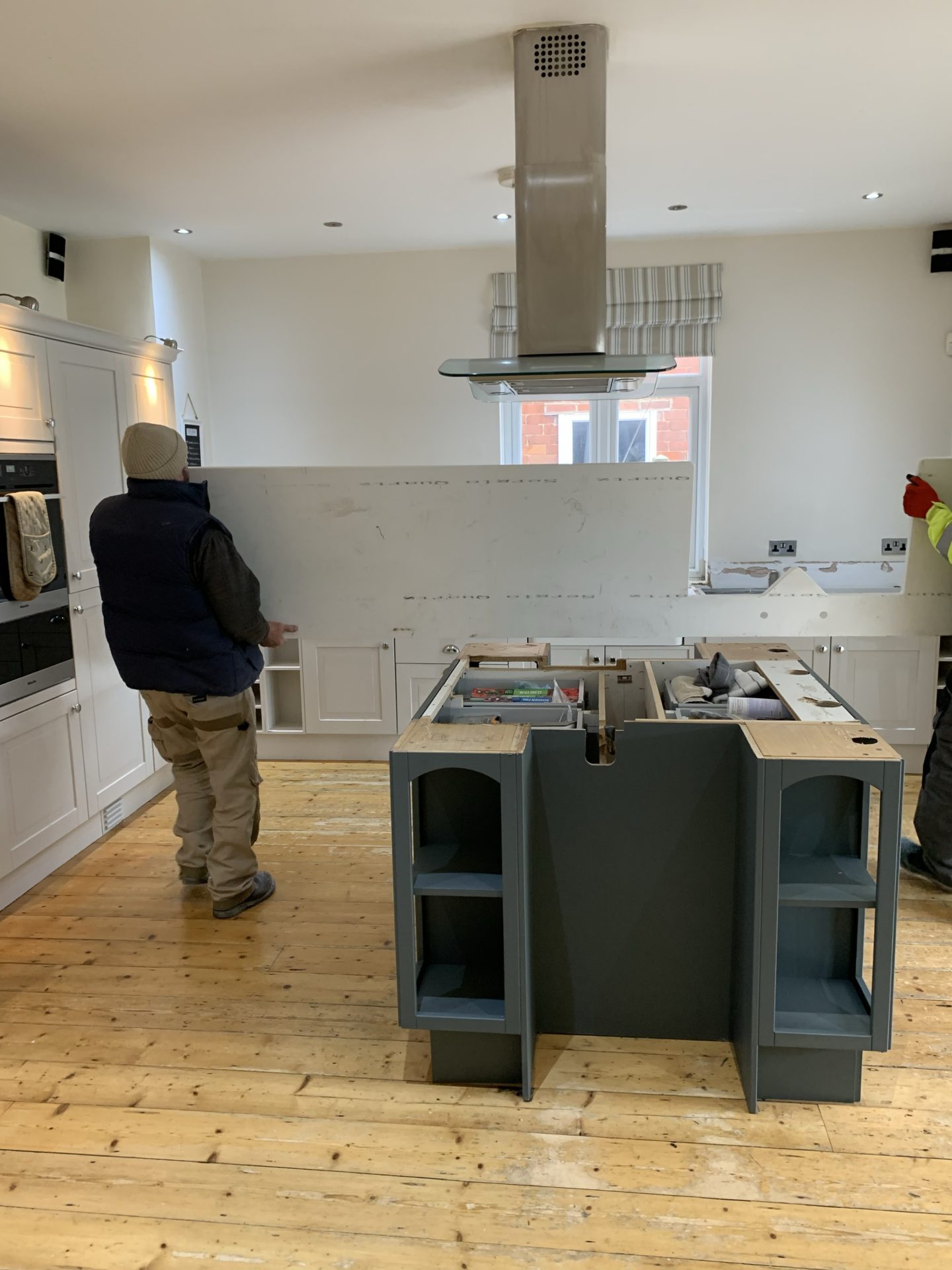 Changing the worktop was by far the biggest expense, but as we wanted to get rid of the 'aeroplane wing' (which I've never been a big fan of but didn't want 4 big holes in my worktop!) & also wanted to change the sink to a ceramic butler sink & centralise it to the window the existing granite had to go.
Anyone who knows me will know how I have always wanted a butler sink. I absolutely love them & with a bit of work on the existing cabinet from my fantastic stepdad, we managed to alter it to support the weight & then cut the doors down. This was the biggest hurdle to overcome & I wasn't sure if it would be possible but isn't she a beauty?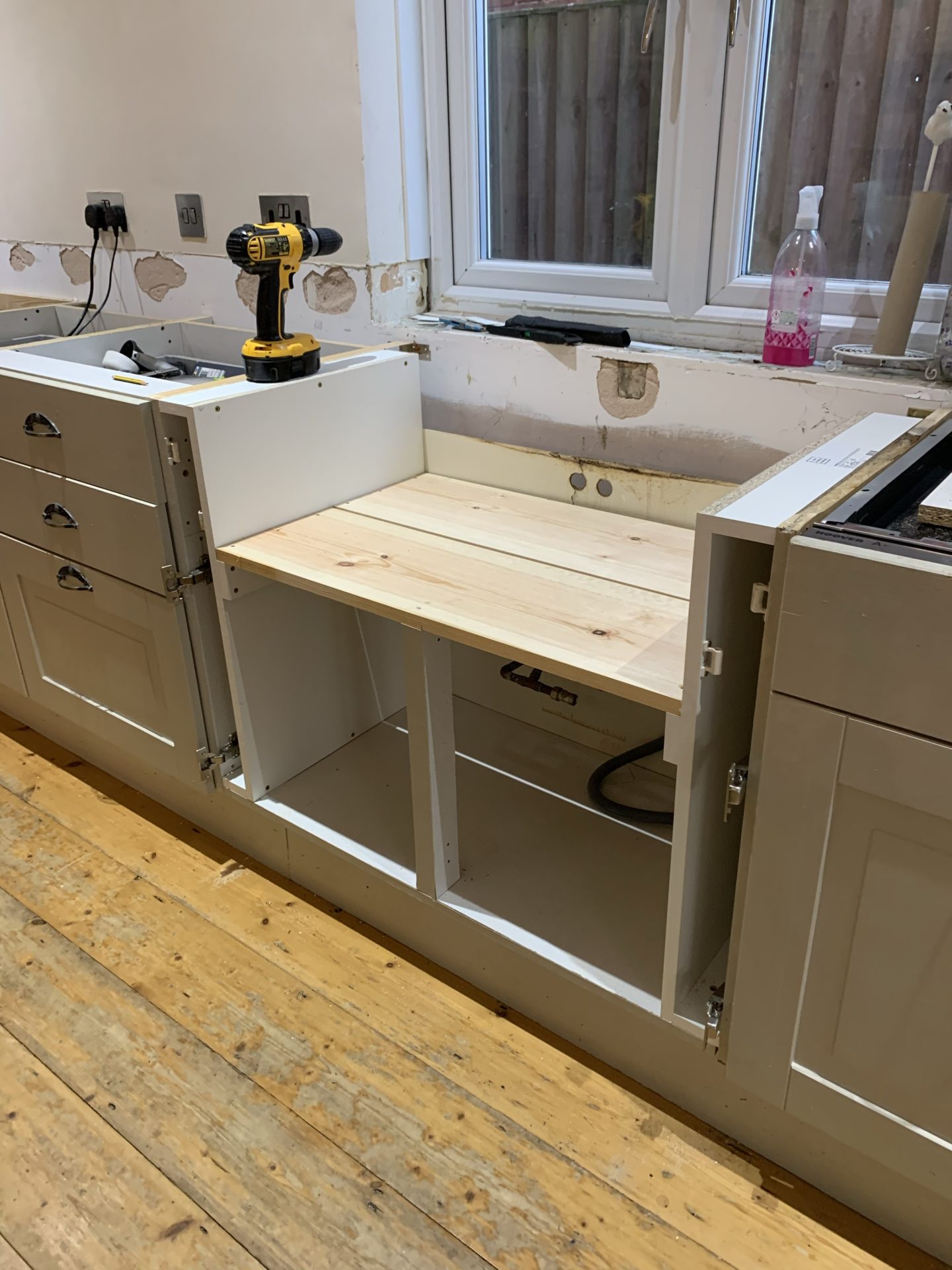 The sink is a Rangemaster double 2 bowl belfast & is absolutely beautiful. I'd always advise going for a two bowl as in our old house we had a single sink & it was a nightmare with stuff to wash up & then trying to drain things at the same time in the middle of cooking. The tap is a Crosswater Cecina Belgravia level dual mixer to add to the traditional look, both the sink & tap were from Tap Warehouse* #gifted. I honestly can't stop staring at them…now my dream of having a belfast sink is complete I can die happy.
Finally, I gave the old bar stools a bit of a lick of paint & a sand down as they looked too orangey. I painted in the Ammonite & then sanded the top right back but still need to wax this & plan to use liming wax for a white wash finish.
Here is the finished look!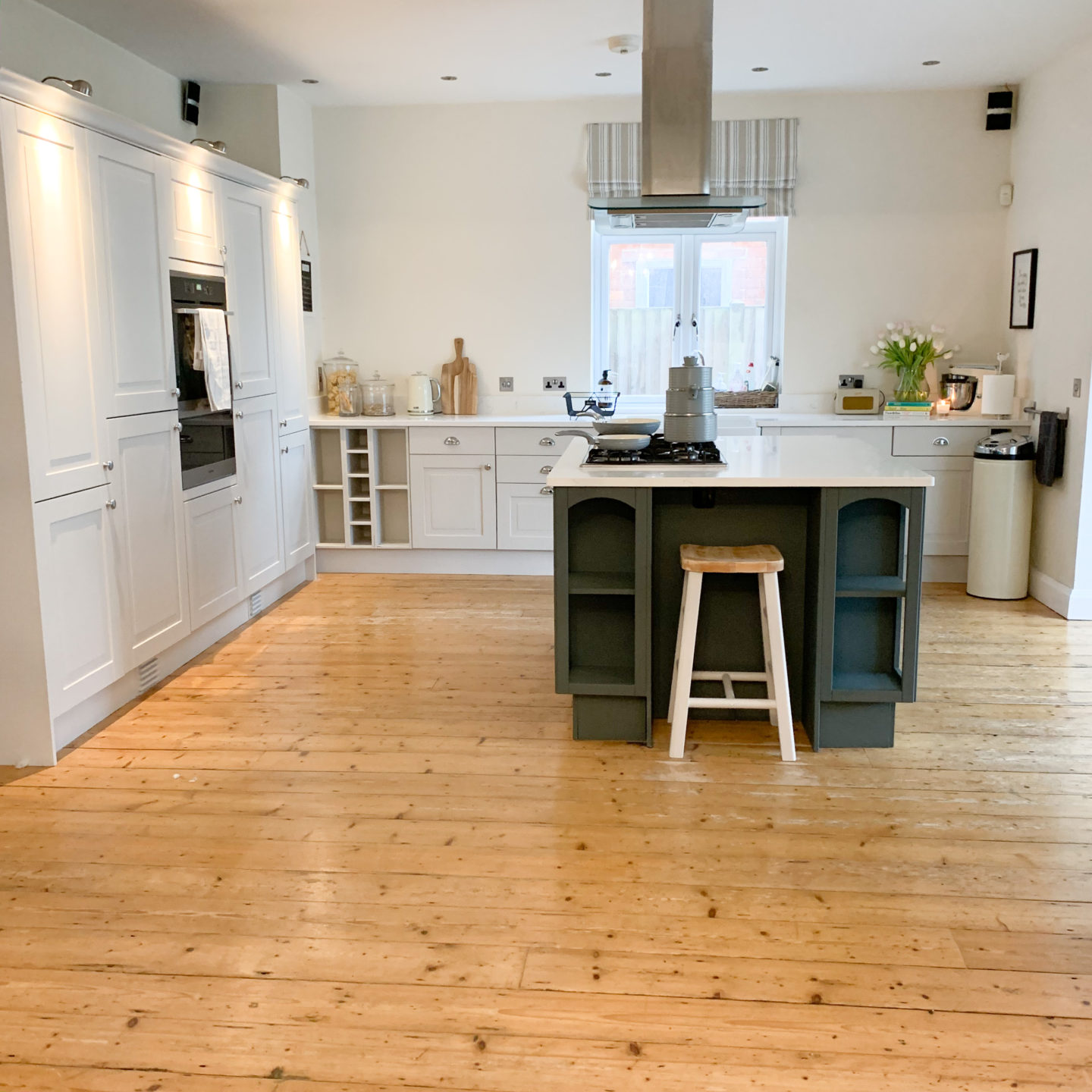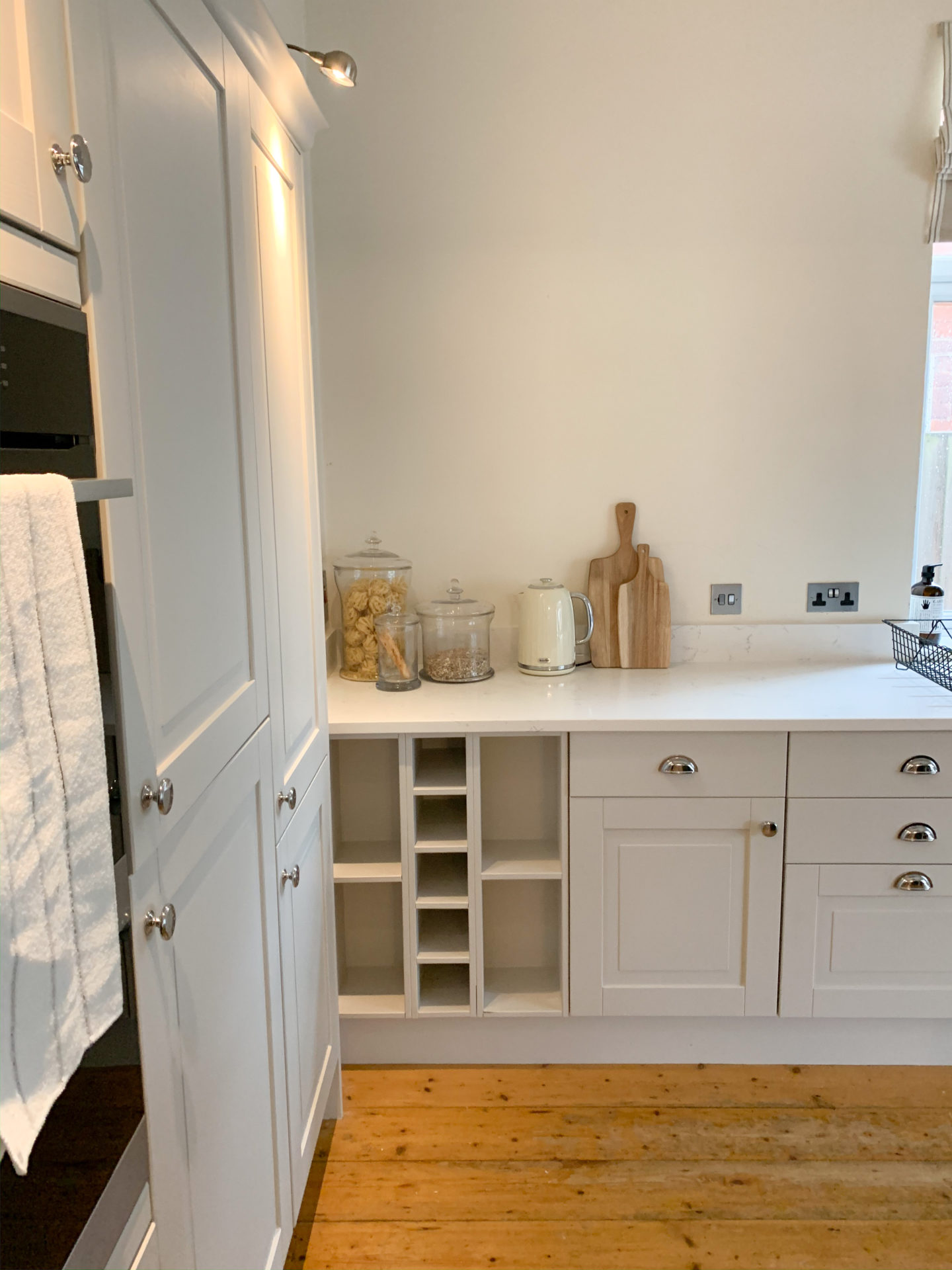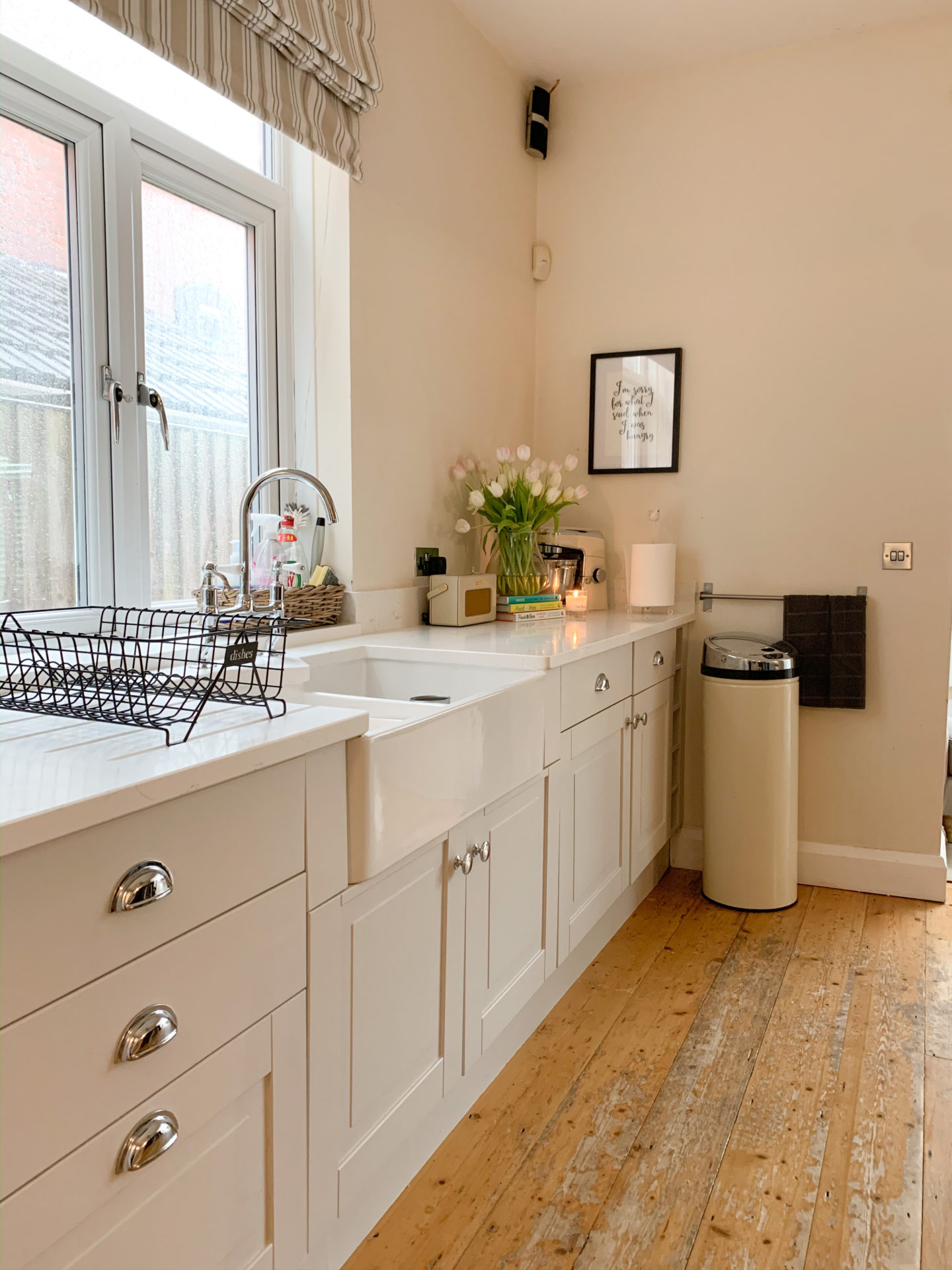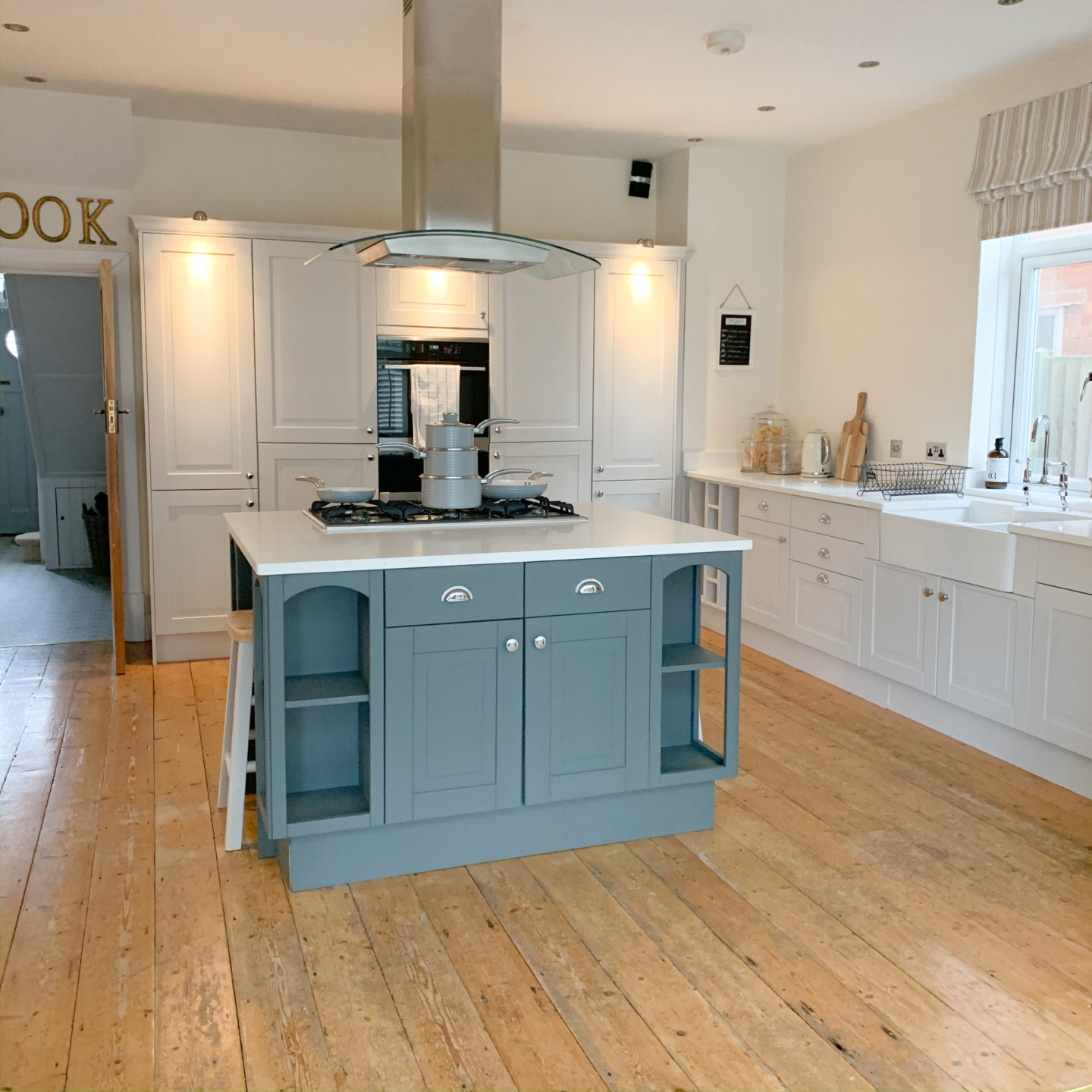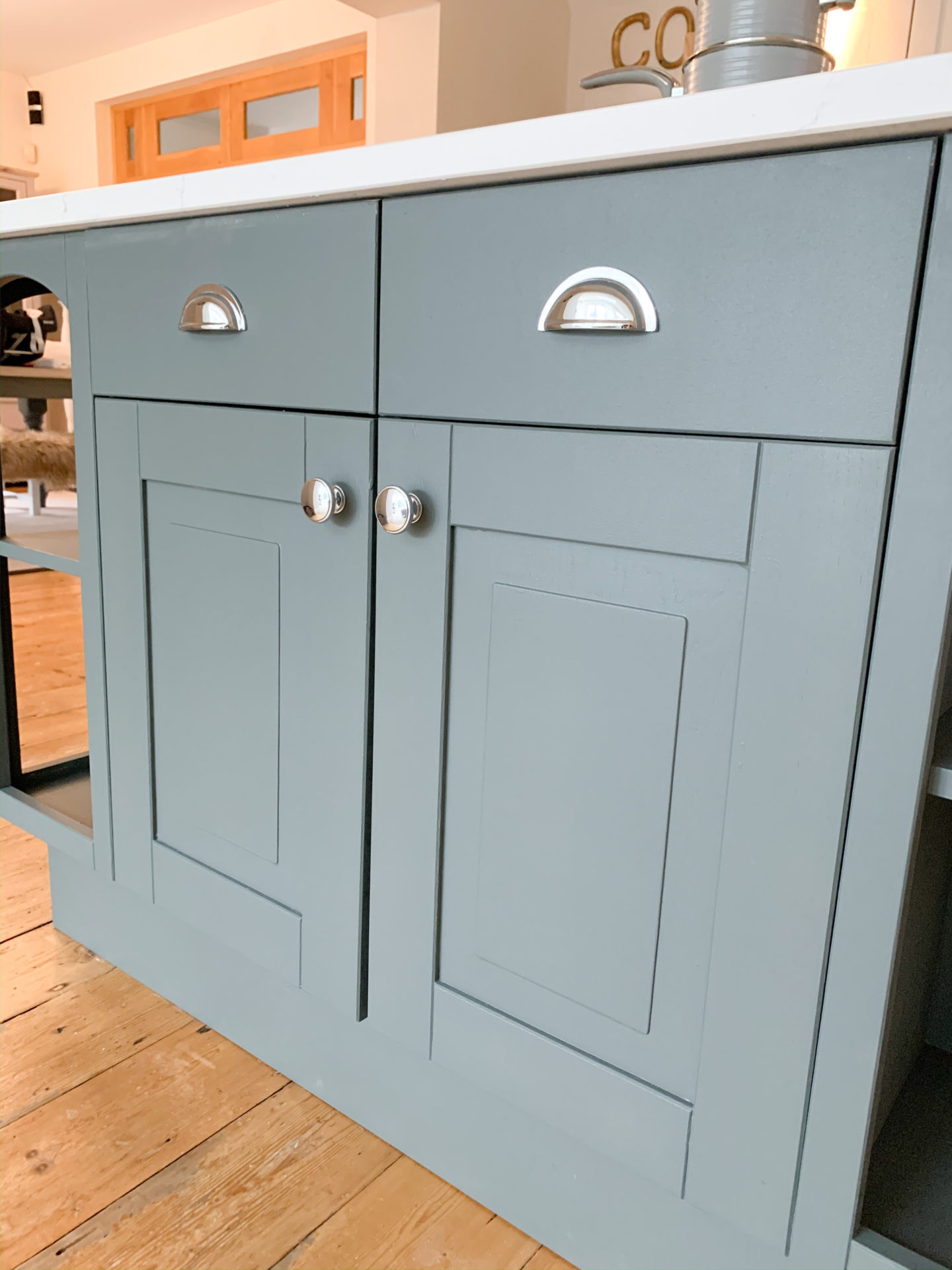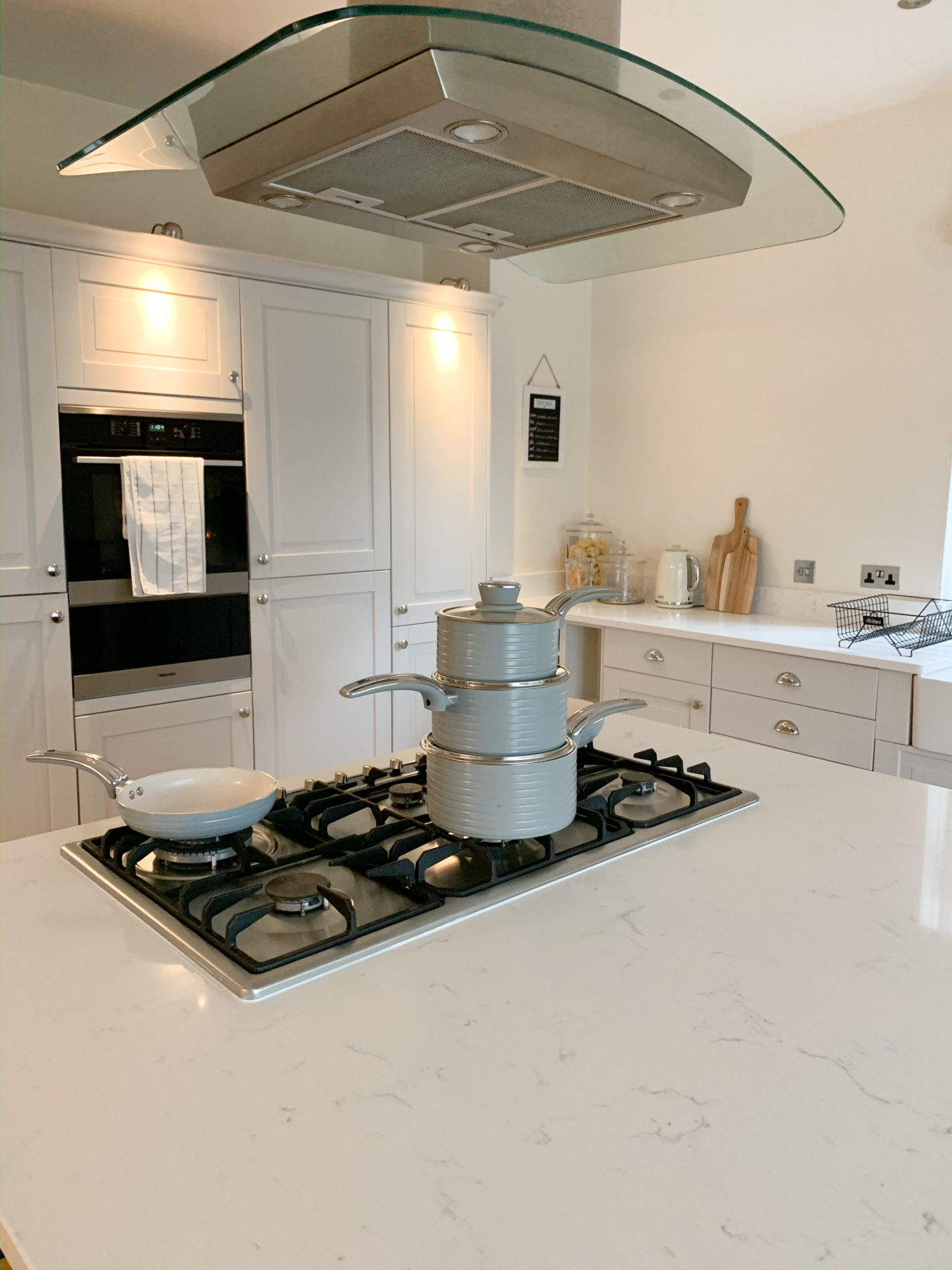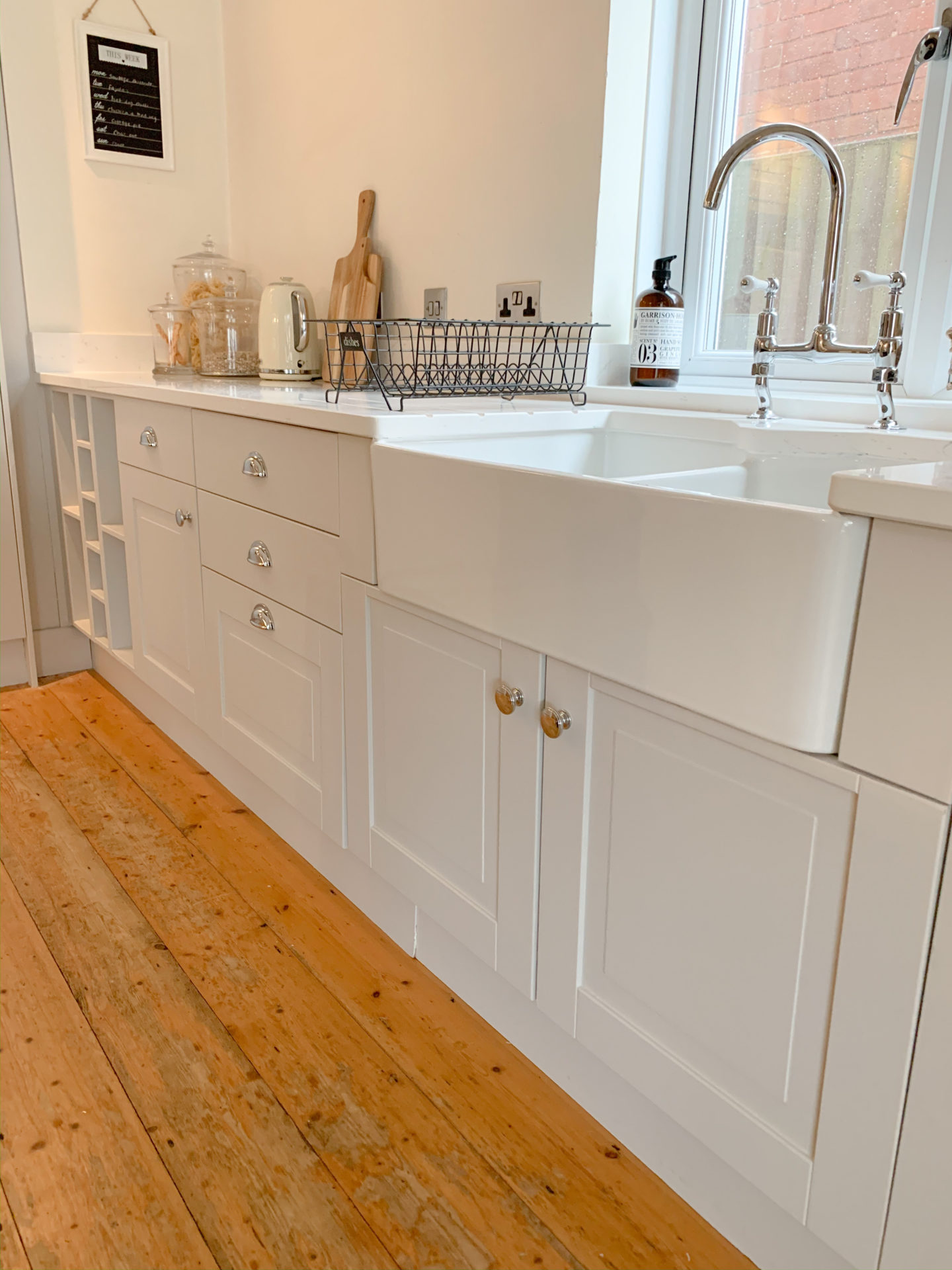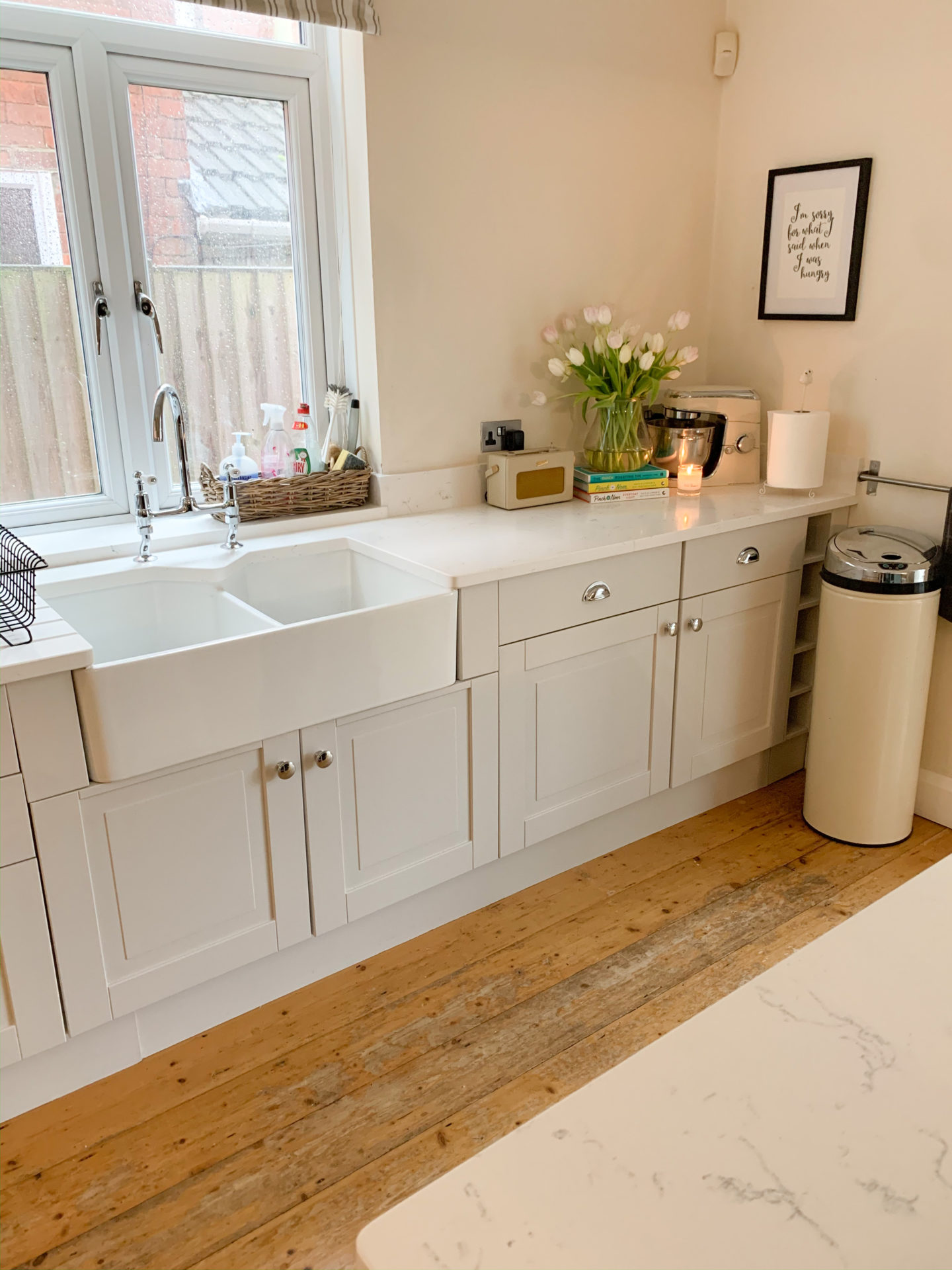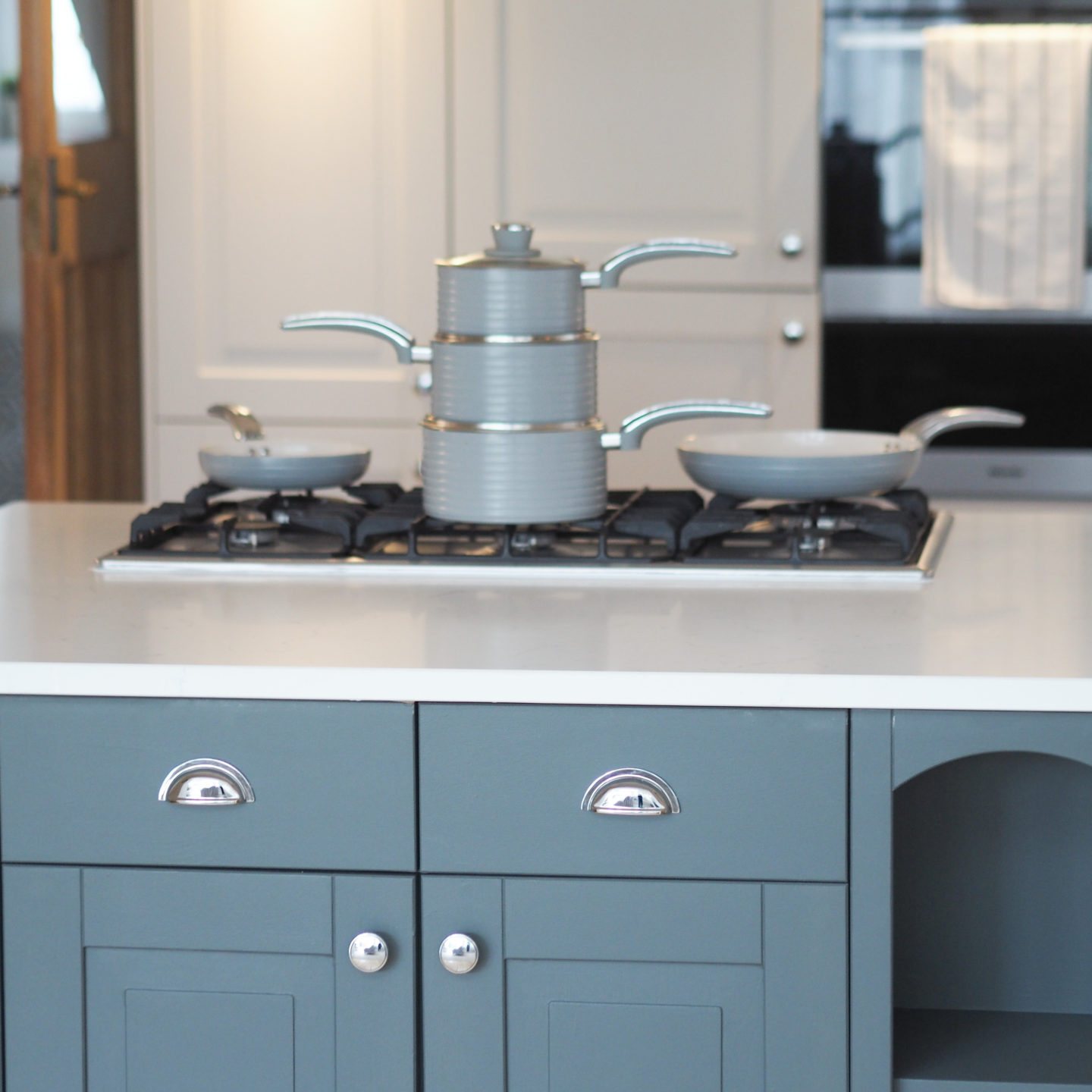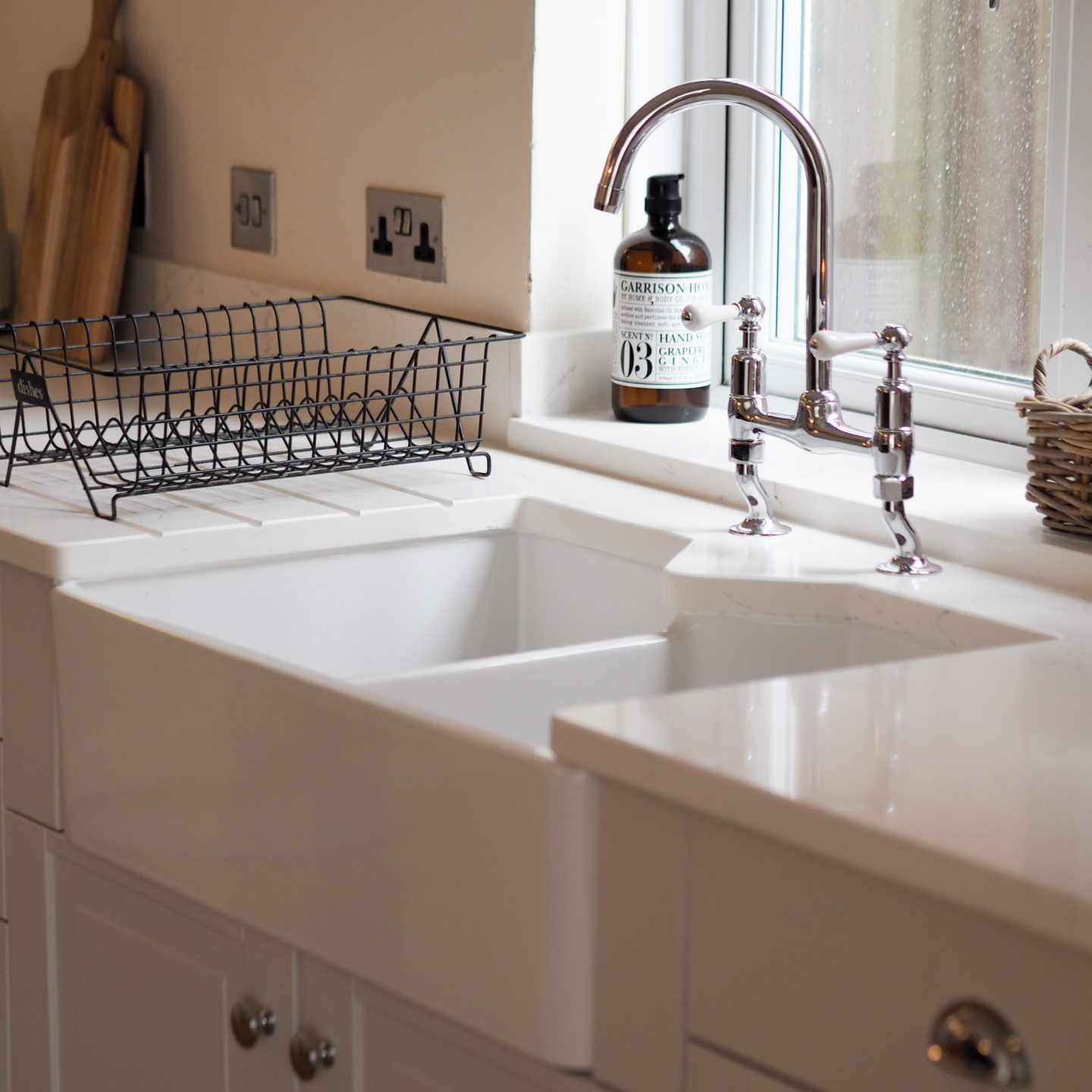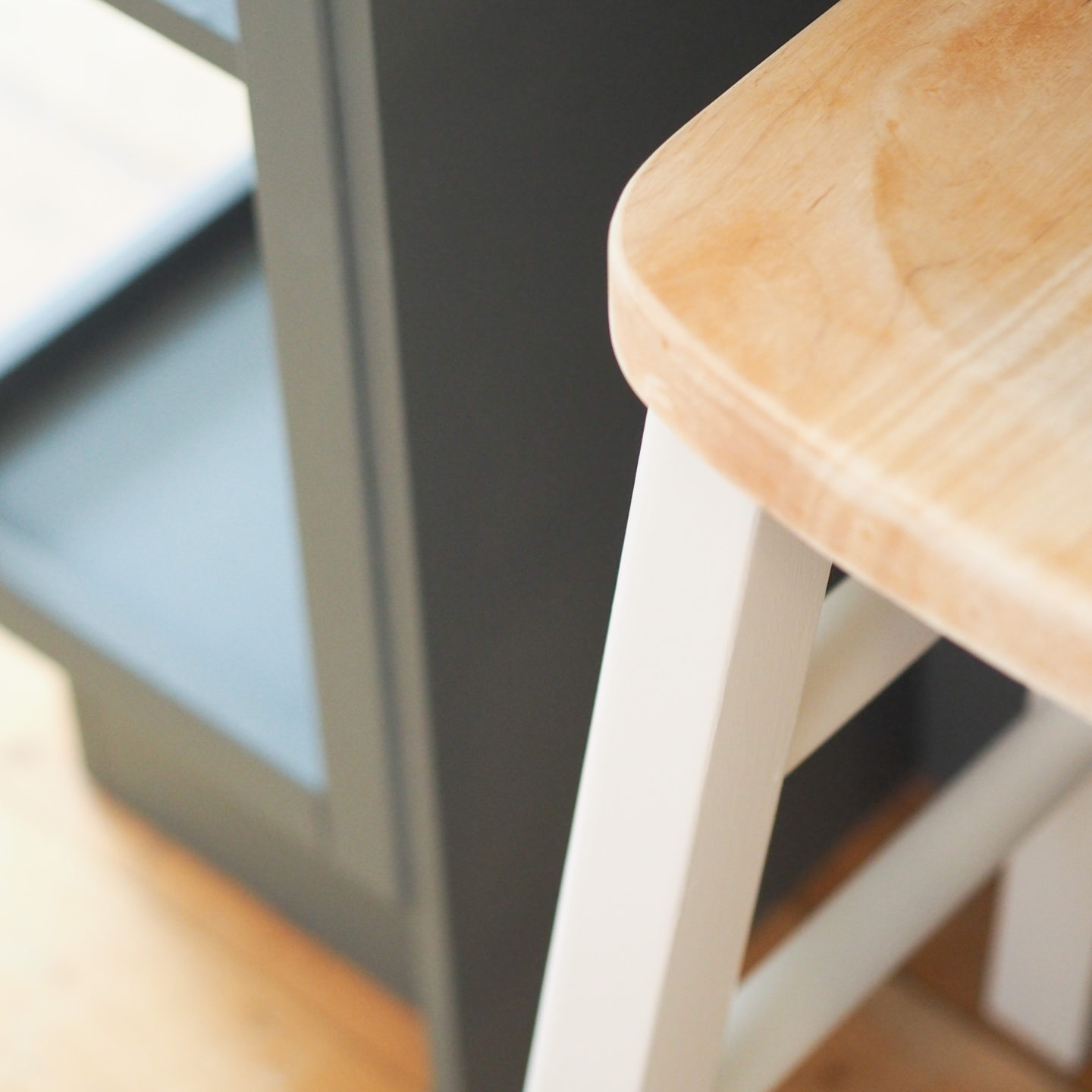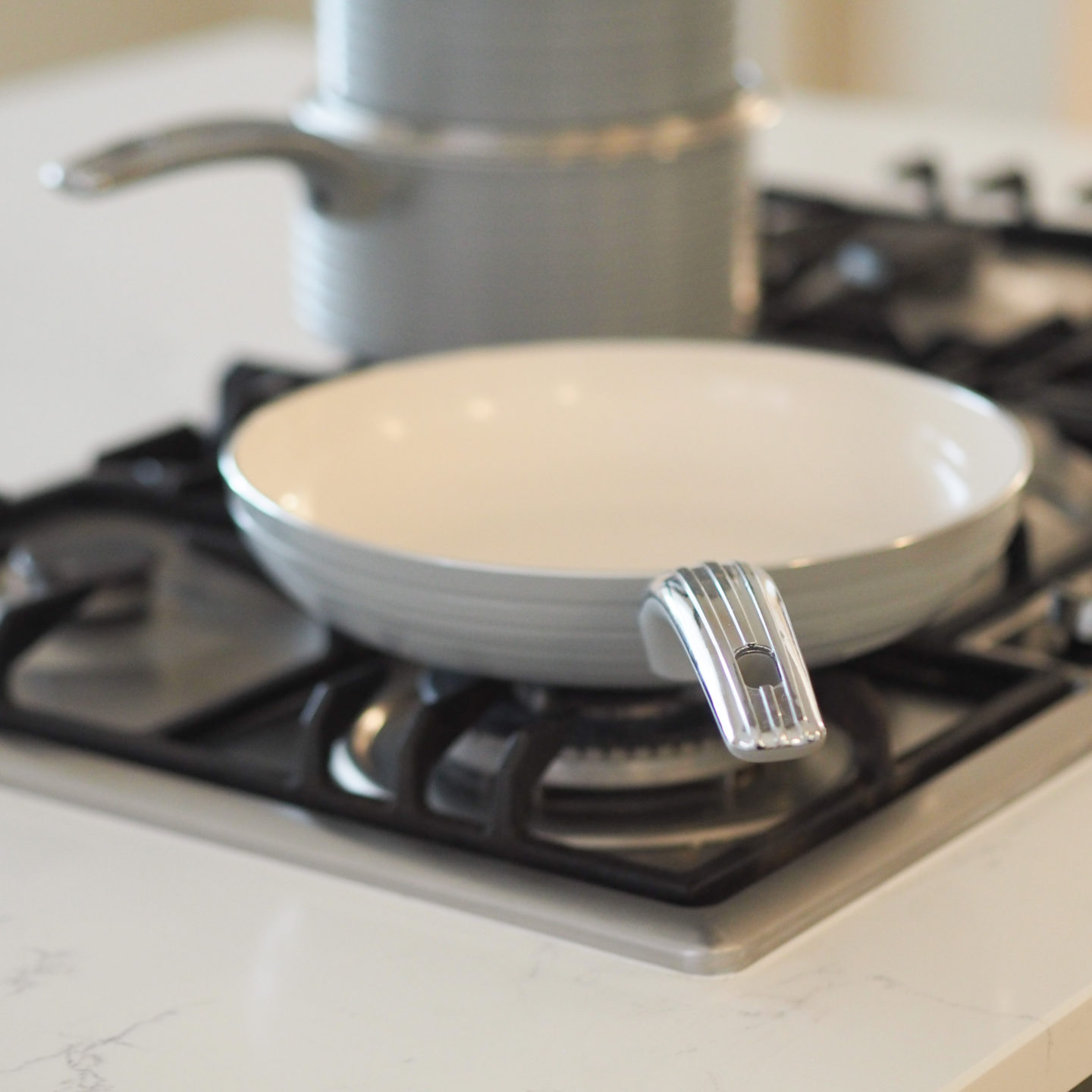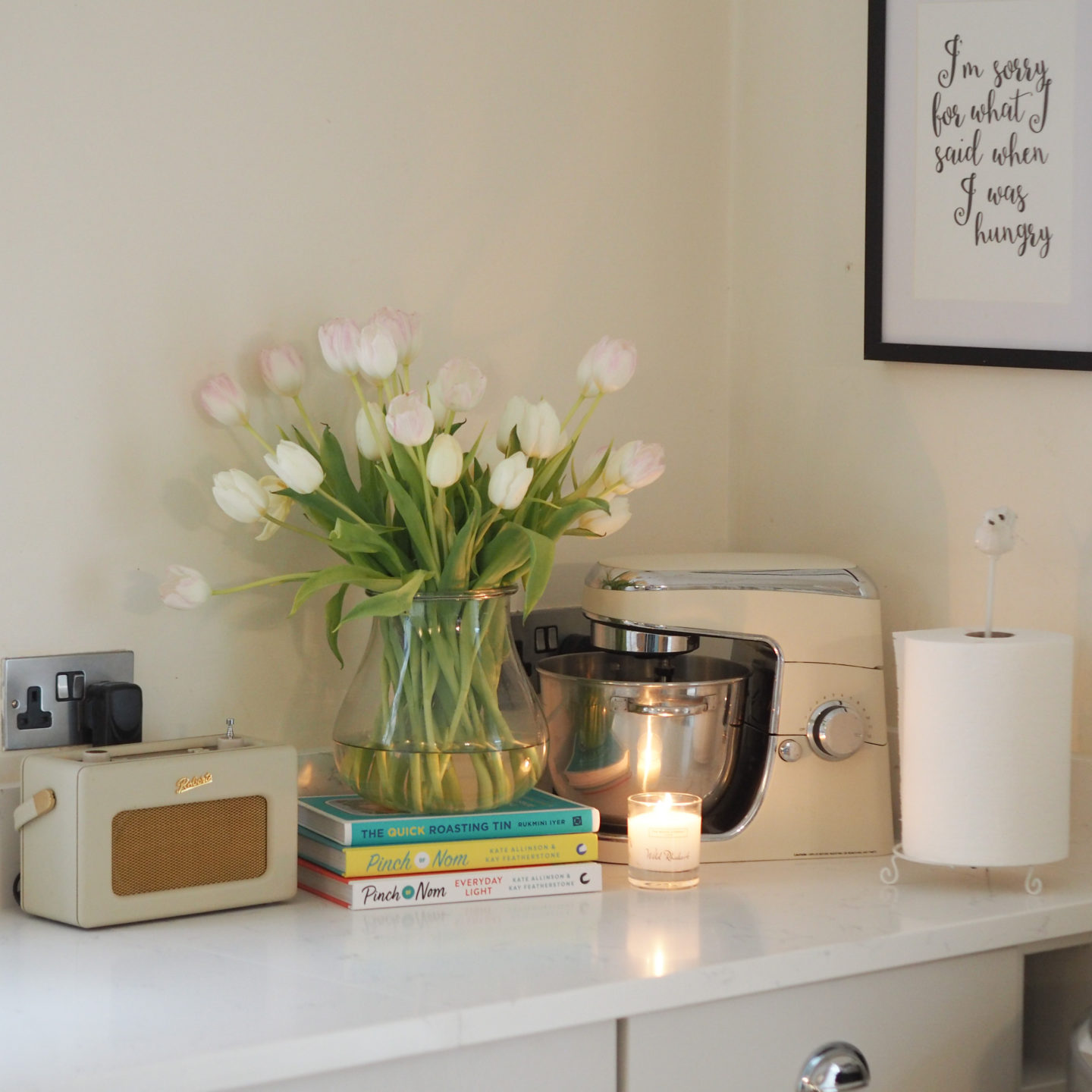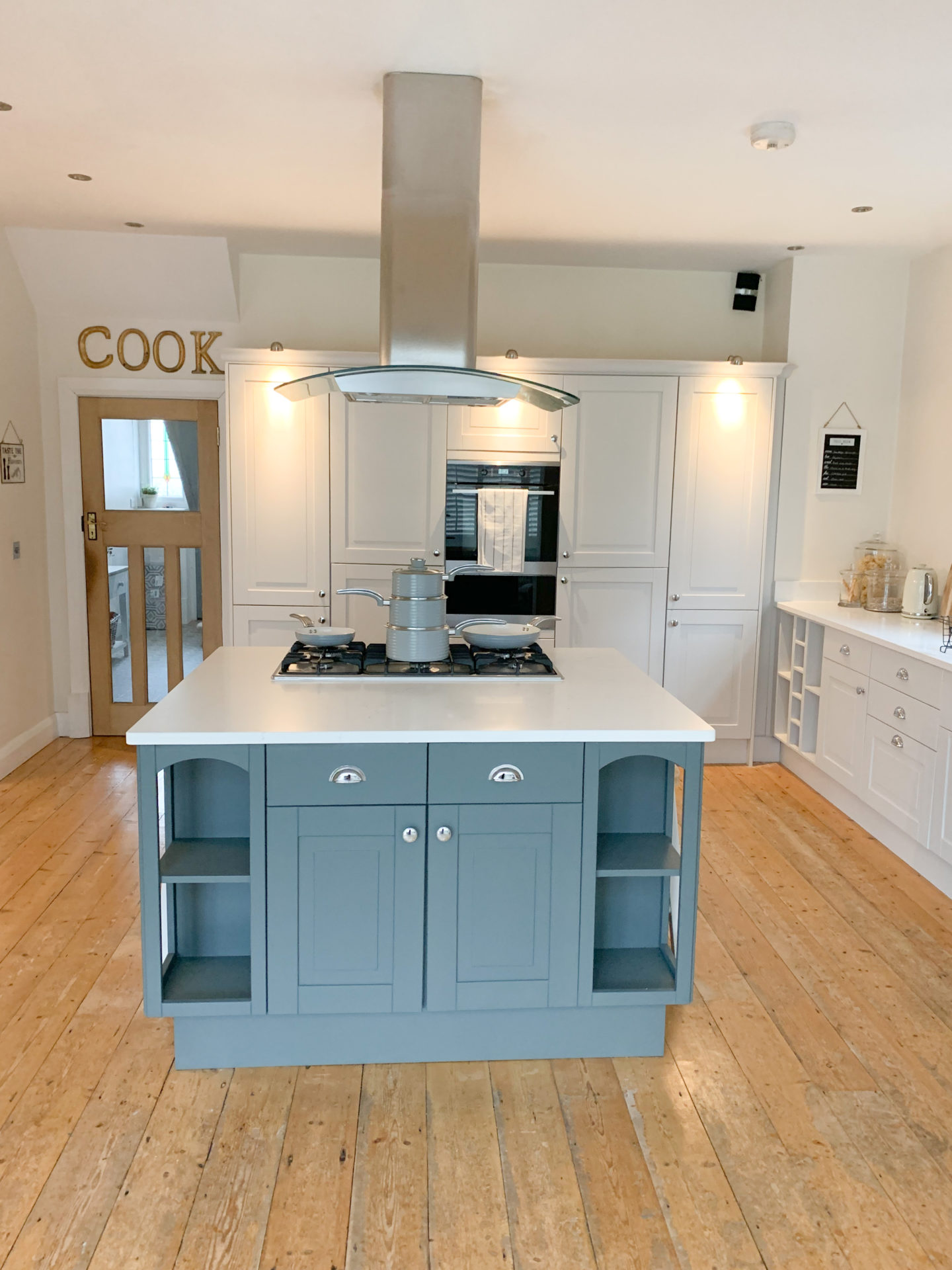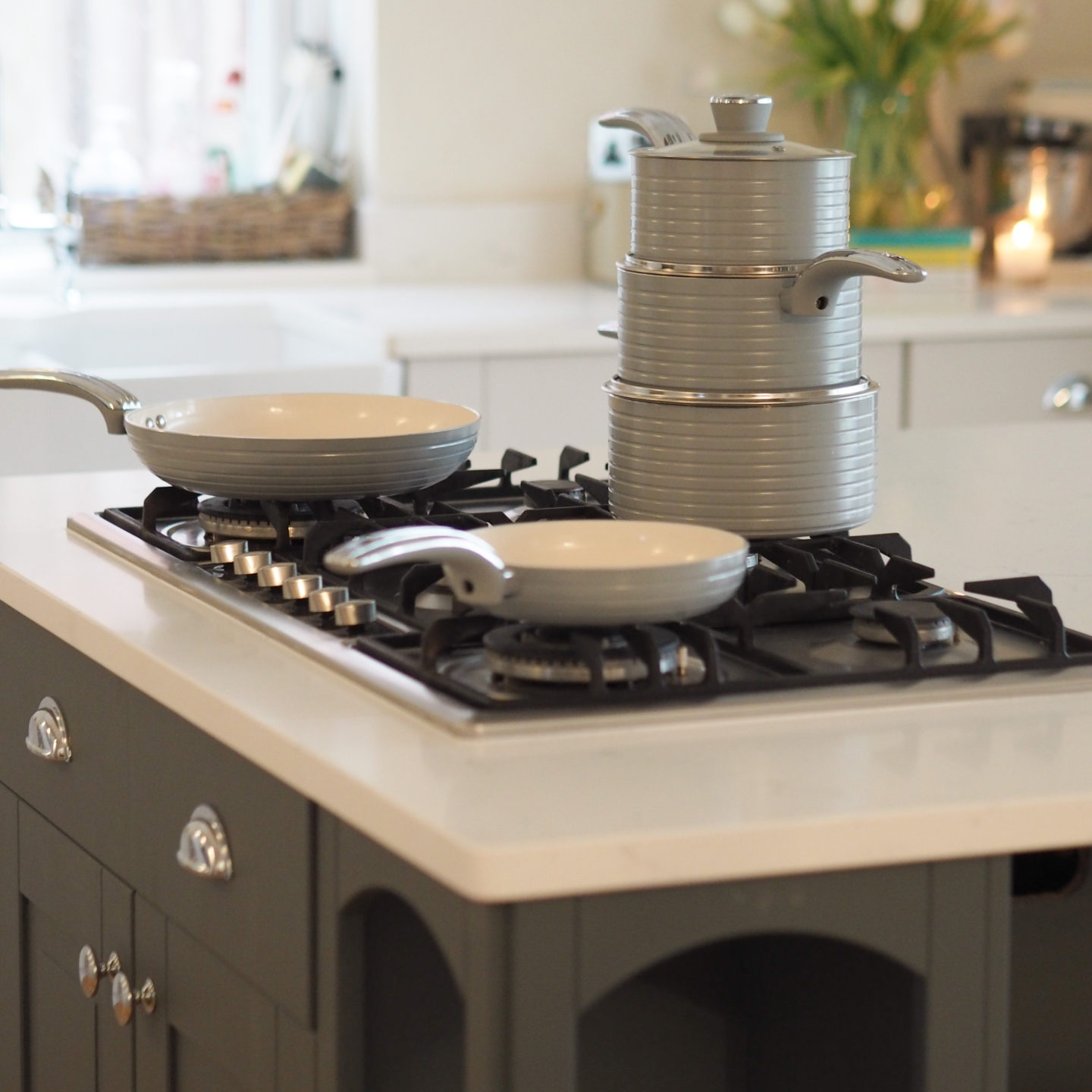 We are absolutely over the moon with the finished look & I can't stop staring at it. It honestly looks like a brand new kitchen & makes the whole space much brighter which considering the island has been painted so dark is amazing.
Just goes to show with a bit of work & a few little changes you can transform anything!
Love,