This caravan project has sparked some serious attention across Instagram & I know you are all dying to see this reveal so it's safe to say I'm super excited to show you what I've been working on.
Caravans aren't exactly the epitome of fashion or interior design, but I love a good challenge & after finding a caravan with the best layout to suit our needs, decided to go for it. This is a Bailey Ranger 540/6 & was previously VERY orange wood….to see some before pictures, head over to my 'before' blog post here.
One of my favourite brands for affordable home furnishings & most importantly, fabric (as we went through a LOT), is Dunelm so I called in some help & unbelievably, they were just as excited & on board with my vision. You'll see lots of their products throughout the makeover, from the seat cushion upholstery to bedding, cushions, toaster & kettle & accessories. Being able to source pretty much everything you need to turn a house in to a home (or ugly caravan in to a pretty one…) from one place is pretty amazing in my book.
Within hours of getting the caravan home, I was on the case & basically started ripping it apart. I waved goodbye to the yellow curtains, pulled up the stained carpeting & scrubbed everything with sugar soap to remove any grease/dust to prep for painting. It was a complete blank canvas & already looked so much brighter & lighter. You can see stories highlighted on my feed to give you an idea!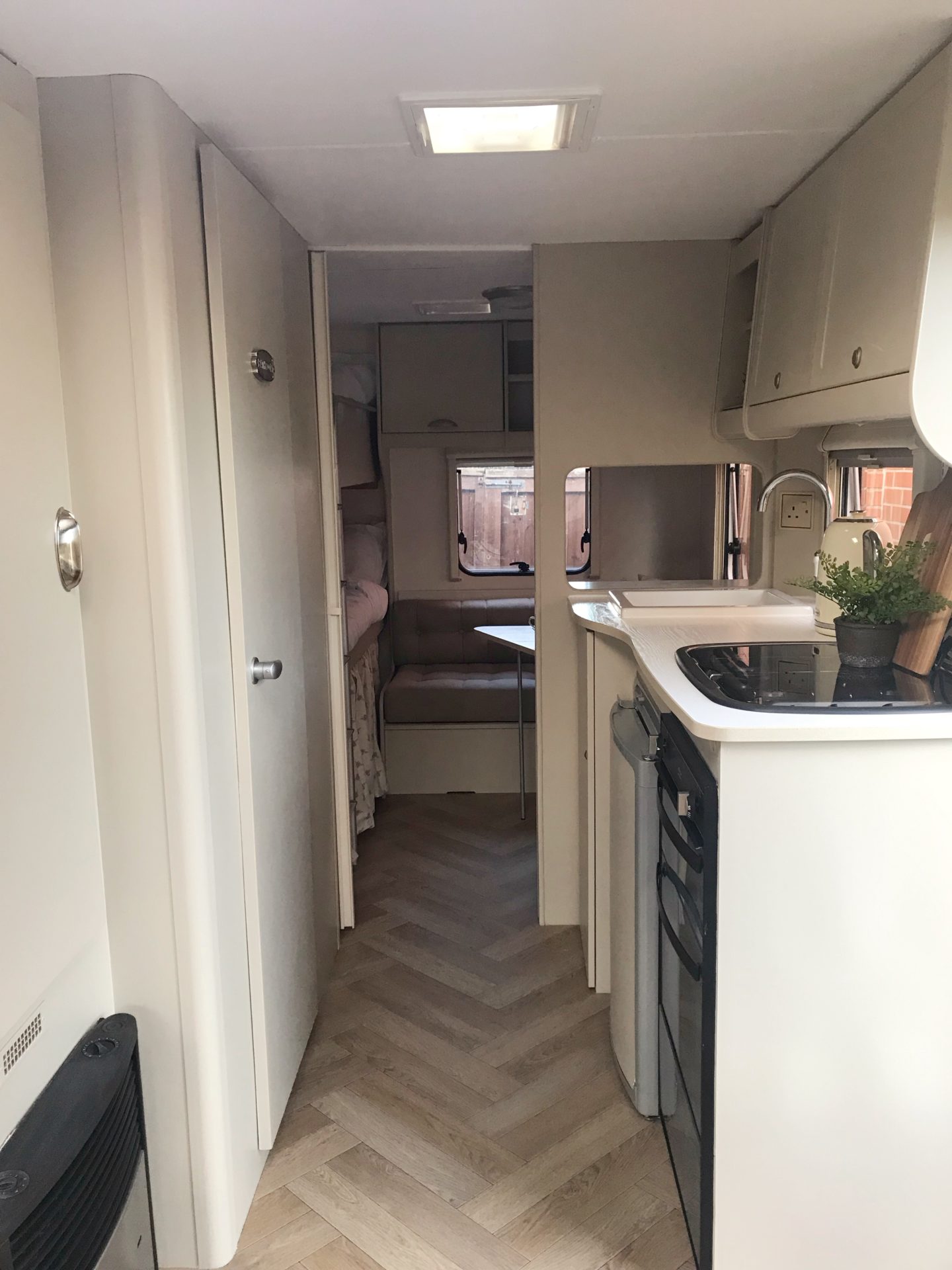 By far, the biggest job was painting. So much woodwork! To make matters worse, it was all an awful orange tone so required a stain blocker (I used Zinsser all coat which is a primer, sealer as well as a stain blocker so you didn't get any orange grinning through the paint colour) followed my two coats of undercoat which was tinted to the same colour as the top coat; a mix up of Farrow & Ball's 'Stony Ground' (same as my kitchen & bathroom cabinets) in eggshell by Decorating Centre Online which I get all my paint from.
The walls were painted in Dulux 'Almond White' in mould resistant bathroom paint. This is the same colour as my walls throughout our open plan living area so very much keeping within the Baylyn House design.
I also ordered some cup handles to add a bit of style, these were a bargain at £1.99 each from More Handles (I went for Satin Nickel finish).
This made the biggest impact & instantly brightened it up.
The next thing on the list was tackling the awful upholstery which seemed like it was everywhere. The front of the caravan has two big sofas (which convert in to a super king bed) then at the back in the 'kids area' (which you can pull a door across to separate) is another seating area with a table & the three bunks. After a trip to Dunelm, we decided to go for the the Savanna fabric in 'Natural' which is hardwearing grey fabric & just great for reupholstering. My wonderful mum managed to sew these & cover all the buttons herself – how absolutely brilliant do they look?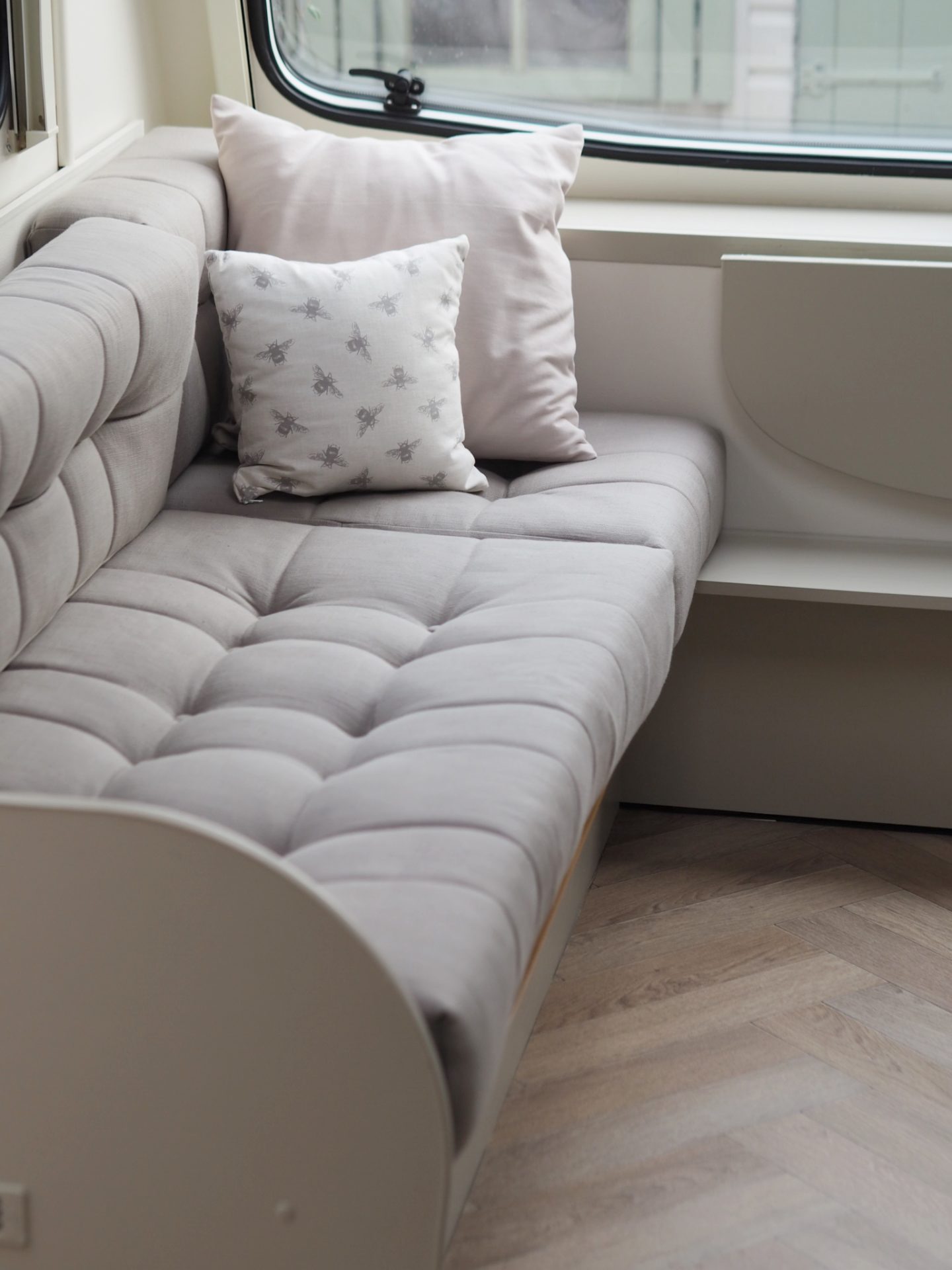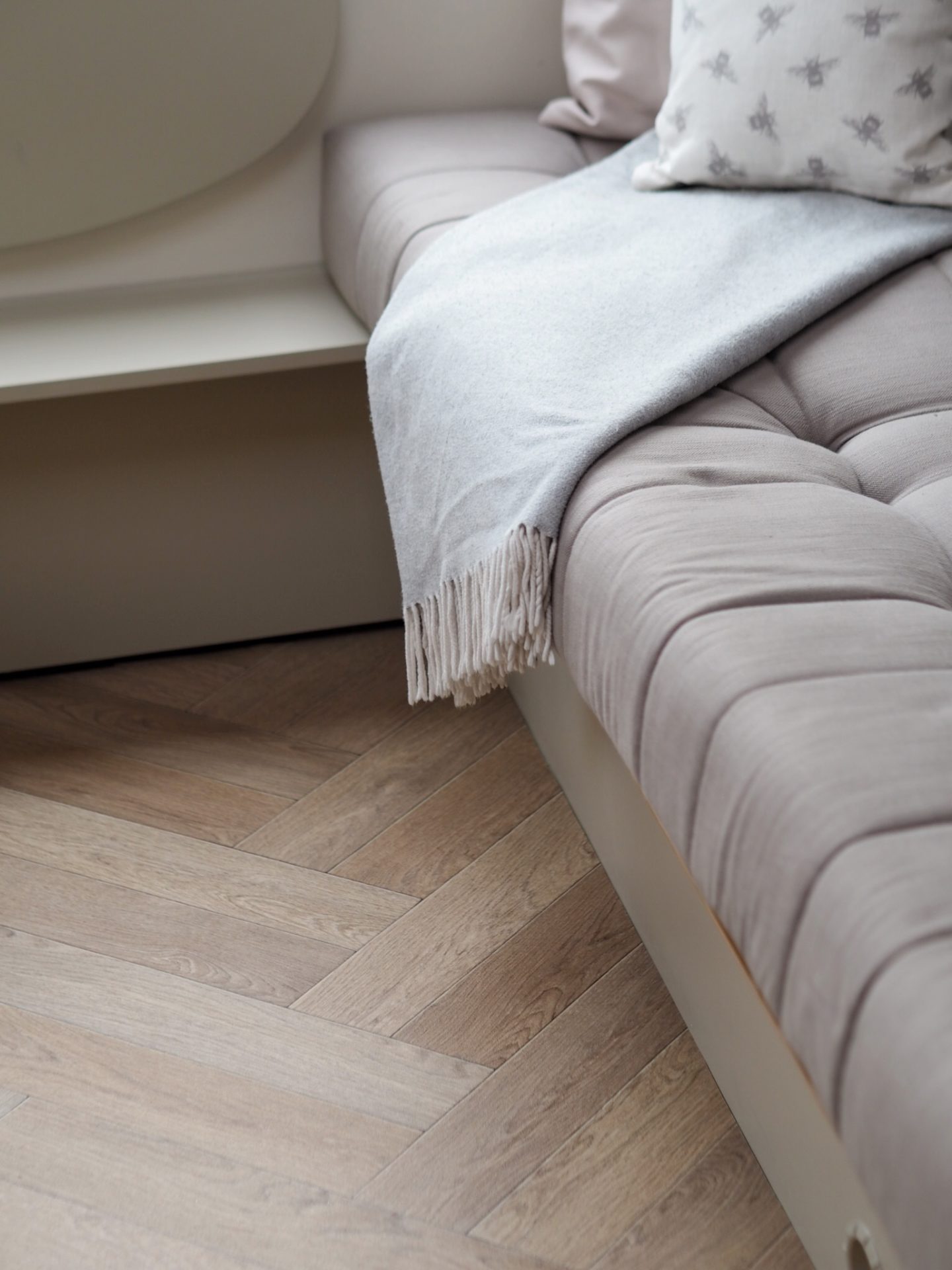 Over to the kitchen area, this was given a whole new lease of life with a ceramic sink & tap which is oh so pretty but was a bit of a tricky one given the tiny space. Everything in caravans are designed in a specific way to finding a sink that could fit under without then stopping drawers from opening wasn't the easiest of tasks but I wouldn't let anything stand in-between me & a beautiful sink. I managed to find this Butler & Rose laboratory sink & traditional kitchen mixer tap from Tap Warehouse. We also covered the existing work surface using this white wood effect sticky back plastic as a cheap but cheerful upcycle.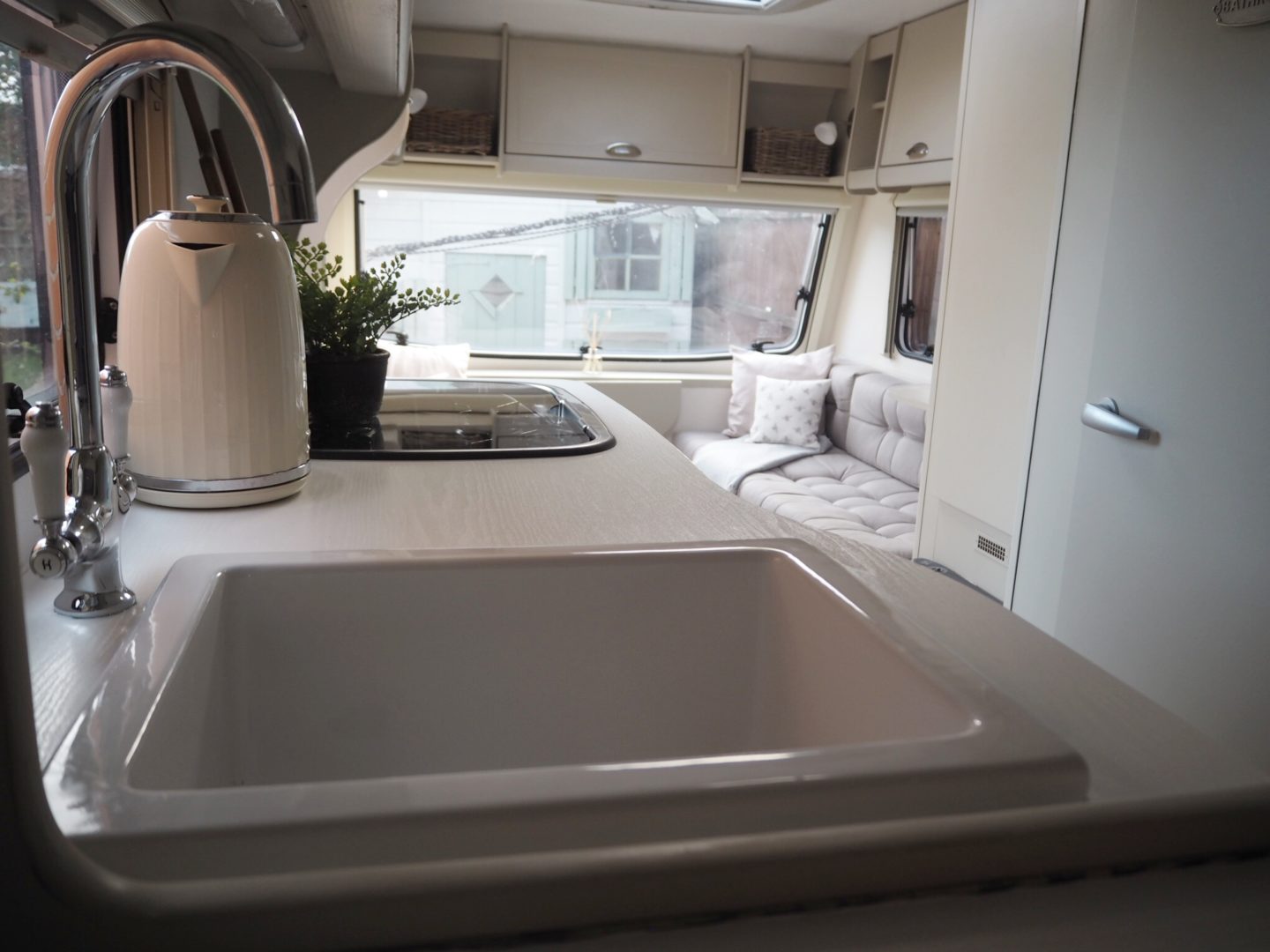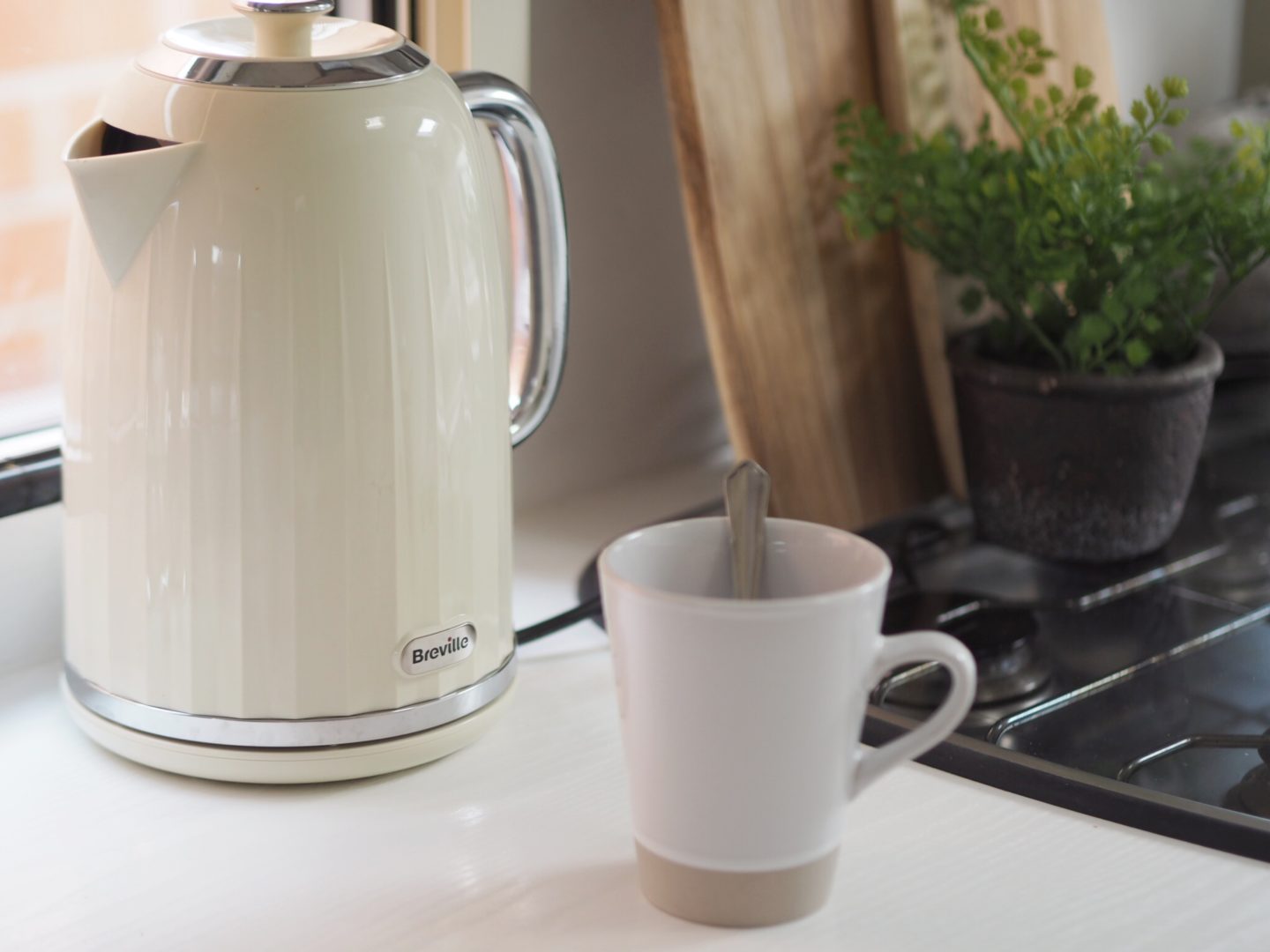 Put off the idea of carpet given the state of the old one (think potentially walking back through a wet & muddle field) I wanted something hardwearing but also easy to keep clean. This is the most beautiful vinyl from Leoline flooring in Marilyn 037, a wooden herringbone pattern which not only looks great but ticked all the right boxes & I'm thrilled with how it turned out. We needed 5x2m & ended up with a lot of wastage considering the shape of the space.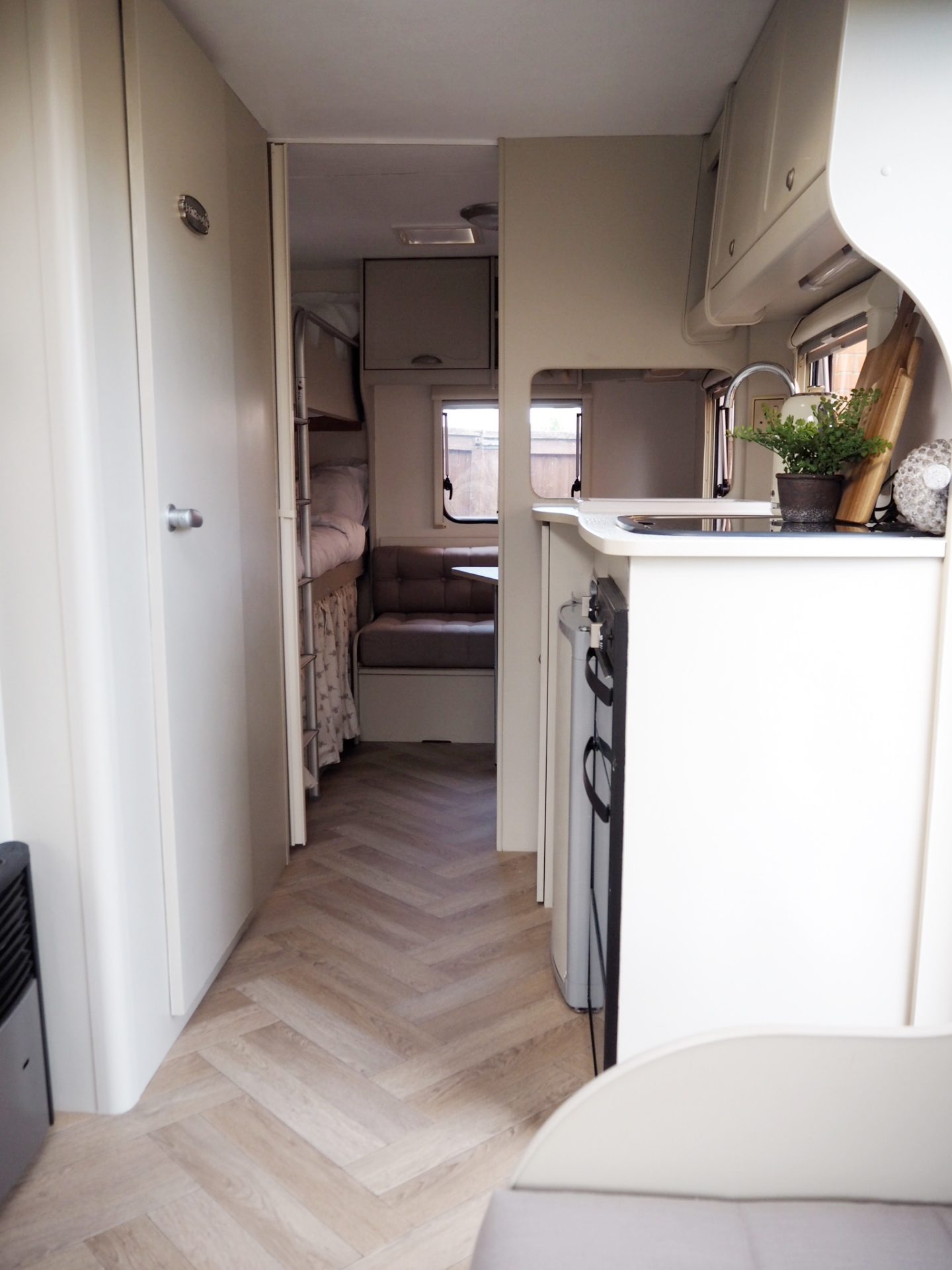 With the bones of the caravan looking a hell of a lot better, it was then time to focus on the fun part, accessorising to give it a bit of character & turn it in to a real home away from home.
As I always say, you can never have too many cushions in life so that's where we started. Wanting to take inspiration from nature (seeing as we'll be sat in the middle of a field…) I found this bee fabric from Dunelm to make little cushions as well as a curtain to go across the lower bunk. We decided to keep this as a little hideaway den & also to pop all the kids toys to keep it out the way but the curtain can easily be pulled back if/when we need to make use of the 3rd bunk. As a larger neutral cushion to let those little bee's shine I found a curtain which was then turned in to simple envelope cushions. This project was all about getting stuck in & upcyling!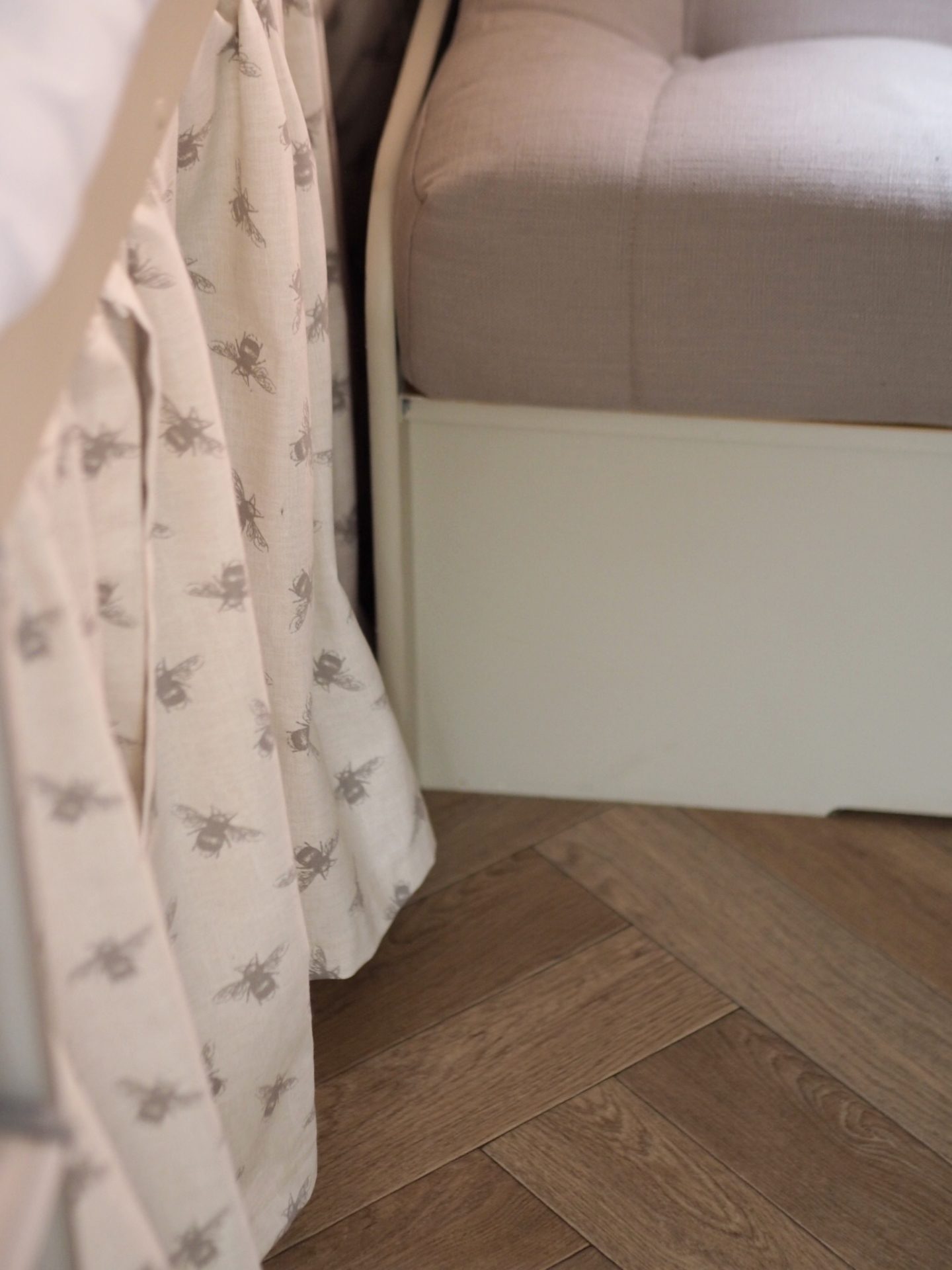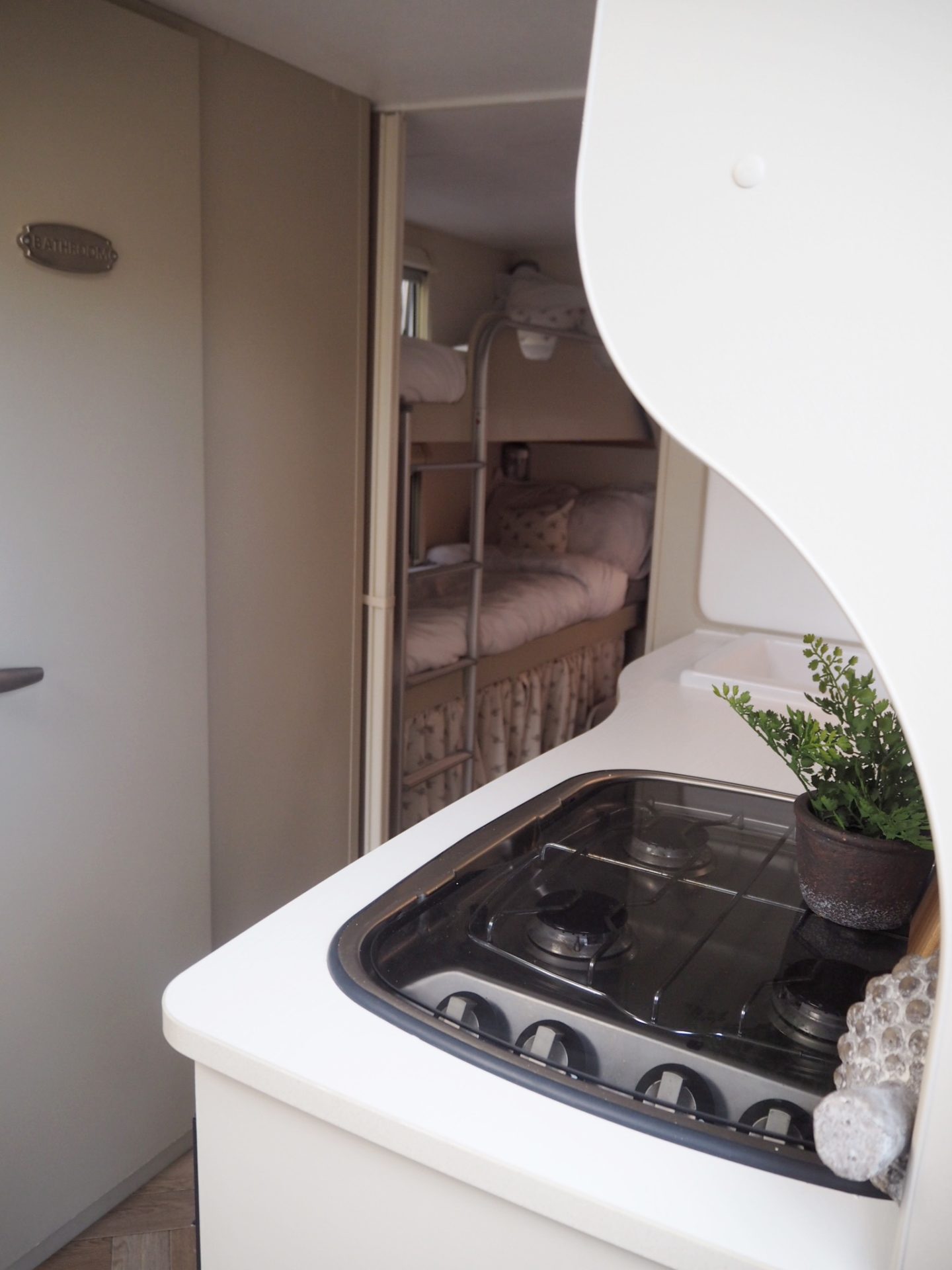 The beauty of having fixed bunk beds is that they can be made up permanently & you don't have to pack them away constantly like other caravan layouts. The last thing you want to do after a long drive with two tired littles! Bedding wise, you can't beat Dunelm's non iron range & keeping it neutral with white. I also found these light up letters to act as a reading/night light & personalise their bunks.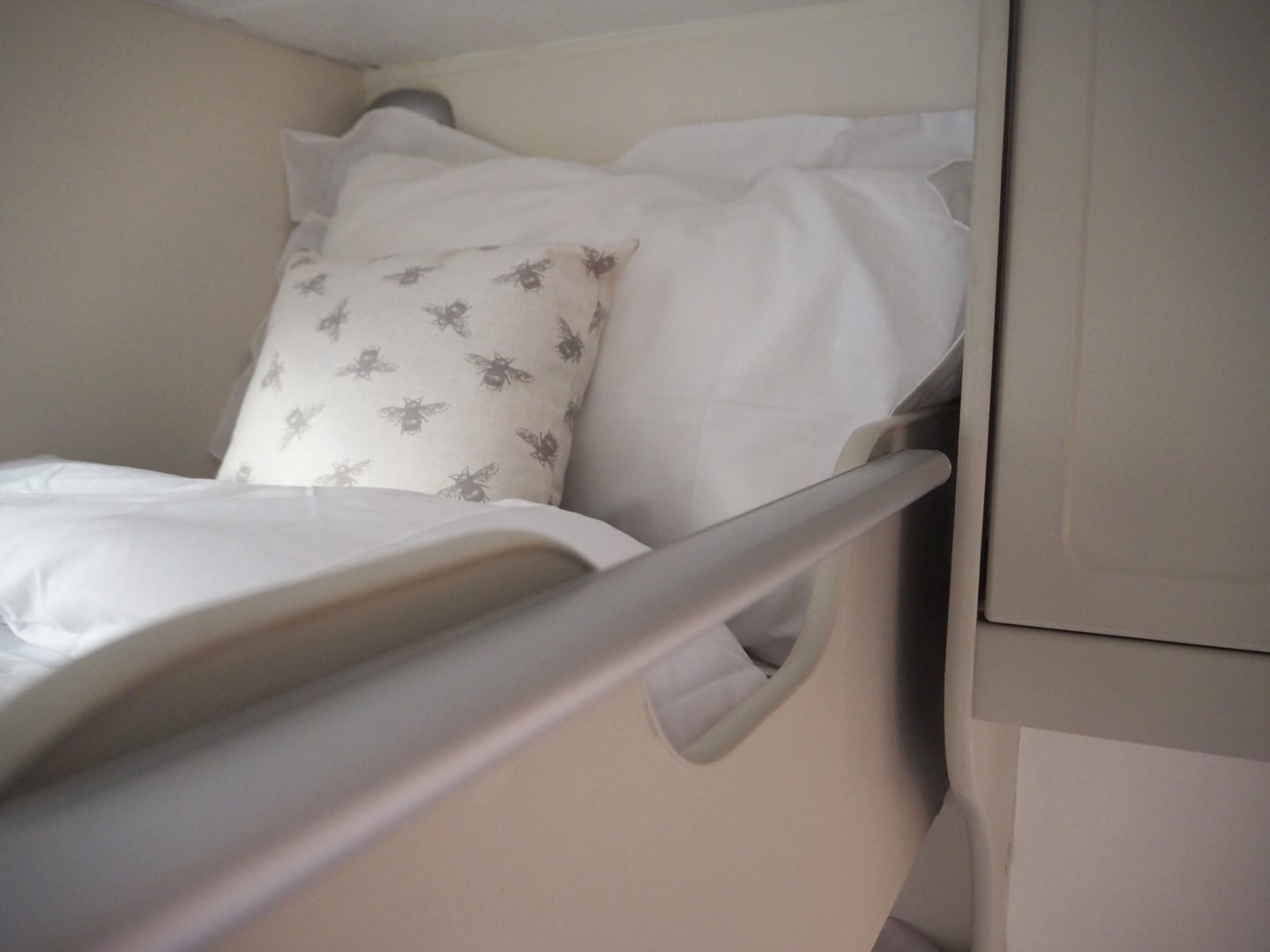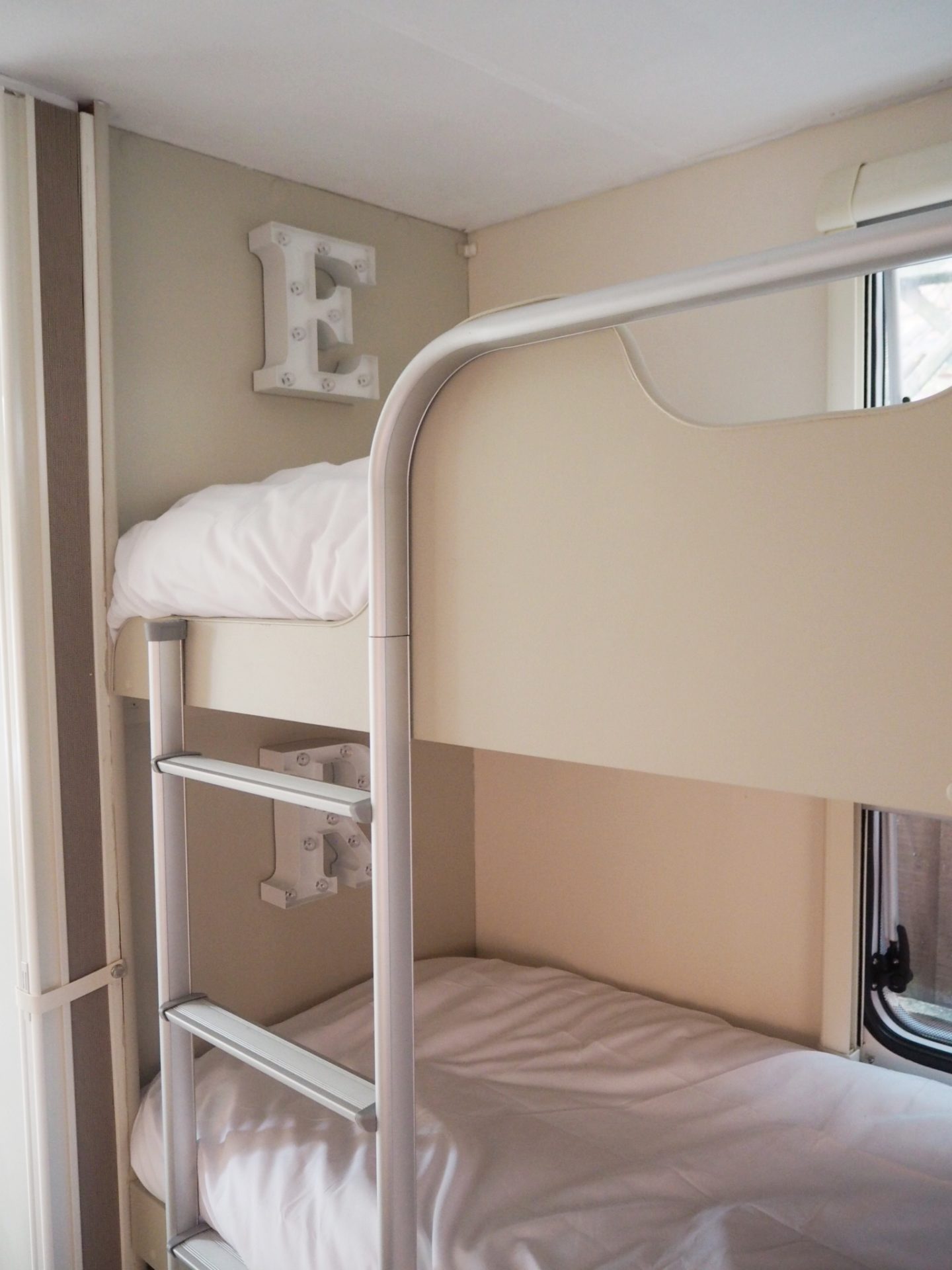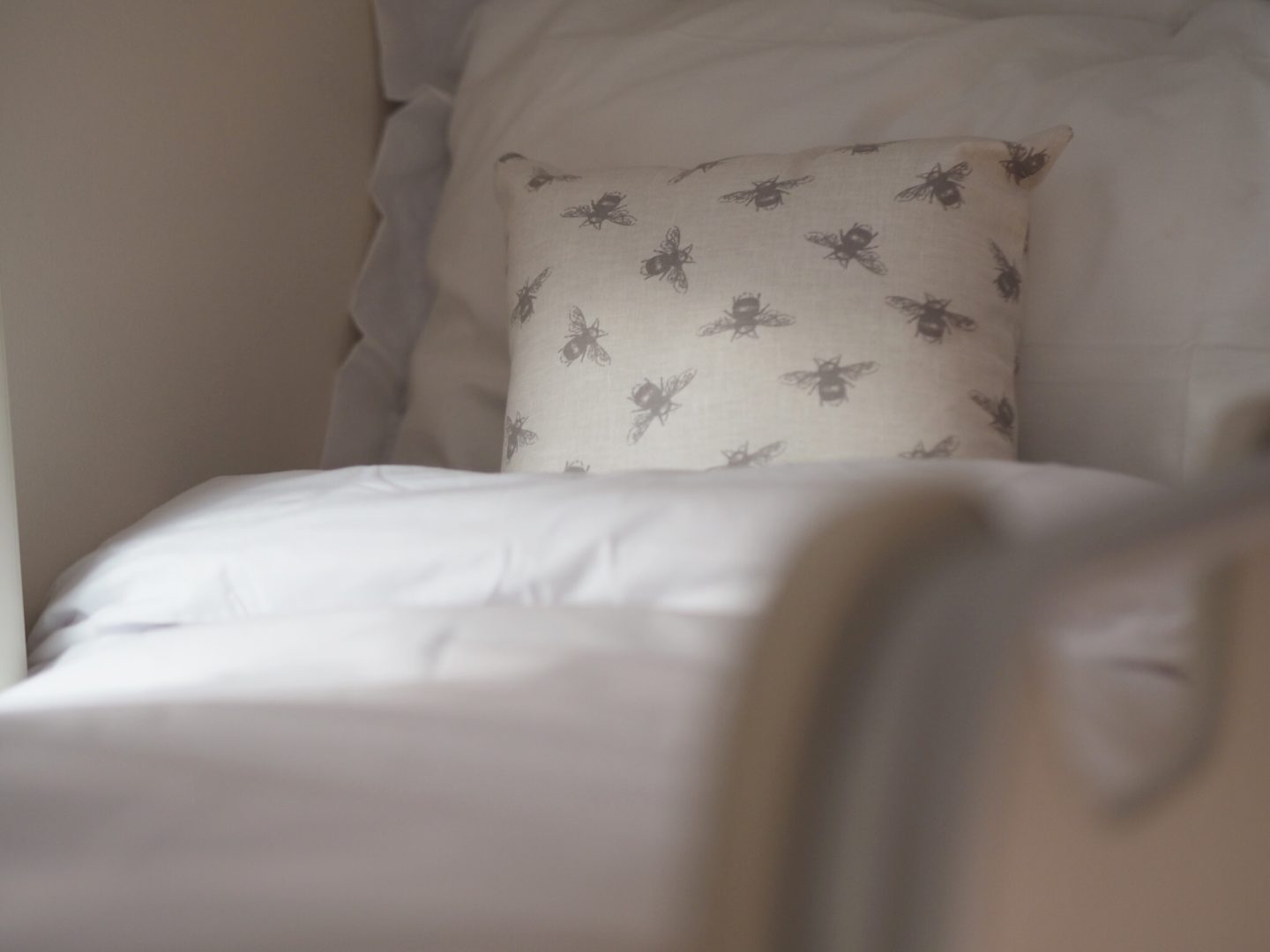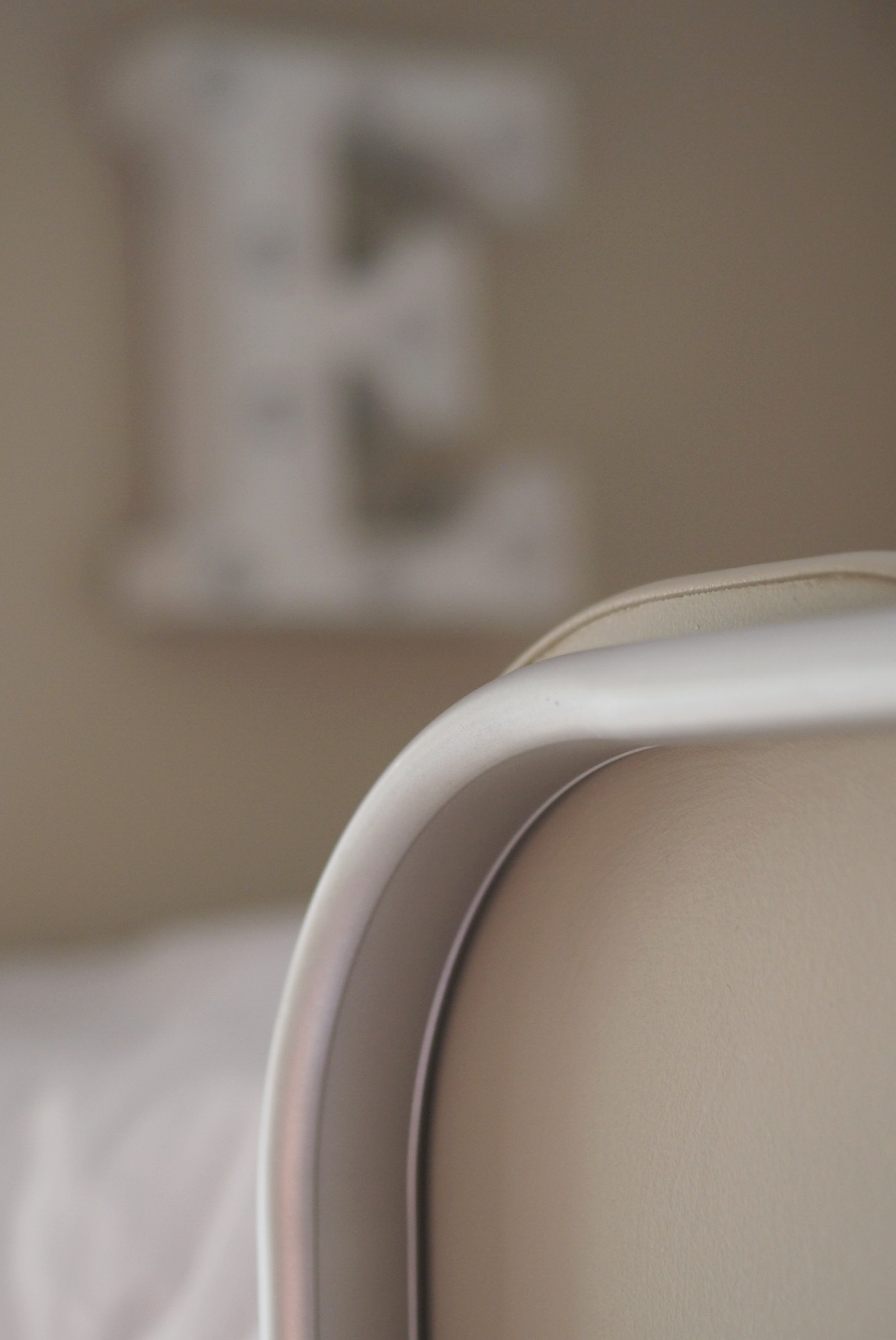 This back area can be closed off with a screen which pulled across to give everyone a bit more space (in somewhere that has no space!) so I've popped some little bits in to make it feel like a home away from home.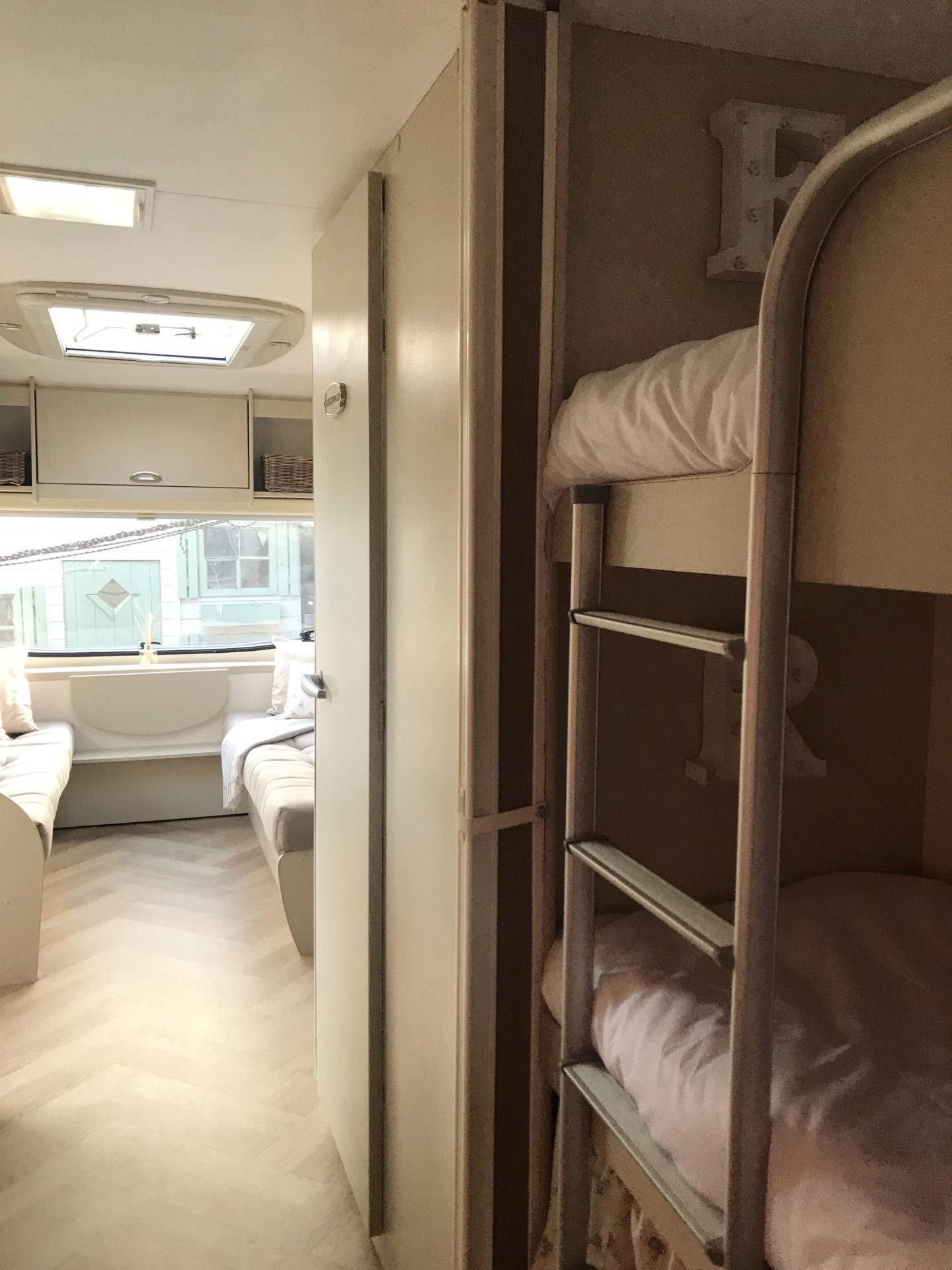 Caravans essentially need to have everything in them that a normal home would have which I found hard as it's obviously very much condensed. I love cooking, but with the tiniest space to work in you really have to think outside of the box! Thinking of the basics, I knew we'd need a kettle & toaster then found some little Kilner jars to hold tea/coffee/sugar & some beautiful acacia chopping boards.
This beautiful 'Maritime' 12 piece crockery set is a bargain but also sits so well within the design. I also got the matching mugs & found this cutlery set for £16.00.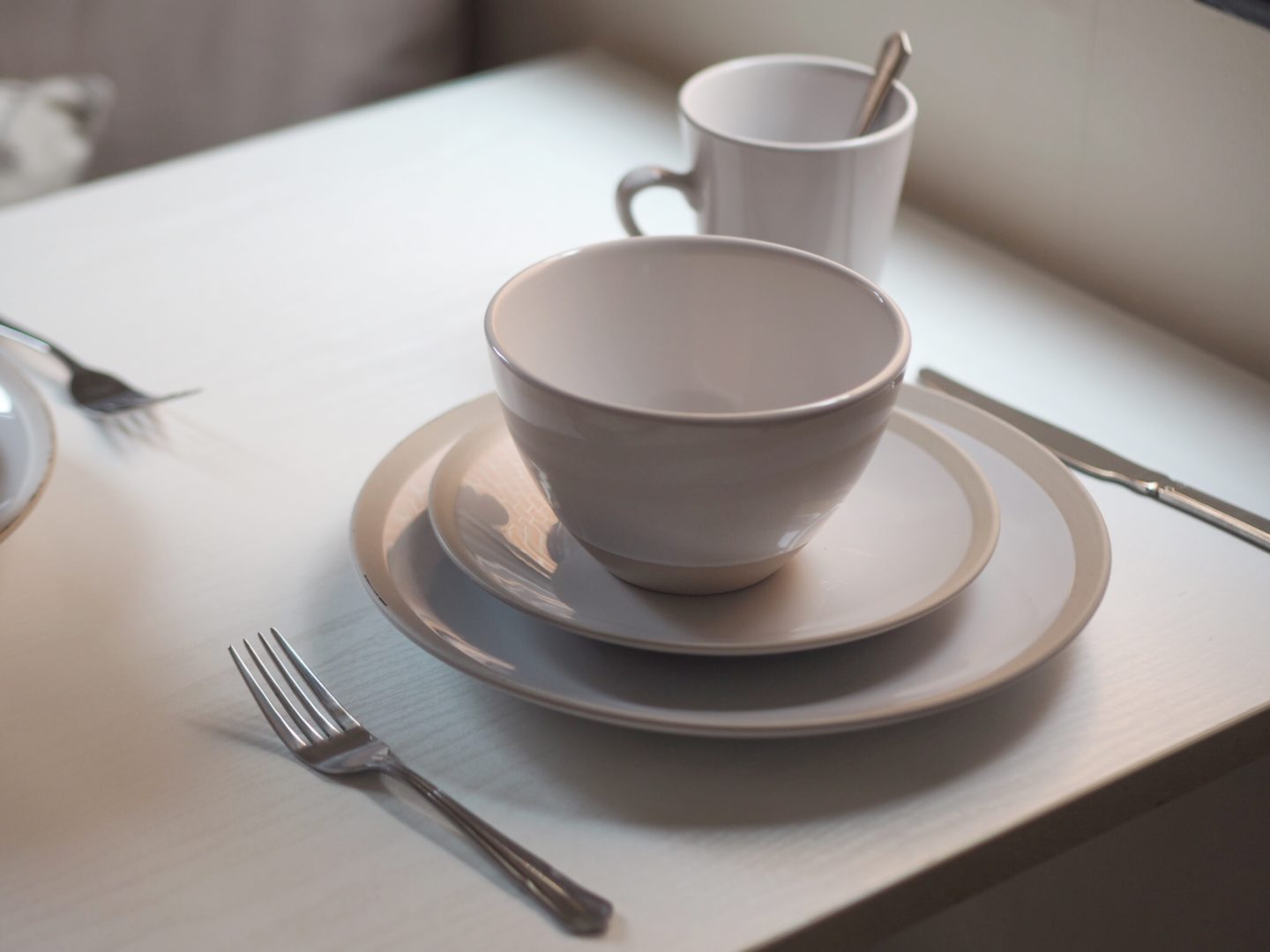 Moving over to the bathroom of dreams (complete with swivelling toilet…#goals). Seeing as you could definitely get lost in this ginormous space, I needed this bathroom plaque so that my guests don't get lost & end up stumbling in to a cupboard. This is painted in a mix of F&B 'Cornforth White' by Decorating Centre Online with the woodwork in white eggshell.
The mirror was a Home Bargains find (£5!) & just perfect for this space as it's actually plastic & very lightweight. Caravan walls can't hold any weight as they are so thin & you also have to think about how you're going to move things when towing.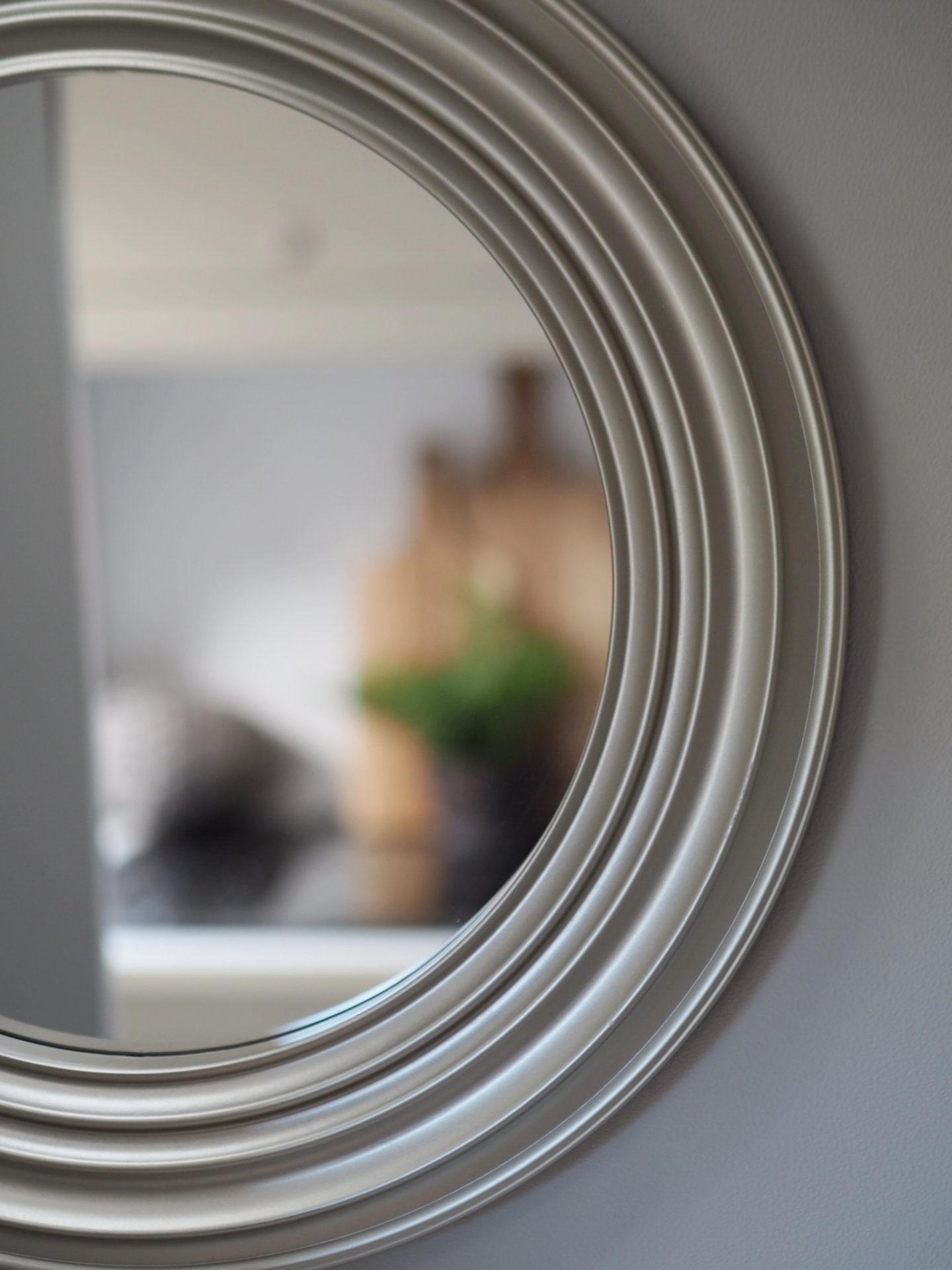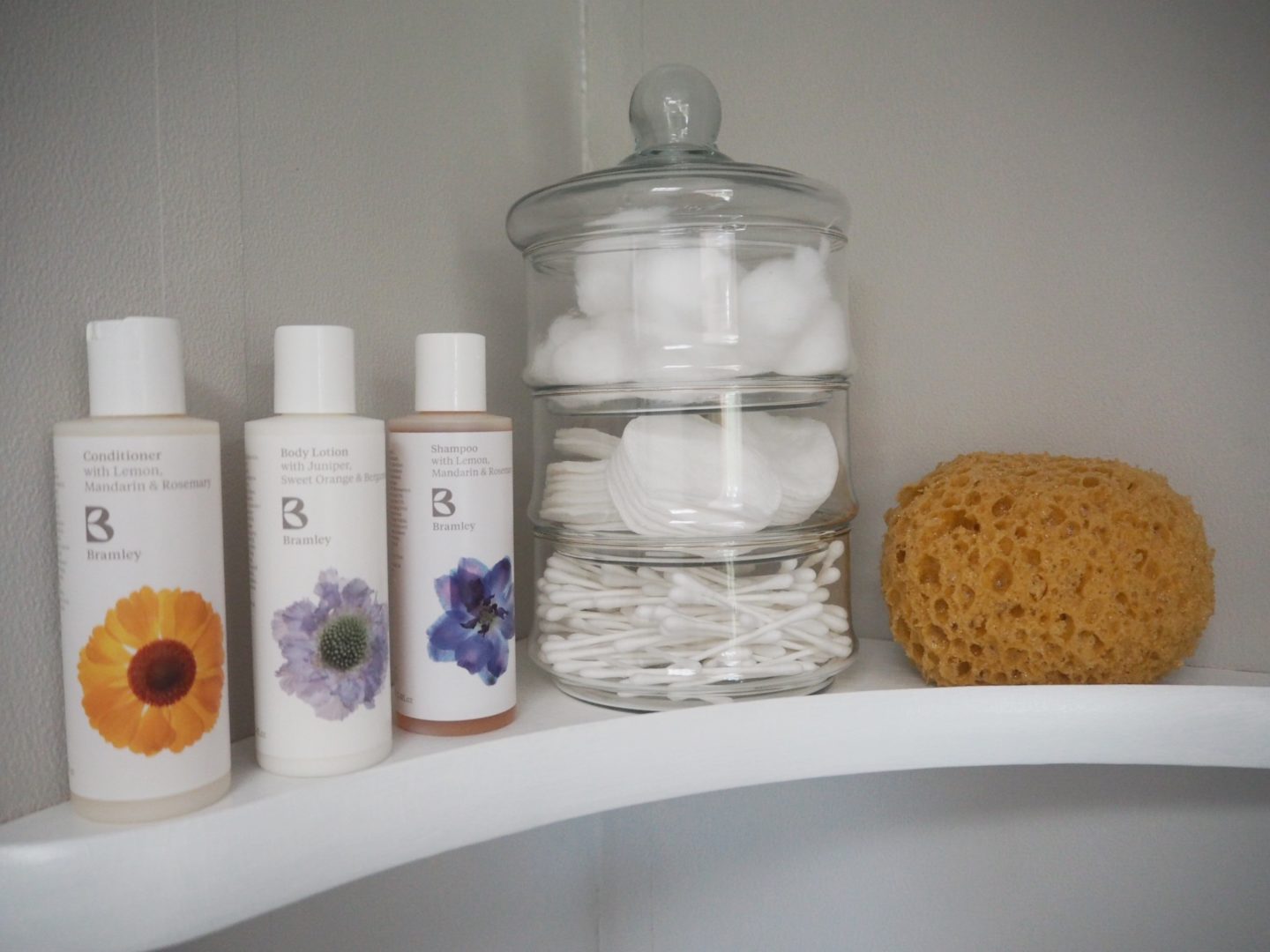 Accessories include a new vintage toilet roll holder & towel ring as well as some fluffy Dunelm towels (about as luxury as you can get on a campsite…) then I found this 3 tier storage jar which looks gorgeous complete with some toiletry essentials.
Some final bits include wicker baskets, these super cute artichoke tea light holders, topiary balls & some framed pictures.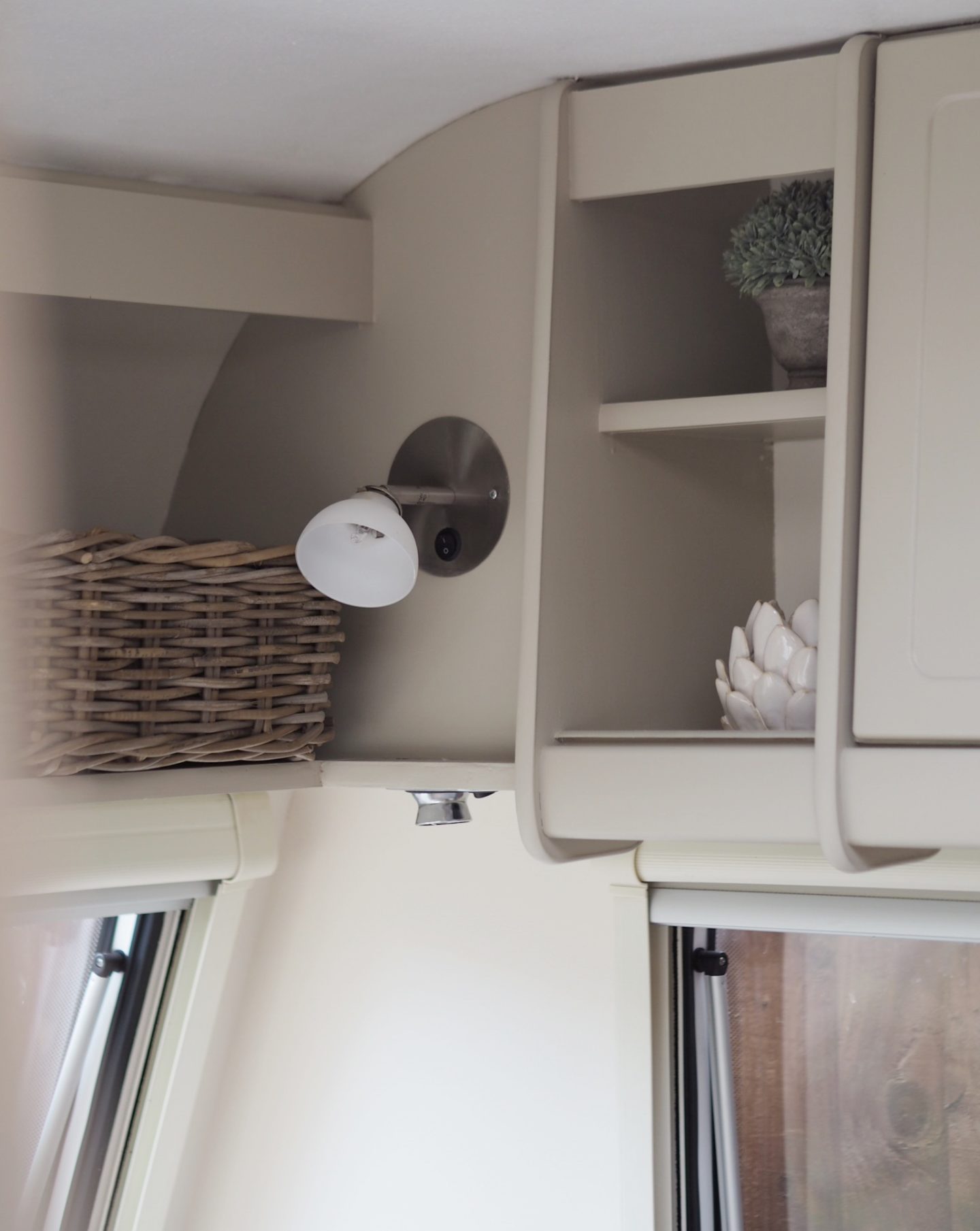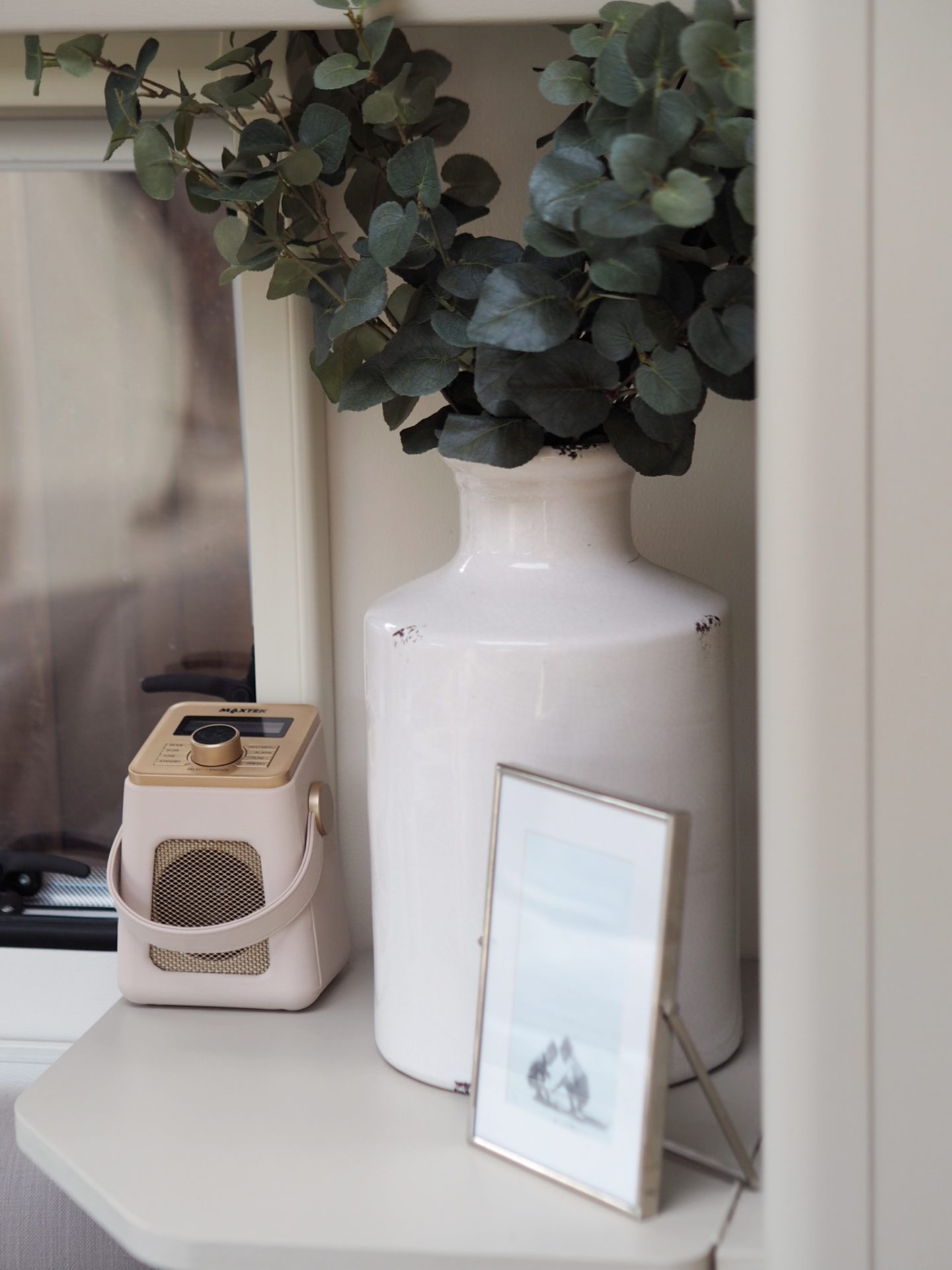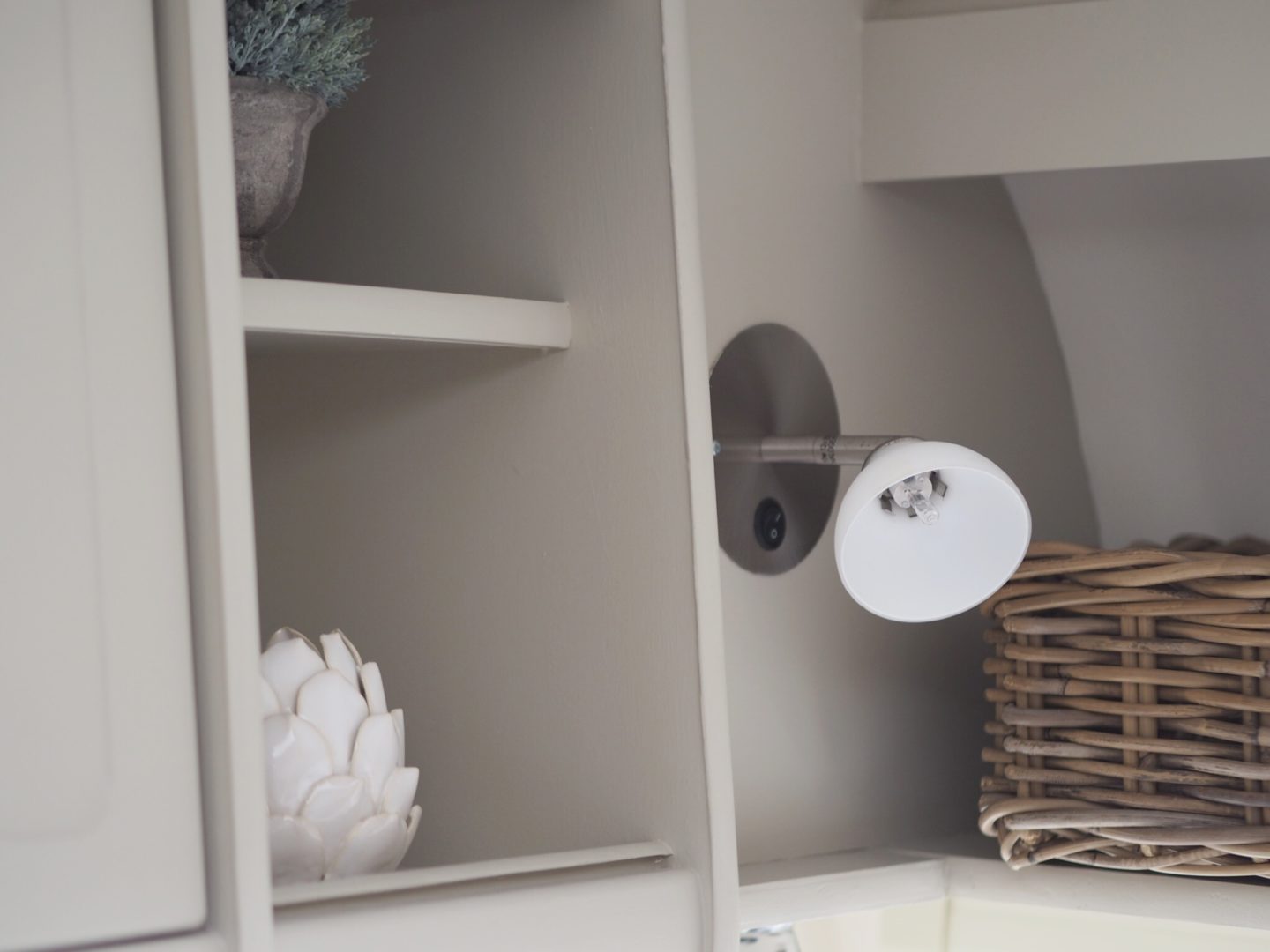 The only thing now left to do is paint the outside, however the cold weather means it's the worst time possible to do it (& the risk of rain!) so that will be done in Spring.
Elsa & Rory are so EXCITED to go away in it. I can't wait to share with you all what we get up to & spontaneous breaks to explore the beautiful country we live in.
I hope you've all enjoyed this reveal & if I've inspired you to take on your own caravan project (which I know from a few messages has already started happening!) then be sure to tag me!
Love,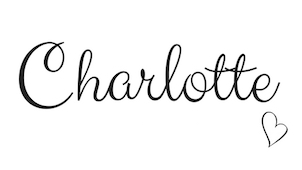 *This is a sponsored post