It's beginning to look a lot like Christmas….
It's official, Christmas has well & truly hit Baylyn House. Yes it's still technically November but this weekend I'm playing host to a wreath making workshop so the halls have been decked just a teeny bit earlier this year, & lets be honest, I'd be using any excuse right now.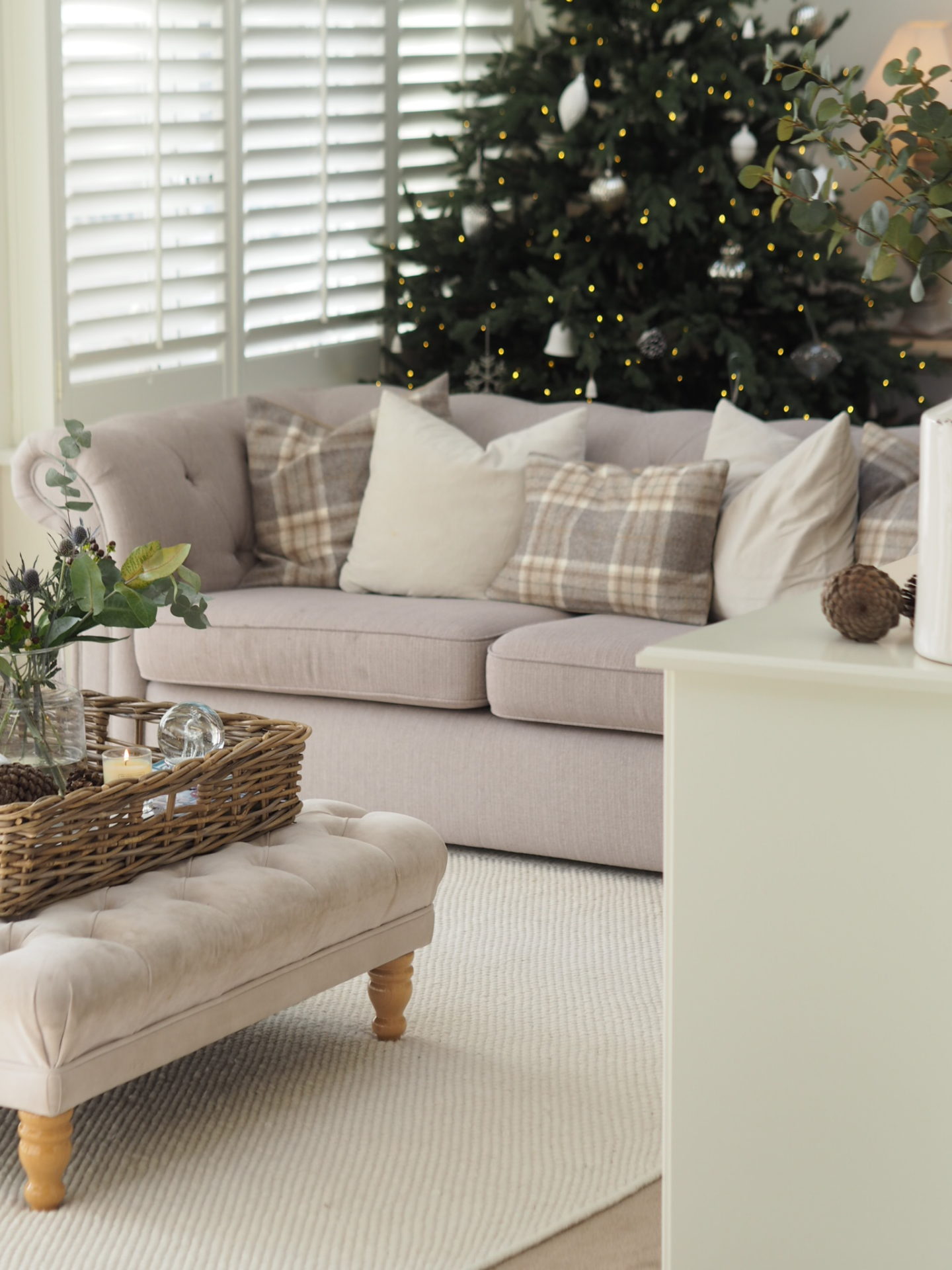 Always a fan of 'styling the seasons', this is my time of year & considering my birthday also falls within December, I love nothing more than making our home look as festive as possible.
Neutral through & through, you'll find splashes of green from the tree, wreaths & garlands with splashes of white & silver for a classic, timeless look.
The front door is yet to have it's yearly fresh wreath (handmade by yours truly at my annual wreath making workshop!) but I can't wait to share my masterpiece with you next week.
Wound around the banister is two ivy & pussy willow garlands to add a bit of festive cheer as soon as you walk through the door. I love how realistic these look & managed to snap these up in the sale last weekend…so much nicer than the PVC one we had before.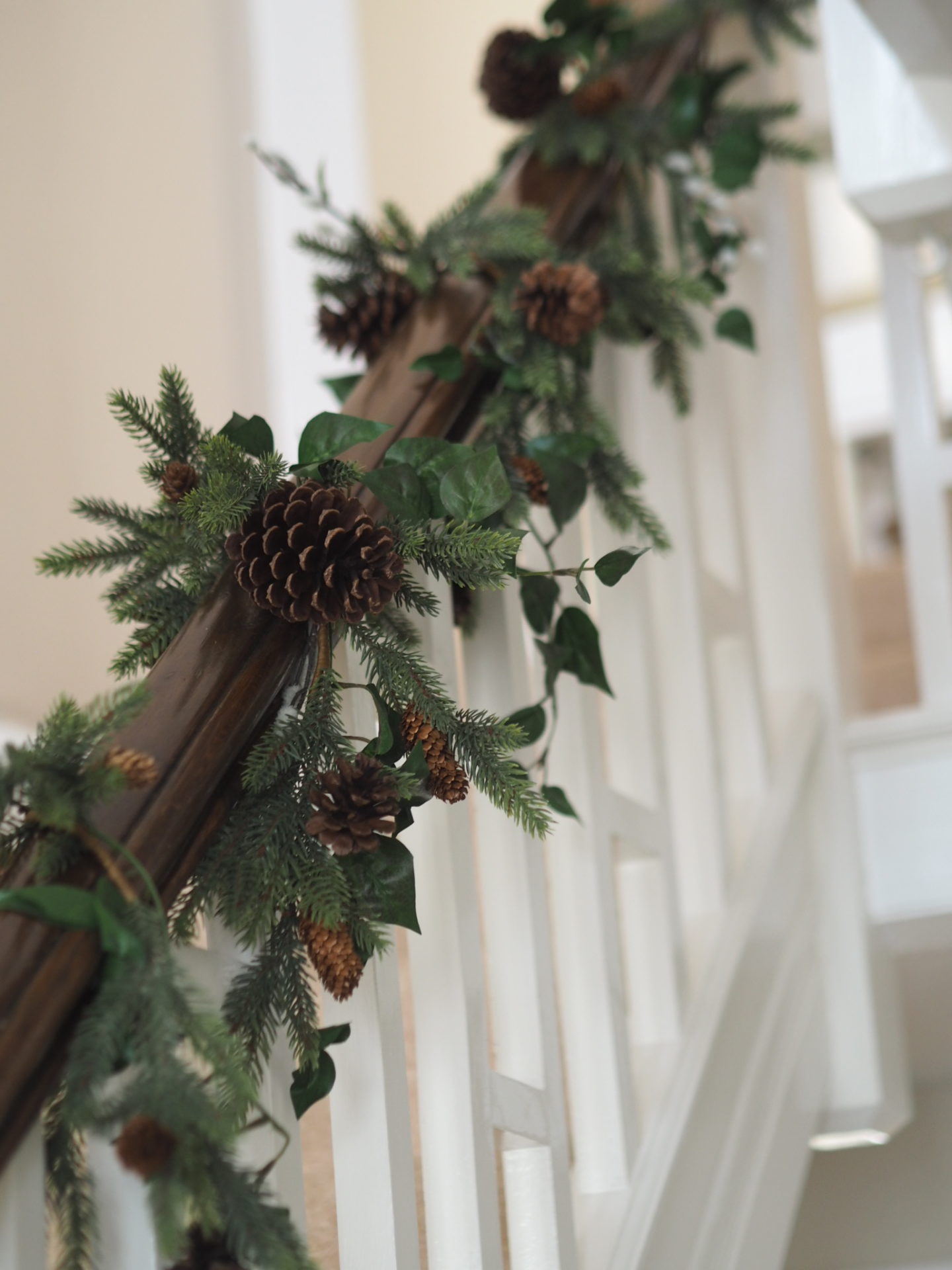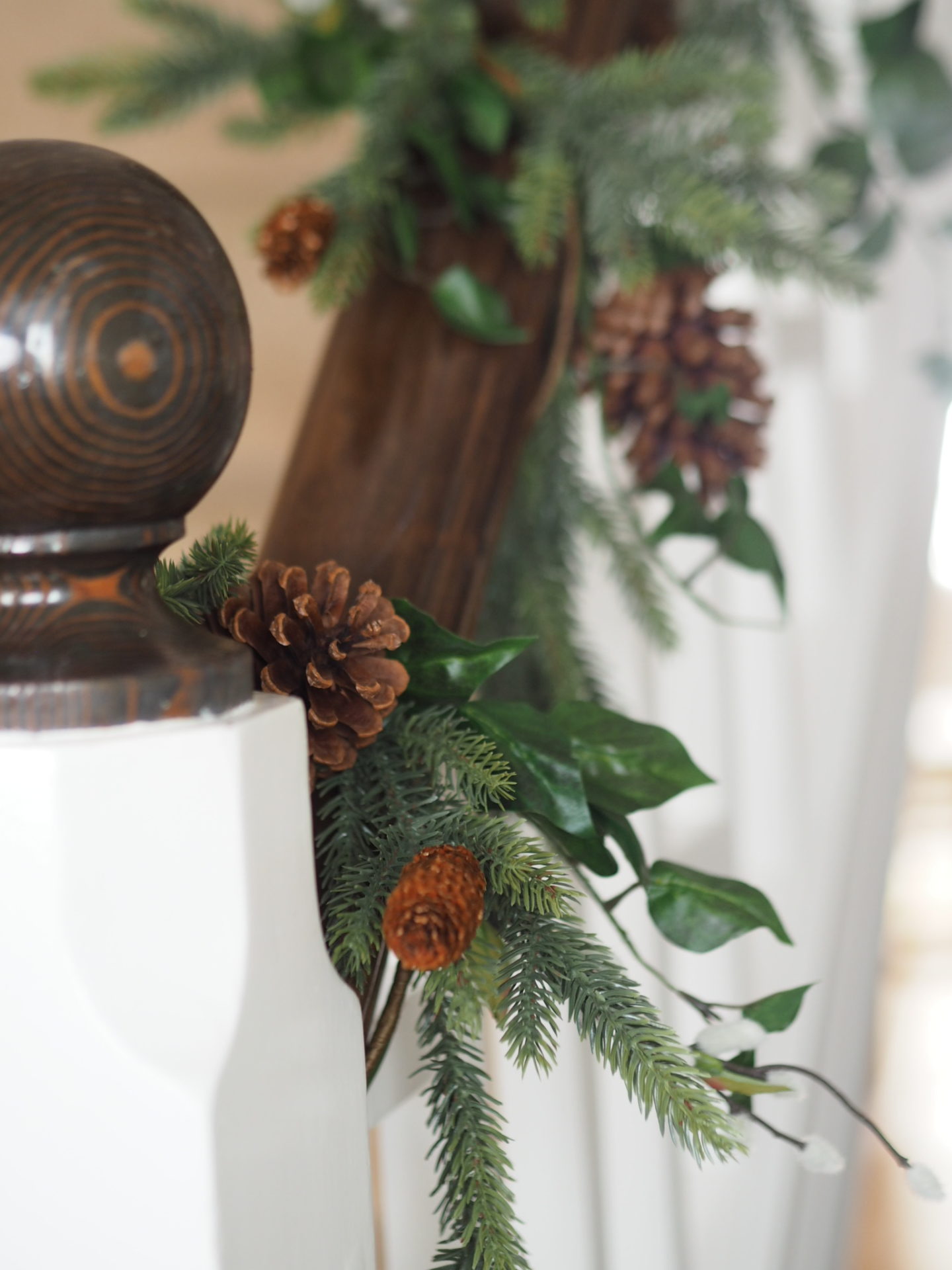 Walking through to the open plan living area, I've added some little touches to the kitchen (garland over the back cupboards) & dining room.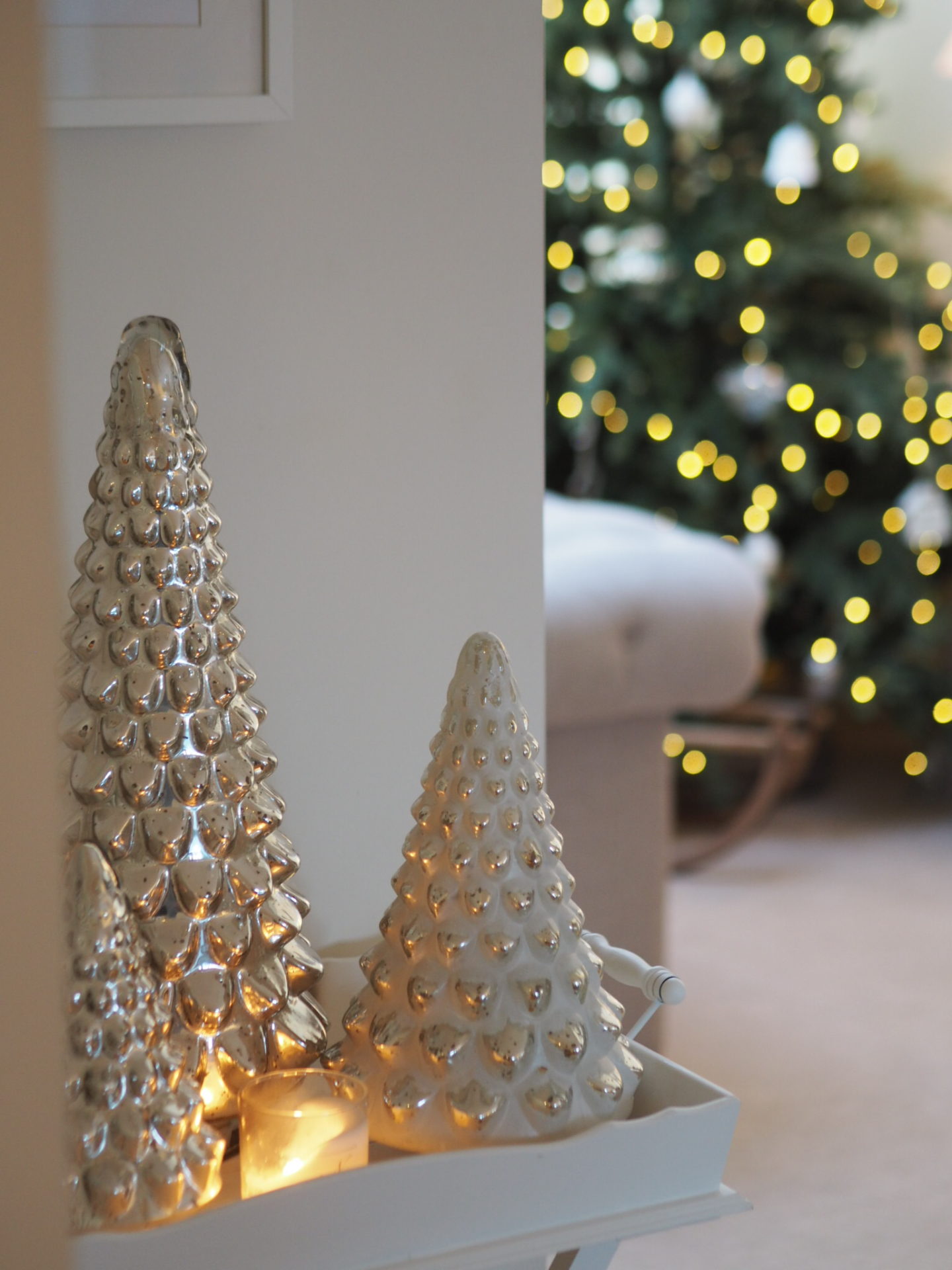 I fell in love with a £700 tree from The White Company a couple of years ago but couldn't bring myself to spend that much on something that comes out for a month a year so hunted high & low for the most realistic looking artificial tree going & after lots of research ended up going with this beauty. It's the 'Thetford' 7.6ft prelit tree for £197 including free delivery. They also do a smaller 6ft version. It takes 2 minutes to put up & let me tell you, not faffing with lights is a god send (I've put it up & taken it down 3x so far over the past 2 weeks for campaigns…).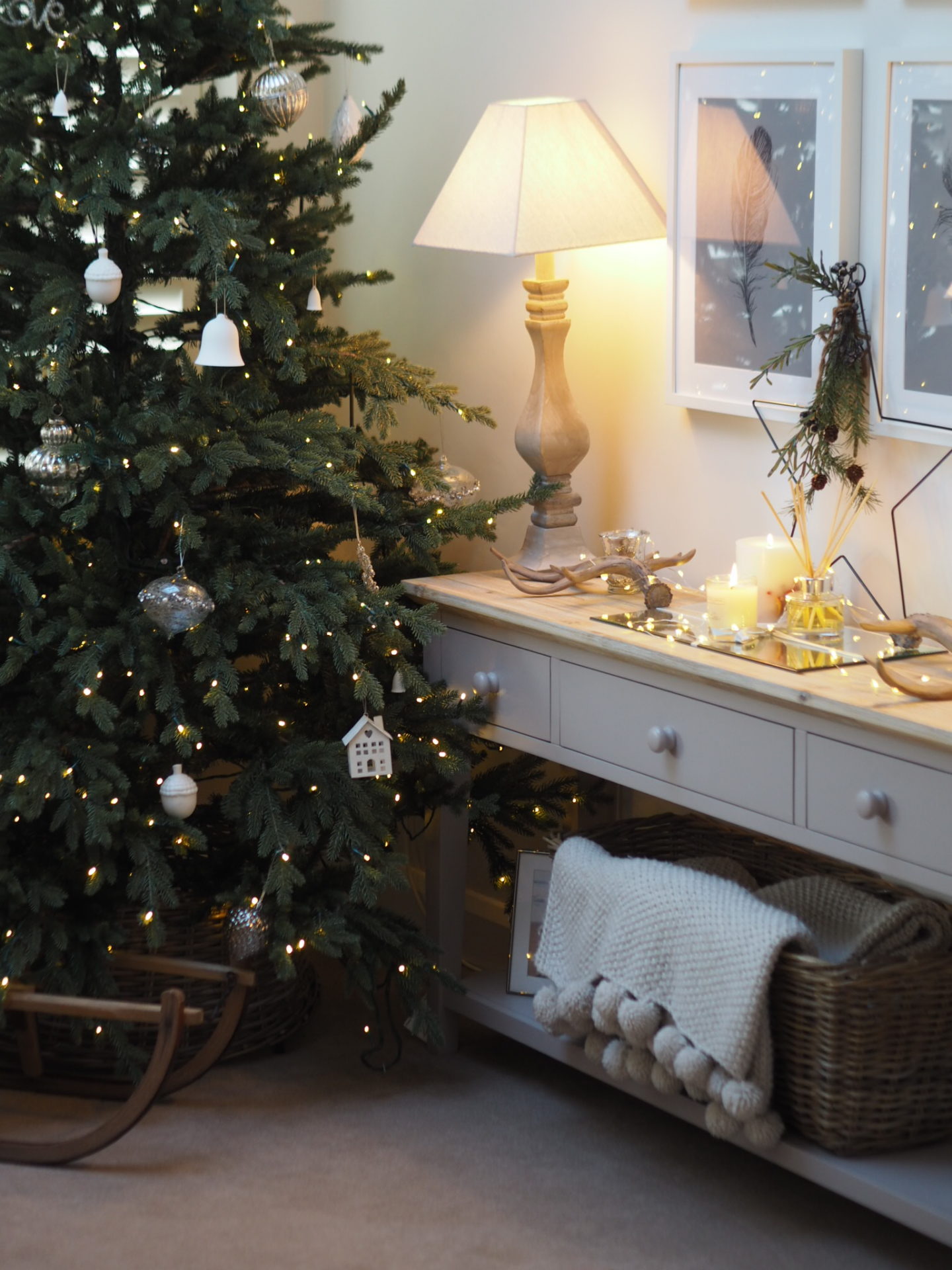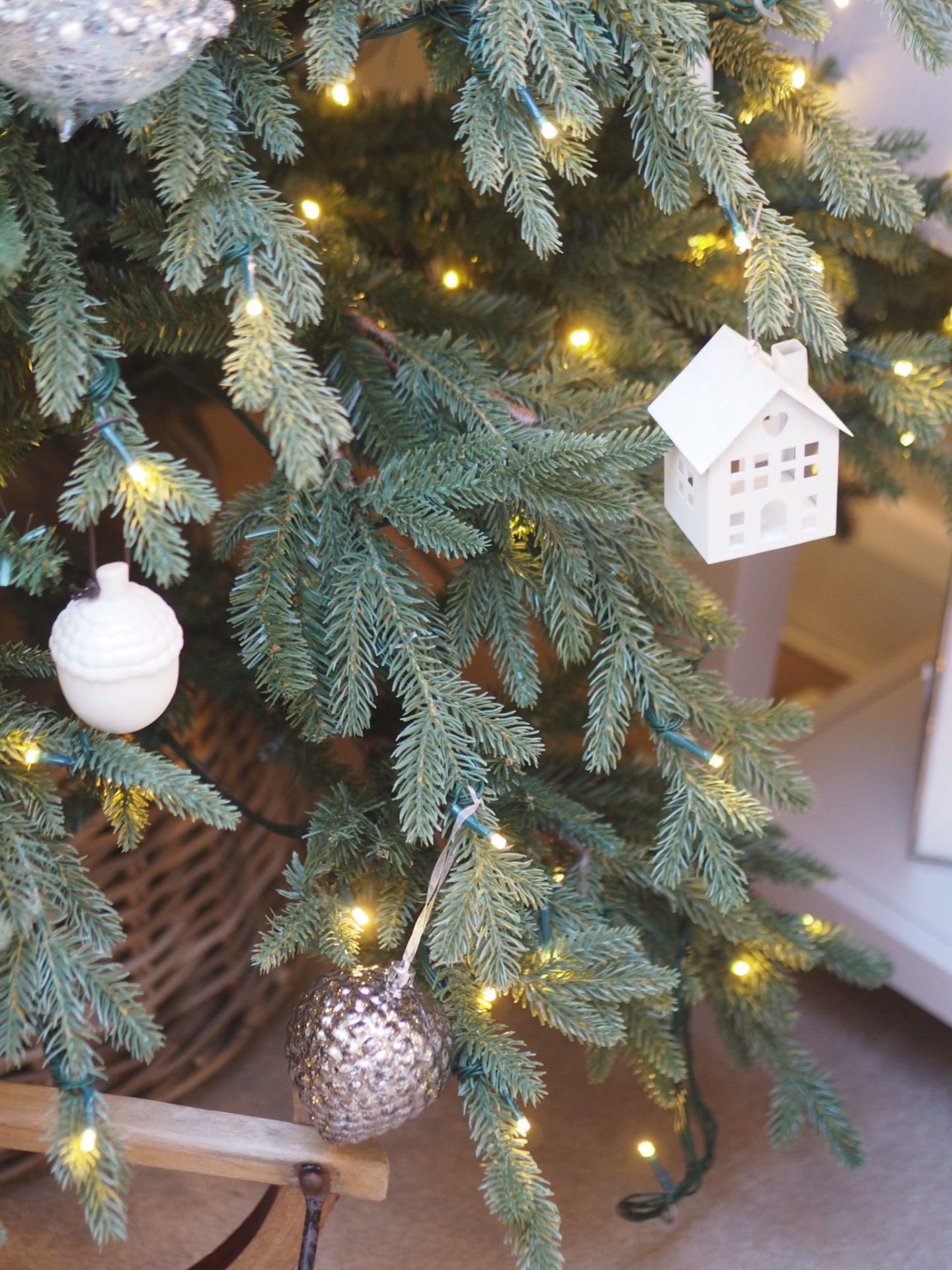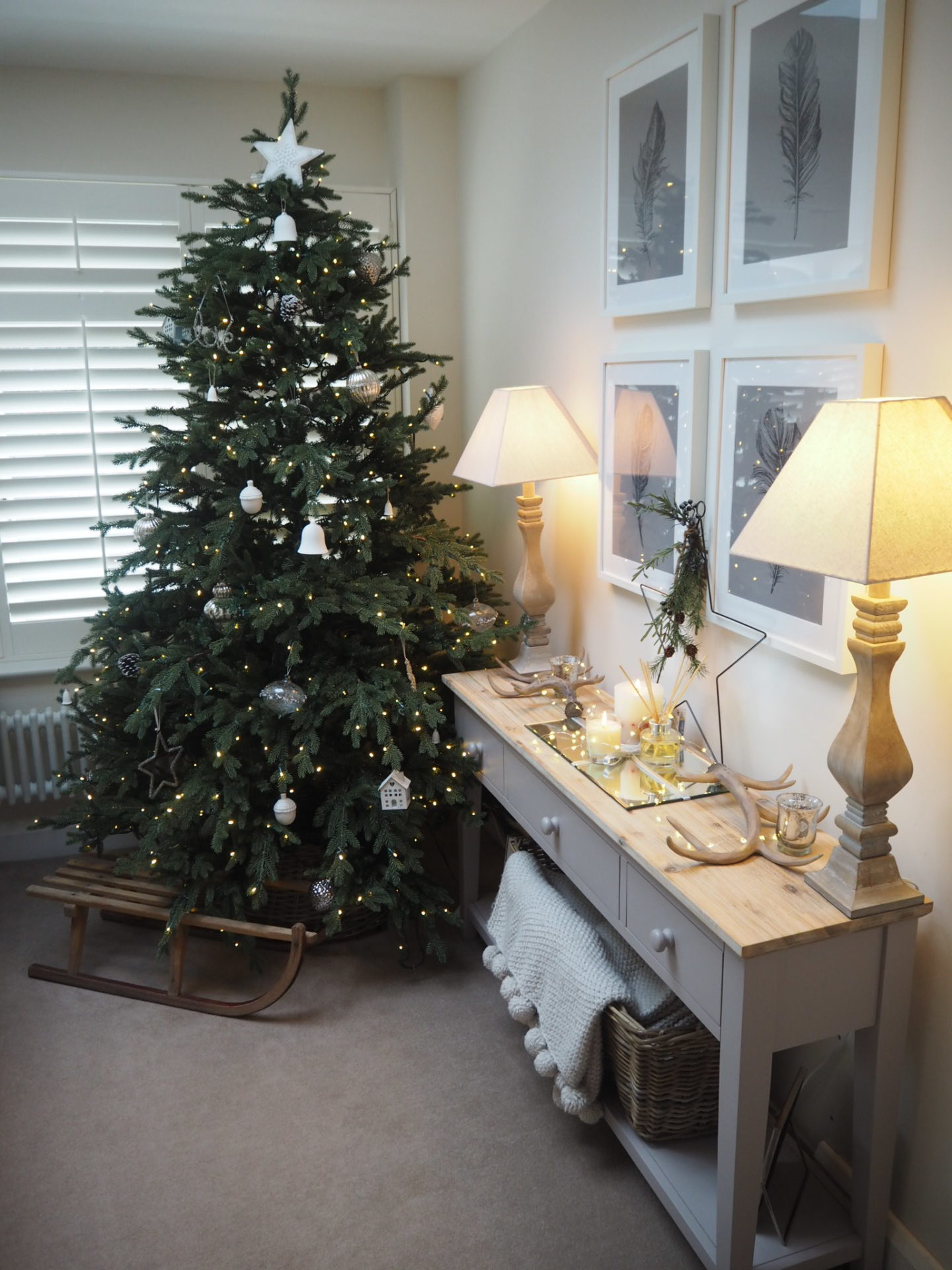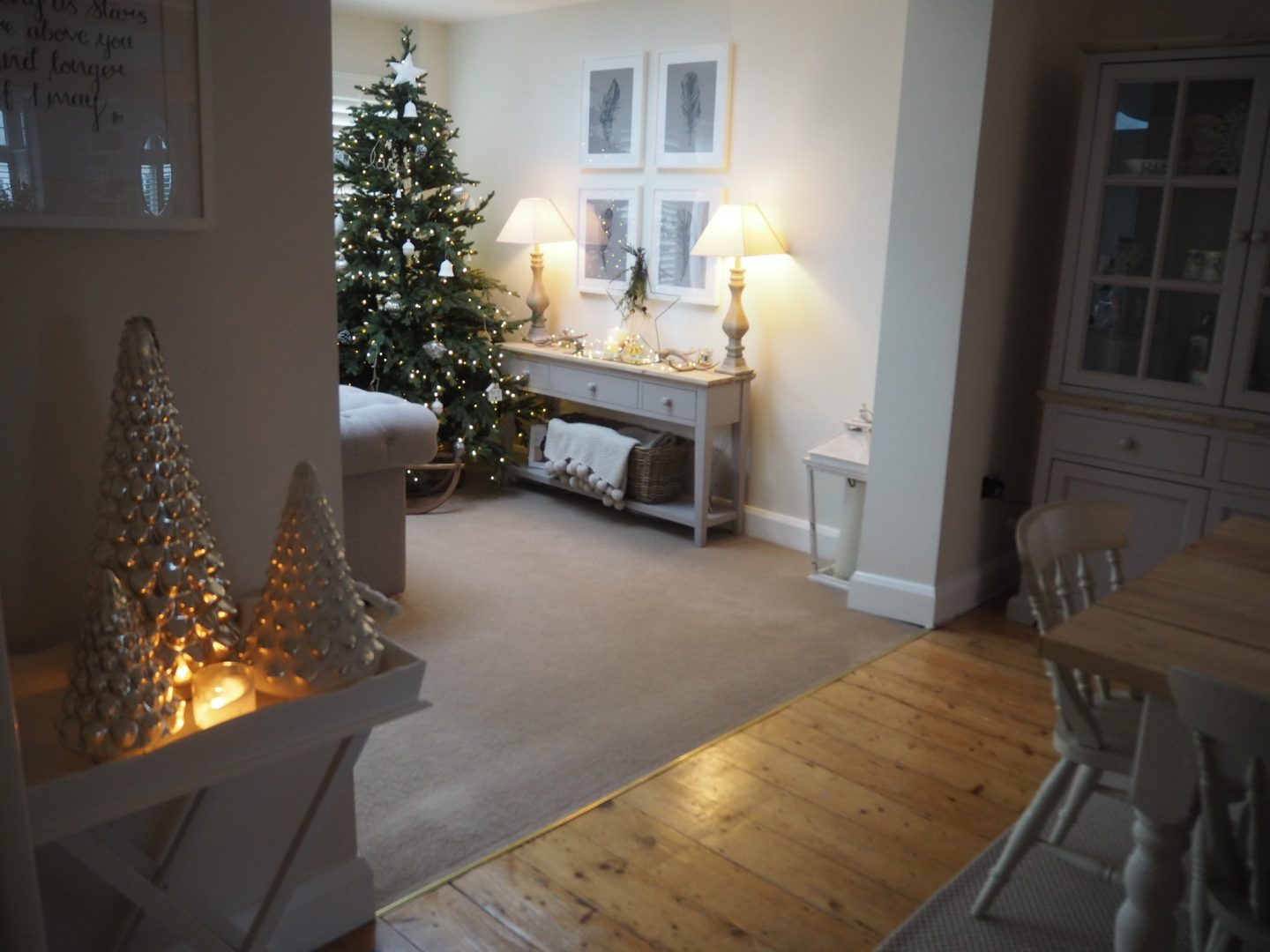 The wicker tree skirt was a bargain from Longacres garden centre on Amazon for £14.99 here.
Baubles are a mixture of The White Company & The Range – I've gone for whites, silvers, glass & crackled silver with a few pine cones added in for good measure & some white painted wooden decorations. A lot of them are a few years old but I've added a few new additions this year with these little mountain houses, some beaded snowflakes & for scent, these mini hanging bells (which match the bigger ones from last year which are unfortunately now discontinued by the looks of it!) in my favourite 'Winter'.
Speaking of scent, I bought some Scentsticles in 'Winter Fir' off Amazon a few years ago & still have half a tube left. These smell just like a real Christmas tree but without the whole having to water, the pine needles all over the floor & probably dead by the time 25th December rolls around.
I've had a lot of questions about this gorgeous little wooden sleigh which sits next to the tree, this is a vintage one unfortunately but have a search of Ebay to find similar.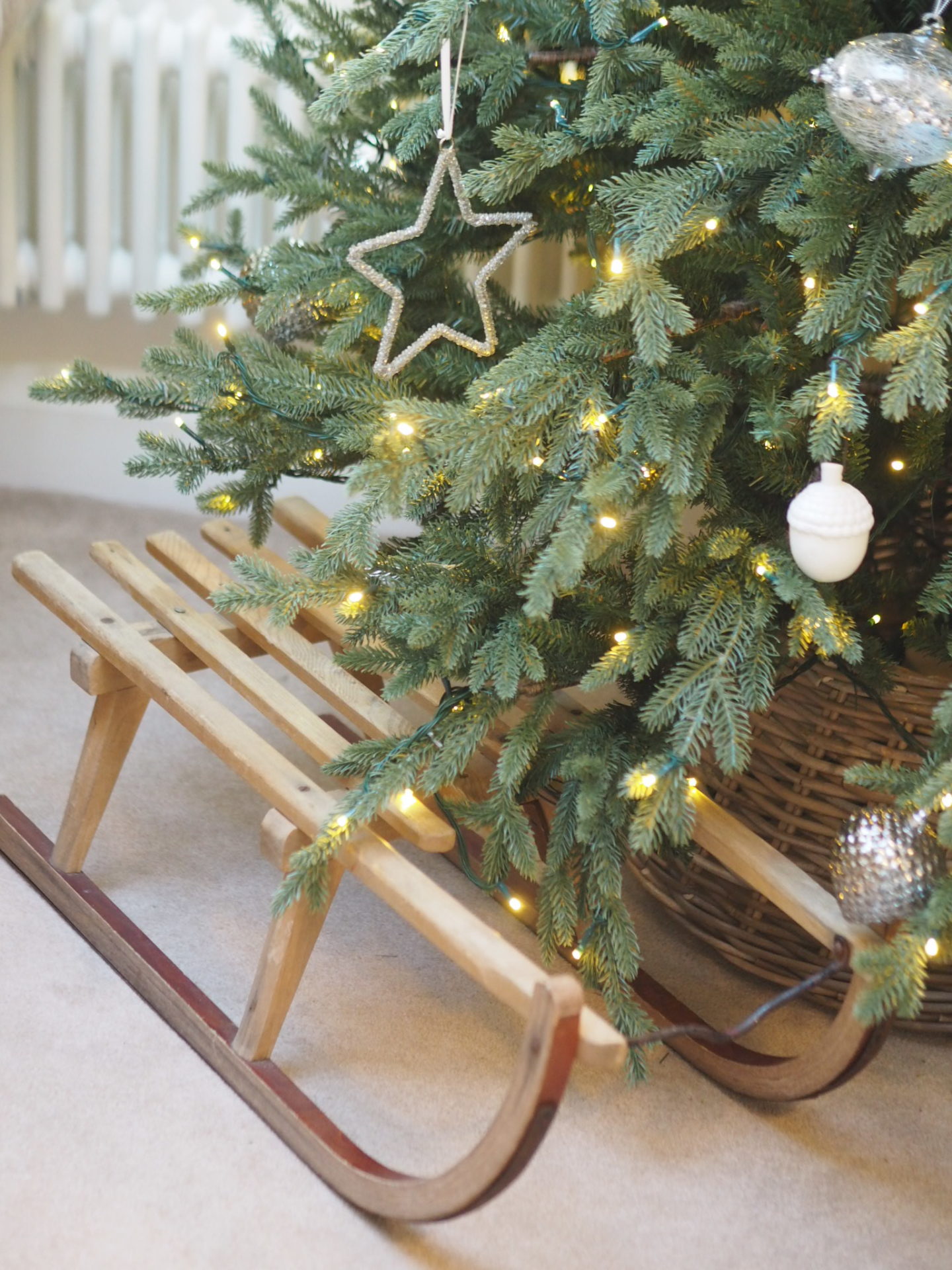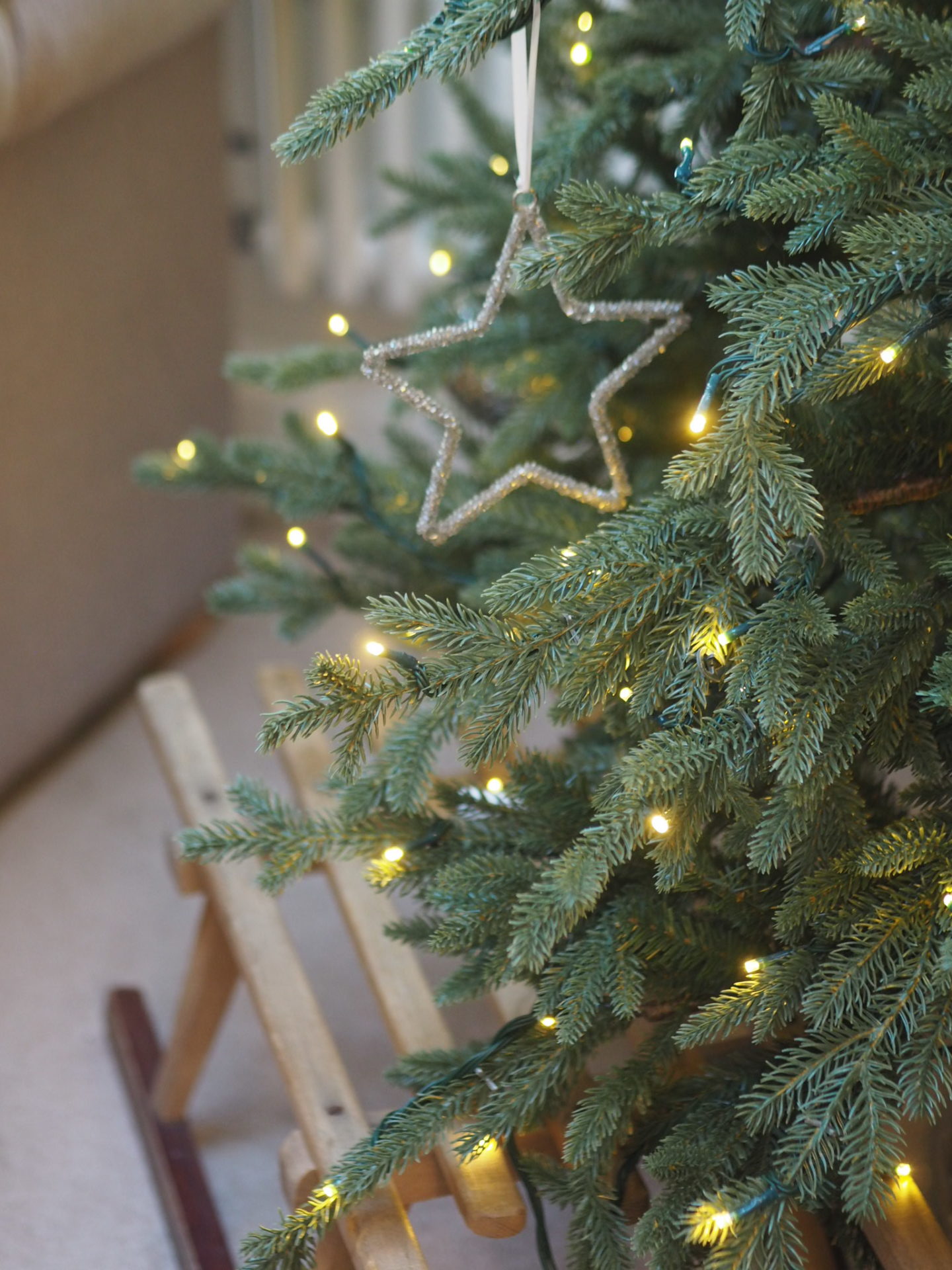 To the right of the tree, I've styled the console table using a pair of faux antlers from Matalan, then a mirrored charger with enough of The White Companies 'Winter' to make the whole house smell like Christmas. This is a medium botanical candle, a signature candle & diffuser. Same delicate wire fairy lights add a bit of festive glow then behind is the iconic nordic star. Also the pom pom blanket of dreams in the wicker basket below is just to die for at this time of year.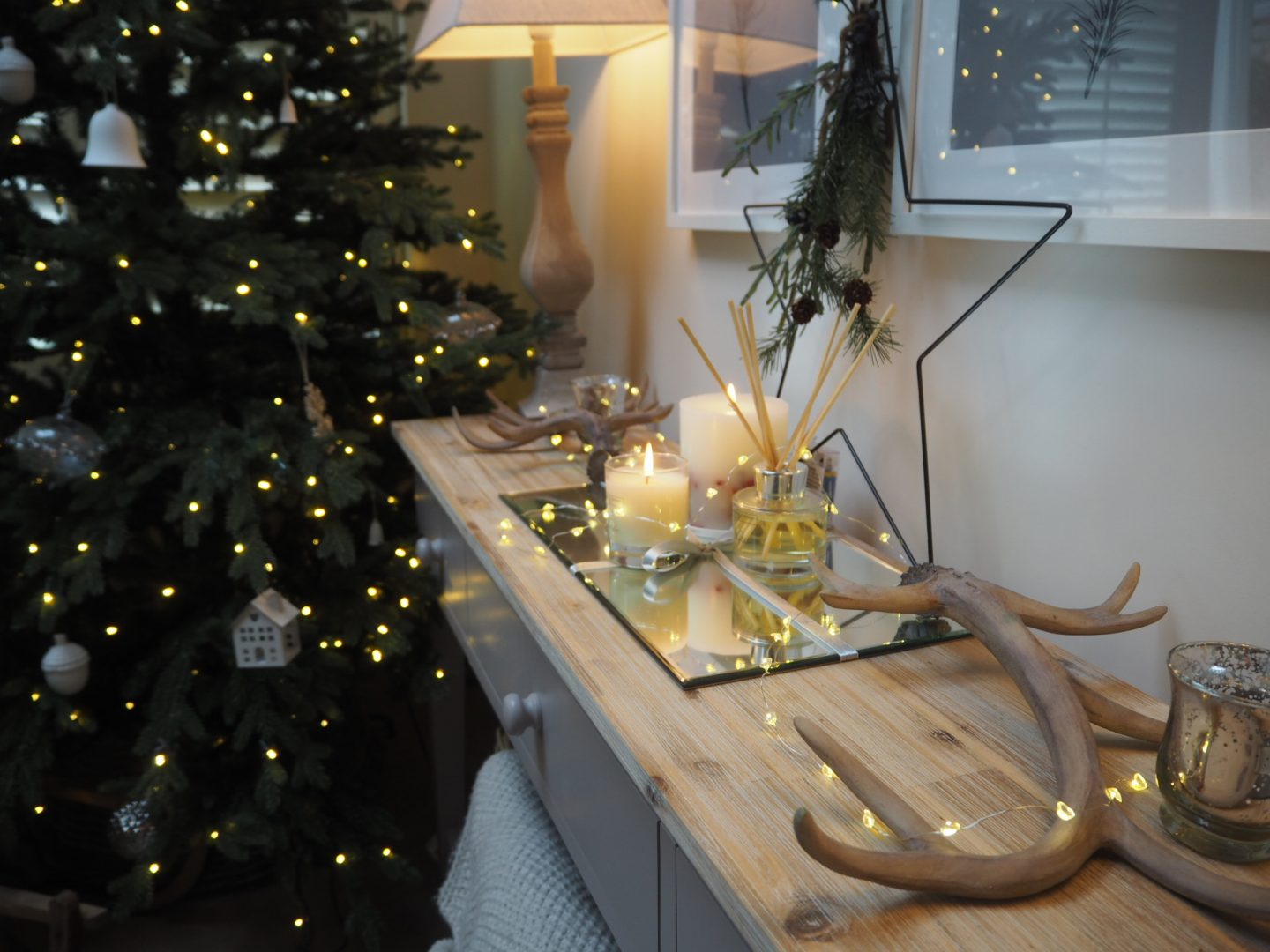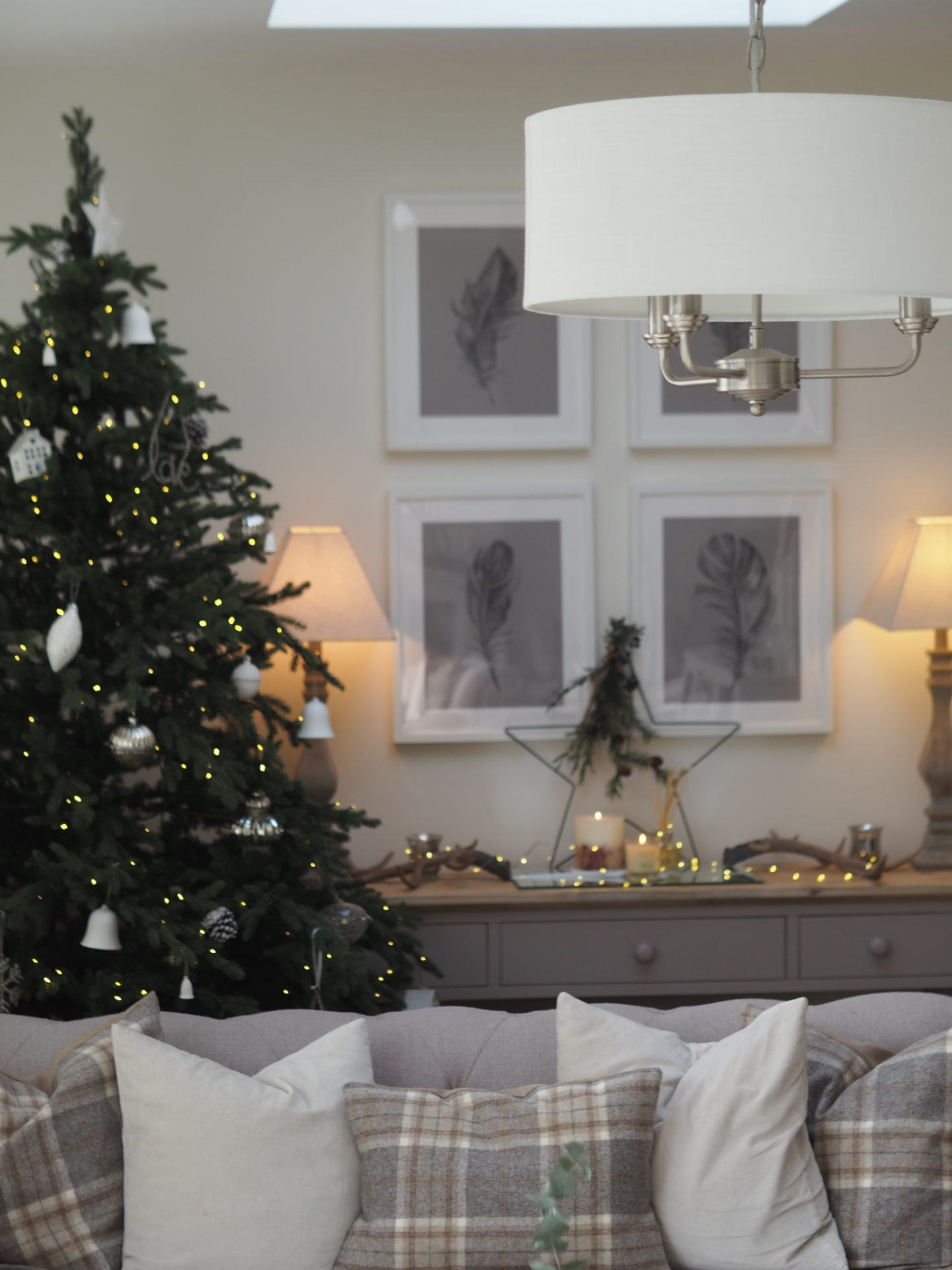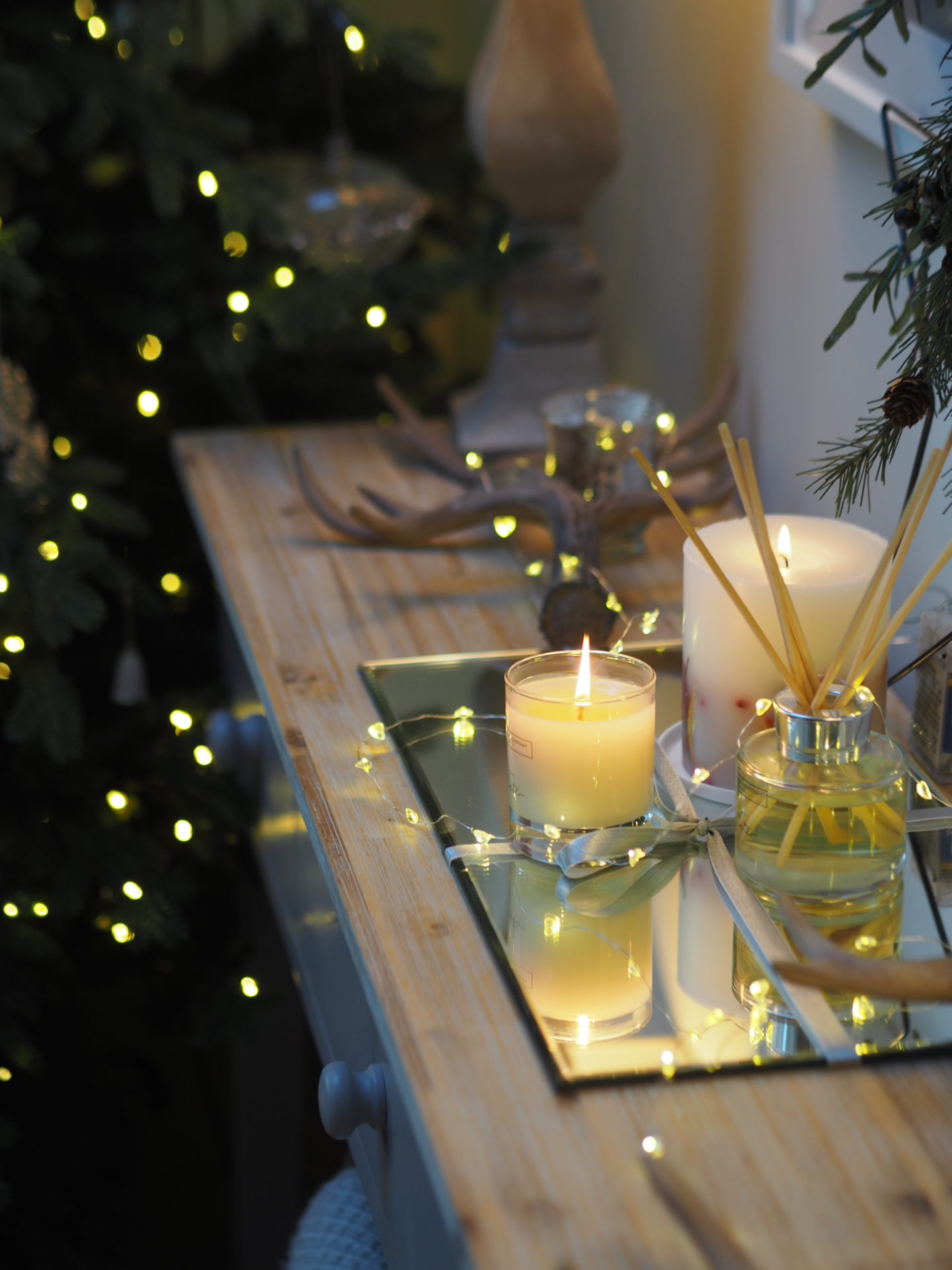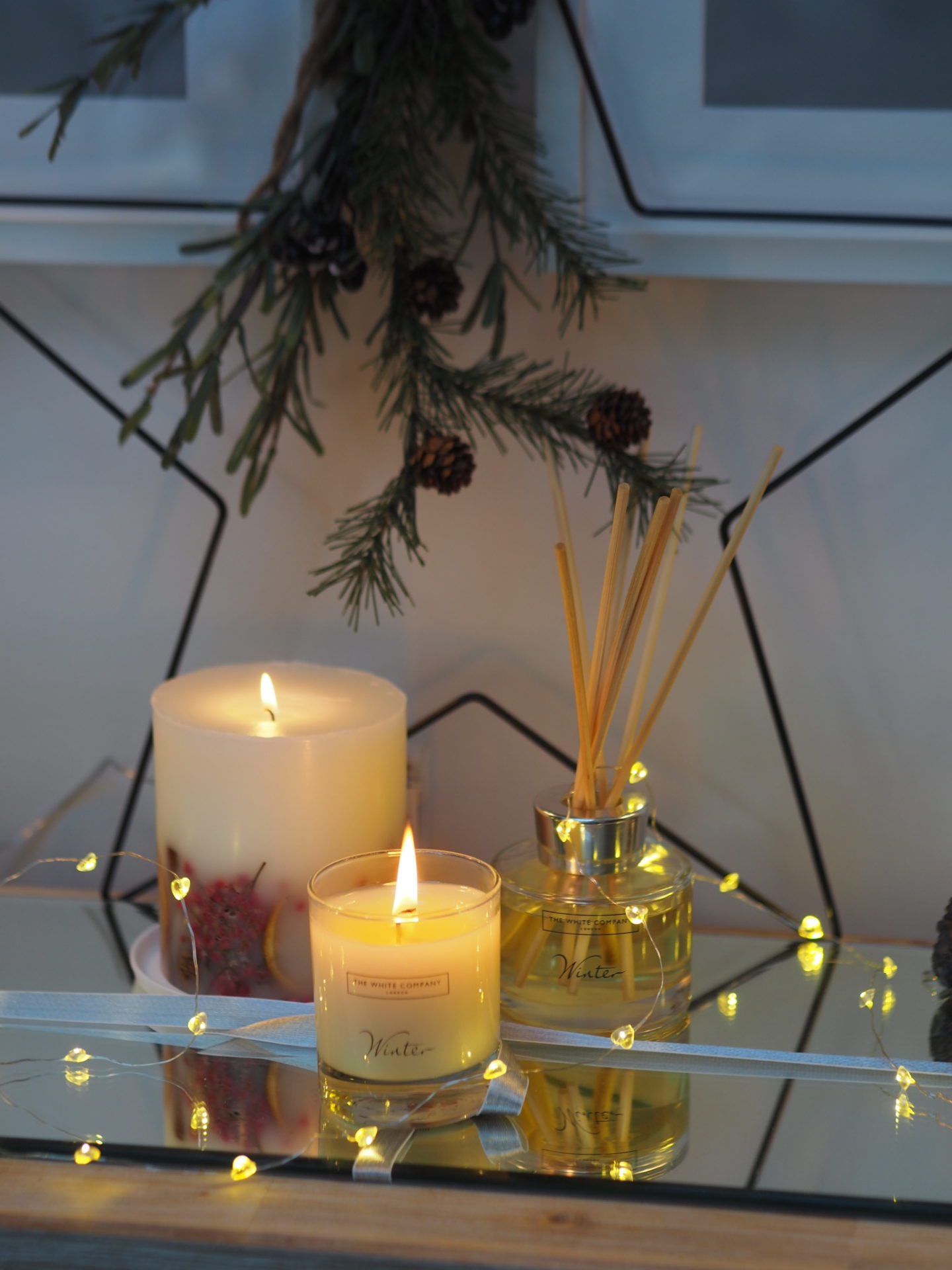 My sofa's have been given a new look with some cushions made by yours truly last year with fabric from Ramnant Kings. You can see the full tutorial on how I made them here.
I've added a few other touches around like pinecones & stags heads collected over the years.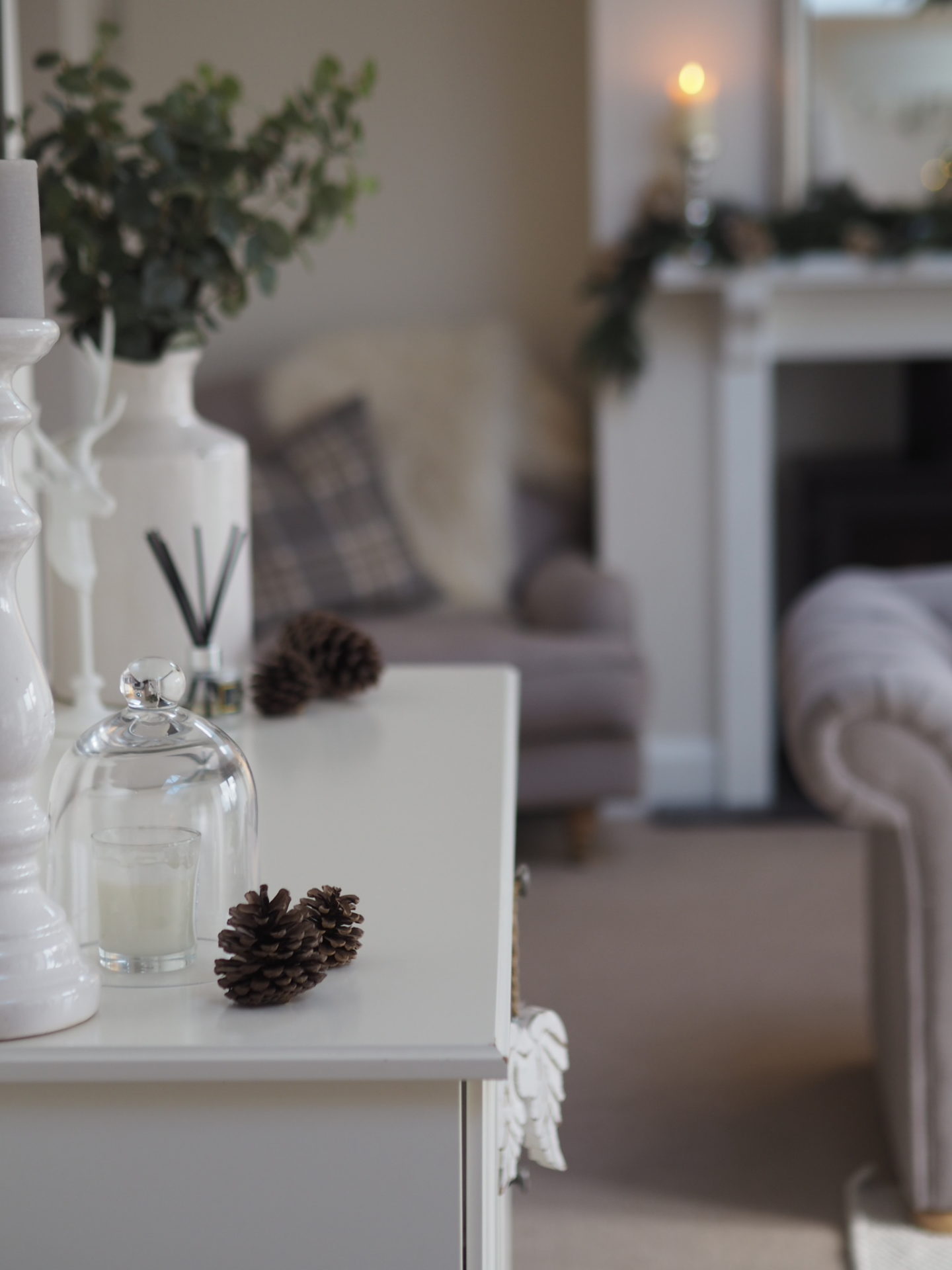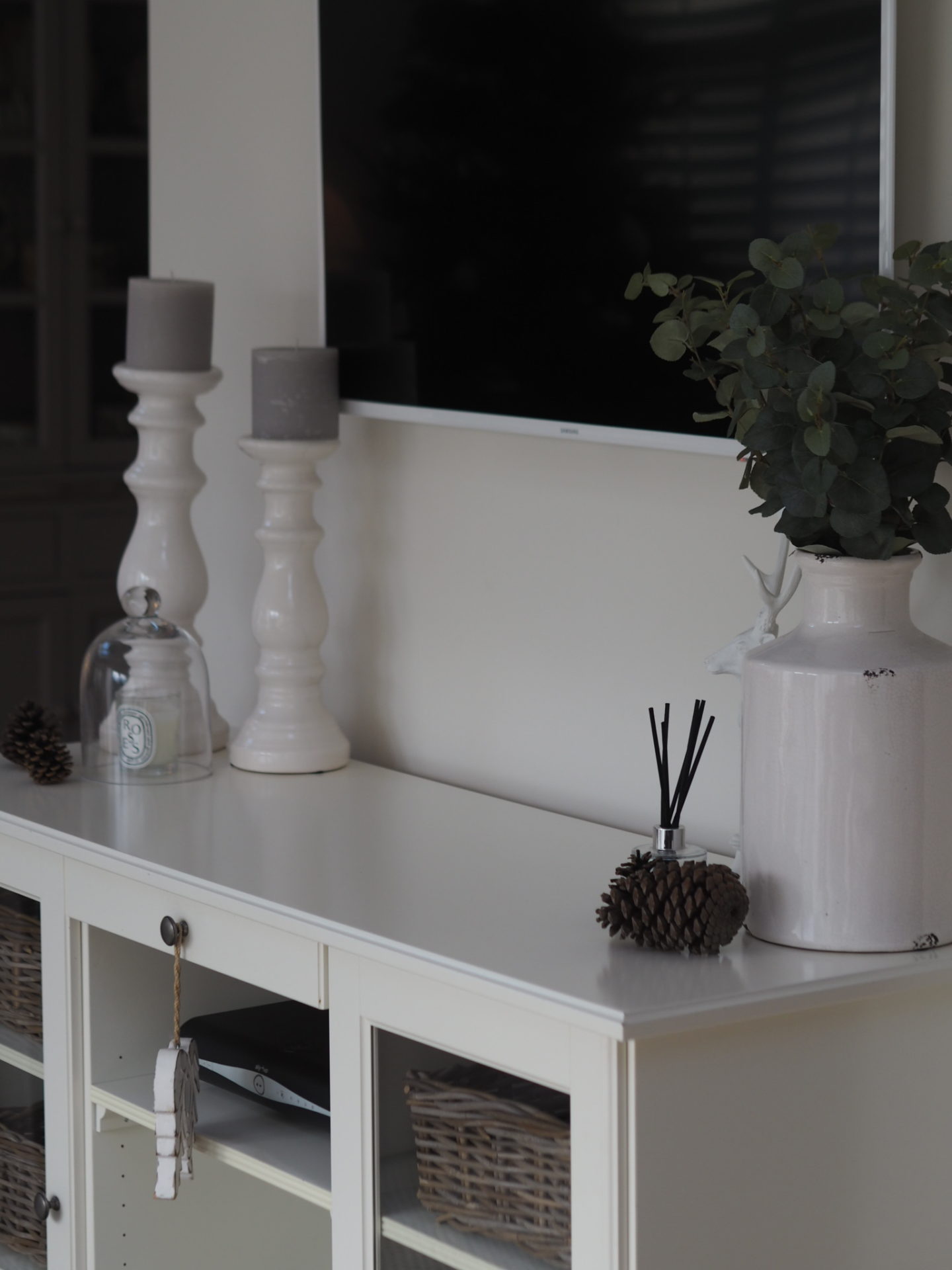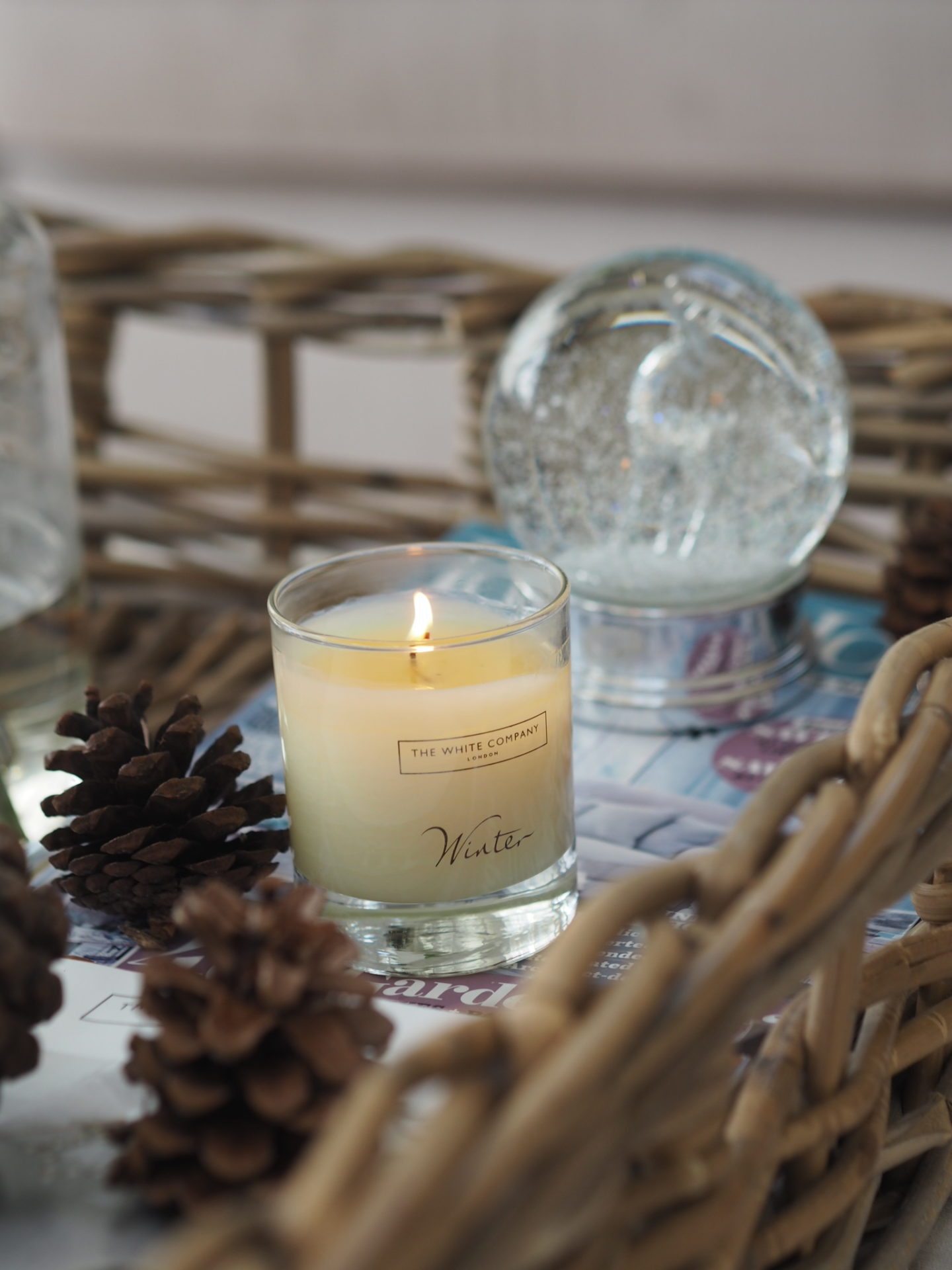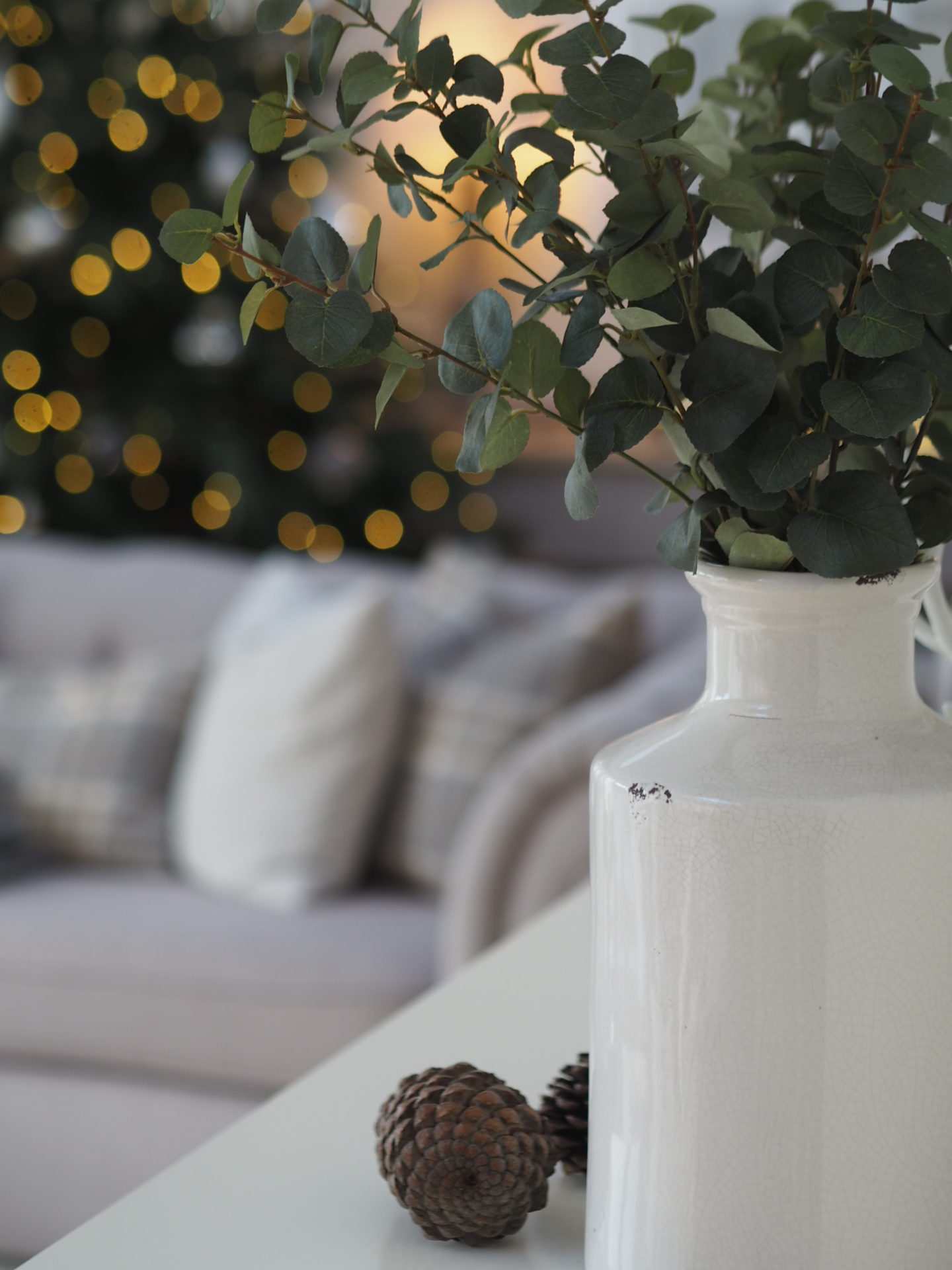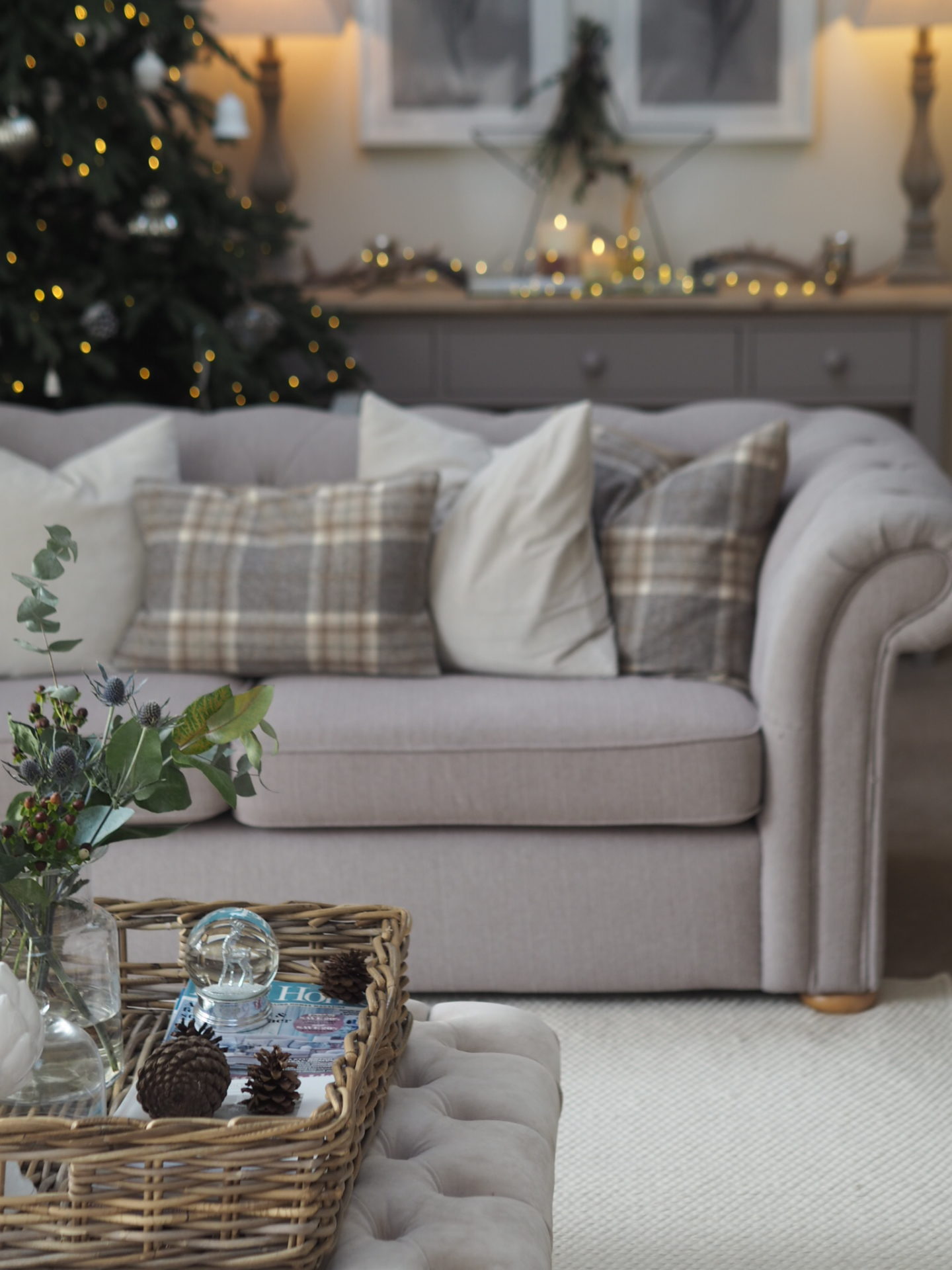 This time last year, we had a fake chimney breast built in (which you can read all about here) & a Dimplex Sunningdale log burner lookalike installed. It added so much character to this otherwise wasted space & I love it just as much now as I did then. It really comes alive at this time of year too & is on permanantly.
I've used last years The White Company (this is sounding like an #ad, I can promise it's not, I just think they do Christmas SO well!) garland (see this years version with ivy & pussy willow) & popped in a few dried hydrangeas too. These two crackled mercury pillar candle holders sit either side of the mantle year round (discontinued). Above is this mirror from Wayfair & I've hung this wreath.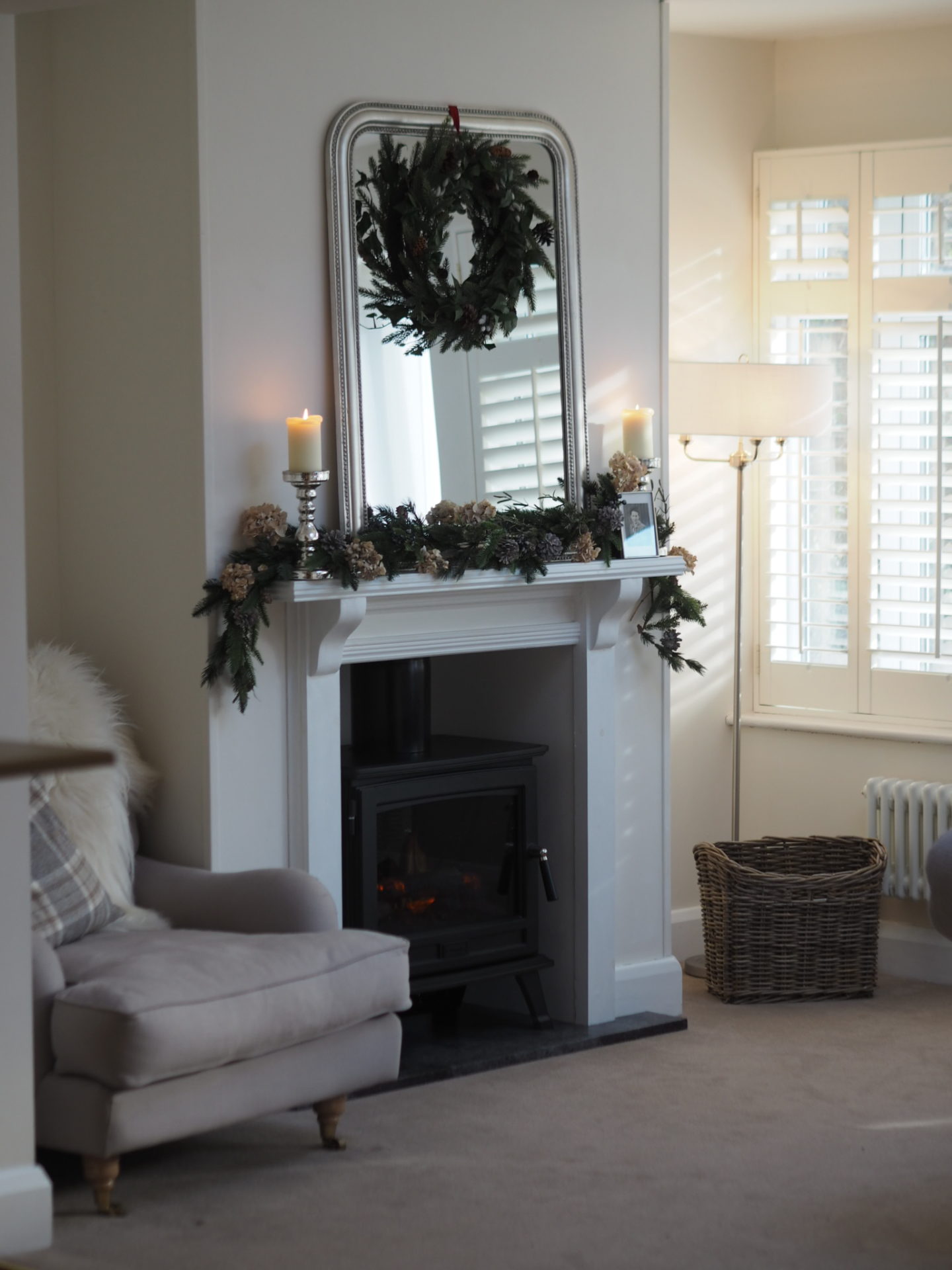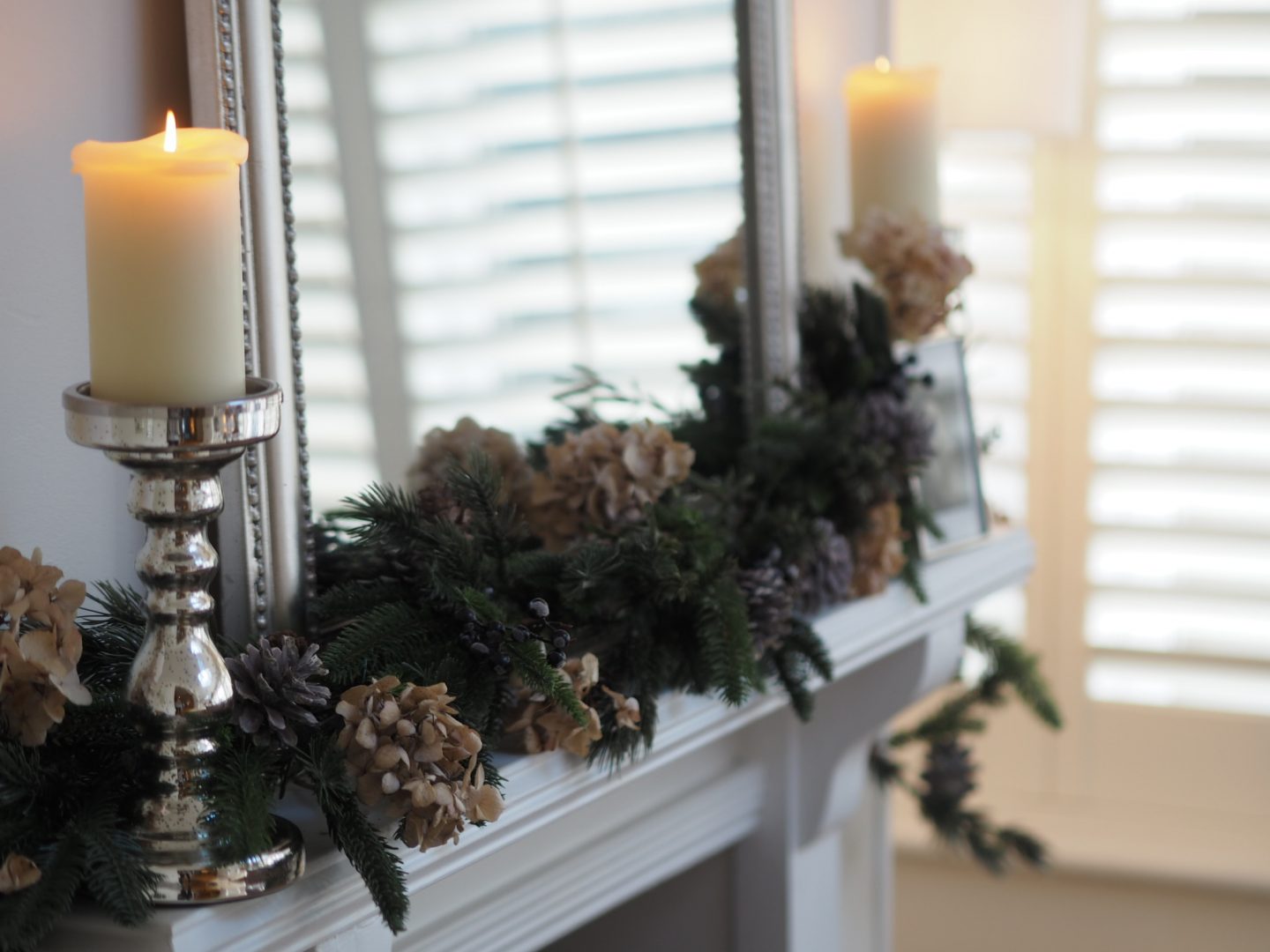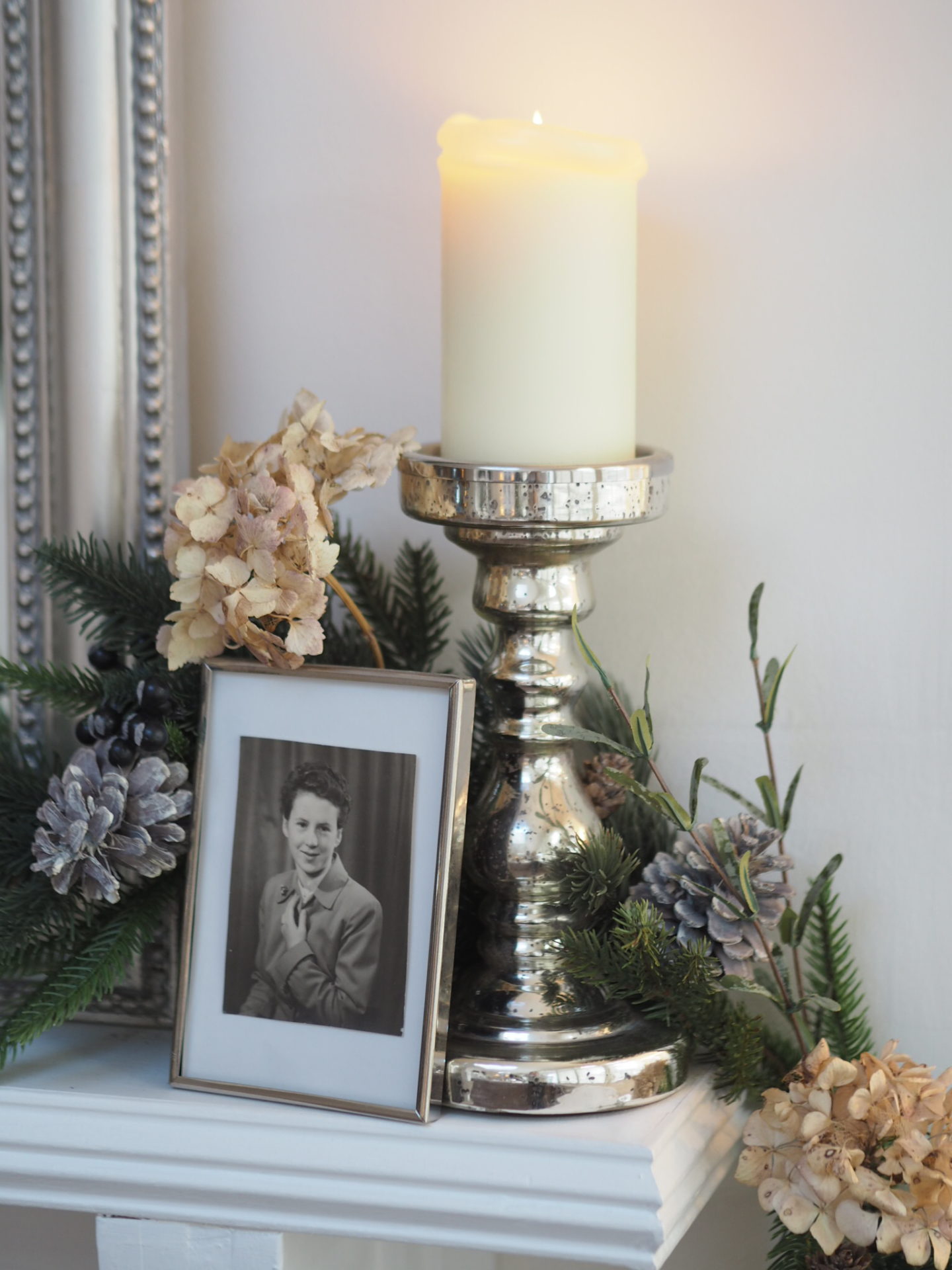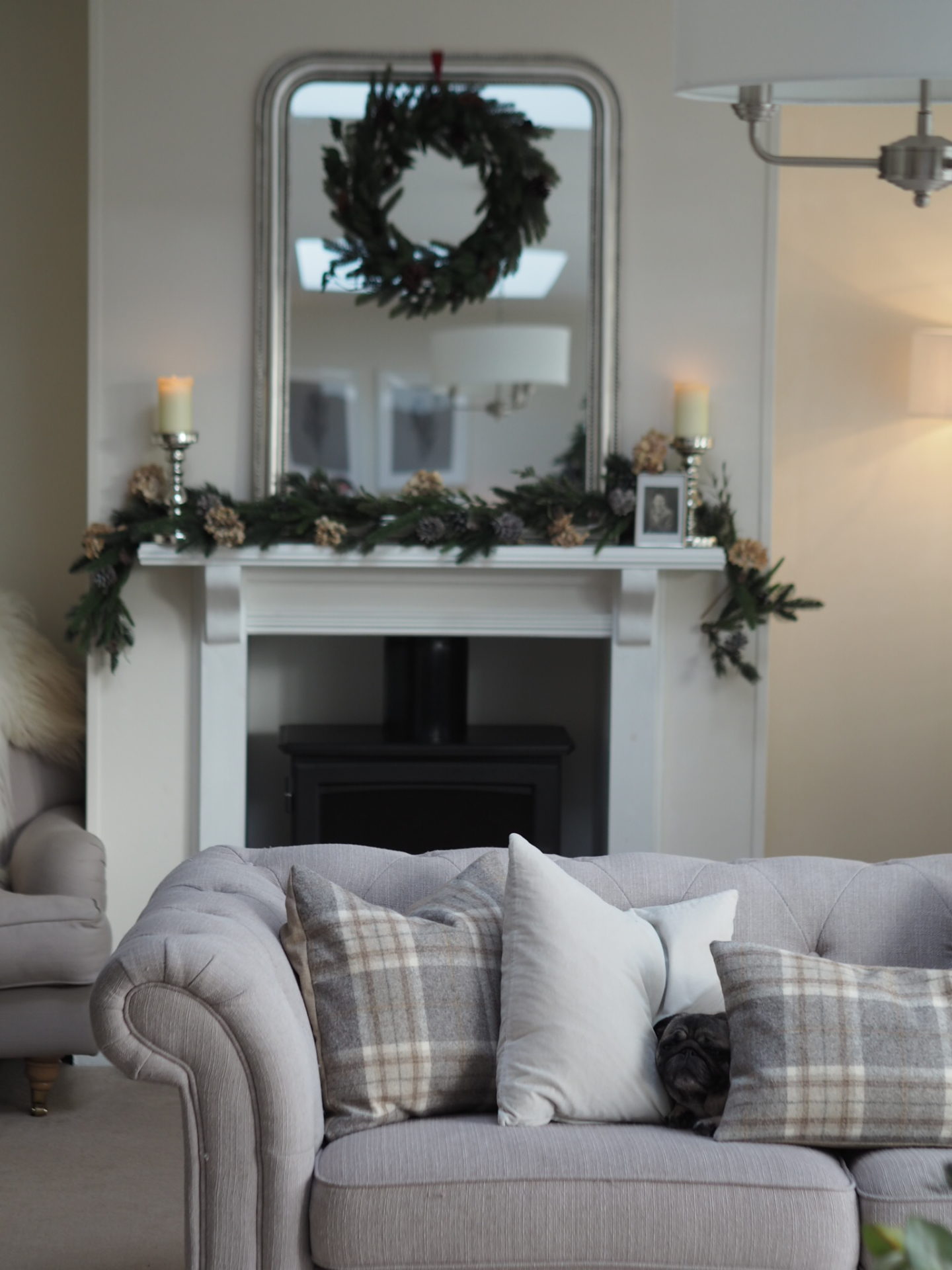 I'm sure I'll add in a few other pieces before the big day & we're planning on getting a little real tree for the bay window in the playroom closer to the time, so I'll keep you updated on the look over on Instagram no doubt.
This weekend will be the time to decorate for most of Instagram so I can't wait to see all those beautiful tree's popping up! Isn't this time of year just beautiful.
Love,