In interior design, it was once the case that putting a rug over carpet was a bit of a faux pas but this is no longer the case & I've seen in my own home just how effective popping a rug down can be at transforming the look, feel & overall vibe of a space. It's safe to say that I'm a rug convert.
Rugs may seem like a bit of an afterthought for many but it can actually make or break a room. It anchors/grounds furniture & layouts, provides colour, texture & warmth as well as adding layers to soften & draw the eye.
So what are the rules for perfecting the perfect rug look?
1.Go big or go home – My number one tip is to go as BIG as possible. This will give a luxury feel & actually make everything feel bigger too. Putting down a rug that's too small will mean it'll get lost in the space & won't set the boundaries. You want to avoid the 'floating' rug look where it's a small rug in the middle of a room with no furniture near it.
2. Perfect placement – Rug placement is absolutely vital & can make or break the overall look. As a rule of thumb, your rug should ground your furniture so the front legs/feet should be sat on it & the back legs off. For example my two sofa's in the living room are spaced facing each other & both front feet are positioned on the rug. In my bedroom the bottom feet are also placed on the rug & it's about half way down the bed. Alternatively you can put all the legs on!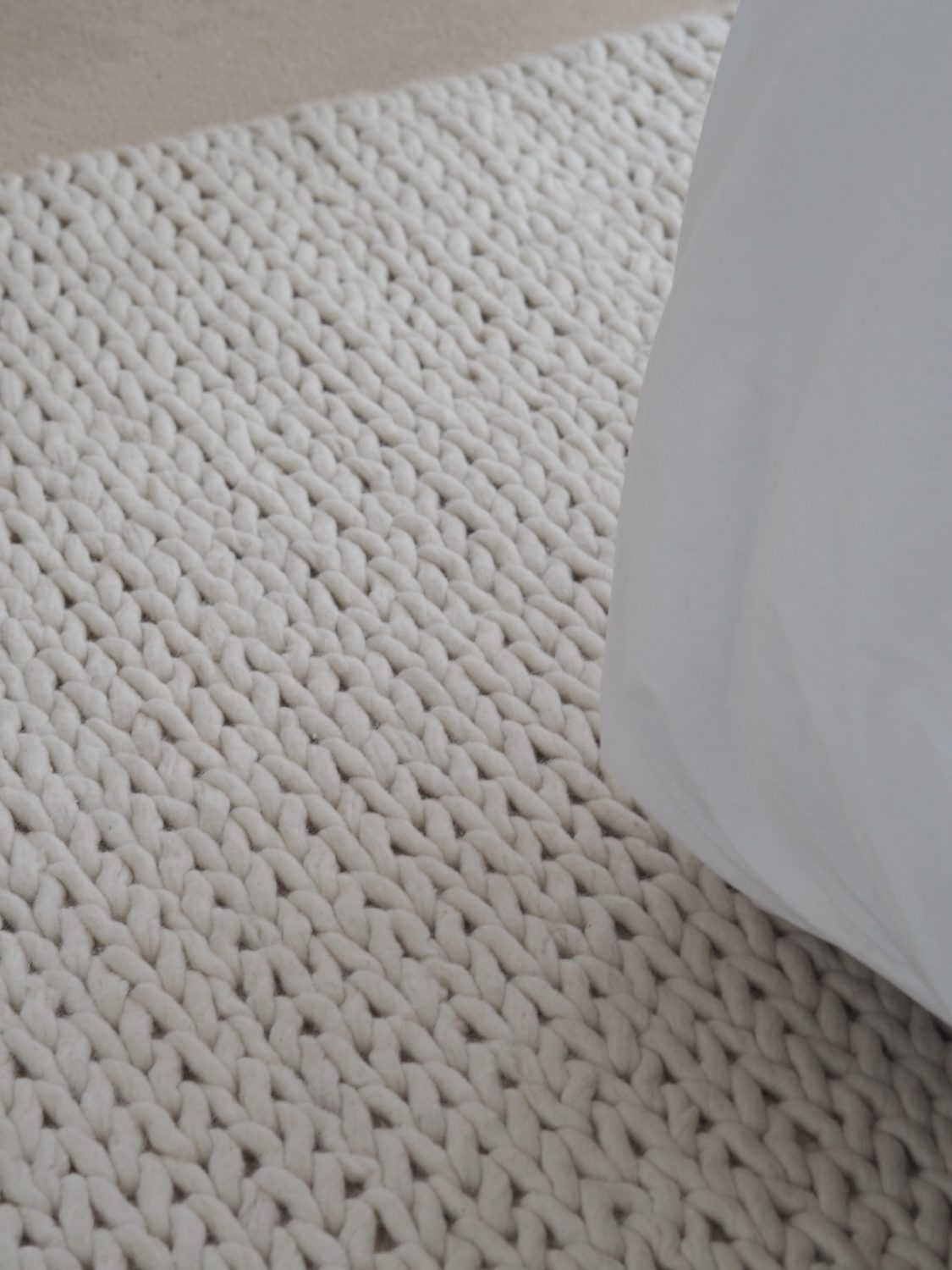 For example, how much better does this layout look with a bigger rug & legs on rather than 'floating' in the middle –
3. Create a focal point – The goal when it comes to rugs is to create a focal point, whether that's using something bold or slightly more neutral. A rug will help to draw the eye, even if it's not to the rug itself but the overall area. A rug is a great way to add a pop of colour so don't be afraid to be playful!
4. Design from the rug up – If you find a rug that you LOVE, you can actually design the room around this. Nowadays they come in so many fabrics, colours & patterns that it's easy to find something then work from that. Take for example a statement rug, you can chose to keep your furniture & decor neutral to let the rug speak for itself or you can use some of the tones & patterns from it to bright it throughout the room.
5. Match your lifestyle – Don't invest in an expensive rug if your lifestyle doesn't depict it….kids & animals means that light coloured, hard to clean rugs are a big no no. Go for something that can be replaced if ruined or you know you can get the vanish on without any dramas! Bedrooms are typically lower traffic areas & can allow for a longer pile for that sink into toe wiggling feeling as you climb out of bed in the morning.
My recent bedroom revamp came together after falling in love with this huge 200x300cm fusion ivory rug from Modern Rugs. It helped to ground the bed as well as add texture with the knitted design. Even though it's a neutral tone, it helps to add a contract to the vast expanse of beige carpet too & makes such an impact. Plus, it's super soft which makes getting out of bed that little bit easier. They've generously given THTMM readers 15% off until 30th September using 'CHARLOTTE15'.
If your room is lacking 'something', try popping a rug down for an instantly new look, it's a fail safe way to give a luxury look.
Love,