Happy FriYAY! Hope you've all had a fantastic week & are getting through the Summer holidays without too many mental breakdowns….
This weeks room tour is of a room which, if I'm honest, I've fallen out of love with & you all know by now what that means so prepare for it to probably not look like this in the next few months. I've got issues, I know.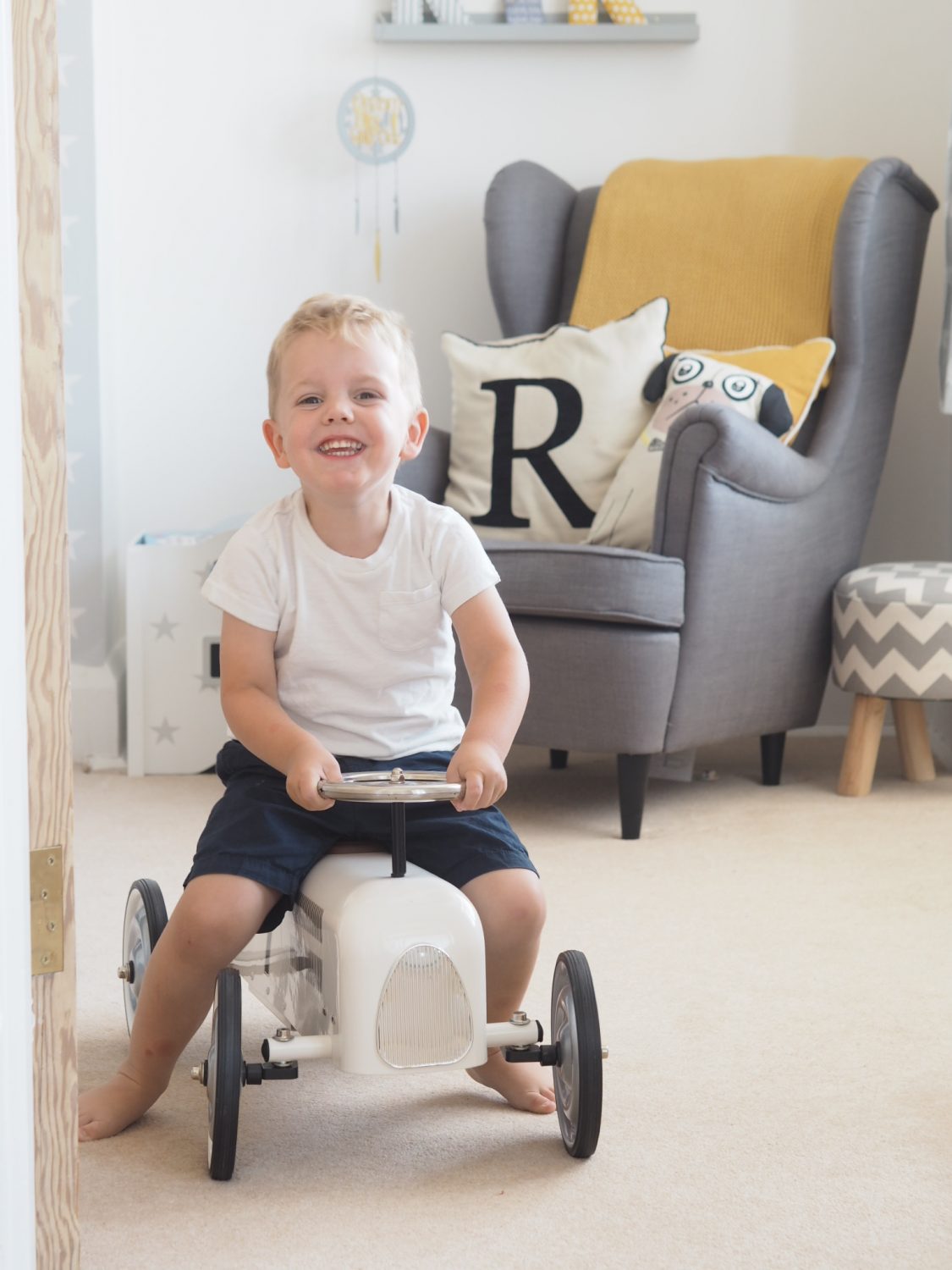 Rory's room was redone for his 1st birthday present & was inspired by the beautiful star print design from Great Little Trading Co which you'll see heavily features in here. Perfect for a little boys room & you can't go wrong with a bit of grey & mustard.
This room is at the front of the house which means it has the beautiful bay original stained glass windows (complete with cafe style shutters from California Shutters) however that also means it's North facing so can be quite dark in the Winter months. To keep things bright, I painted all of the walls in white. This was a cheap 'smart price' paint from Wilko's which took a ridiculous amount of coats & I really wouldn't recommend but is actually more of an off/warm white.
Originally the room had two build in wardrobes, either side of the chimney breast, however we removed the right one to free up a bit more space (& to be honest, the wardrobe on the left is only used as a dumping ground as we're more of a drawers rather than a hang up kind of family). This gave a great space for a little reading area complete with Ikea Strandmon armchair (so comfy & great value for money), this GLTC star book trunk & a footstool which was from B&M bargains.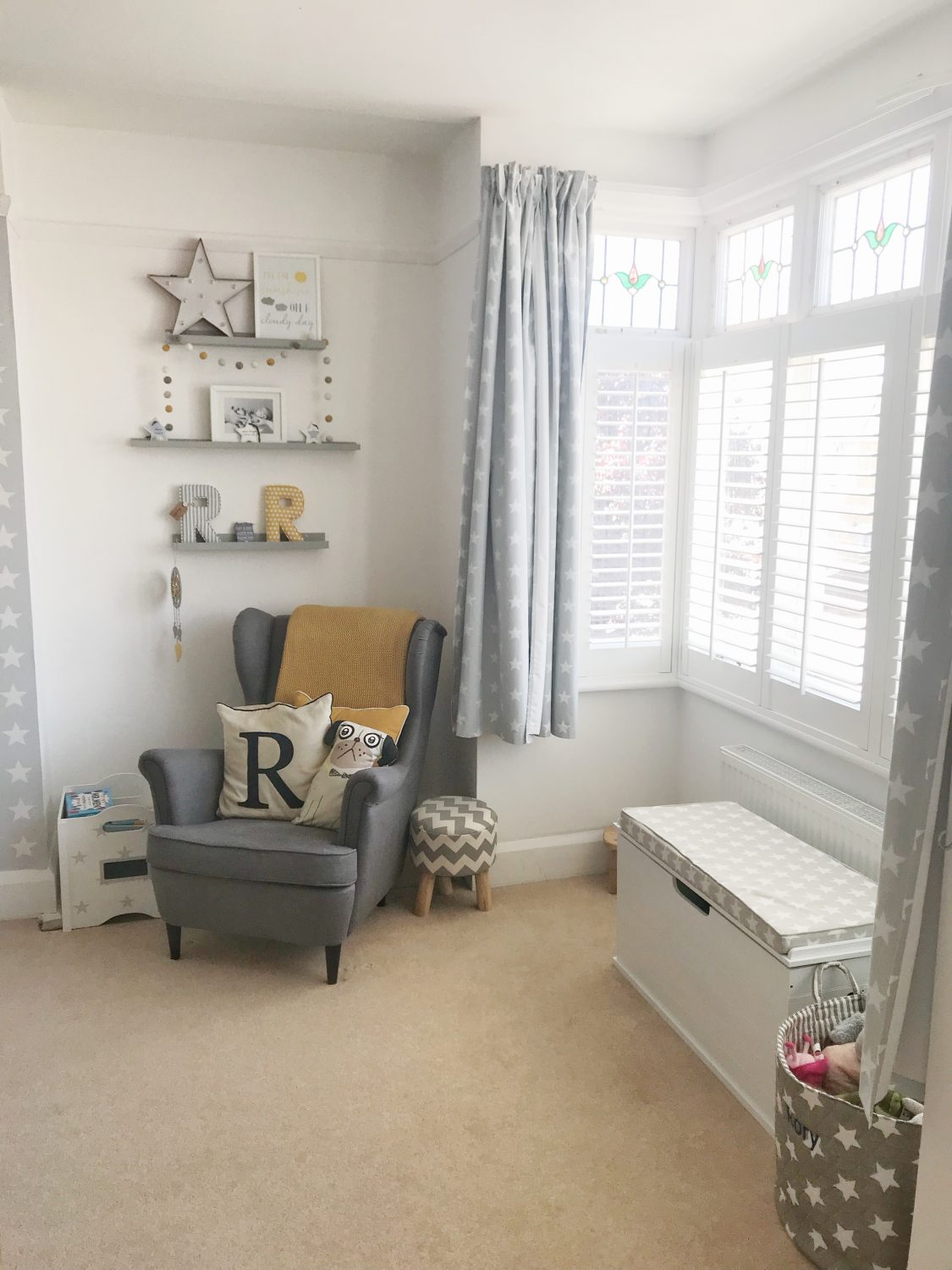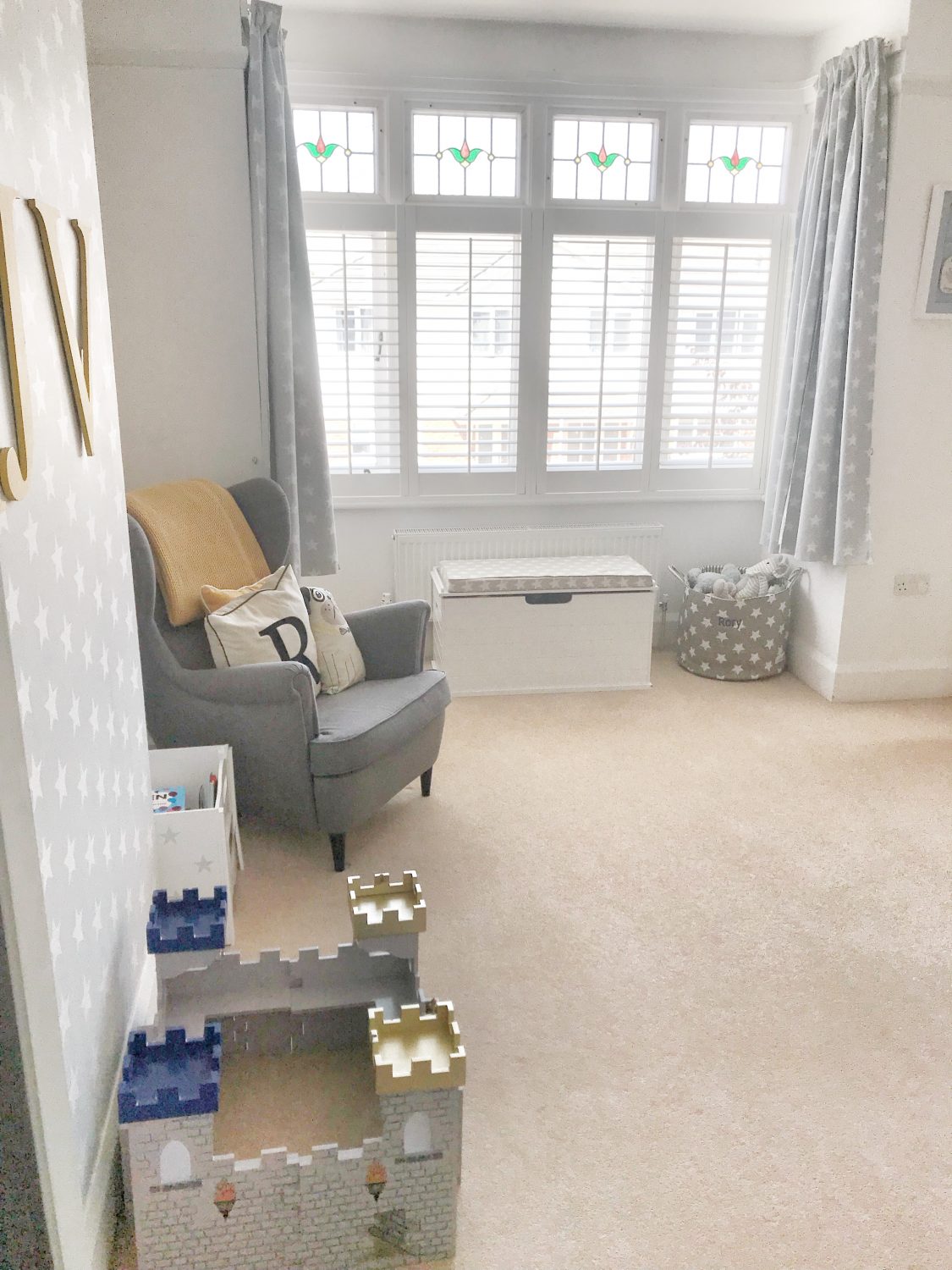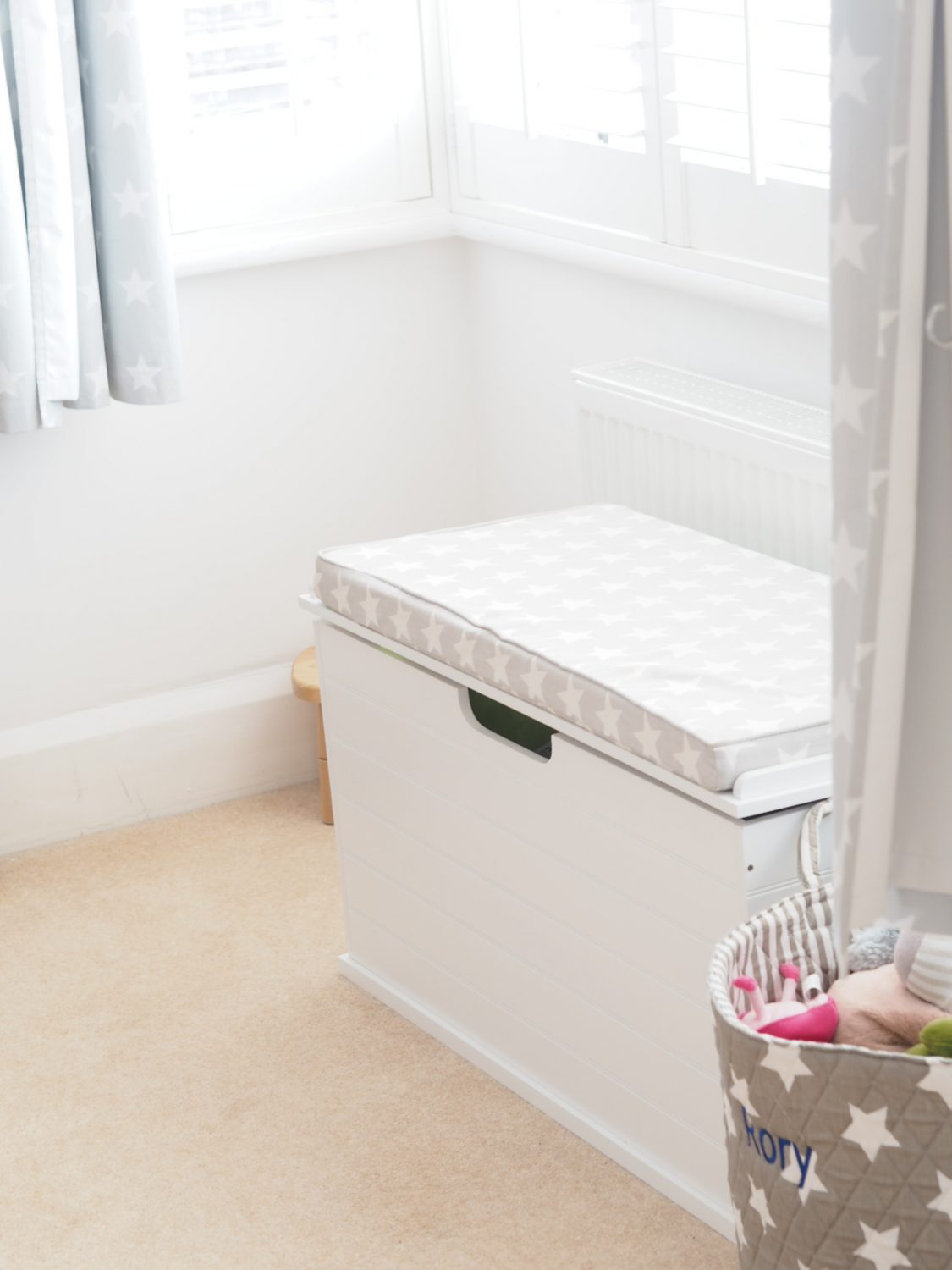 The R cushion is Matalan (many moons ago, I was pregnant when I bought it), the pug was from Asda & the mustard yellow cushion & knitted throw are both Dunelm.
Above the armchair I painted some Ikea picture shelves in Annie Sloan 'Paris Grey' chalk paint & have made a feature of it with some framed prints, a light up carnival star from Home Bargains, two fabric R's from Laura's Love Letters, little ceramic stars from Next (again a few years ago) & the felt pom garland from Stone & Co. The hanging wooden 'Dream Big Little One' is from Dotty Design House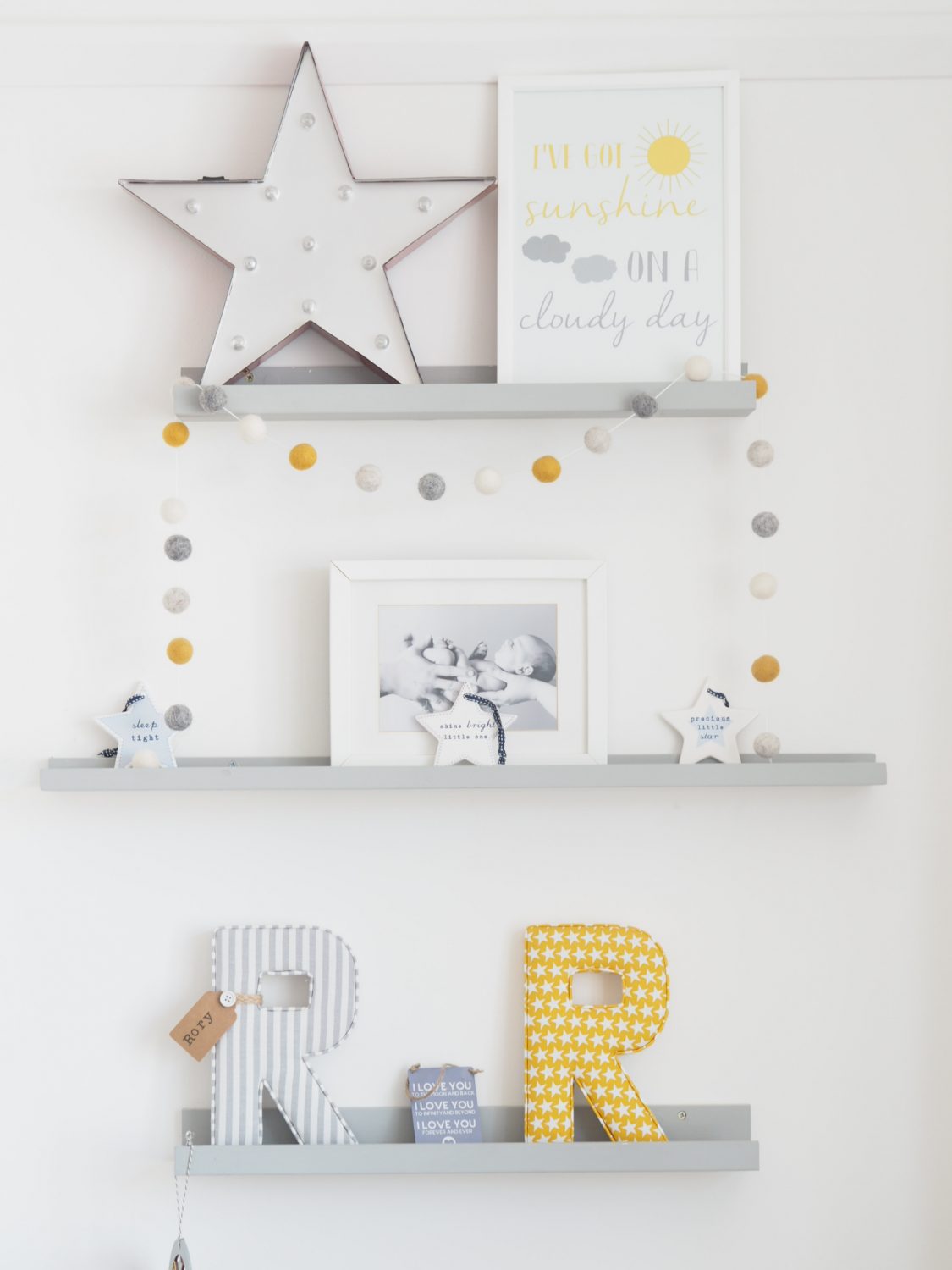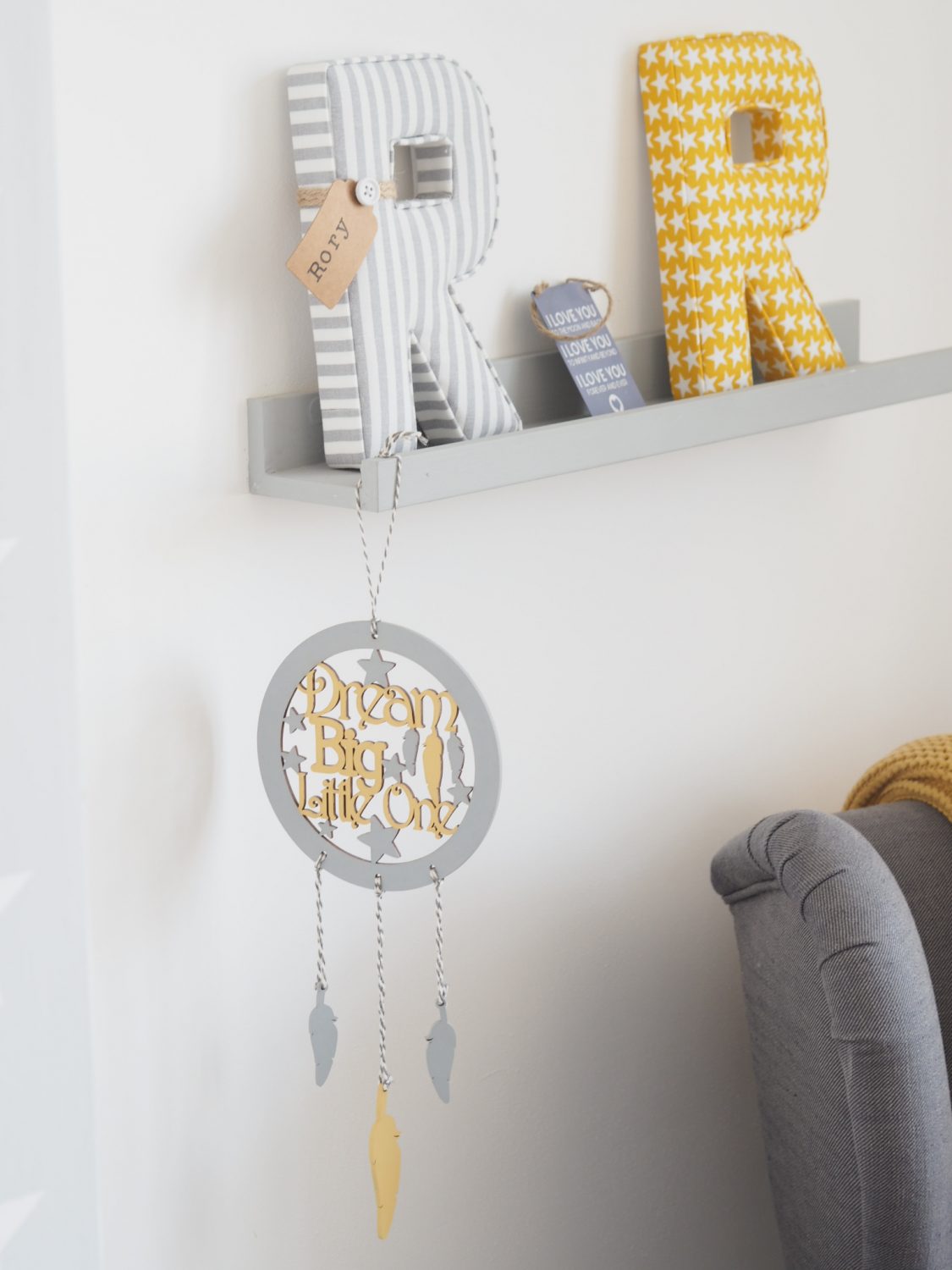 The curtains are again part of the GLTC star range & are black out which was super important when Rory was a baby but now he'd probably sleep through a bomb being dropped & I'm not a huge fan of sill length curtains in general (to the floor looks so much nicer!) so these will probably be changed.
In the bay is a little stool that Joe's old work had made for us upon the birth of both kids, engraved with their names & date of births as well as a toy trunk, again from GLTC with one of their matching star cushion pads & then a personalised star storage basket from full of teddies which was my first purchase with his name on when I was pregnant & we decided on Rory. That way Joe couldn't back out…
Moving over to the other side of the room, the chimney breast has been wallpapered with GLTC wallpaper (can you sense a theme…) & then I've painted the built in wardrobe in Annie Sloan 'Paris Grey' chalk paint then the inside is chalk board paint which also means they can draw all over them. I had some leftover wallpaper so popped that on the top panels.
Always a fan of a monogram, Rory's 'RJV' initials are from Loupy Designs & painted in the same Homebase Yellow Submarine paint to match.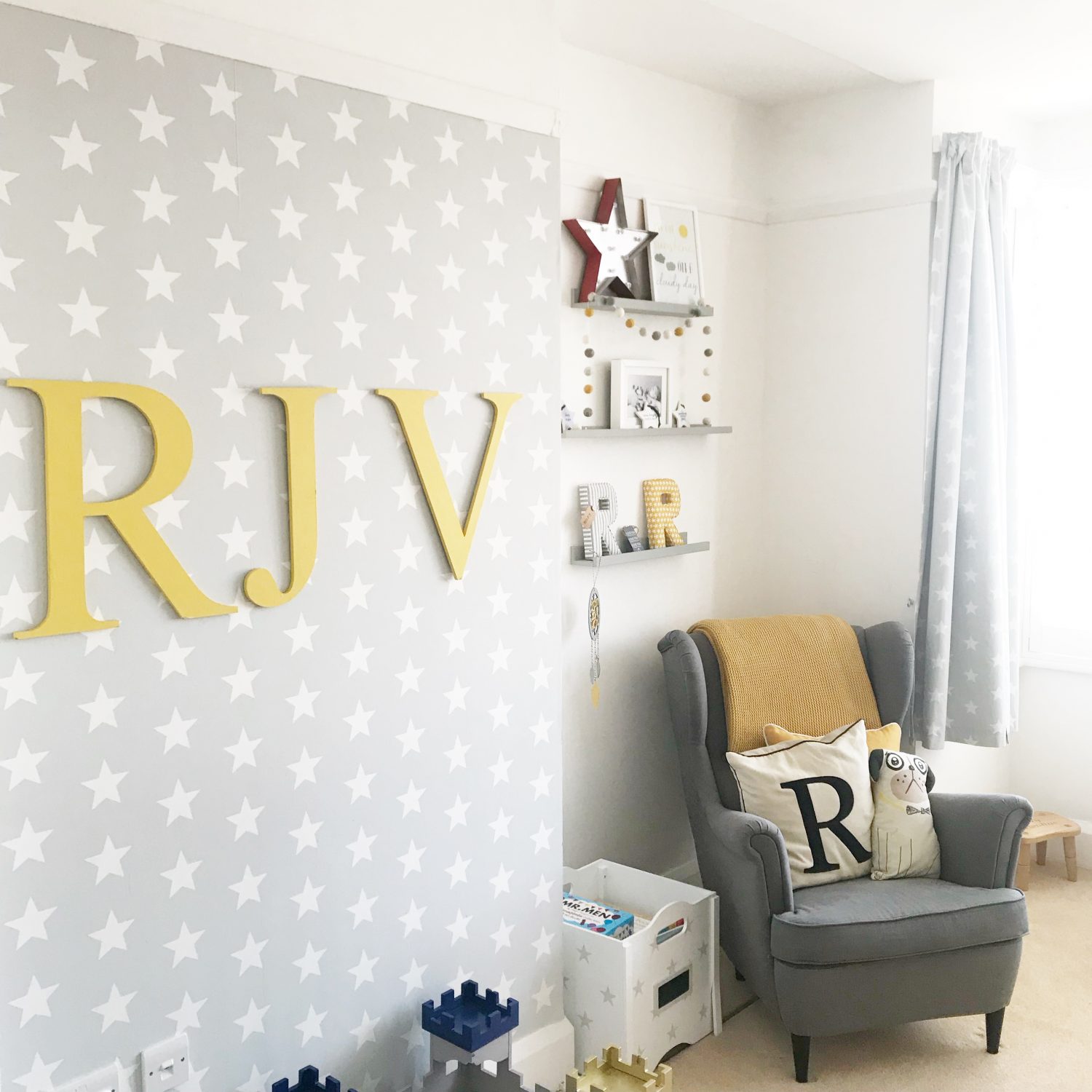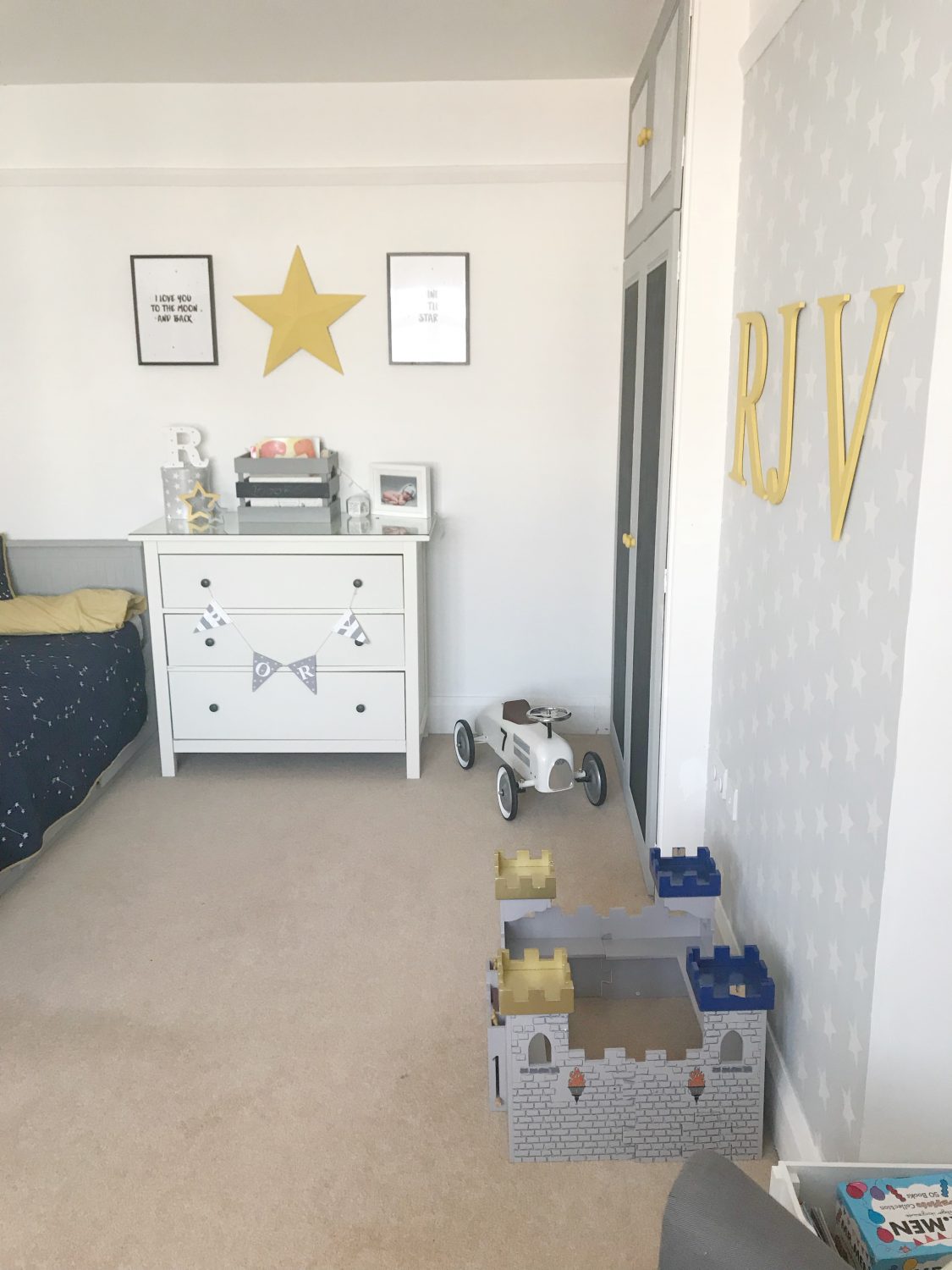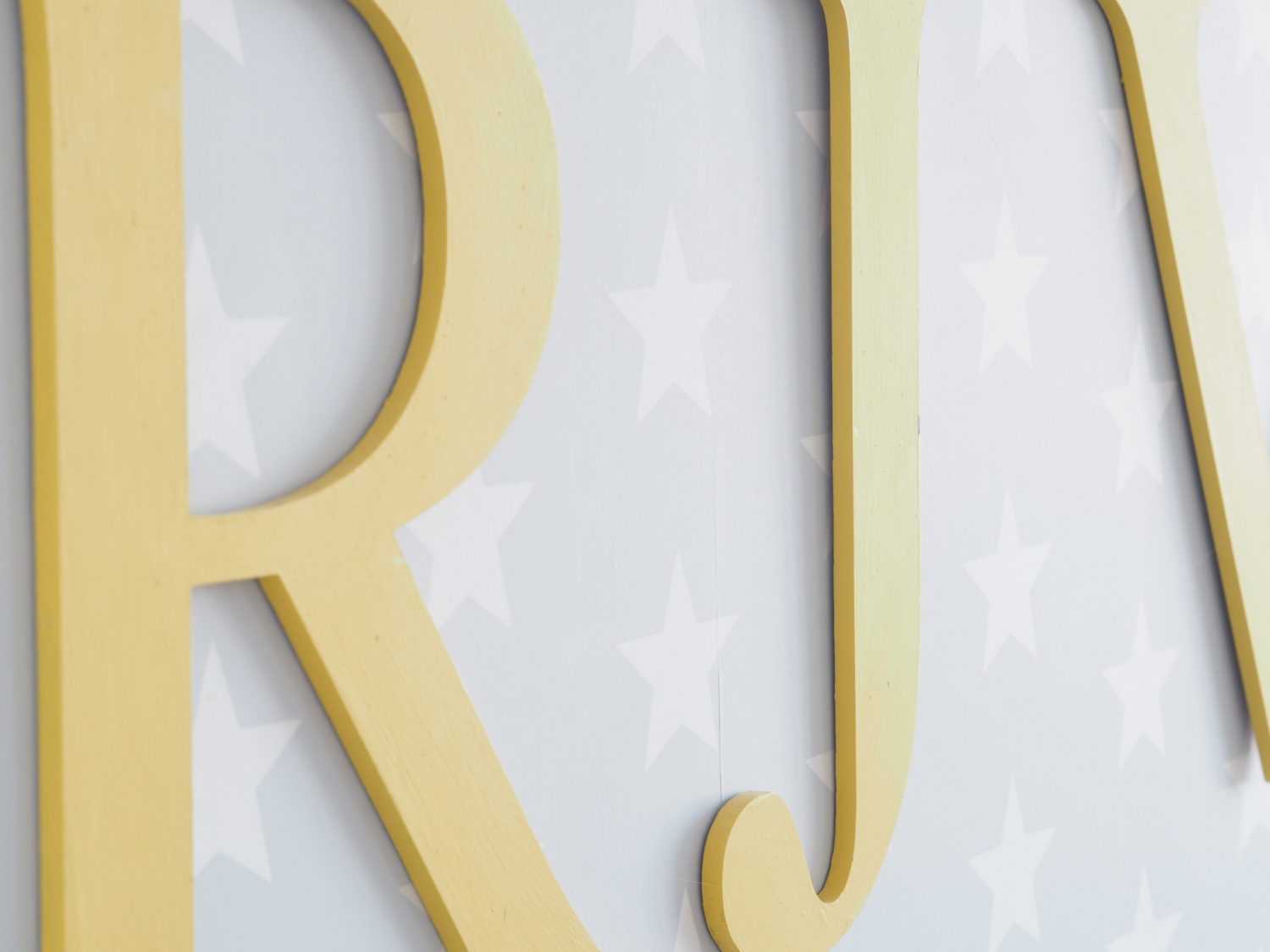 I bought the vintage style car from Halfords (but is much like the one from The White Company here) which was a Christmas present a couple of years ago. It's been too heavy for him to use up until recently but is still pretty impractical…it is pretty though.
The chest of drawers are Ikea Hemnes (& are half falling apart…the drawers are a nightmare as the runner broke) with a crate full of books that I upcycled to match, a newborn photo, a star box I found in Homesense & these little stars are from the Dotty Design House.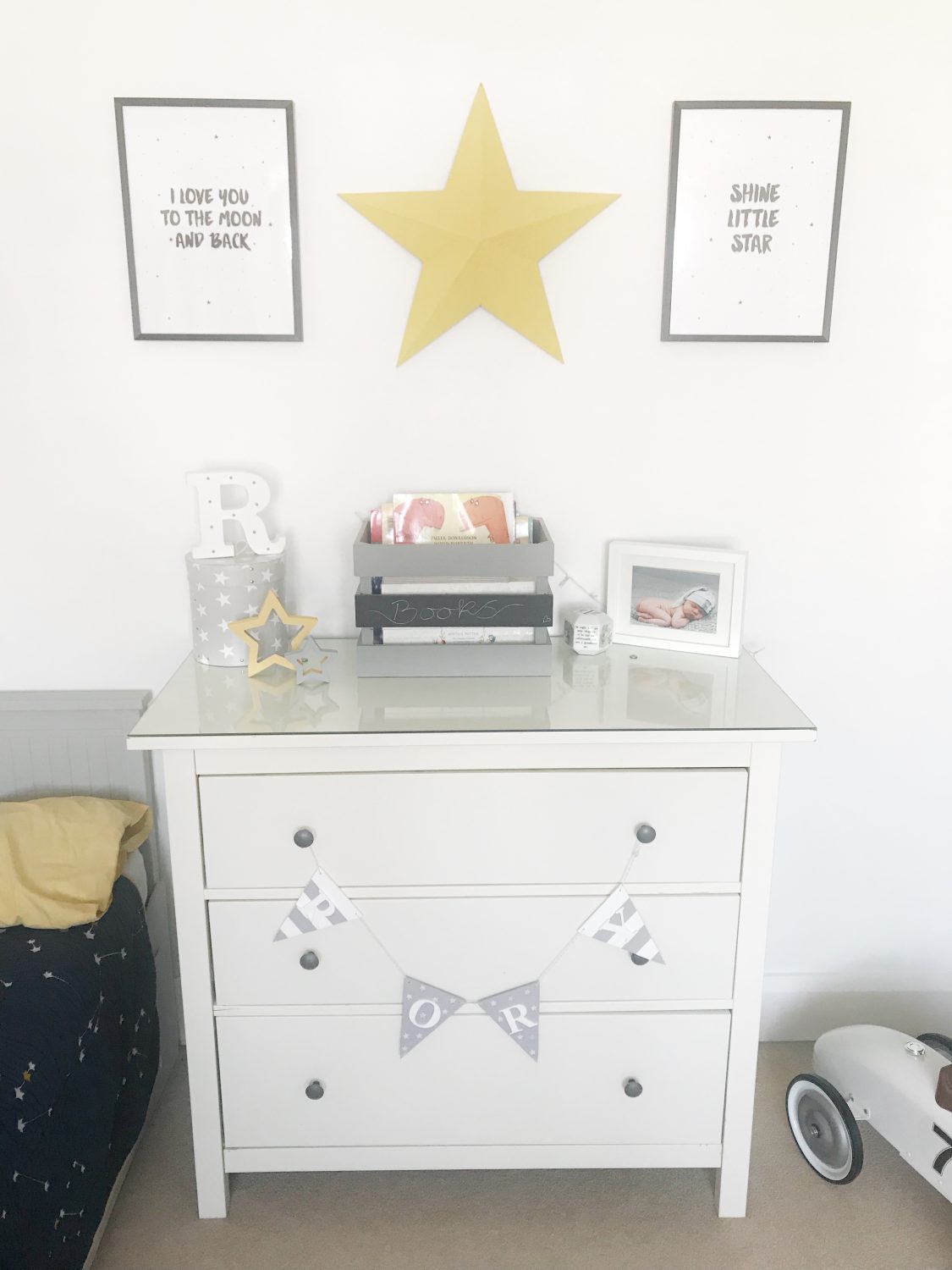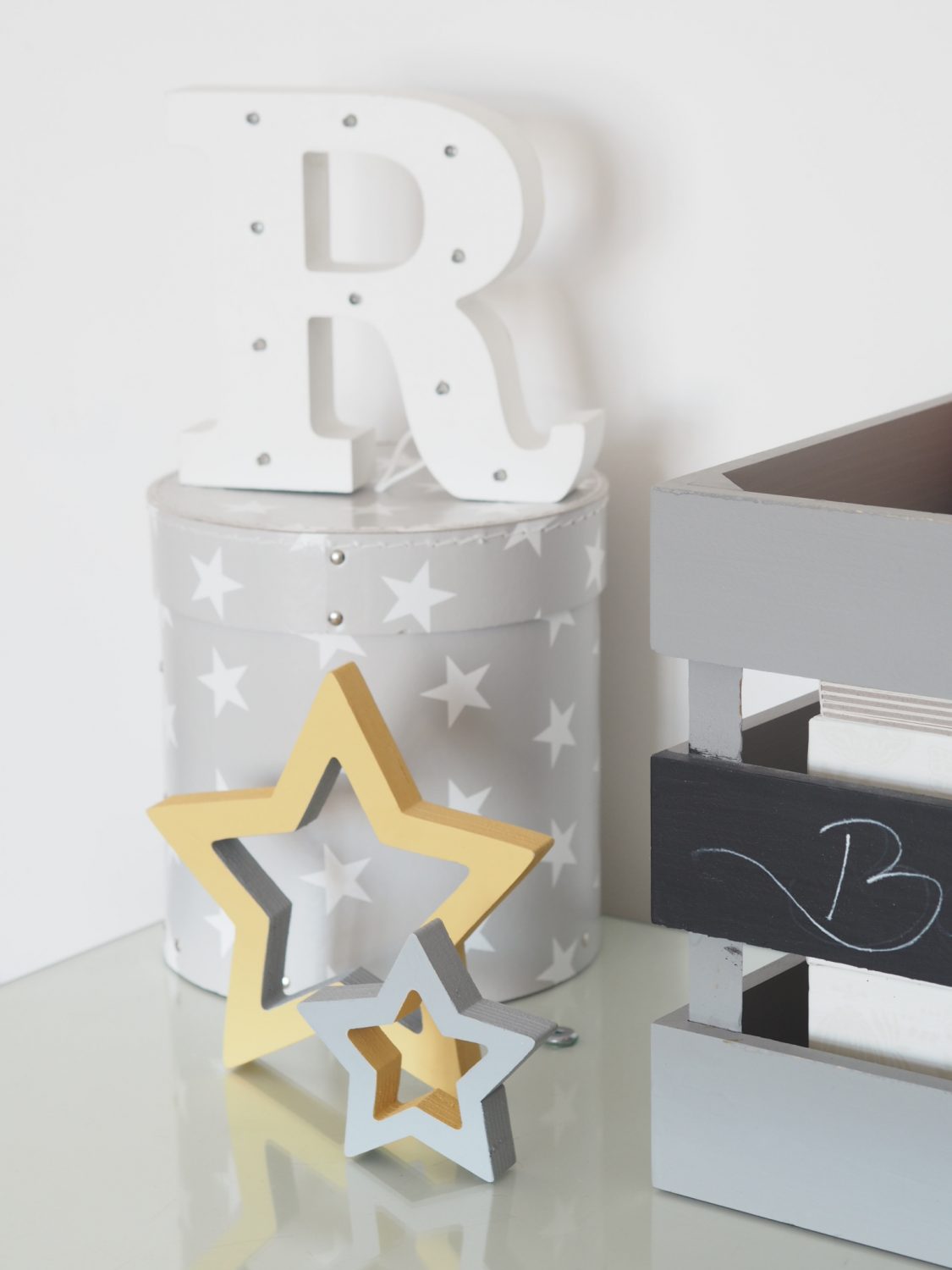 Above is a wooden barn star from The Range which I painted in Homebase Home of Colour 'Yellow Submarine' with two Desenio framed prints either side.
The bed is actually a day bed from Ikea which pulls out & has lots of storage underneath in the drawers. I bought it second hand off Gumtree to save money but it's never been great & I tasked Mr THTMM the task of painting it grey (again with Annie Sloan chalk paint…) whilst I was out & lets just say, you can tell it's been done in a rush….
The beautiful bedspread is from Christy & I love the dark navy with the mustard. I've also got a couple of the matching cushions. I can't seem to find it online but the link to their junior section is here.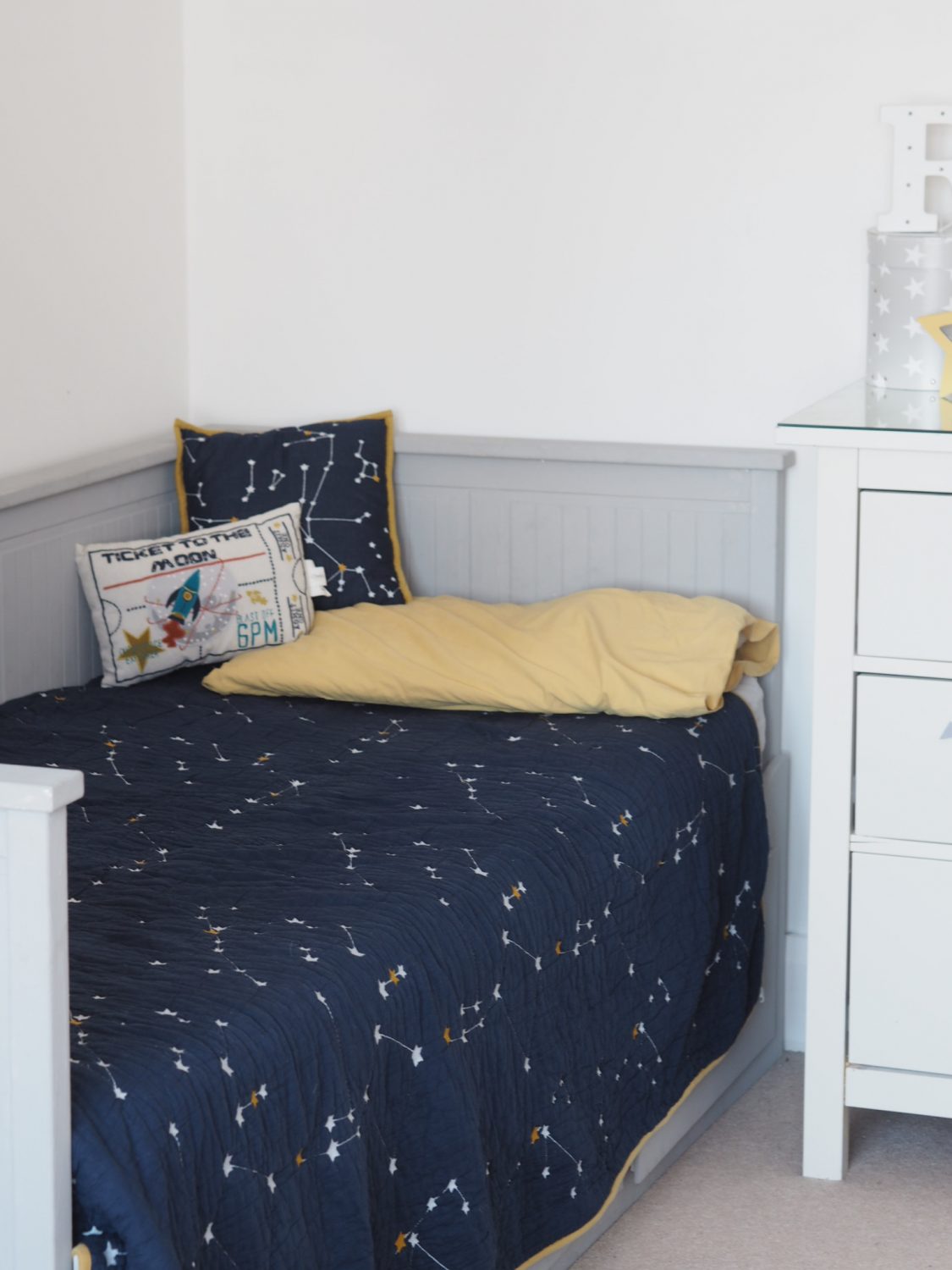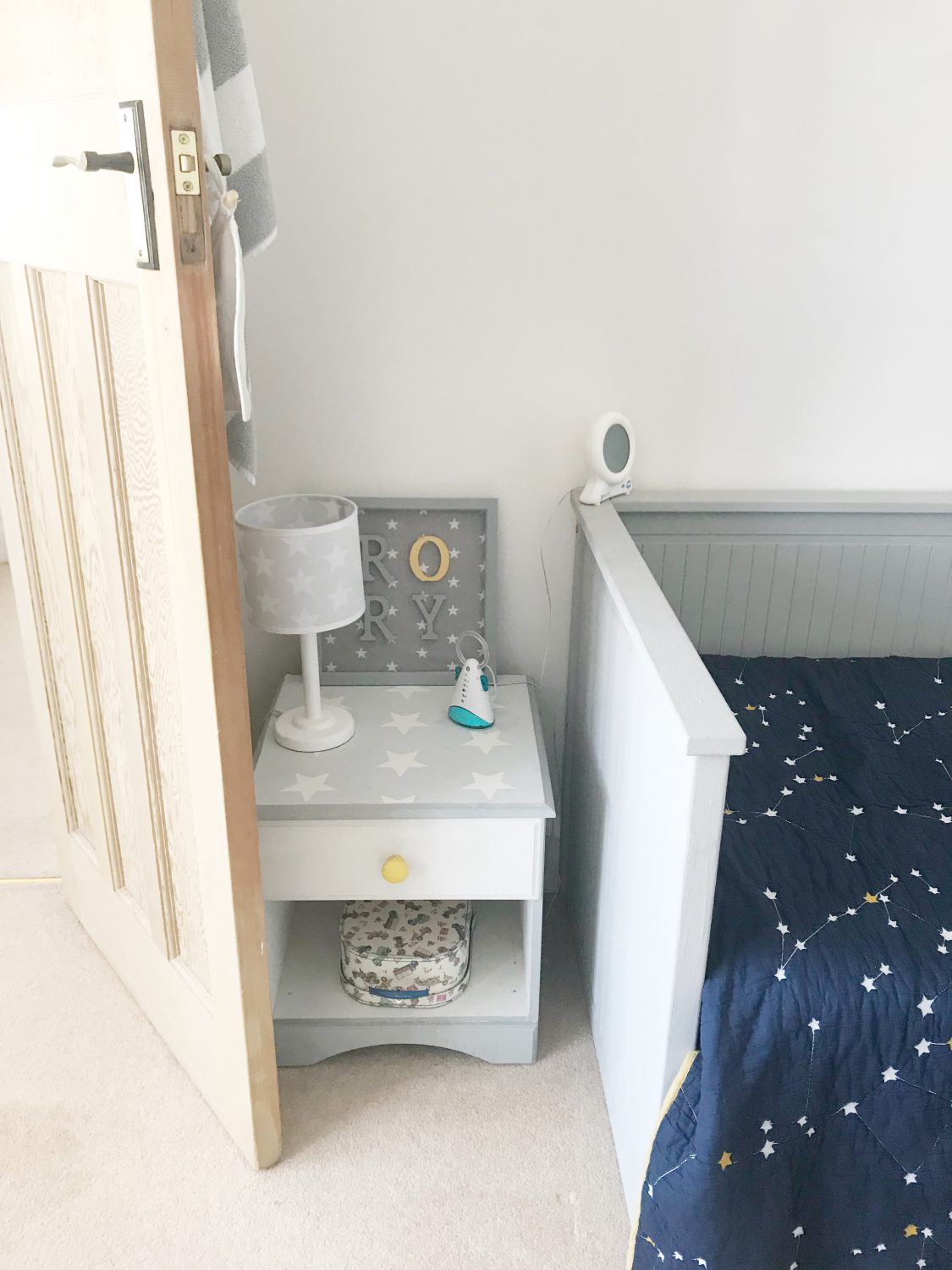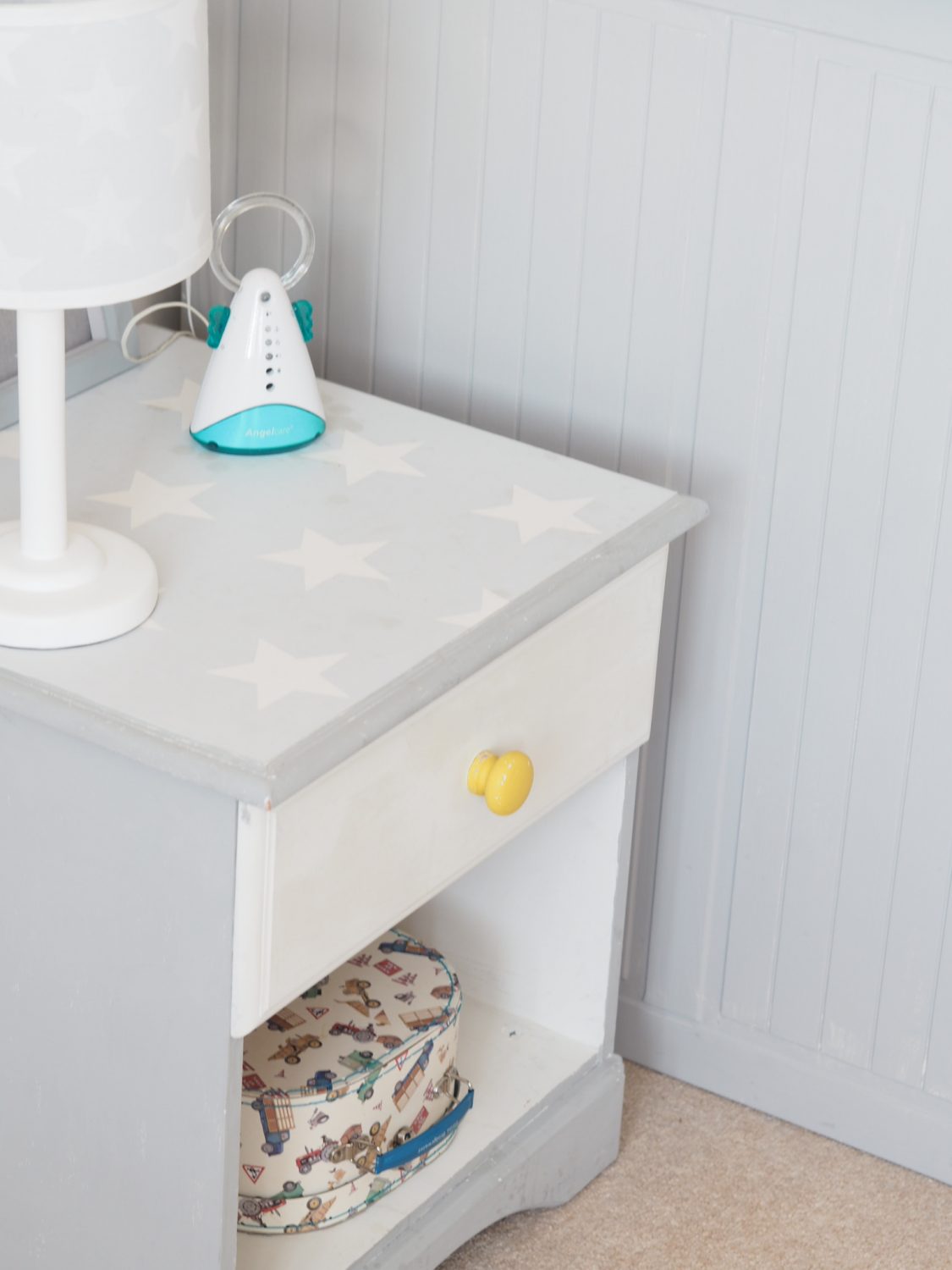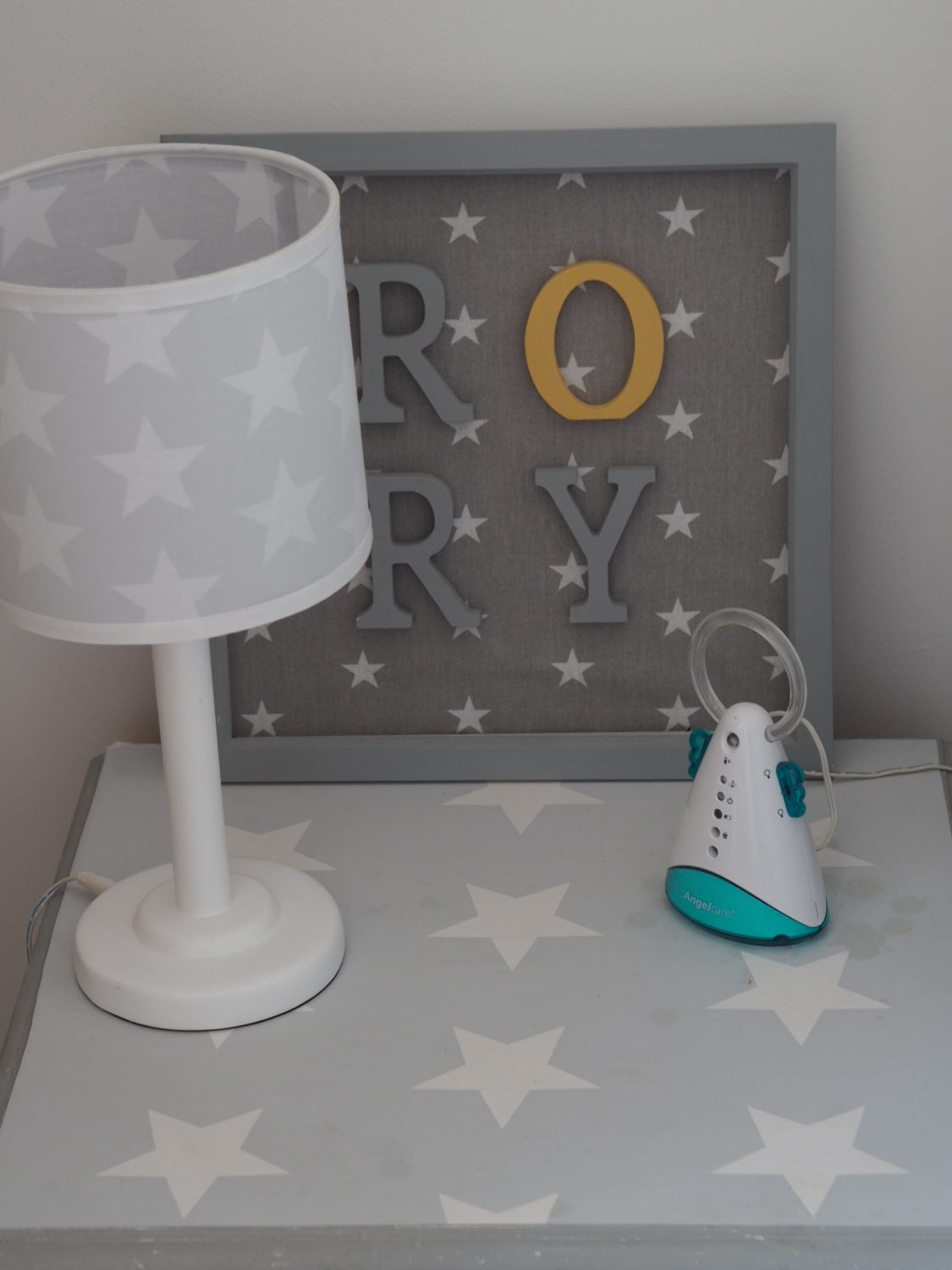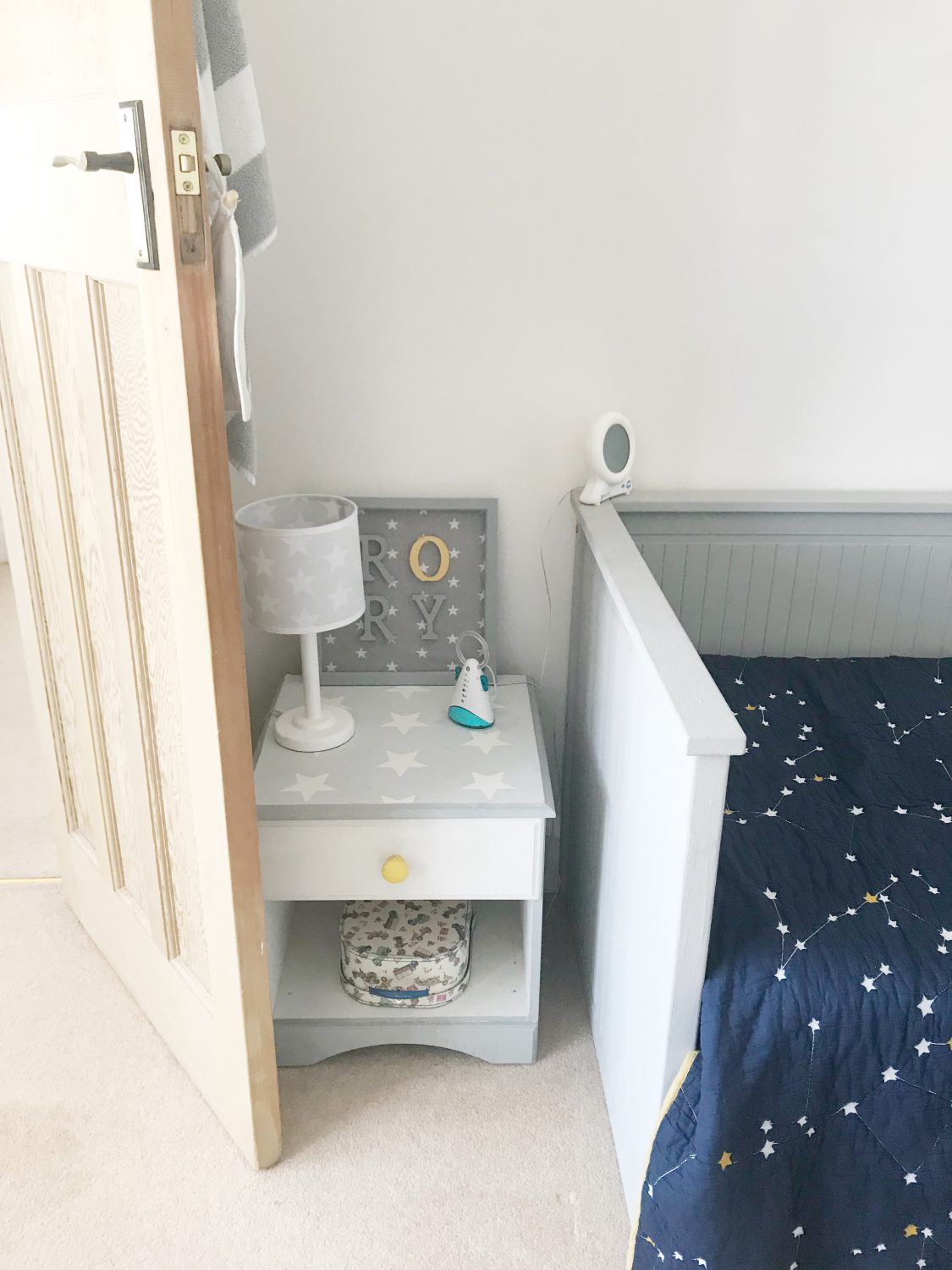 At the end of the bed is a little bedside table which I upcycled & popped some of the leftover wallpaper on but over the years it looks a bit worse for wear. The lamp is GLTC & the frame RORY was bespoke from Dotty Design House.
This is actually going to be my last HTF post for a couple of weeks as I am taking a break from the blog (& Instagram….) for the first time ever whilst I go on holiday to Bali to celebrate Mr THTMM's 30th Birthday. I'll be back with Elsa's bedroom tour before you know it though.
Love,
*This post contains affiliate links