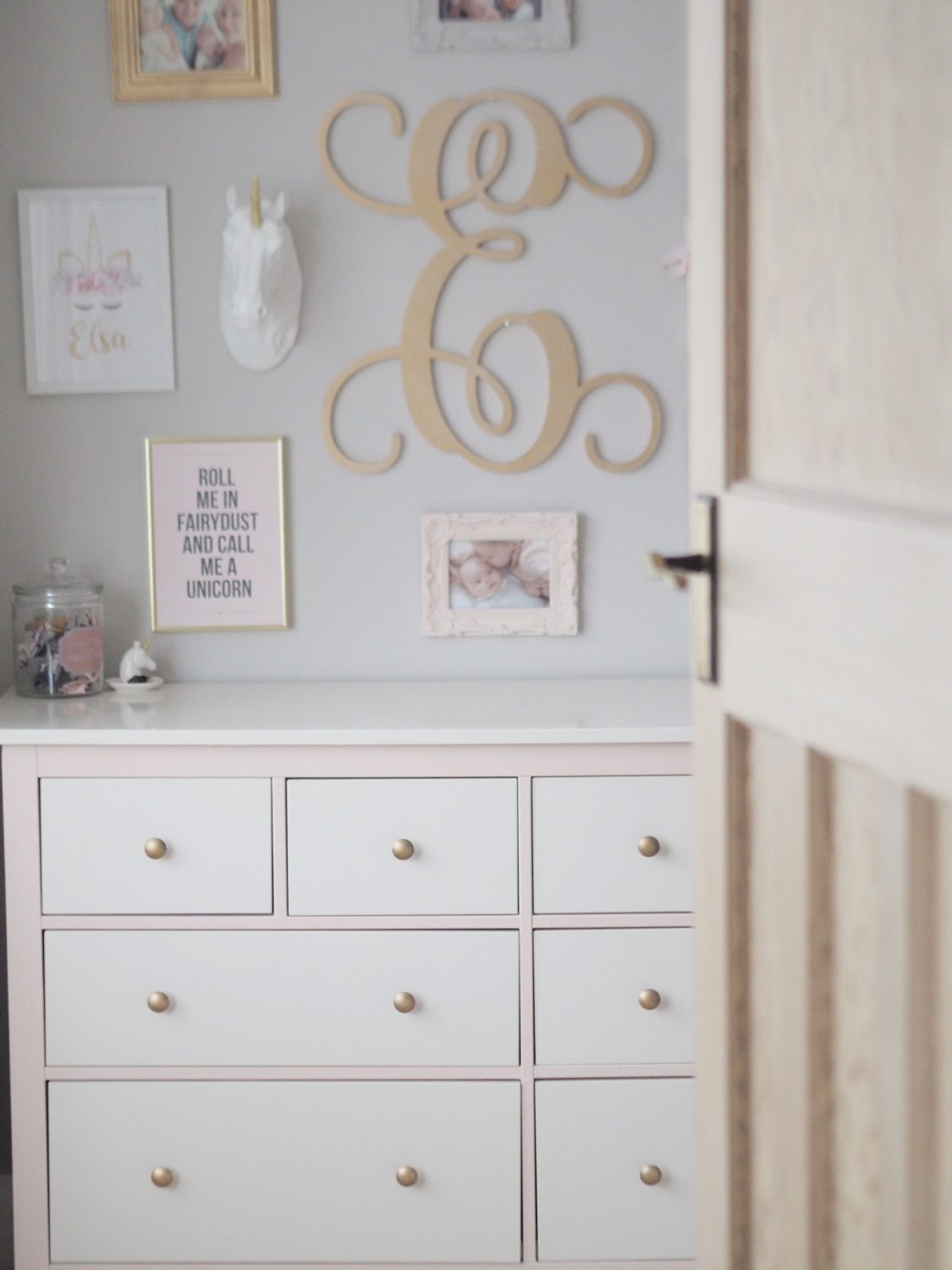 Hello & happy Friday…the start of a wonderful bank holiday 3 day weekend, what more could anybody want? Well, I'm about to spice it up even more with a tour of Elsa's room & without realising it, I haven't shown you her new bed so a bit of a reveal too.
As you'll be able to see, my teeny tiny little lady has a slight obsession with unicorns which started 3 years ago before they were the 'in thing' when she was bought a unicorn teddy that was bigger than she was. This teddy, affectionately known as 'unicorn' (very original..) is now a member of our family & I'm sure you've seen it's now scruffy face all over my Instagram stories from where the poor thing is dragged around everywhere. Elsa sleeps with unicorn spooning her & loves it more than anything so it was only right to bring the theme into her bedroom.
The walls are painted in Farrow & Ball 'Cornforth White' which is my favourite grey shade. Grey paint can be SO hard to get right & I find this a 'true' grey without many undertones (although F&B paint does have a habit of looking totally different in different rooms/lighting as it's highly pigmented). This room used to be white however when I fit the shutters, from California Shutters, it made everything look a bit too white & clinical so I decided to give it a lick of paint to soften.
As you walk through the door from the the landing, immediately in front of you is an Ikea Hemnes chest of drawers which I bought second hand off Gumtree & gave a new lease of life to add some character & make it perfect for a little girls room. The main bulk was painted using some leftover Farrow & Ball 'Pink Ground' (which is the same colour as our spare bedroom & such a gorgeous dusky peachy pink). As this area isn't really ever touched I didn't need to worry about using specific paint, but ideally you'd want to use eggshell which is a lot more suitable to upcycling. I also took the handles off & sprayed them using gold spray paint which is my feature metallic in this room.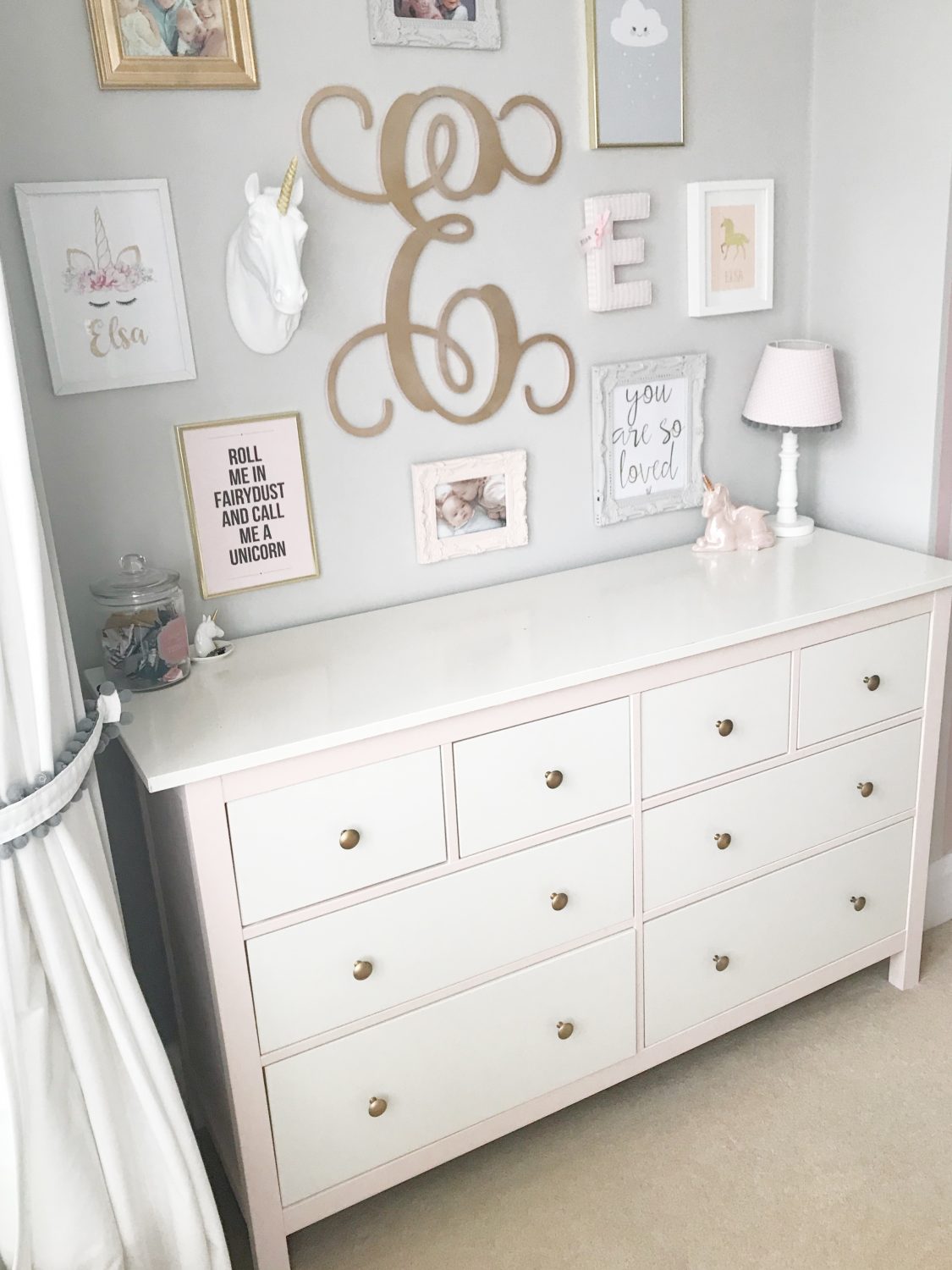 The little lamp was from B&M bargains about 6 years ago (when I was pregnant) but I jazzed it up by adding some pom pom trim with a glue gun recently) & so was the glass jar. The unicorn money box was from New Look a little while ago.
Above the drawers is my favourite part of the room, a gallery wall with a difference. The large wooden 'E' is from Loupy Designs & is the focal point, leading way to various prints from Desenio, Make My Day stationery, The Best Years & then I added this unicorn head from Homebargains, a fabric 'E' from Laura's Love Letters & some framed (from the £1 shop which I painted using leftover pink & grey paint or sprayed gold) family pictures.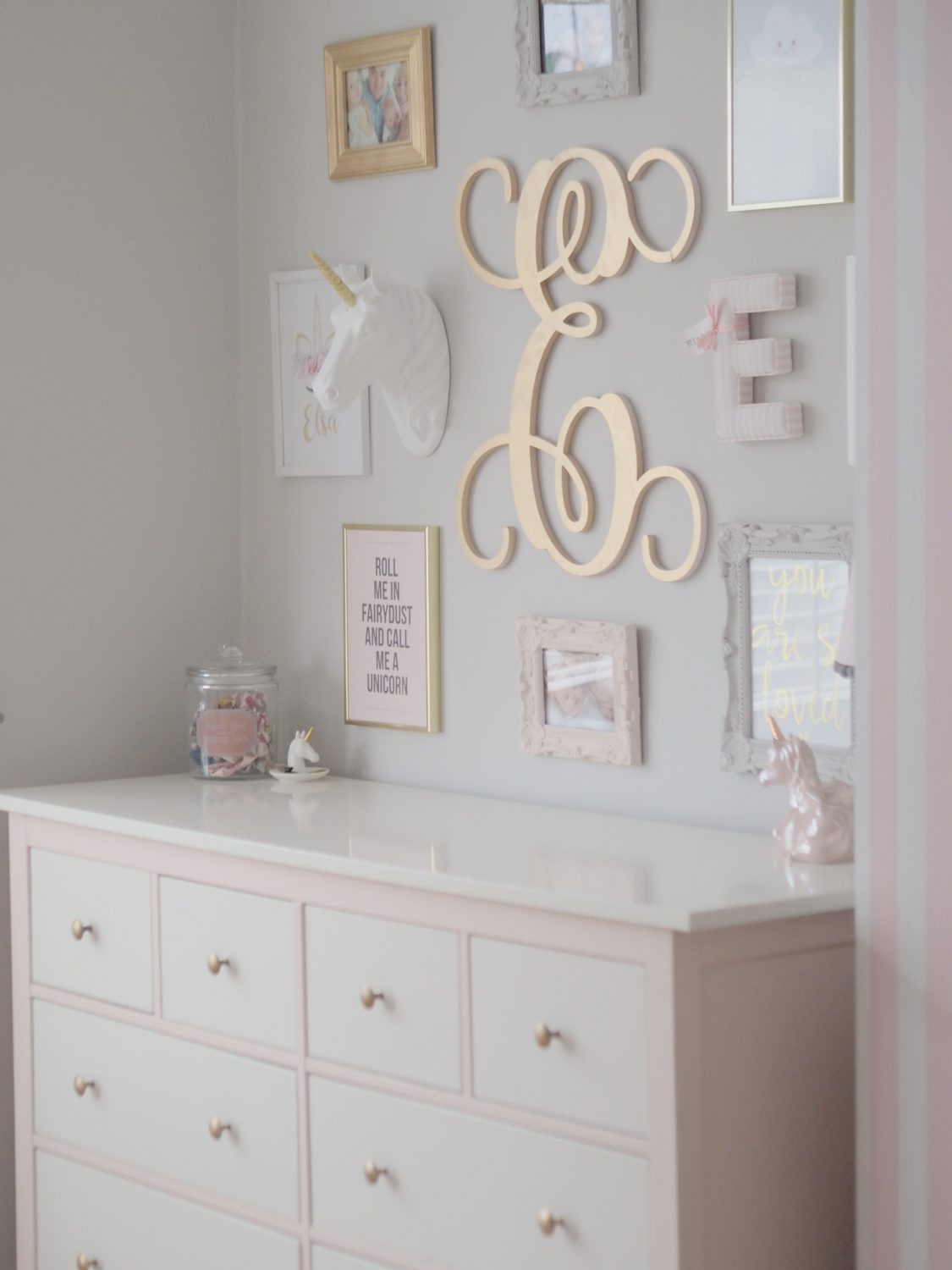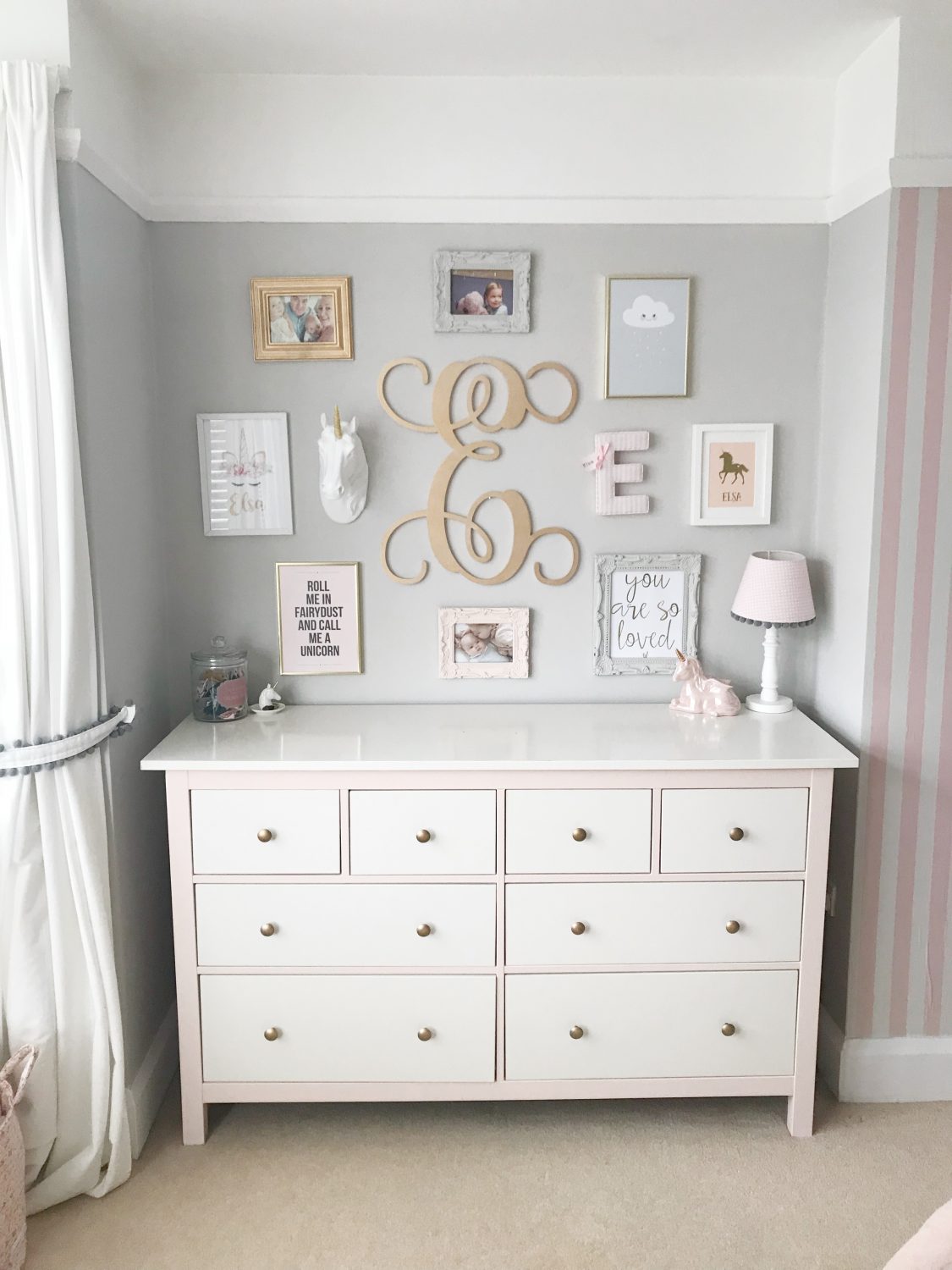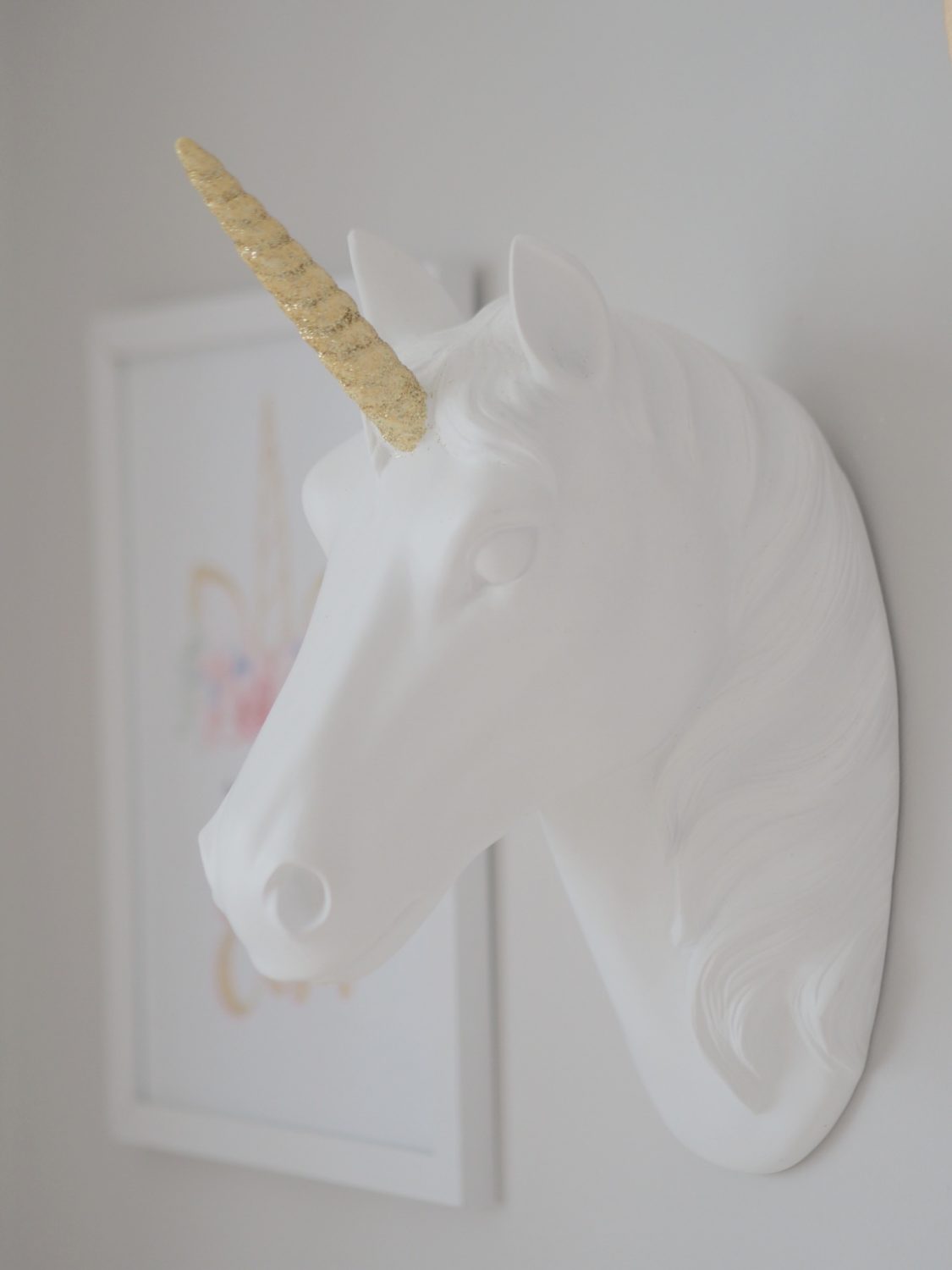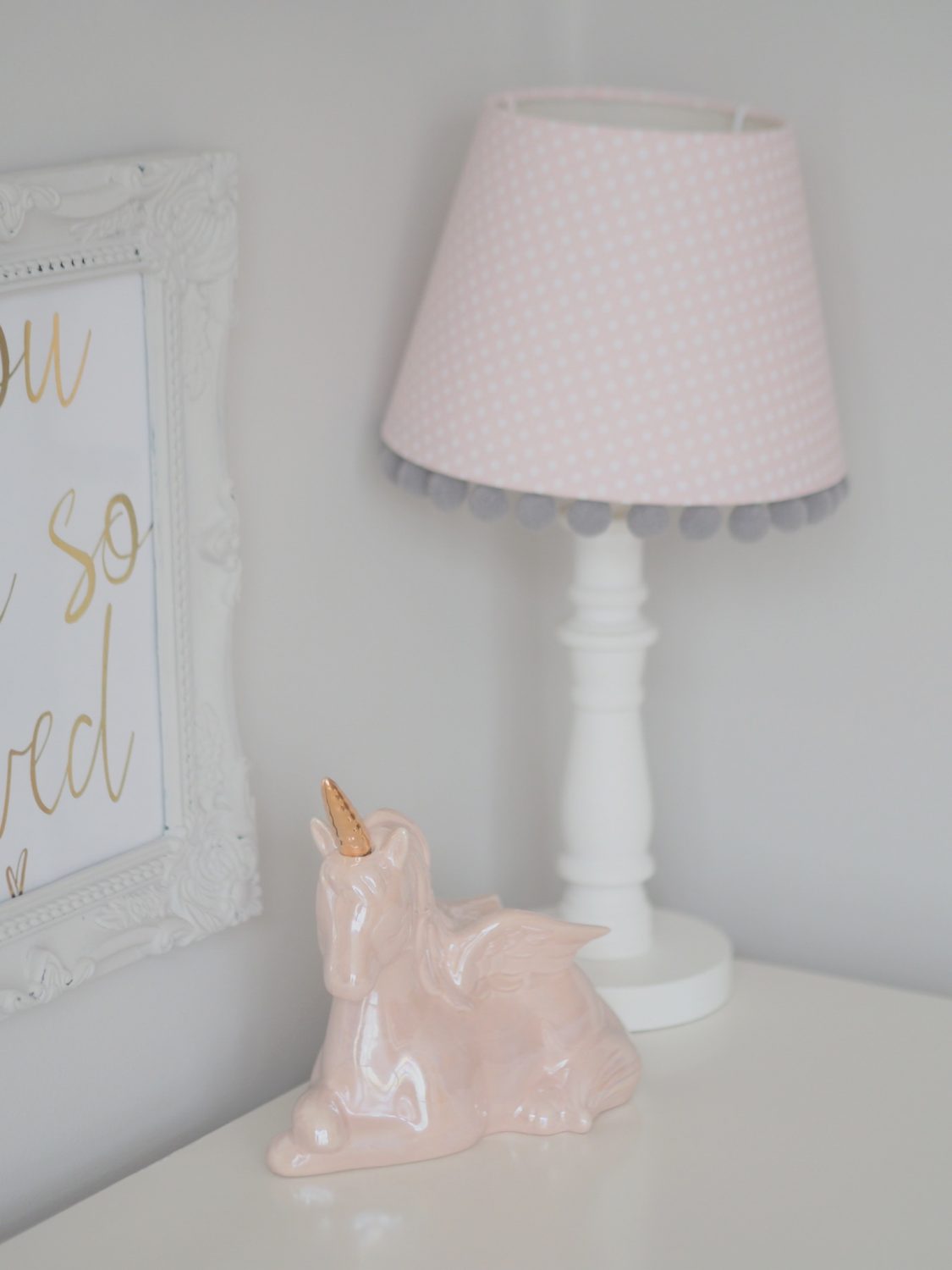 Elsa's room is at the front of Baylyn House, opposite Rory's bedroom (you can find his HTF here) & with the perks of a double fronted Victorian house, it means they both are blessed with the most beautiful bay with original stained glass windows. They quite frankly couldn't care less but those windows make my life & I'm slightly jealous we don't have them at the back in our bedroom.
The windows are fitted with cafe style (so not full height as I didn't want to cover the stained glass aspect) shutters so I still needed to put up some sort of curtains to block out light coming from the top & curtains also help to soften which is super important when designing a space. The curtains are actually cheap Ikea LENDA ones which I personalised by sewing grey pom pom trim down the edges & across the tie backs. We always struggle to find curtains with a big enough drop with such high ceilings but Ikea curtains come in super long, although we had to have 4 (2 either side) to cover the width of the bay.
The personalised fabric storage bag filled with teddies is from My 1st Years & the dolls house is a bargain at £35.00 from Asda. The rocking chair is also My 1st Years but I painted it to match the same tone of pink as the chest of drawers.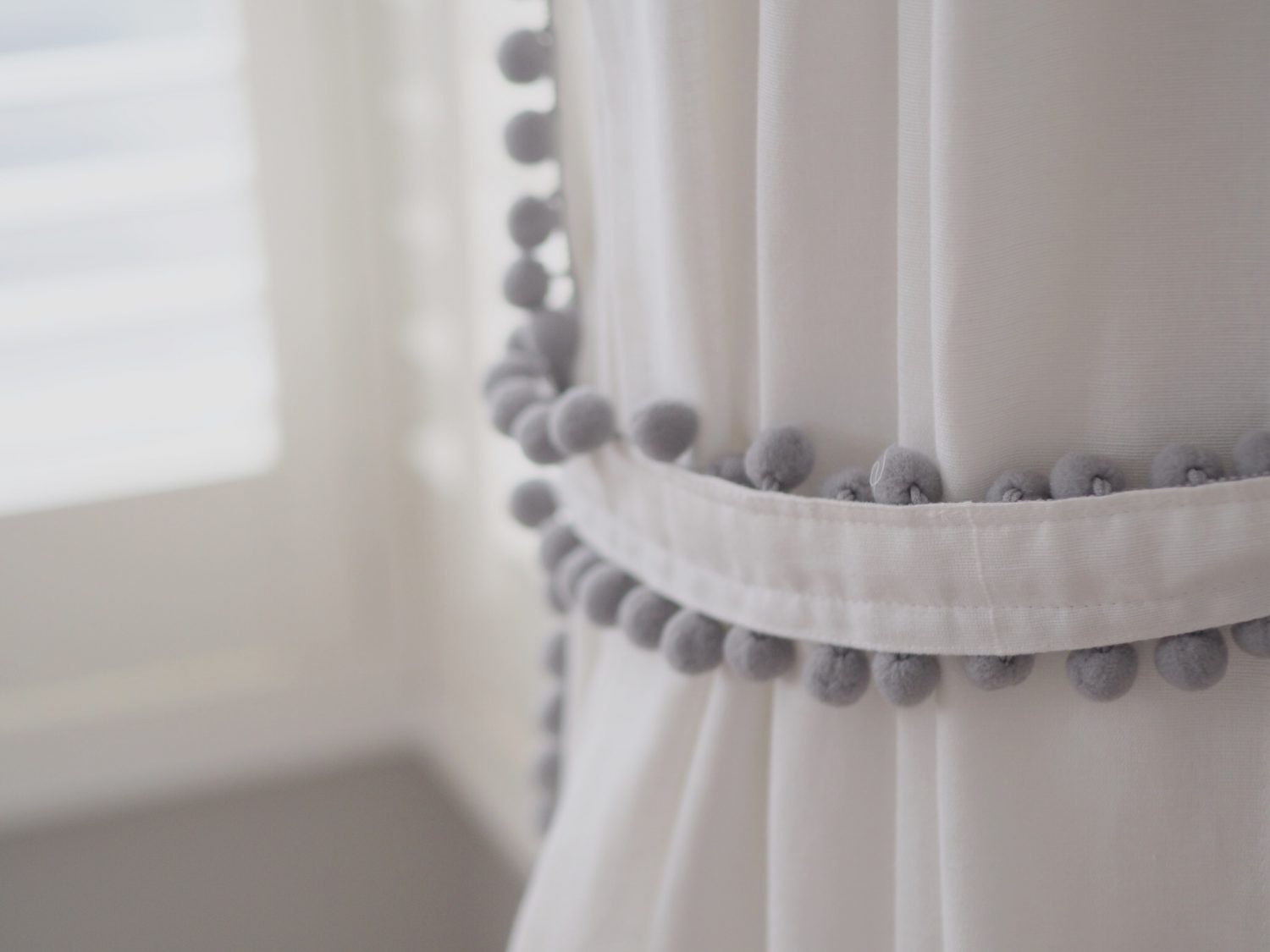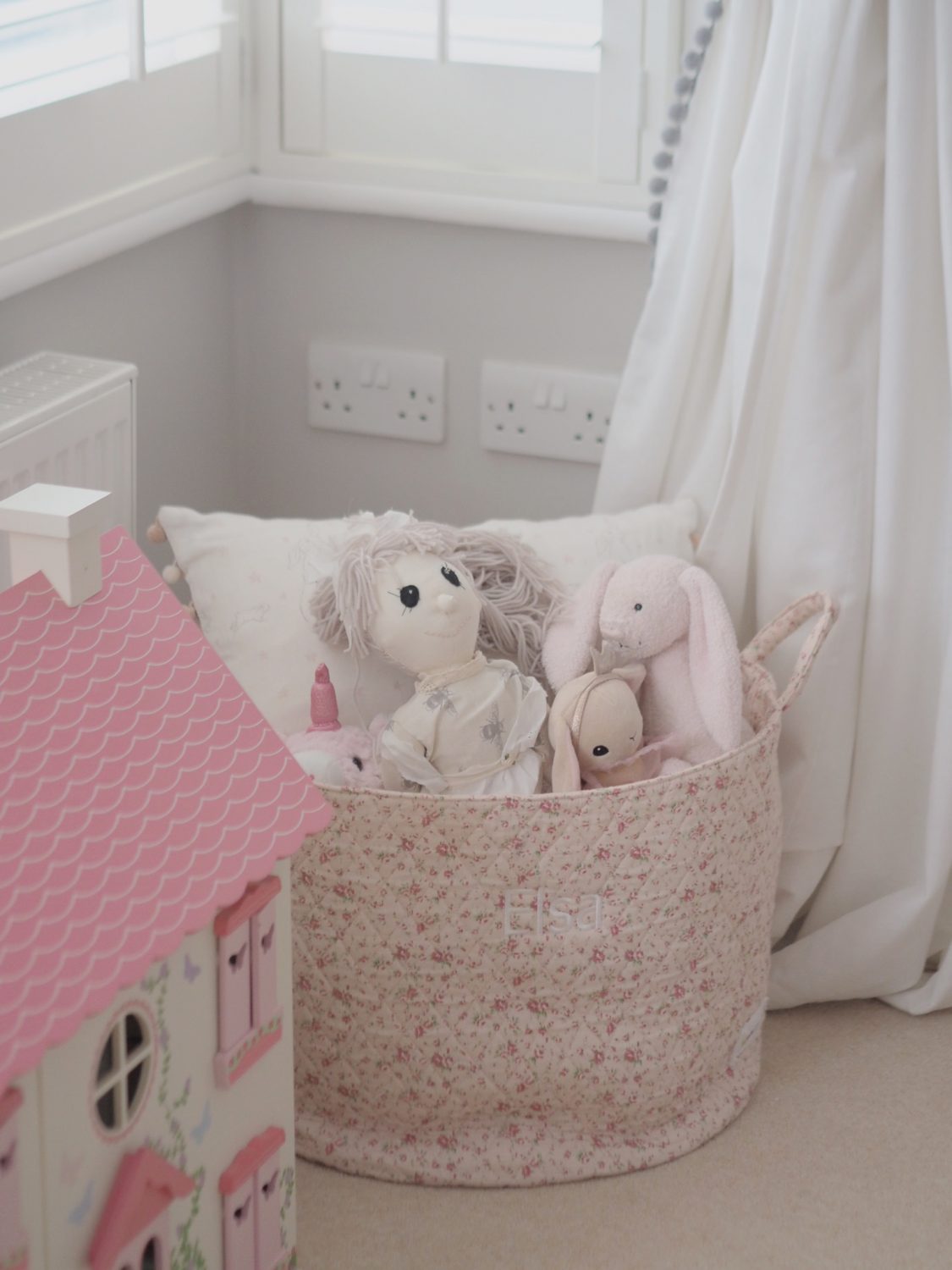 Moving over, I've added some pattern in the form of stripes (because, lets face it, stripes are for life & add something without any potential clashing or being overbearing, plus the vertical stripes make ceilings look even higher!) on the chimney breast with a Pixers sticker. This is like wallpaper but comes to the exact size of your wall & is basically a large sticker but doesn't damage when pulled off so perfect for interior commitment-a-phobes like me. I put this on really badly though as I'm too impatient to wait for help & it's unfortunately creased/bubbled.
The other alcove is home to a little dressing up area, every little girls dream right? The mirror was a Gumtree find that I spray painted as well as giving some Ikea picture shelves a bit of a new look too. The dressing up rail is from My 1st Years & holds all of Elsa's Disney Princess clothes.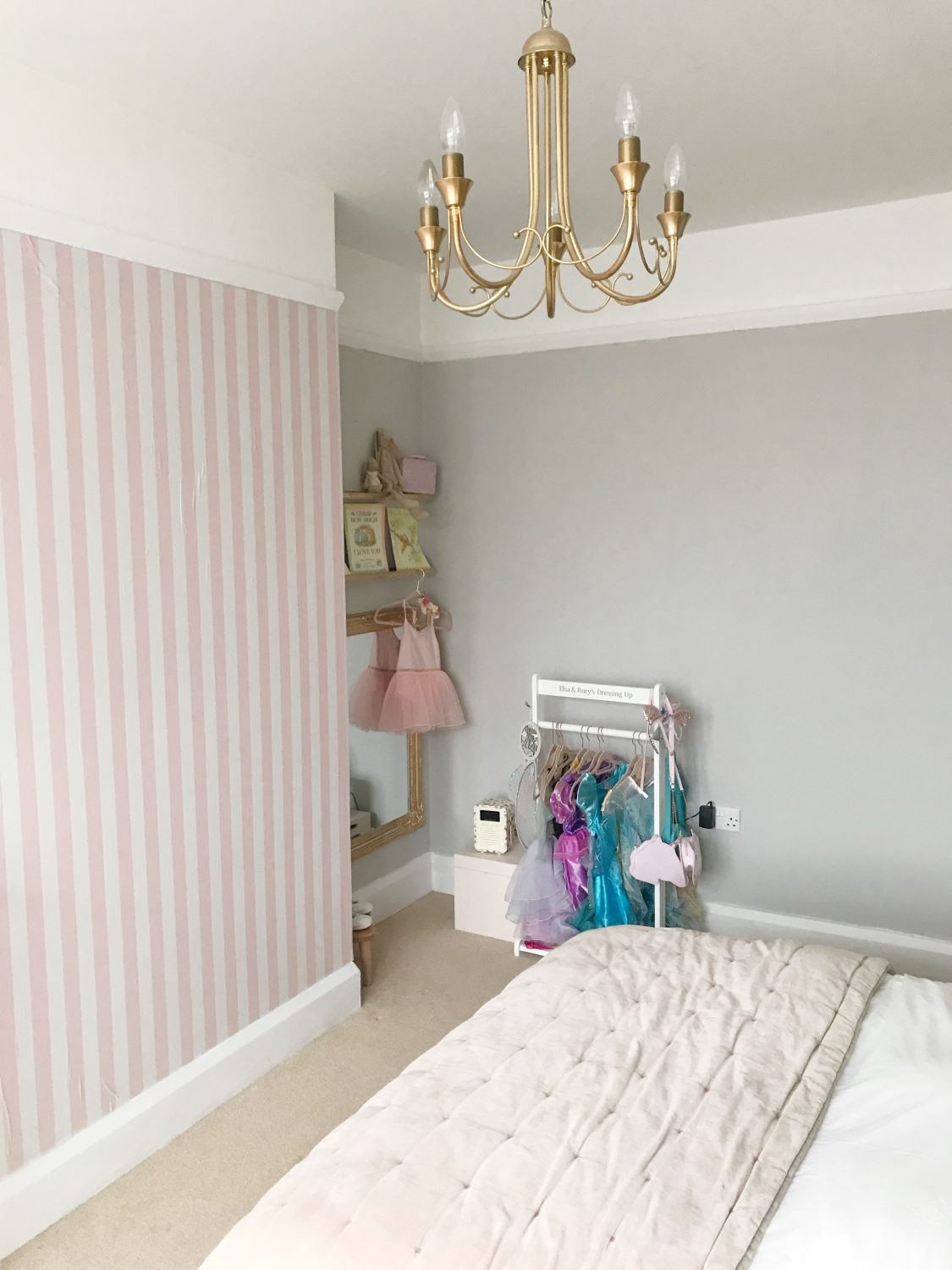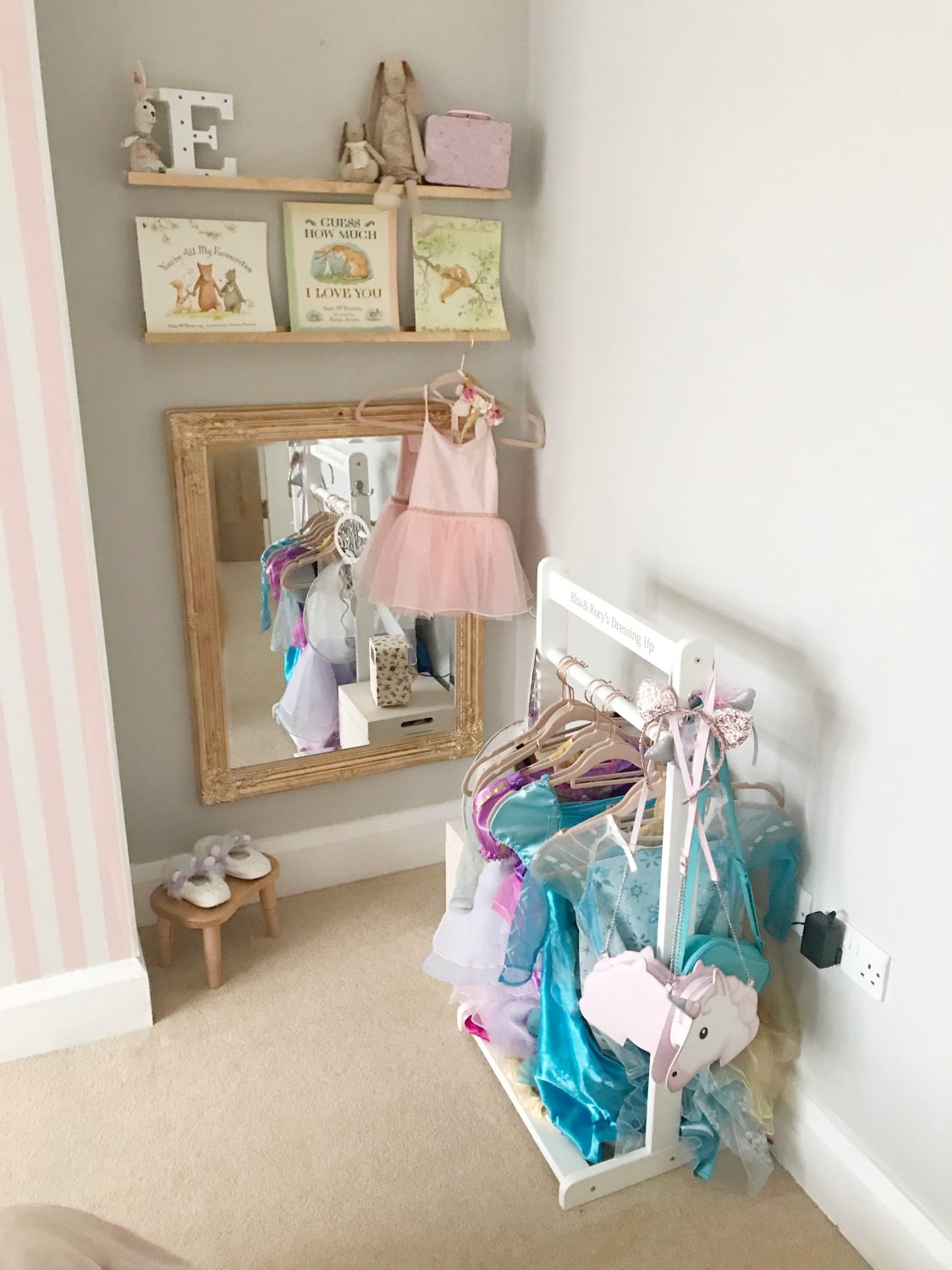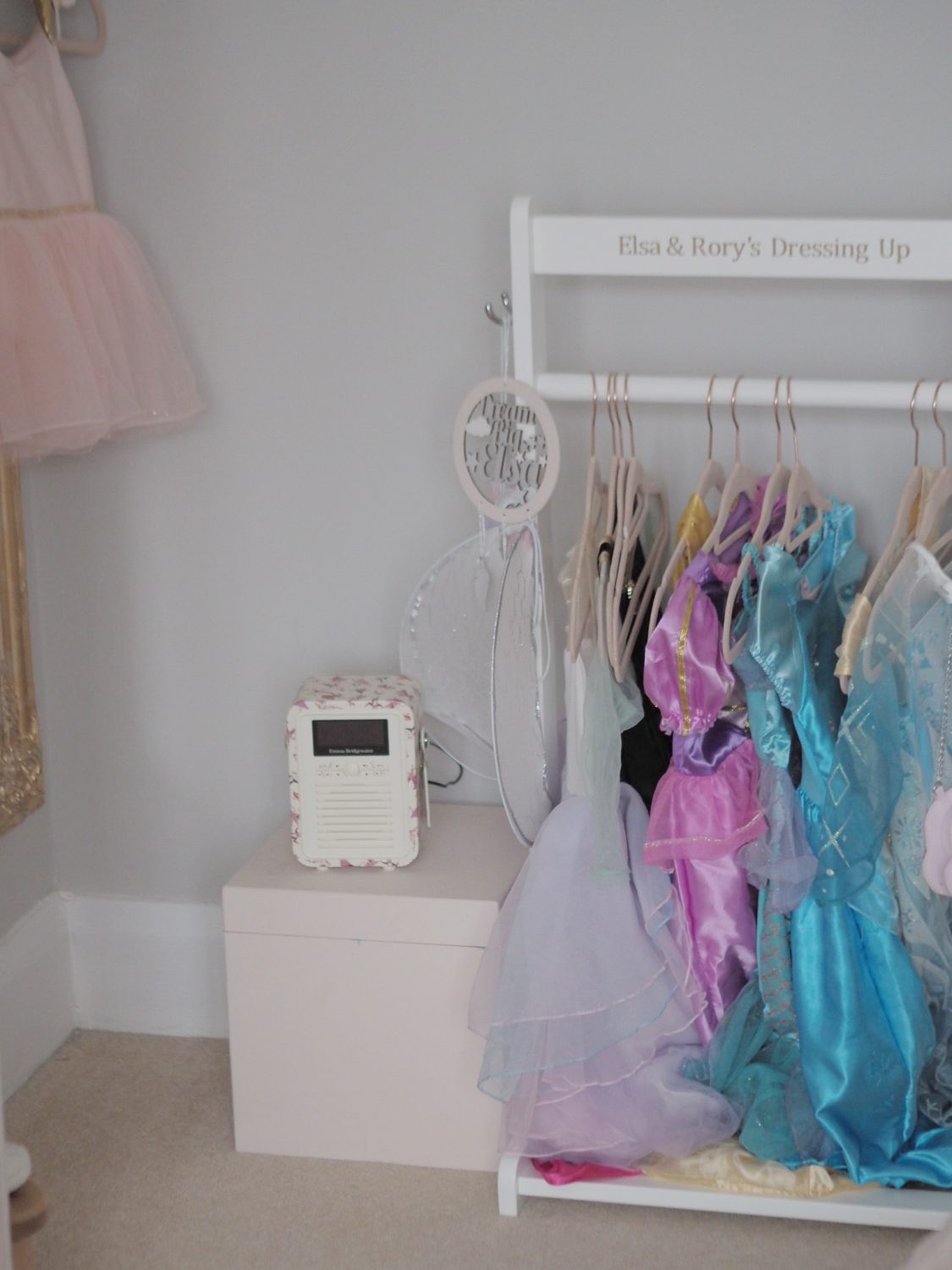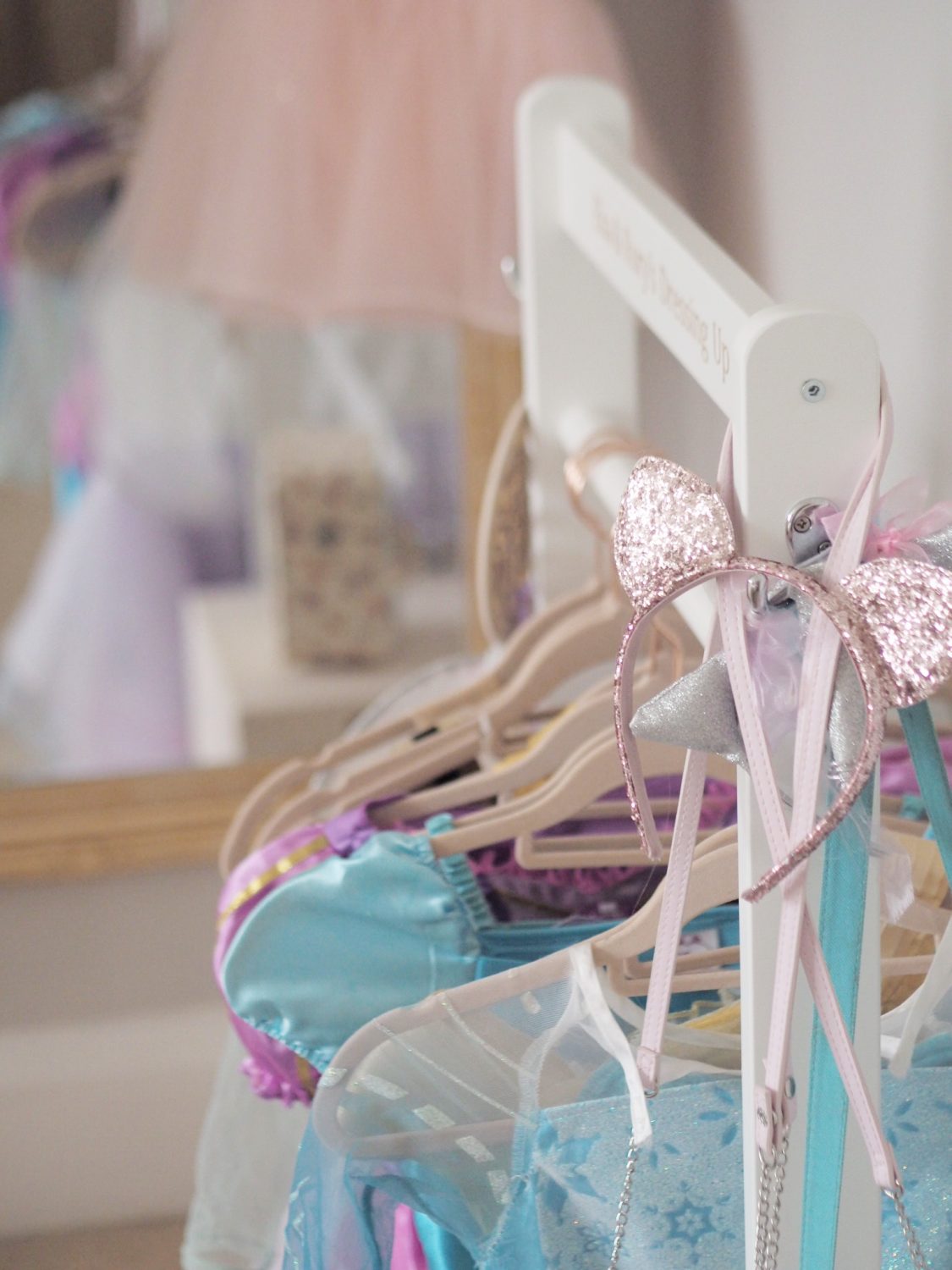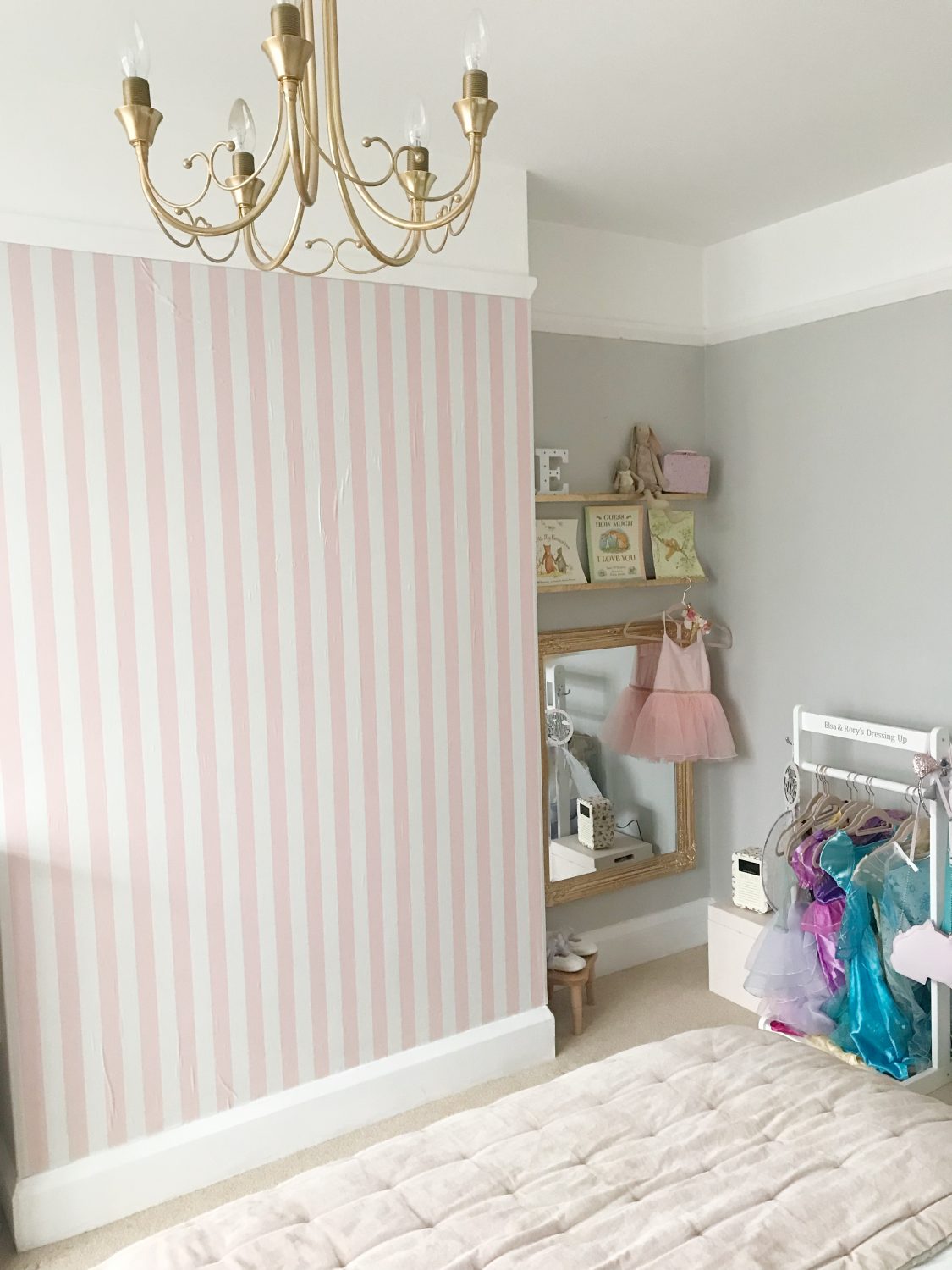 This room has the benefit of a 'Jack & Jill' door from our main bathroom which you'll see here so you can access it through there or round in the hallway (with locks on both so you don't get any surprise visitors when going for a wee thankfully!).
Now round to the bed which I bought last month to replace the white 4 poster wooden bed that was lovely but really cut the space in half & visually didn't work with the space. With Elsa's help, we went for this Blenheim upholstered grey ottoman from Amazon. It's gorgeous & great quality, plus the storage element is brilliant!
The bedding is the same as on our bed as we were so impressed with the quality & figured it'll last for years plus it helps tie in the pom pom trim theme whilst not being too fussy. It's the Avignon from The White Company then I've added the beautiful blush pink Christy bedspread & cushions which we used to have in our bedroom.
Either side are these cute little bedside tables which were from Ebay which were only £48.95 for the pair with free P&P. Perfect for kids bedrooms & Elsa loves putting all her little 'bits' including her infamous rock collection in them.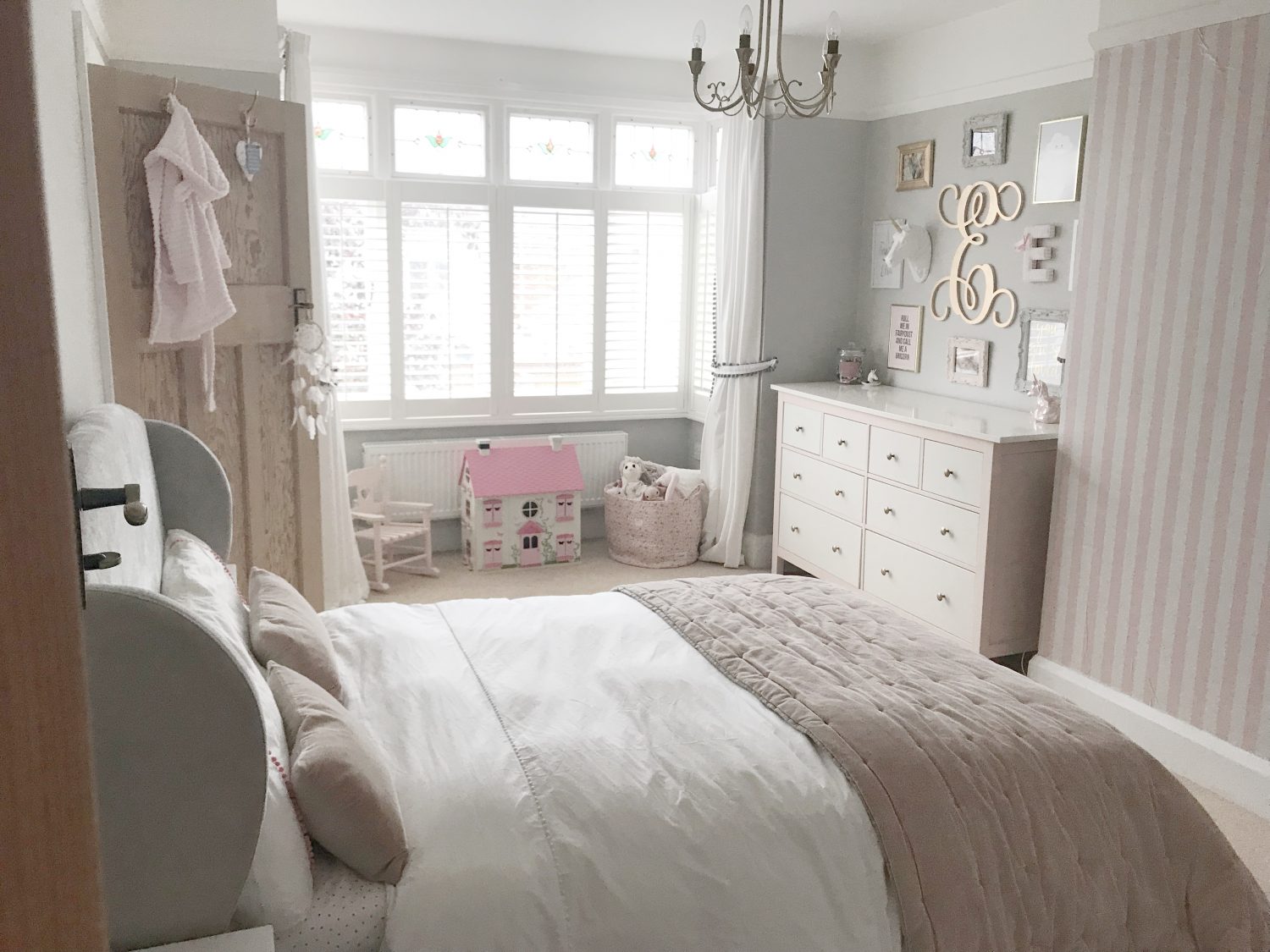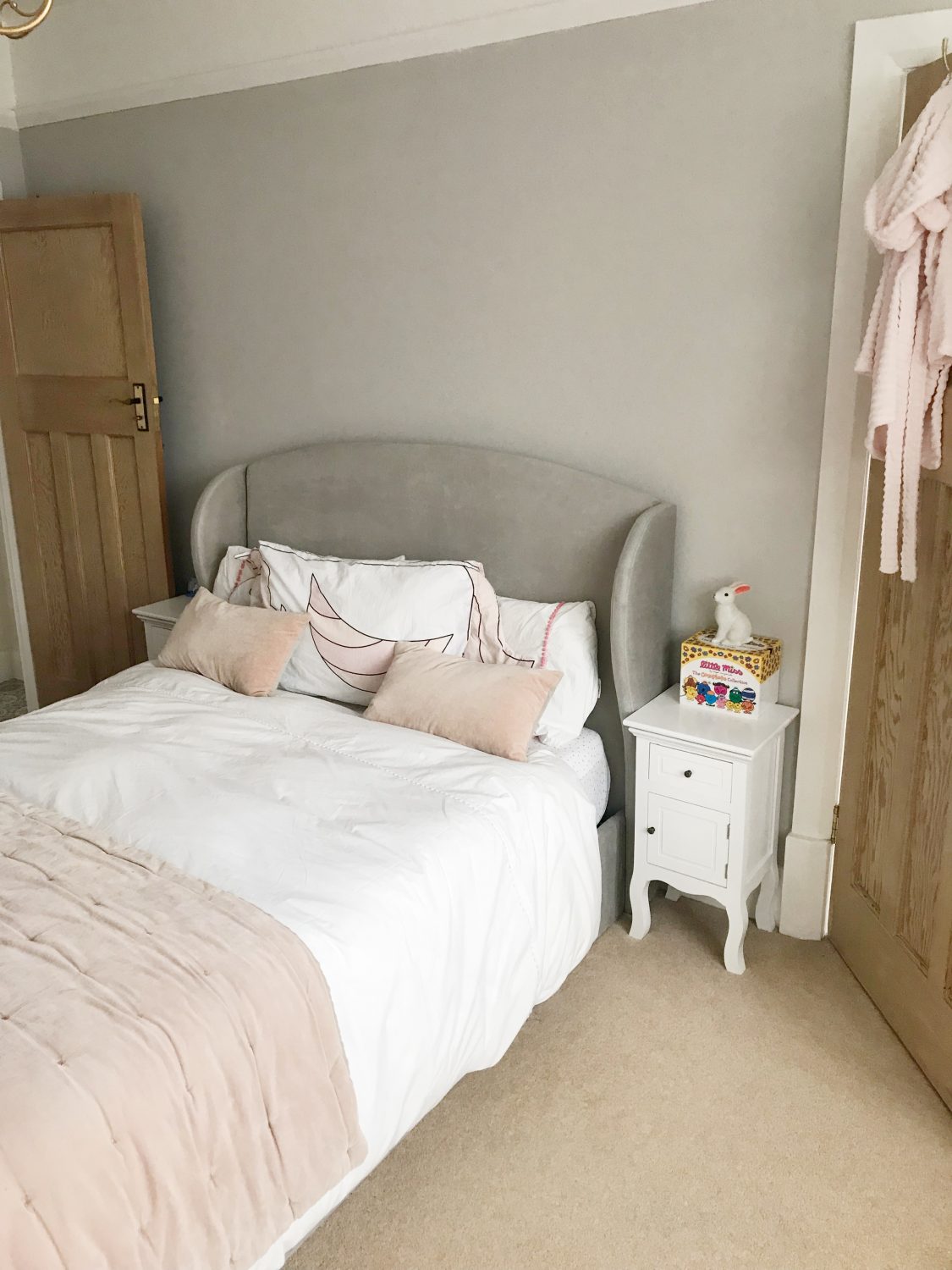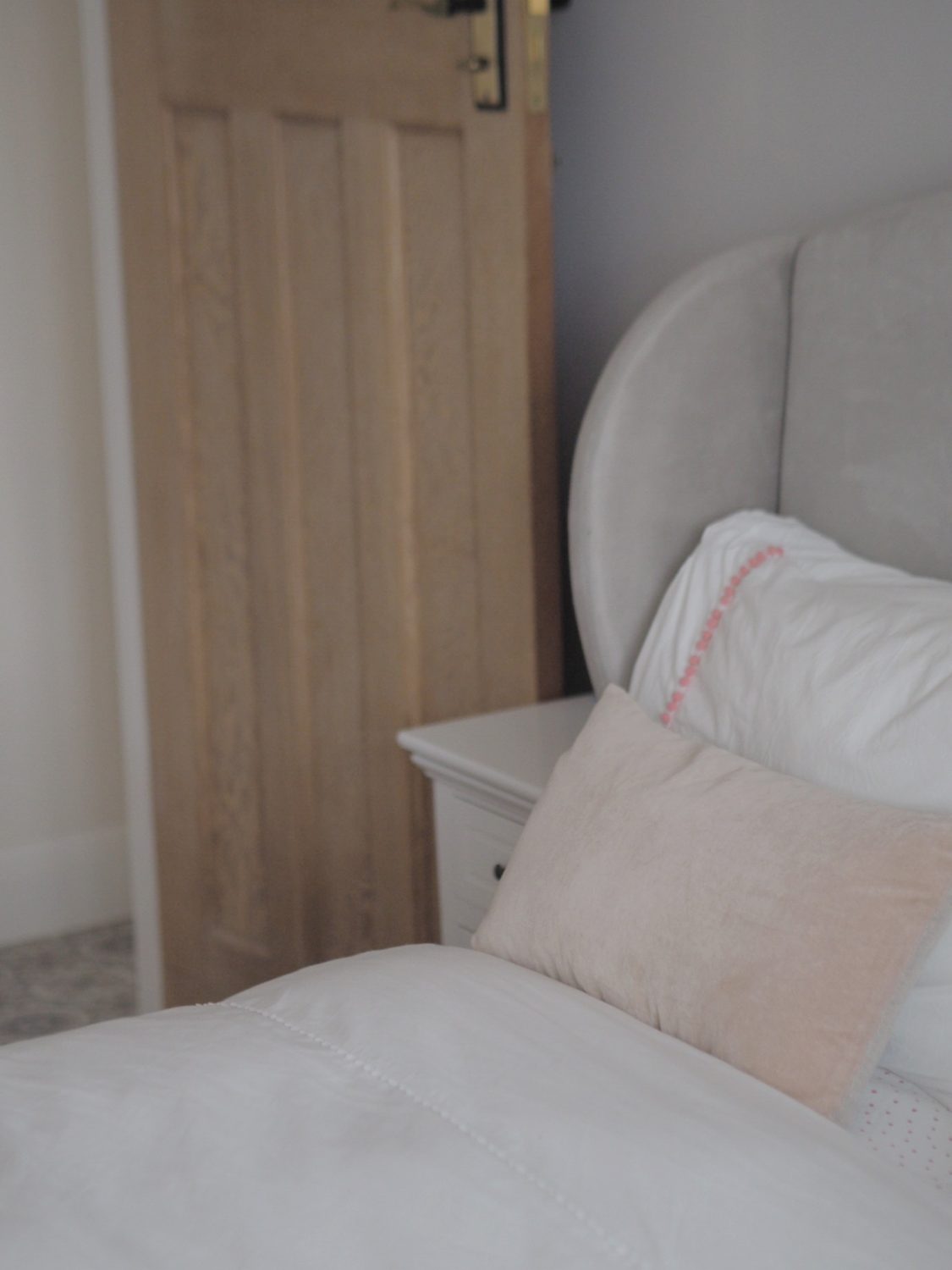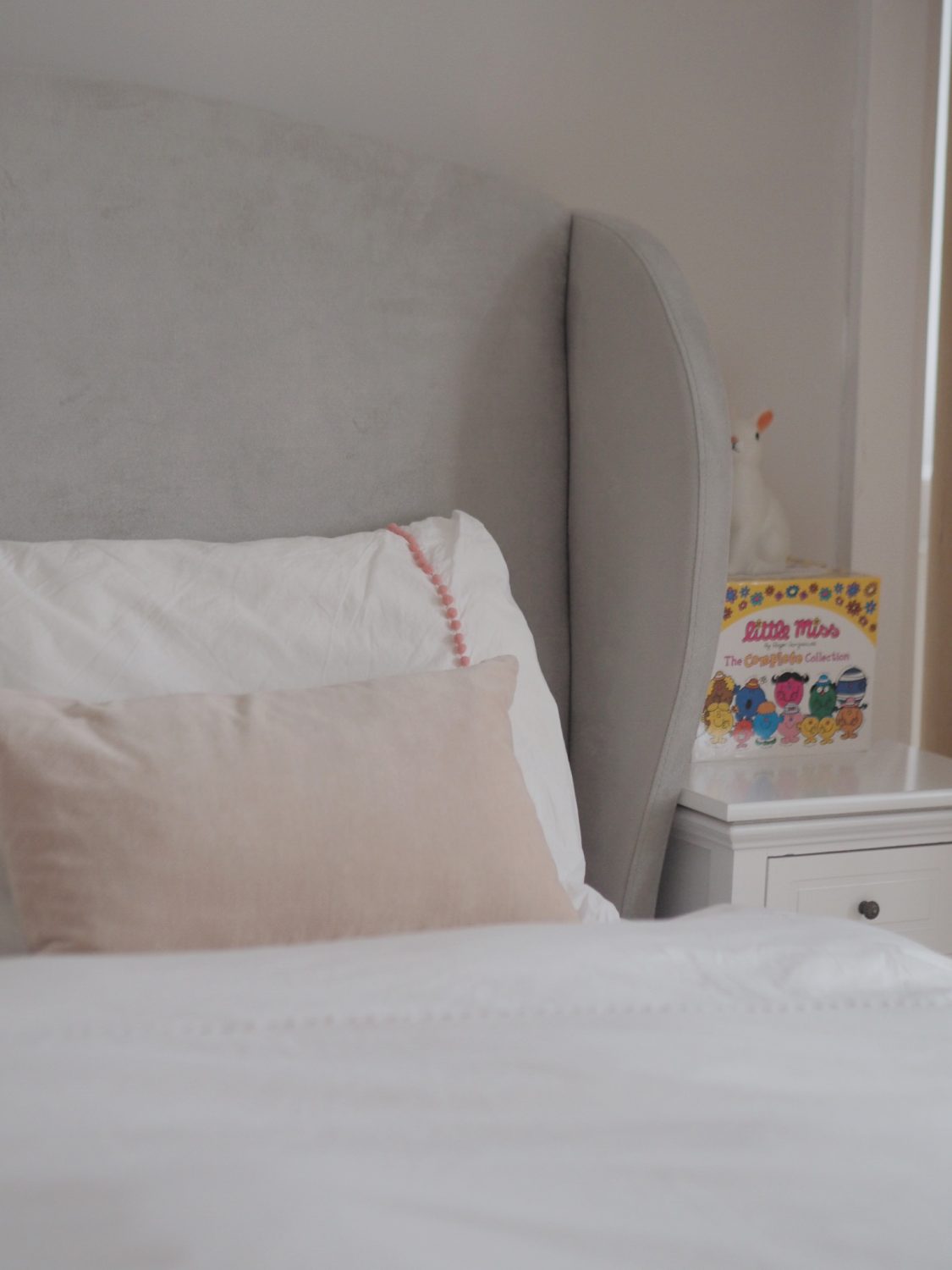 I still want to get some big prints to go above her bed as a focal point but with the Summer holidays in full swing, life has been taken over with desperately peddling below the water to keep afloat to source anything.
That ends this weeks Home Tour Friday – hope you've enjoyed & have a fabulous long weekend ahead.
Love,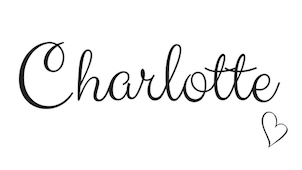 *This post may contain affiliate links