This week's Home Tour Friday is all about an area that I don't really show too much; the utility room (not of dreams…hence never showing it on my feed!), downstairs toilet & my office AKA The Home That Made Me HQ.
Originally this space would have been another reception room or bedroom & is the same size as the playroom on the opposite side of Baylyn House's double front. However it's now been split into these 3 spaces for busy everyday family life & as sad as it is, I was most excited about gaining a utility room when we moved here.
Anyway, enough of the rabbiting & on with the tour!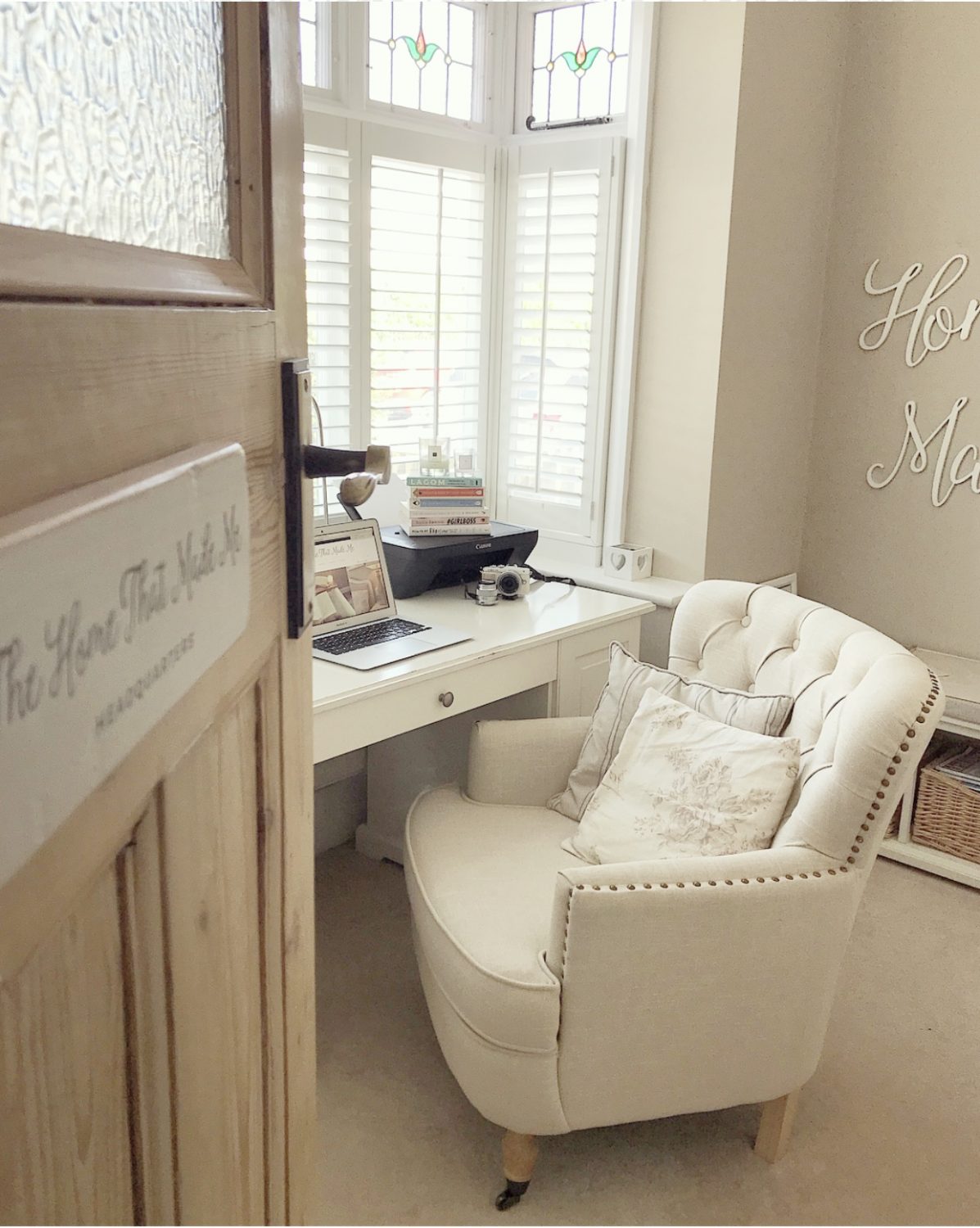 First up we'll start with the little corridor which leads to these three rooms. This is behind the staircase to the left before you enter into the kitchen & open plan main living space. This is painted in Dulux 'Natural Hessian' like the hallway.
These hooks are from Cotswold Co here & the little wicker baskets on top are Ikea. We have one for Elsa & one for Rory which hold nursery/school bits & bobs as well as hats, gloves & god knows what else. I keep this area fairly clear by putting away anything out of season so big chunky winter coats & scarves go into the loft (or under our bed) & only Summer items like waterproof jackets remain at the moment.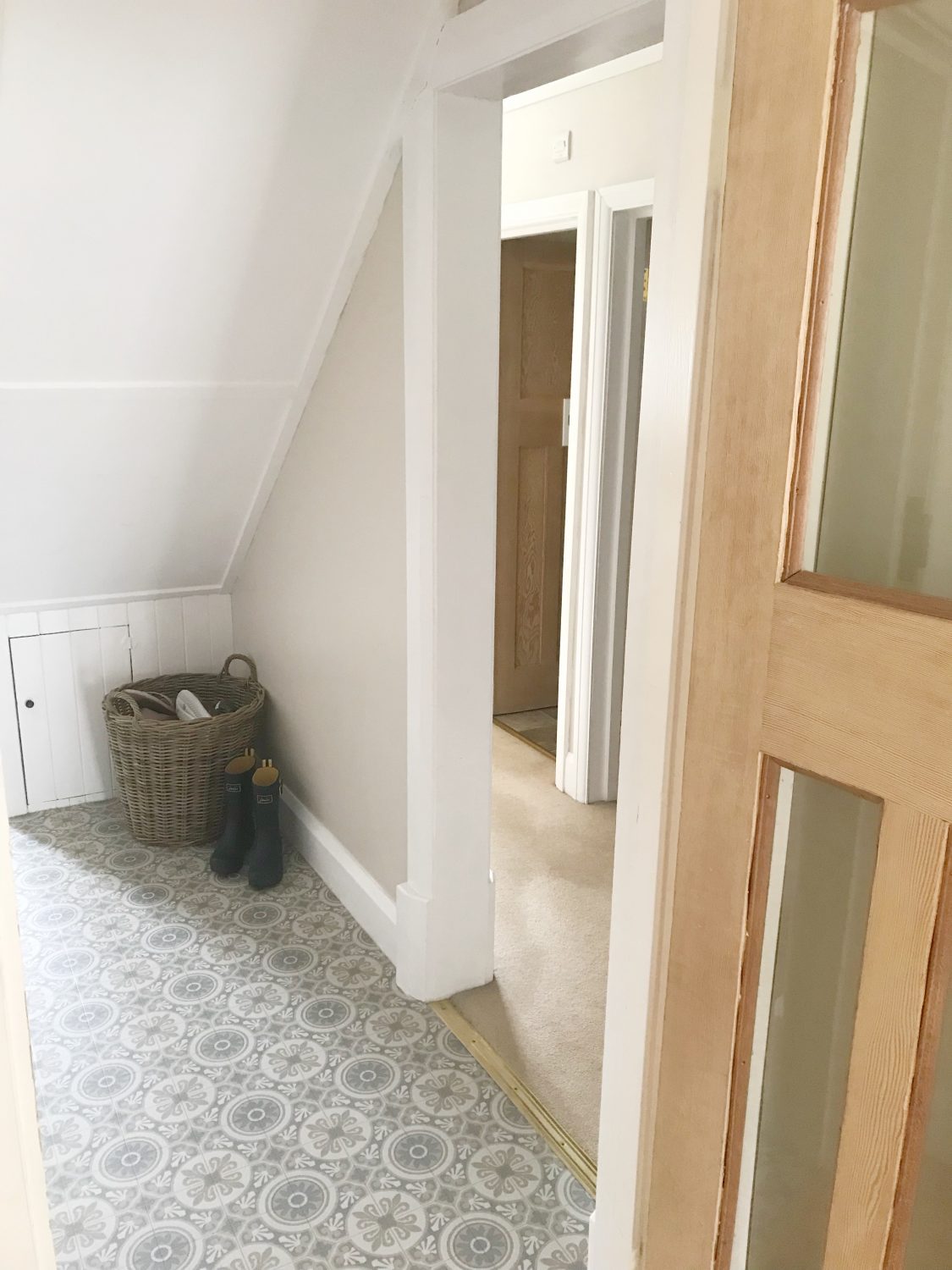 This picture is one of my favourites. It's of me & my lovely Mum when I must have been about 16/17 on a cruise with my Nan around the med.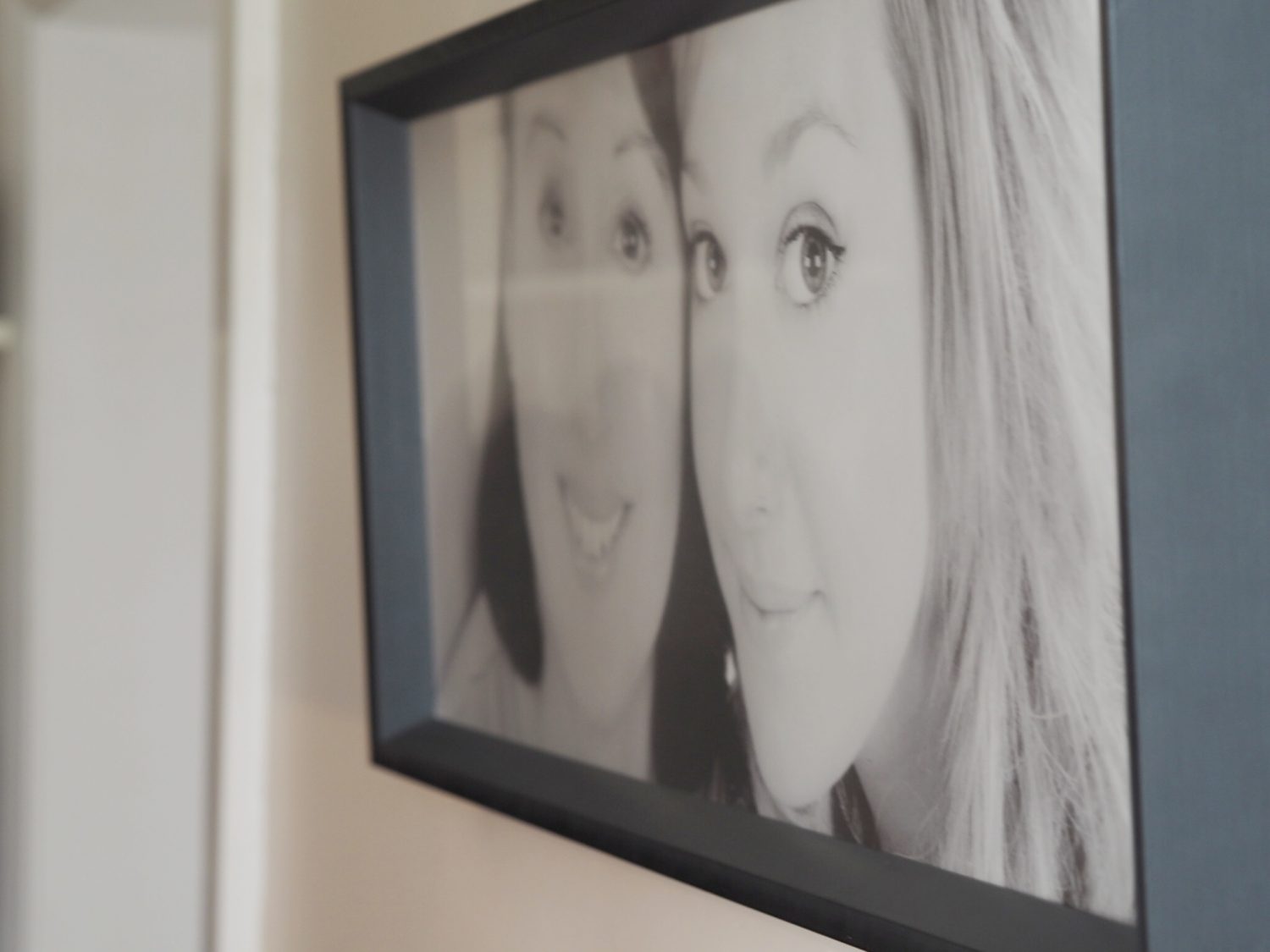 The first room on the right is the utility room which, if you're expecting something straight out on Pinterest then you'll be mistaken. For this is a utility room of function, but not of fashion. I would love a utility of dreams with a butler sink & fancy appliances but alas, this space is taken up with the water tank & boiler (which I've cleverly hidden with a curtain to try to hide it slightly on a budget) & has no window so always looks a bit dark & dingy.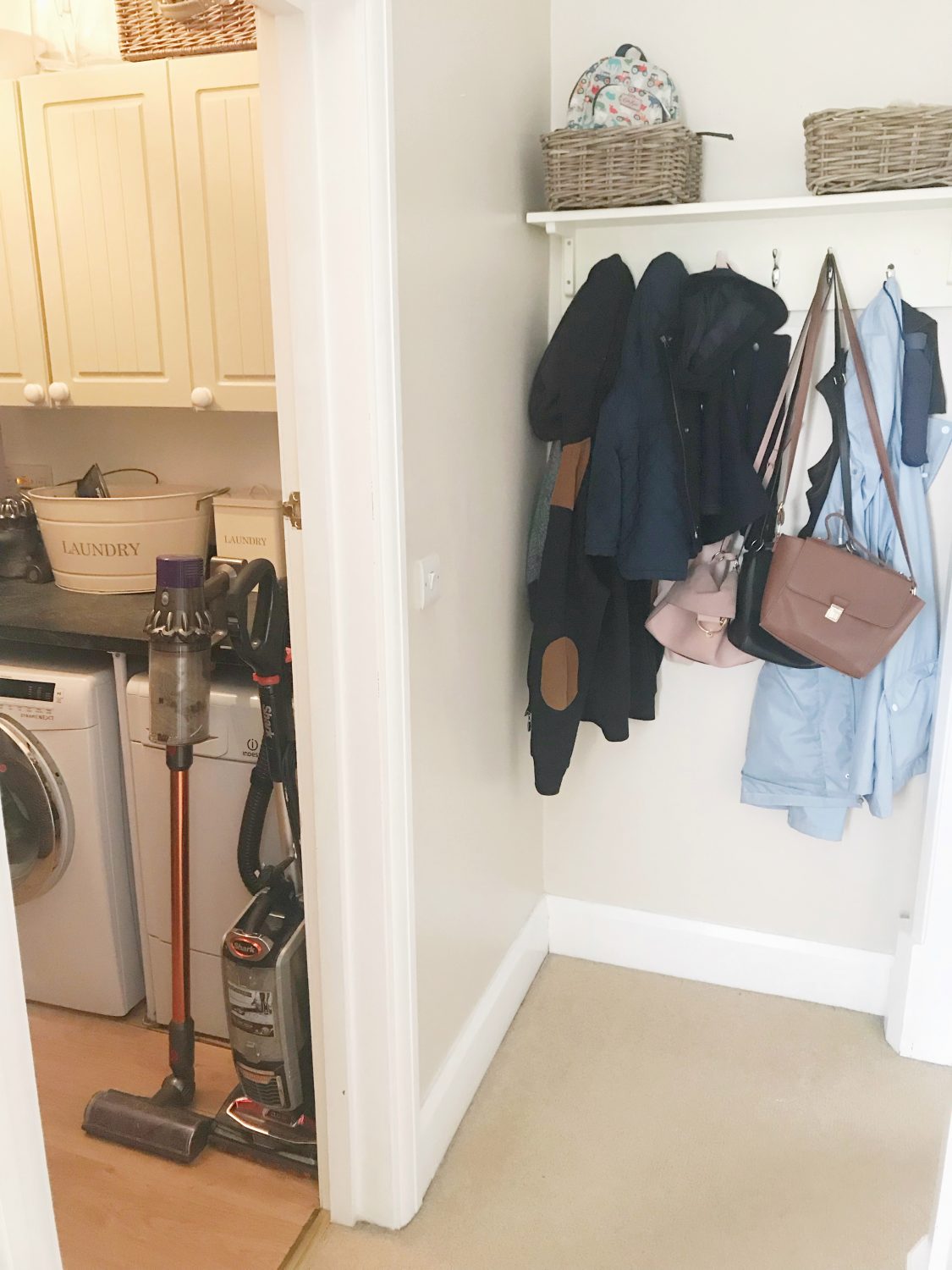 The sign on the door was from Garden Trading Co but I can't seem to find it online.
I painted the cupboards in F&B stony ground left over from the kitchen makeover to link the two rooms & apart from that, not much has been done.
The ironing board cover & tea towel are both Sophie Allport 'bee's' design & the metal caddies for laundry, cleaning & so on are Matalan here. The wicker laundry bin is from Dunelm.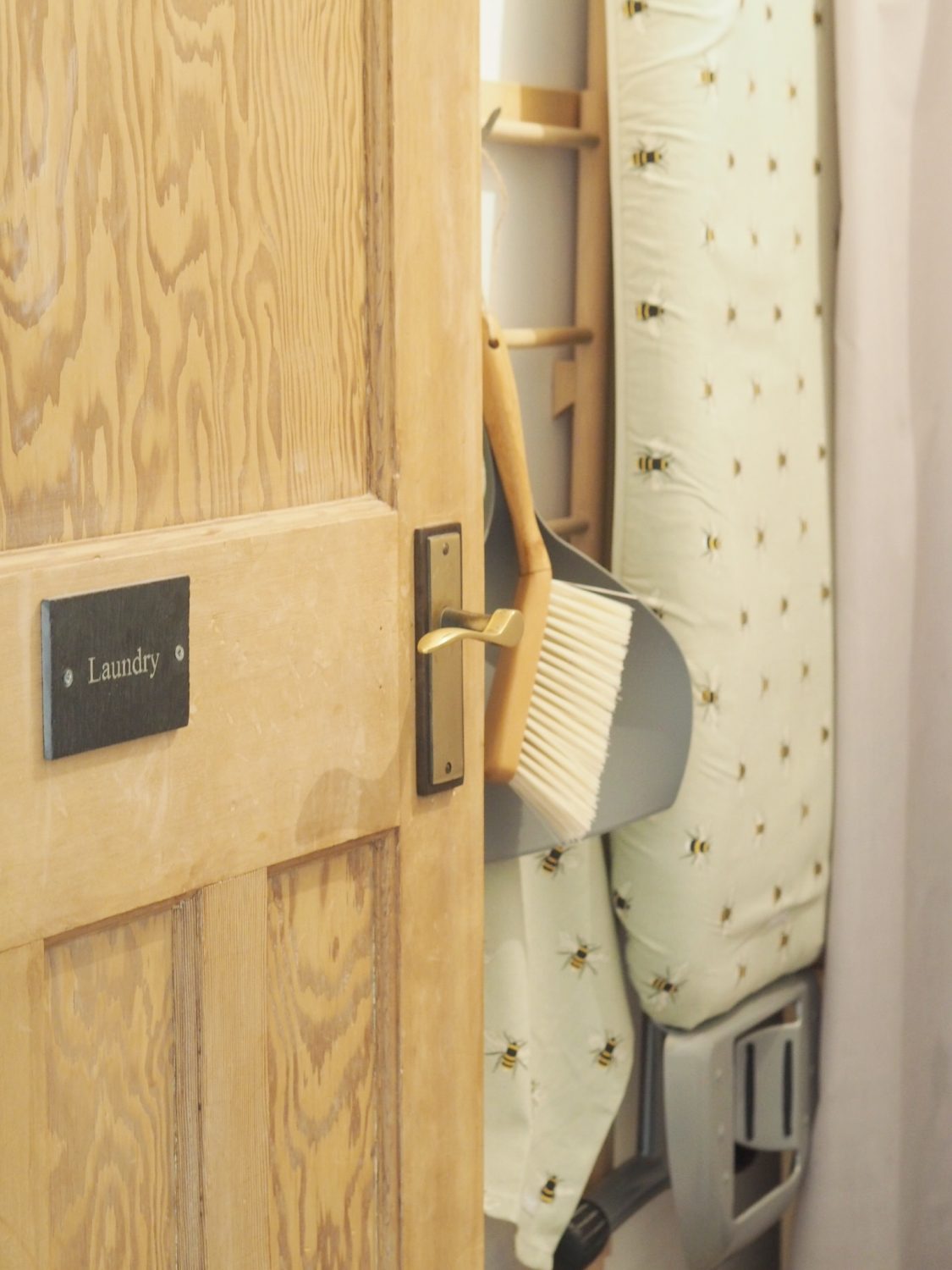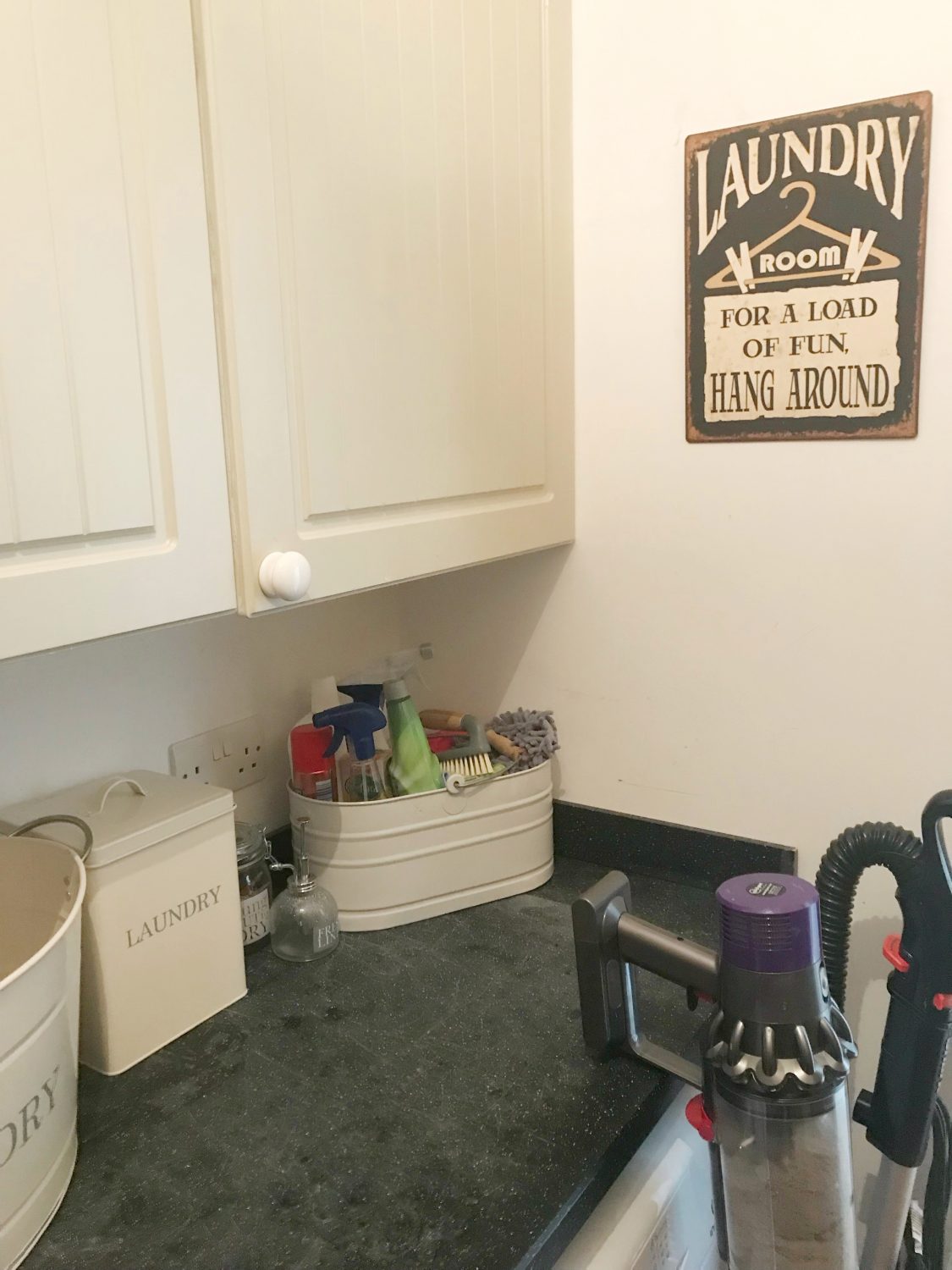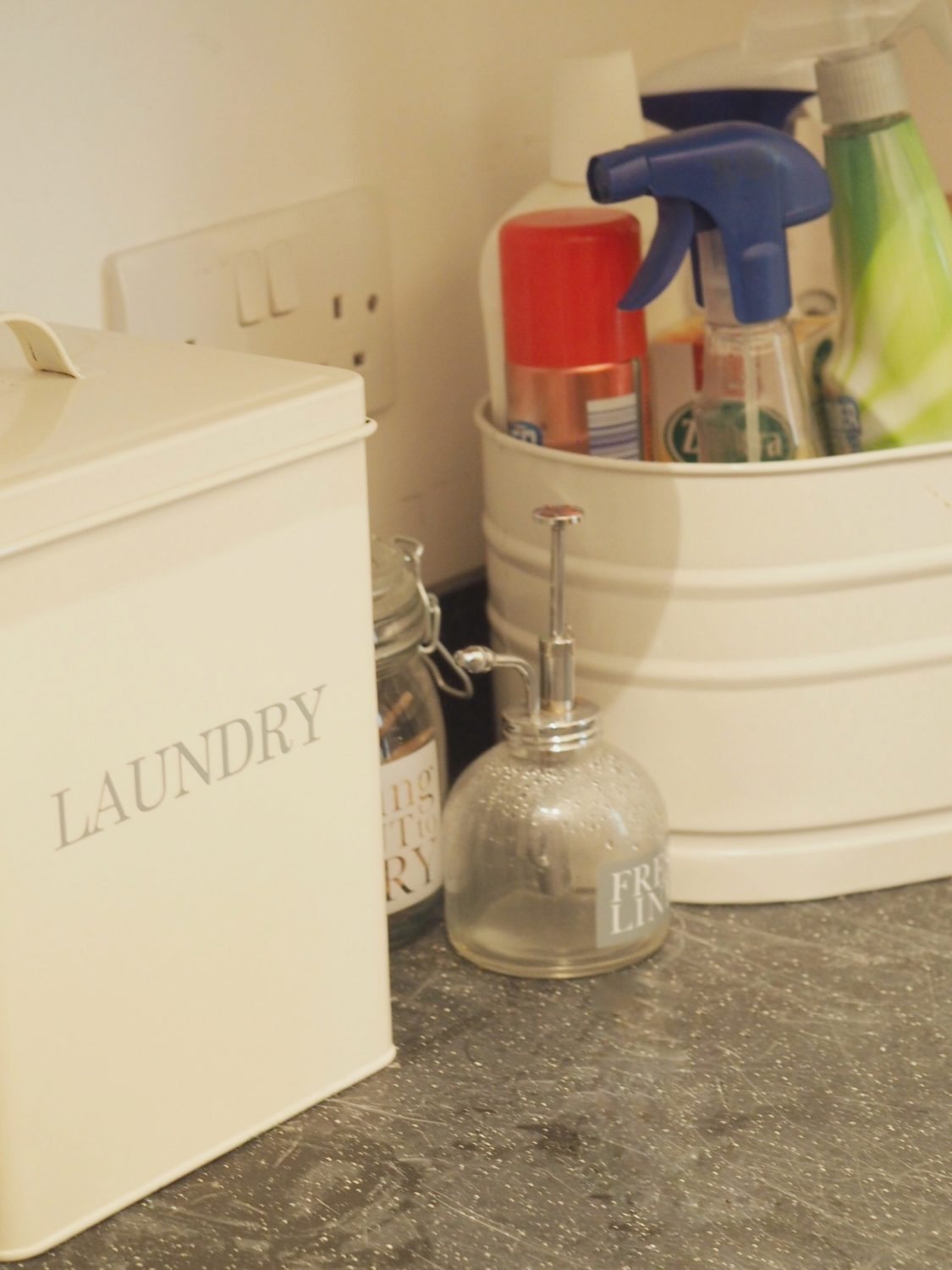 On to the next room, the downstairs toilet & the sign on the door was from Dunelm but many moons ago…you can find similar here though.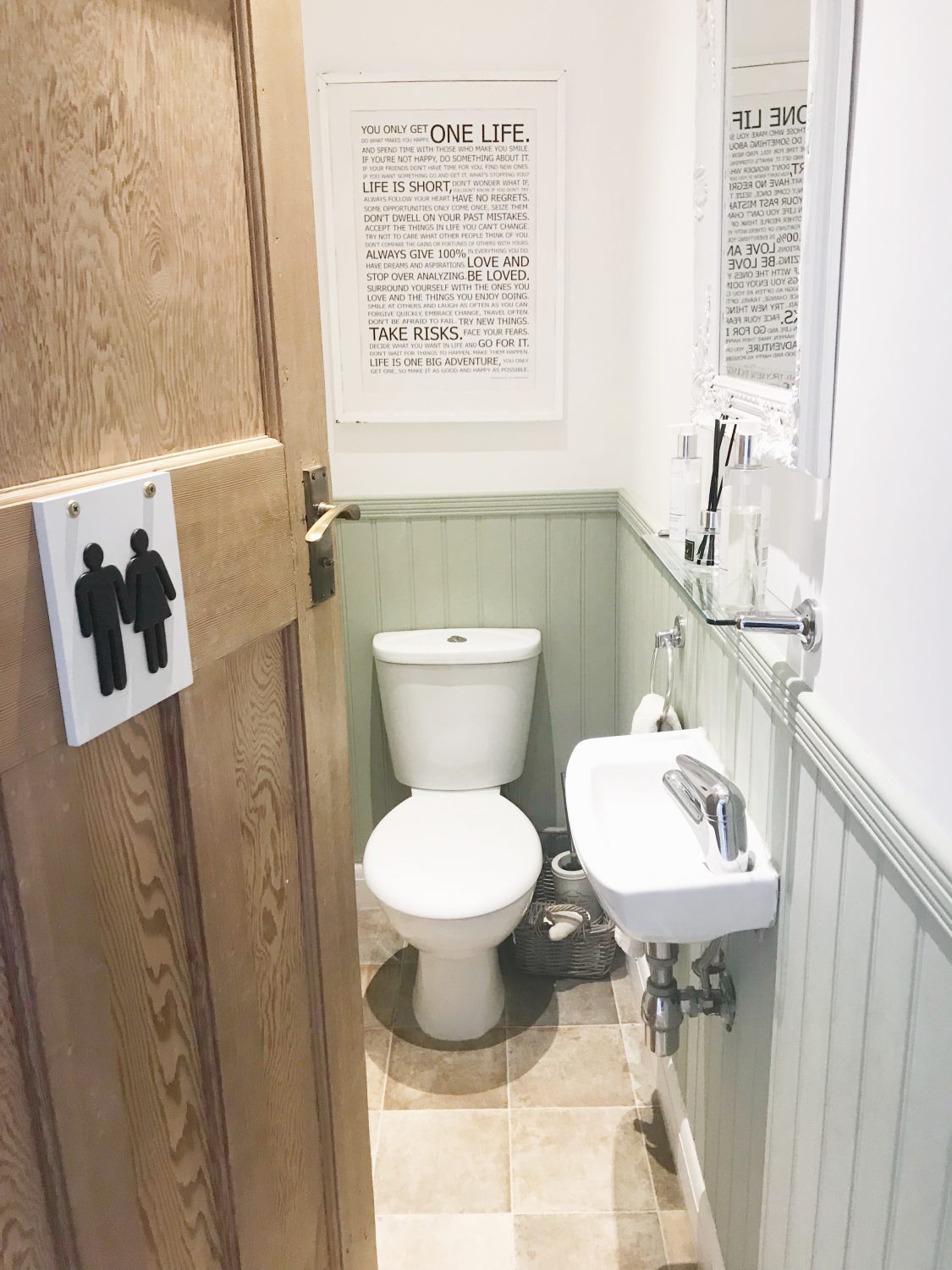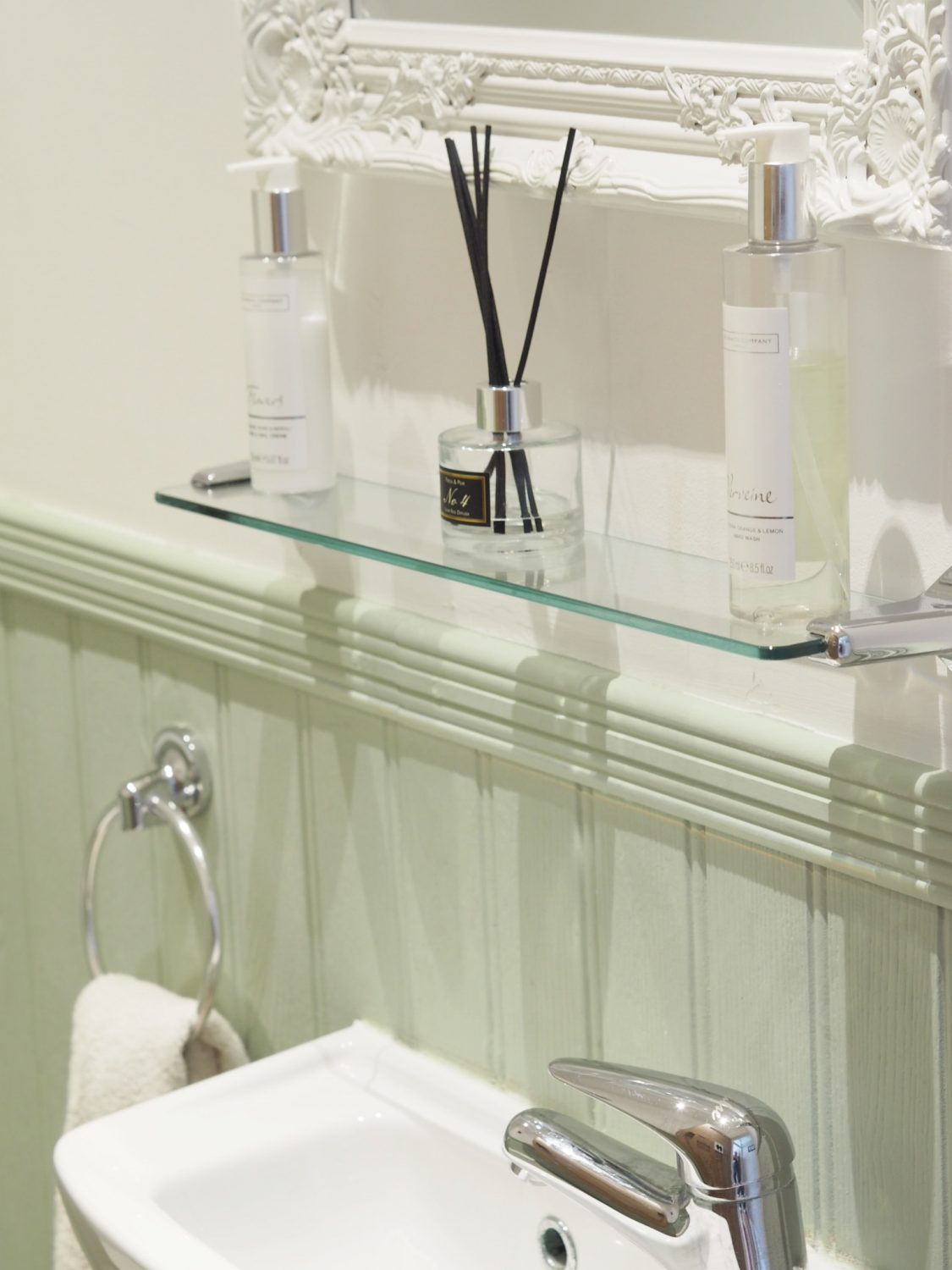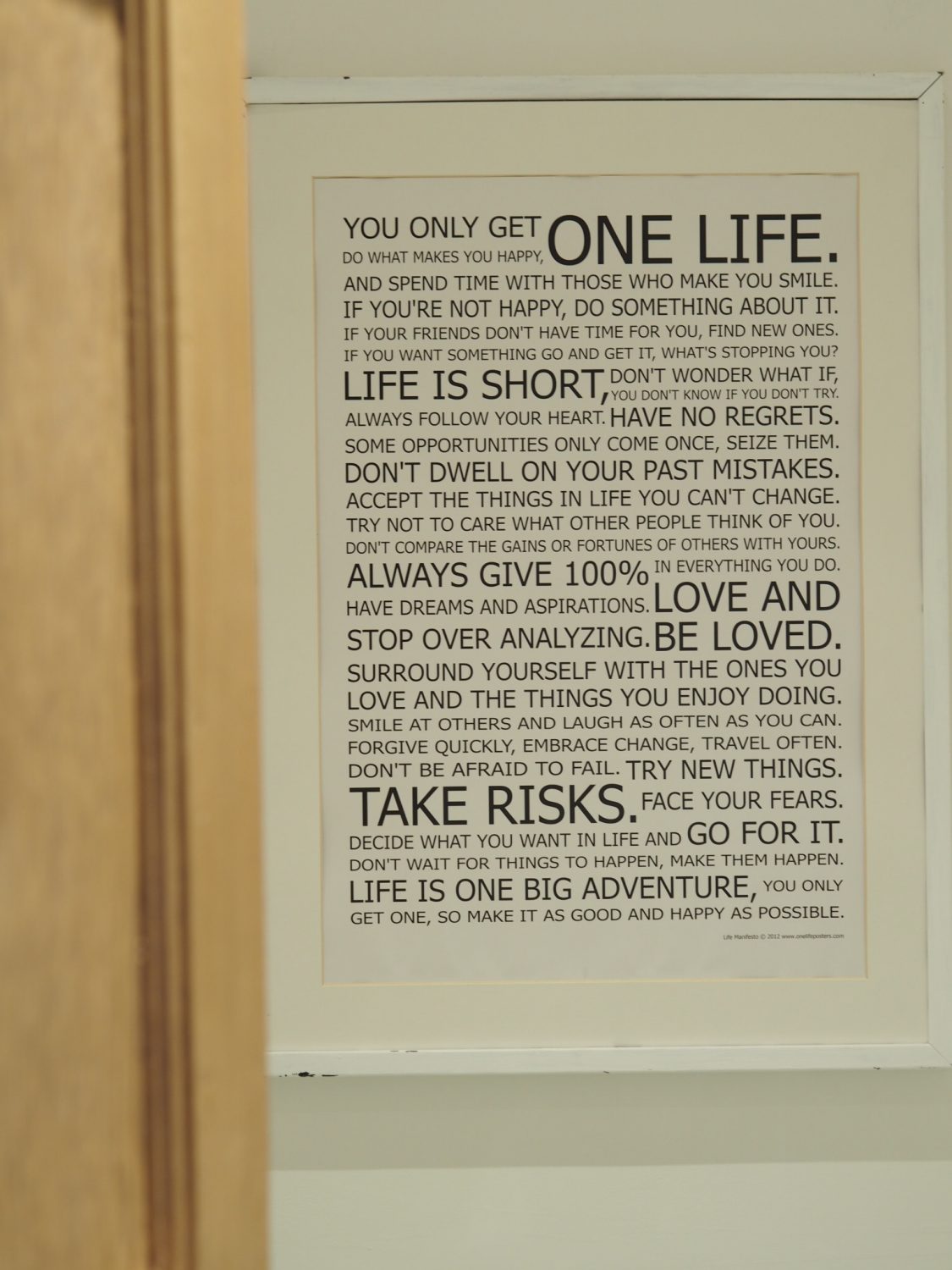 The panelling is painted in F&B 'Vert de terre' which was the same colour we had in our hallway until a mini makeover/revamp. I'm actually planning to repaint in here soon as green doesn't float my boat anymore so watch this space. The flooring is vinyl from a local fitter so I'm afraid I have no idea what it's called but it's again the same as we used to have in the hallway to join the two spaces.
The print is available here. My mum bought it for me about 5/6 years ago & even now I love it & try to live by it's mottos. The frame was originally black but I painted it white with Annie Sloan chalk paint.
The little shelf was here when we moved in & the mirror was a cheapo from The Range. The hand wash & cream are my favourite fragrance from The White Company & just perfect for a bathroom, Verveine.
Now on to a room I spend a lot of time in, my office. Again with a door sign which my husband had made for me as a surprise & even uses the same font/logo off my blog. You can find the company here.
When designing this space, I wanted somewhere I could sit & focus on the content that I'm writing or spaces I'm designing without distractions (apart from the two children that seem to have turned the leg space between my desk into a den). I wanted it to be calming & so went with the neutral look I'm known for.
The walls are my old favourite, Wilko's own brand paint in 'Coastline' which is super cheap but covers brilliantly & I just love the tone hence using it in my bedroom & ensuite panelling too. To add a bit of something I put a sticker/wall mural from Pixers behind the door, this is a dandelion print & simply peels off if you get bored without any damage to the wall behind so perfect for a commitment-a-phobe like me. I can't find the same design on there but they have hundreds of thousands to choose from which you buy to size & stick on.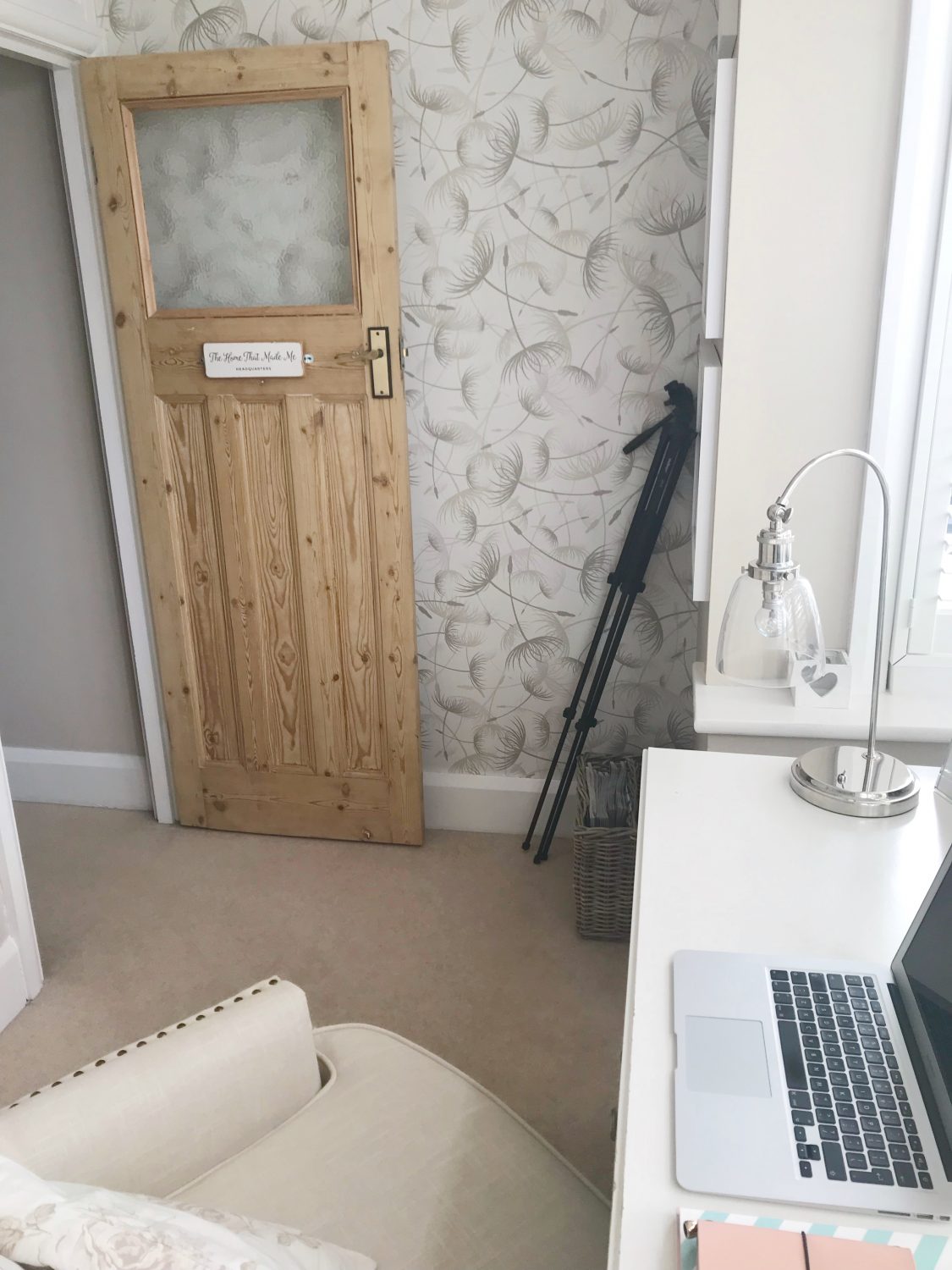 As you walk in, I've framed my magazine features including Ideal Home spread & Style At Home front cover then below is this wicker magazine holder which holds just a few interior magazines that I like to hoard & occasionally flick through if I need a bit of inspiration.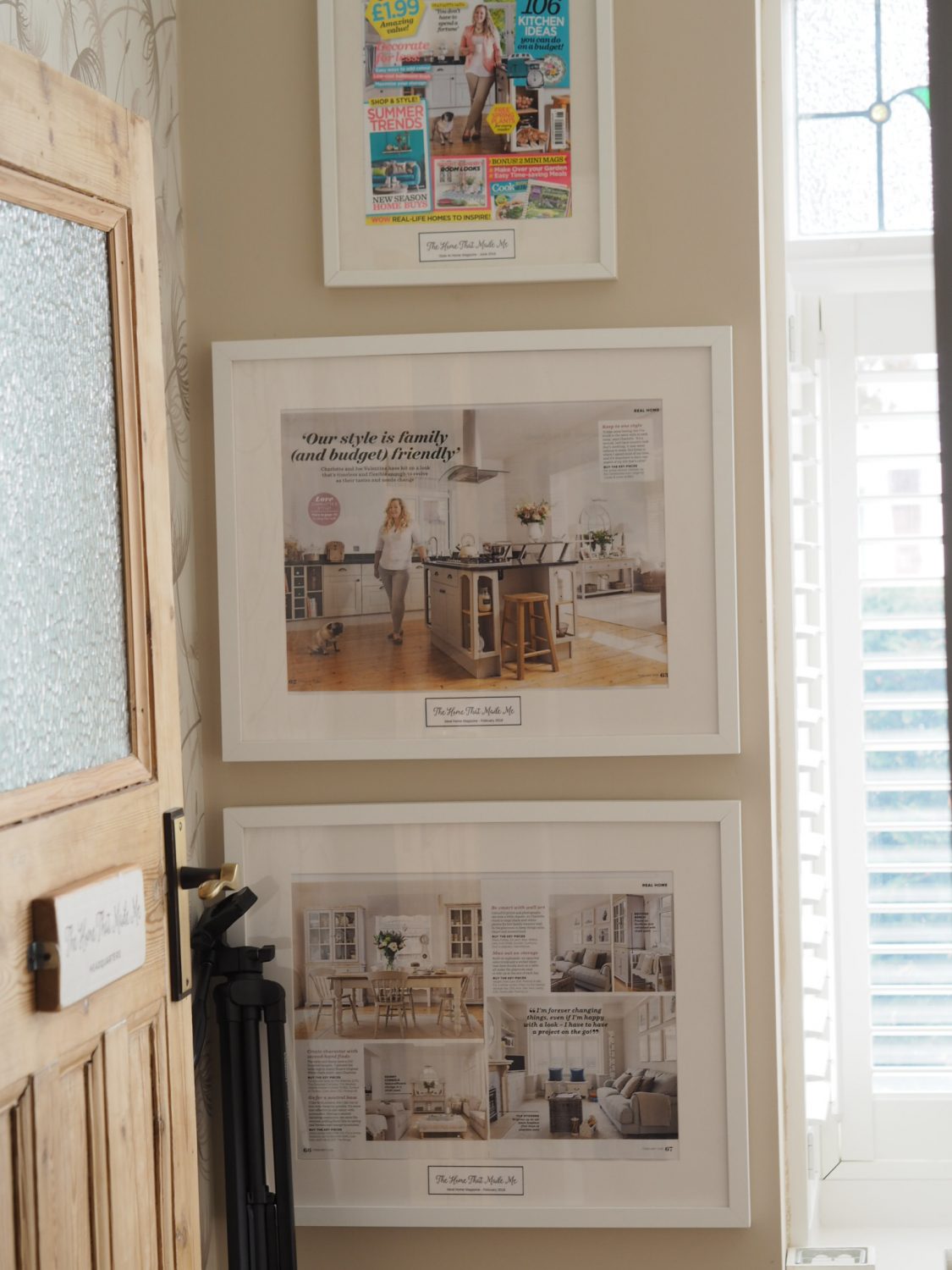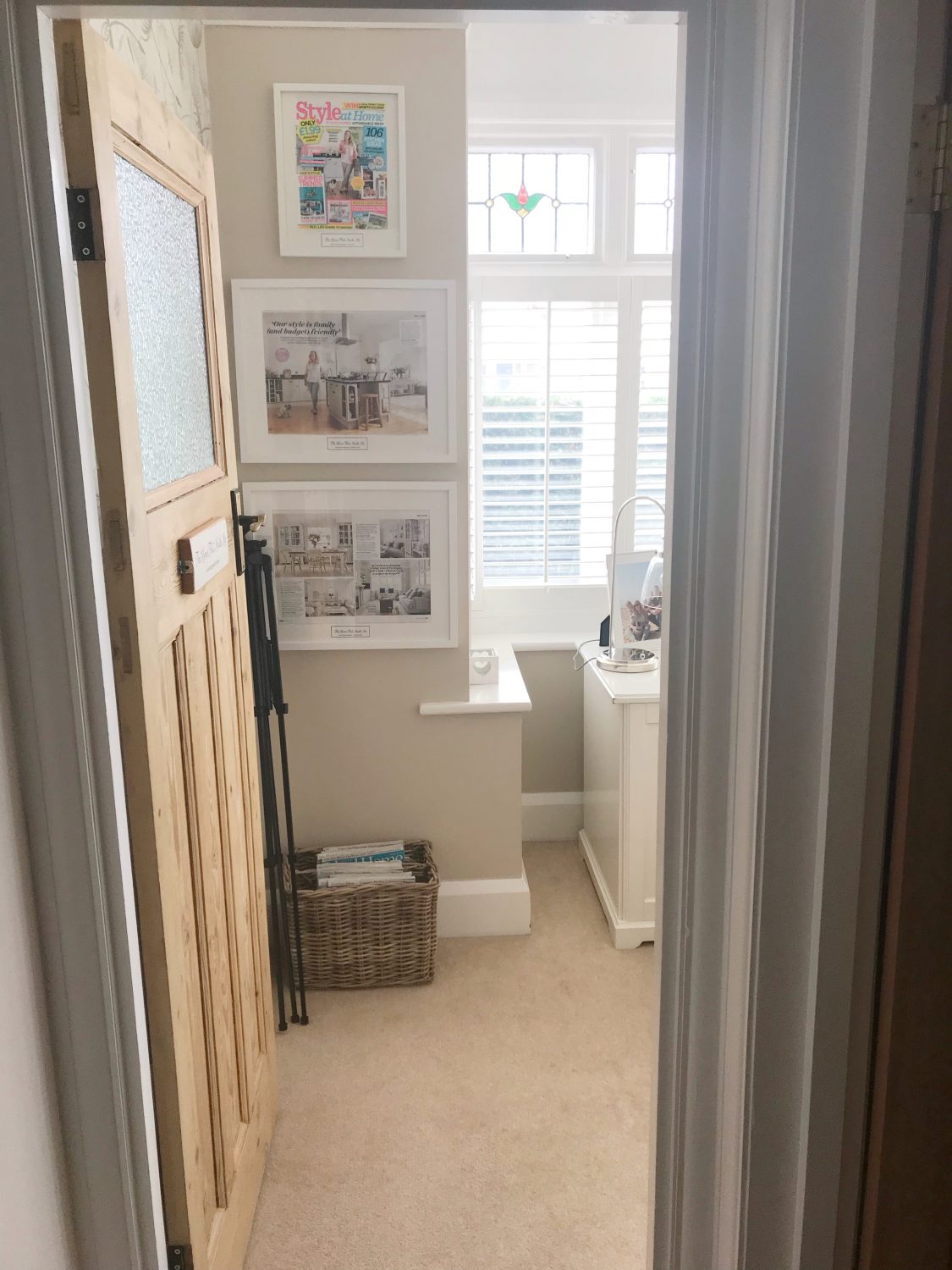 The desk is an Ikea Liatorp which I bought second hand off Gumtree & the chair is from Dunelm here.
On my desk I have my trusty Apple Macbook & printer surrounded by pretty yet practical items to accessorise. I popped all my pens in to this pen holder from GLTC – who says it's just for kids? On top of my printer is my inspirational books. My desk wouldn't be complete without a candle so I've moved my Jo Malone ''Peony Blush Suede' in here as it is such a light feminine fragrance that I feel should be enjoyed by me, myself & I. The lamp is the 'Harper' from Matalan.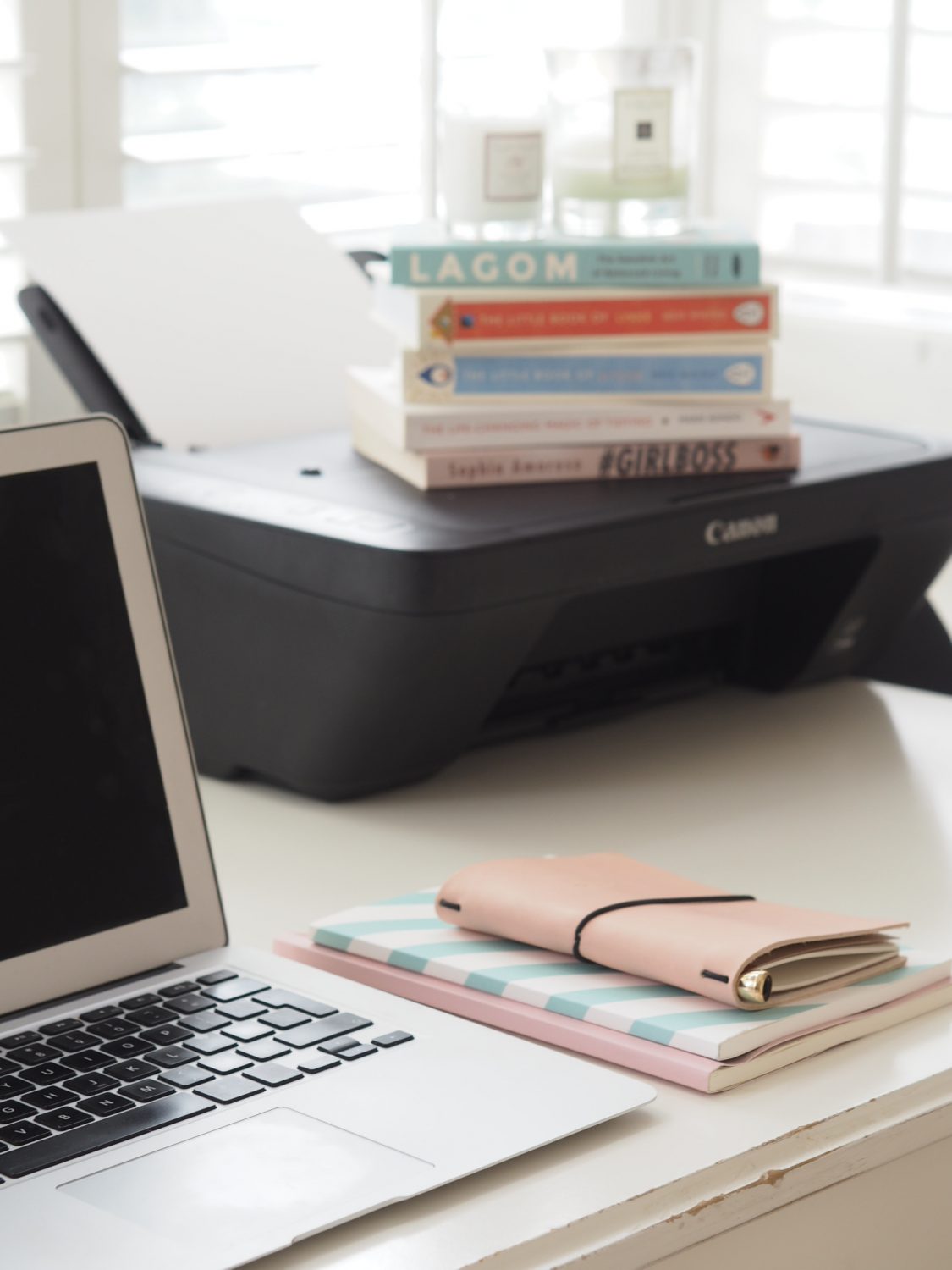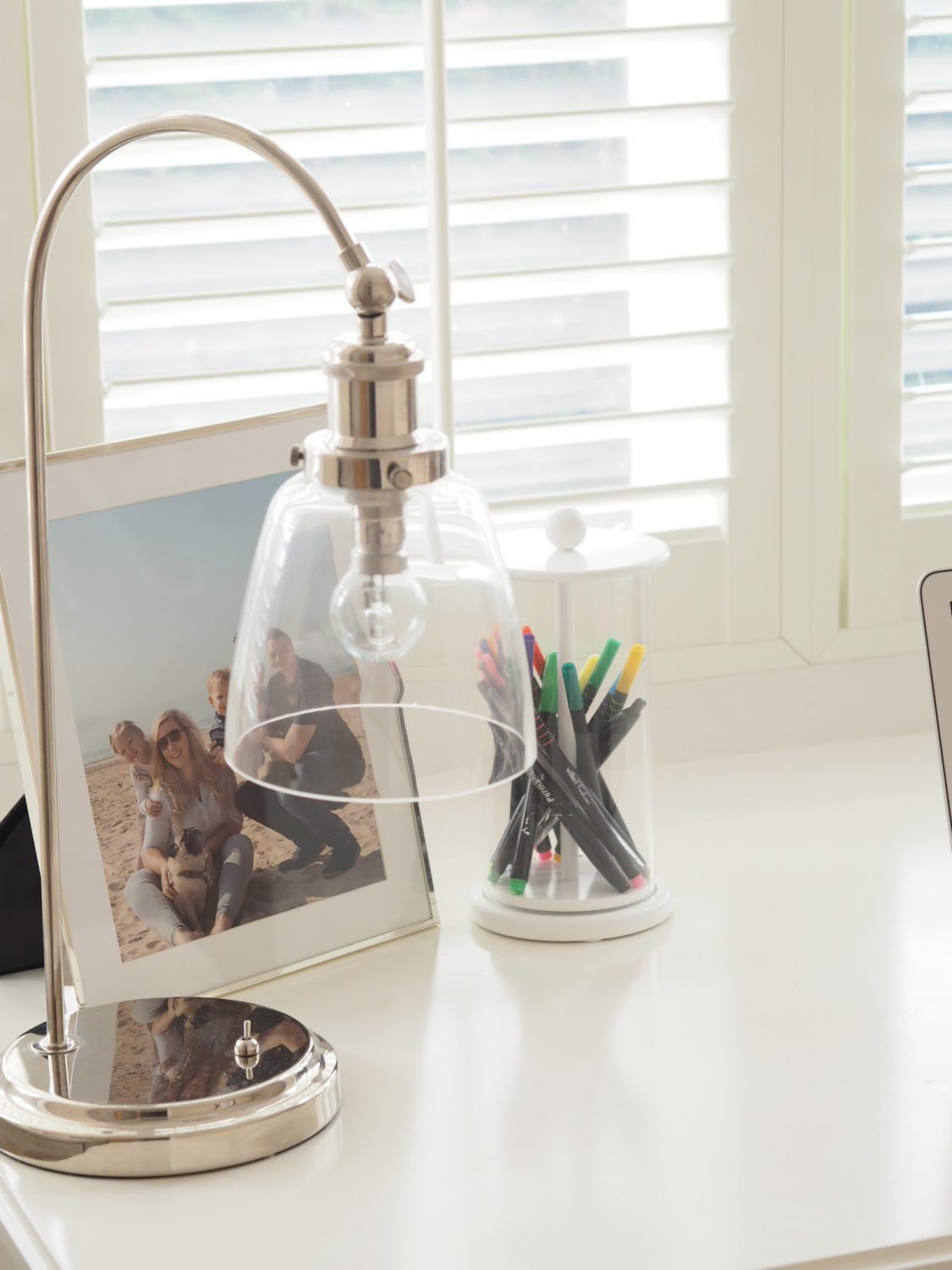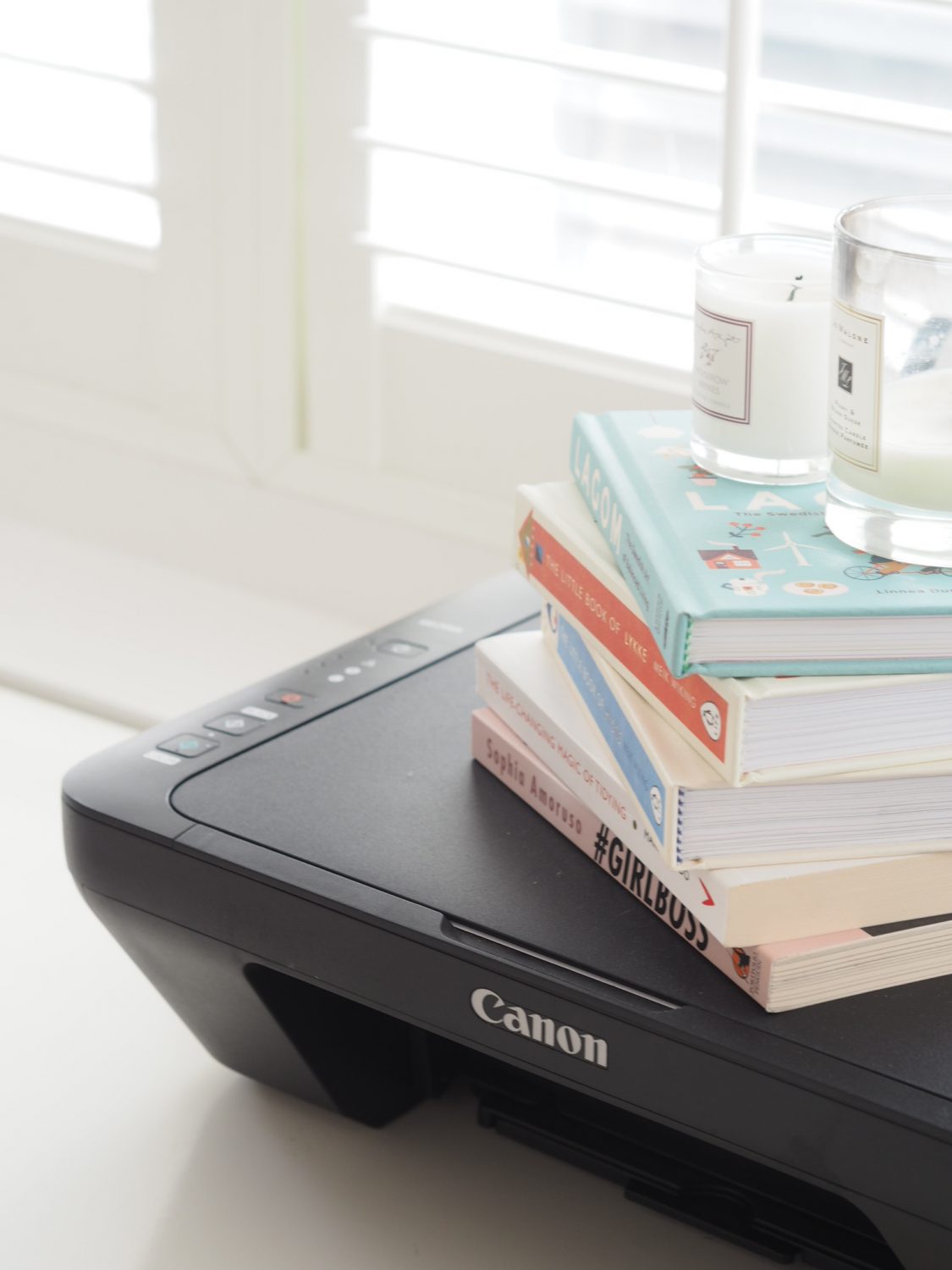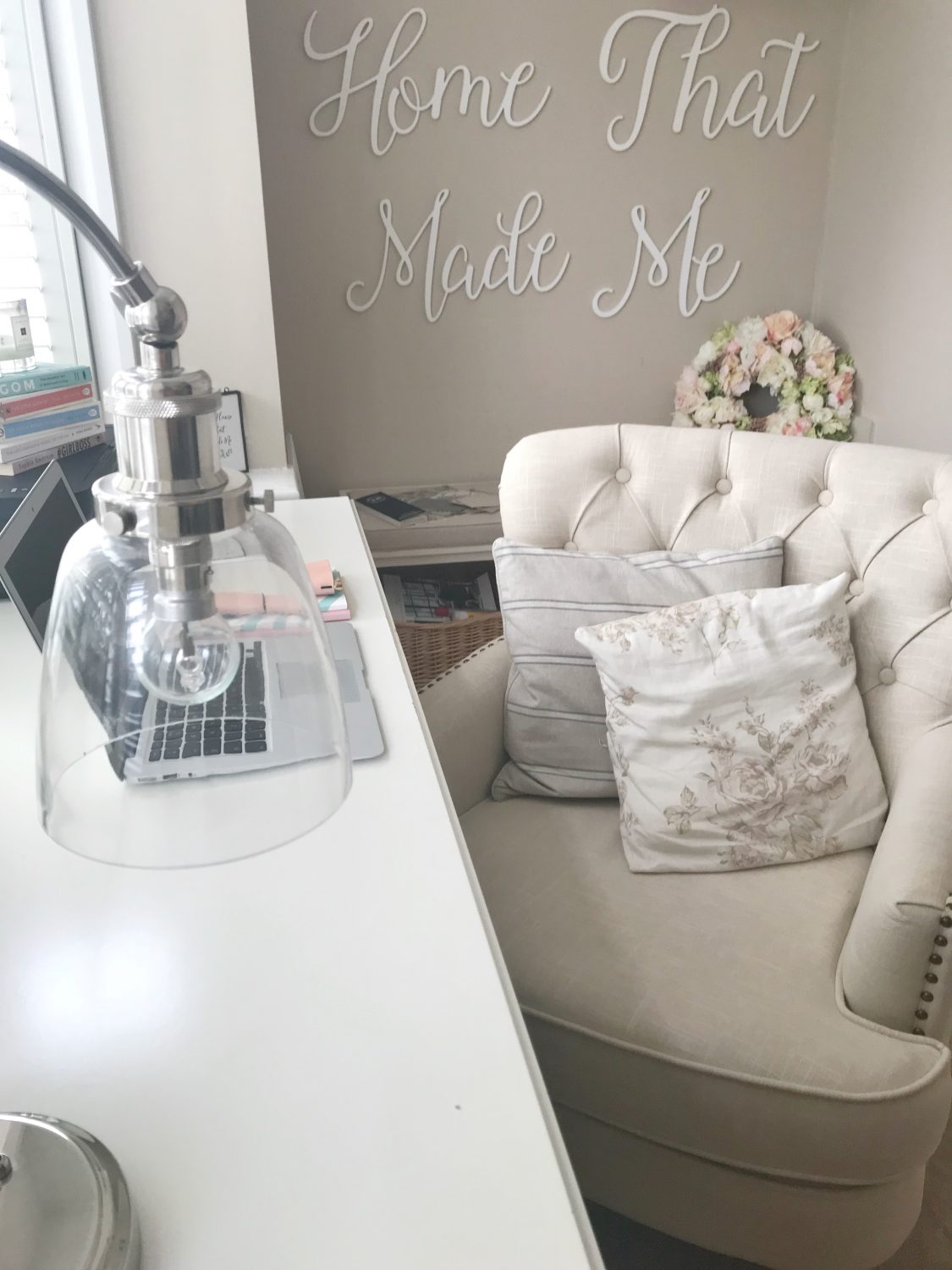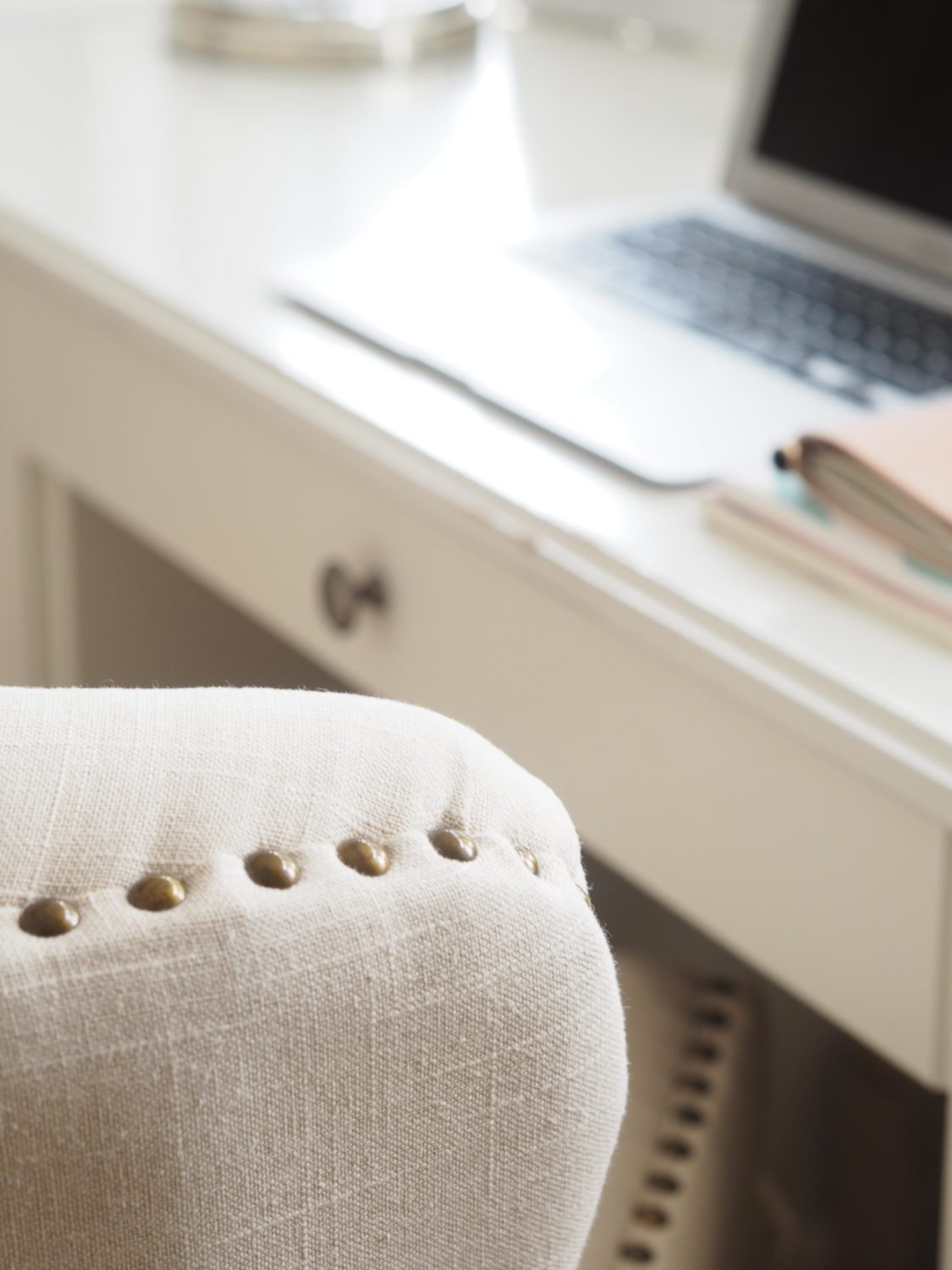 The shutters are from California Shutters.
I also have a hanging wicker heart (bought from Next a few Christmas' ago) which I use as a noticeboard & pin some of the absolutely gorgeous cards & mementos I've got since blogging – these mean the world to me & I love having them there as a reminder of just how far I've come & just how incredible so many of you are.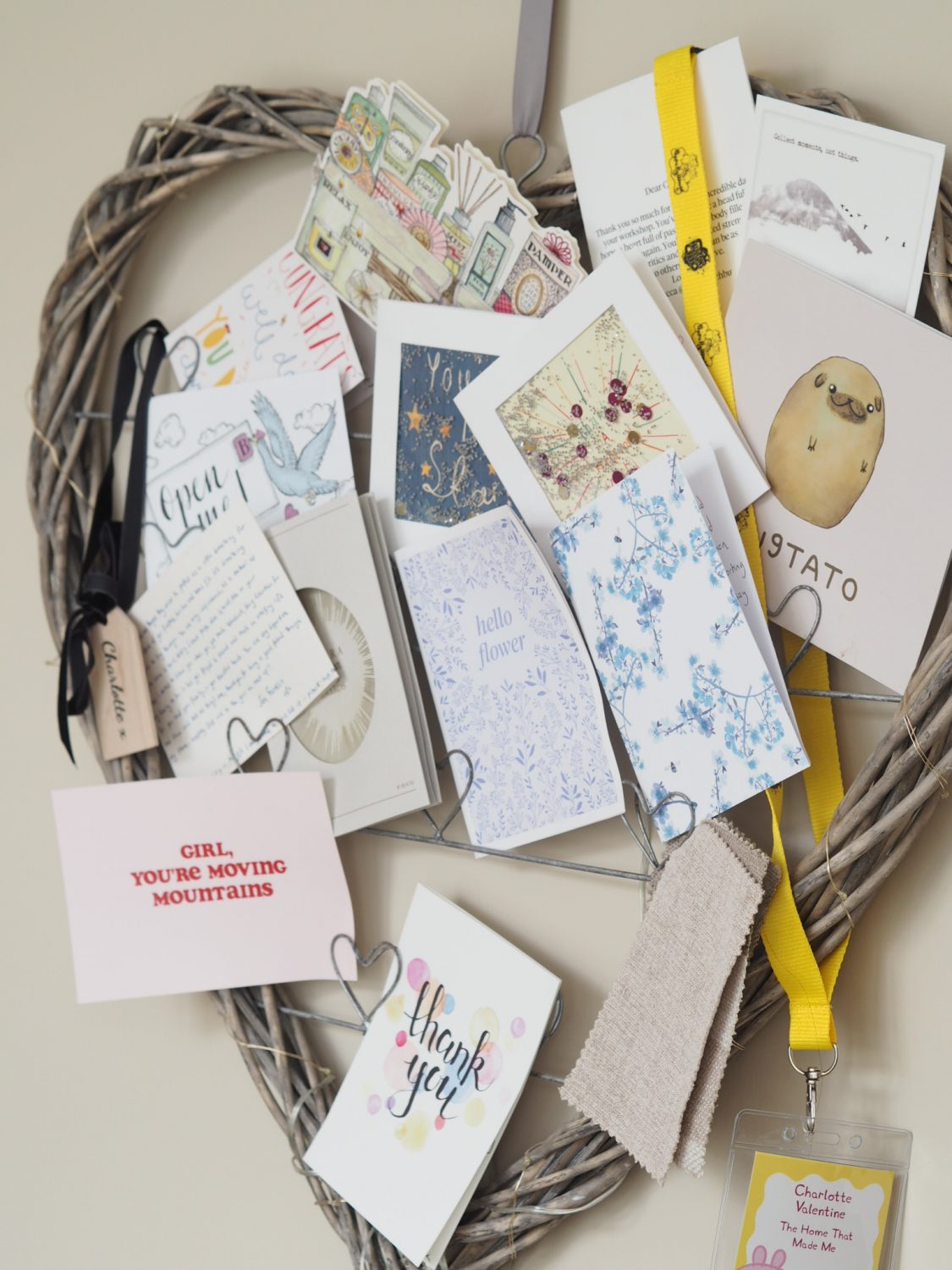 Finally on the other wall I had Loupy Designs (who also did the RJV in Rory's room & E in Elsa's room) design me something completely bespoke. With the font from my blog she created these which take pride of place above the Cotswold Co storage bench which used to be in the hallway but now holds some of my mood board bits like magazines, brochures, glue etc!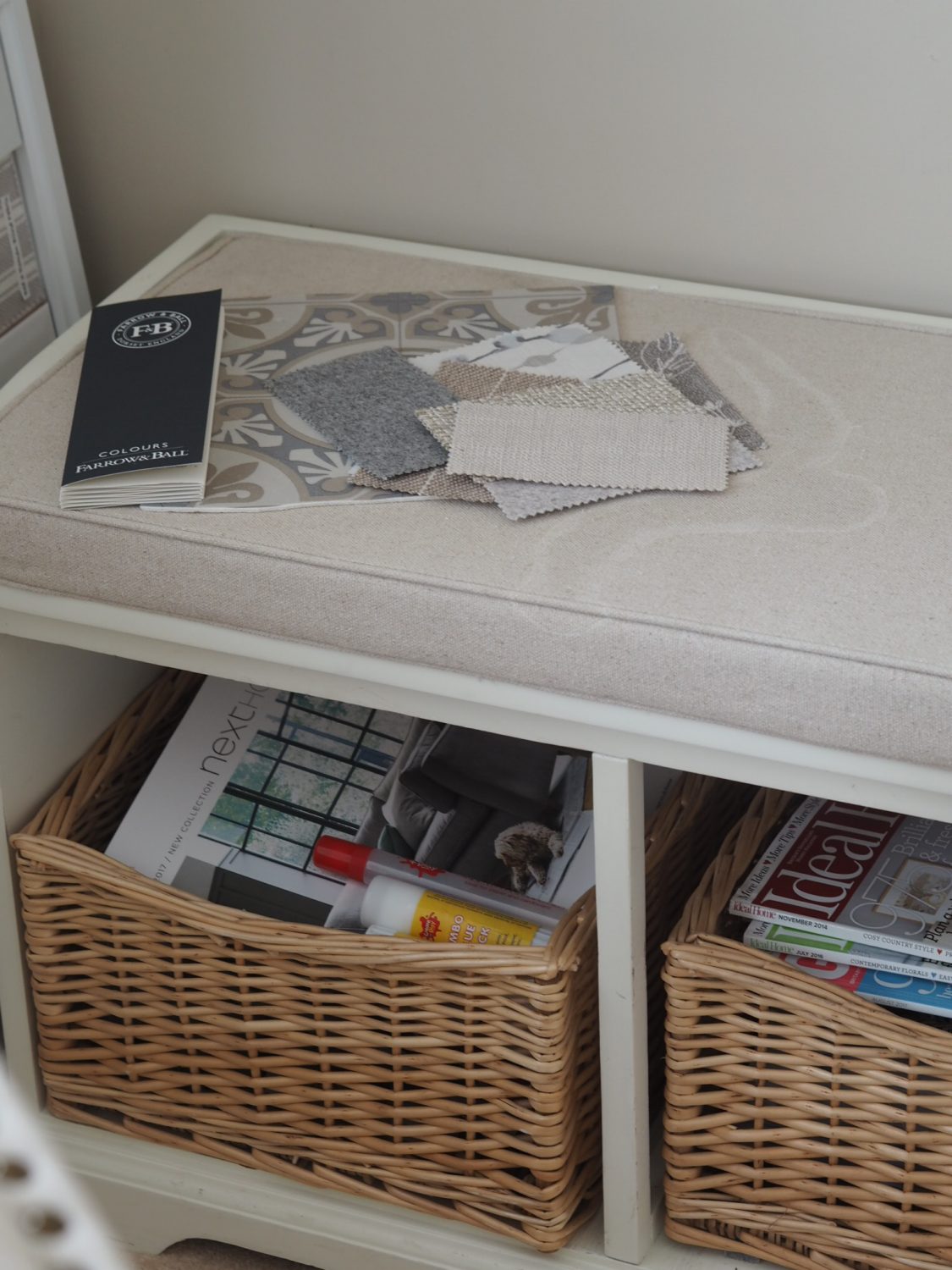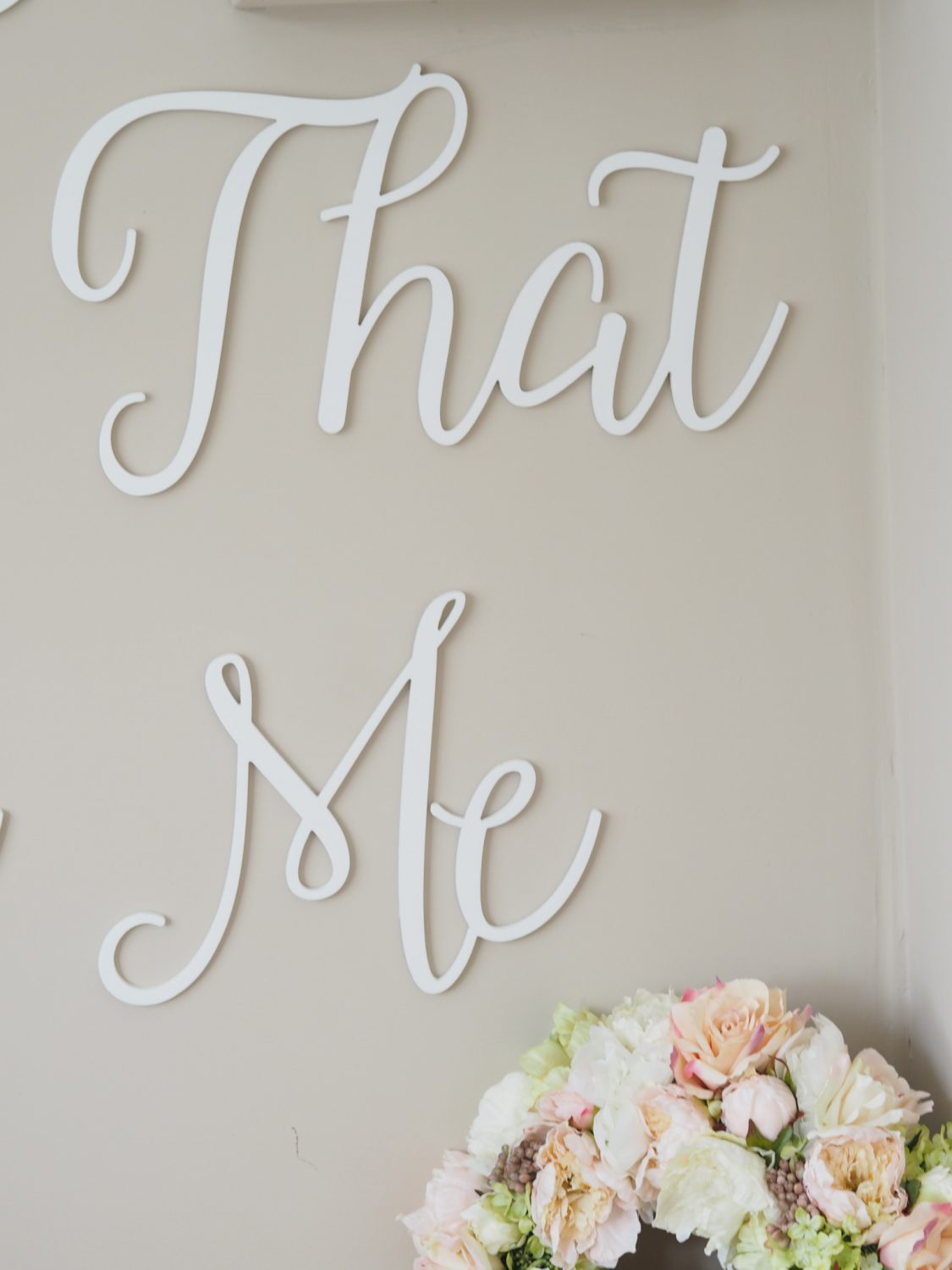 Next week we're moving up the stairs – until then have a great weekend ahead.
Love,
*This post contains some affiliate links