Hello & a very happy Friyay!! If you missed last weeks blog post on the hallway then just as a recap, every week (on a Friday…) I'll be posting a blog on a room of Baylyn House. This will clear up some of the questions I get asked all the time like paint colours, where everything is from & so on. After I've toured round each room I'm going to be handing the reins over to you guys & featuring some of the homes of my lovely followers & readers.
Anyway, week 2 is upon us & so moving on from the hallway through the door leads us in to our open plan living area with the kitchen, dining & living room. This weeks tour is going to be all about the kitchen; as with most houses, it's definitely the heart of the home.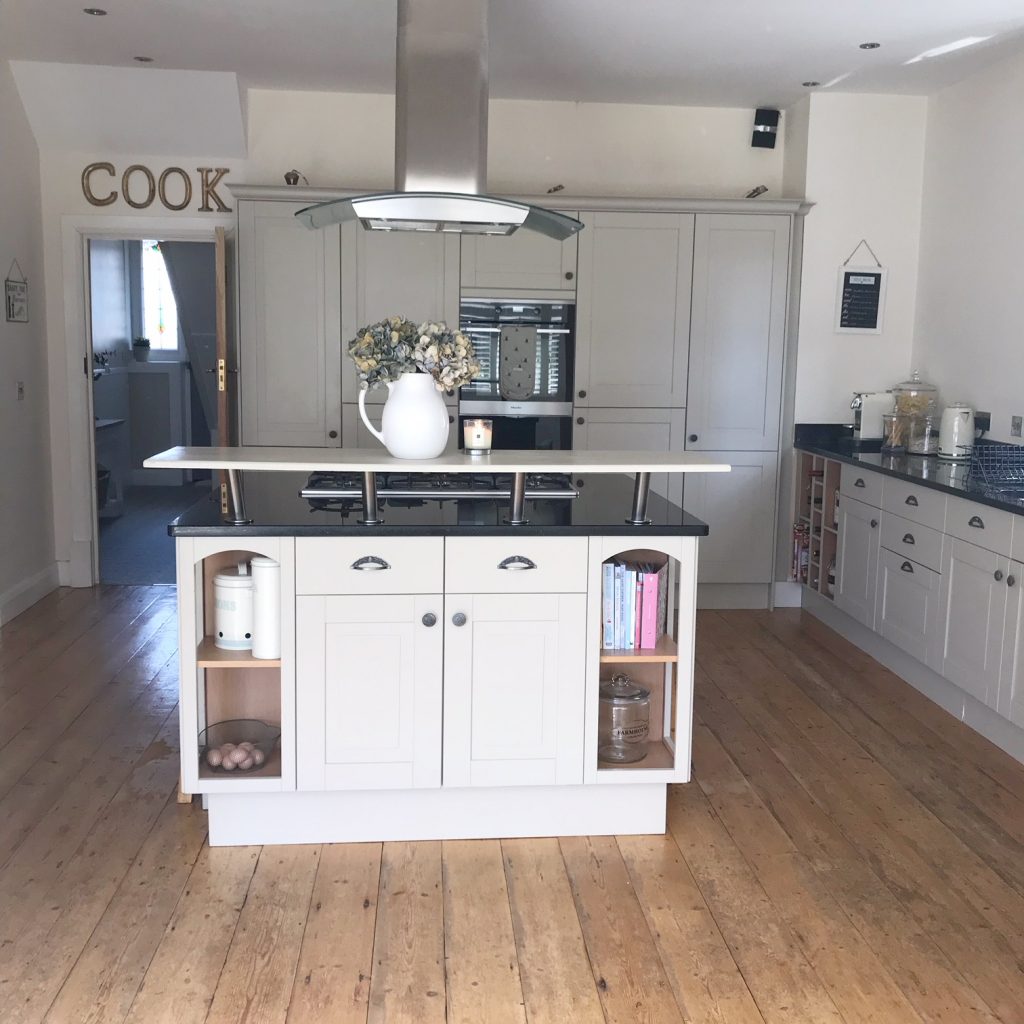 So the kitchen is the one space in the house that we haven't changed too much in the 3 years we've lived here. Mainly because kitchens (as well as bathrooms…) are the most expensive spaces to replace & also because despite the kitchen being fairly old (around 15 years I believe…), it was in really good condition & lets be honest, shaker style kitchens are never going to go out of fashion, they are timeless.
The one thing we did do upon moving in was to give it a new lease of life & make it more 'us' with a lick of paint. When we moved in I was 8 months pregnant (Rory was born a month exactly after we got the keys) so we spent that month in a bit of a mad rush trying to get as much done as possible before the impending arrival turned life upside down & meant all our time was spent changing nappies & cleaning up sick. As we were short on time (& it's a big old job) we employed the wonderful painting husband & wife duo, Vanessa & Nathan of NV Kitchens to do it for us & the finish is still fantastic 3 years later.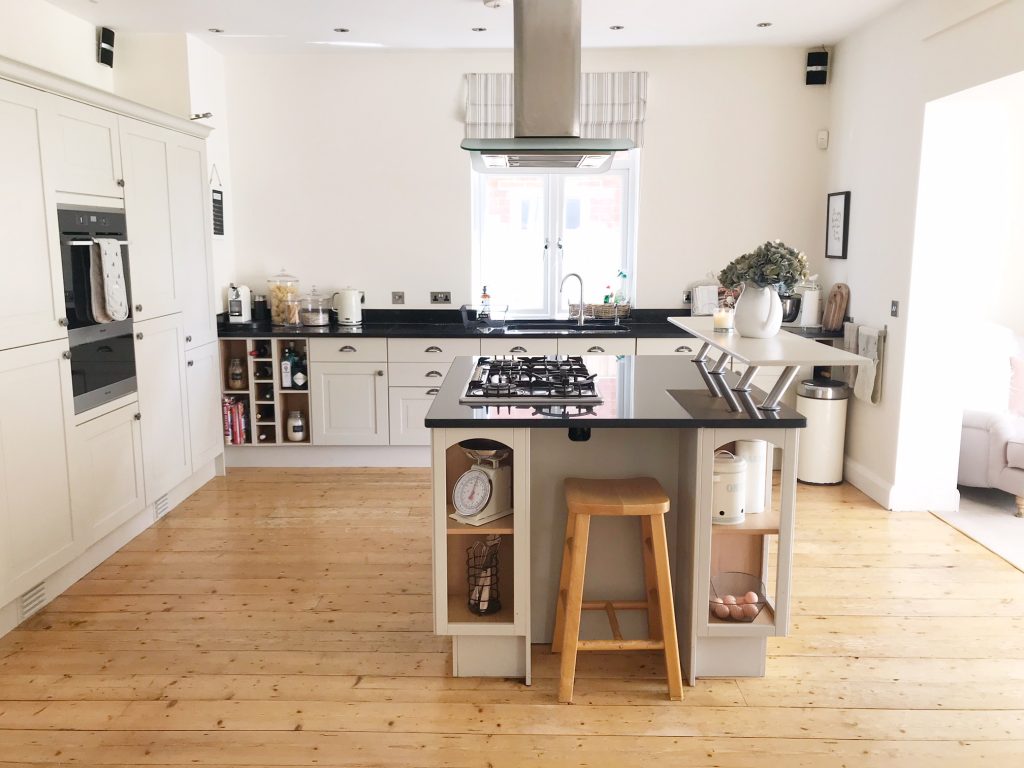 The colour of the cabinets is Farrow & Ball 'Stony Ground'. It's a lovely warm tone which changes depending on the light & I would say is a greige (grey & beige) with a sage green undertone. The finish is acrylic eggshell which is super hardwearing.
The walls throughout the kitchen, dining & through the extension to the living room are all Dulux 'Almond White' which I regularly recommend to people as the perfect warm off white, very similar to F&B's 'Strong White' or 'Wevet' but a much smaller price tag. If you want to make a space look bright, crisp yet homely then this is your colour.
The flooring is all floorboards, original but not original to this house! You can read about those in a really old blog post & why they are super close to my heart here. We haven't done anything to them as I quite look the 'battered' look where some of the varnish is coming off to add a bit of character.
Originally I hated the 'aeroplane wing' feature aka American bar (what it's actually called…), but as it was drilled through the granite worktop it would have meant that if I wanted to remove it, I'd also have to replace the whole top. Over the years I've accepted it & now grown to love it…after all, where would I be able to put my flowers & pretty bits without it?
For Fathers Day last Sunday, I bought Joe this Breville kettle after years of moaning about our previous stove top whistling kettle. It's a new addition but I'm sad to see the traditional one go from on top of the hob although not having to wait 15 mins for a cuppa, running to turn it off before it wakes the street up & not burning your hands are definitely advantages.
Accessories/definitely massively practical items in the kitchen (not that the food inside is allowed to be eaten…) are these gorgeous glass jars which are part of the Belmont range from Neptune.
We also have a Nespresso coffee machine, the Citiz with milk frother, for the essential morning pick me up. I buy the pods from Aldi which are a fraction of the price.
We have a Miele oven with a warming drawer below then the cupboards either side house two double fridge freezers. The oven glove is from Sophie Allport which you can buy here.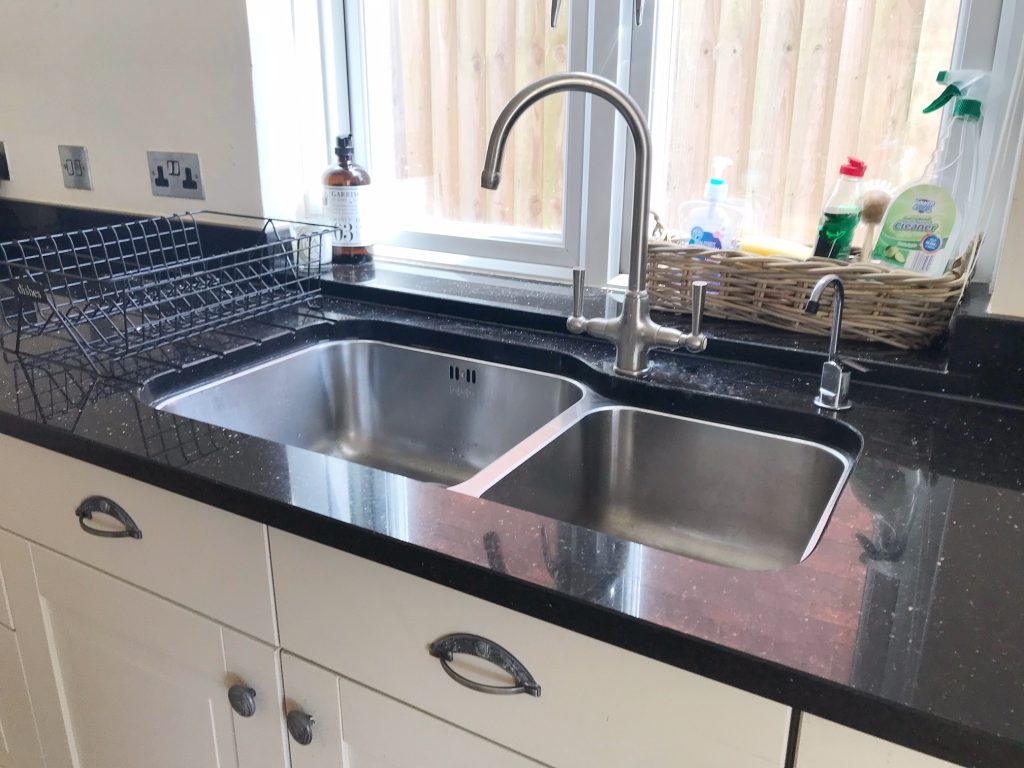 The dish drainer was from Next about 4 years ago but you can find similar here. The candle is one of my favourites, Diptyque 'Roses', the hand wash was a Homesense find & the wicker storage is from Laura Ashley here.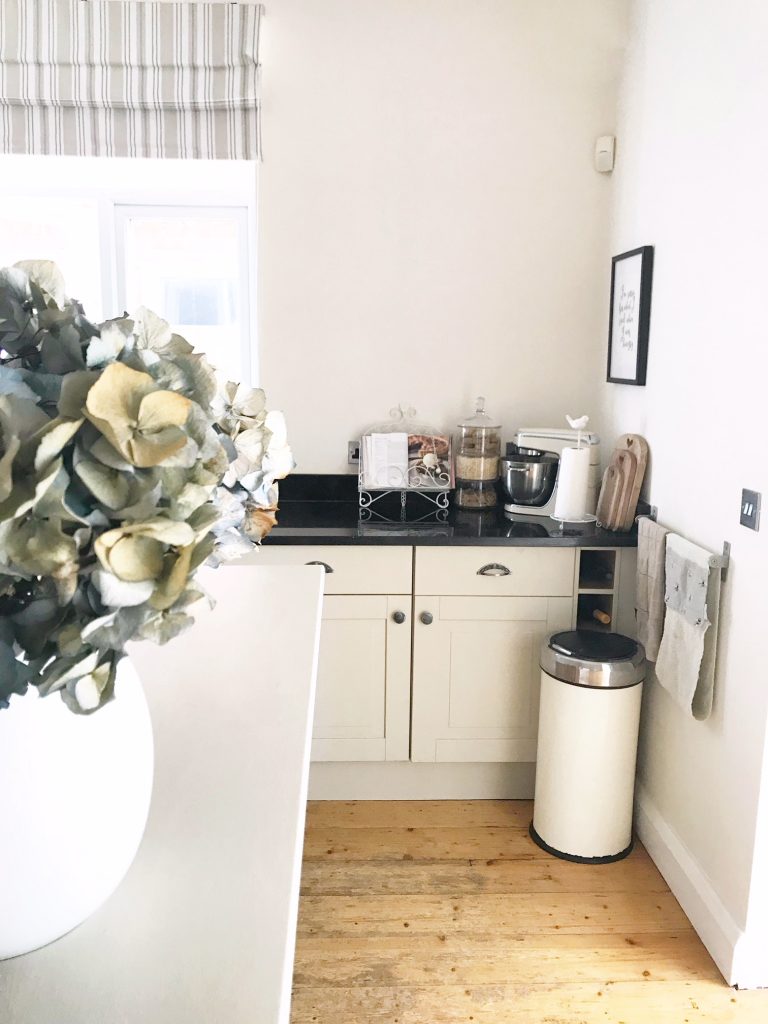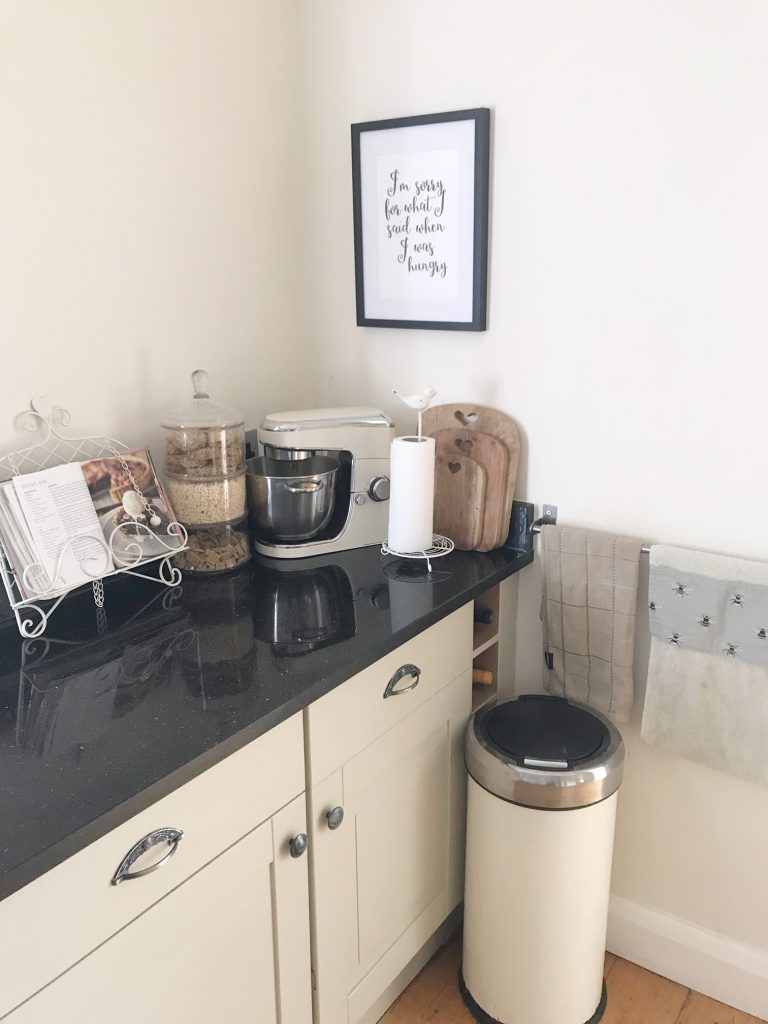 The cookbook stand can be found on Amazon here as well as the 3 tiered glass jars here. The kitchen roll holder was from Next a couple of years ago & the cake mixer Wilko (although the dream is obviously a Kitchenaid!). The calligraphy 'I'm sorry for what I said when I was hungry' was from Walter & May.
The heart cut out chopping boards are from Susie Watson, however I wouldn't recommend these if you actually want to use them rather than for styling. They go a dark red colour (as you can see slightly on the middle size) which is a bit disappointing! The bee tea towel (which is absolutely genius – it velcro's on so never falls off & can dry better) is from Sophie Allport here.
The bin (which you'll be familiar with if you read Mr THTMM's iconic 'How To Be An Instagram Husband' blog post…) is similar to this. I've kept the cream themed appliances throughout because you all know how much I love a bit of beige.
The blind was from Dunelm but a few years ago unfortunately & I can't see it online.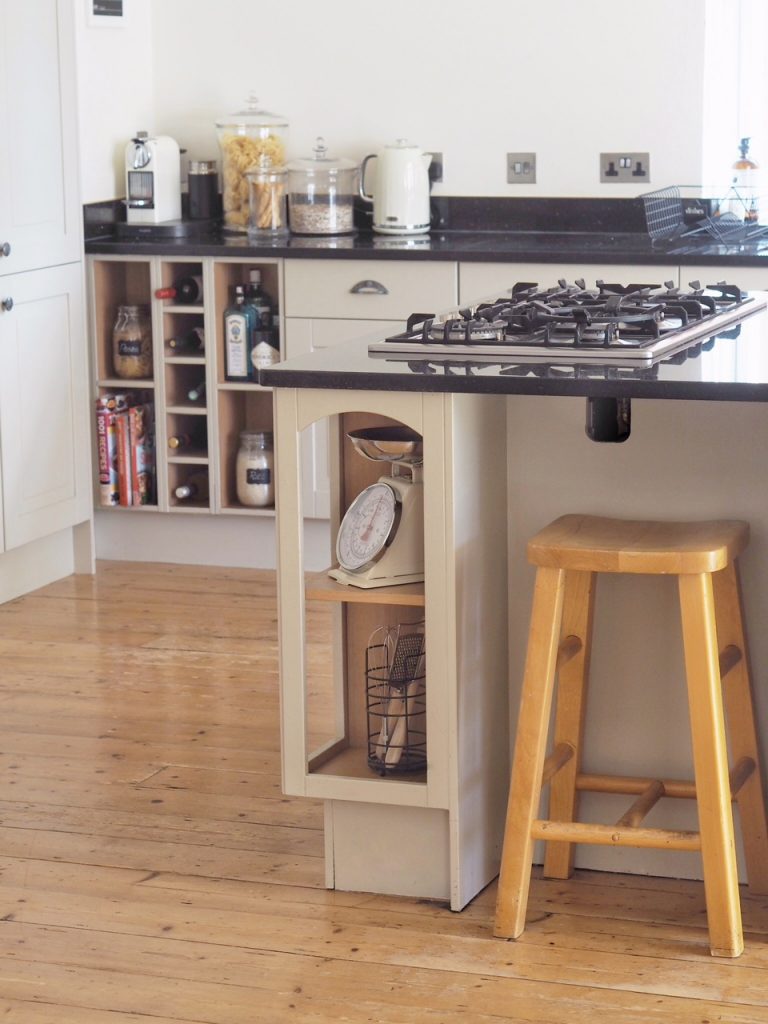 The shelves around the alcoves in the kitchen island are styled with all sorts that I've gathered over the years from cook books, some wicker baskets, glass storage jars with chalk board labels, a fruit basket filled with fake eggs (because anyone with young kids will understand real eggs wouldn't end well..), some Jamie Oliver potato & spaghetti tins (quite old now & I can't find them online) & these Salter kitchen scales.
On top of the aeroplane wing is a large ceramic jug filled with some hydrangeas that I dried out last year & my new favourite scent for Summer from Jo Malone, Orange Blossom. If you haven't smelt it then you need to!
The clock is from Home Bargains (£10!!) & so is Mungo's water bowl. You can also find similar to his wicker bed here.
The only thing I'd change about the kitchen is probably to put in a belfast style sink but it would mean a new under sink cupboard to accommodate & cutting through the granite worktops would be a job in itself!
I love the kitchen so much, especially considering we haven't spent much on it. It's the perfect space for entertaining (sings the song on the Ikea advert about 'you'll always find me in the kitchen at parties') as well as family life. I can keep an eye on the kids at the same time as preparing dinner.
As with last week, I'll be doing some Instagram stories with a little tour around so you can see it 'in the flesh'. Next week we'll go through to the living room which is probably my favourite room in the house since we gave it a bit of a revamp recently.
Have a fantastic weekend!
Love,
*This post contains affiliate links