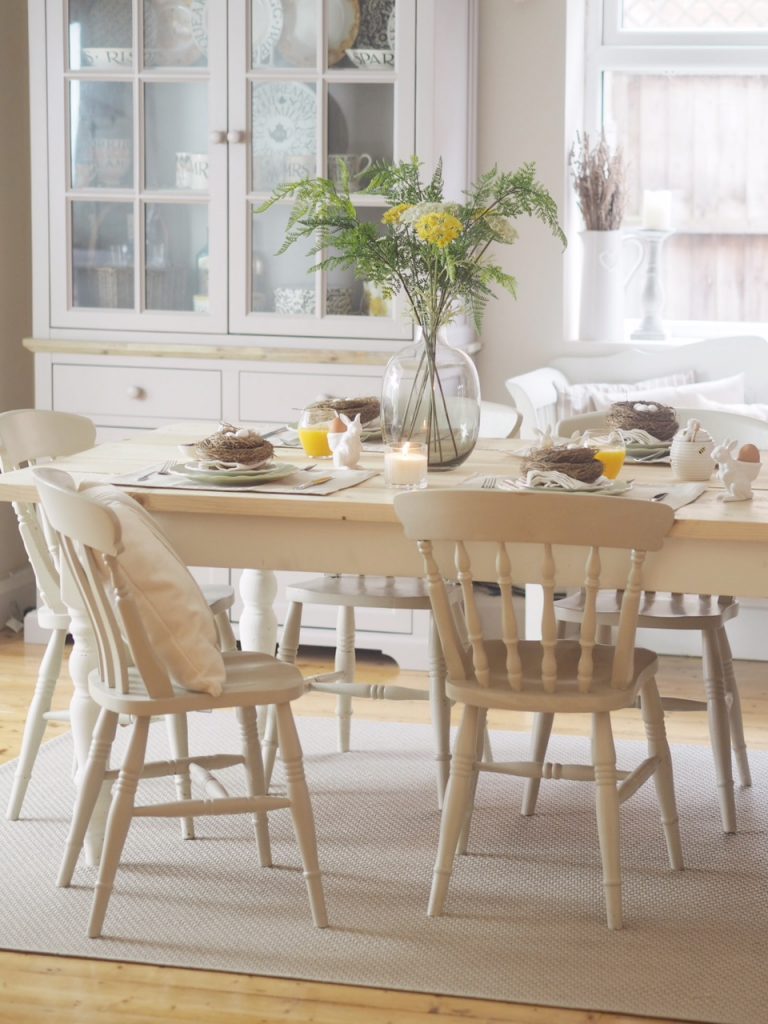 Easter is traditionally the sign post of moving from the dull cold Winter months to the Spring season; chicks, lambs & cute bunny rabbits are the cover stars of new life, daffodils provide a zap of yellow (the colour of the season) & we're all hoping for a warmer climate.
It's a time when nature comes in to it's own; blossom on the trees, the scent of Spring in the air & the first rays of warm sunshine giving everyone a hop to their step & the feeling of starting a-fresh is in the air.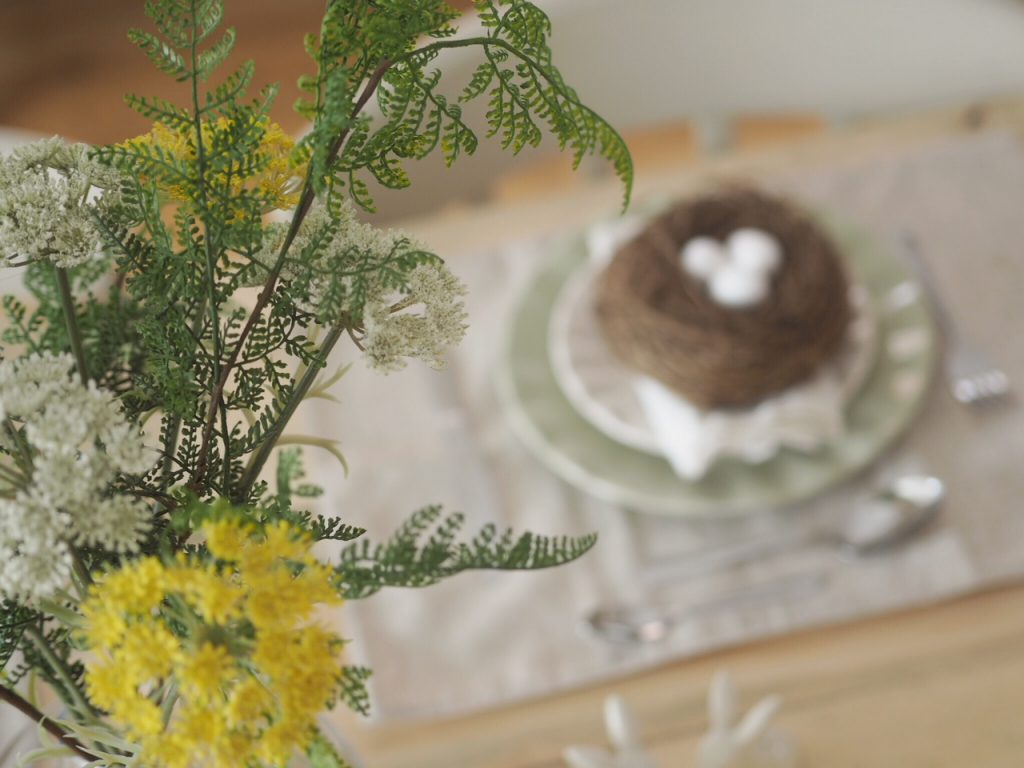 As part of one of my favourite high street homeware store Dunelm's 'Style Squad' for SS18 & always one to change things up & 'style the seasons'; I decided to use this opportunity to show you all how to set the perfect Easter table as well as enjoying a gorgeous slow Sunday morning breakfast with my lovely family in preparation for the long bank holiday weekend ahead of us.
Use the pretty china –
Life's too short for boring crockery; to add a splash of colour whilst also keeping within my famously neutral palette I found these aptly named 'pretty pastel' plates & decided to mix the colours up by using a sage green dinner plate topped with a smaller white side plate. Seeing as no breakfast is complete without a glass of orange juice, I also went with these curved crystal tumblers which definitely look the part.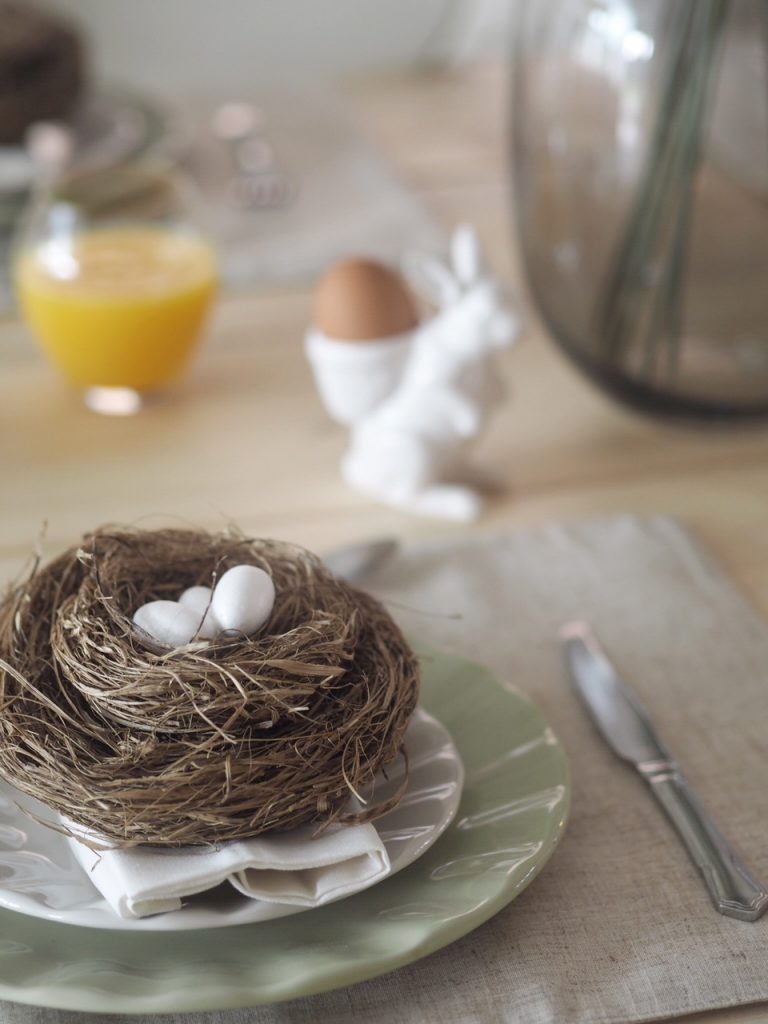 Layer away –
In styling, the most important way to add interest visually is to layer your objects as well as use a variety of different textures. The first layer is the wooden table, topped with a place mat & cutlery, a dinner plate with a side plate then a linen napkin & topped with 2 different sized 'nests' with little foam eggs; this draws the eye & gives it height.
It's all about soft furnishings –
Don't forget to use soft furnishings in your scheme to soften the look. A tablecloth or runner, table mats & napkins (always linen rather than paper….this adds a touch of class & makes it feel even more special) as well as the odd cushion or even a throw draped over the back of a chair all give the effect of a warm, cosy environment that you'll never want to leave.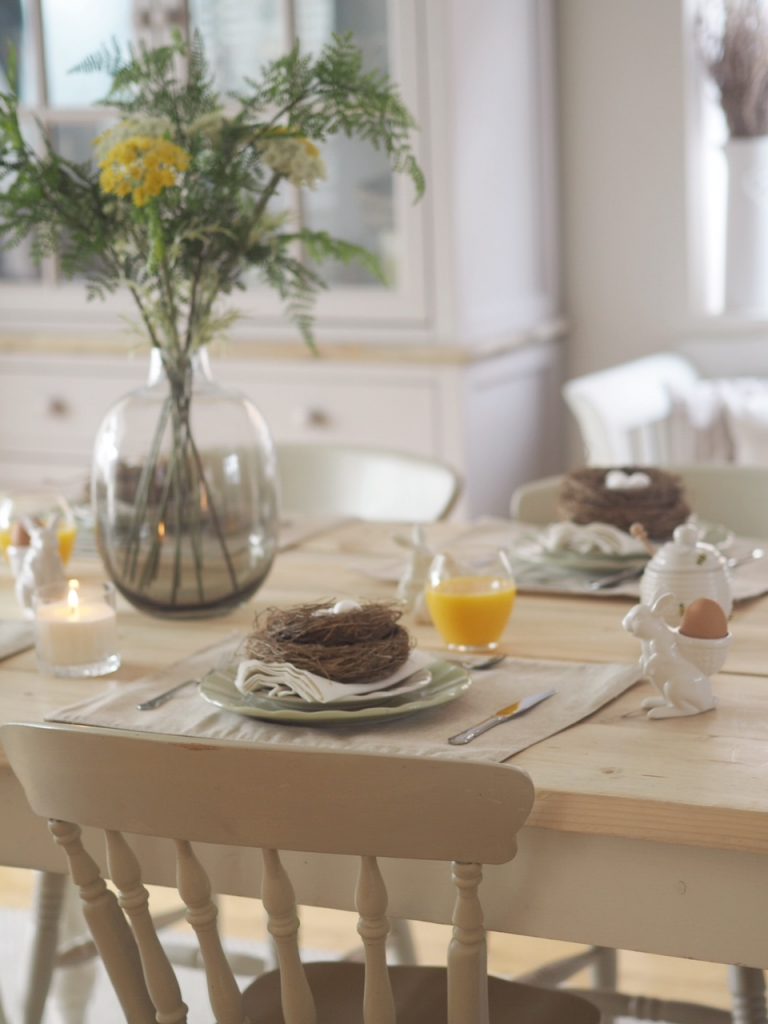 Add in the elements –
When styling a seasonal tablescape, adding in elements such as pumpkins for Autumn/halloween or in this case bunnies for Easter add to the instantly recognisable & quirky look. Dunelm have got it sussed with their range of bunny ceramics, from salt & pepper shakers, egg cups, dishes & even a cake stand. This cute little honey bee pot also reminded me of this time of year.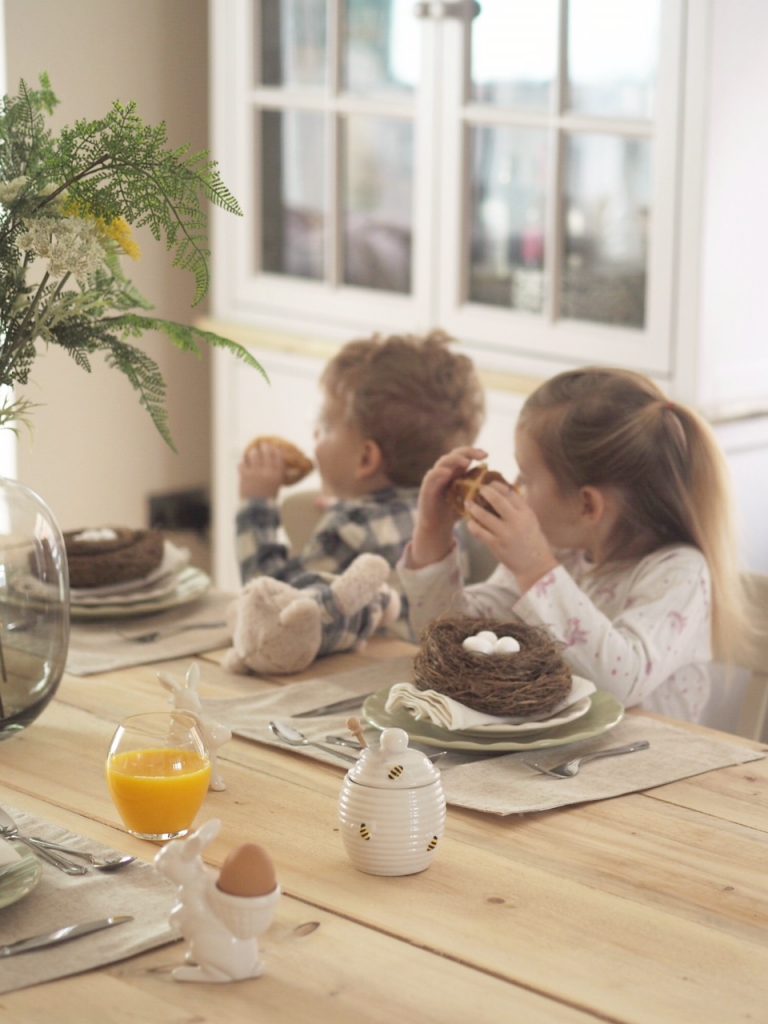 Pastel perfection –
Nothing quite says Spring like using soft a soft peachy palette with muted pastel colours or using nature as inspiration with bright warm yellow & purples.
Light a candle –
Because you can obviously never have too many candles in your life. The humble candle symbolises light in the darkness & traditionally within Christianity at Easter it represents Jesus rising on Easter Sunday which is where we get 'new life' from. Dunelm have collaborated with Rachel Vosper, a luxury candle Chandler, to create an exclusive collection for SS18 with a range of beautiful candles including this hand poured Essence no3 infused with top notes of bergamot and lime for a zingy, fresh scent.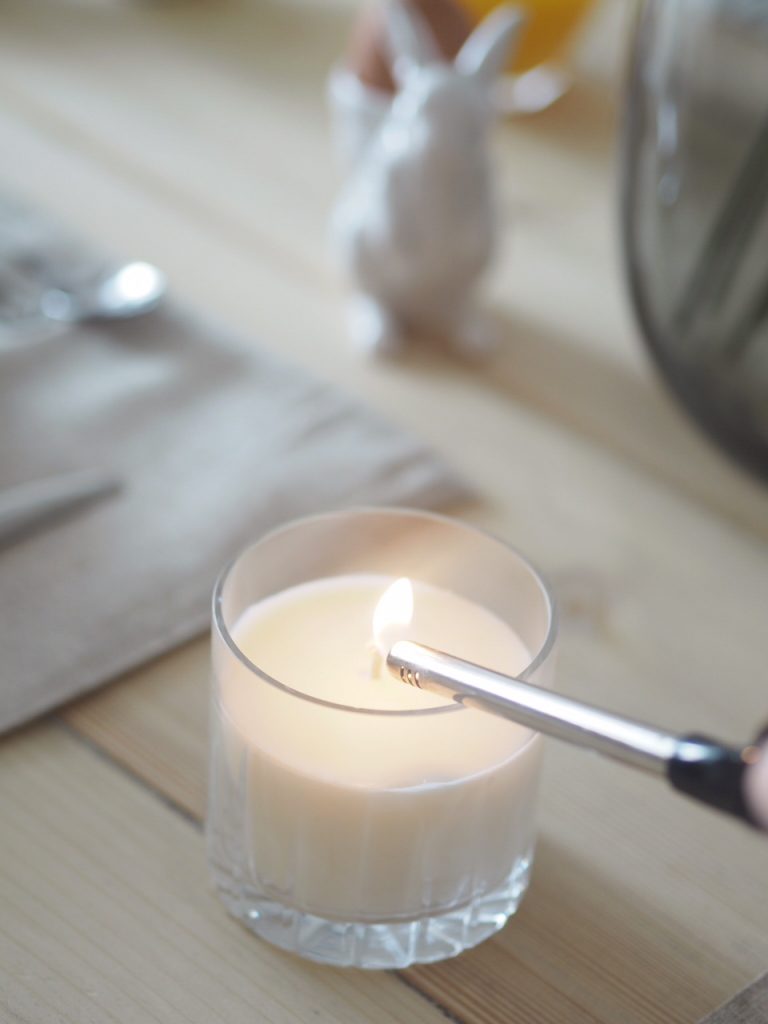 Finish with florals –
One of the most important parts of this time of year is the abundance of blooms all over the place; some of my favourite flowers are coming back in to seasons with daffodils, tulips & hyacinths leading the way. A table wouldn't be complete without some & Dunelm have such an amazing selection of artificial flowers to chose from. I found this smoked glass vase & then created my very own rustic spring bouquet using some fern stems along with a selection of white & yellow 'Queen Anne's Lace' style flower available in store.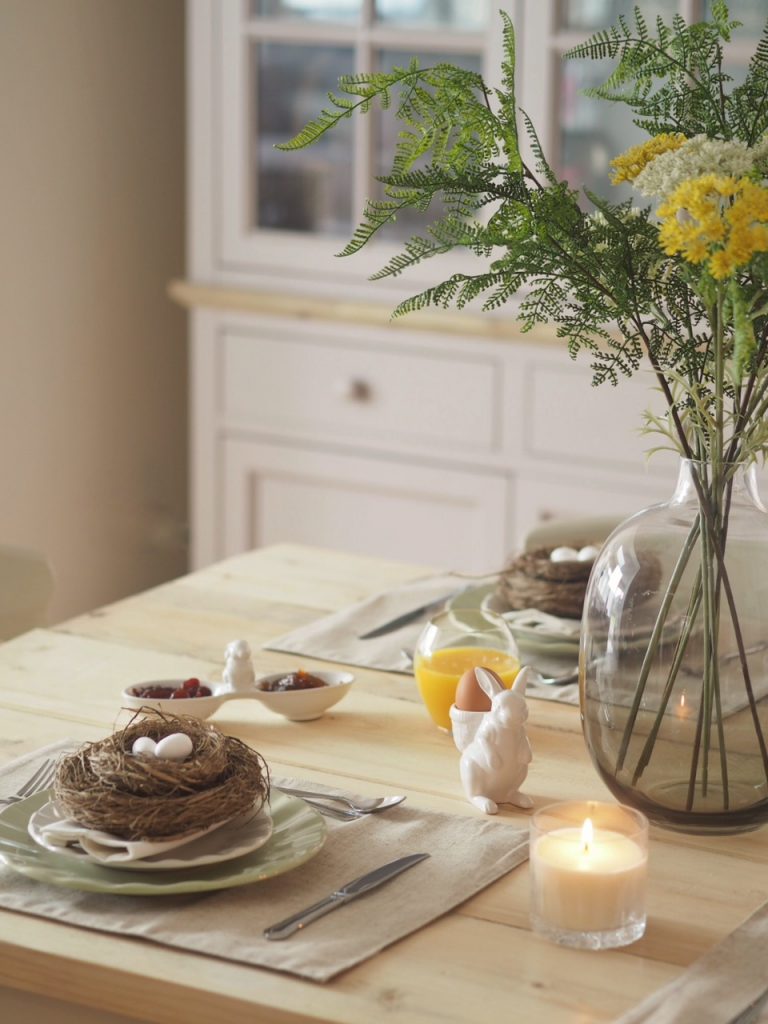 Most importantly, surround yourself with loved ones –
Easter is a time for spending with your nearest & dearest to celebrating life. Combine that with food (always…) & a pretty surroundings plus some cute bunnies leads to a pretty fantastic Sunday morning.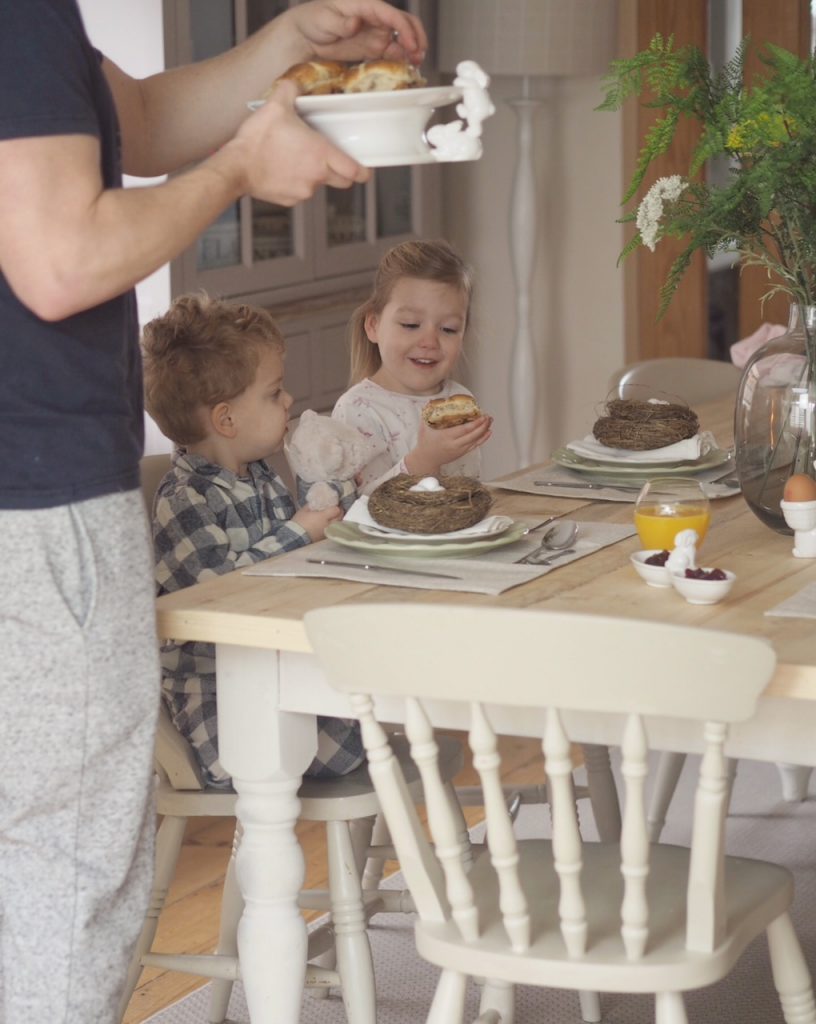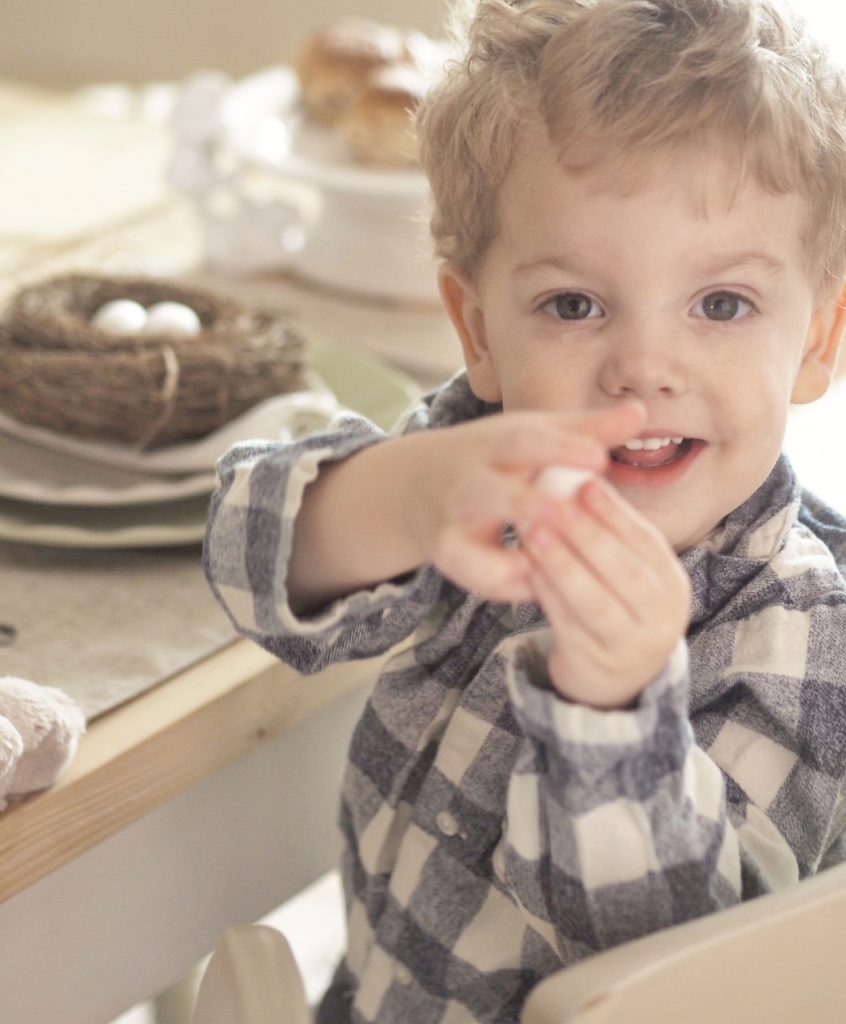 I've spoken before about the importance of the dining room & how the need for more space in a house combined with people living such busy lives has led to eating around the table has been somewhat ditched except for on special occasions. So my 'me time' habit is less about me & more about family; to put down our phones, turn off the TV, eat some good food & actually talk. That's the time that I feel happiest.
How do you like spend your time? Use #discoverdunelm to show off your favourite Dunelm products & how they make you feel.
You can view the four new SS18 collections consisting of the delicate pink & gold '5A', bright watercolours of 'Impressionist', botanical & one for the #darkside lovers in 'Voyager' as well as the bold tribal patterns of 'Elements' by clicking here,
Love,
*This is a sponsored post