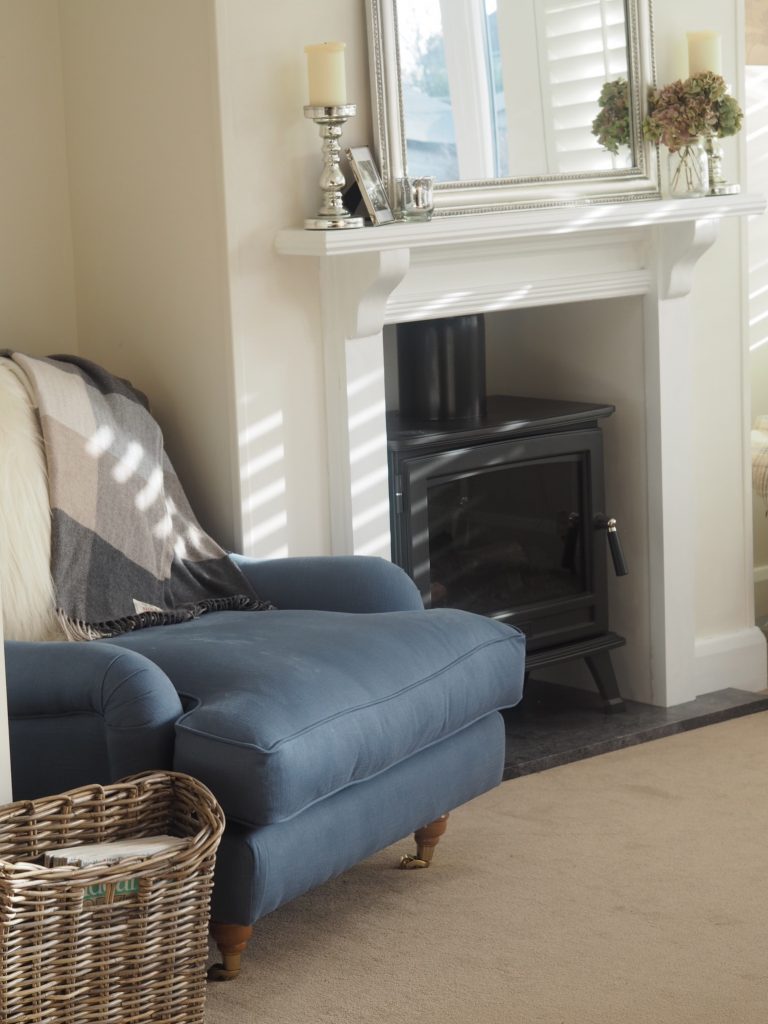 In November, I ordered a chair from The Cotswold Company. It was going to sit next to my new pride & joy, the faux fireplace/log burner & become the perfect place to unwind after a long day; cup of tea in hand & a book perched on my lap. I chose it specifically because it was big enough to curl up on & could even fit a child or two (if they really have to…).
It was the Bampton linen armchair, currently on sale at £562 & I was completely in love.
Said chair arrived just before Christmas & has probably taught me more in the one month that it's been sat in Baylyn House than I learnt in the whole of 2017.
You see, I made a decision that is quite out of character for me. When I ordered the chair, instead of sticking to my usual neutral decor ('beige-tastic-fantastic') I decided to embrace the ever growing trend of the 'darkside' & instead opted for a statement look with dark navy blue.
I've been admiring so many Instagram accounts that are quite frankly rocking the #darkside look which is so 'in' right now. I personally LOVE the colour navy & think it's still fairly neutral, plus it's one of my interior predictions for 2018.
The dream fell to pieces when the delivery men pulled up outside & carried it in, I was basically giddy with excitement & then it struck me that actually, it was blue…& I mean really blue. The driver even remarked 'is this right?' as he surveyed the house & basically everywhere he looked was rather more bland than this blue beauty.
I know all too well that sometimes when you make an interior decision that you can take a little while to grow or warm to things. Sometimes it can be a bit of a shock & for a while things catch your eye but over time you gently get used to them. Except it's been a month & I still look at this gorgeous (& super comfy) chair & think 'you are beautiful, but you just don't belong here'.
Traditionally I am known (& well loved judging by the 100k people that chose to follow me & my beige home) for pale, neutral interiors & actually, there is a reason for that…it's me & it's what I LOVE. It's what 'The Home That Made Me' was built on & I personally think is the most timeless of interior looks.
After going into slight panic mode, I decided to make it stand out less by injecting navy in to the rest of the room. I ordered a rug from Wayfair, I bought cushions & throws & looked endlessly for some artwork to tie in above the console table. But I soon realised that actually, I was fighting a losing battle with my inner self.
My main gripe was the fact that the 19374728 cushions I have stored up in the loft to style for the seasons or just to switch things up & calm my 'I want to redecorate' every 5 minutes mind, would be defunct. The chair would mean that putting say blush pink & floral cushions on my two sofas in Spring would become tricky & clash completely. I would have to stick with the navy 24 hours a day, 365 days a year.
So what did I do? I called The Cotswold Co (who's customer service is impecable), explained the situation & how completely & utterly stupid I was to not order any fabric samples & they were absolute angels agreeing to swap it with an ex show room display chair in, guess what, beige.
I'll be waving goodbye to the navy dream & saying hello to my roots on Friday.
So what did I learn? Basically that beige is best & actually even interior designers who live, breath & work in interiors can (& do) make design mistakes!
Love,