As you all know my reality consists of tip runs, DIY jobs & serving the every home-making need of my brilliantly inventive & impulsive wife. Now these are not two traits that necessarily go well together for me because they are massive cock-blockers (the jobs being the cock & me sitting down to relax what they are blocking). For you lot though, it is brilliant, because it always means there is something on to watch & gain inspiration from but for poor old me it means that my job as Mr THTMM is never done.
I generally tend to find out which job is it store for me that day by watching Instagram stories or picking up on her subtle hints throughout the build up to her desired completion time. After de-weeding the front of the house 2 weeks ago she had actually whispered to you all in advance "The front of the house needs de-weeding today. Joe doesn't know that yet though" this was then followed by an evil chuckle and an afternoon of slave labour for me.
Don't get me wrong I don't always play ball, sometimes I strongly object with words such as "unfair", "tired" & "why" before going to do it anyway. Sometimes to really stamp my authority I even "tut" in a disapproving manner as I pick up the necessary tools to facilitate her vision. I am very lucky in that I live in an amazingly beautiful house & I do have Charlotte to thank for that but I have never met anyone with as much drive to change, renovate & redress. We redecorate the house seasonally it seems, whether it be to change the layout of a picture wall, change the colour of cushions in the lounge or just get different flowers at different times of the year. You can almost tell the exact date by how the house is presented.
We have lived in Baylyn House for about 2 and a half years now and every room has had at least 2 deep cleanse makeovers. The room I am sat in now typing this out "THTMM HQ", has been a study, a dumping ground, a spare bedroom, and a gym. It does not always go perfectly though, I can see in front of me that the shutters are raised on a plinth due to Charlottes mis-measuring on the order (she will try and blame me, but don't believe her), we have had whole rooms repainted on completion & even had our entire bath tub flood out through our kitchen ceiling due to some dodgy plumbing when doing the en-suite. I do love a good water-feature but that wasn't quite what I had in mind.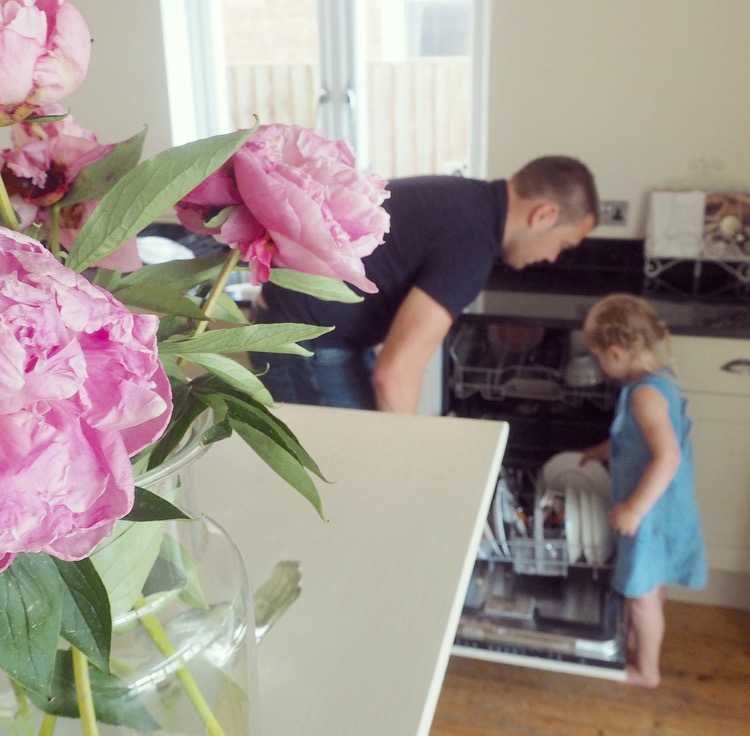 I have come home before & found a room stripped of wallpaper without any warning, a bathroom de-tiled & furniture I didn't even know had been ordered half assembled on numerous occasions. Now our favourite lady Charlotte often likes to get started on these sorts of projects as she knows I won't let it just sit there incomplete & always ropes me into "helping her" before she vanishes off the face of the earth only to reappear just as I am finishing. It reminds me of the days when I used to do some labouring & being neck deep digging a trench on a boiling hot day. The boss would always disappear to "see a man about a dog" before reminding us "I work from the neck up & you work from the neck down". Now she isn't a 50 year old tattooed Chelsea fan but she is just as bossy and sometimes as scary.
From my previous blog posts on the joys of being an Instagram husband and "training' your husband" you can see that I am quite partial to "getting shit done" occasionally and so I do not mind many of the projects and in fact have learnt a great deal. Baylyn House may seem like Charlotte's pride and joy, which it is, but it is also my castle and means that despite the occasional "tut" of defiance I generally don't mind helping her to maintain our home together. When everyone visited recently for Charlotte's interior/blogging workshops and they got an opportunity to look round, it wasn't just Charlotte who beamed with pride due to the work that had been put into it, but I did as well. We are a great team and I look forward to whatever she has in store for me next, unless it is cleaning windows…..I bloody hate cleaning windows.
Mr THTMM x