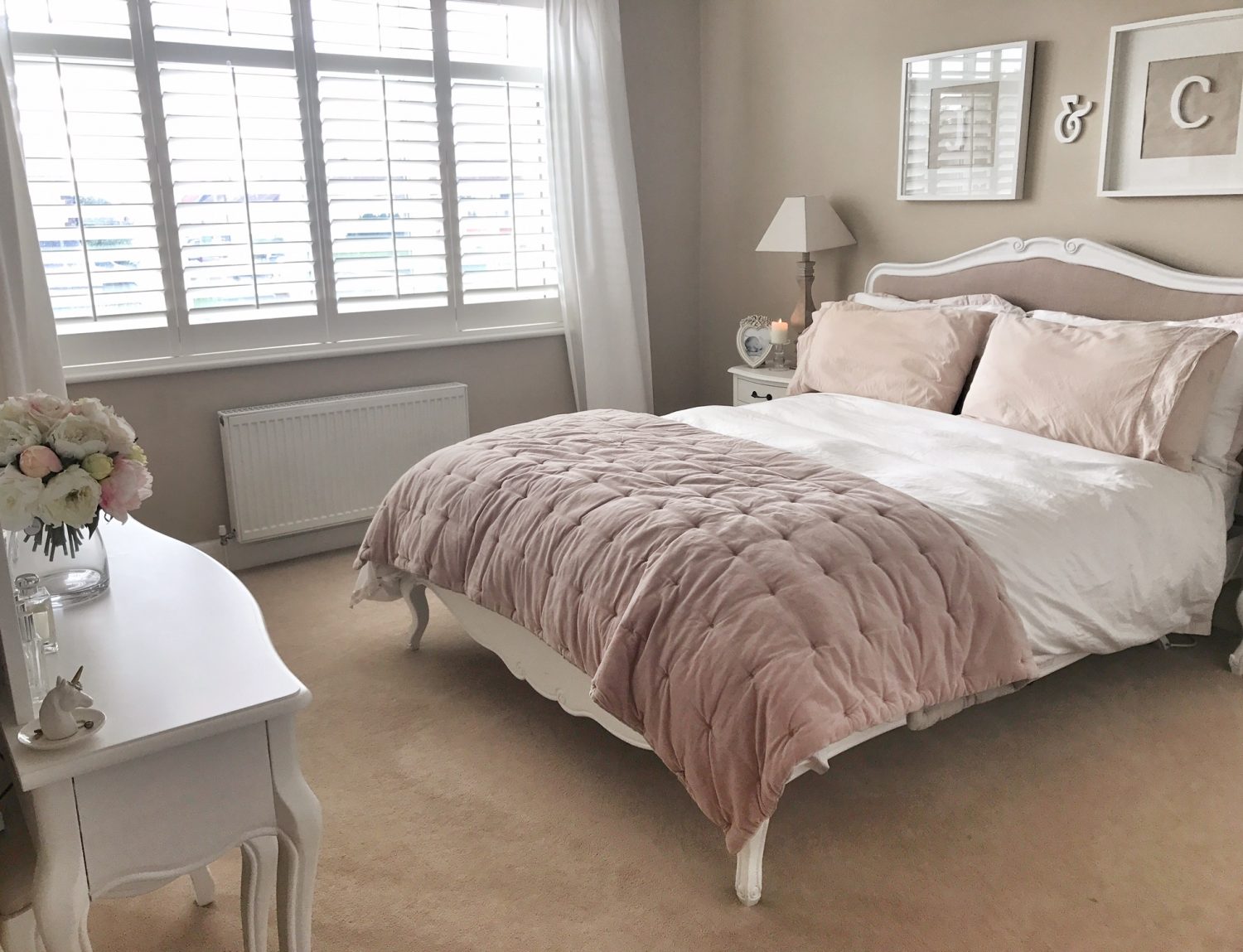 If you're a first time buyer with no furniture, moving house & know your existing furniture won't fit or you'd just like a complete change then this is the blog post for you.
Furnishing your home can be a minefield when it comes to things to consider, should you go for this or that, what if you regret it 6 months down the line? When you move house, the main item of furniture that you really can't be without is a bed. Everything else can wait so it's important to prioritise this room yet rushing into it too quickly can also be an accident waiting to happen.
If you're anything like me then you'll buy on impulse. You see a bed frame & end up falling head over heels in love so it gets added to your basket along with the matching bedside tables & chest of drawers. All well & good except when it comes you're doubting yourself & the snap decision slowly begins to dawn on you over time when it's too late to change your mind.
So what should you consider?
1. Slow & steady wins the race – buying everything at once, especially if you're ordering before you've moved in can lead to big problems. From items being too big/too small for the room to
spending a fortune on these big investment pieces only to realise later on down the line that actually it just doesn't look right. Go for the bed first & then let everything else grow steadily from there outwards, including accessories. Let the room guide you.
2. Buy the best you can afford – if you've just moved house then no doubt you'll be needing to pinch the pennies but in the long run it doesn't work out economically & buying cheap means replacing in a year rather than 10. This goes to bed size too, if you can fit a king (or even a super king…) then don't make do with a double just because it's £100 cheaper.
3. Measure, then measure again – before you purchase any furniture, please, make sure it'll fit! Whether thats through the front door & up the stairs if it comes readily assembled or that huge headboard in the gap you need it to fit in. Theres nothing worse than realising when it's too late.
4. What do you actually need? – Figure out what your 'bedroom essentials' are, obviously that would be a bed (with mattress & bedding), bedside tables (with lamps), a wardrobe & a chest of drawers as a minimum but what about a dressing table, a mirror, a TV…the list could go on.
5. Choose the right mattress, first time round – the mattress is probably the most important factor to take into consideration & is a huge investment piece. You'll be spending 33% of your life on it after all so it's essential to get the best out of it for your health & wellbeing. Don't go for a fancy bed frame then scrimp on the mattress like I did when I bought my first house…mistake made when I slept with springs in my ribs for months before having to pop a memory foam topper on to 'make do' whilst saving for a quality one.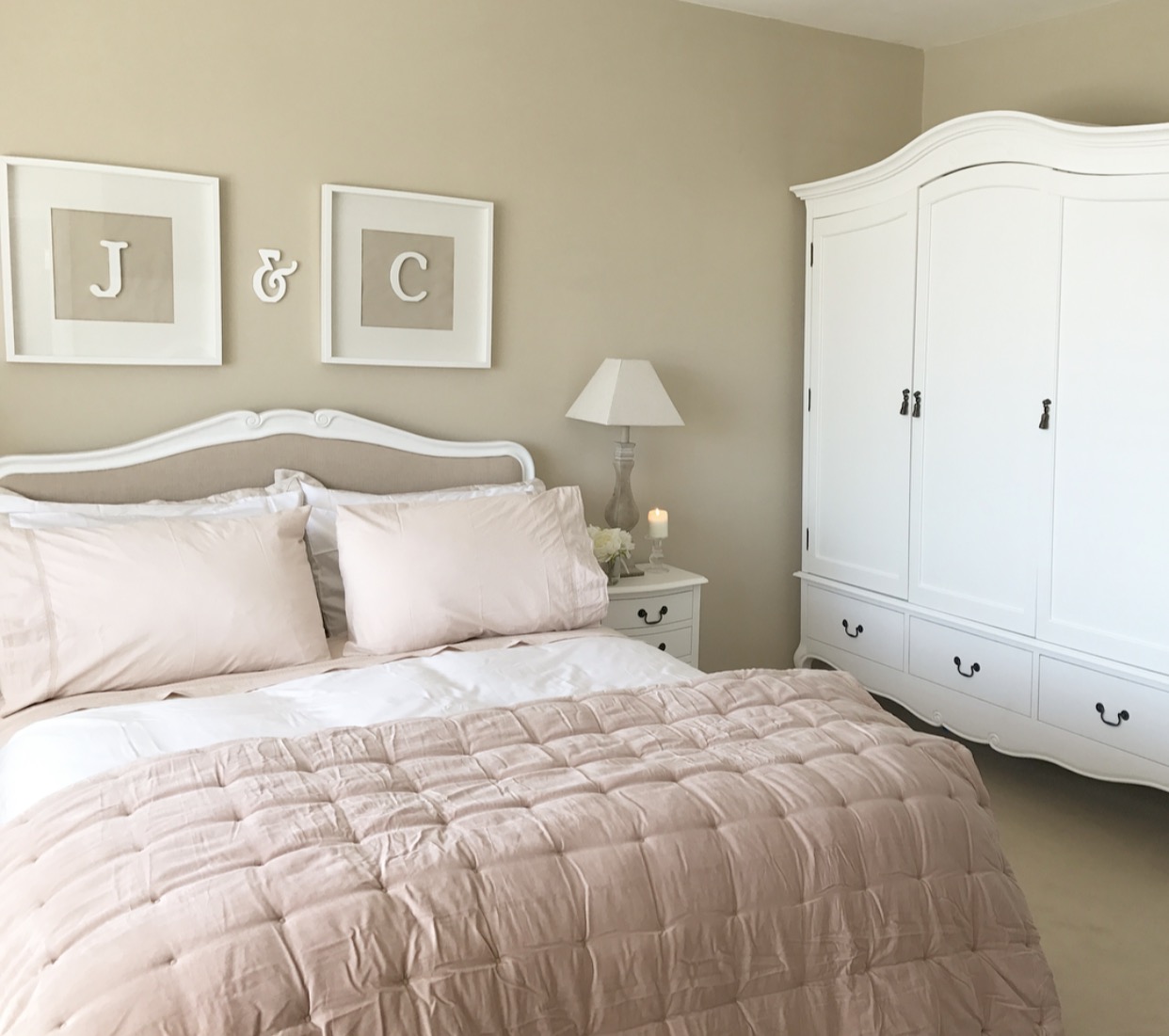 6. Storage solutions – if you are a huge shoe addict or own enough clothes to wear something different every day for a year then you're going to need a lot of storage in your bedroom. Take this into consideration when shopping for furniture. Can you realistically fit everything into that ornate wardrobe? Go for a bed with storage such as built in drawers or lift up divan if room is tight.
7. Beautiful bedding – always have at least two sets (so you can alternate when ones in the wash…) of bedding which is not only aesthetically pleasing but good quality 100% cotton or linen. Buying cheap pillows & duvets is a bad idea as they'll end up going thin & lumpy after a couple of months which then turns into false economy.
If budget is not an issue, go for 5 star hotel pillows that will make your bedroom look like a luxury hotel suite. Down feather pillows make a great choice but if you are allergic to feathers, you can opt for down alternative pillows.
8. Start neutral – my number one tip when it comes to decorating any new room is to start neutral then lead from there. It's far easier to add colour with accessories than it is repainting an entire room once you've settled in & realised that bright green doesn't quite suit the house. You also need to make this room as calm & peaceful as possible rather than loud & in your face. This is a place to sleep, not party.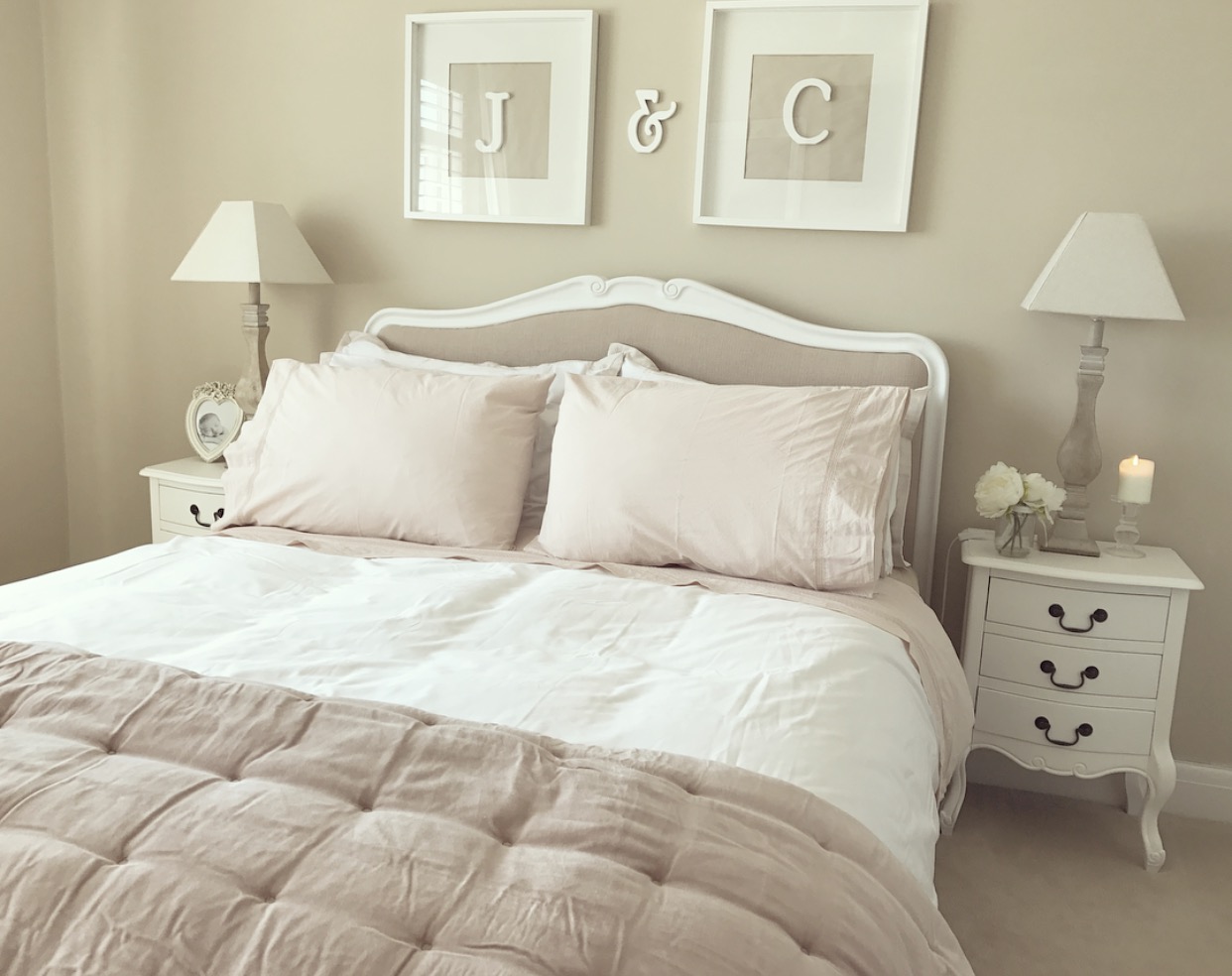 9. Blackout – it's so important to limit the amount of light which comes into your bedroom to improve your quality of sleep. Whether you're going to go for shutters, blinds or curtains, make sure they are fitted well to block out enough light.
10. Stick to your budget – it's simply not worth overspending so set your budget & then stick to it. If it takes you a year of living with second hand temporary furniture whilst you save up then so be it.
Love,