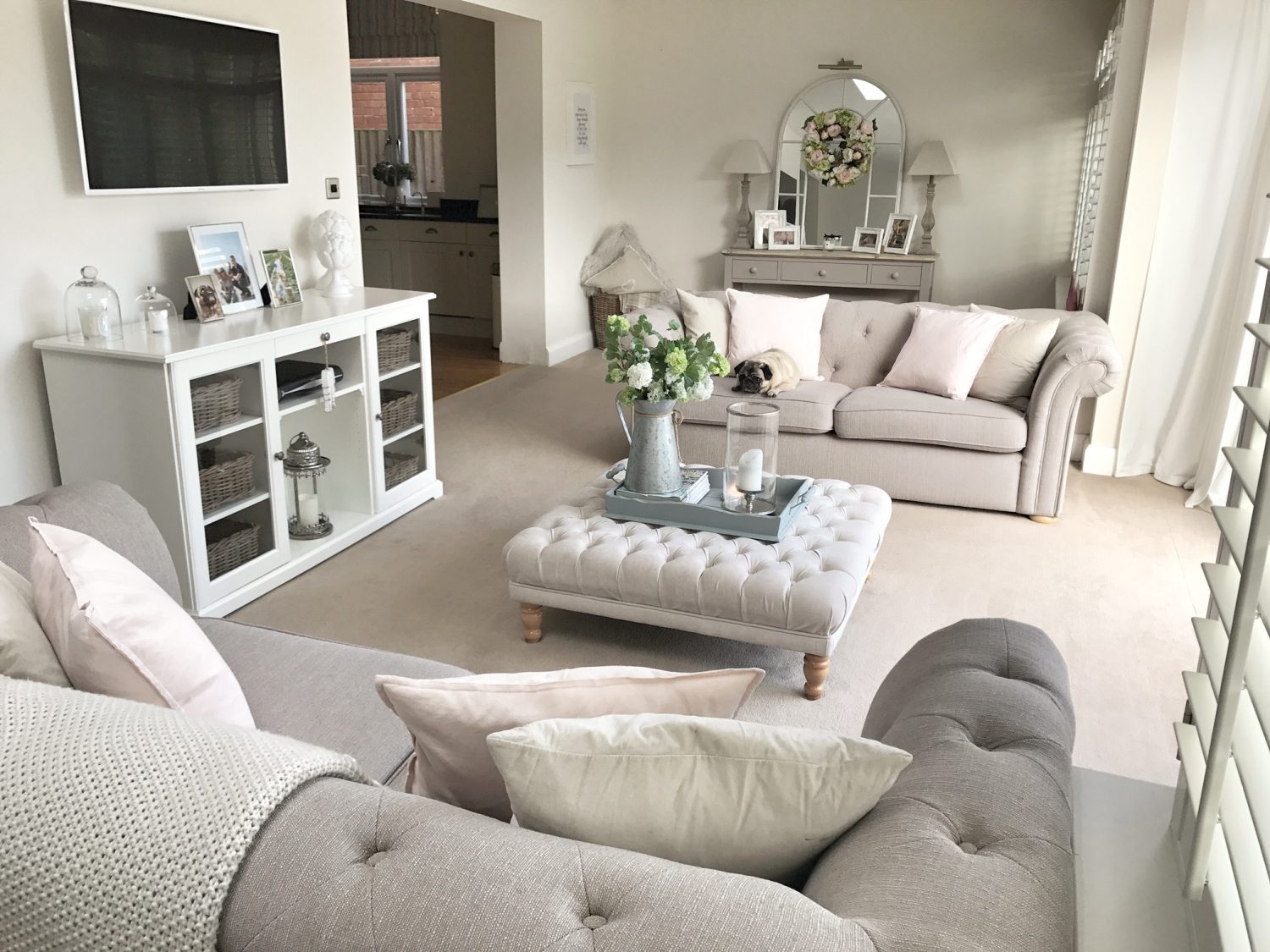 We've all been there when our sofa has seen better days but we're clinging on to the good times of movie nights with popcorn curled up under a blanket or that one time when that red wine just slipped out of our hand & all over our beloved favourite place to perch.
A sofa is going to be one of the biggest investment pieces of furniture out there & should be lasting a good 10 years (she says after changing ours after 18 months purely for a different style) but what do you do if your sofa has seen better days & you need to give it some well needed TLC?
It could be that instead of it being a bit battered that we were once guilty of lusting over something completely & utterly ridiculous previously & now have deep regrets. An olive green velvet chesterfield may be bang on trend this year but in a couple I can guarantee it'll be back in the 60's where it belongs & it will no longer be the love of your life but a mistake that you're still paying off monthly with a DFS finance agreement. I always say sticking with neutral furniture is a must as it'll always be timeless.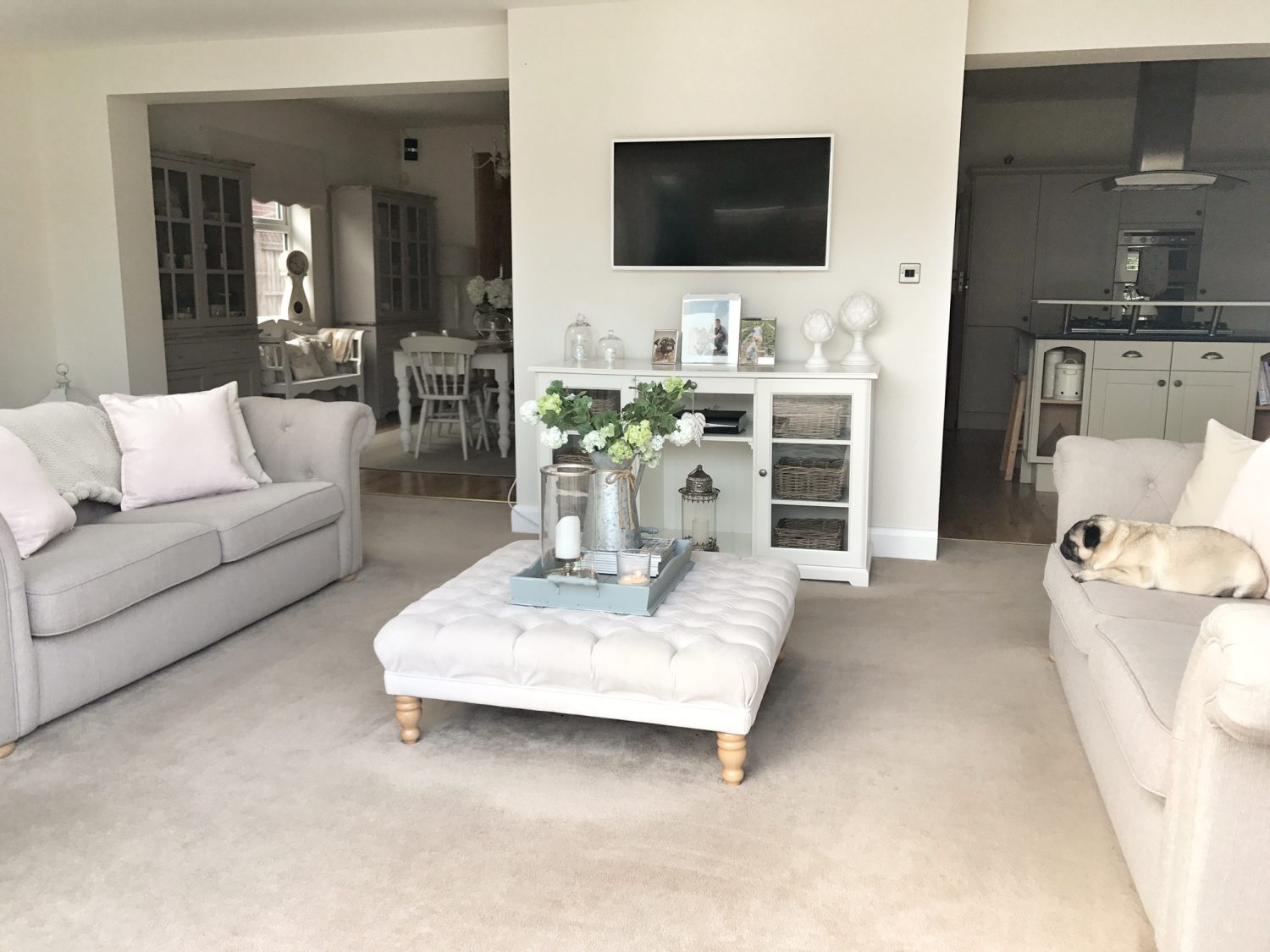 From stains/spills to saggy cushions from way too much 'favourite spot' sitting, here's my guide to bringing it back to life without breaking the bank.
1.Paint it –
Yup you heard me right, pick up a paintbrush & some chalk paint & give it a new lease of life. You can paint fabric or leather (with specialist leather paint) but it'll never look perfect & you'll find some bits will probably peak through but if you don't mind the rustic/weathered/shabby look then go for it. The lovely Catherine over at Dainty Dress Diaries shows you how here.
2. Wash it –
So my DFS sofas featured in this post (which you can find here in colour 'Oyster') say specifically to NOT attempt to clean yourself. But sometimes you've just got to break the rules & after speaking on Instagram stories about the various water & grubby marks I had countless people tell me that they'd attempted it & all had been fine. I took the leap & just as they said, it was all fine & they came out as good as new. I made sure to wash on a delicate 30 degree wash, inside out & zipped up then line/air dried (DO NOT TUMBLE as the heat causes them to shrink!) until a teeny bit damp then pop them back on to the cushions to finish so they don't lose their shape.
Just a little disclaimer – please nobody take MY word for it though & I'm not advising you too in any way shape or form because it'll probably void your warrantee…I'm just talking about my own experience.
3. Dye it –
If the sofa & fabrics in good condition but you just want to change the colour (go darker rather than lighter…) then dying it can be relatively easy, obviously if the covers are removable. You can pick up dye which you put in the washing machine like this
 by Dylon. Bear in mind that any stains will probably show through or appear darker though!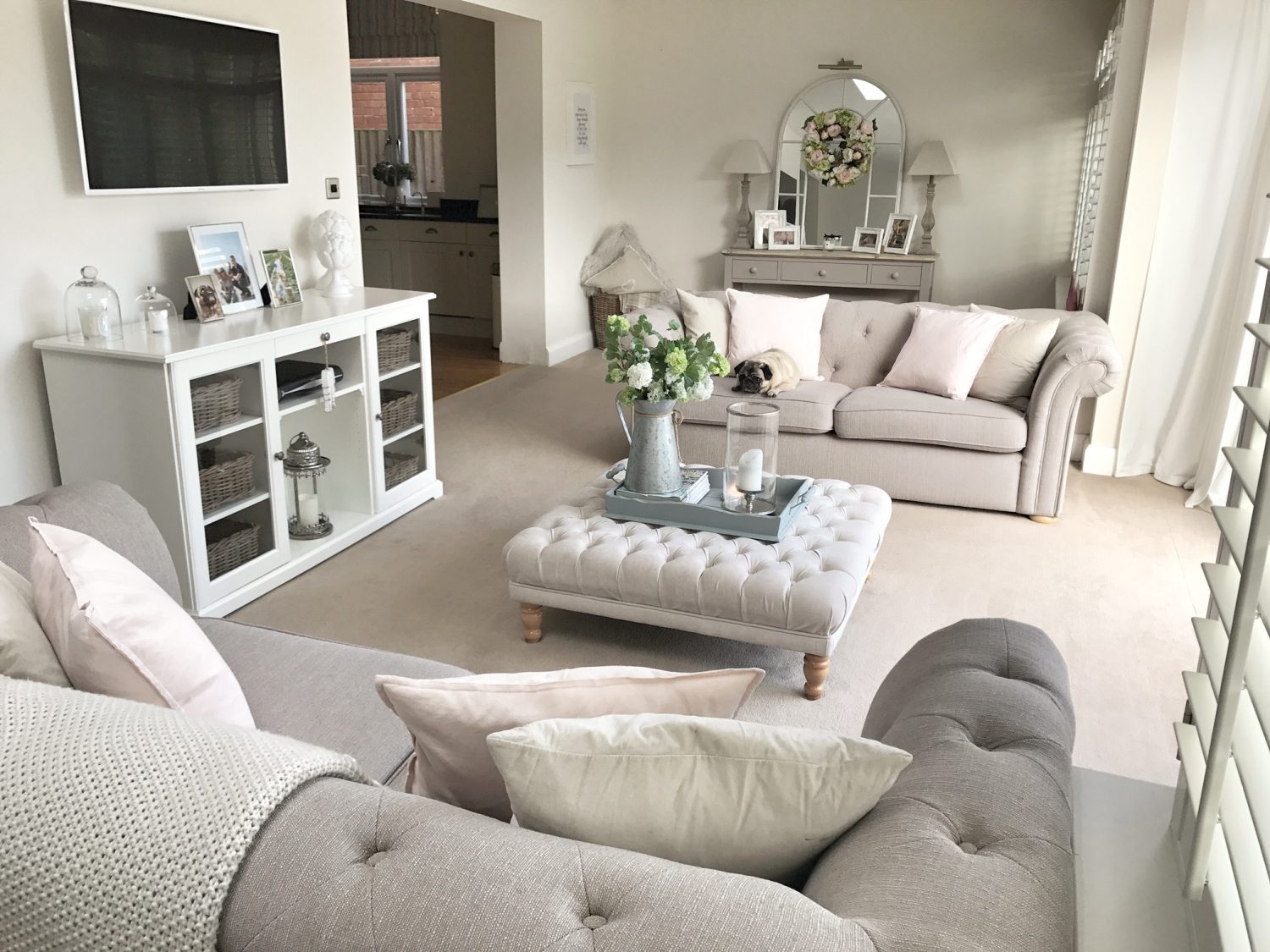 4. Throws/cushions are your best friend –
The safest option is to go shopping for multiple big throws to cover your sofa & a few cushions to accessorise. If you've got a big stain then strategically placing these may just cover it up.
5. Get a professional out –
If your sofa has seen better days & is covered in god-knows-what then calling out a professional to give it a proper clean may bring it back to life. They have special machines which will always be far better than our cleaners to hopefully get rid of any stubbornness & restore the colour.
6. Restuff –
We are prone to having 'our' spaces on the sofa. The lefthand sofa nearest the kitchen is mine & I sit nearest the doors out to the garden…Mr The Home That Made Me's regular jaunt is parallel to this. Our sofa is less than a year old but you can definitely see some slight sagging where we both sit compared to the seats nearest the kitchen/dining room. One way to stop this is to flip & rotate cushions regularly to give them chance to replenish (& stop being squished by our fat arses) but if yours is already showing signs of looking flat then try restuffing. If your sofa has foam inserts then replace this from local fabric shops, Dunelm or even cut to size foam
. Alternatively for a cheap immediate fix pop in a few inexpensive cushions.
6. Reupholster –
Reupholstering involves removing all the fabric & making new covers using new fabric which can work out extremely expensive. Professional upholsterers are highly trained & very talented plus fabric isn't cheap so unless the sofa is of special value to you or you cannot find anything you like & the frames still in good shape then sometimes buying new works out a lot more affordable.
Love,