Autumn is probably my favourite season; I just love when the weather turns that little bit colder & it's time to turn on the heating & begin to hibernate ready for a long Winter. After a lovely Summer, I'm so ready to embrace sipping on hot chocolate under chunky knitted throws with the crackle of the fire when it's cold outside.
The evenings are beginning to draw in & there's a crispness in the air which only means one thing, Autumn is officially on it's way. Now's the time when we typically start spending more time inside than out, so it's the perfect time to make some changes to our decor. The colour scheme moves from pastels to moodier browns & burnt oranges so for the perfect Autumn decor, use nature to inspire & bring the outside, in.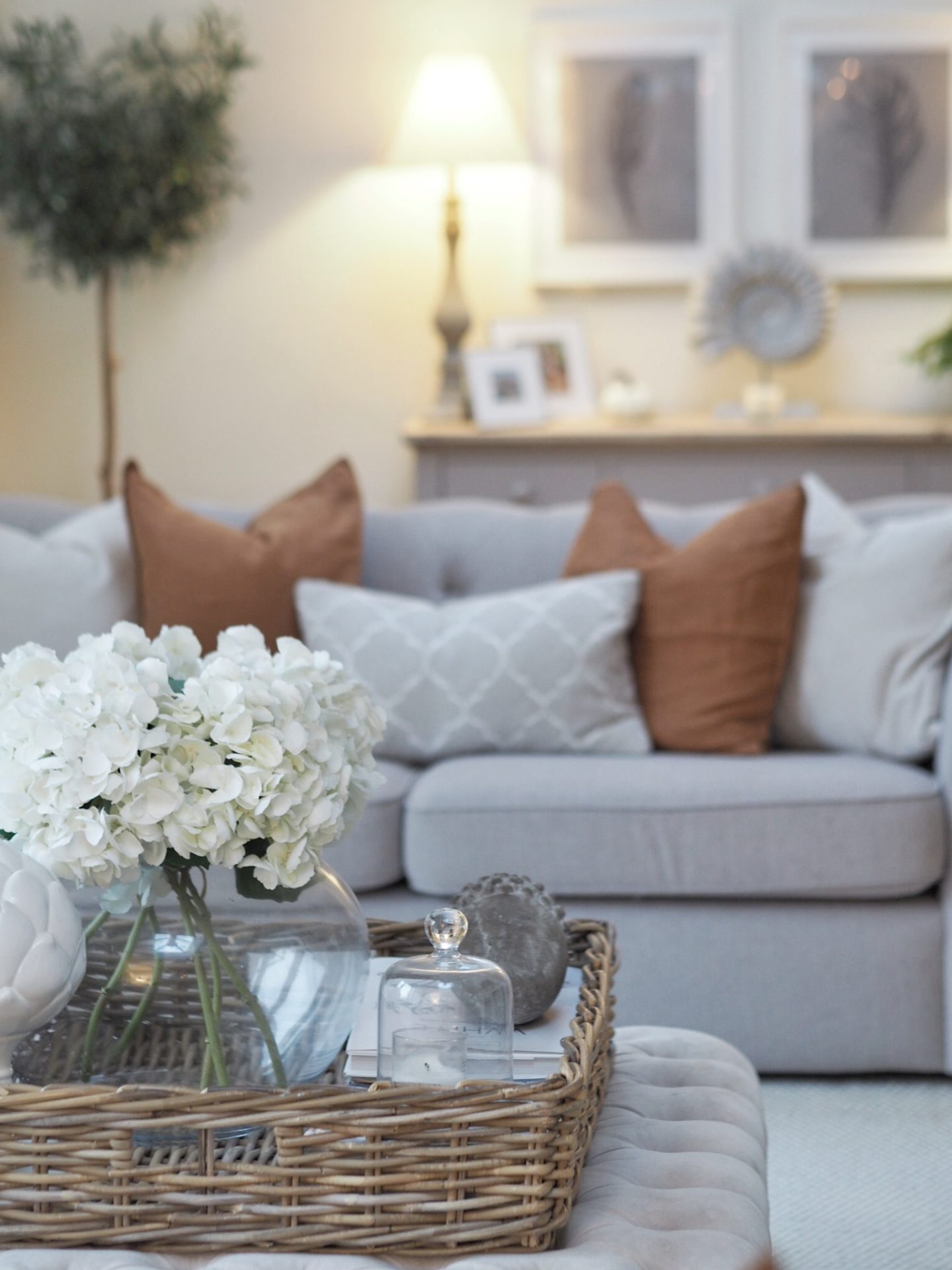 My home is very neutral in terms of decor & paint colours, which makes it really easy to accessorise & style for the seasons. Over the past couple of years I've bought AKA 'invested' in some bits which come out every year around the same time.
Think nature –
This season is all about what's going on outside. With the leaves changing colour & nature really coming into it's own, it's a perfect opportunity to bring the outside, in. Think a display or centrepiece pinecones & munchkin pumpkins to give a real Autumn feel as well as adding a focal point. I got these adorable artificial white pumpkins from Ebay. I also got these concrete pumpkins last year from Charlsted Interiors which are huge & weigh a ton!
Change up your prints & photos –
Make a feature by popping some prints in to frames or changing up ones you already display. Even better, arrange an Autumnal family shoot at a pumpkin patch or throwing leaves around to treasure forever.
Don't forget the florals –
Flower wise, it's all about the foliage & dried hydrangeas (which you can find my tutorial on how to do here). I also bought this concrete 'Hanley' vase from Neptune then filled it with beautiful artificial flowers from Hudson Home including berry spray, blush euc, seeded euc & lavender hydrangeas. Styled with black candlesticks & the white pumpkins.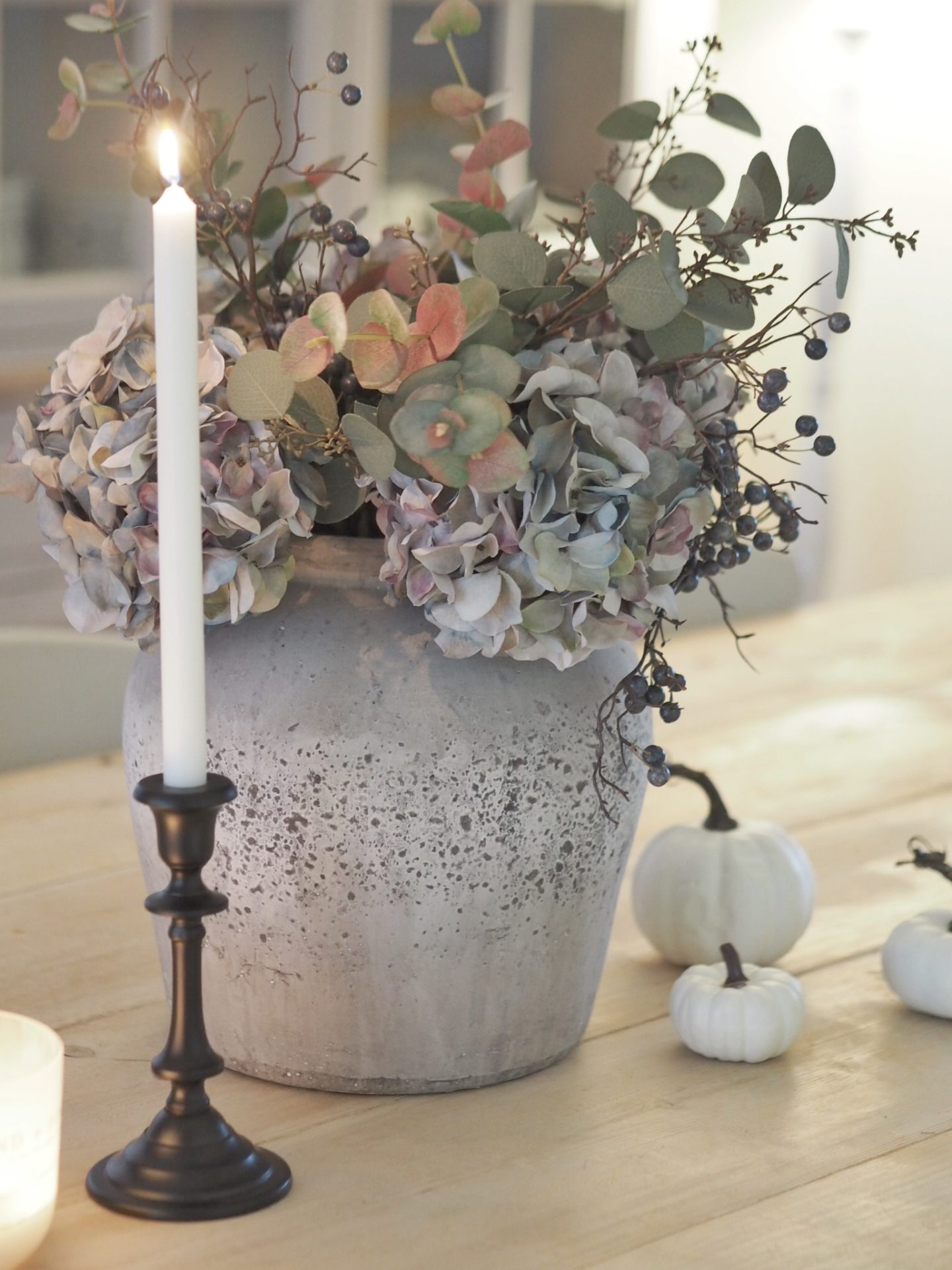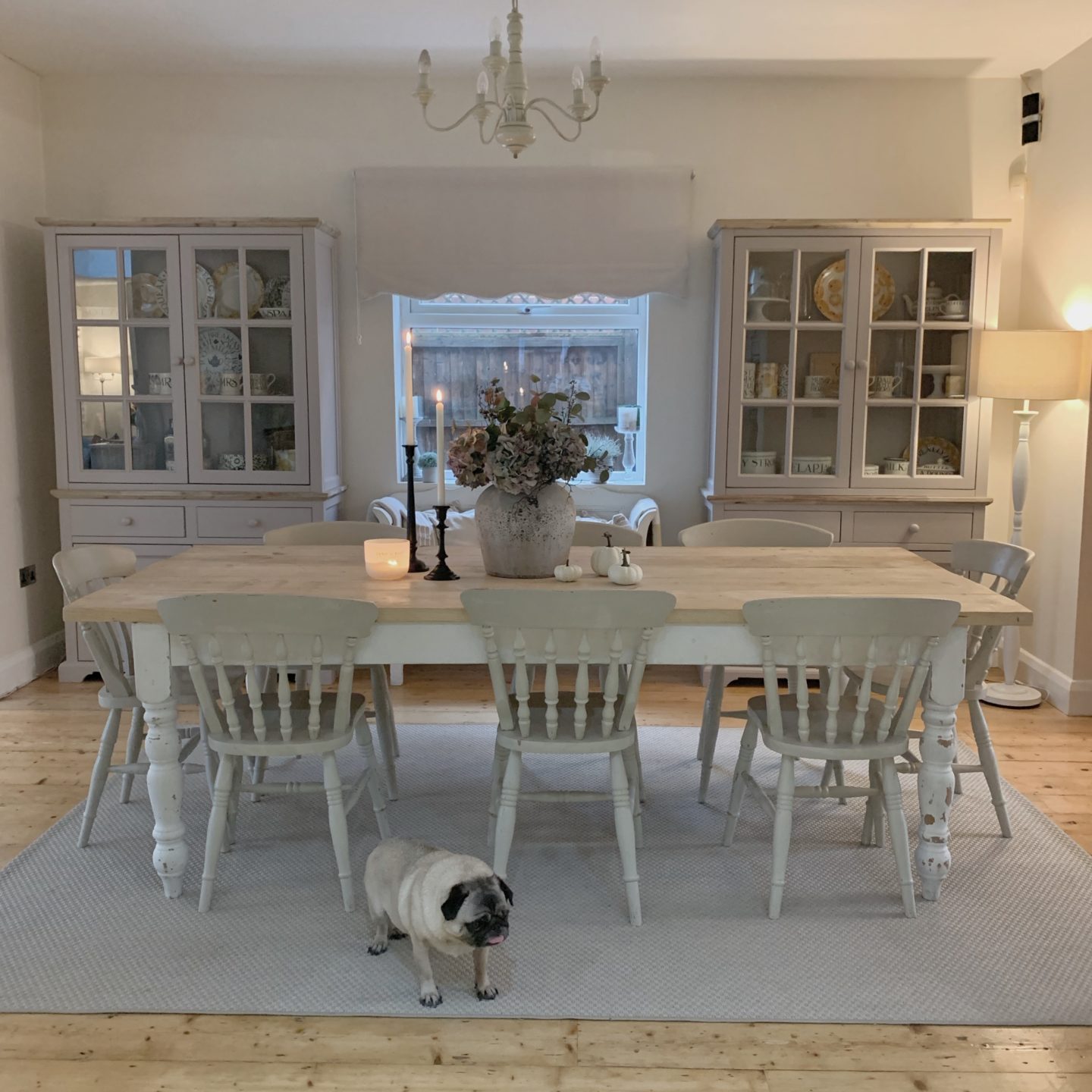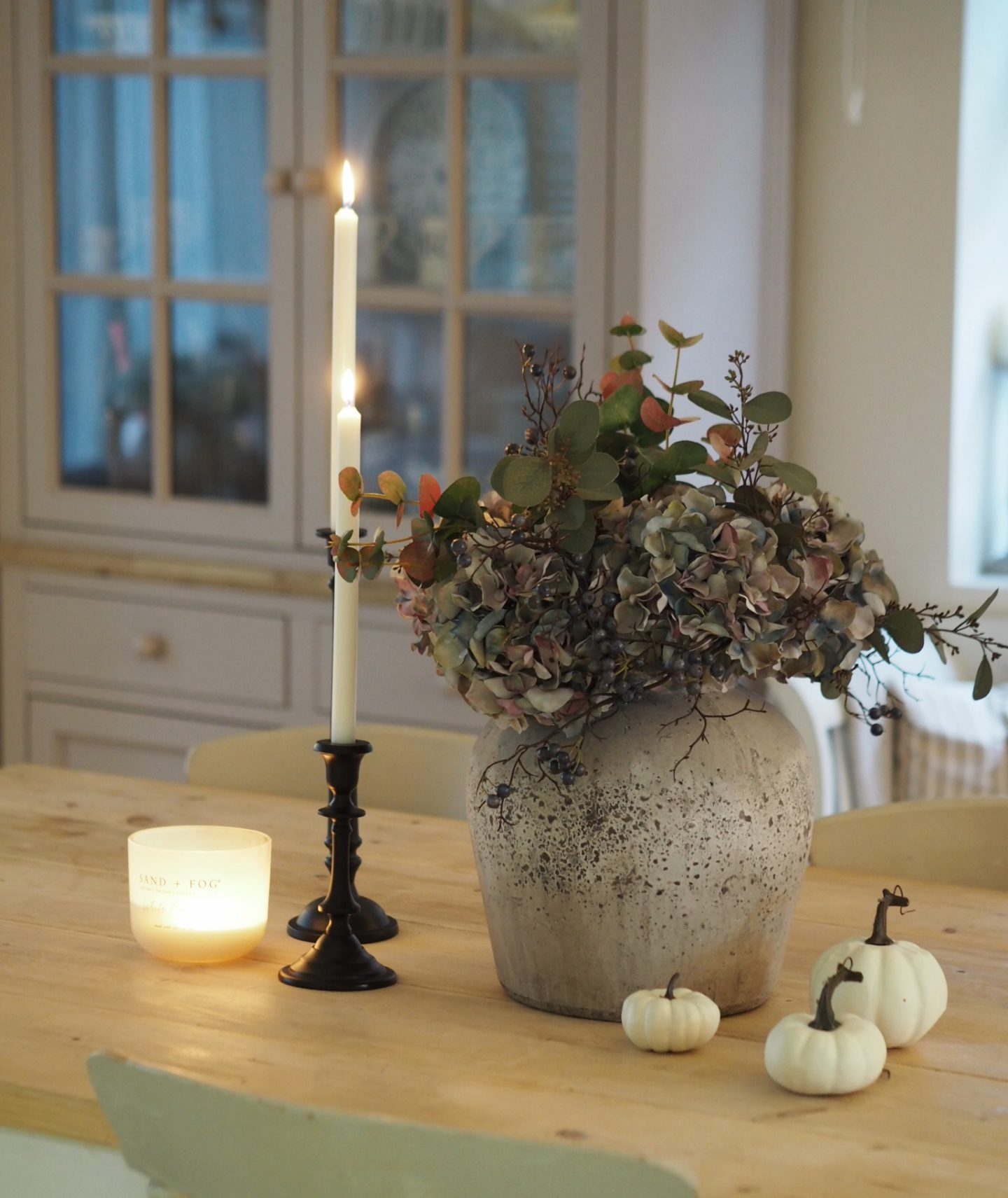 Otherwise it's all about those crunchy Autumn leaves so I bought this maple leaf garland last year to pop over the fireplace to add a pop of that gorgeous burnt orange tone. Again with the tall black candle sticks to add contrast.
Otherwise you could have a go at making your own which is a fab idea to get the kids involved. Use collected leaves (but make sure to vanish as they shrivel up!) or these artificial ones from Amazon then add pinecones.
Light those candles –
If there was ever an excuse for candles, this is one. Darker evenings mean more opportunities to burn those bad boys & let that beautiful scent (go for warm rich scents like pumpkin spiced to really get in to the spirit) fill the air. They also give off a gorgeous flickering warm light whilst adding a cosy feel to a space. You can never have too many & as I always say…'they are an investment' (for when power cuts strike…which could be anytime, right?!). My recommendations would be The White Company's 'Autumn' or new 'Fireside', alternatively Homesense are the absolute kings of the sweet pumpkin candles.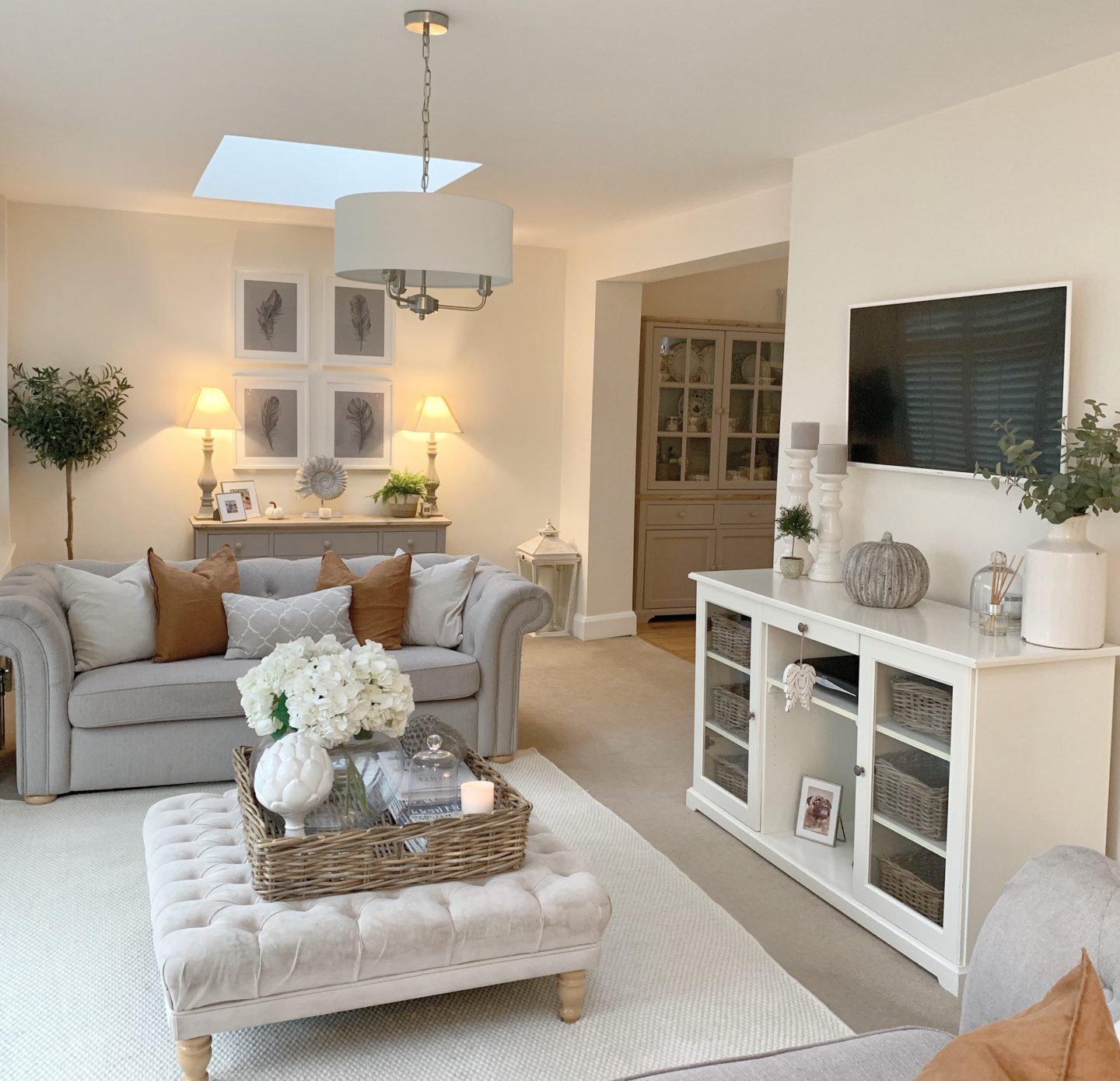 Staying in is the new going out – 
Didn't you know already? It's time to replace days at the beach or nights sipping cocktails with eating stodgy comfort food & catching up on your favourite soaps on the sofa with a mug of hot chocolate (don't forget the marshmallows…).
Autumnal colour palette –
Typically the colours which just scream Autumn are browns & burnt oranges combined with wood & wicker. Again, going back to nature & the changing colour of the leaves falling to the ground. I've changed up my cushions (because lets face it, you can never have too many, right?!) in the living room from spring blush pinks to burnt orange. These are £8.99 each & I also added in striped tassel one for contrast on the armchair next to the fireplace.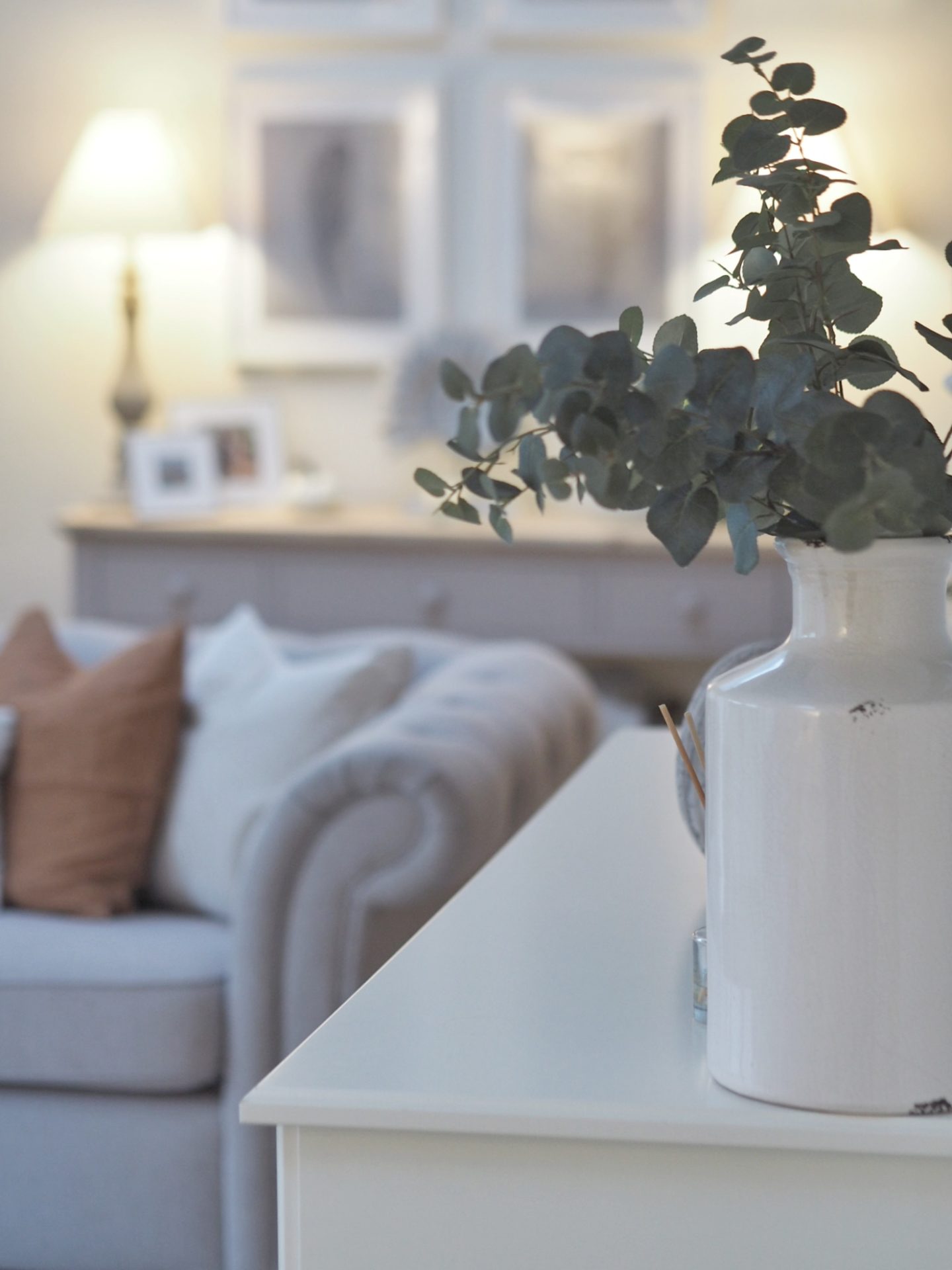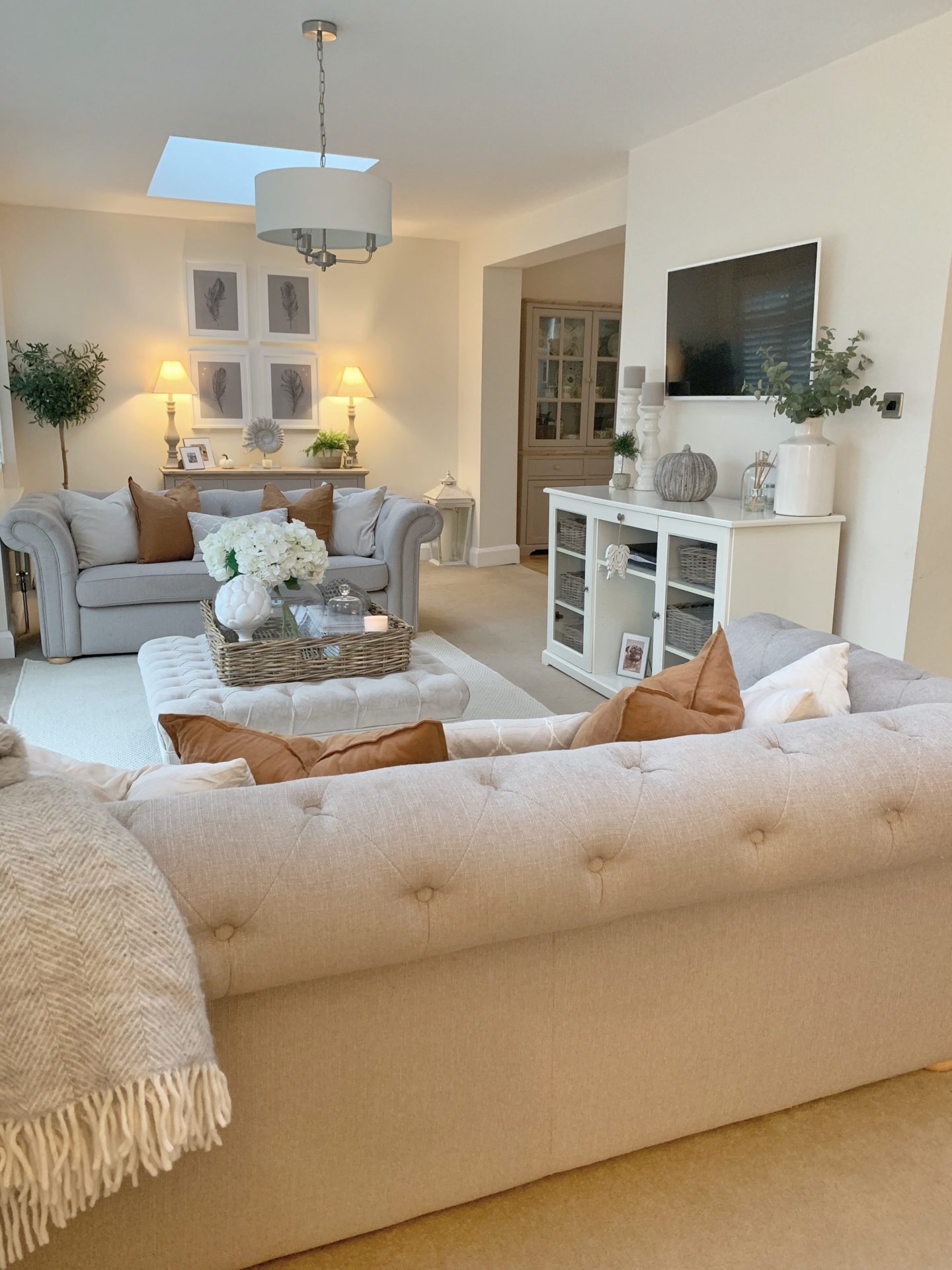 Make your bedroom a cosy sanctuary –
Now more than ever, your bedroom should become your sanctuary. We naturally all start to hibernate & if your bed doesn't just scream 'come to me' then it's time to treat yourself to some new bedding & even a cheeky electric blanket.
Embrace Halloween –
Love it or hate it, Halloween spirit has moved across the pond & more people are getting in the spirit with decorating their homes & personally I just love an excuse for fancy dress! We're even dressing the pooches up – Bertie's a ghost & Mungo either a spider or pumpkin…
Love,