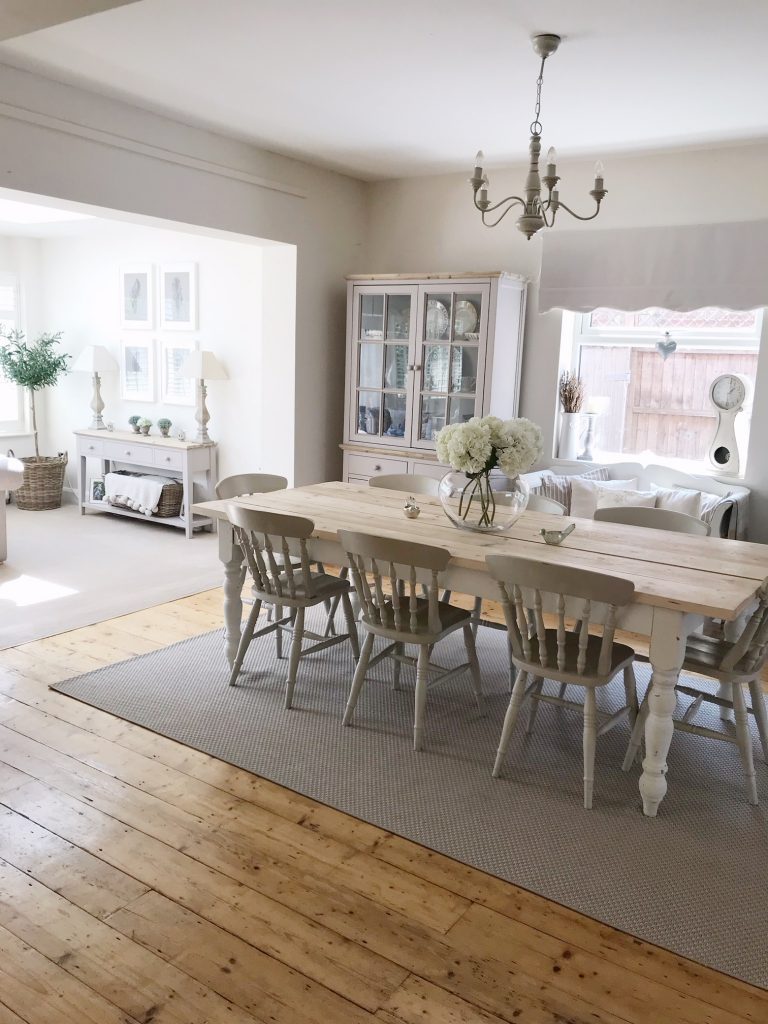 Another beautiful week – how lucky are we with this heatwave? As work winds down for the weekend ahead I'm all ready to post the next chapter of 'Home Tour Friday', which is all about the dining room. This post ever so nearly didn't go live today due to my laptop being broken (you'll have to bear with me!) but I've begged/borrowed/stealed to get this live…commitment or what?
This space was actually the living room/lounge when we first moved in to Baylyn House & originally didn't have any windows but after we turned the leaking conservatory into more of an extension & opening up the downstairs to make it more open plan it was somewhat dark so we decided to have one put in.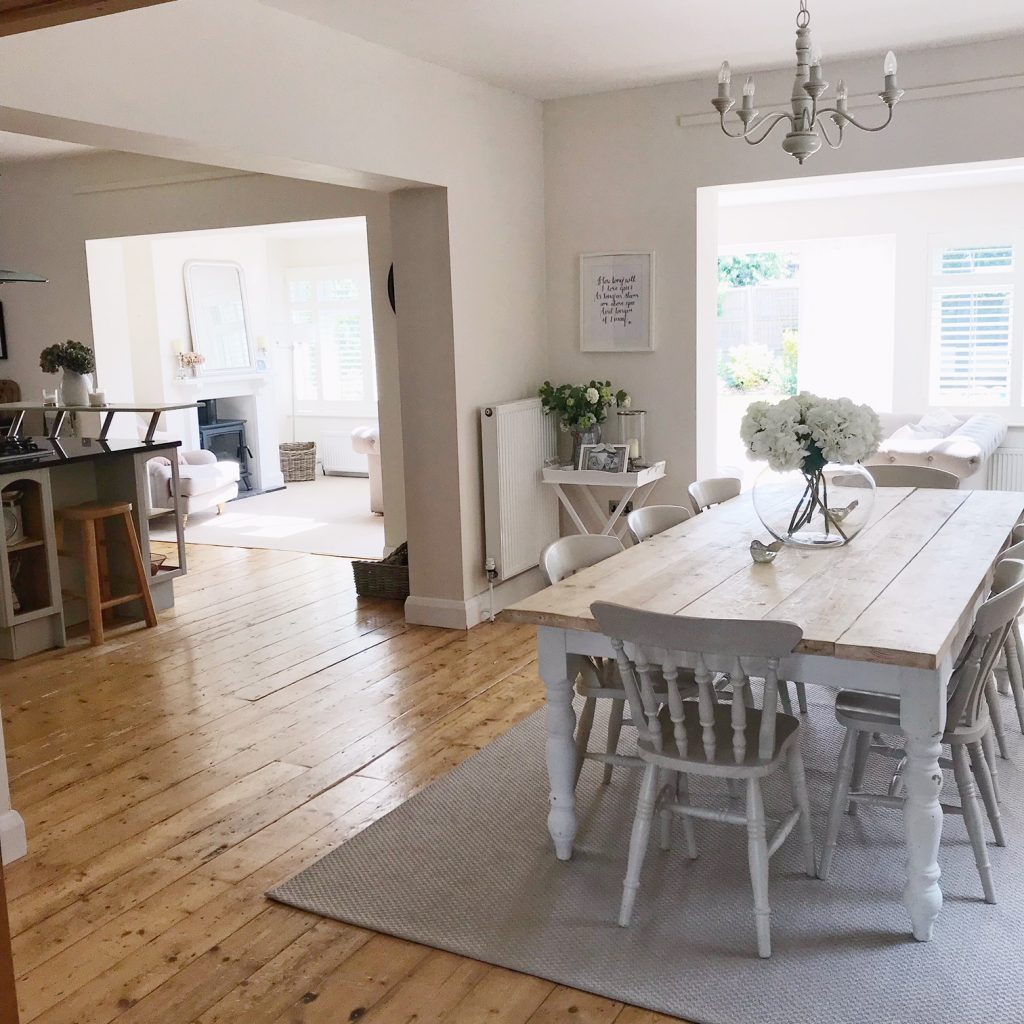 I've spoken about the importance of the dining room previously in a post. We are proper foodies & dinner time is probably one of my favourite times of day; not only for the food but also because it's the one time that all technology is banned & we sit together as a family to talk about our day without any distractions. It's something I believe is SO important in this day & age & I'm going to try to reinforce for as long as I can.
Unfortunately this room is going to be a bit of a hard one to recreate easily & I can't link to much as it's mostly upcycled or was bought years ago so is no longer around. Sorry!
The table is something I get asked about a lot on Instagram & is unfortunately not from a shop that I can link, much to everyones annoyance! It's actually my old table (which you can see pictured here) that I bought off Gumtree for £20 then upcycled, but upcycled again. We took the legs off & got a local carpenter to make it bigger to become an 8/10 seater, replacing the top with scaffolding boards for a rustic, country look.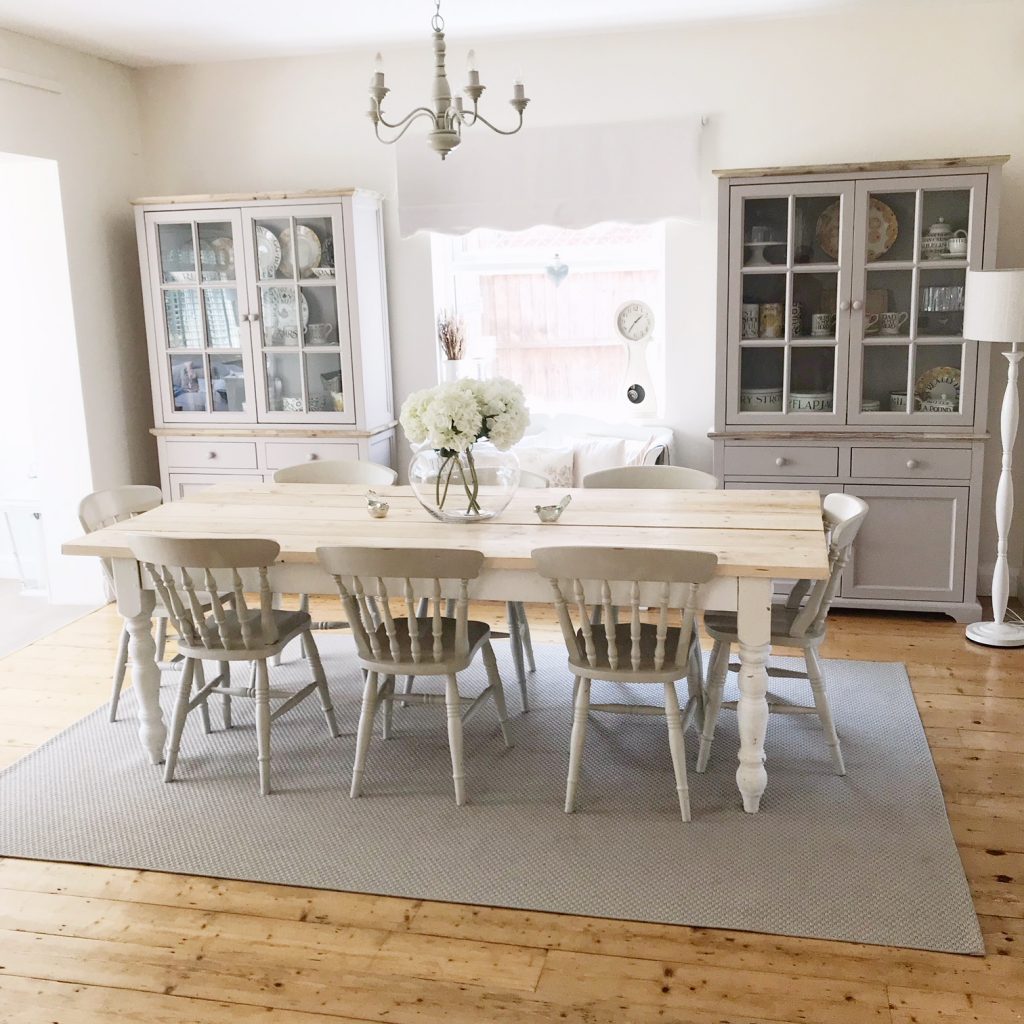 The chairs came with the original table but I bought 2 additional ones which matched off Ebay. These have all been painted in Farrow & Ball 'Stony Ground' in acrylic eggshell which is the same colour as the kitchen so is a subtle way to tie the two rooms together. The legs of the table are Annie Sloan 'Old White' & I quite like the shabby chic aged look the chalk paint gives them.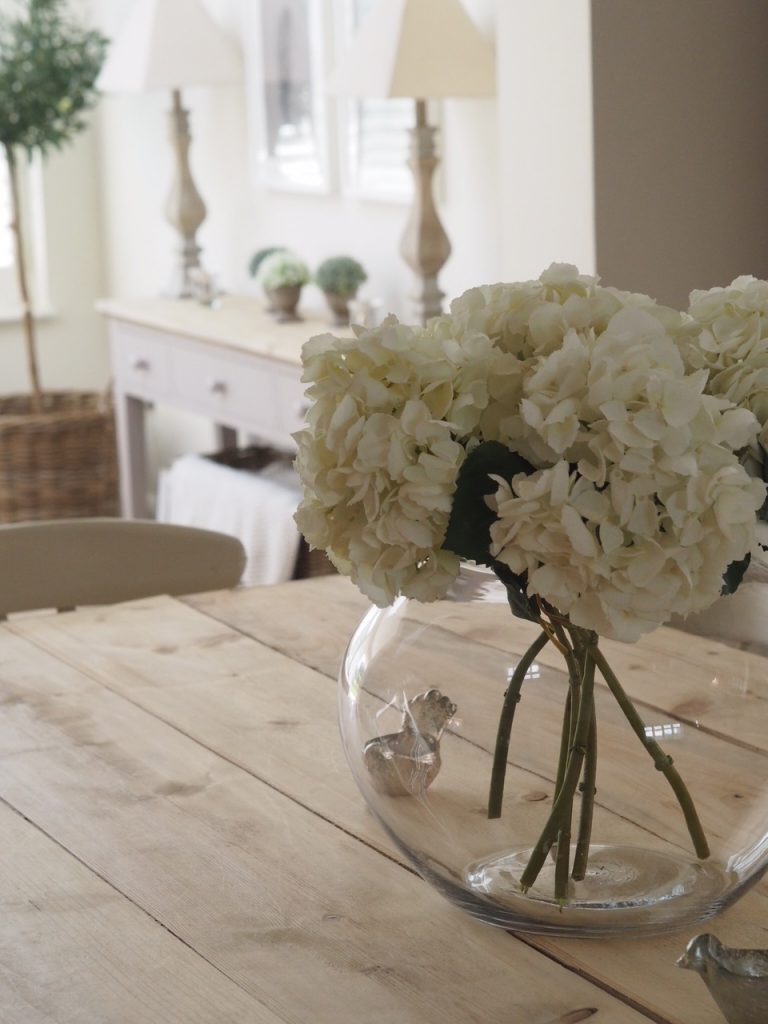 My beloved Neptune Charlton vase & white hydrangeas take pride of place on top – I've had these for years now (although had to replace the vase as I managed to smash it a few weeks ago!) & even as someone who constantly gets bored & changes things constantly; I love them just as much as the day I bought them & they bring me so much joy.
Over the table is a chandelier called the 'Milnsbridge' in cream from Laura Ashley & I have the same but in light grey in the playroom too as I love it that much.
Under the table is a bargain 200 x 300 rug, the 'Morum' from Ikea. I'll be doing a blog post about using rugs within interiors soon but putting a rug under a dining room table does wonders for grounding & layering a space & can make such a difference. That being said, I completely understand that it's also a bit silly with young kids however this one is an indoor/outdoor one & I always say how it's basically stain proof. Rory has lobbed spaghetti bolognese over it more times than I care to remember but it just wipes off with a trusty baby wipe with no mark left….it's a fab material.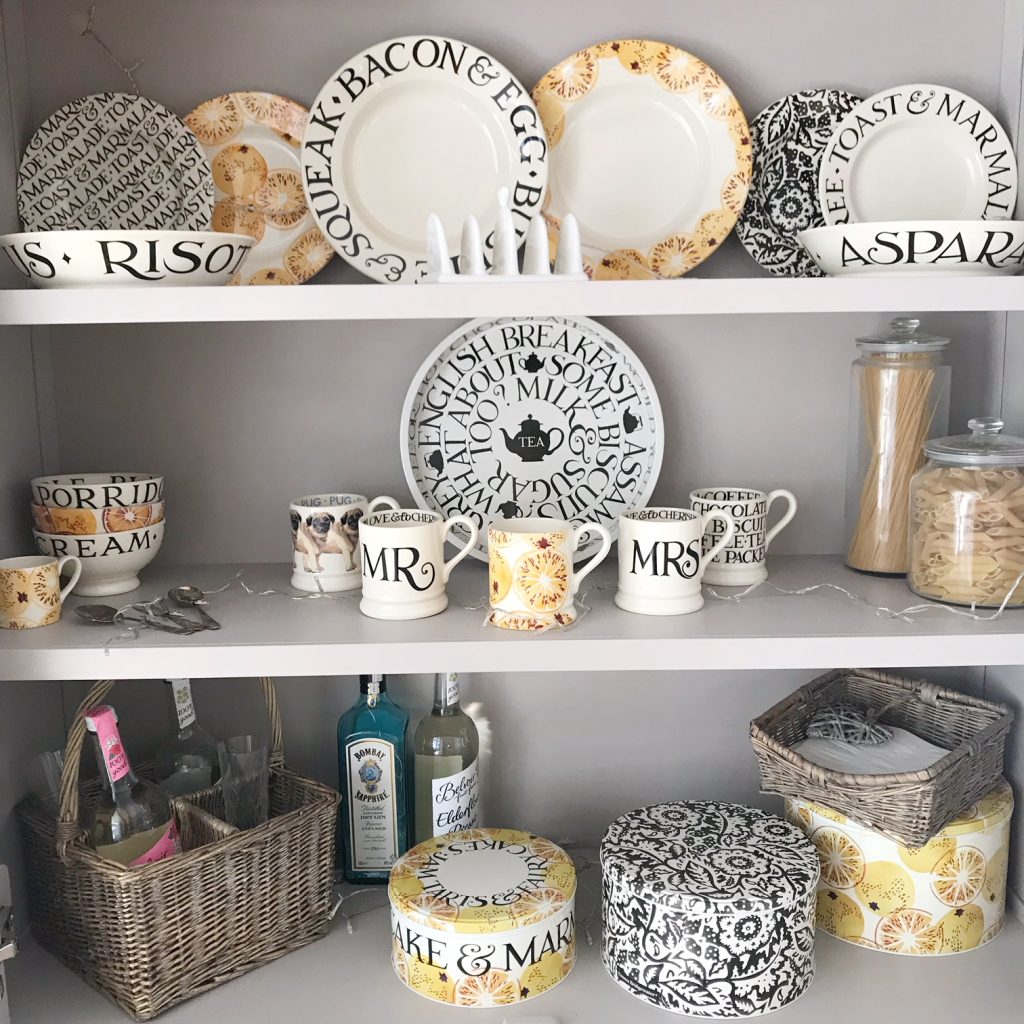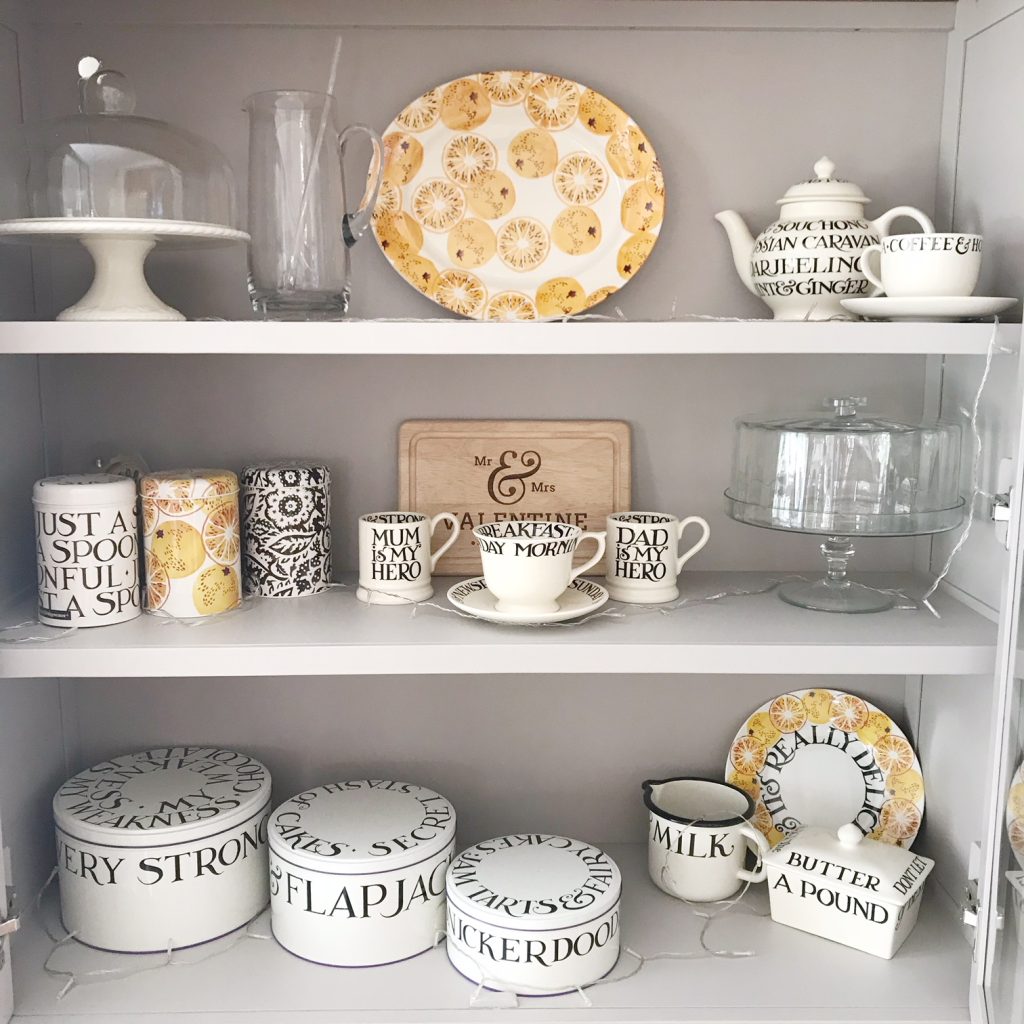 The dressers are from Wayfair here & are both in the colour 'truffle' to match the console table in the living room opposite. They sit either side of the window & house my Emma Bridgewater which I started collecting a few years ago; this is black toast & marmalade. This adds a tiny pop of colour with the oranges & yellows without stepping away from my love of all things neutral.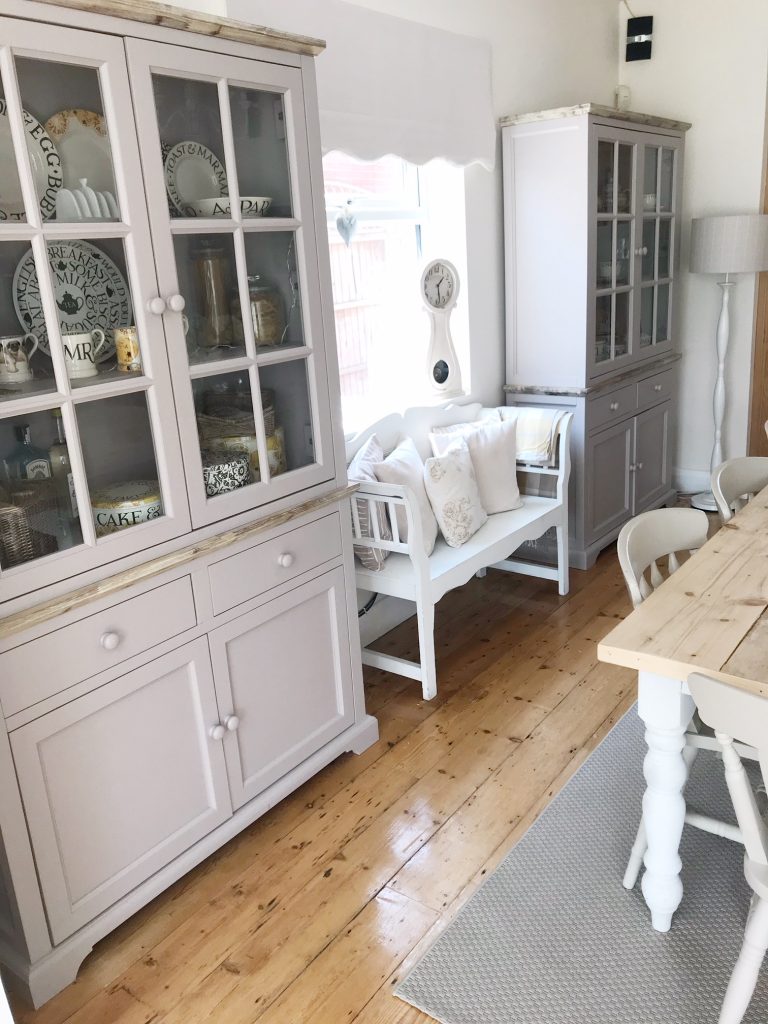 Below the window is a hungarian settle bench which again was a Gumtree find which I painted using Annie Sloan. The cushions on top are all handmade (by me).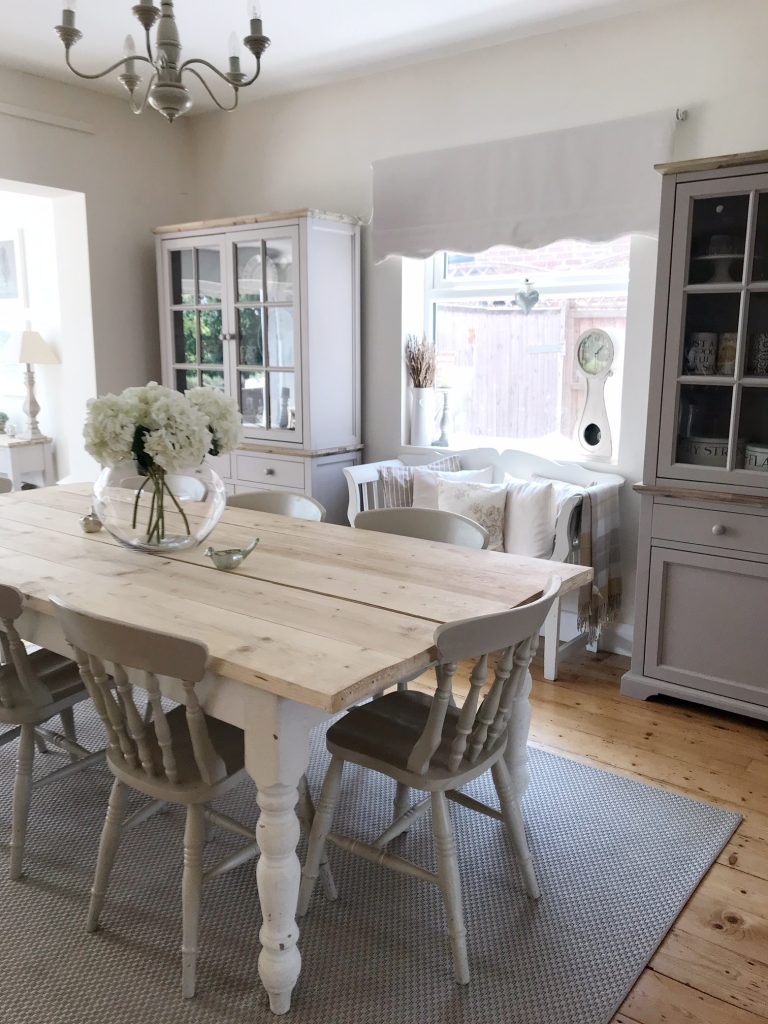 The roller blind was from Dunelm & on the window ledge I've popped a large stone candlestick which was from The Range a few years ago, a heart vase from Dunlem filled with dried lavender & also this gorgeous clock which was from a little shop on Instagram which has since closed down.
Because we hardly ever use main lighting but prefer mood/side lighting, I've also put in a floor lamp. This one was from The Range but unfortunately I can't see it online & it was about a year ago so it may have been discontinued.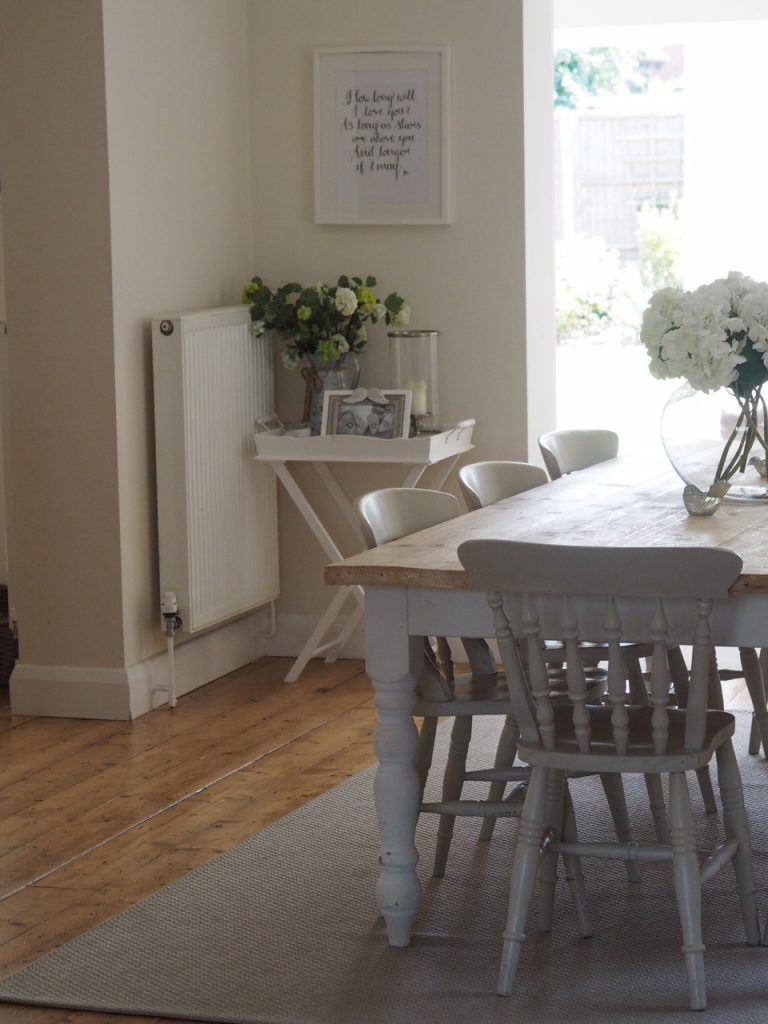 Finally, I've styled this tray table, originally from Pretty Little Home. I've put on some artificial snowball hydrangeas in a vintage vase, this hurricane lantern from Laura Ashley, a Diptyque 'Baies' candle & this beautiful wings photo frame with another one of my favourite photos of Elsa & Rory's teeny feet when I decided it would be a cute idea to draw on them then it took approx 29747429292 shots to get one usable one. Don't try this at home, believe me.
Above is this framed calligraphy from the wonderful Amy at @gingerhearts who's done a few pieces for our house. This is our first dance song & I just love it!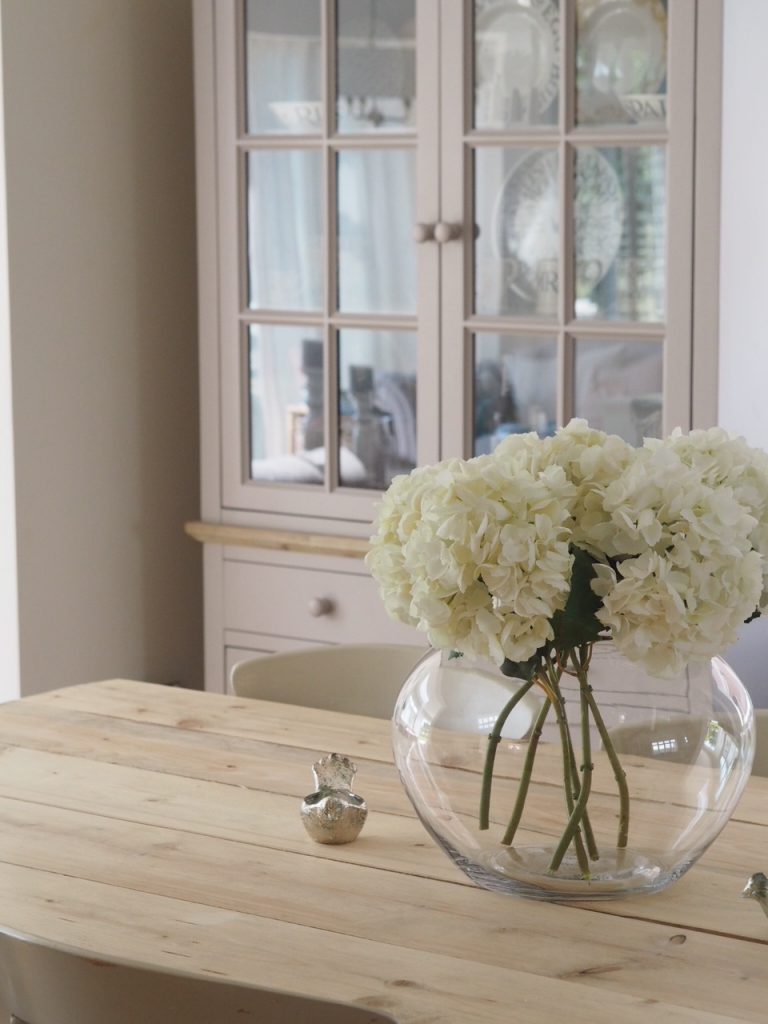 Hope you've all enjoyed having a nose around this space & I'll be back next Friday with the playroom. In the meantime, have a lovely weekend & enjoy the sunshine.
Love,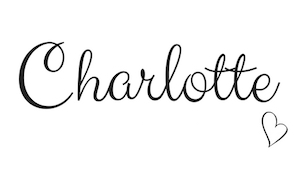 *This post contains affiliate links