Being the super amazing auntie that I am, when my sister told me that my nephew Will was going to be moving from his small bedroom into their large attic room (which was currently being used as a playroom/dumping ground), I said I'd do it for him for his birthday.
He'll be moving to secondary school (& we are SO proud of him that he got in to grammar…I missed out on the brains side of the family obviously) so this was the perfect opportunity to give him a bedroom he can grow in to & his own space away from his two younger siblings to sleep, study but also have fun & be able to invite his friends round.
Here are some before pictures –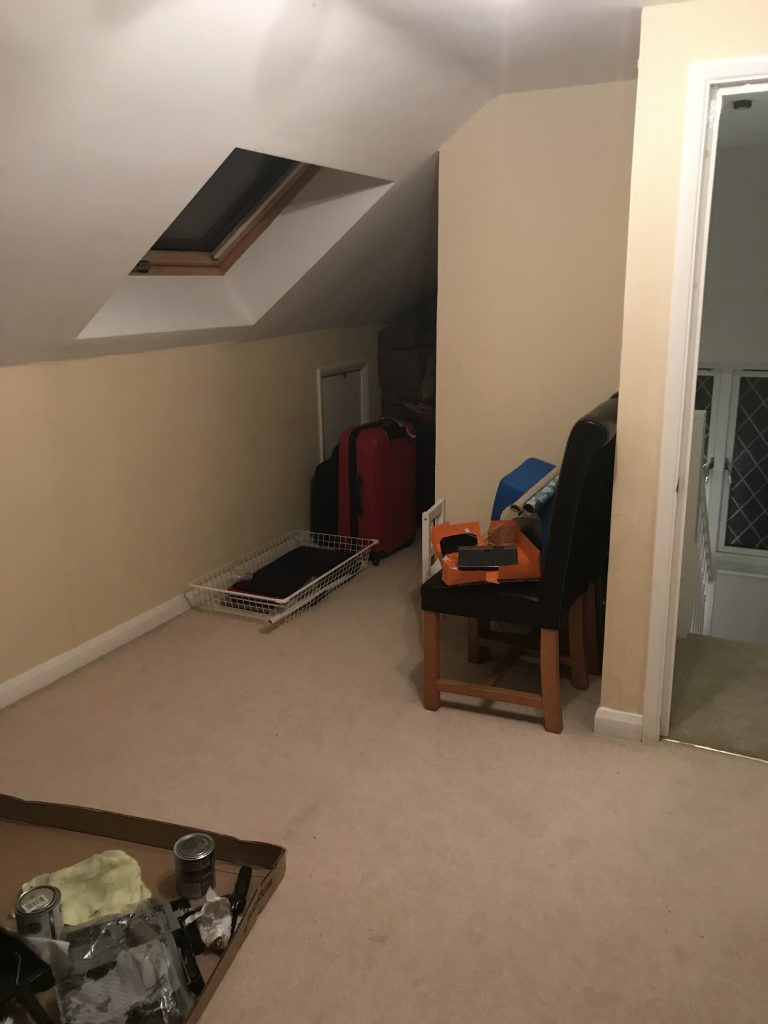 As part of Dunelm's style squad, I knew they'd have me covered for this project & their affordable ranges were the perfect solution to give this space a new lease of life. They are known for their soft furnishings such as bedding & cushions but are absolutely killing it with accessories too so I pretty much kitted out the entire room from just visiting one store which in itself is pretty amazing.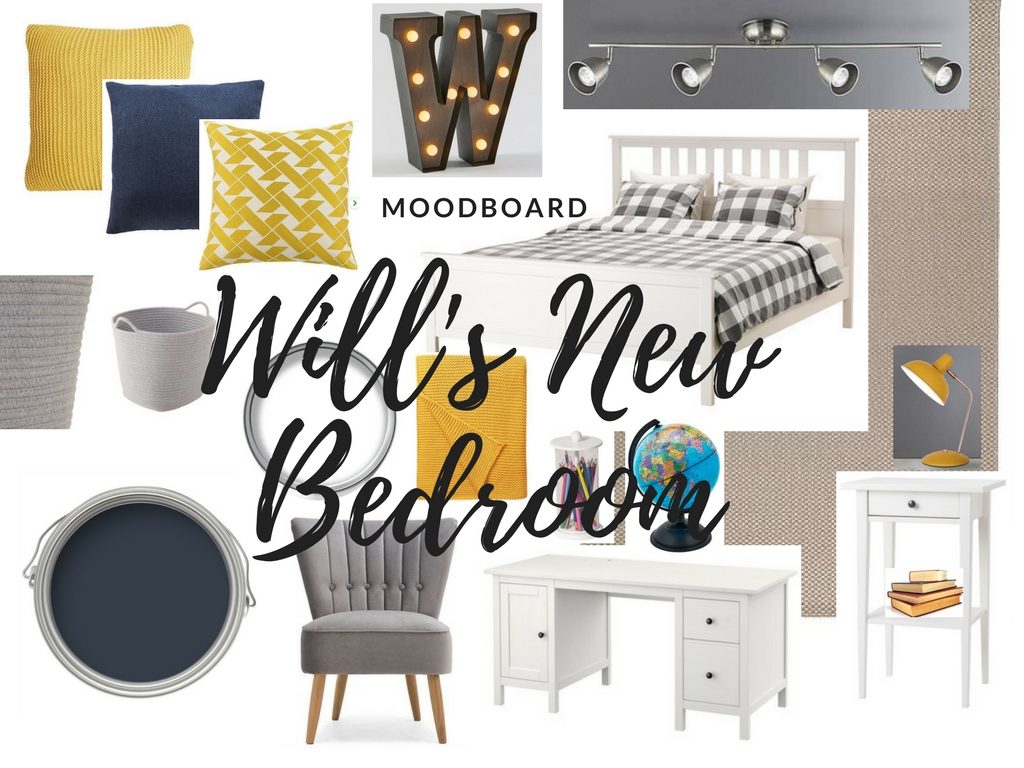 The main brief was to include as much storage as possible so he's got places to store clothes, his expansive lego collection & if anything like my kids, hoards of 'stuff'. Above is the mood board I put together beforehand to show the direction of the room.
First things first, the room got a lick of paint using white emulsion for the ceiling to keep things light & airy then I decided to go for a moody deep dark navy blue for the low side walls & back wall behind the bed. This was a mix of Farrow & Ball's 'Stiffkey blue' delivered directly to my door on next day delivery from Decorating Centre Online. The finish was absolutely amazing & went on like a dream, only requiring one coat.
Dark hues aren't my usual choice being a neutral kind of gal but because the room is in the roof & has sloped ceilings & lower walls, as well as 2x velux windows, I felt it could pull it off. It makes it cosy yet cool; the perfect place to study or hang out with friends.
Here is the finished look!
The original lights weren't up to much so I replaced with two of these Holt spotlights & immediately they made such a difference.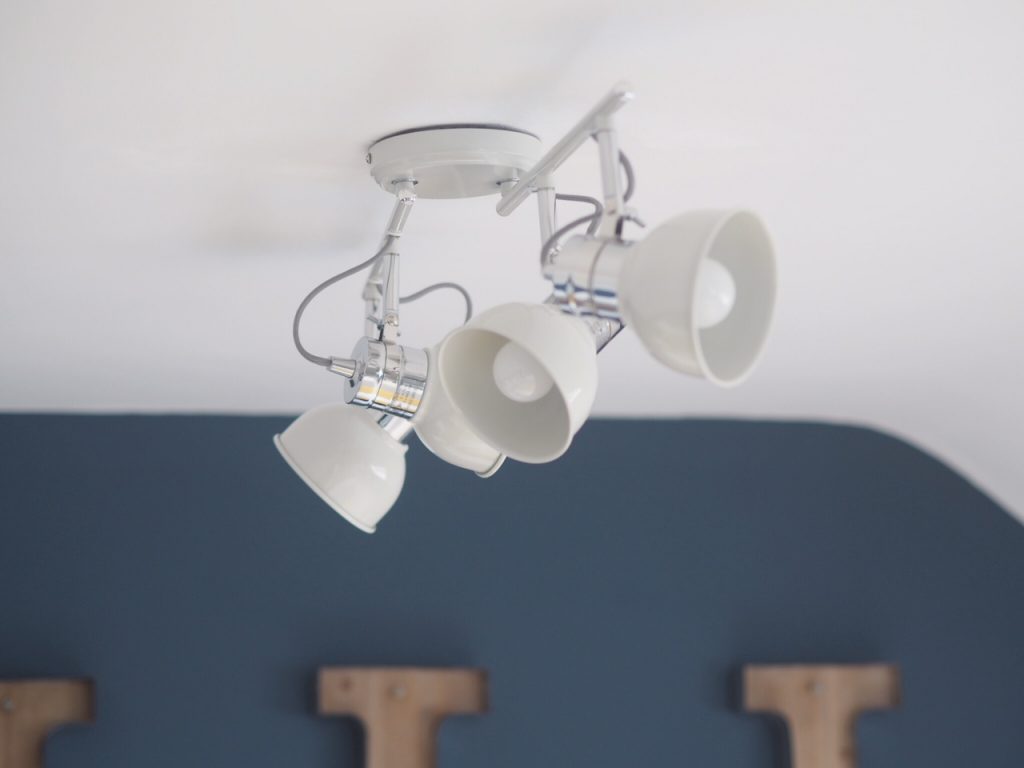 The bed is always the focal point of any bedroom so to give a real 'wow' impact I decided to go for the 'Lucca' grey upholstered frame from Dunelm. This was a bargain at £160.00.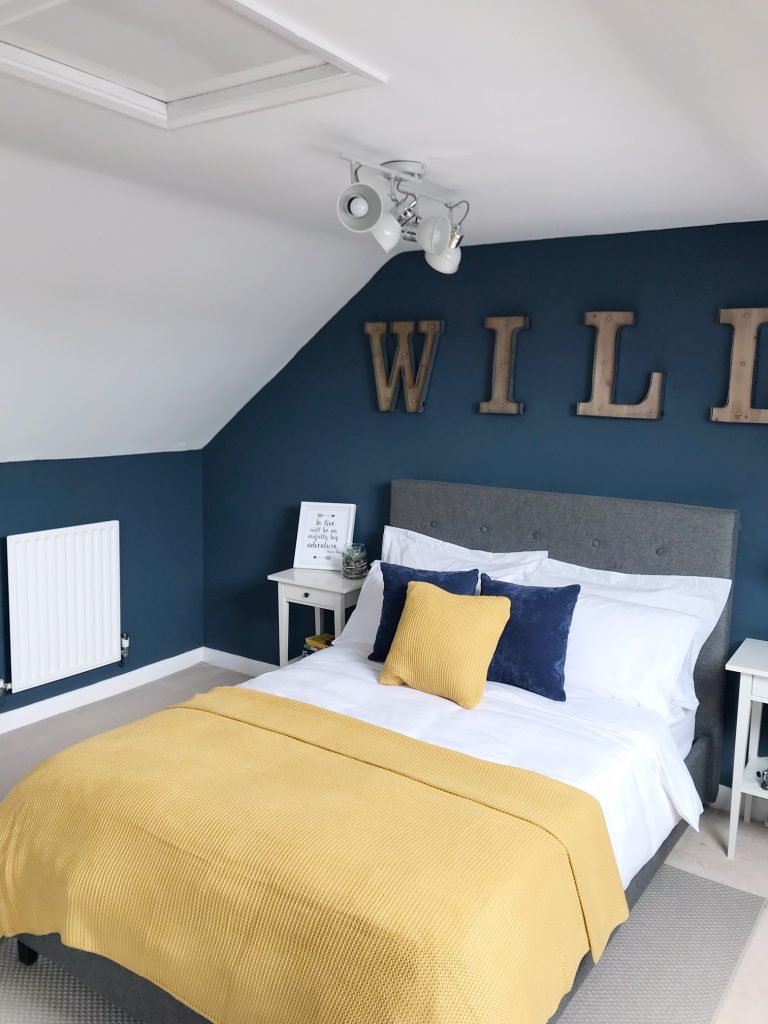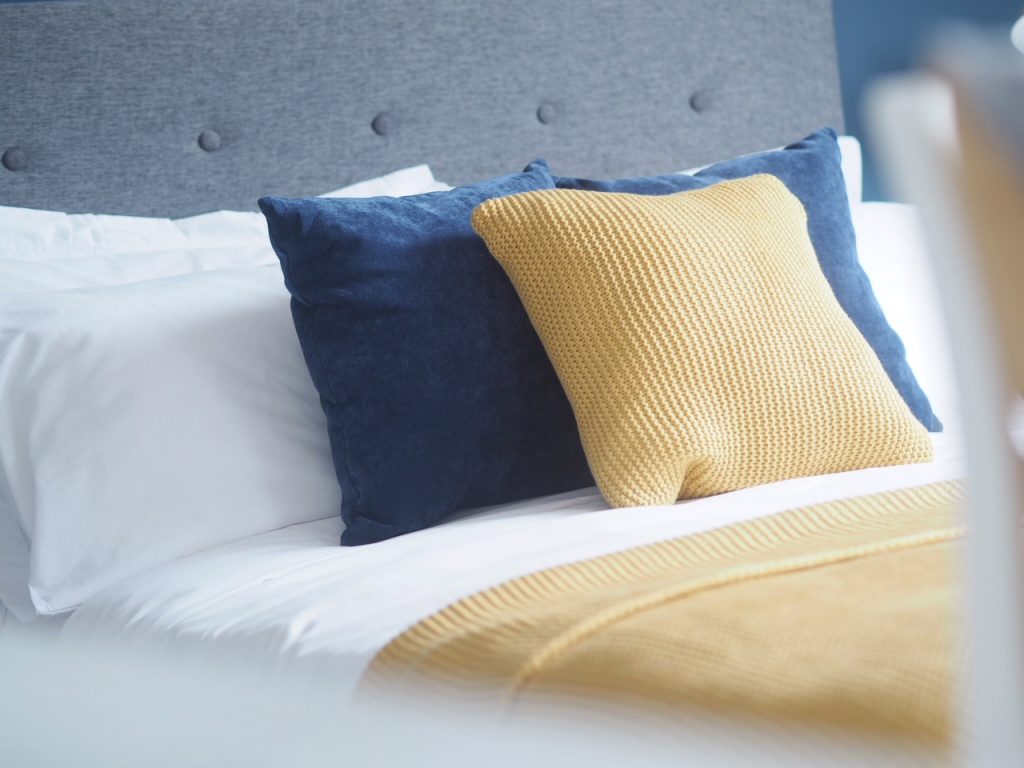 To keep the room bright despite the dramatic wall colour was something I was conscious of so I went with plain white bedding using the non-iron range (to save my sister's sanity) with a double duvet cover, 2x oxford pillow cases for the back then a pair of housewife cases for the front. To incorporate the colours of the rest of the room I also added a chunky knit mustard throw & then teamed up with two navy scatter cushions & this ochre one to match the throw.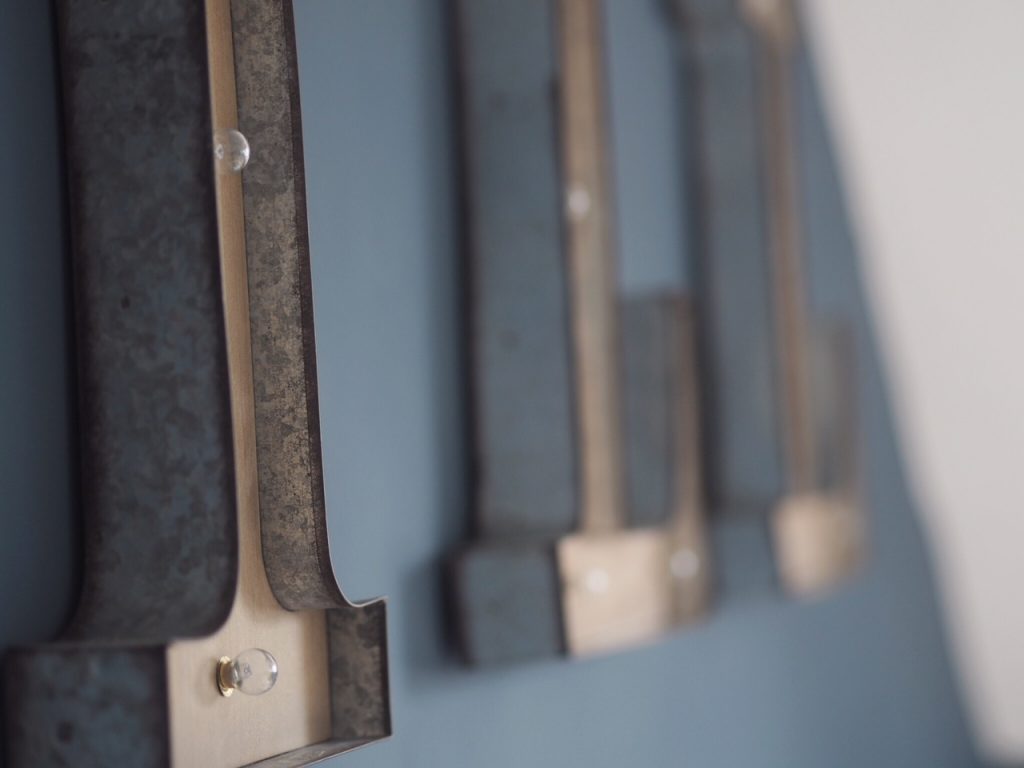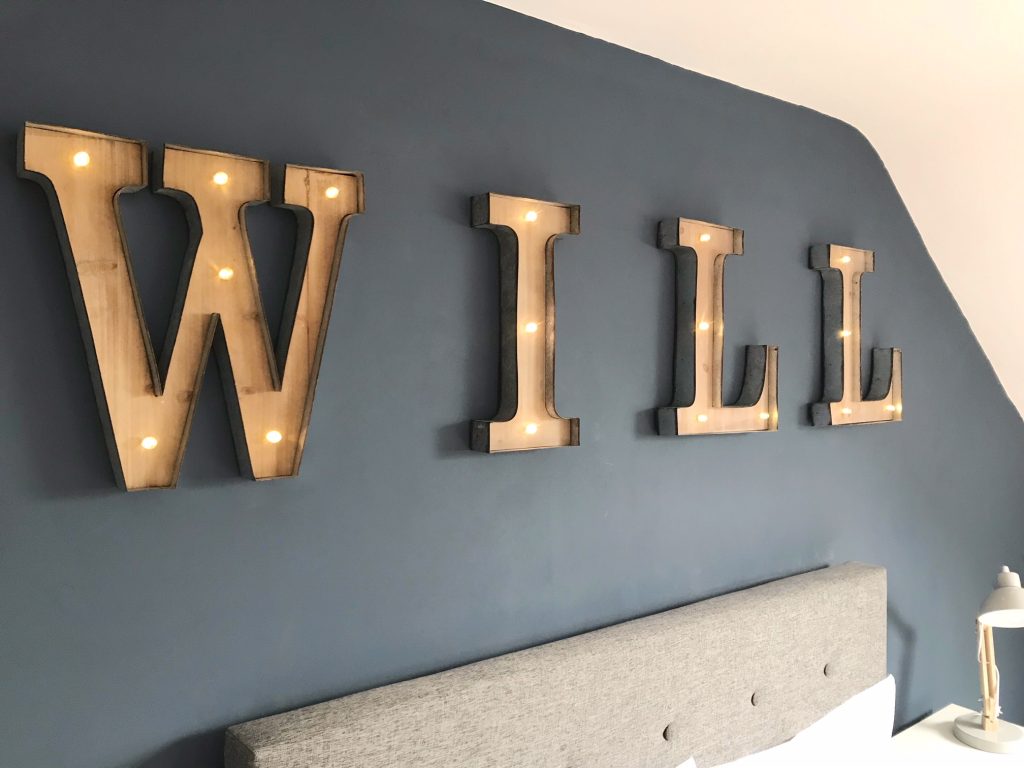 Over the top of the bed are some rustic carnival letters spelling out WILL. I love the character these bring & you all know what a fan of monogram I am. These are from Festive Lights LTD available here.
Styling the bedside tables (a gumtree find which were luckily in great condition) is this gorgeous grey lamp along with a stack of books & some of Will's prized possessions. I also used a frame from the Essentials range to pop this Peter Pan quote in & teamed it up with an artificial succulent.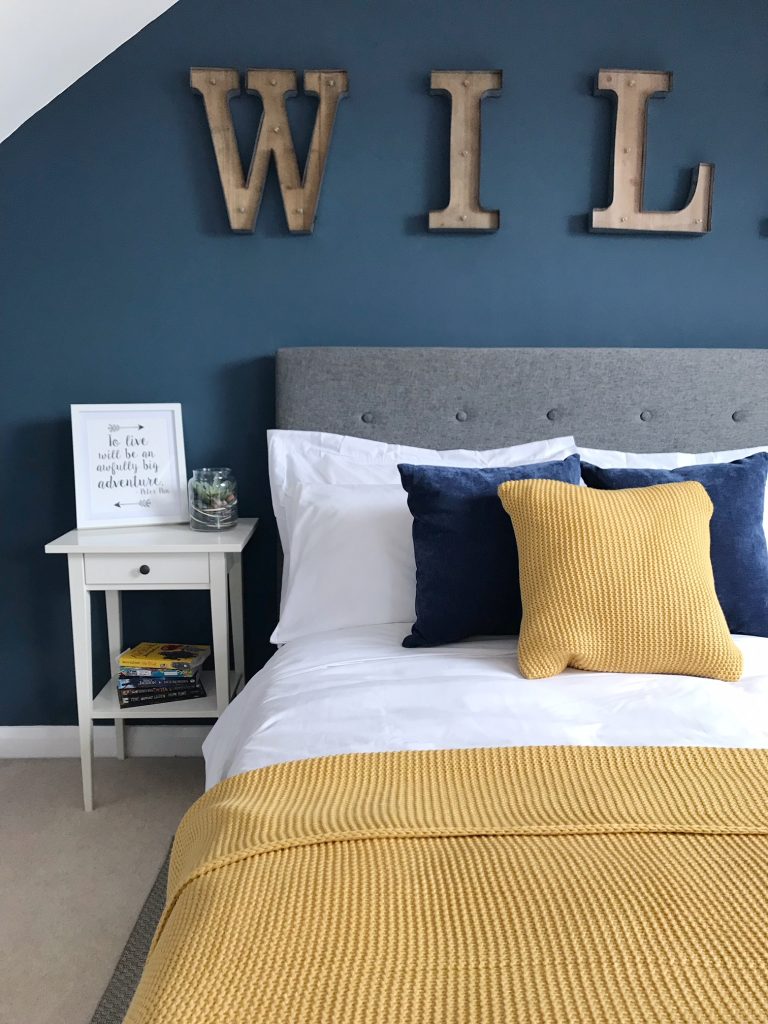 The desk was an Ebay bargain however unfortunately it wasn't in a great condition so I gave it a lick of paint using a mix of Farrow & Ball 'Stong White' in acrylic eggshell, again by Decorating Centre Online.
I've accessorised using this globe whilst bringing the mustard across with this desk lamp. Using two grey frames, I added two of his favourite pictures. I also found this super cool 1 hour sand timer which I thought was a great addition to get things done. The chair was from his old room but jazzed up by placing this cushion on which incorporates the grey & mustards from the room.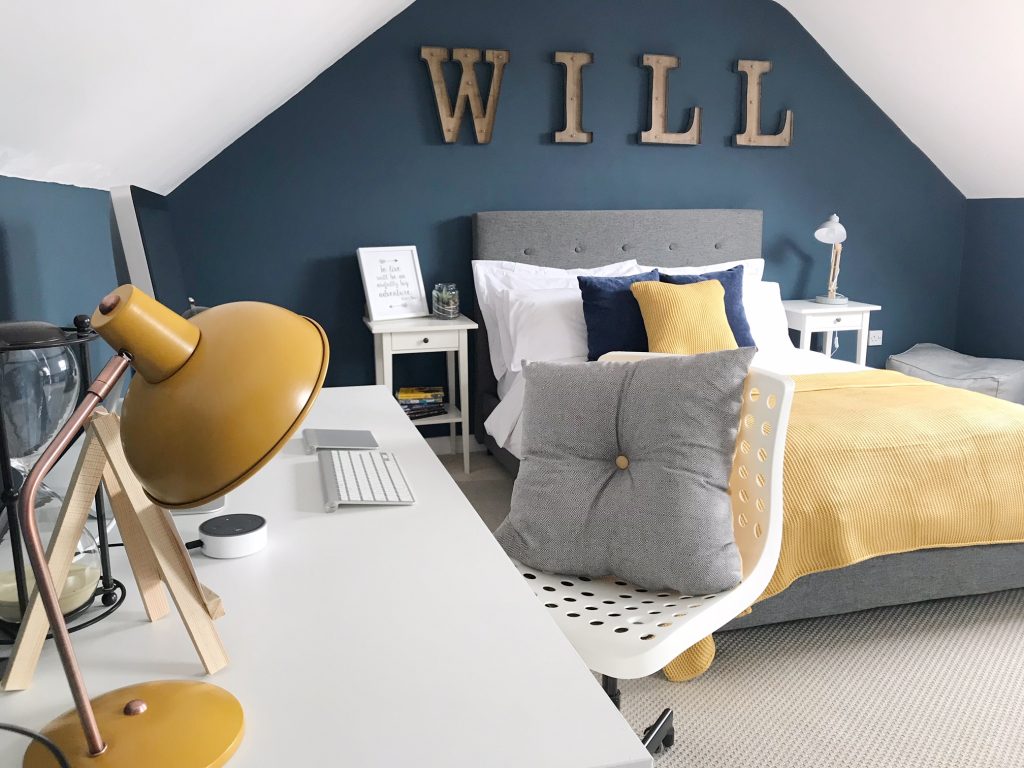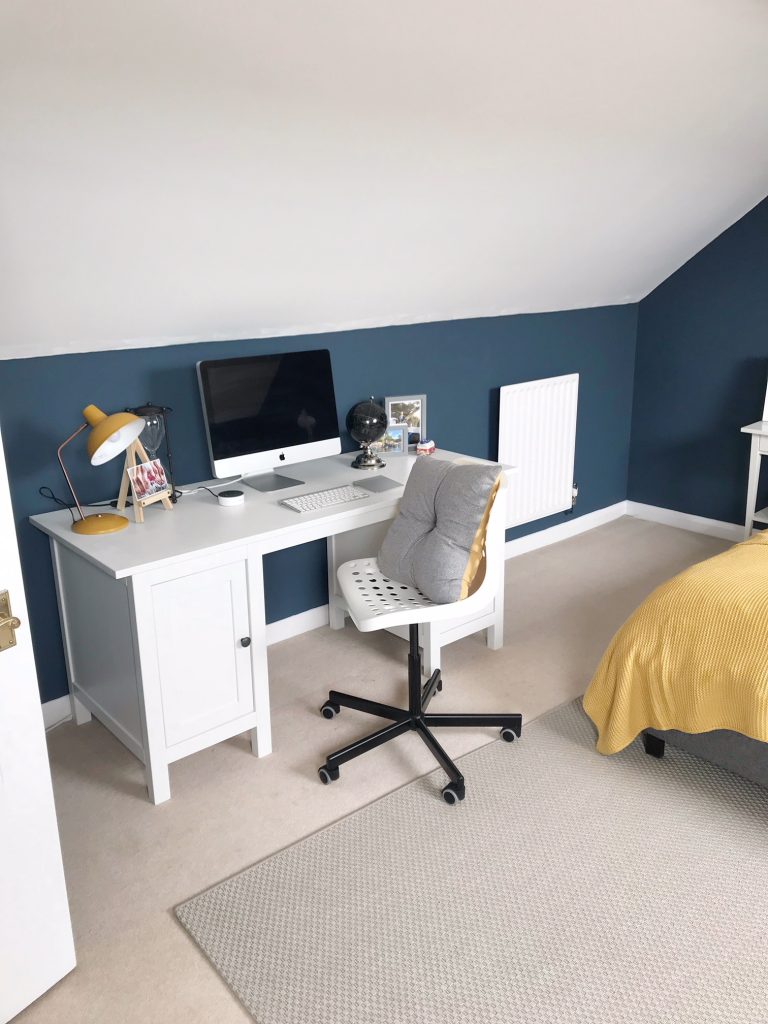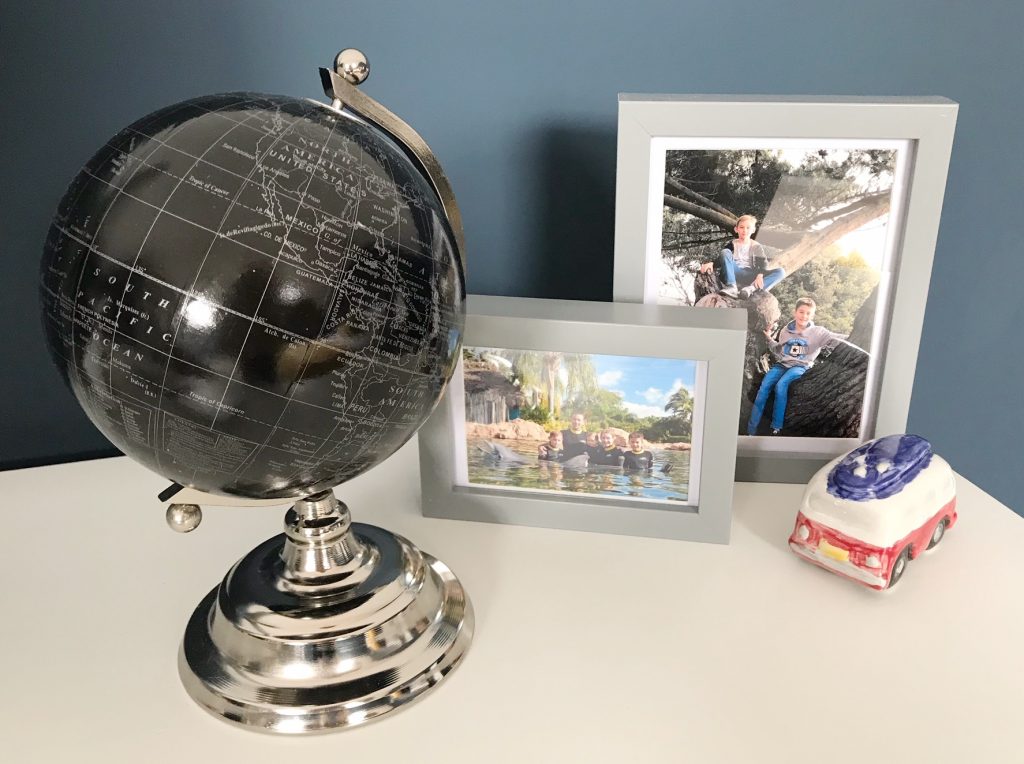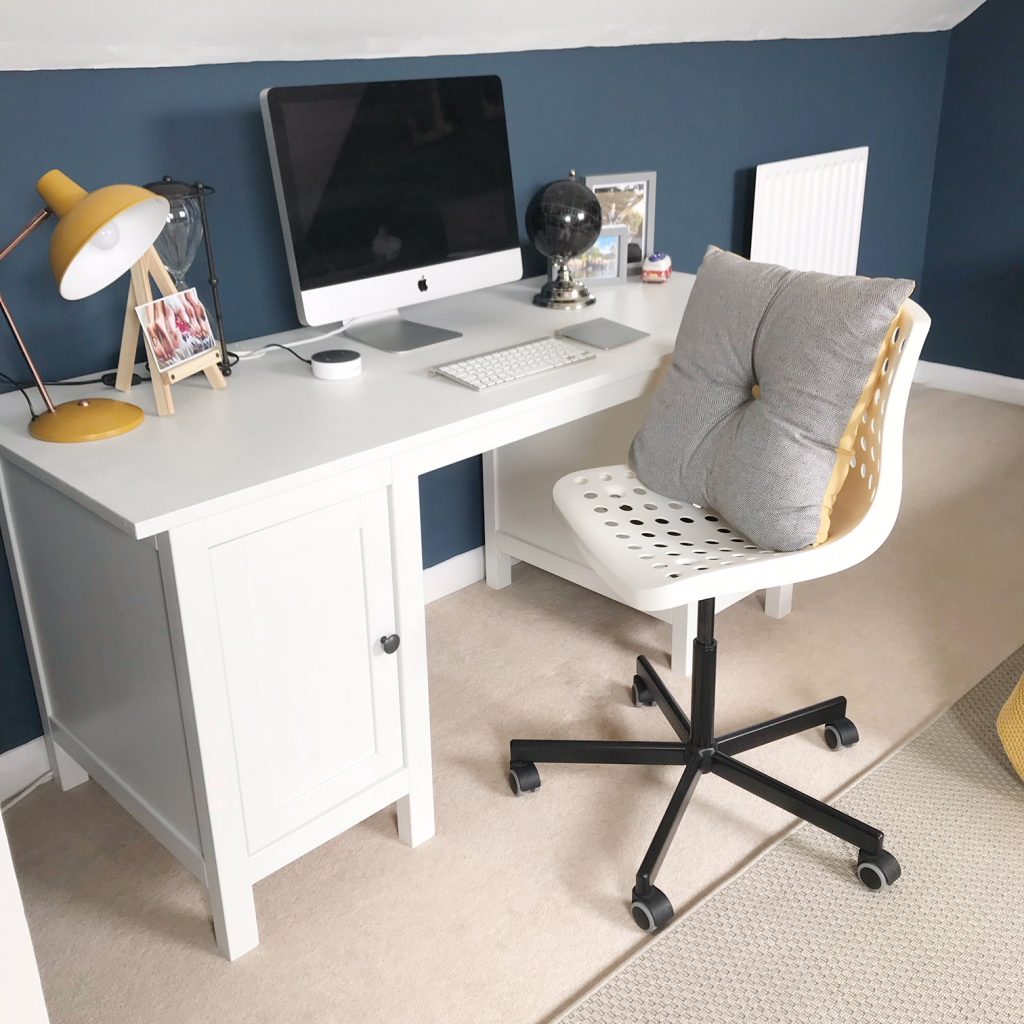 For additional seating, this grey herringbone bean bag was popped in the corned & coupled up with a magazine wrack means he has the perfect place to chill out & read.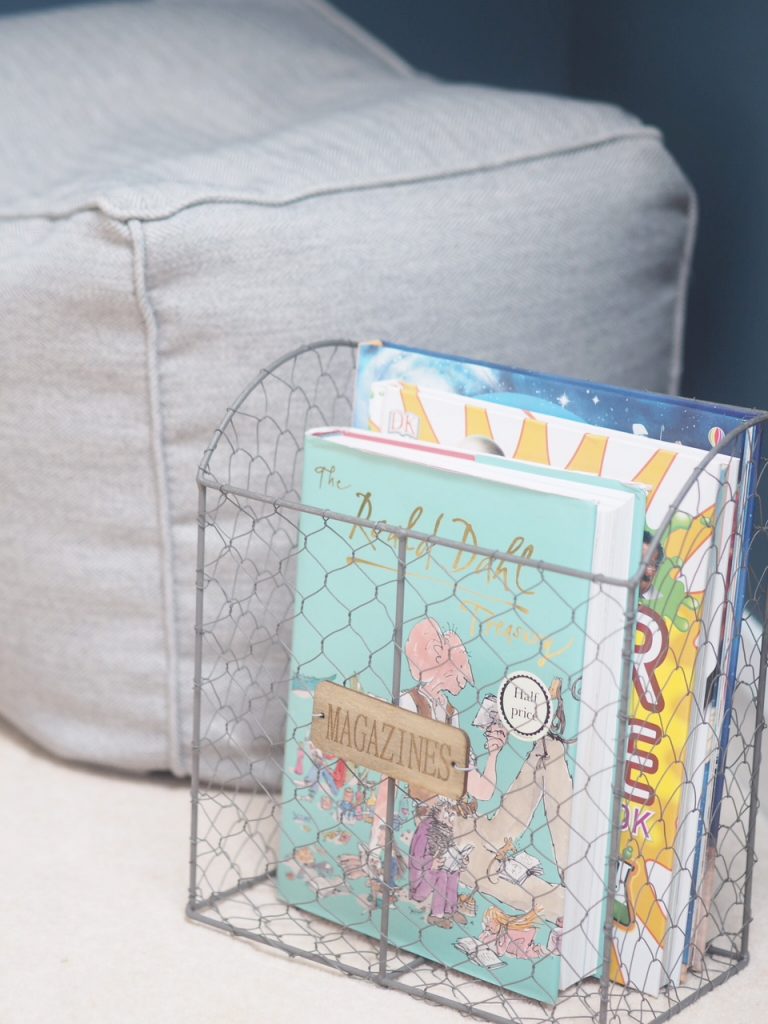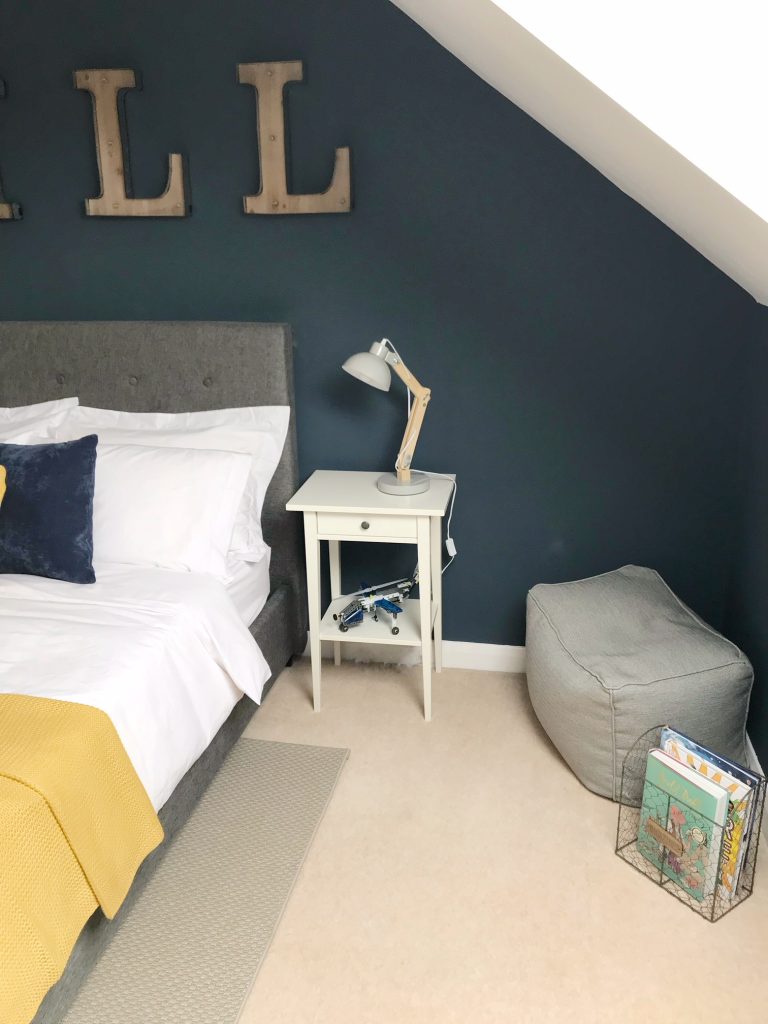 The drum kit has been moved to the other side of the room & I decided to customise his existing wardrobe with some chalk paint – ideally I would have put a chalk/memo board up but sloped ceilings can be tricky to work with so this is a great solution & was super easy/cheap to do.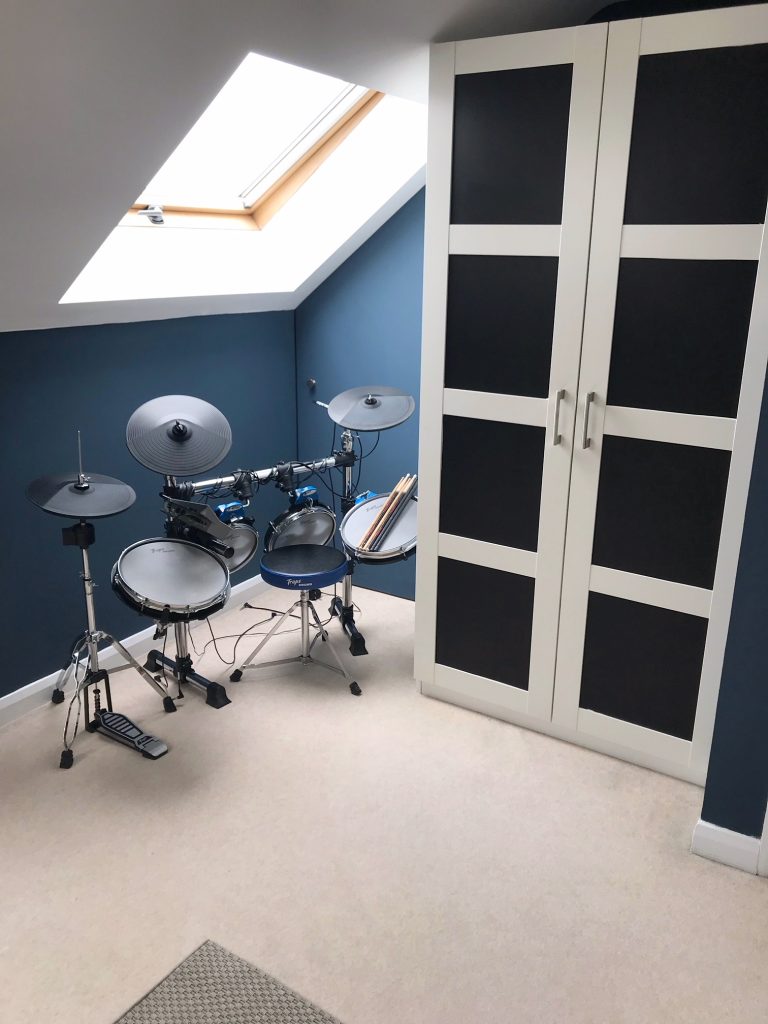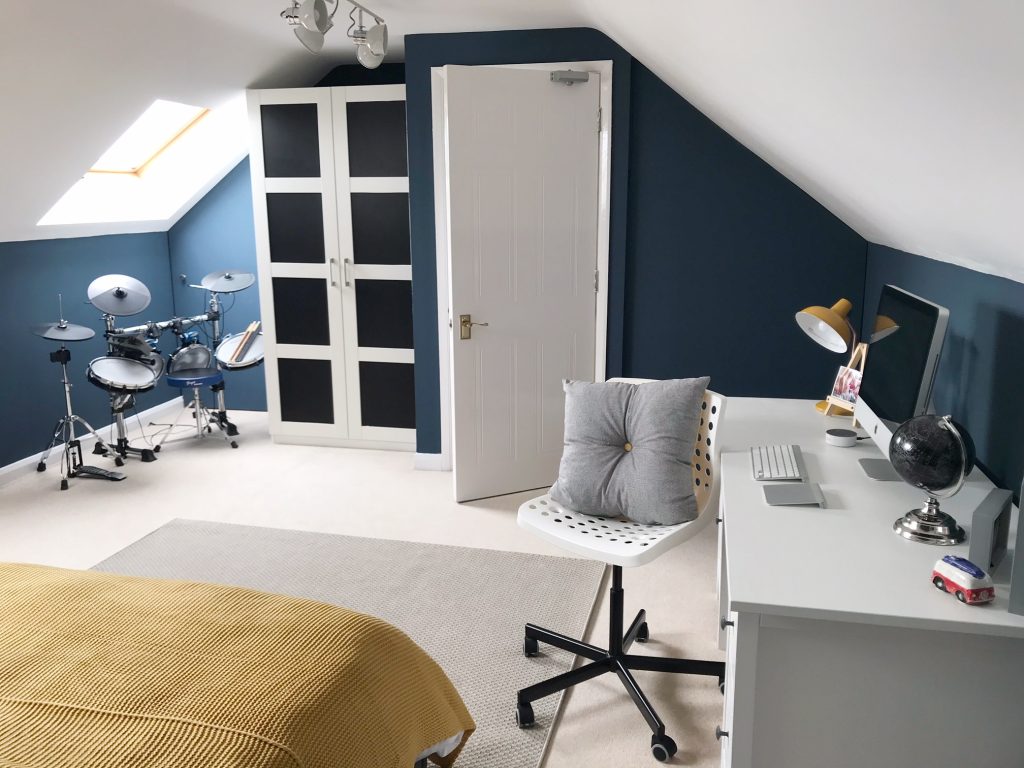 How amazing does it look?
I did the room whilst he was away on a school trip the past week so he saw it for the first time this morning (his birthday!) & thankfully he loves it just as much as I do. A place for him to call his own & grow in to.
Love,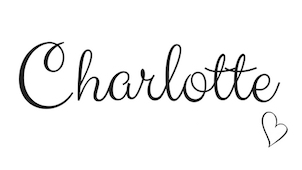 *This is a collaborative post