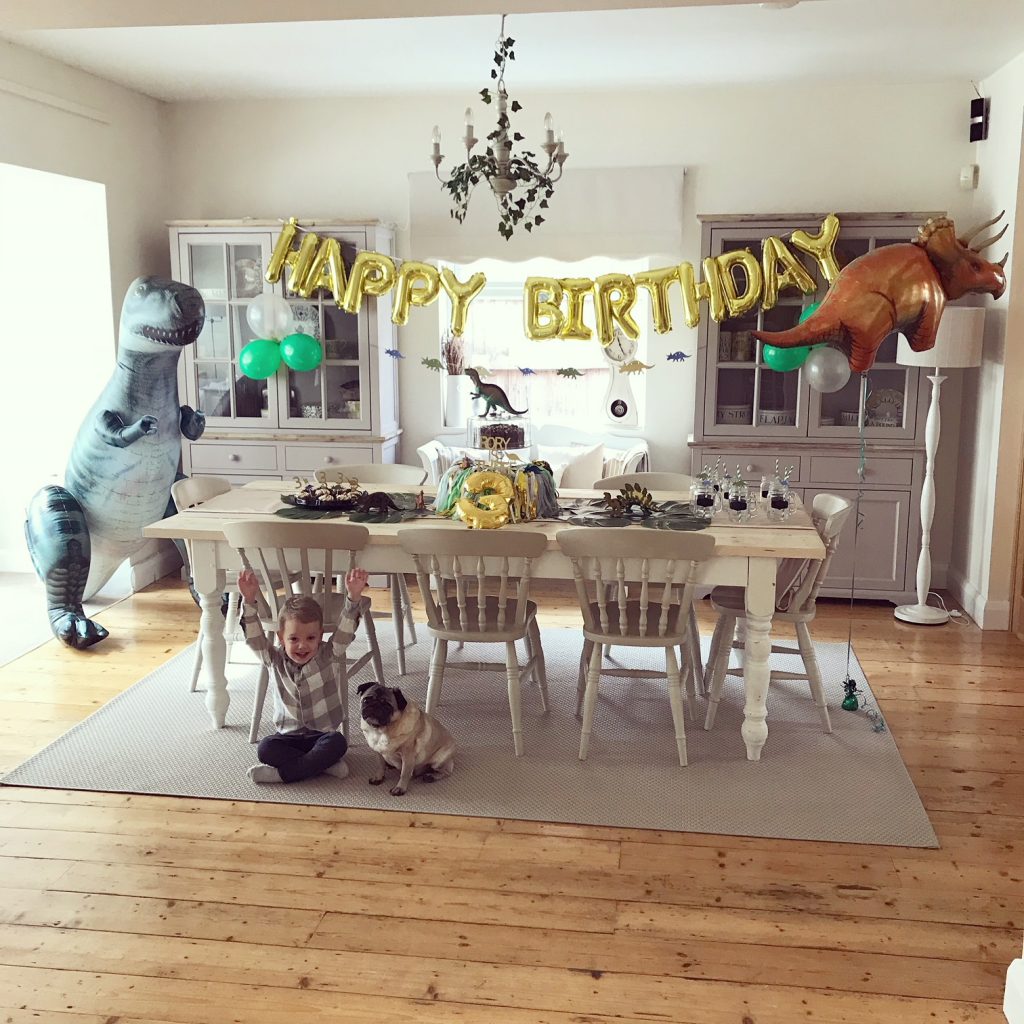 Yesterday we threw a birthday party for Rory's 3rd birthday; keeping it fairly low key we invited family round to celebrate & had such a fabulous day so I thought I'd share some pictures for anybody else planning a party soon.
I decided to go along the dinosaur route seeing as Rory absolutely loves them & all I seem to hear all day is 'RAWRRRR'.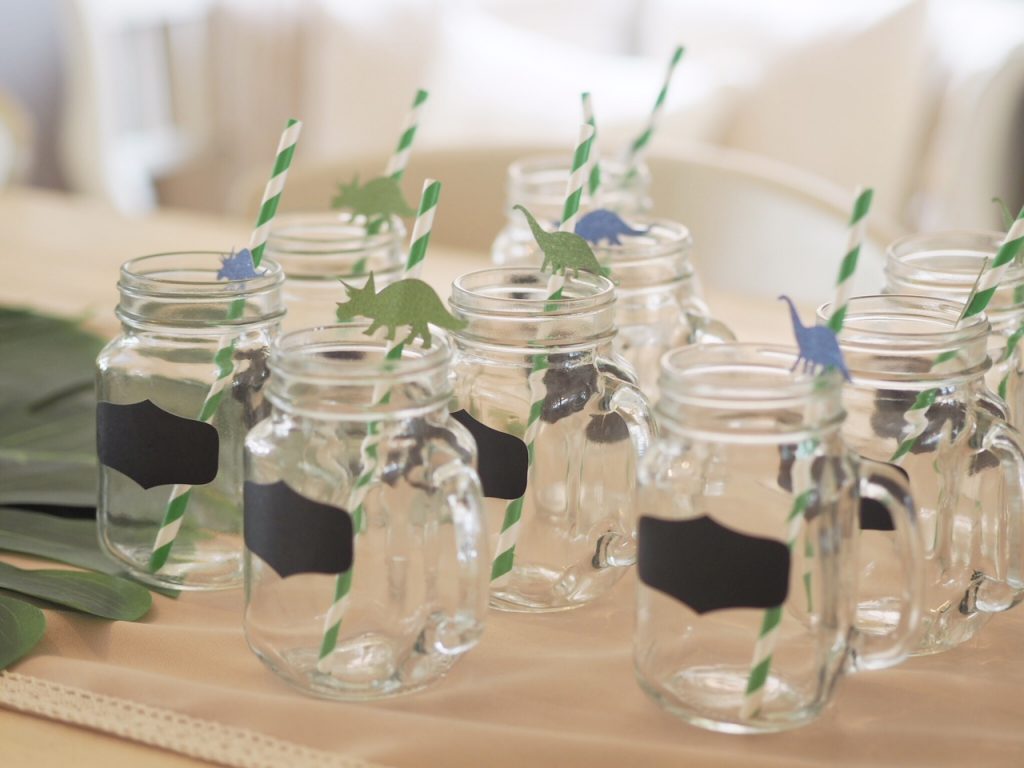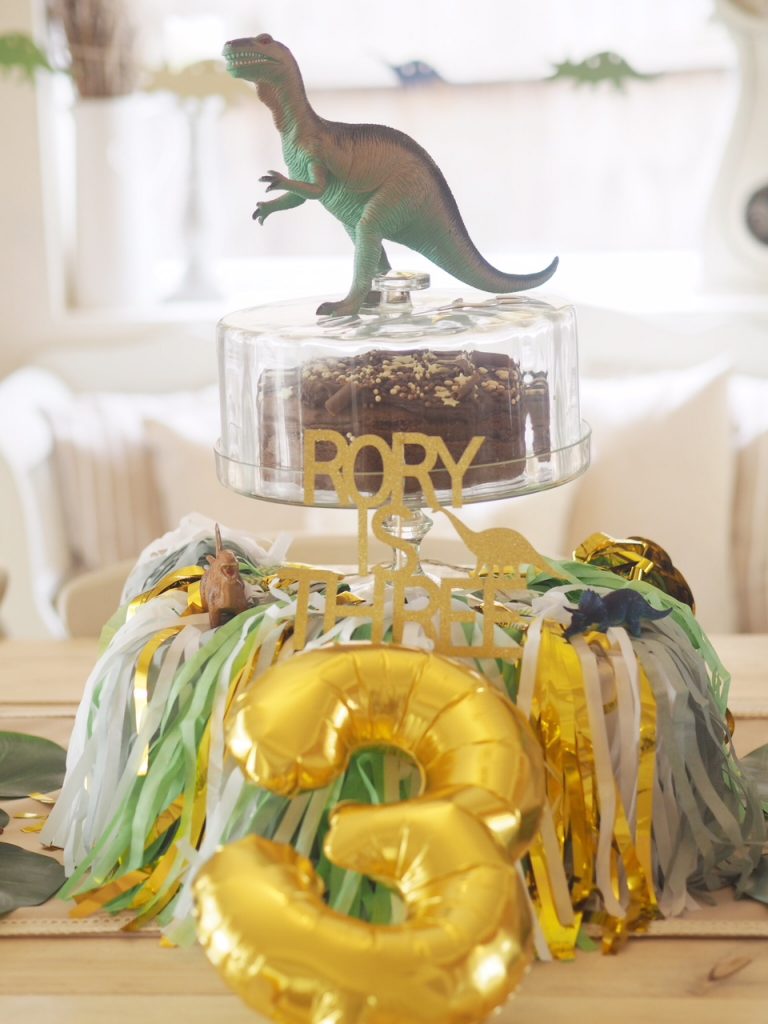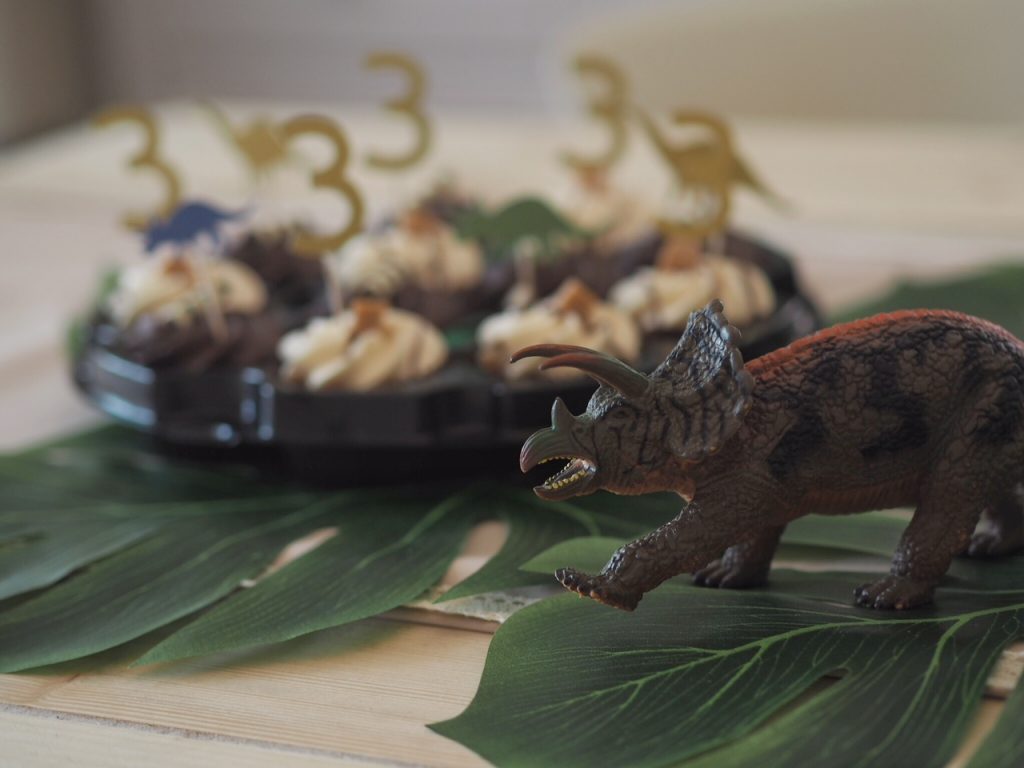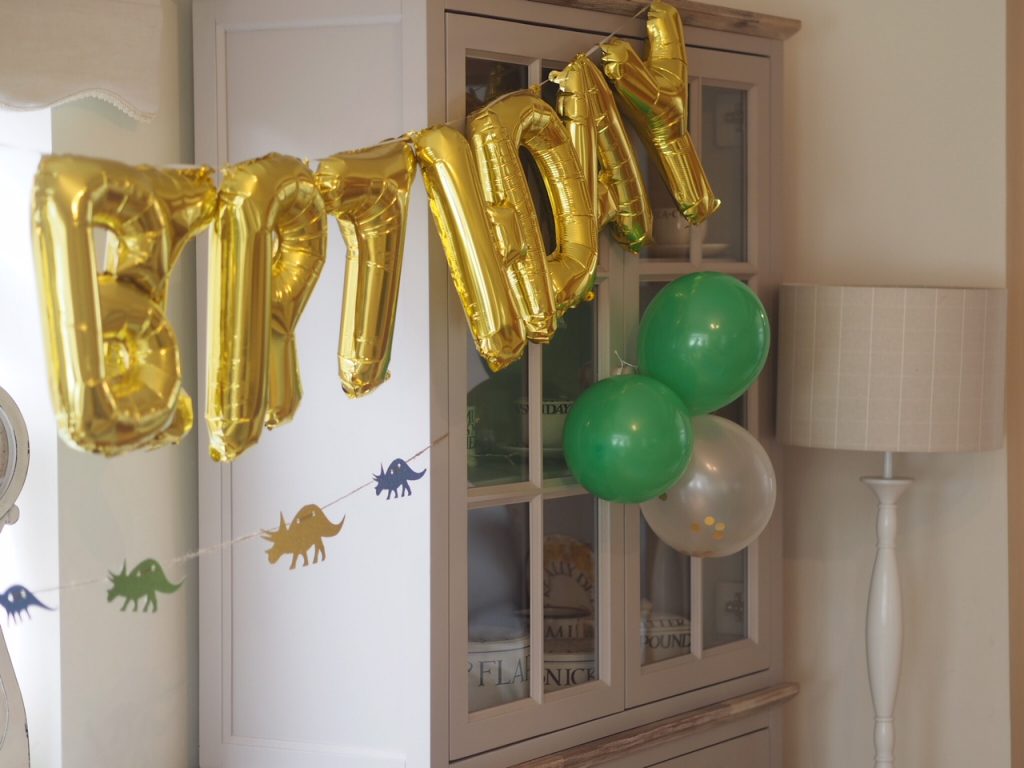 The majority of the decorations were from the wonderful Alices Accessories who I discovered last year when planning Elsa's 4th birthday party – I got in touch with her & told her I wanted to throw a dinosaur party for Rory & together (with much Pinterest searching) we came up with a few ideas in a green & gold theme.
She sourced/made the 'happy birthday' gold foil reusable balloon banner, the 'Rory is three' cake topper, the cupcake toppers, the dino straws, the dinosaur banner, Rory/dinosaur banner, tissue pom-poms & the green/clear gold sparkles balloons which you can find on her Instagram page here or through Etsy here.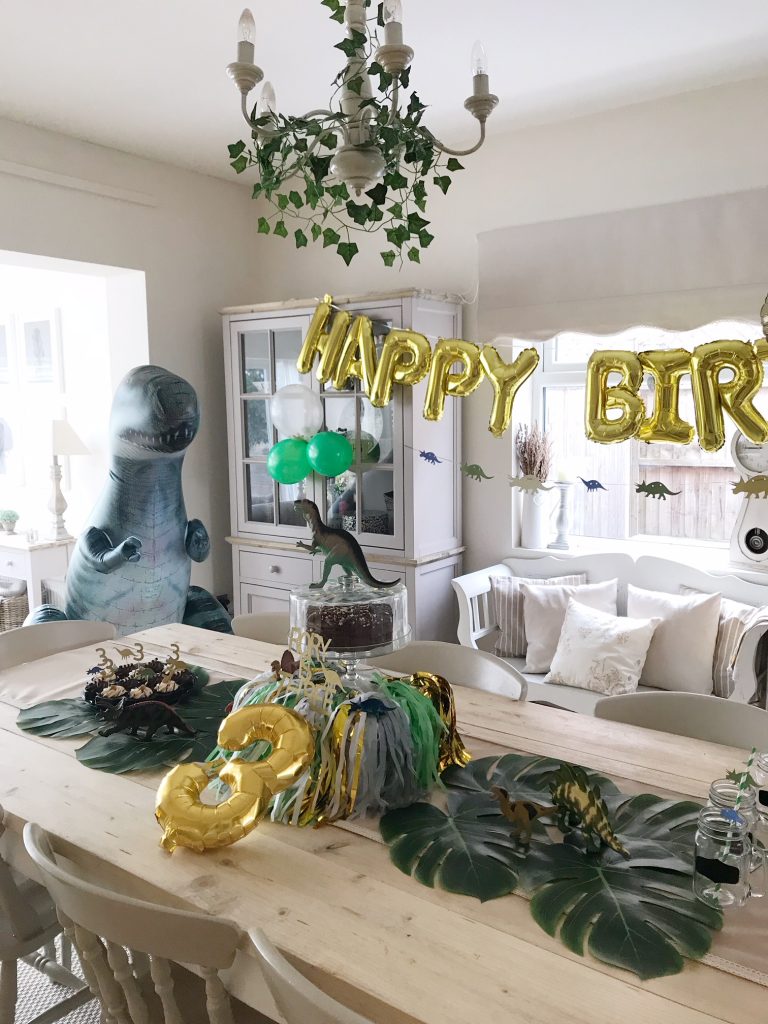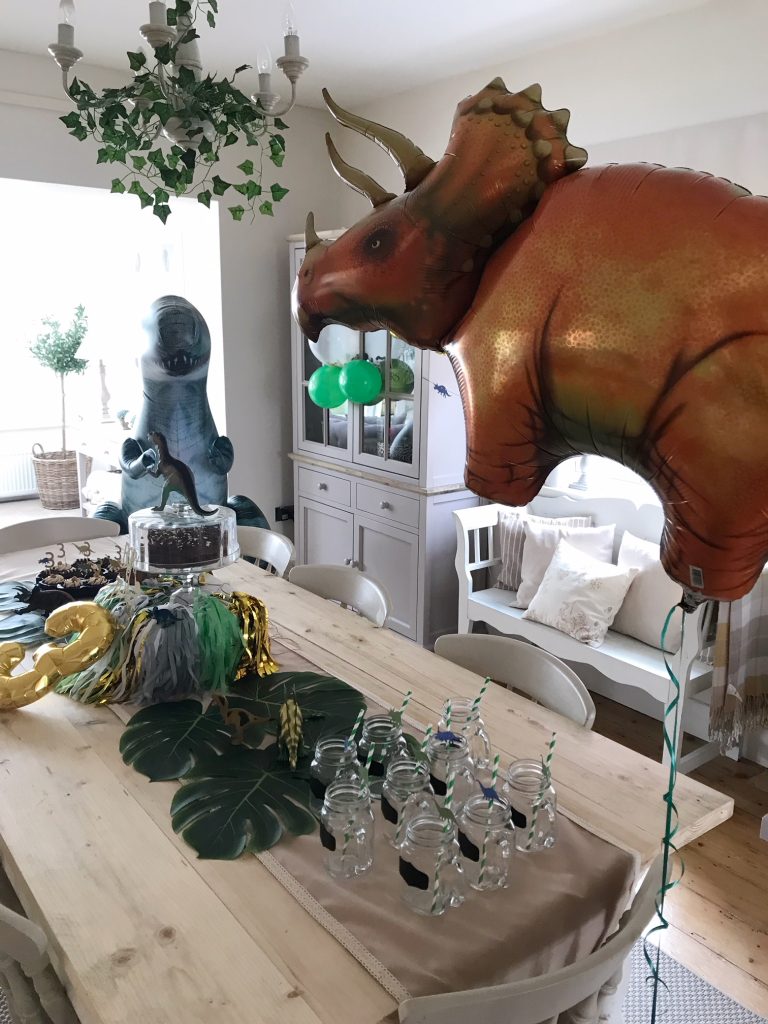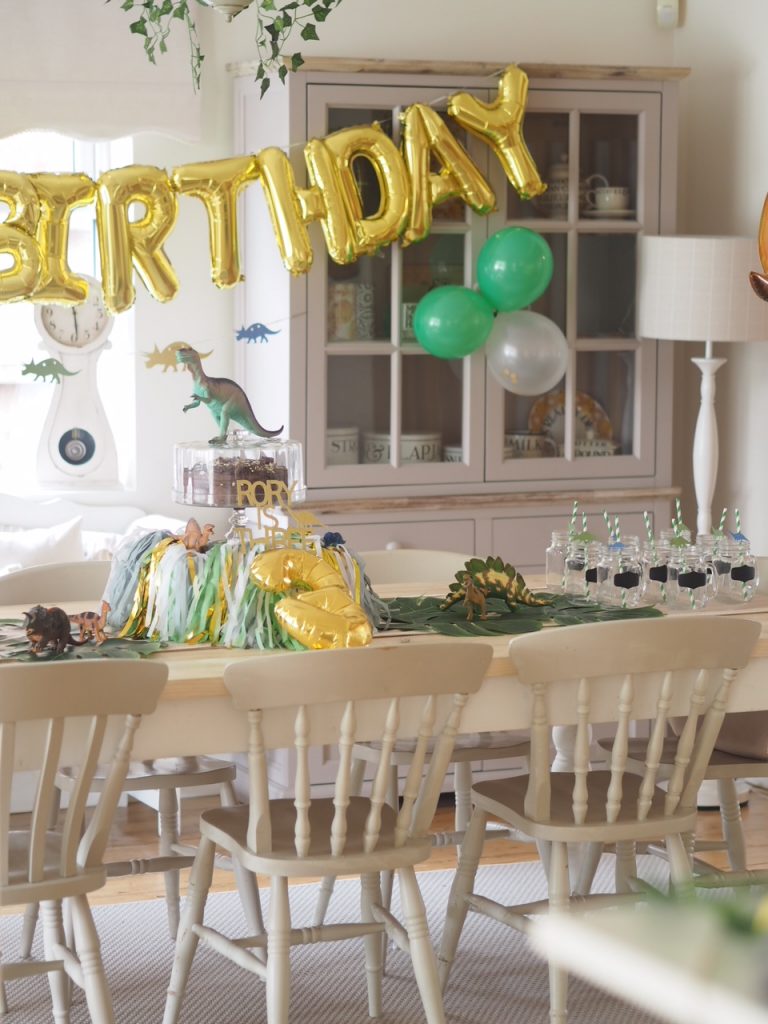 We already had lots of plastic dinosaur figures so the other bits we got were a dinosaur balloon (we did have 2 but the other one was popped within about 30 seconds!) & I also decided we simply needed a 6ft inflatable dinosaur which was a bargain at £12.99 (less than one balloon!) from Argos here.
The ivy around the light & the palm leaves were both from a local party store called Peeks.
Food wise, I did a similar spread to what I put on at my workshops. I ordered in some sandwich & wrap platters from Sainsburys (who do an amazing array of party food, you can view here) & then bought some salad, cold meats, pizzas etc from Aldi as well as drink.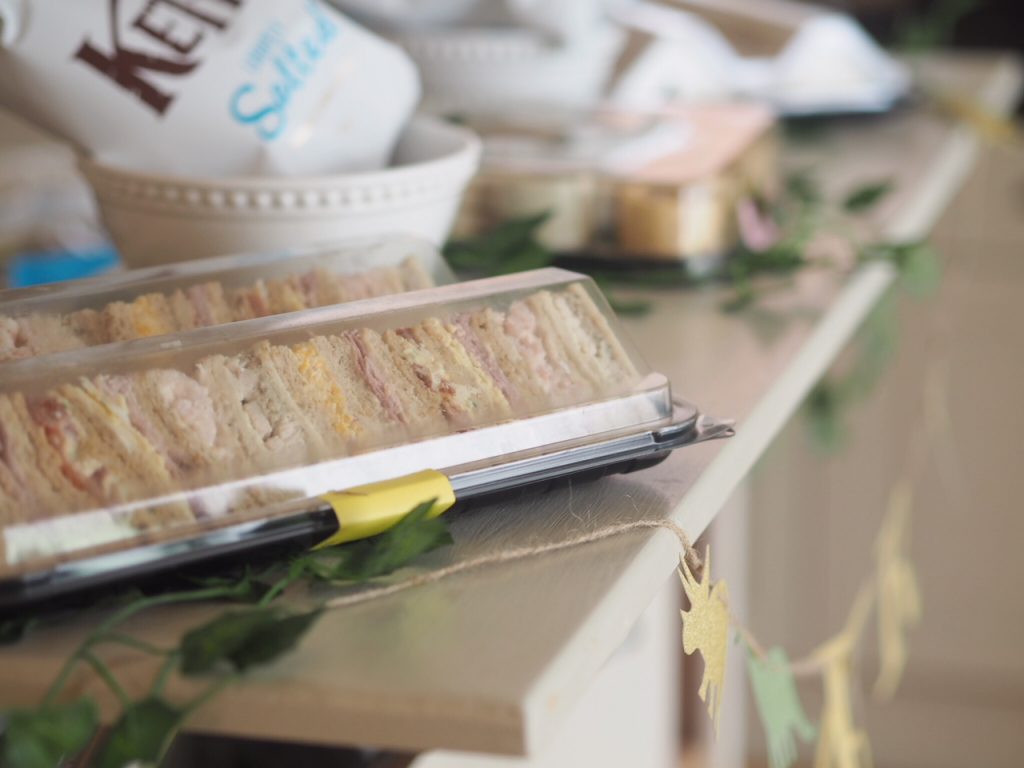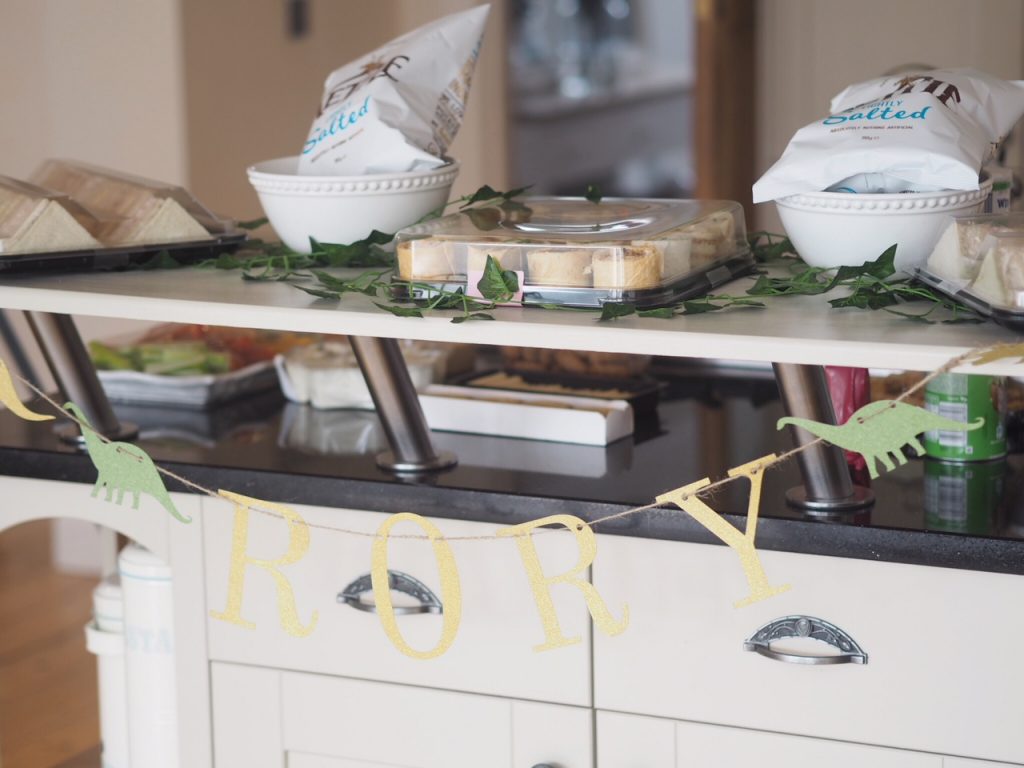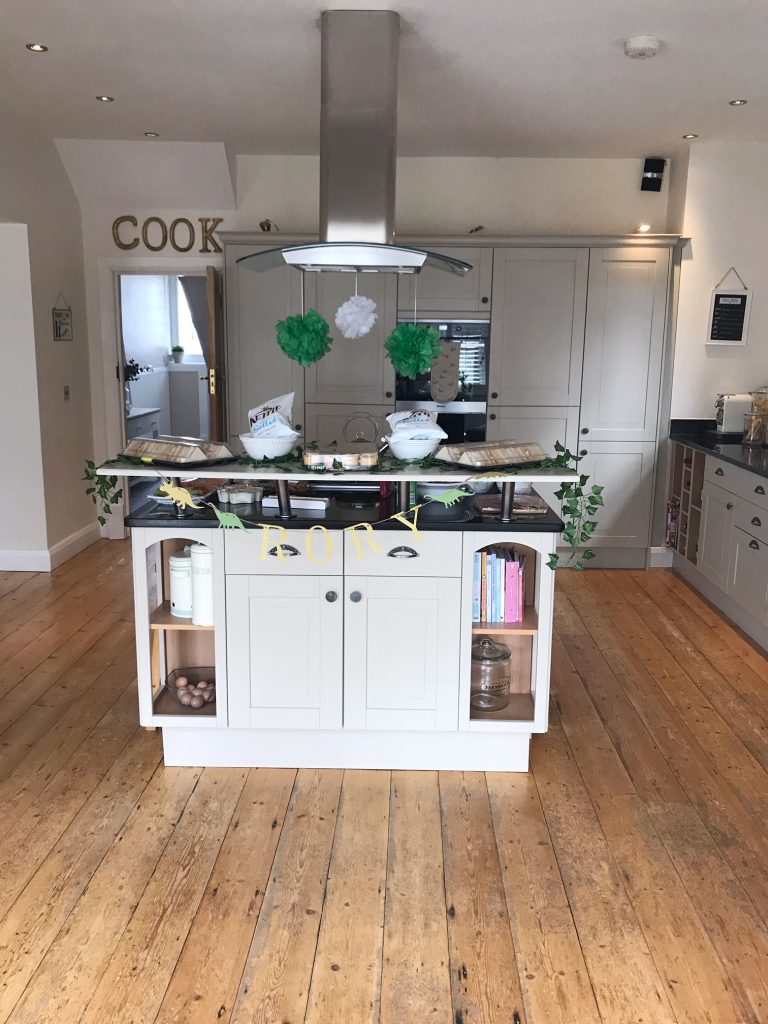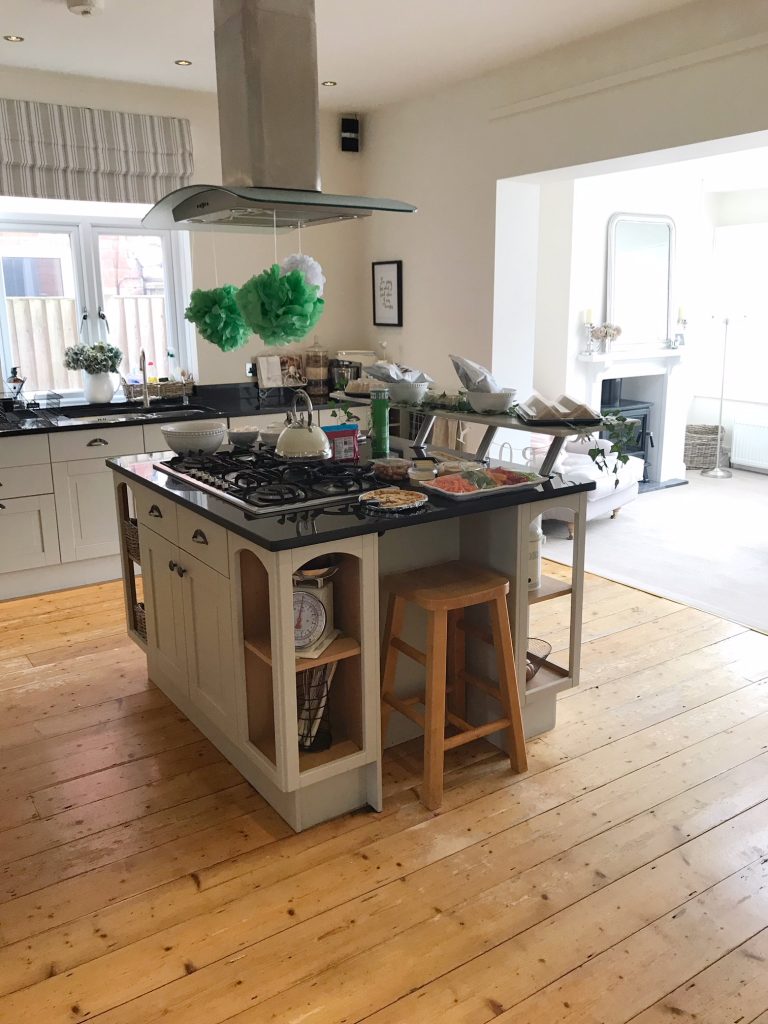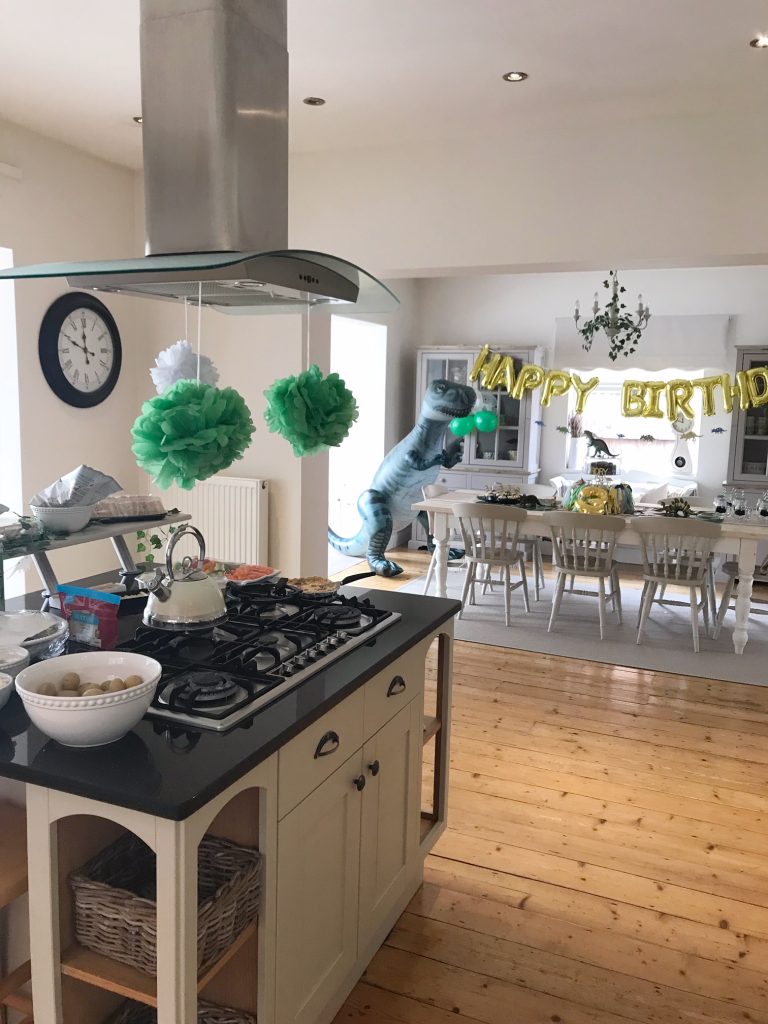 Last year Elsa requested a unicorn party (& she's just as obsessed this year so will no doubt be following suit for her 5th next month…) which you can read about here. Again with lots of bits from my go-to lady for all things parties, Alices' Accessories.
We had a fab day & Rory was thoroughly spoilt – now to find homes for all his lovely presents!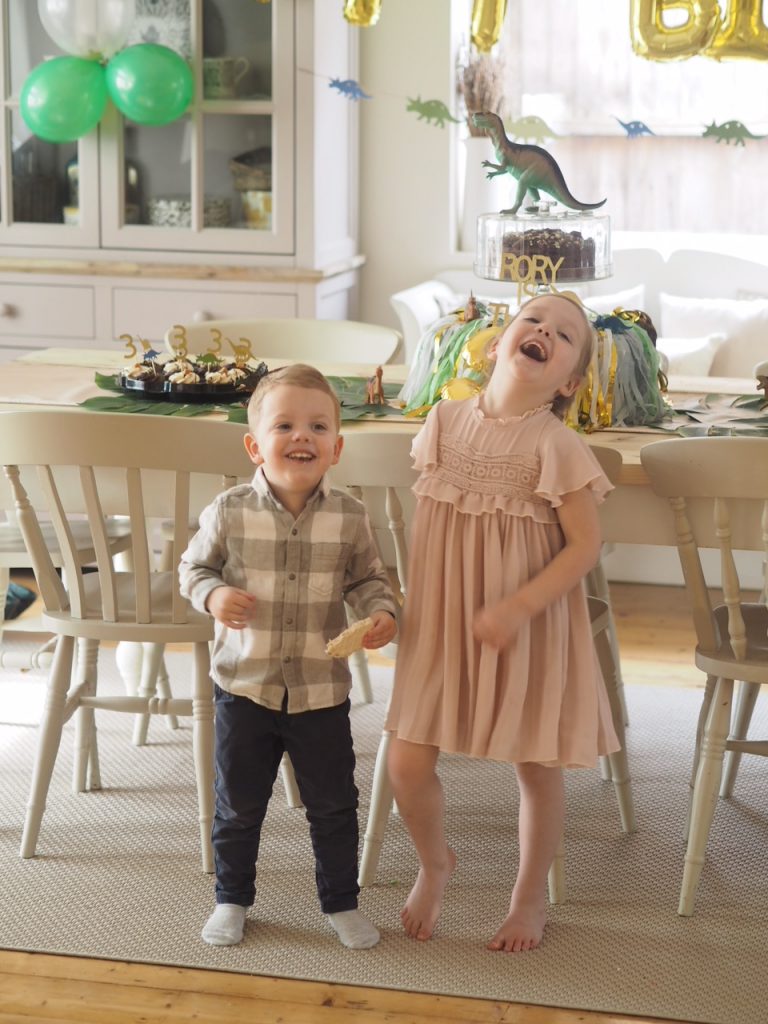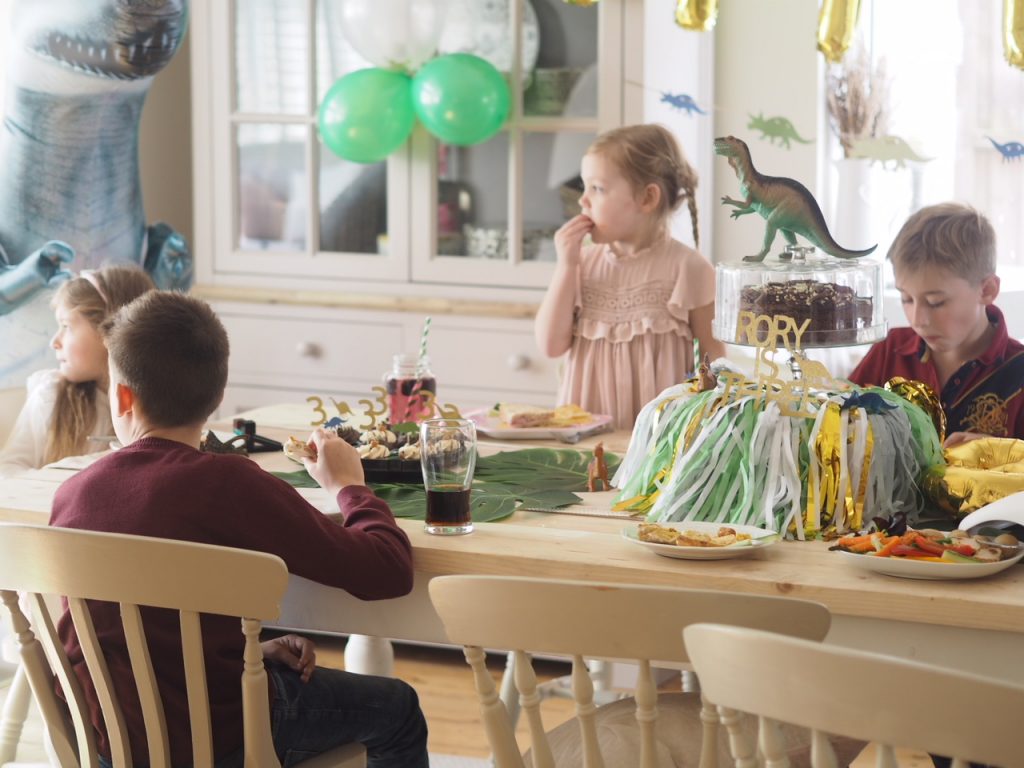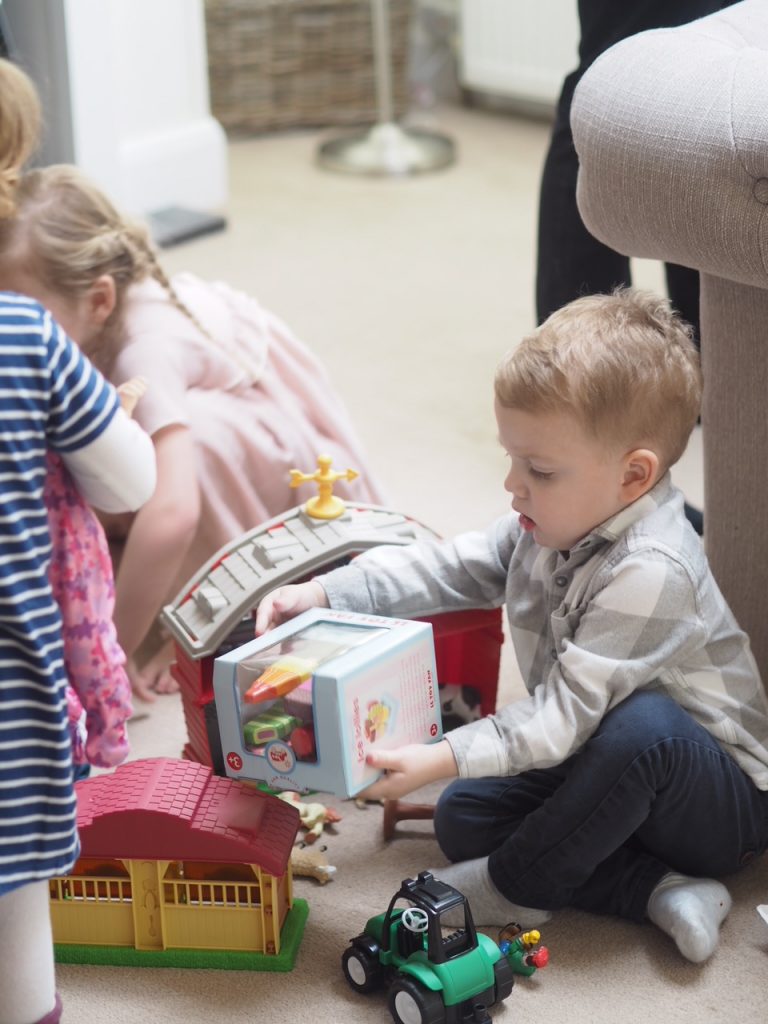 Birthdays are always an emotional time for me; it makes you reflect on how much they've grown in such a short space of time & in some ways, I find I mourn them being little. Don't get me wrong, they drive me up the absolute wall 99.9% of the time & it is just getting so much easier the older they get as well as me being able to get myself back….but can't they just stay tiny & cuddly forever?
With Elsa, I wrote letters to her, starting from whilst I was pregnant. In typical second child syndrome fashion, I never got round to writing any for Rory but after shedding a few tears on Friday night after tucking our last ever 2 year old to bed, I read back on the blog post with the letter I wrote on her 3rd birthday (read the post here) & thought how I really should.
So here, goes.
'To my gorgeous boy, 
How has it been 3 long years since I first held you in my arms? I can't believe how quickly that time has gone but also in other ways it feels like you've always been here. I can't remember life before you. 
We already had your big sister Elsa (or Aya as you call her, even though you can now say Elsa…) so I was already a mother. But, my darling little boy, you have made me an even better one & taught me so much. I may not have as much time on my hands with two of you little pickles running around so your book of letters is slightly lacking.
You were the missing puzzle piece to our family & even hearing your thumping heart beat on that first scan when you were in my tummy confirmed that. When you go on to have a second child, you always wonder how your heart could possibly stretch to hold that much love, but do you know what? Your heart doesn't stretch, you grow a whole new one. Mine are SO full & every single day I count my lucky stars to have you & your sister. You're both my world, my everything & I would go to the end of the earth for you. 
You call yourself 'bum bum Rory' but we call you 'Rory-bear' or 'Roz/Rozza'. As you get older your personality is coming out more & more & the things you come out with make us howl with laughter. 
You're a caring little boy & call Mungo your best friend, always giving him a kiss before bed. I wonder if you'll share your mumma's love for animals. You play constantly with Elsa & are pretty lost without her since she started school but are learning to be more independent without her doting on you & are now going to nursery a couple of days a week to make your own friends. You love dinosaurs (hence the dino party!) & your favourite toy is your pirate ship. You also love eating, it's pretty much all you do…I hate to imagine the food bills when you're a teenager. 
I couldn't write you a letter without mentioning your spirited side though; you mastered the grumpy/angry look from birth & that definitely sums you up. For the first year of your life (considering you had reflux, lactose intolerance & couldn't be put down!) I wondered if you'd ever not be miserable but these past few months we've seen you come out of your shell & quite literally 'turn that frown upside down'. I would be lying if I said that I found parenting a walk in the park (I constantly doubt myself as a Mother; the worlds hardest job) but with you being able to express yourself the more your talking comes on, it's definitely getting easier. That being said, I do love a bit of a challenge & you most definitely keep me on my toes.
Rory, I know I'll one day be that pain in the arse mum & you'll have your own family to think of. I can only hope that your daddy & I have raised you to be a loving, devoted & hardworking man, husband & eventually a father yourself. I hope you always remember the unconditional love I have for you. How you snuggle in to me as I hold you close & all those tears I've wiped away when you fall. The times we've laughed & played & more than that, I hope you always stay close to your sister. The bond you two have is absolutely beautiful & nobody quite makes your face light up like her. She is so patient & loving towards you & a time will come when you are both go your separate ways to make your own lives but always remember that she was your first partner in crime & will always be there for you as your big sister.
My final part of this letter is to say thank you, from the bottom of my heart. Thank you for completing our family, for giving me the little boy that I always dreamed of & for choosing me as your mummy. I am so proud to call you my son & just know that the life ahead of us is full of wonder, beauty & love; so much love. 
I love you always, your mumma xx'
Love,