In the past few weeks we've waved goodbye to Summer & are getting well & truly stuck in to Autumn with a crispness in the air & the evenings drawing in.
Personally I absolutely love the Autumn & look forward to cosying up on the sofa under mountains of soft throws with a hot chocolate. I always find this type of year one of the most magical; when the sun is still shining but all around is frosty, when leaves crunch beneath your feet with conkers & pinecones lacing the ground.
This is the time of year when our natural urge is to snuggle up & settle down ready for the impending Winter. It's also the time when our homes become ever more inviting & something it's hard not to dream about when out & about on the dreaded rainy nursery/school/work run.
My home is very neutral in terms of decor & paint colours, which makes it really easy to accessories for the seasons. Over the past couple of years I've bought aka 'invested' in some bits which come out every year around the same time. My aim is to ease the transition between Summer sunshine & oncoming chilly Autumn/Winter.
This season is all about what's going on outside. With the leaves changing colour & nature really coming into it's own, it's a perfect opportunity to bring the outside, in. Think a display or table centrepiece of pinecones & munchkin pumpkins to give a real Autumn feel as well as adding a focal point. The great thing is that you can bring nature in to your own home which costs absolutely nothing (so it definitely suits No Spend October!). Think leaves, pine cones & dried flowers.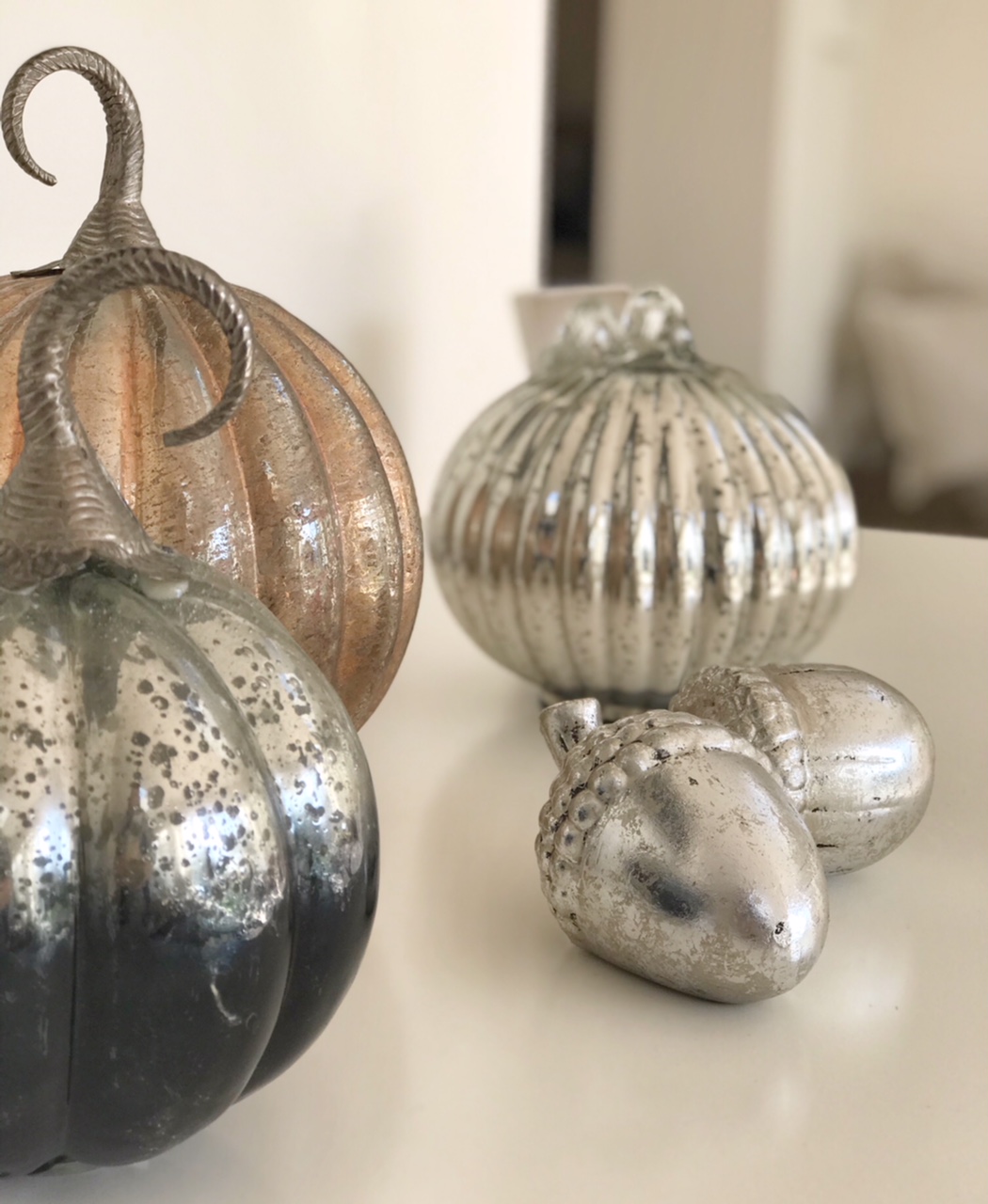 These gorgeous glass pumpkins were finds from Homesense along with the Autumn garland which I've placed around my arch mirror (from The Range here) removing my floral wreath until Spring.
You also can't go wrong with the all-too-Instagrammable white munchkin pumpkins which were sent to me by the lovely @thehoppyhome when I firstly couldn't buy any because of No Spend October & secondly couldn't find any! Where are they all hiding?
The dark evenings are perfect for lighting candles which also give off a gorgeous flickering warm light whilst adding a cosy feel to a space. You can never have too many & they too definitely an investment (for when power cuts strike…which could be anytime, right?!).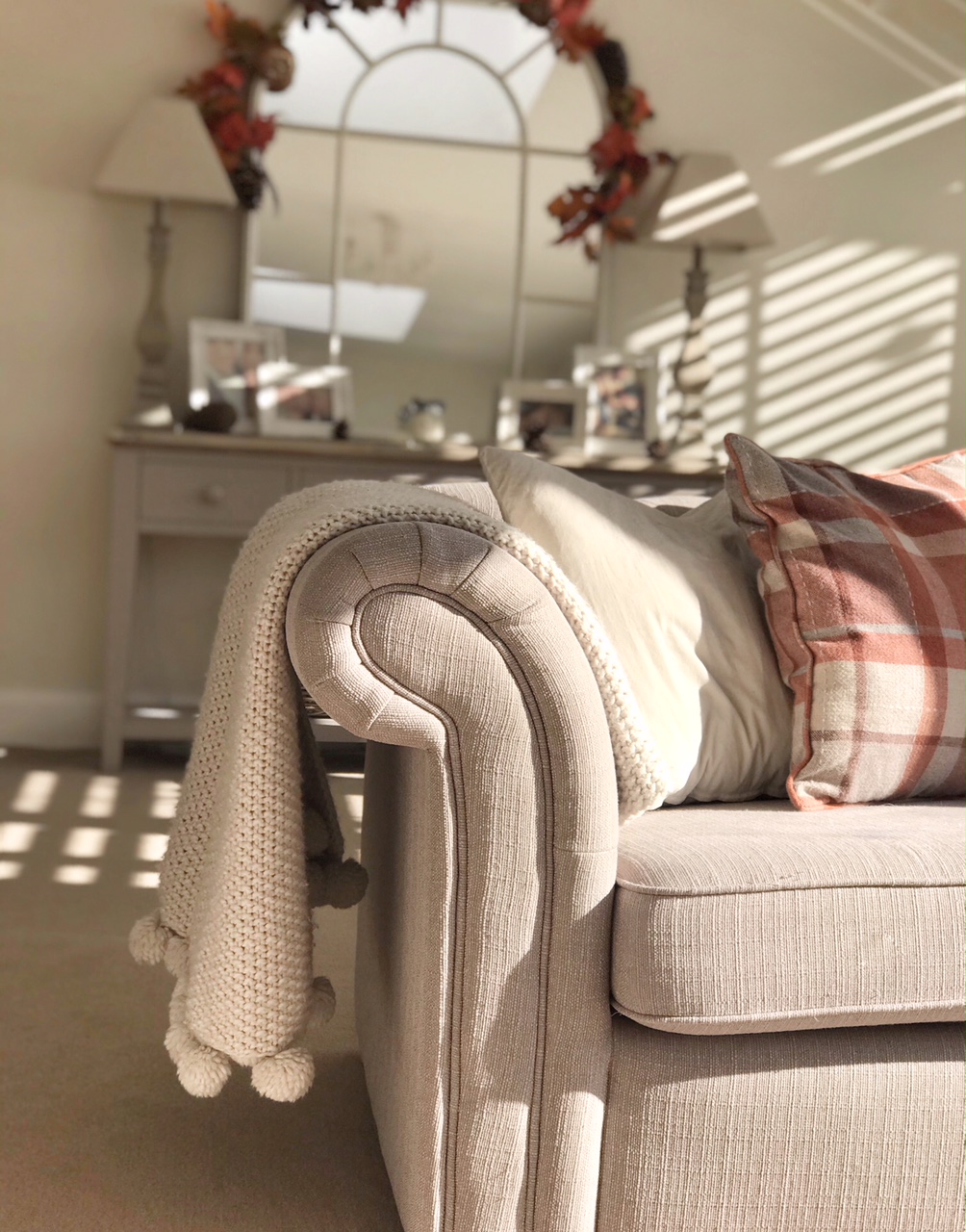 Thick blankets are a must for this time of year as the weather changes. I love cosying up on the sofa so have a few scattered around the place to grab when i'm feeling chilly. This pom pom throw is from Marks & Spencer here.
I've changed up the look of the lounge by replacing the middle cushions on the sofa with these gorgeous burnt orange tartan cushions which were from Next a couple of years ago.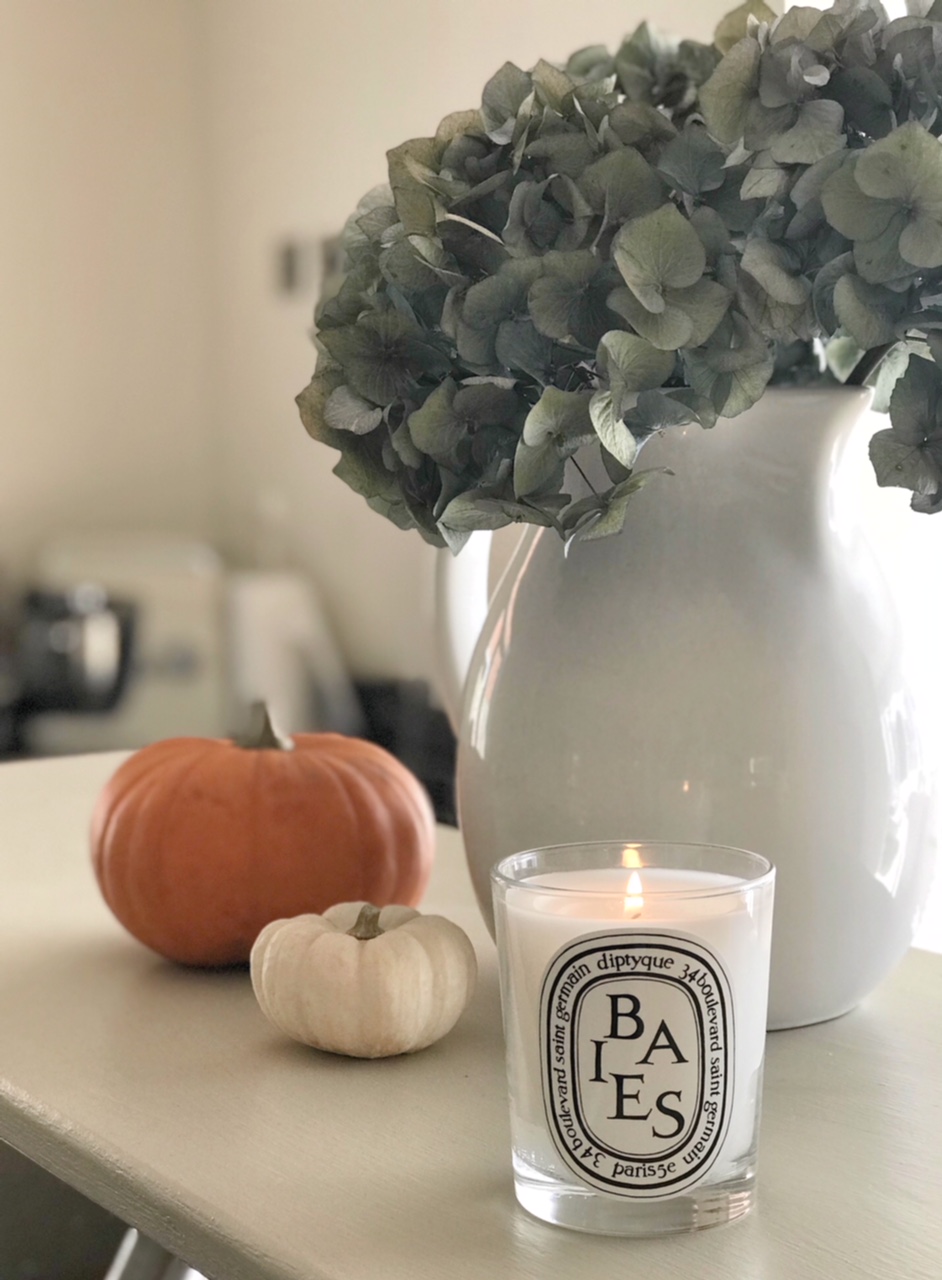 Flower wise, it's time to step away from the usual lilies & roses. I recently dried some hydrangeas (which you can find my tutorial on how to do here) & love how they've changed colour to deep rich colours. They can keep for years after they've been dried & are completely free (if you know somebody that will let you cut some anyway!).
Do you 'style the seasons' with Autumn?
Love,