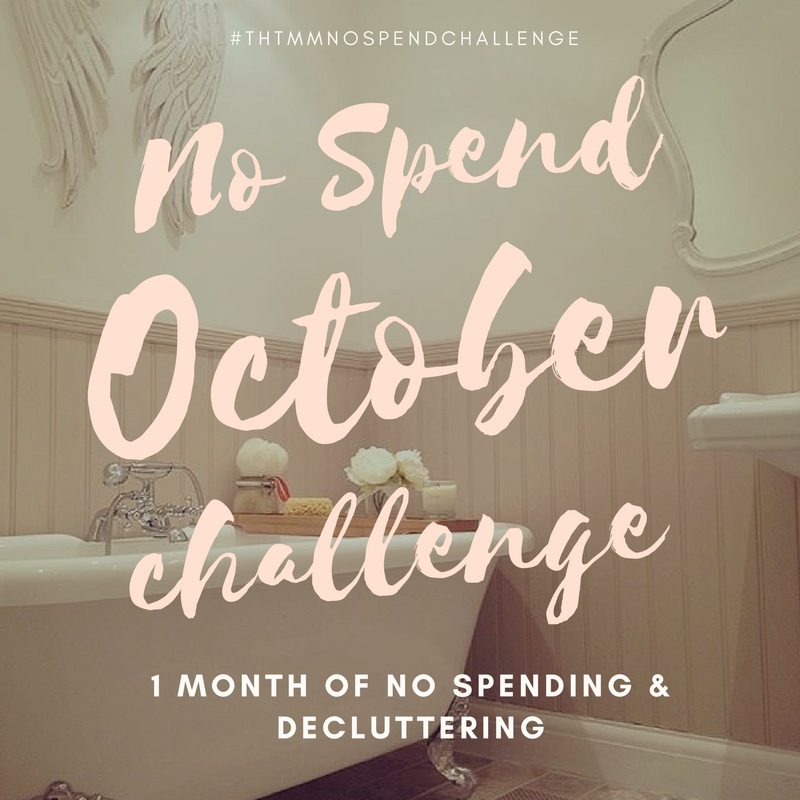 Back in September last year, I attempted 'No Spend September' & failed miserably but what it did do was that it really made me really think about what I was spending money on & how most of it was completely pointless.
I've decided, a year (& a month) on, to take on the challenge again but this time with a slight twist. This will give Mr THTMM (who's doing it too) & I a bit of a boost just before Christmas.
Our main outgoings are food/drink (so this should help our waistlines too, we go out for lunches with friends a lot & are suckers for a takeaway), homeware (I've got an issue guys, if someone knows an interiors anonymous support group then please sign me up) & just 'popping' into places like Home Bargains where you go in for soap & come out with half the contents of the shop.
The rules are relatively simple; no spending on anything that isn't essential. But what exactly classes as essential because I've been known to class candles as an 'investment' & talk my way out of buying £200 artificial flowers.
Essentials are –
Mortgage/rent – for us this is £720 PCM
Bills/utilities – for us this is around £350 PCM
Grocery shopping – for us this is around £320 PCM. NO sneaking in clothes/magazines/homeware though!! Food only.
Petrol – for us this is around £50 PCM
Nursery fee's – for us this is around £150 PCM
Other – Sky/Netflix/life insurance etc – for us this is around £60 PCM
My one twist this year to this challenge (mainly because I was completely miserable at the concept of not being able to buy ANYTHING & I may NEED some fresh blooms & some white mini pumpkins which only cost a few £££ but are, as part of the challenge, off limits as Autumn decor probably isn't an 'essential' booooo) is that you can spend….as long as you earn it from selling things around your home.
So, this will also encourage decluttering. No cupboard, drawer or wardrobe shall be left untouched by the end of October when we're all feeling desperate & needing a bit of retail therapy. Old clothes that are too small should be whacked on Ebay, unwanted toys on Gumtree & the odd car boot sale shall be held.
Our houses will be empty & our bank accounts full…just in time for Christmas when we'll all be poor again & our houses will be full of tat.
Are you going to take on the challenge with me? Let me know how you're doing & if you succeed by hash tagging #THTMMnospendchallenge
Love,