Recently the number of people opting for 'staycations' rather than going abroad has gone through the roof. We may not be blessed with the guarantee of sunshine but theres something so wonderful about being able to pack up the car & leave to go on a little holibobs with your nearest & dearest to experience some of the beautiful countryside & attractions the UK can offer.
We've been toying with the idea of purchasing a campervan to do exactly the above but we both know absolutely zero about cars & having to pack up everything every single time you want to leave the site to explore is probably not ideal. So what about a 'home away from home' with the ownership side of the luxury static caravans & lodges with Darwin Escapes?
The weekend just gone we went to one of Darwin Escapes 20 sites across the UK to stay in one of their lodges & fell in love with the whole principle. Whilst we were there we got a sneaky look around some of the gorgeous accommodation which is up for sale & although it does seem like only the rich & famous can afford a 'holiday home' it actually isn't like that at all & can end up being really affordable. Ranging from £17k-350k (finance packages available) they are all located on 5* parks which Darwin have redeveloped. If you wanted to take your little ones away for the entire 6 weeks holiday to Spain, how much would that cost you? Imagine being able to go to your 'home away from home' for that time instead & them have access to on site swimming pools, kids activities, adventure playgrounds, tennis courts & all sorts.
So how do you style a holiday home to make it the perfect 'home away from home' experience –
1. Make it your own –
The brilliant thing with owning your own caravan/lodge/apartment/cottage is that actually, it's yours to do with it as you'd like. Much like your house at home, you have the ability to decorate it in colours that suit you & furnish it with items that you love. In fact, if your home is your sanctuary then you could model it on your house!
2. Make it comfortable –
Big comfy sofas to sink in to, thick furry blankets & a log burner to snuggle up under to escape in the winter, Egyptian cotton bedding & memory foam mattresses. When you enter your holiday home, you should immediately feel at ease & be able to forget about all of life's stress & worries to focus fully on 'me', 'us' & 'family' time. One of the perks of having your own space & always going back to the same is that it doesn't take you a few days to adjust or feel at home…it's immediately familiar & you'll know where the kettle is!
3. Leave the essentials –
Leave all your essentials there to make life easier whenever you visit. From crockery to toilet roll, bedding, teabags & cleaning equipment. You won't need to drag half the contents of your house every time. Plus everyone needs some emergency cans of baked beans!
4. Don't forget the finishing touches –
Just like your house at home, the finishing touches are probably the most important part. Frames with your treasured family photos, throws, cushions, mood lighting (lamps are always better at making things look homely rather than using main lights).
5. Rainy day activities –
Finally, to make sure you don't go stir crazy during the all too common rainy days we have here in the UK, make provisions for those days. Have a selection of paper/pens, boardgames & DVD's to bide your time until the sun decides to make an appearance (but don't hold your breathe).
Not only do Darwin offer accommodation ownership but they are also becoming one of the leading UK holiday break providers. This weekend was not only our 3 year wedding anniversary but also our last weekend as a family of 4 before Elsa starts school & the perks of being able to go away in term time ceases. After a long summer of hosting students & having next to no childcare, I decided we deserved a little break away to spend some much needed family time together so booked a little 'staycation' to stay at Darwin Escapes luxury 5* lodges in Cheddar Woods resort & spa, Somerset.
They have 20 parks across the UK & offer accommodation from static caravan holidays, luxury lodges, cottages & apartments, beach huts to even treehouse. Our closest park is Wareham Forest or Swanage Bay View but we decided to go a bit further out to give us a change of scenery so Cheddar was about 2 hours drive…plus Mr THTMM is the biggest cheese lover you'll ever meet so it had to be done.
Seeing as baby Sienna decided to surprise us all & arrive 6 weeks early & our lodge had 3 bedrooms we also decided to drag her away from her beautiful new nursery for her first ever holiday so Sian & Carl came with us as it was also their wedding anniversary on 8th September too (Sian always has to always copy me you see…). Elsa is absolutely in love with her so whilst the grown ups were relaxing in the hot tub, she was babysitting.
It will have been our first (& probably only) trip away this year & we really wanted somewhere kid friendly for Elsa & Rory to enjoy themselves but also for us to be able to unwind. On site they have a swimming pool, bowling alley, golf simulator, adventure playground as well as kids entertainment from age 2 so Elsa & Rory got stuck in to 'Mini Jet Ski's' on Saturday afternoon. For the grown up's the attractions are the bar (& the food…) & a spa that offers treatments such as massages, facials & so on to pamper yourself.
The lodges themselves are absolutely BEAUTIFUL & we decided to go for an Axbridge Lodge Premier which sleeps 6 with a double master bedroom then 2x twin rooms. It has an open plan kitchen/lounge area, is pet friendly (which I didn't realise until last minute so little Mungo pig joined us!) & has a private veranda area complete with hot tub (the highlight of the weekend!). Believe it or not, this is actually one of their more 'basic' lodges but it was still absolutely amazing!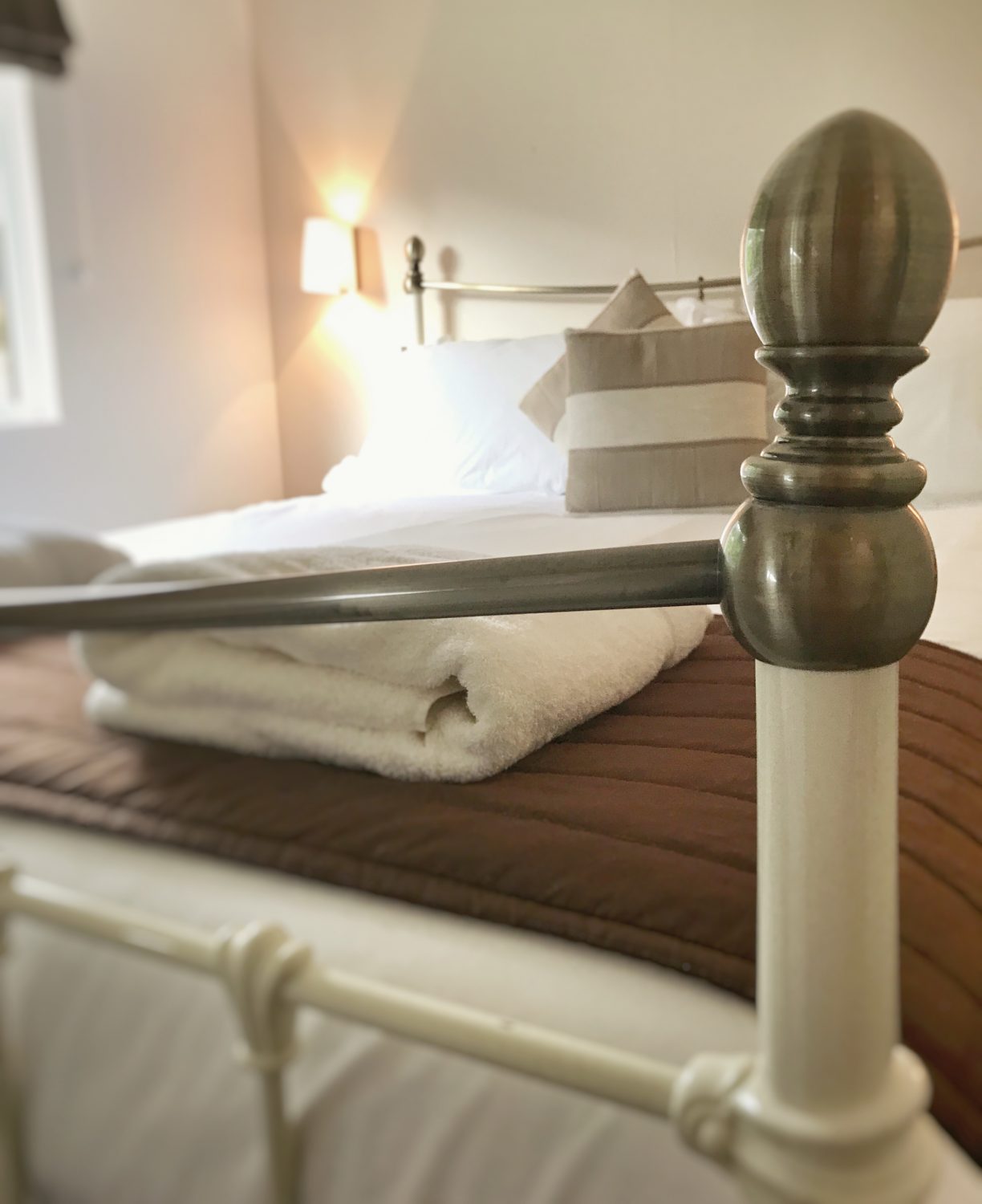 Now, how would you like to win a 3 night stay (Fri-Mon) at a Darwin Escapes location of your choice for up to 4 people? Not only that, you'll also get an £100 voucher to spend at the on site restaurant & to help you unwind just that little bit more, 2x spa treatments of your choice.
We've teamed up to run a competition on Instagram for you to show us your home escape. The place you feel relaxed, can unwind & forget about life's stresses…that may be in a hot bubble bath, curled up under a blanket on your sofa with a good book or even a family holiday. This is going to run from today (Monday 11th September) until midnight on Sunday 24th September, after which we'll be picking a winner.
So how do you enter?
Follow @thehomethatmademe & @darwinescapes
Post a picture of your home escape hashtagging #MyHomeEscape & tagging both @thehomethatmademe & @darwinescapes
Tell us why this particular place helps you unwind/what you love about it
If you are currently on a private Instagram profile, we'll be unable to view your post by searching the hashtag so please complete the form at the bottom of this page here as well as get the full low down & view the terms & conditions.
So what are you waiting for? Show us your #MyHomeEscape!
Love,
*This is a collaborative post