Being interior obsessed means that keeping Baylyn House clean & tidy is something I prioritise. I'm definitely part of the 'house proud' club & on Instagram you'd be forgiven for not even realising we don't have children unless you spy their beautifully designed bedrooms.
Contrary to popular belief, my children are completely normal & my house isn't always immaculate. Yes it may look like they are banned from any of the brightly coloured loud plastic monstrosities that comes with the territory of a young family but that's definitely not the case, we've just got them pretty well trained (a bit like a puppy I suppose…) & along with some clever storage solutions & clear outs/decluttering we've got the whole tidying up thing down to a T.
The older my two have got (now 3 & 5), the easier I've found keeping my home tidy. They are both at school & nursery which obviously helps as they aren't around 24/7 to make a mess but when they are home, they are just like any other kids the same age & seem to pull out every single toy they own, discarding it on the floor after approximately 2 seconds of play before moving on to something else.
Despite the chaos, we wouldn't change it for the world but I do think it's important to involve them in clearing up the destruction they've left in their wake & take a bit of responsibility. The older they get, the more you can also encourage them to get involved & help with adult chores such as loading/unloading the dishwasher, folding laundry, laying the table & so on.
If you're struggling to see the wood for the trees (or floor for the toys) then this blog post is for you. Here's my advice for any parent who's on a mission to achieve a tidy home & get the kids involved at the same time –
STORAGE STORAGE STORAGE – I cannot emphasis how important having good storage solutions is. We had a carpenter build the wall units in the playroom last year & they are an absolute god send. We purposefully didn't have any shelves put in, instead opting for some plastic boxes so pop smaller toys & also fit in some of the larger bits like dolls pushchairs, ride ons & so on. Out of sight, out of mind. Elsa & Rory tidy up every evening….yes they just shove everything in the cupboards but when the doors closed nobody would know & they'll just pull it out the next day anyway so organisation isn't vital. Baskets, trunks, sideboards….find homes for toys.
Make it fun – children don't like tidying up…fact. What they do like though is playing so I always try to switch it round to trick them in to thinking it's a game rather than a chore. Put on some music & dance whilst putting everything away, set a timer & see how quickly it can be done (or who's the fastest, nothing like a bit of gentle competition right?) or even make them use their superpowers to transform the room. It's amazing how in to it they get!
Reward charts – Canva.com is a great free site to use to design your own reward charts to print off & add stickers for all sorts, from loading the dishwasher to getting themselves sorted for school or stopping a habit.
Keep the toys in one place – When we put on the extension & turned out dining room into a playroom it made life SO much easier. We now tell the kids not to bring toys out of here (although of course they still do occasionally) which makes it so much easier to put everything away rather than being spread across half the house.
Less is more – we've found over the years this is definitely the case. More calm, more play space, more easy access to the things they really love. We regularly have clear outs (especially before birthdays & Christmas) & tell them they are giving to other children who won't be as fortune as them. I found the less toys they have, the more they actually play with the stuff they do have & less overwhelming the choice. We keep the things they love & basics then either donate or sell the bits that are left like Woody from Toy Story at the back of the cupboards. They play more role play & imaginary games like 'mum & dad' or 'doctors & nurses' because of this too.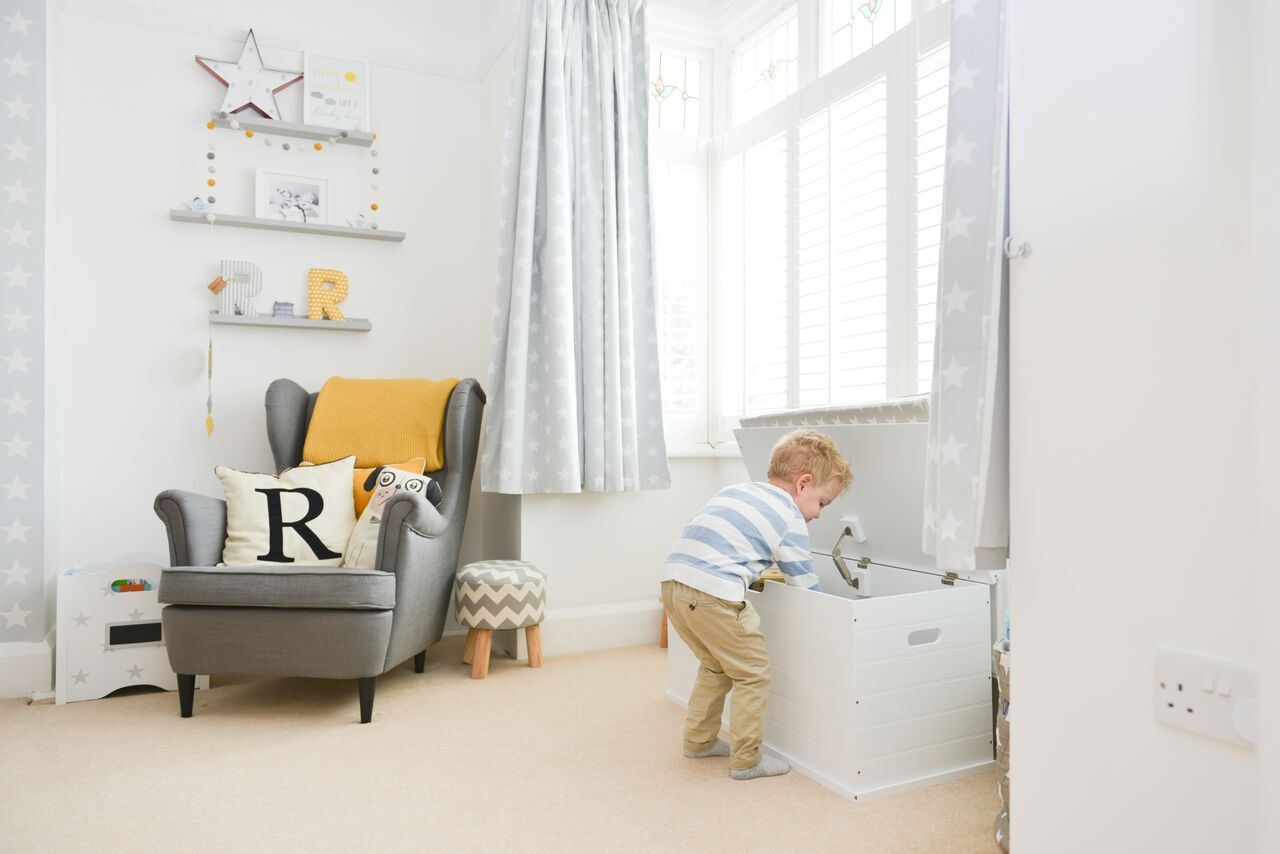 Making it in to a routine & giving them set times (e.g. 5 minutes before dinner is on the table is tidy up time) helps them get in to the habit. Hopefully they'll grow up to have tidy bedrooms without the typical 'floordrobe' & 203984 glasses/plates within their poster covered walls….I can dream anyway.
Love,