Over on Instagram stories this morning I had a bit of a thought that I'd never actually used the 'ask a question' function. I get hundreds of messages (& questions) every day through private messages & comments so figured it might be a way of clearing some bits up & putting up a blog post of some of my favourites answered.
It's safe to say there was a LOT of questions & on all sorts of things, some nosey personal ones to interior design & weight loss came up a lot too.
So without further adieu, heres a selection of your questions!
Q – What would you like to achieve in the next year? – @_thefarmerswife_
A – Ohh that's a hard one. I'm actually really content with everything as it is at the moment which I never thought I'd say as I'm one of those people who are constantly striving for more. I don't have any set goals or aims but I would love to just relax & 'find myself' which I feel like I've been doing the past couple of months since I've become more confident with my appearance. I'd also love to do a bit more travelling & see some new places hence the caravan!
Q – I absolutely love your style! Did you have a background in interior design before Insta? – @dustanddaydreaming
A – Thank you so much! I actually had no background in interiors but a huge passion & love for it within my own home. I started my Instagram account whilst on maternity leave with Elsa; I was a young mum (22) & found it all quite lonely so decided to start sharing my home (our previous house…see here for a little nose), my bargain finds & upcycles with everyone. I never expected it to grow in to what it is now!
Q -Did you choose the hoe life or did the hoe life choose you? Asking for a friend – @harrielady
A – I chose the hoe life…always.
Q – Are you doing the caravan up to keep or sell on? – @house2home_16
A – We're going to keep it! We've actually gone halves with my parents who used to have a caravan years ago which meant we could get a slightly better one & it will get enough use to warrant it all. I thought it would be amazing to go on spontaneous weekend breaks & a fab way of seeing our beautiful country. I know Elsa & Rory will love it too!
Q – How tall are you? How old are you? – @annascelzoxo978
A – I'm 5'10 so pretty much a giant. Everyone is always really shocked when they meet me at that as apparently I look shorter on the gram haha! I'm 27 years old…28 in December.
Q – What was the hardest thing about the weight loss journey? – @rach_mann_
Emotional eating, without a doubt. For years I turned to food (particularly takeaways!) when I had a bad day or when I needed a little pick me up. I'd use food as a reward & look forward to eating as a hobby (how weird does that sound..) rather than as something to fuel my body. The first few times something happened that would normally see me reaching for the phone to call Domino's was a real test but I combatted it with meal plans & did everything in advanced, especially using the slow cooker, so I had no need to.
Q – Ever thought about doing youtube? – @sophia.at.home
A – Not really no. Maybe a few years back but I feel like Instagram stories acts as a good substitute to show myself & what I'm up to in more detail but without the constant videoing & then editing it all. This way it's just a 15 second ramble! I rarely watch Youtube personally as I just don't have the time but watch stories religiously as they are just so easy to digest rather than sitting down for 20 minutes to watch a full video.
Q –  What clothes size are you now? Looking amazing – @lilyandautumnsmama
A – I'm a comfortable 12 which still blows my mind every single day. I don't think I've been this size since I was 17/18 but gradually creeped up to a size 18-20 over the years until I did something about it. I'm still not happy though & want to continue losing but am conscious that because I'm tall I need a bit of weight on me.
Q – Are you more critical of other interior insta pics being a professional? – @kimblesc
A – Not at all. We all have to start somewhere & interior design is amazing in that everyone has their own style. Your house should be a reflection of your personality, the people within those walls & what you love so who am I to be critical? Sure some aren't my personal taste but I'm sure lots of people think my house is awful.
Q – Who inspires you? – @creativebug_
A – Ohhh that's a good one. The only person that spring to mind is my lovely mum who I'm very close to. She is the ultimate business woman & raised me & my sister whilst working full time as a lecturer & running her own business with multiple staff to juggle. She's one of those super annoying people who know (& can do..) pretty much everything. If I'm half the woman she is then I'll be proud.
Q – Did you always plan to work with interiors? – @emma_antoine
A – When I was growing up I wanted to be a vet but I wasn't clever enough or good at science. I then wanted to be a primary school teacher but looking back that was so odd as I'm not & never have been good with children…it would be my worst nightmare of a job now! I only really got in to interior design when renovating our first home & found my passion through that but never in a million years did I think I'd end up doing it professionally.
Q – How do you juggle all your work load with home life & manage to be so happy? Does it ever get too much? – @pearce8890
A – ALL THE TIME! Spinning life's plates is absolutely exhausting & sometimes you've got to let the plates fall. I am my own worst enemy & constantly put too much pressure on myself which then turns in to a vicious circle. Home life itself & having two young children is hard work…even day to day cleaning, laundry, cooking is a challenge but I put everything down to strict routine & organisation. We all know what we're doing & when which makes things so much easier. On the happy note, I'm not a naturally positive person & have to try really hard to be upbeat 24/7 so surround myself with good people & try to see the positive in every situation.
Q – When are you putting your Christmas tree up? – @josmith1972
A – Love that someones asked this! I have a Christmas wreath making workshop on 1st & 2nd of December so they'll be going up just before then.
Q – How do you find it being self employed? What's your tips at the beginning? – @jasmine_jones_art
A – It's a nightmare!! Some months you earn nothing but then others balance it out. I love being able to work for myself & chose my own schedule to fit around family life without having to answer to anyone but it is tough finding a balance on when to say no & not work yourself in to the ground. Being a freelancer means you have to wait 30 days after your invoice to actually be paid & the majority end up being late…it's an ongoing joke that I'm a part time debt collector. I'd say my top tip is self care & appreciation – you don't get appraisals, awards or even Christmas parties when you work for yourself so be your own number 1 fan & treat your employee (yourself!) even if thats a hot bubble bath. Also make friends within your industry, they'll be able to give you advice, guidance & support when needed or even to just 'get' you when nobody else does.
Q – How did you buy your first house at such a young age? – @our1930sdoerupper
A – This is all down to my mum! My parents divorced when I was 3 years old. Instead of using the maintenance money to pay to 'keep' me, my mum put the money in to a high interest bank account every month & instead fronted the food, clothing, bills etc herself. By the time I turned 18 I had a substantial amount of money in there to use as a deposit. I bought the house in 2009 which was in the middle of a repossession so we got it ridiculously cheap & then did it up on a tight budget. My mum acted as my mortgage company (& got a better rate than she would have got in the bank…) for the remaining amount & to cover this whilst I was at university I rented out the two spare bedrooms to lodgers, some of which are my best friends now.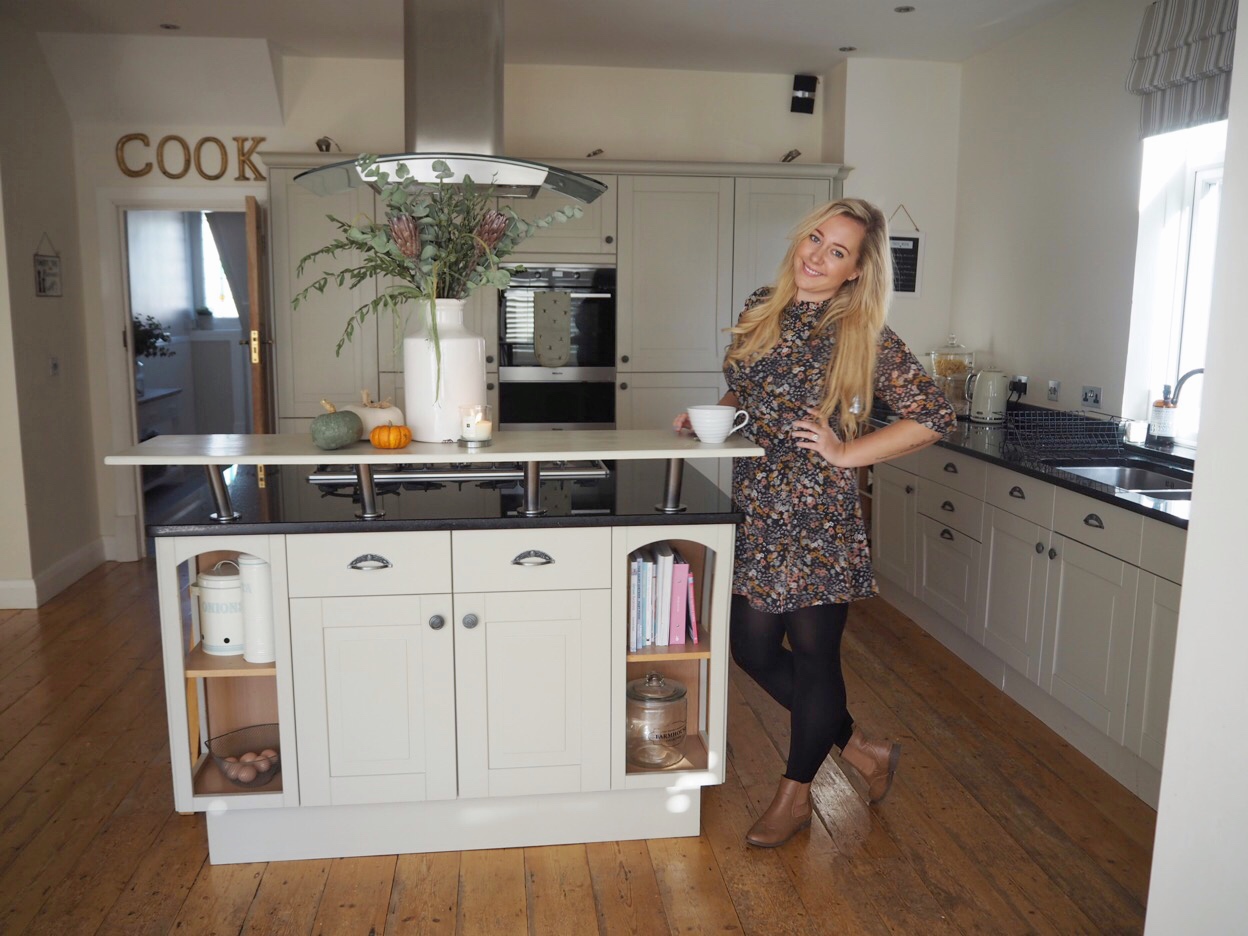 Q – What other careers have you had? – @suffolklife
A – My first job was working at Pets At Home whilst at 6th form. I also worked in a coffee shop but was fired after 1 day (goals!). After university I worked in a marketing company which is where I met Joe who was my manager & then went in to recruitment which I did up until I was made redundant whilst on maternity leave with Rory.
Q – Is this house your forever home & if so would you do another to just do up? – @jodiehamilton86
A – I would love to move & look on Rightmove every single day. I would move in an instant because I feel a bit wasted here & we can't really add any value so redecorating each room is just a way of keeping me busy however Joe is completely against it. We'd ideally move out of the town a little bit, in to the New Forest villages, but schooling in Christchurch is incredible & selflessly it would be so much better for the kids being closer to civilisation & their friends rather than out in the sticks. We've got an agreement we can move when Rory passes his driving test….he's 3 currently so I'll be getting the paint brush out for a few more years. In terms of buying somewhere else to do up, it would be something I'd be interested in doing but at the moment with Brexit you just don't know whats going to happen with the market so it's a risky move/investment.
Q – Where do you get all your energy from? – @clairerosea
A – I think I'm a naturally really driven & motivated person. I get that from my mum who's like a machine! Personally I thrive when I've got a project to focus on & something to push me so I like to keep myself busy which in turn gives me that get up & go.
Q – Would you recommend Instagram/blogging as a career choice? What are the pro's & cons – @barlau8
A – Yes & no. This is a funny one as it's given me so many incredible opportunities & I absolutely LOVE what I do but it does have it's negatives which crop up occasionally. I think putting yourself in the public eye for all to see is not for everyone & I'm lucky that I'm a naturally open & outgoing person to be able to do that. The cons are definitely the trolls or nasty comments but over time you do grow a thicker skin. I work more hours than any normal job, it's relentless sometimes answering messages & being there first thing in the morning to last thing at night.
Q – Do you wear a wedding/engagement ring? I can never spot one on your finger #noseyalert – @sianwxm 
A – Hahaha I don't know why this tickled me so much, I had to answer. You're very observant! I haven't worn my wedding ring for years because it was too small (weight gain) but now it's too big if anything. I do wear my engagement ring, when I remember. It's got a large pearl on it & I sleep with my hands under my face so always have to take it off at night to stop it scratching or getting in the way, then I forget to put it back on. Thank god I'm not a celeb in the Daily Mail as it would be marriage problem stories every other day!
Q – Are you & Joe planning on having any more kids? – @gemmaharper97
A – I love my two with all of my heart but I've been open & honest about the fact that I find parenthood really hard & it doesn't come naturally to me. Both Joe & I feel like our family is complete, so much so that Joe had a vasectomy over a year ago. That being said, I have always said how I'd love to be a surrogate for someone.
Q – How do you deal with hunger on a diet, especially in the beginning? – @countryandcoast 
A – The beginning is definitely the worst as your bodies been so used to having so much food that your stomach is stretched & you also have to go through withdrawal of so much sugar/fat/carbs but don't give in! If it got really bad I'd do something to distract myself (perfect time to take up a hobby!), take a bath or if I needed to eat something I'd snack on fruit/veg (satsumas are great to curb a sweet tooth!). Otherwise I'd just go to bed really early, super boring but stopped me from it eating!
Q – Whats your advice for a happy marriage – @_jessica_lesley
A – I'll let you know when I find out….Joe says I'm a pessimist but I say I'm a realist. Both of my mum & dad have been married 3 times each so I've seen things fall apart & come together. I don't believe that any marriage is perfect & over time people change but it's all about having respect, learning to find (& focus upon) the positives & most importantly laughter.
Q – Is Amor part of your name (middle or maiden)? – @georgierackham
A – It's my maiden name so I was Charlotte Amor then got married & became Charlotte Valentine. The couple of lurveeeee.
Q – Do you have cheat days? – @leannes_life_xx
A – No I don't. I've always been so determined with the diet that I genuinely didn't want them & on the rare occasion I did have an off day or meal it made me feel awful for days afterwards. I'm naturally very much an 'all or nothing' kind of person so I think I'd find it hard to get back in to the head space. Cheat meals & days work for some though.
Q – What're your best tips for styling a hallway or making it look nice? Mine is so bare – @ezmereldine
A – Hallways are always a bit of a funny one to get right. They need to be functional with it being a high traffic area so firstly find furniture that incorporates storage for shoes, bags, coats, umbrellas & so on then work around that. It's more of a walk through area (probably why it's often forgotten about) so can definitely handle going bold or adding a statement piece like a big mirror or piece of art. I always think the keys in the detail so add in things like plants to bring life & colour, ornaments, soft furnishings to make it more homely & inject some character.
Q – Do you ever get bored of Insta? – @thedreamhomewebuilt
A – I lose my insta-mojo all the time & sometimes just want to pack it all in but I know I'd miss it. I get bored of myself on instagram more than anything & feel like my content isn't good enough or too repetitive considering I only have so many rooms to take pictures of but I love the accounts I follow & the friends I've made.
Q – How old were you when you got married & had your babies? – @daniellesayle
A – Elsa was a 'surprise', we weren't ready at all & were practically babies ourselves at only 21 when I found out & 22 when I had her. Joe proposed when I was 5 months pregnant (I always wind him up that he only did it because he was forced in to it because it was the 'right' thing to do…) & we got married when I was 23. I then had Rory at 24 so it was a busy few years! I do love being a young mum though & wouldn't change it for the world.
Love,