I wasn't planning to blog about this but after lots of requests from you lovely lot who either are planning a (or would one day love to…) visit OR just super nosey & want a closer stalk of what we got up to on the couple of weeks I left Insta for the beautiful Indonesian island of Bali. All of these pictures were taken without the thought of sharing so excuse the quality!
This was our first holiday in a little while & our first time ever leaving the kids but they were in the very capable hands of my lovely best friend Sian who spends an abnormal amount of time here anyway so moving in to take my two under her wing was completely natural for all.
I booked the entire thing for Joe's 30th Birthday (serious wifey points right there!) but anyone who knows me well will also know how much I absolutely suck at surprises & lasted probably about 2 minutes before blurting it out & telling him pretty much everything.
We flew with Singapore Airlines & the flight was the most expensive element coming out at over £2k return for both of us but I suppose that's because it's August so in the middle of the Summer holidays. We flew Heathrow to Singapore with a 1 hour stop over (although I now wished we'd taken a couple of days stop over as everyone says how amazing it is!) which was 13 hours then another flight from Singapore to Bali which was 2.5 hours.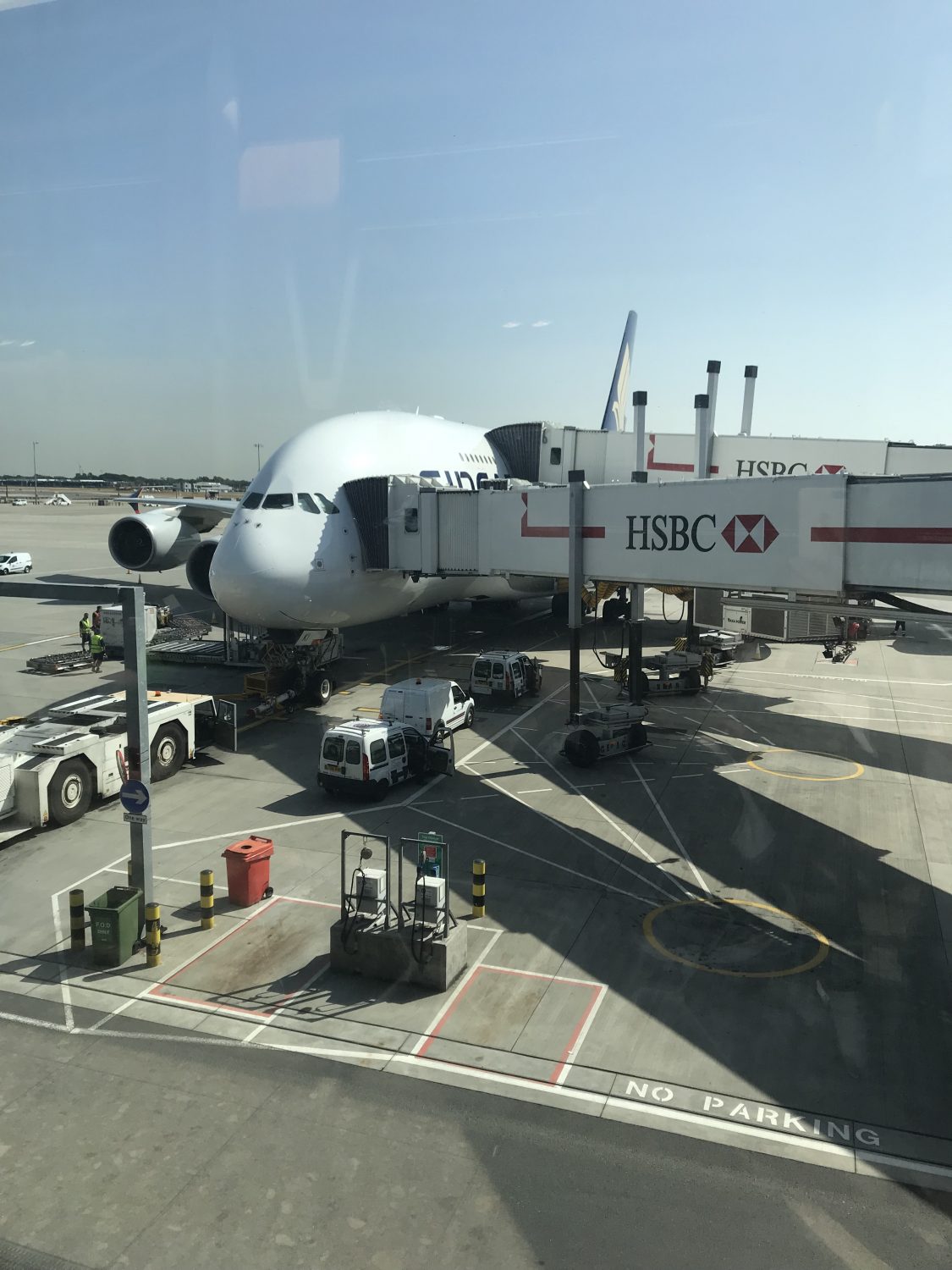 The villa we stayed in was booked through Air BNB (use this link if you want £25.00 off your first booking with their refer a friend scheme) which is my go to place for accommodation & I absolutely love finding cute places to stay. They have absolutely tons of villas ranging from the super cheap home shares to huge 10 bedroom entire villas. After searching, I booked Villa Lisha which was in the middle of Seminyak/Canggu.
I couldn't recommend it enough. We had the entire space to ourselves which was massive with an open plan living/dining/kitchen/pool area then 2 bedrooms with jacuzzi bath & walk in shower & a separate lounge space too. Staff were available throughout the day who were SO lovely & helped us whenever we needed anything.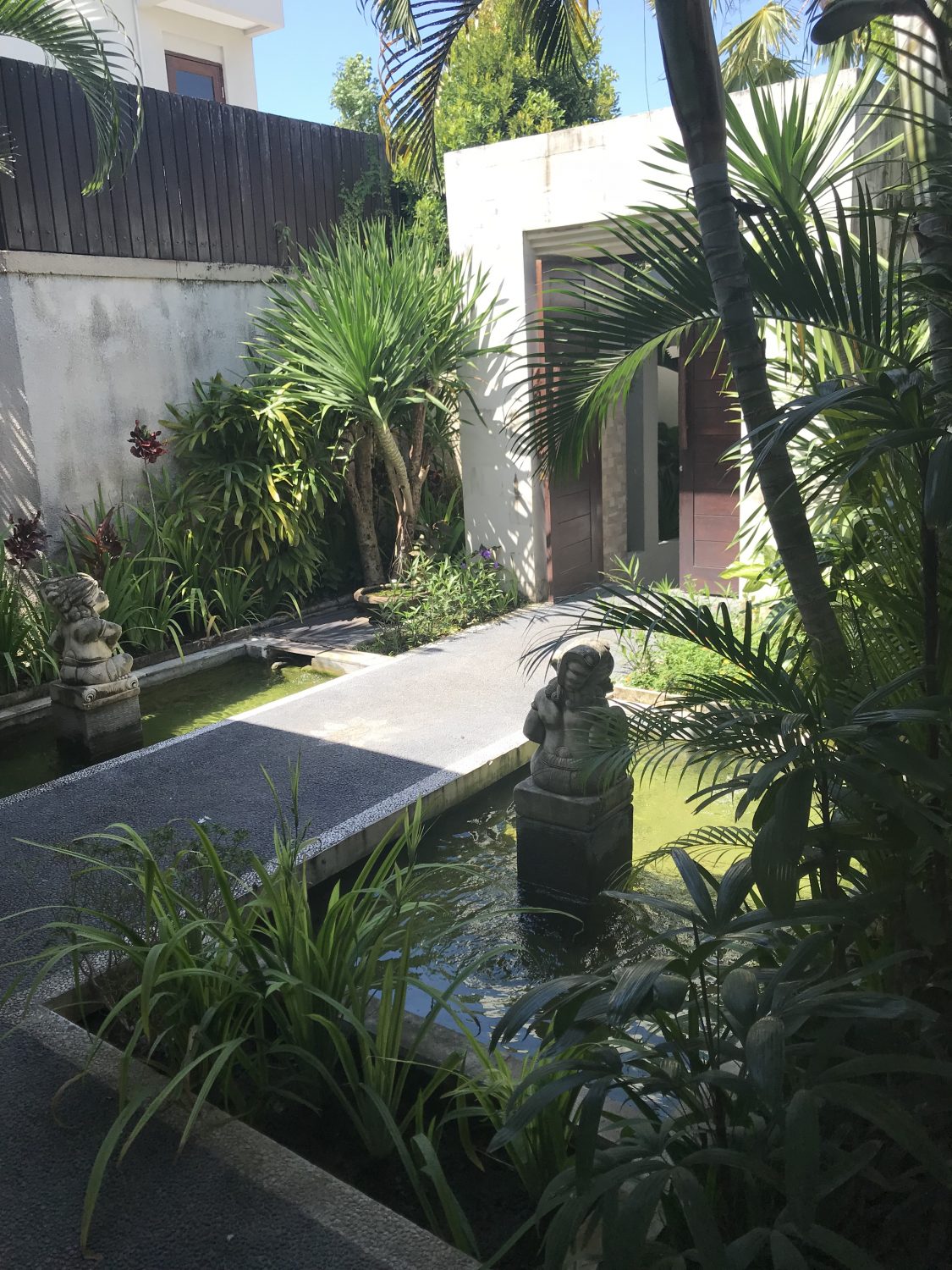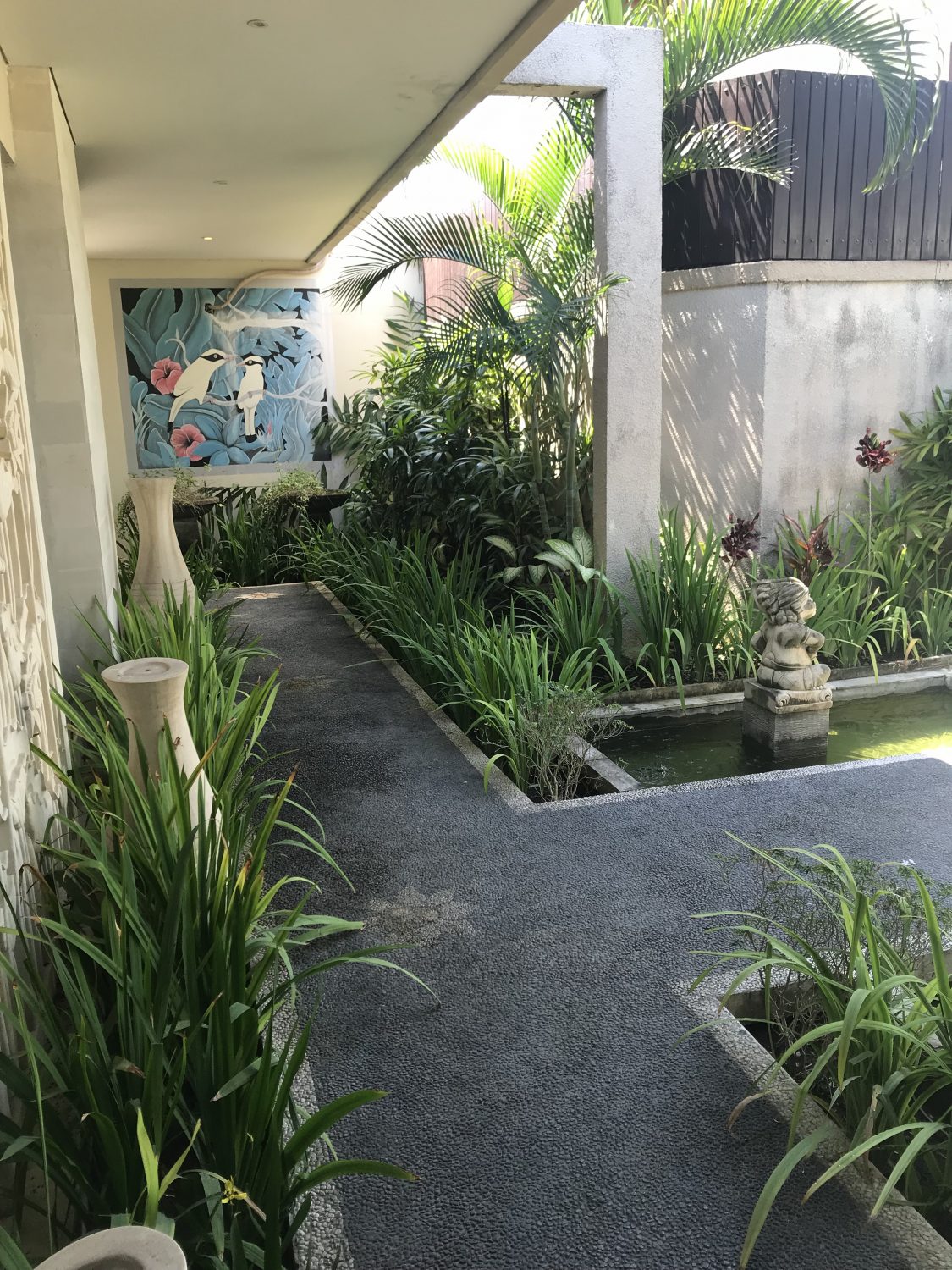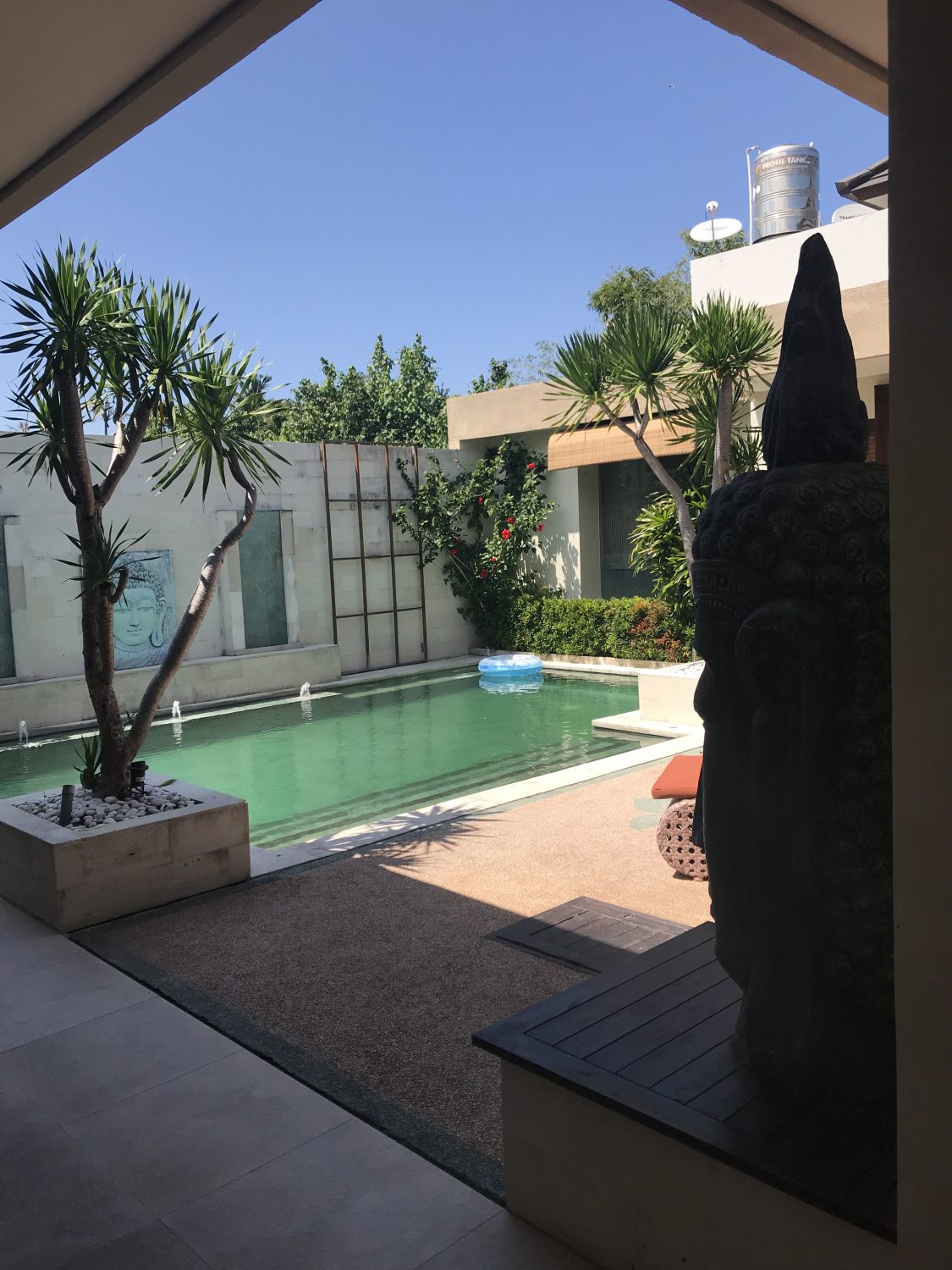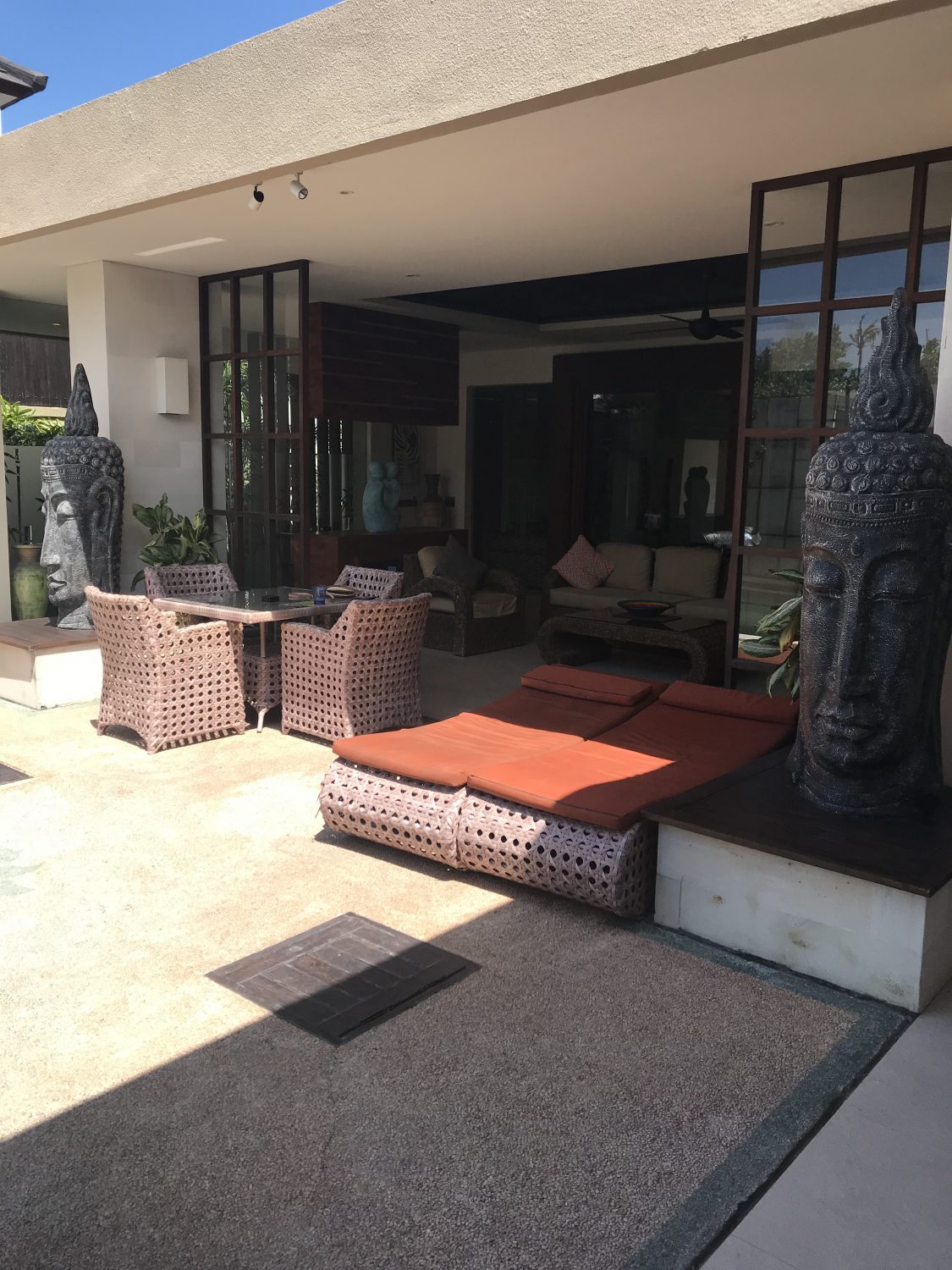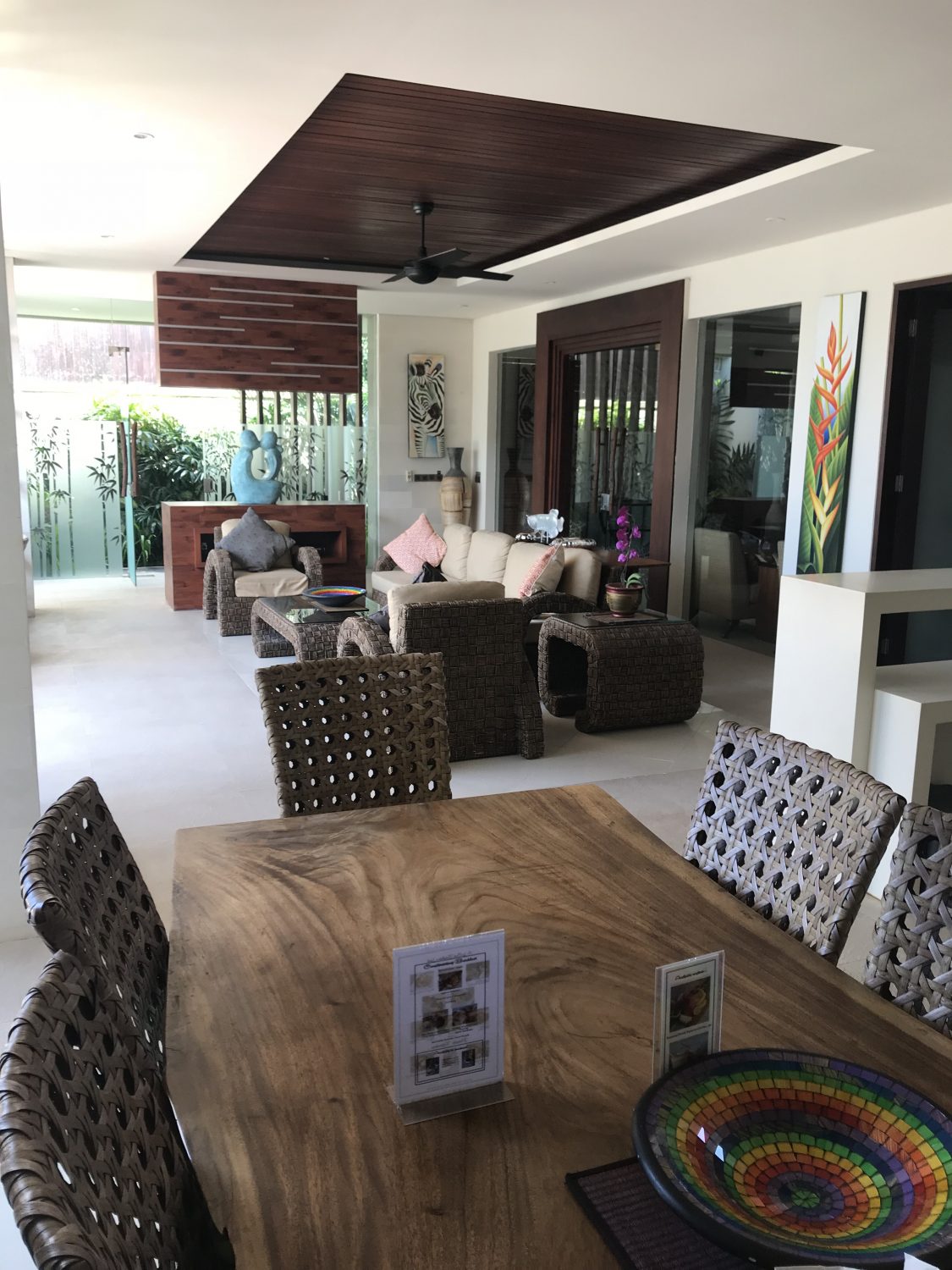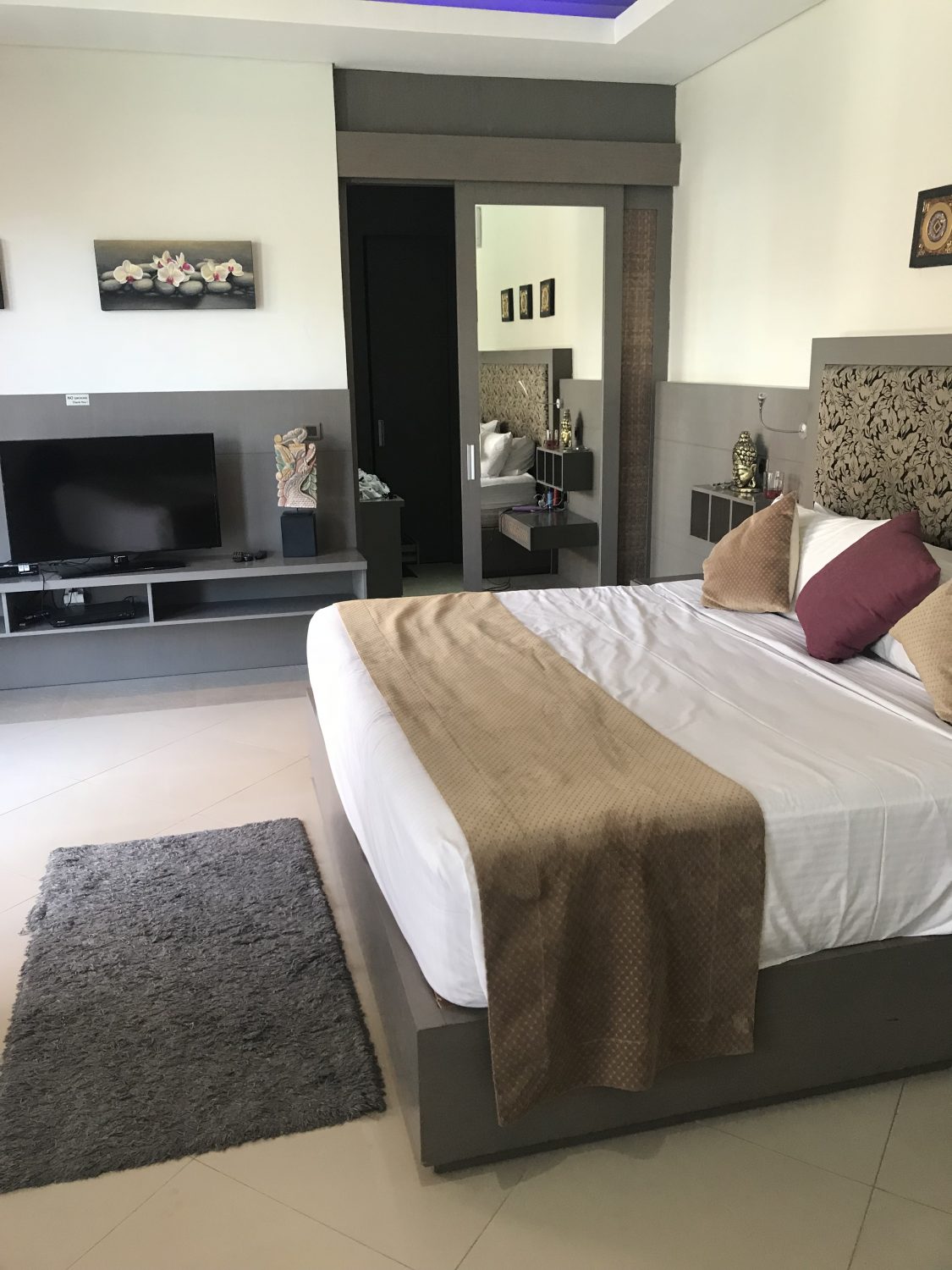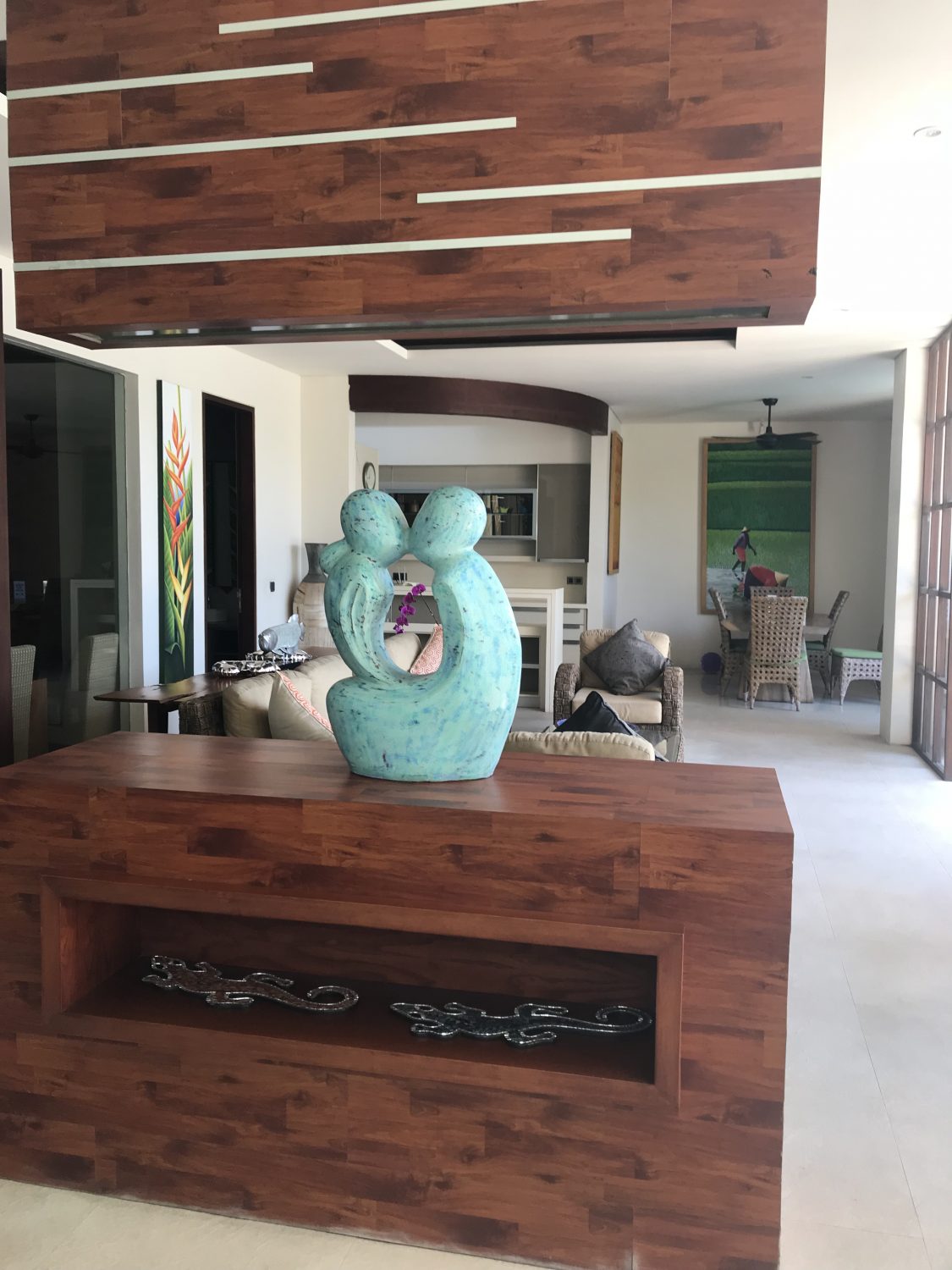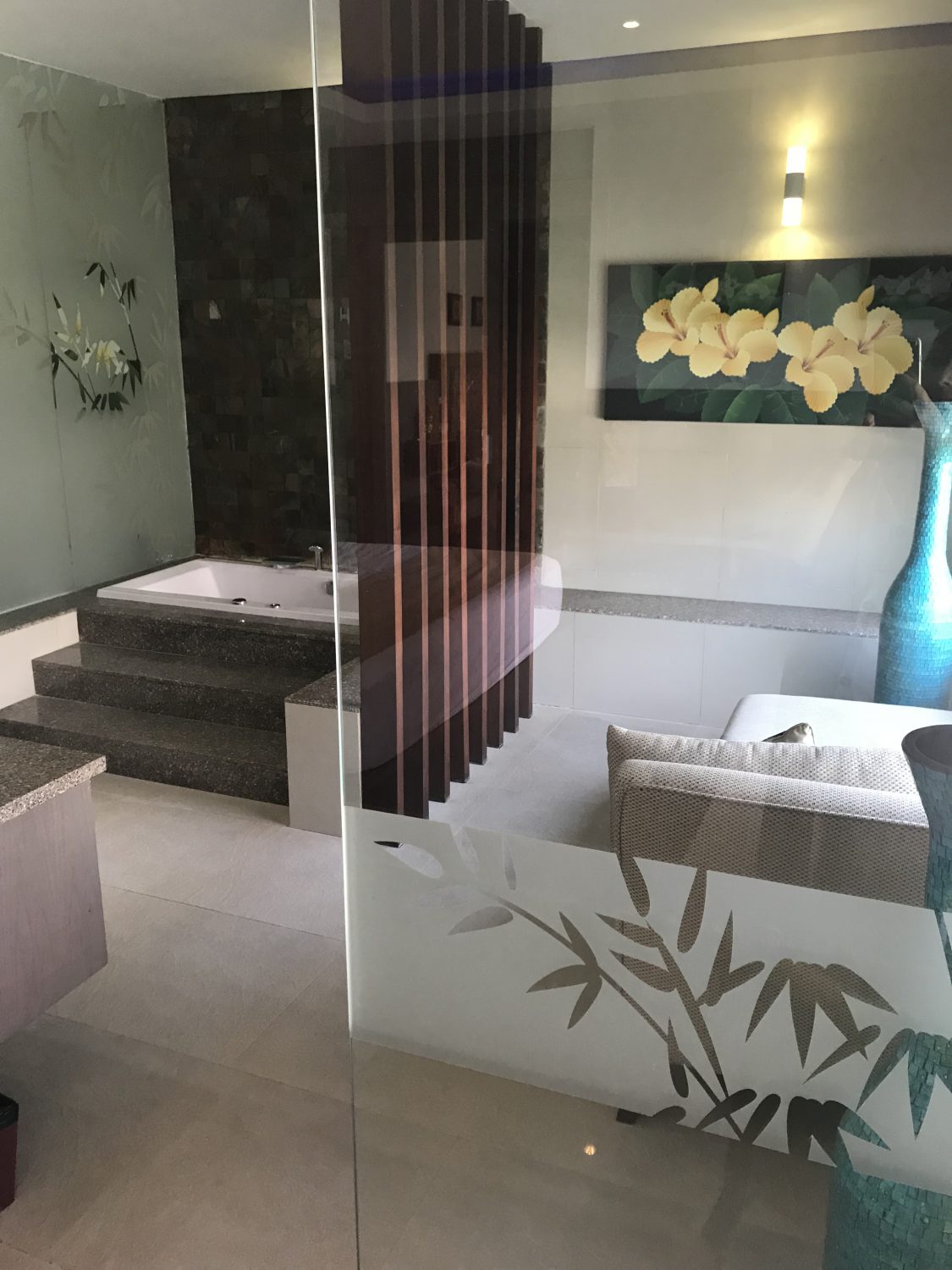 We were supposed to be spending 7 nights at Villa Lisha then heading over to the Gili Islands for the final part of our stay, however 2 days before we flew out Lombok had a huge earthquake so we cancelled this & instead managed to stay an extra night in the villa then booked a hotel for 2 nights last minute. We stayed at the Bali Tropic Hotel & Spa in Nusa Dua but I didn't really rate it much, probably because of how brilliant the villa was so we were a bit spoilt.
Our trip to Bali wasn't necessarily relaxing & we kind of adopted the attitude of why travel that far & go to such an amazing place to lie by a pool which you could do in Spain (& the weather would be better there anyway!) so we made it our mission to do as much as we could to make memories. We definitely did just that & I can't help but feel like now we've seen/done all that Bali has to offer & are pretty clued up/street savvy too after so much exploring on our own.
So what did we get up to?
Well, what did we not do is the question?
We ate…we ate a LOT. The food out there is amazing & I'm SO glad we went with a villa rather than an all inclusive hotel so we could get out & taste it all. I've probably put on a good stone but back on the diet bandwagon on Monday morning & I'm actually craving salad. Our favourite restaurants were – Betelnut in Canggu (try the beef Nachos & the enchiladas!), Hog Wild in Seminyak (the best ribs EVER!), Bambu in Kuta (the most beautiful setting, kind of on a fish pond that you walk over so it's floating & tucked away. Go here for a 'posh' meal & try traditional quality food), Fatboy's in Seminyak (amazing burgers) & La Finca (which was literally next to our Villa, amazing Spanish tapas).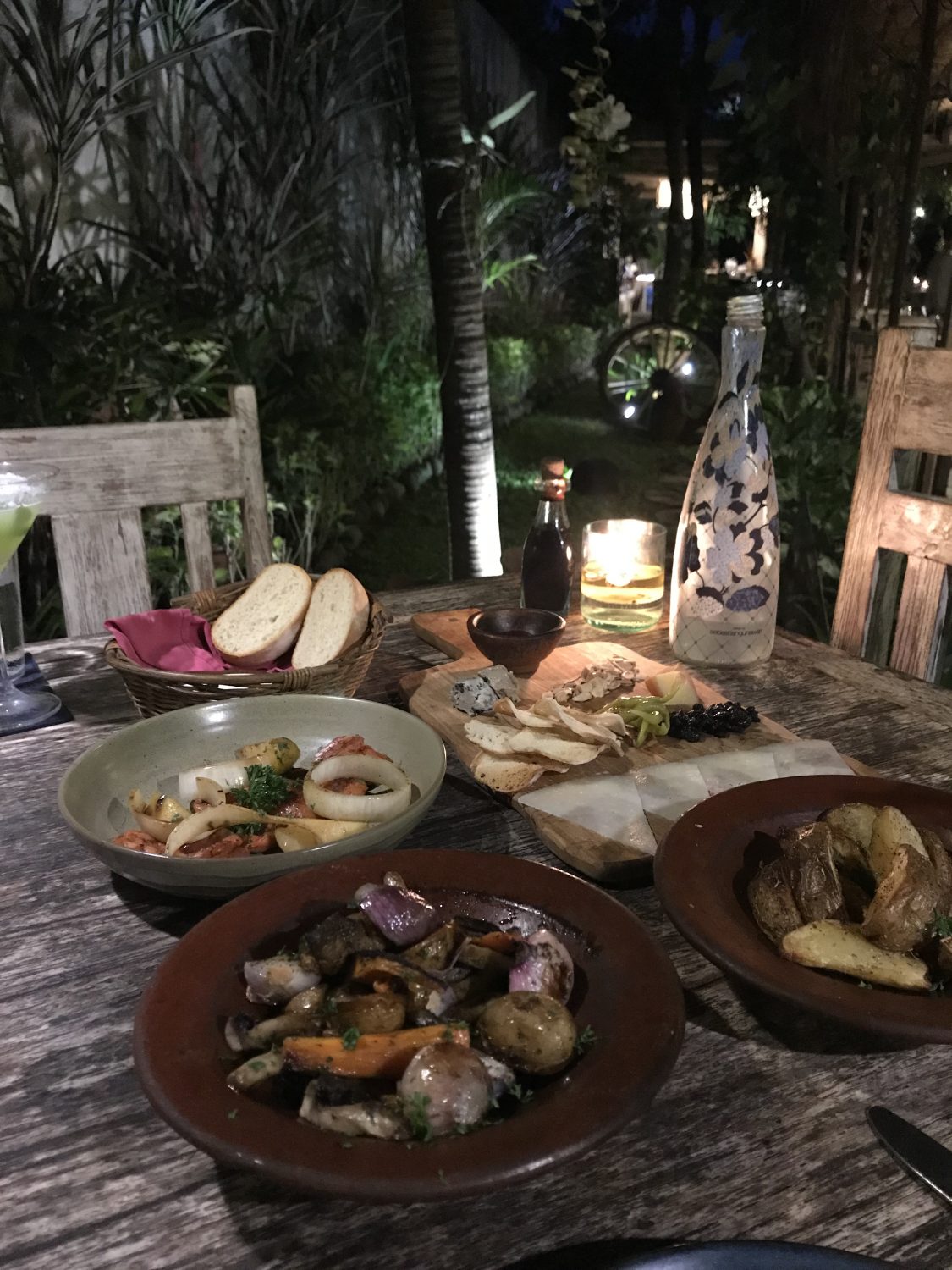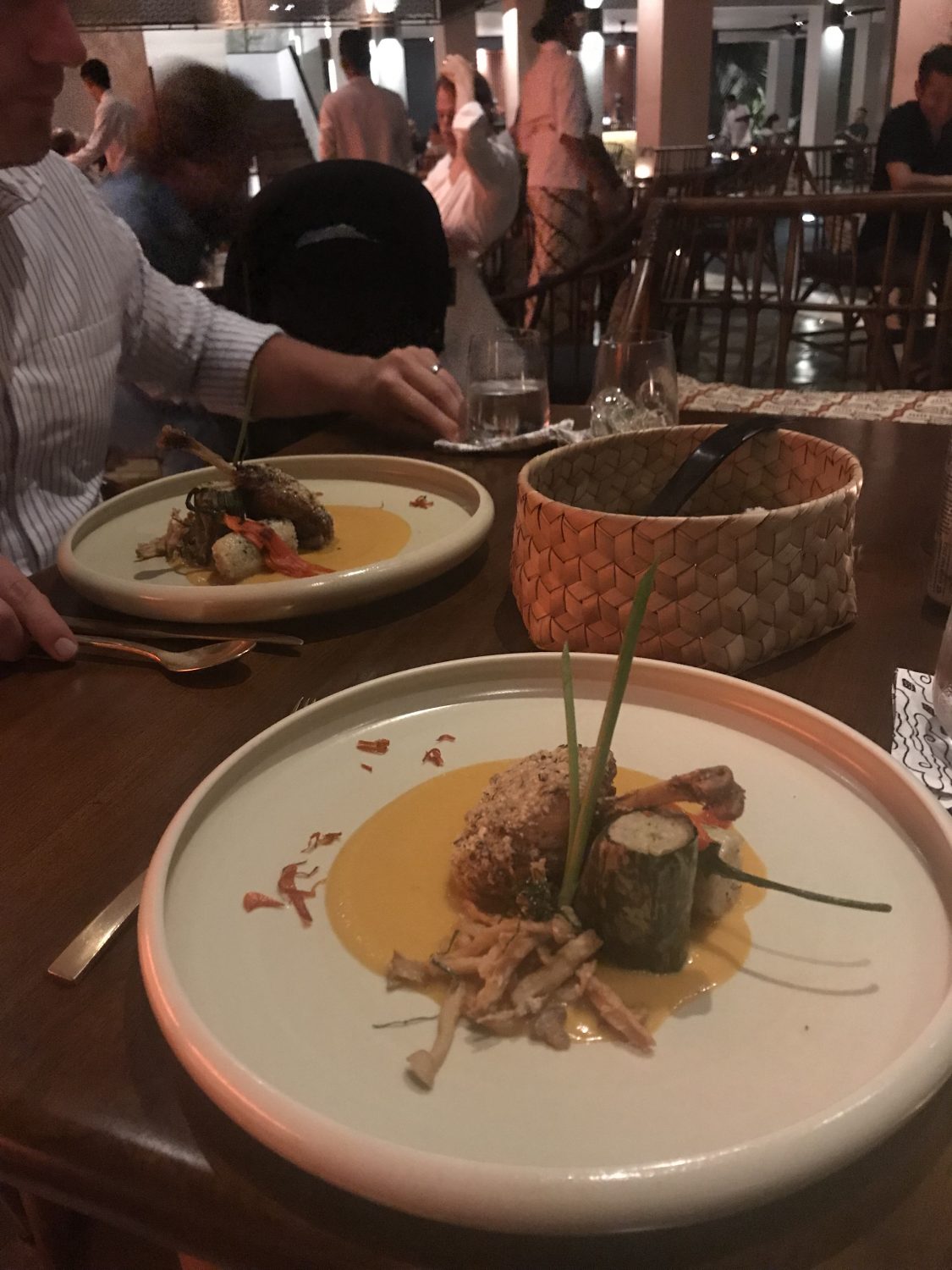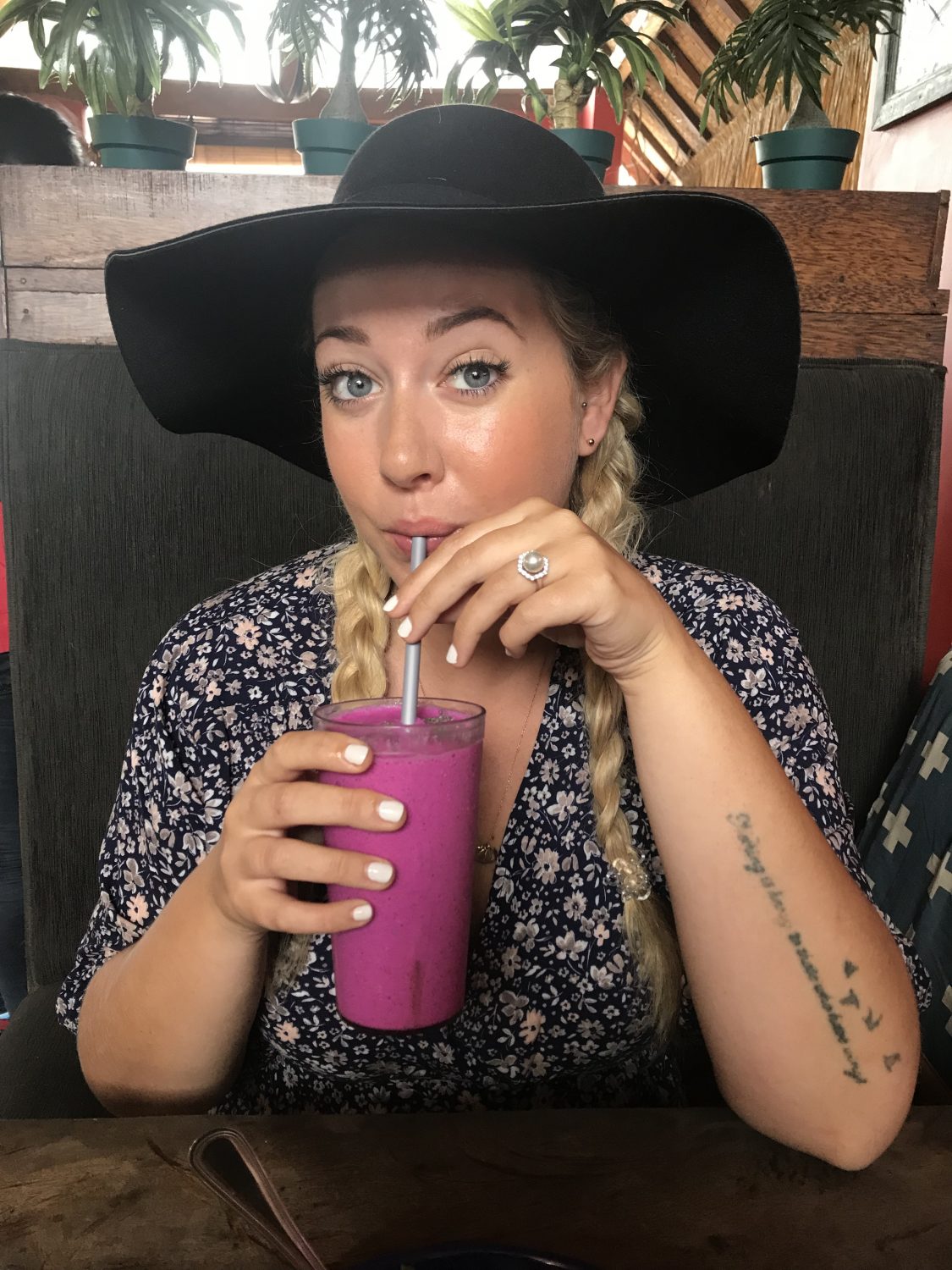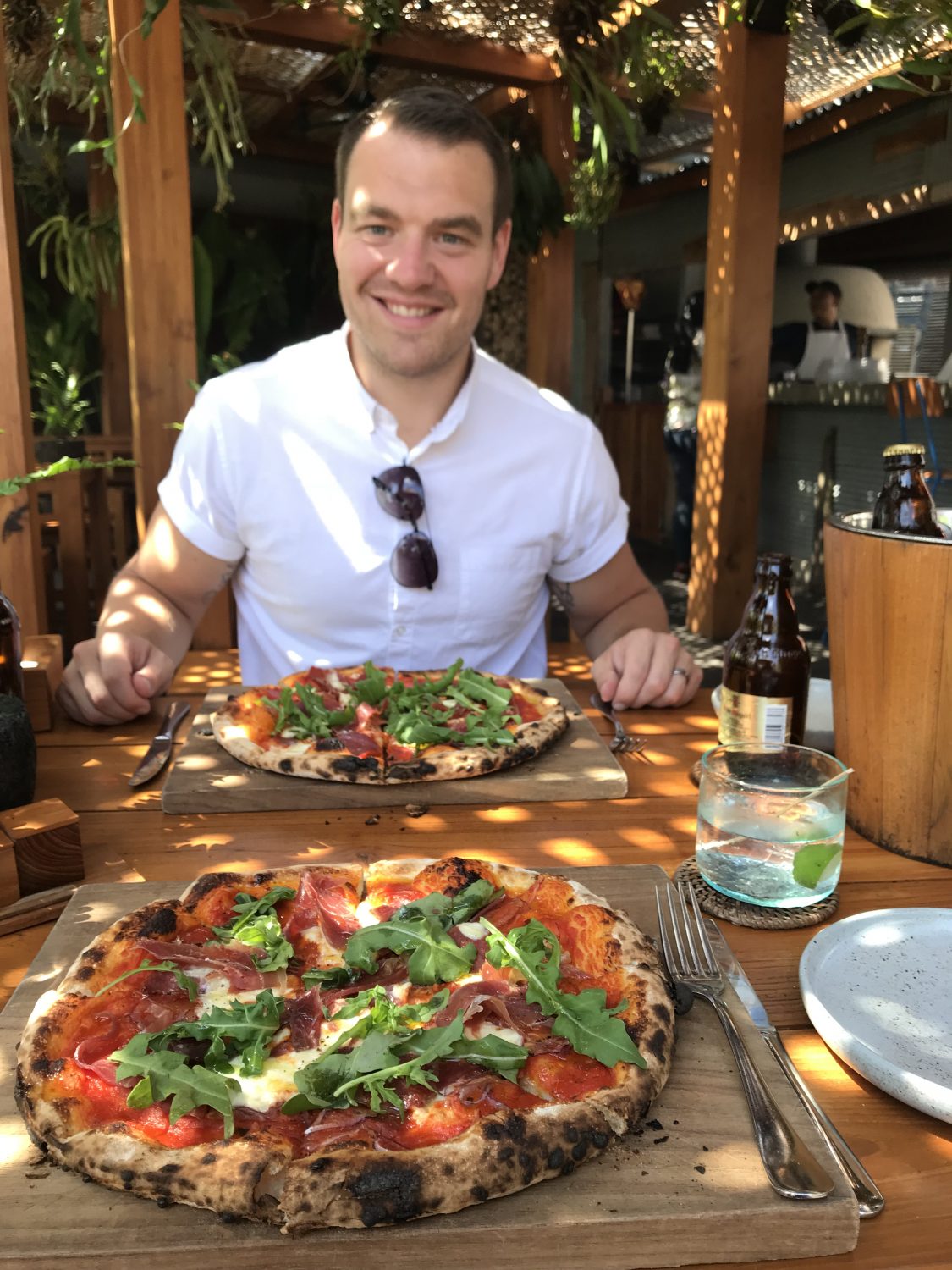 We also drank a lot too. Bali is full of beach clubs which are just amazing…clubs open all day, right next to the beach with infinity pools, day beds & chilled out music. I can totally see why so many Aussie's come to Bali as their Magaluf (although it totally blows my mind & makes me so jealous at the same time!). I can recommend Potatohead (the most famous & where we spent Joe's 30th birthday…although lets not talk too much about that as I pretty much had to be carried home at 8.30pm. Lets just say, swim up bars are dangerous as you don't know how drunk you are until you try to get out & support your own body weight!), Finns, Mrs Sippy & Ku De Ta. They usually do happy hour 2 for 1 cocktails (or else expect to pay UK prices, but beer is cheap!).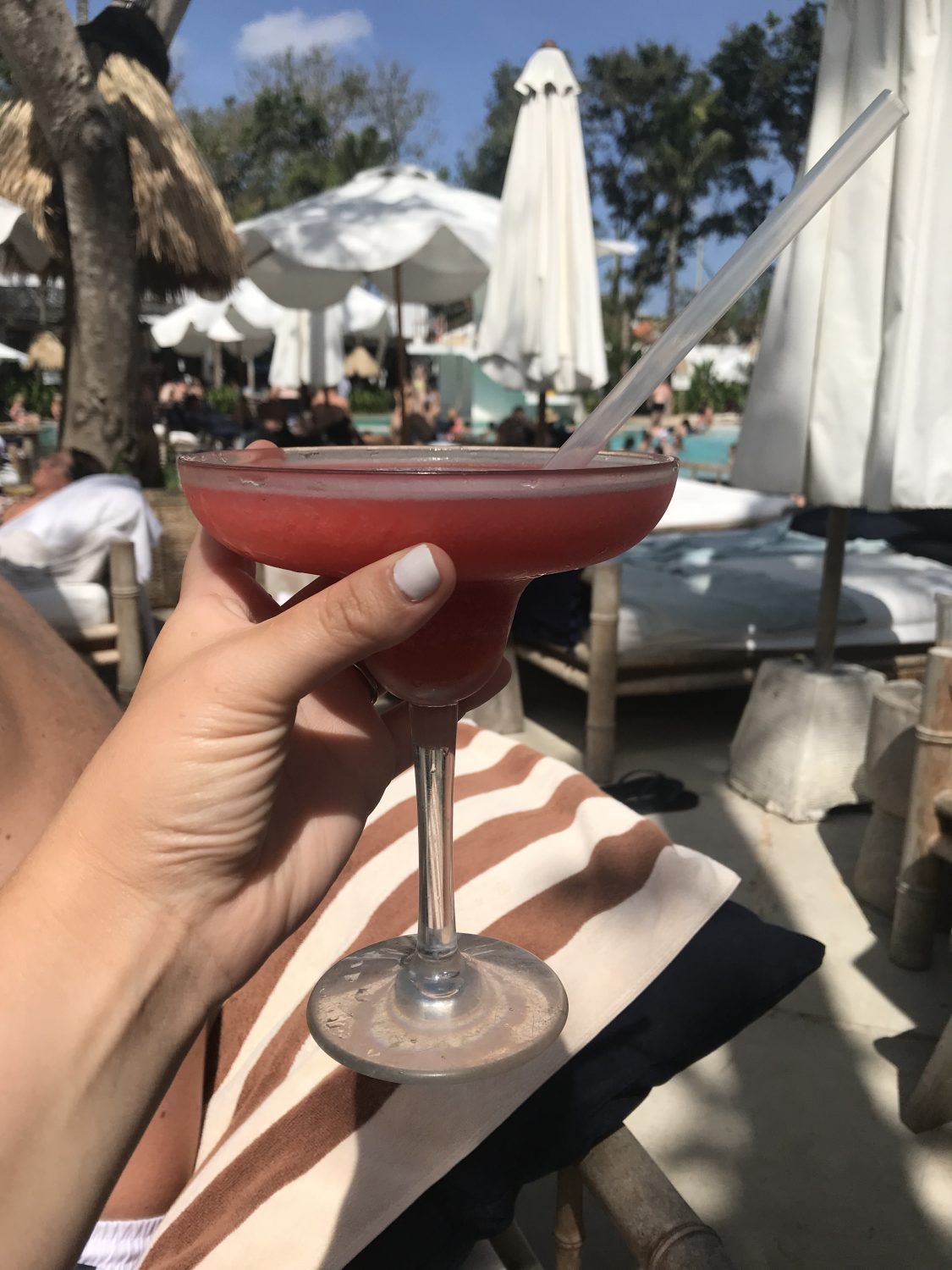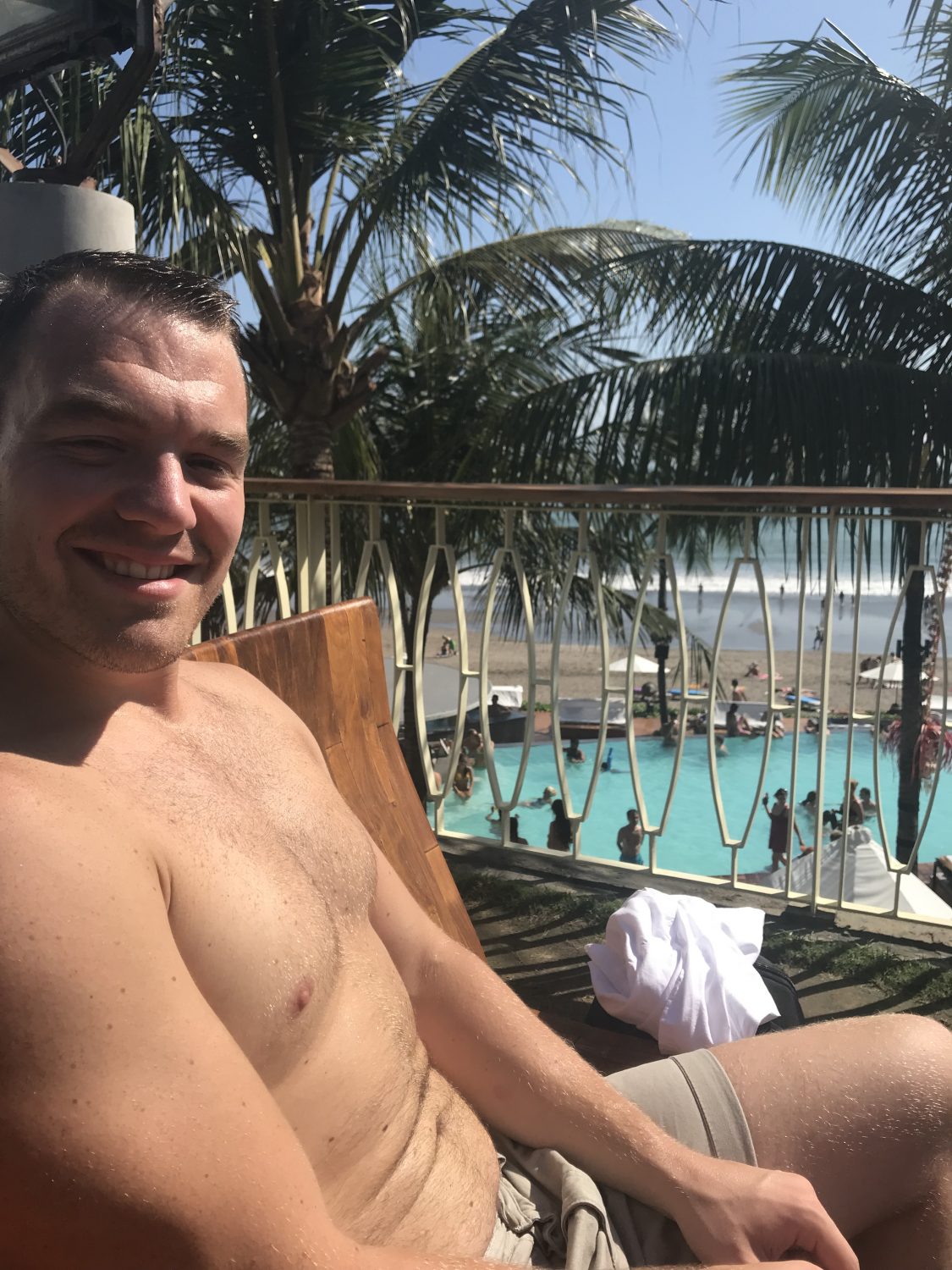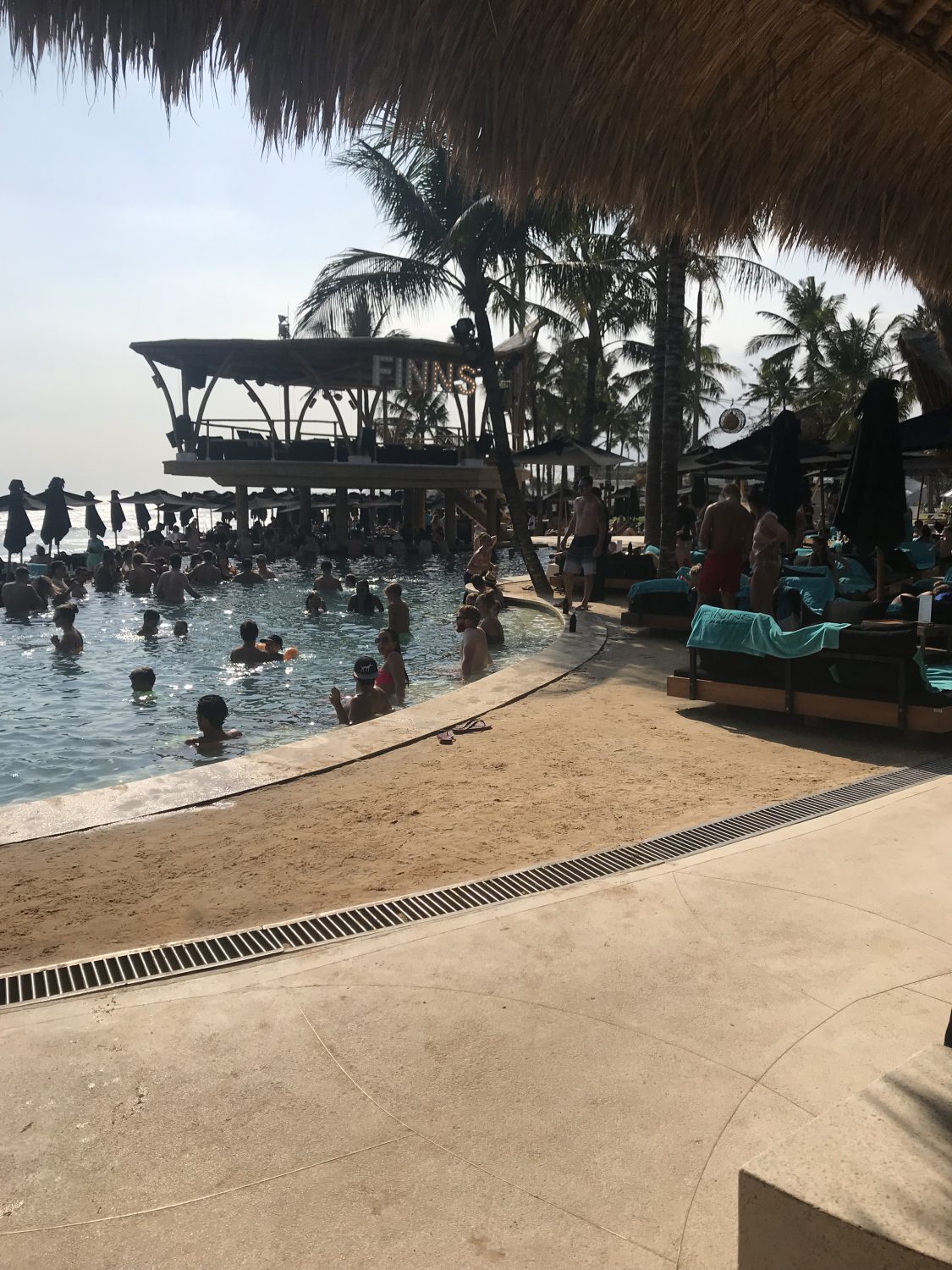 We made friends! Although I don't have too many pictures as that would have been a bit weird asking for a selfie. The great thing is that everyone is SO friendly & it's so easy to get chatting to people of every nationality. Not only other tourists but also with the locals who are just the nicest people.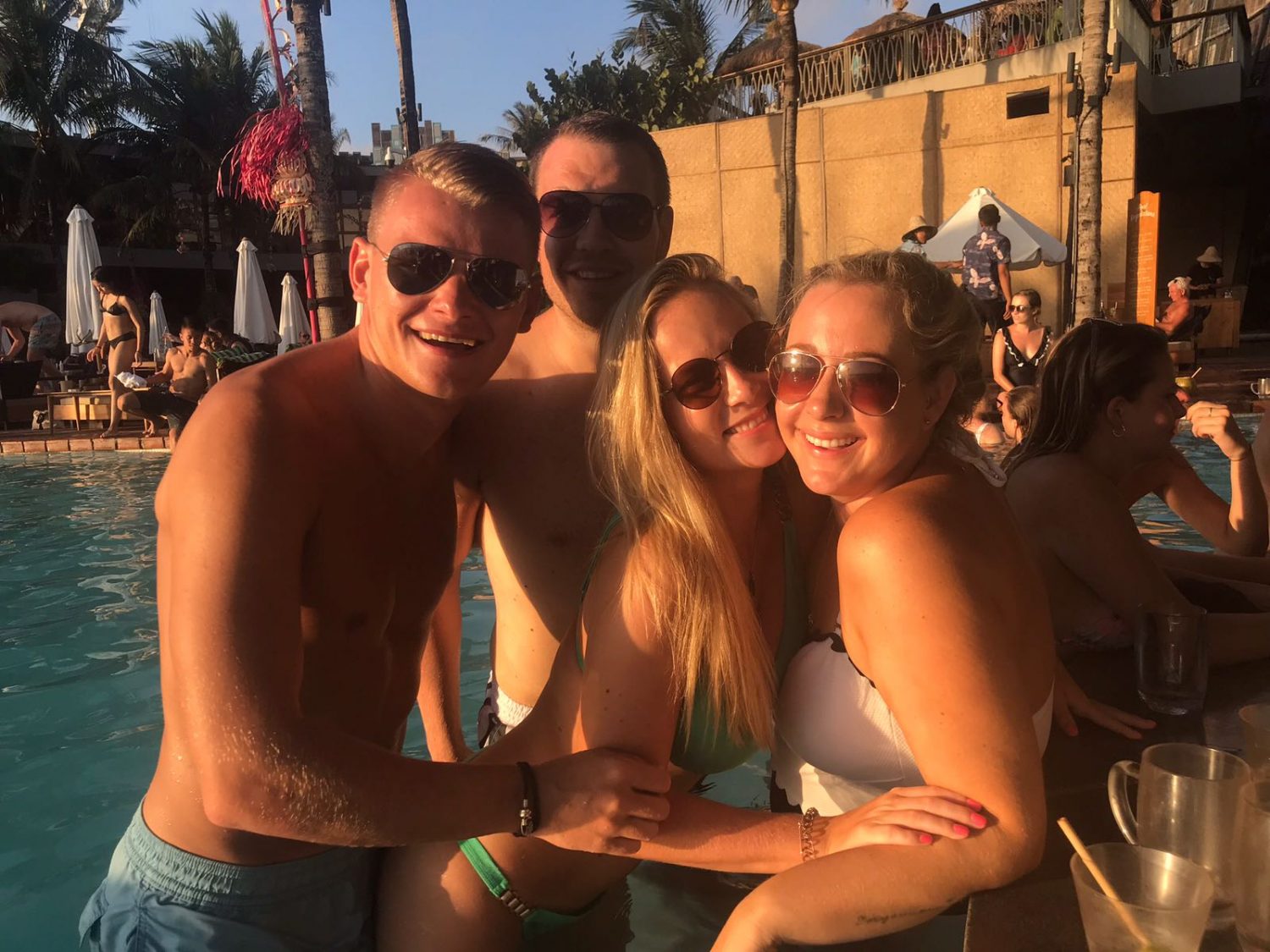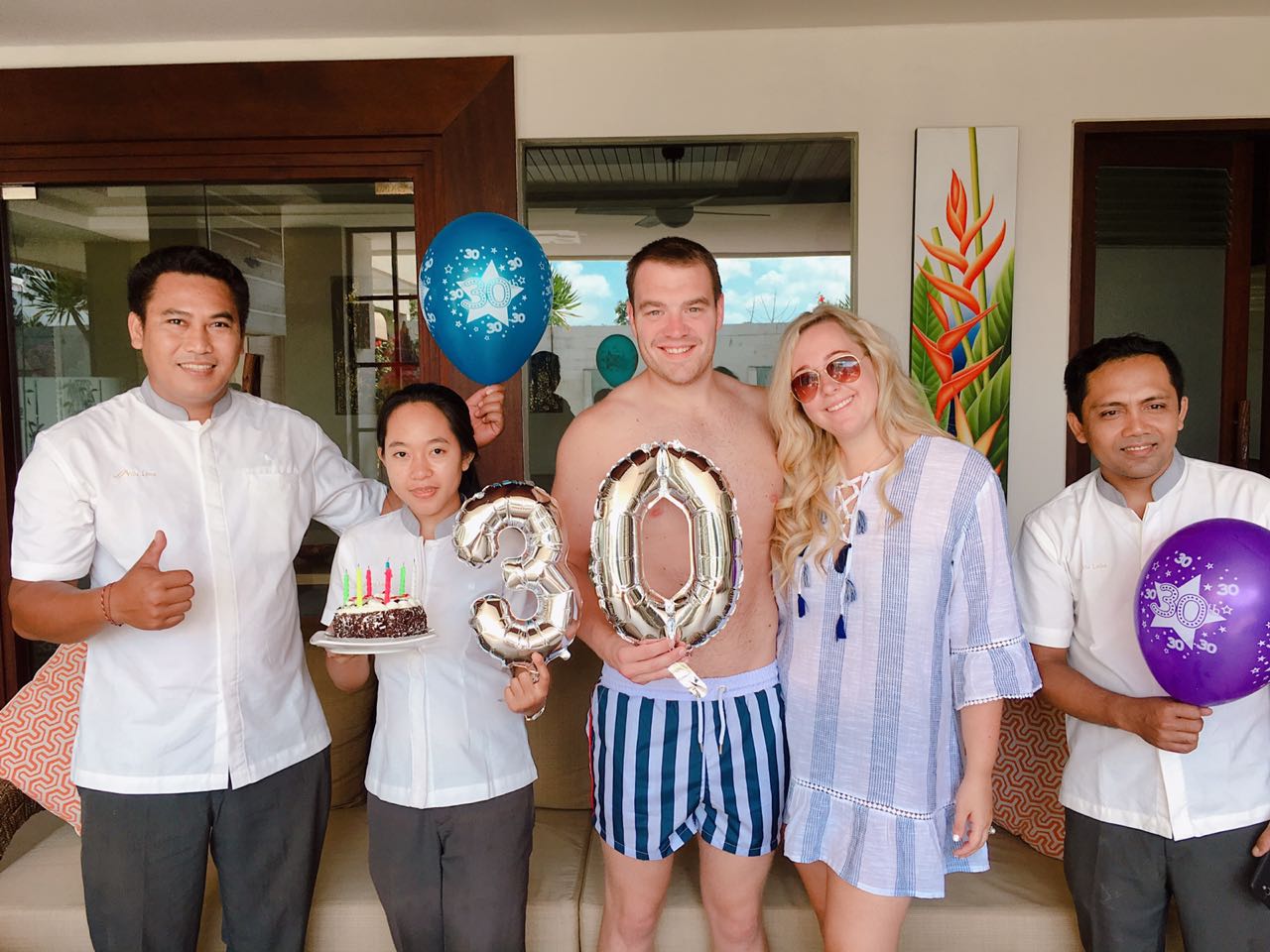 We made the trip to Lovina which is on the North side of the Island to watch wild dolphins. We were picked up about 3.30am & arrived there at 5.30am then got on to one of their traditional fishing boats with are very small & narrow so you sit behind each other & then go out in search of pods whilst also watching the sun rise. It was absolutely breath taking & dolphins are one of my favourite animals so seeing them in the wild (which I personally believe is the only way to see them & wouldn't ever go to anywhere like Seaworld but that's personal preference…) & them choosing to swim so close to our boat was so special. When we first set off there was about 60 of these boats in the ocean all doing the same thing & they'd all race to one point if anyone spotted a pod so it was quite crowded but after half an hour they'd all gone off in to smaller groups which was much better & the dolphins seemed more relaxed too. Afterwards we came more inland & jumped off the boat to go snorkelling which was lovely. We paid 1,000,000 IR (£55) for both of us including transport which was a 2/2.5 hour drive each way & booked through WhatsApp using Herman Lovina Tours.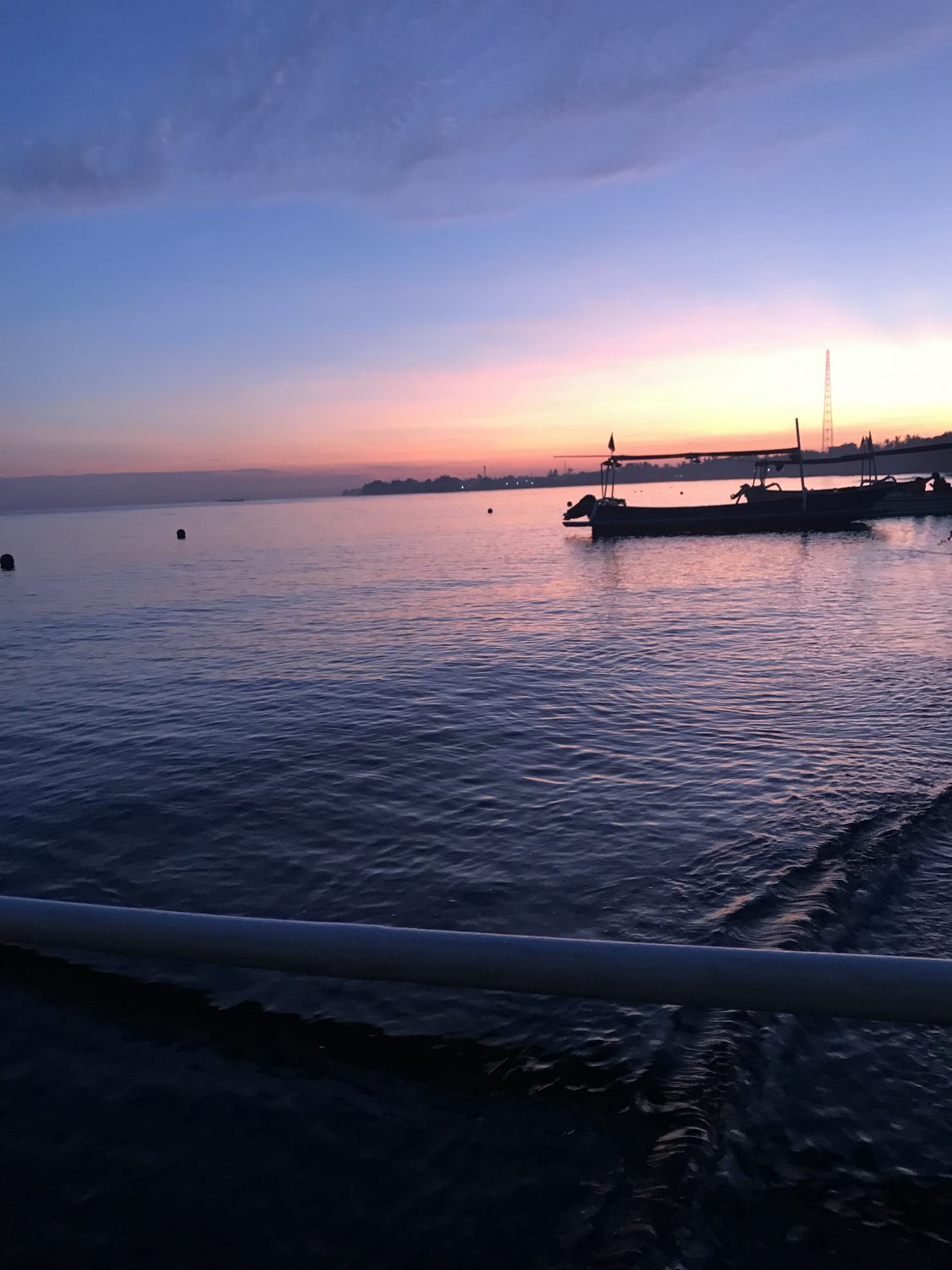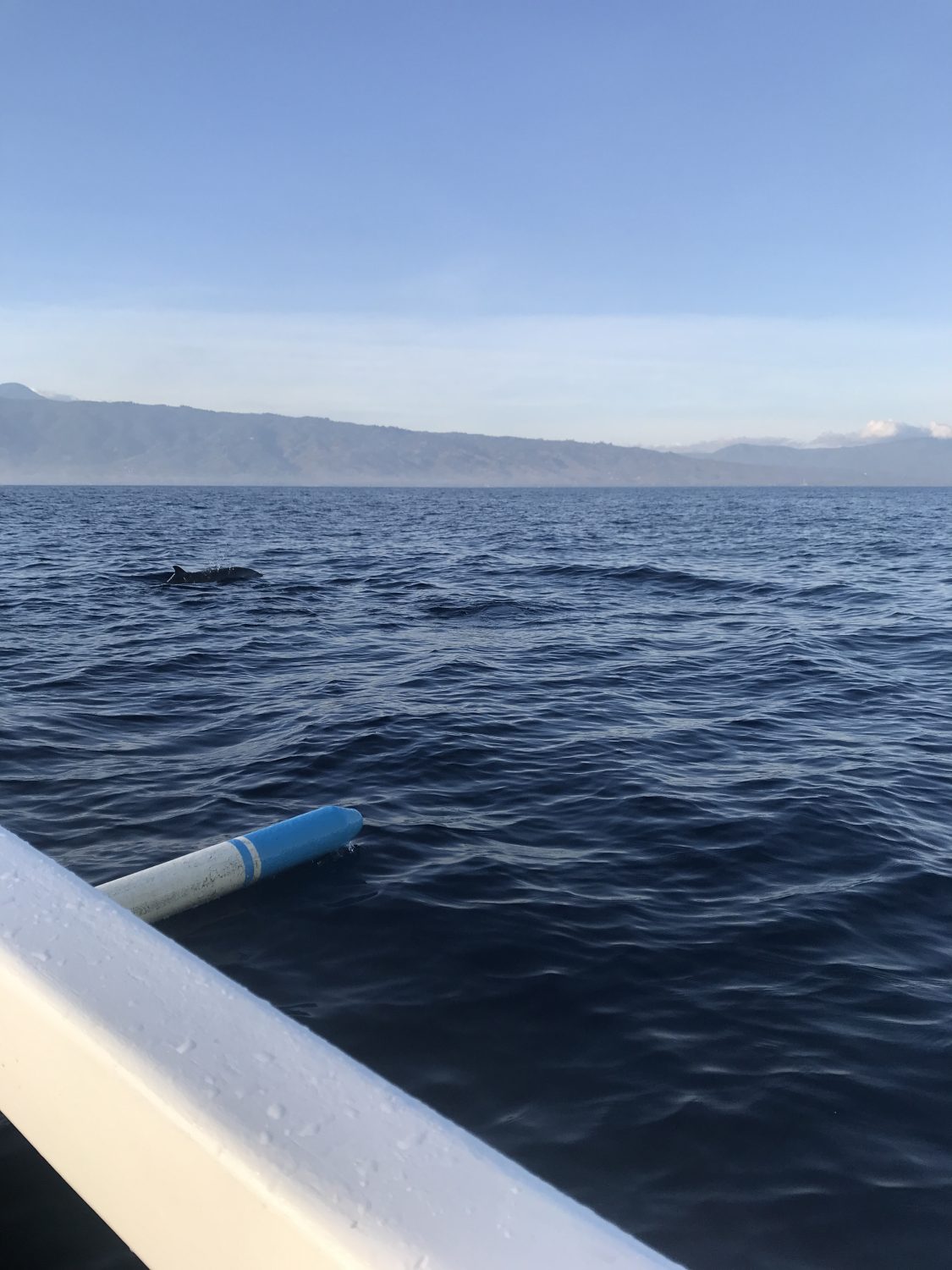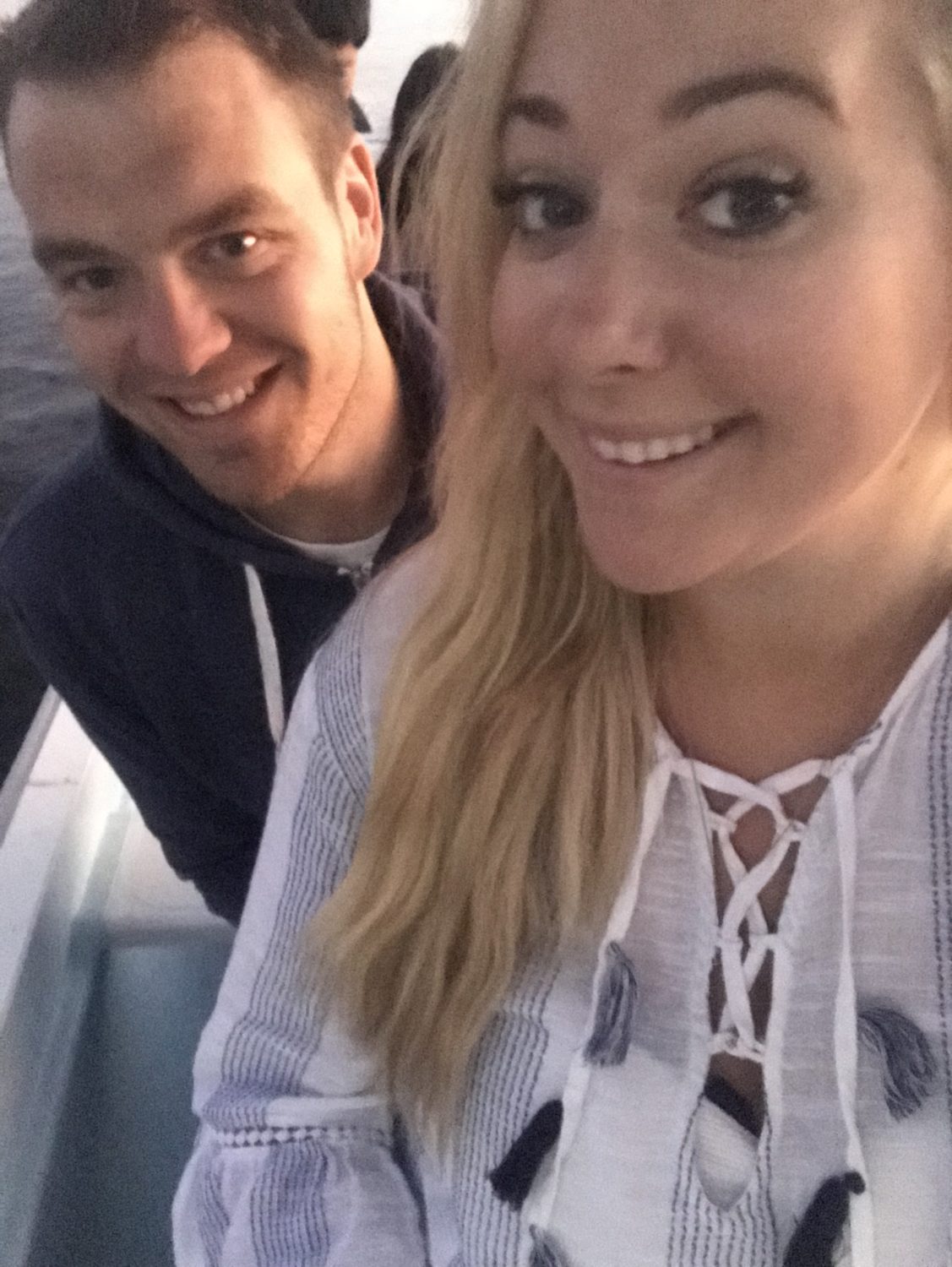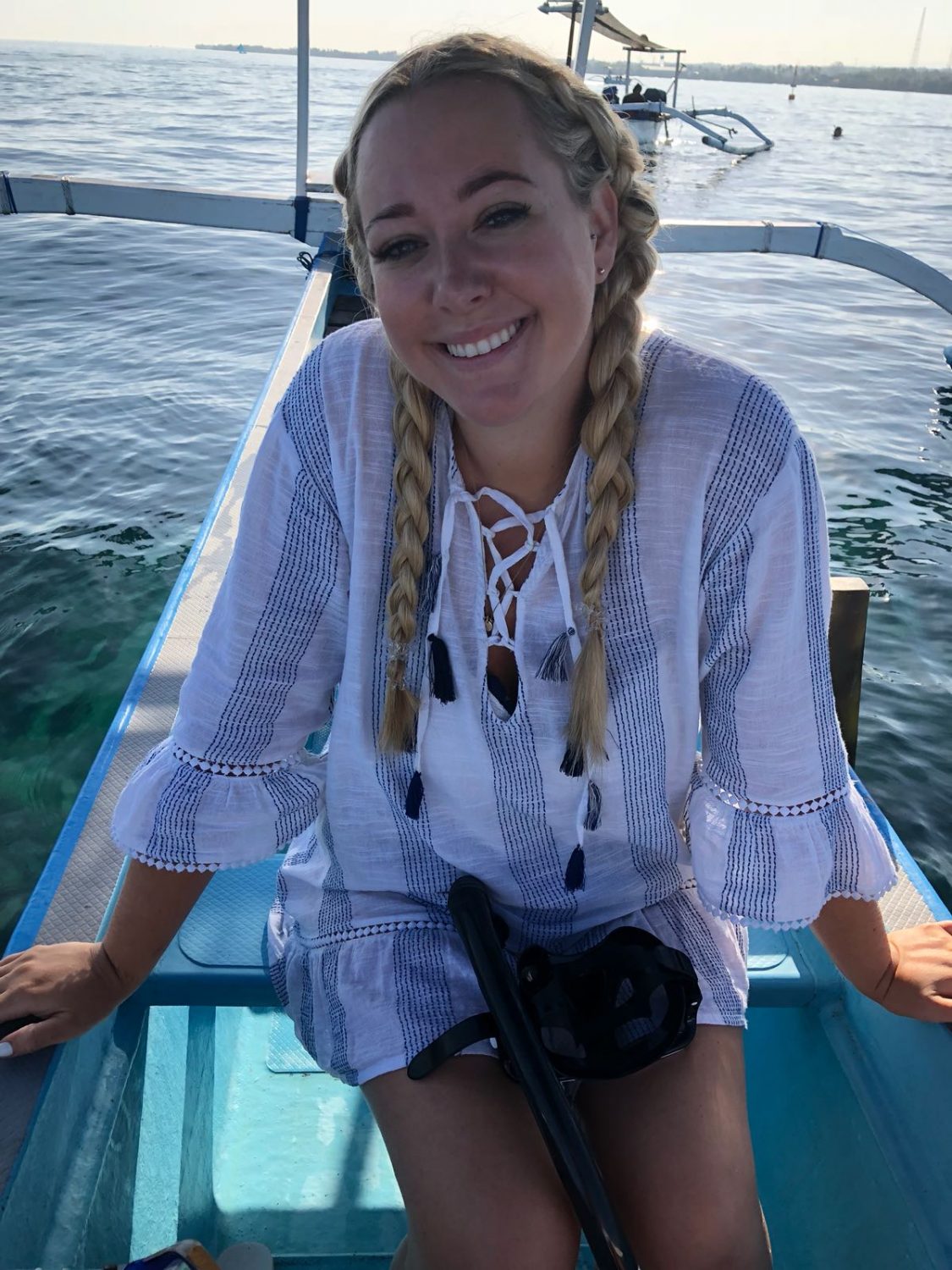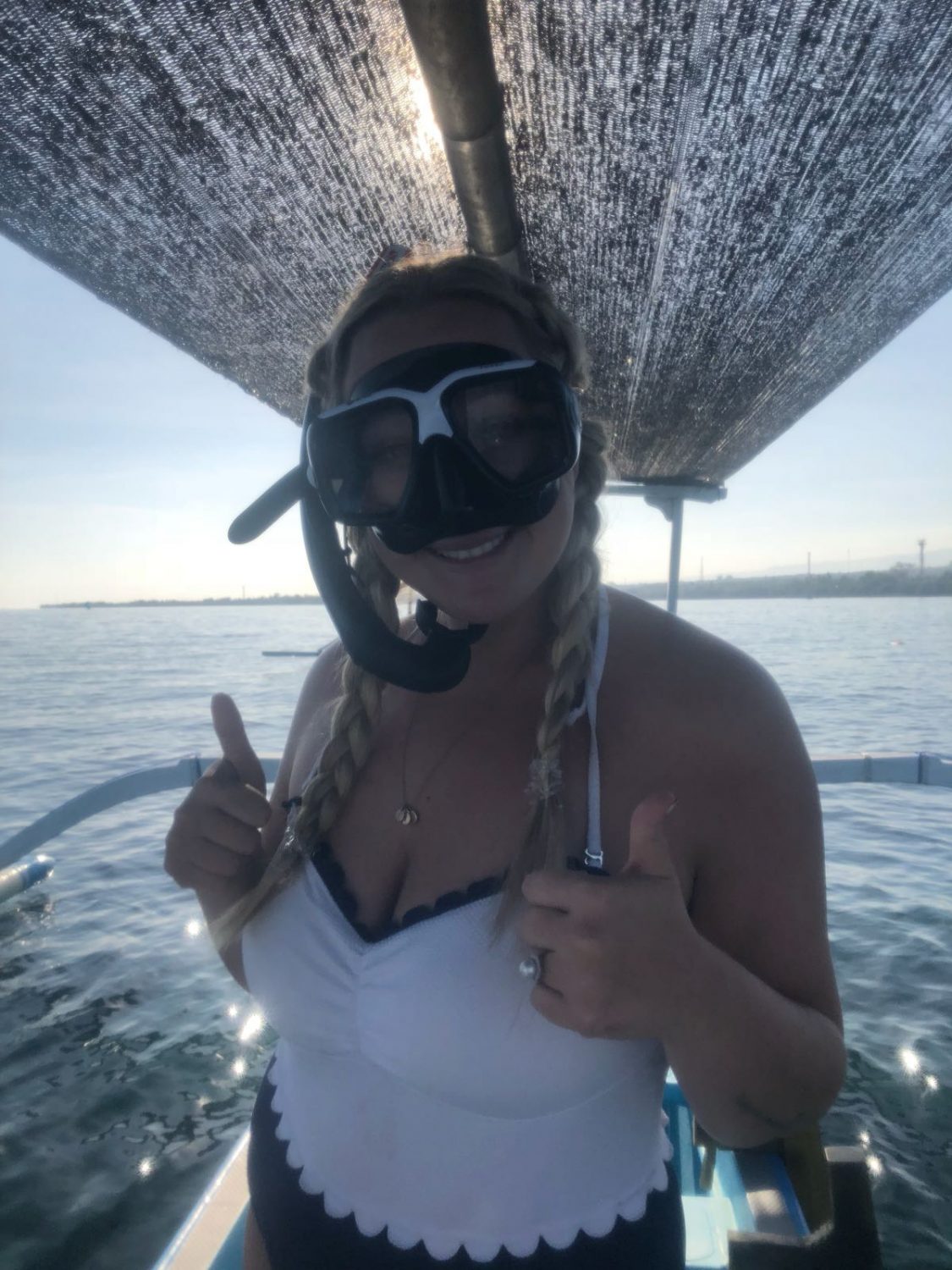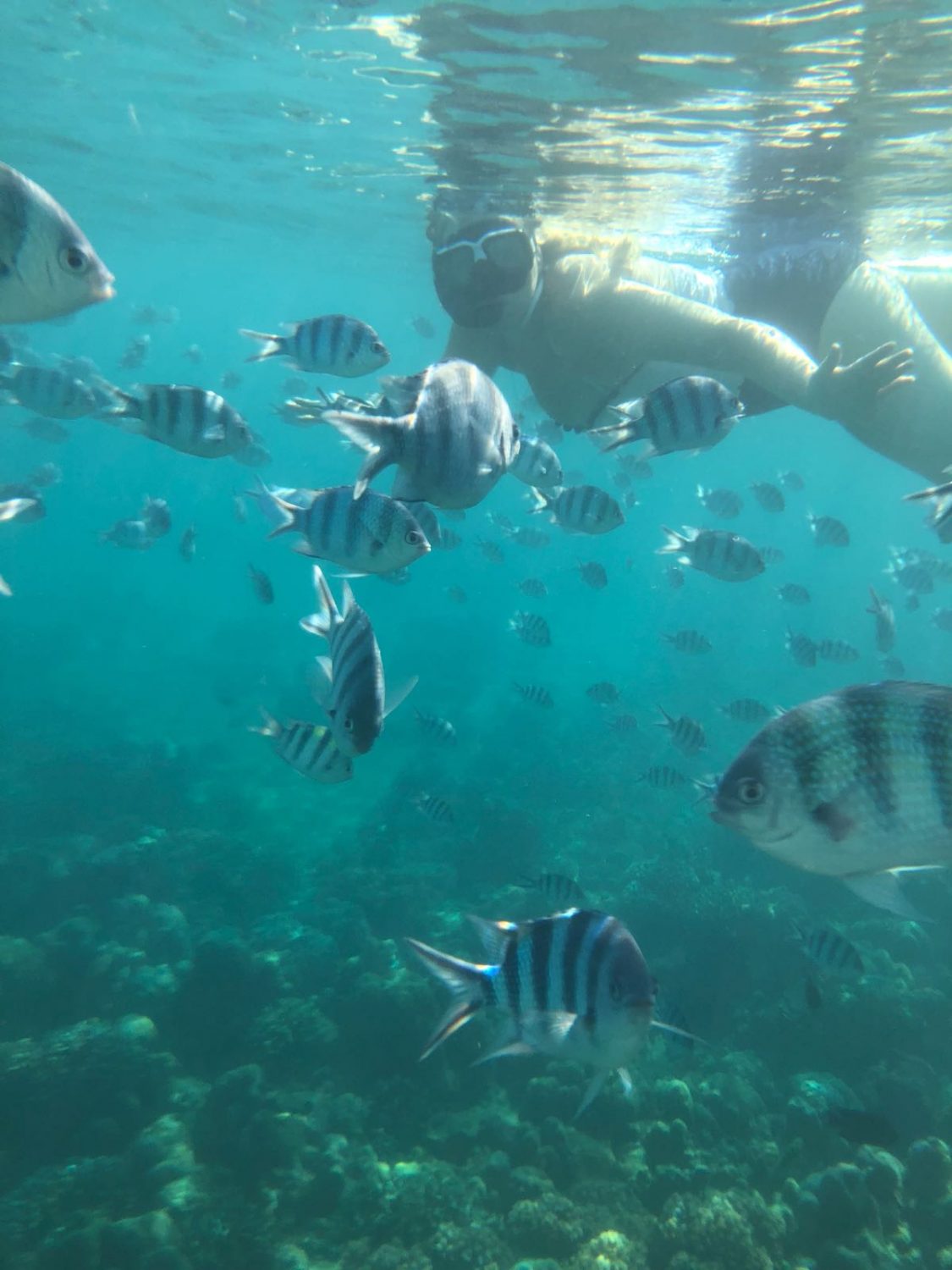 We experienced our first earthquake! This was whilst in Potatohead on Joe's 30th after a round of tequila shots (so not ideal) & was pretty scary. It took a while to realise what was actually going on & the staff were very unsettled after the bigger quake on the Sunday before. We couldn't go down/out of the building as bottles were falling down the walkway from the bar above so we ended up having to run (barefoot in my case) through the kitchens. Bali hasn't been massively affected by the earthquakes in Lombok thankfully but you can tell they are on edge & we saw several references to 'what to do in the event of a Tsunami' which was unsettling when you're constantly next to a beach.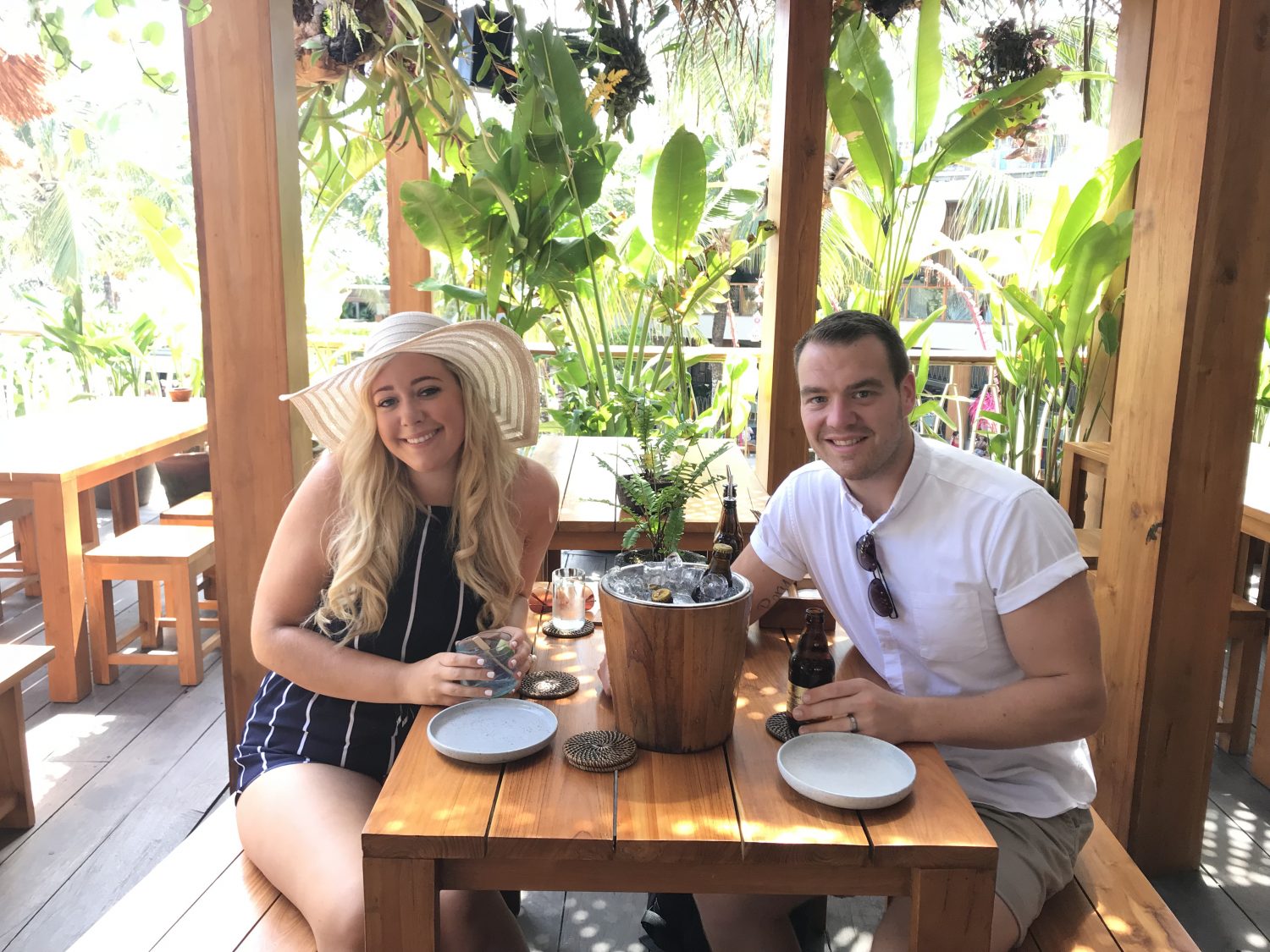 We went on a day trip to Ubud which we planned ourselves & used a driver we'd had for an excursion beforehand who was lovely & didn't drive like a complete maniac (message me if you want his number, everyone uses whatsapp so it's easy to arrange) who charged 550k IR (£30) for a full day (12 hours) & about 6 hours of that was driving us around. Firstly we booked a bike tour through e-Bikes Bali which was 950k (£50)or both of us including a 3 hour tour & lunch. They were electric bikes which made it SO easy (in fact, I want one…why peddle when you can press a button?) but I'm not going to lie, I haven't cycled in years & I was left with a very sore bum. We went through the rice fields which was so beautiful but one track was really bad & dangerous…I ended up coming off my bike & have bruises all over my leg & another girl did the same but ended up a lot worse. The rest was great though (on the actual roads rather than feeling like you're off-road extreme mountain biking with 27482 pot holes) & a fab way to see Ubud. We stopped off at a coffee plantation, a traditional Balinese house & also a restaurant with a swing over the rice fields on route.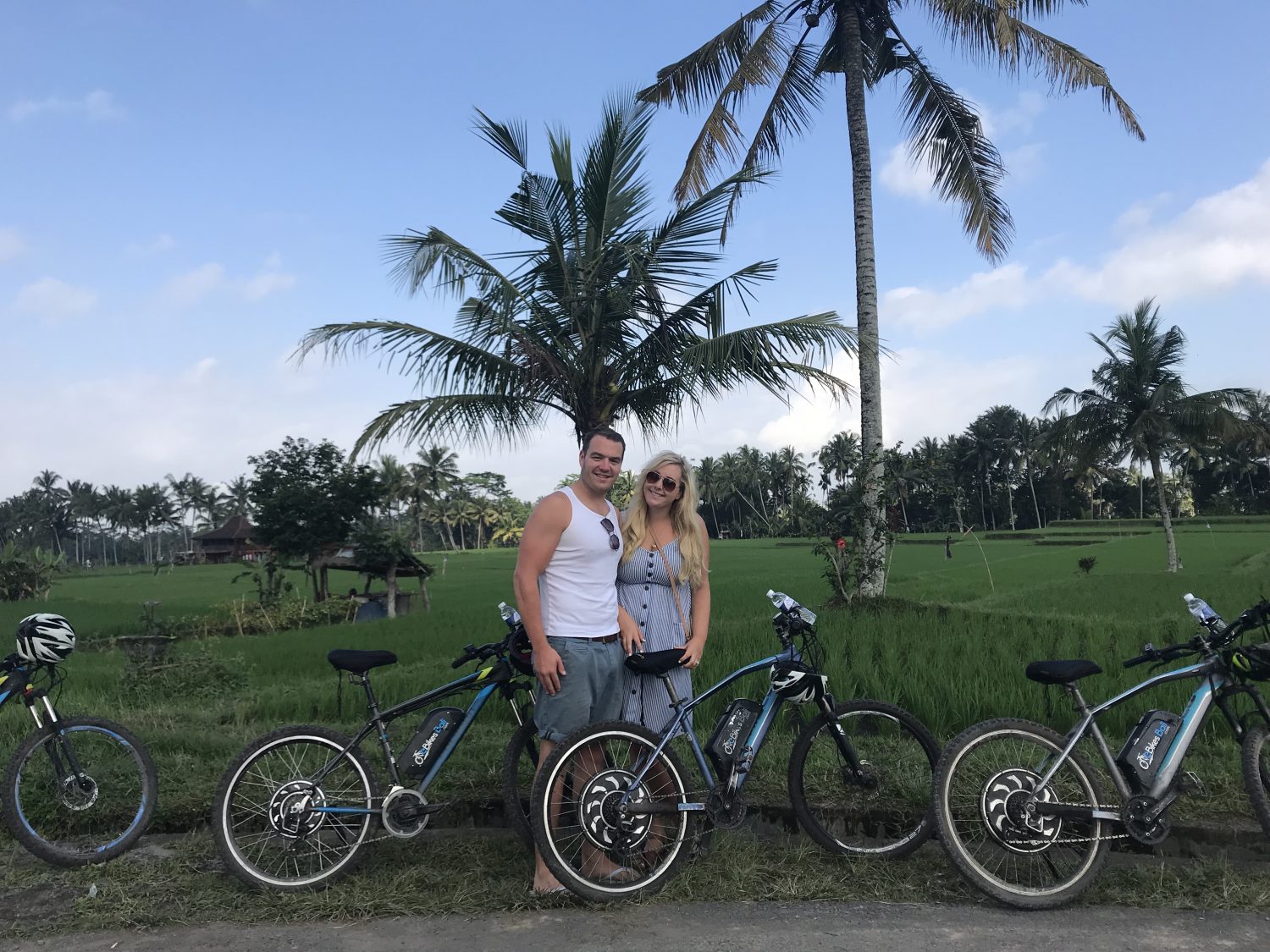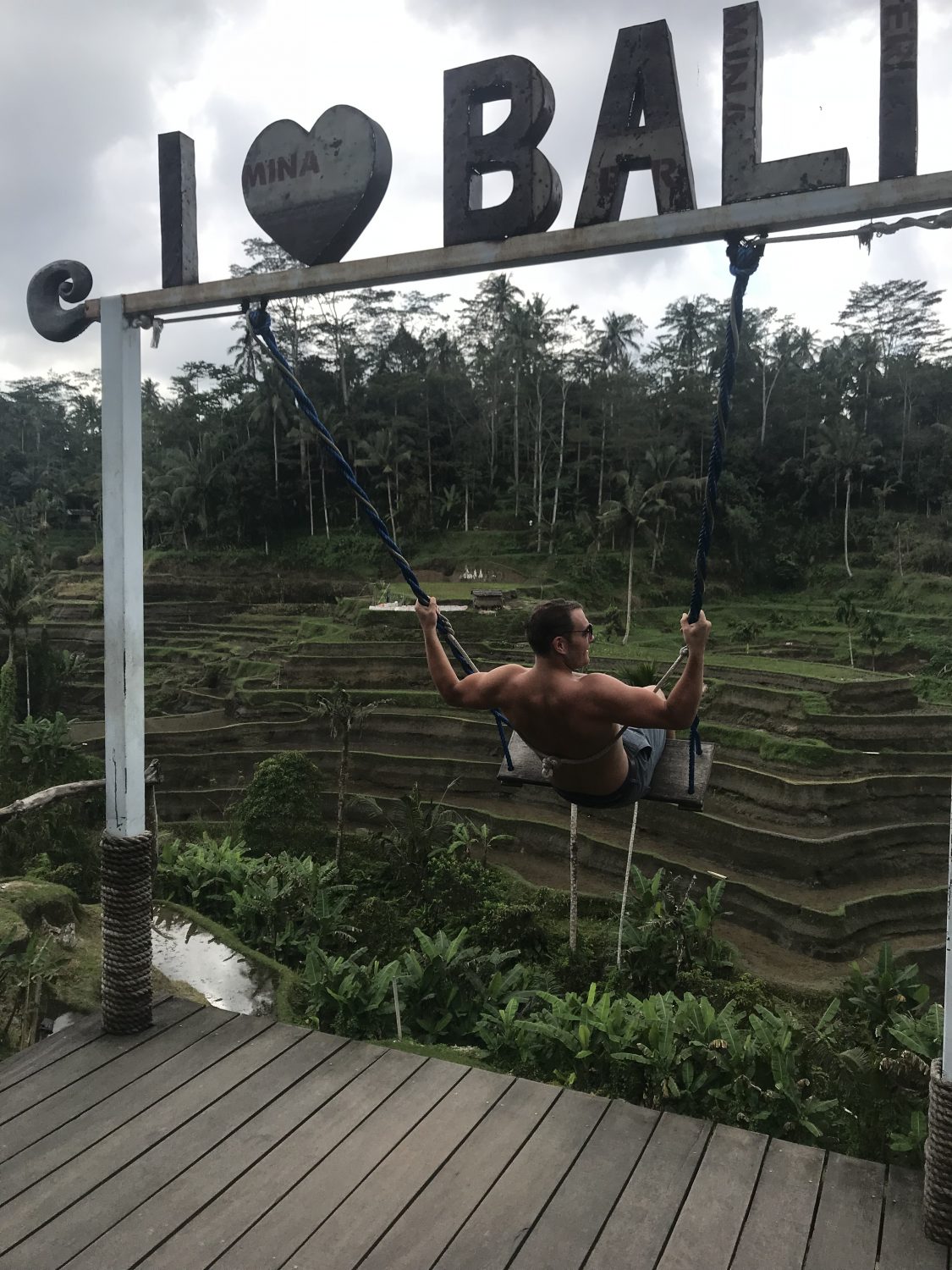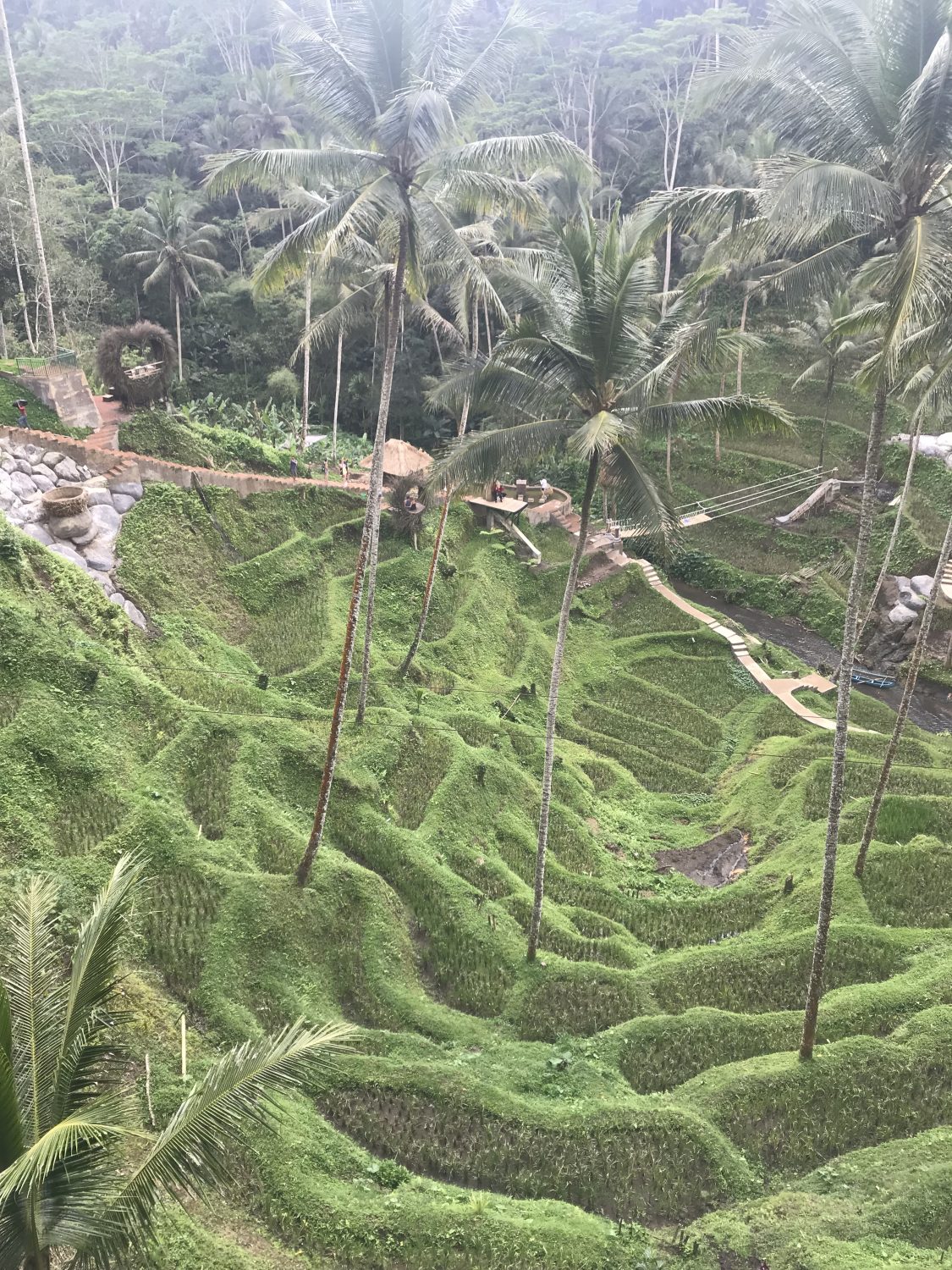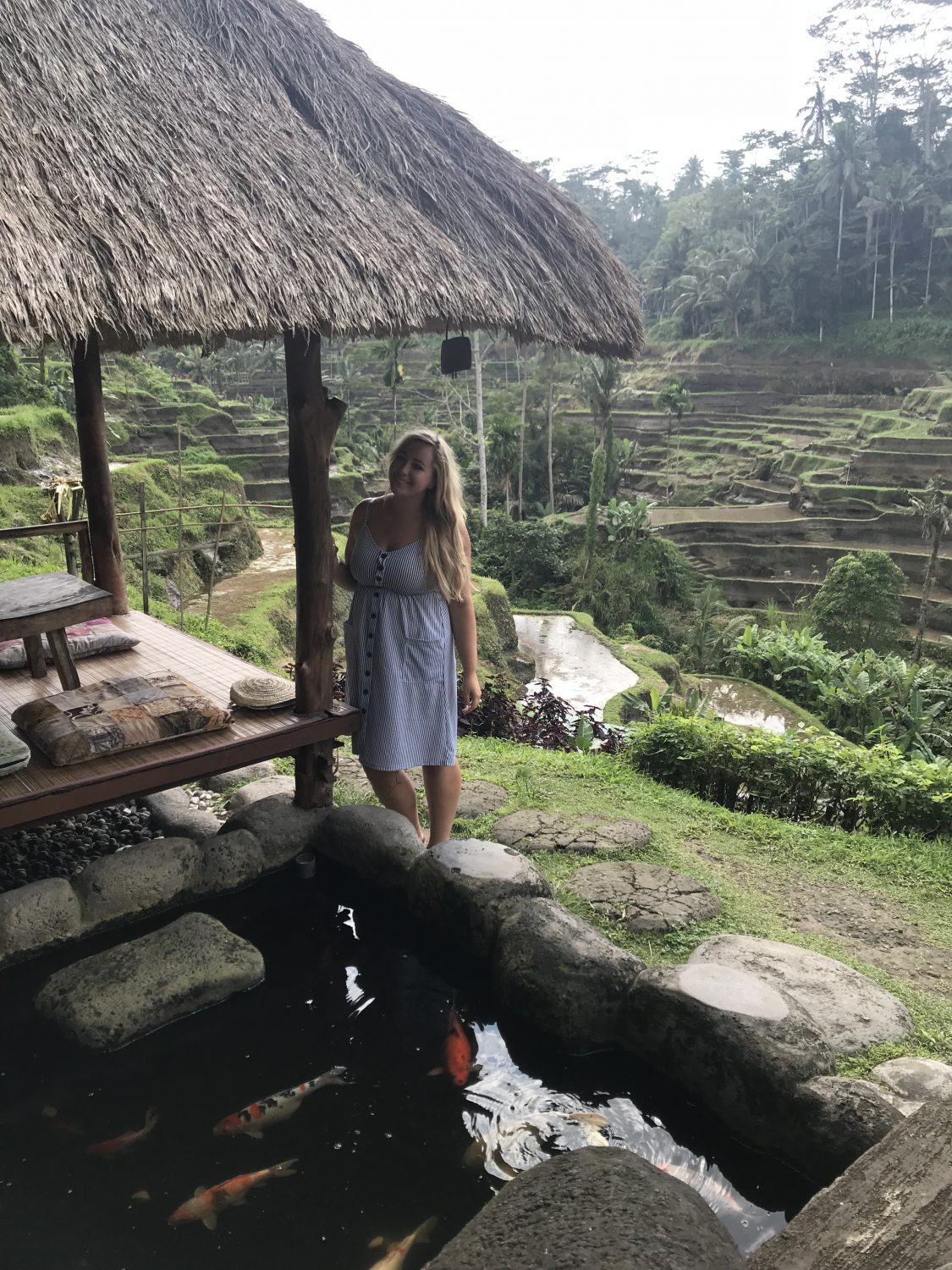 After the bike tour we had lunch in a small restaurant as part of the excursion then our driver took us to Monkey Forest. The monkeys are free to roam around & go where they like which was lovely to see but they are wild & I think I expected them to be more friendly/tame before going…they definitely own the forest & we saw them stealing things from people & generally being little monkeys (literally) when walking through. It's a must do in Ubud though!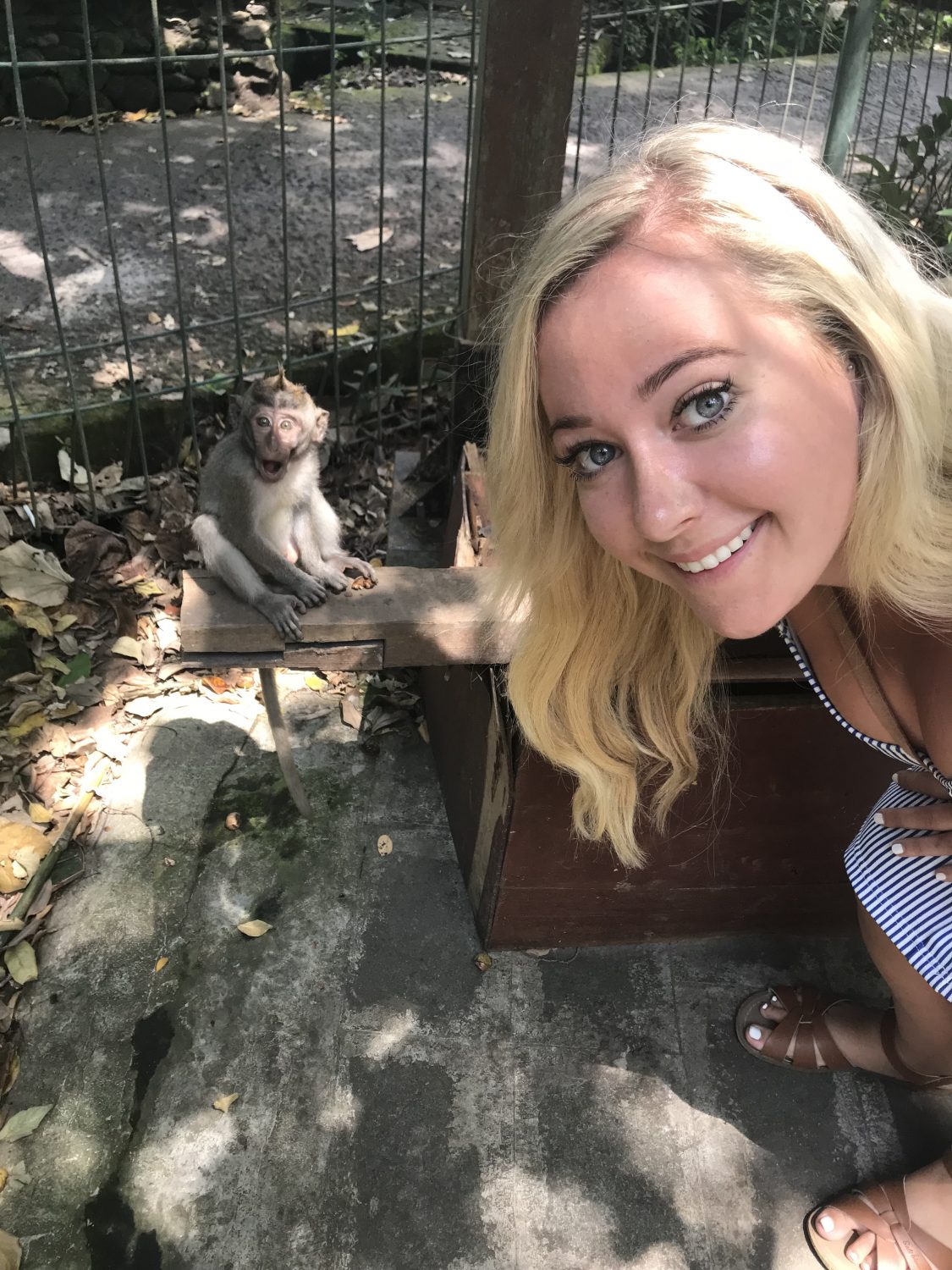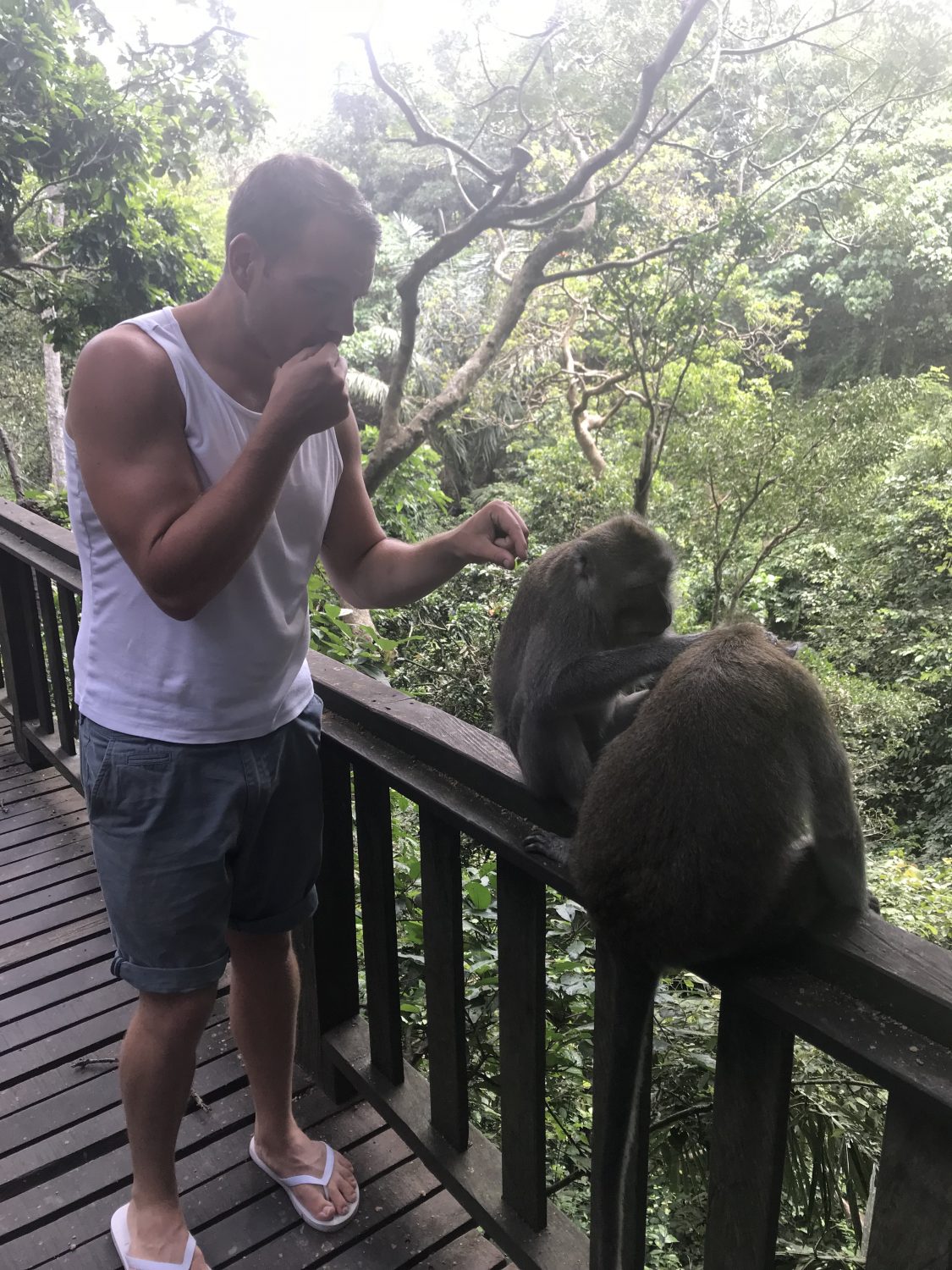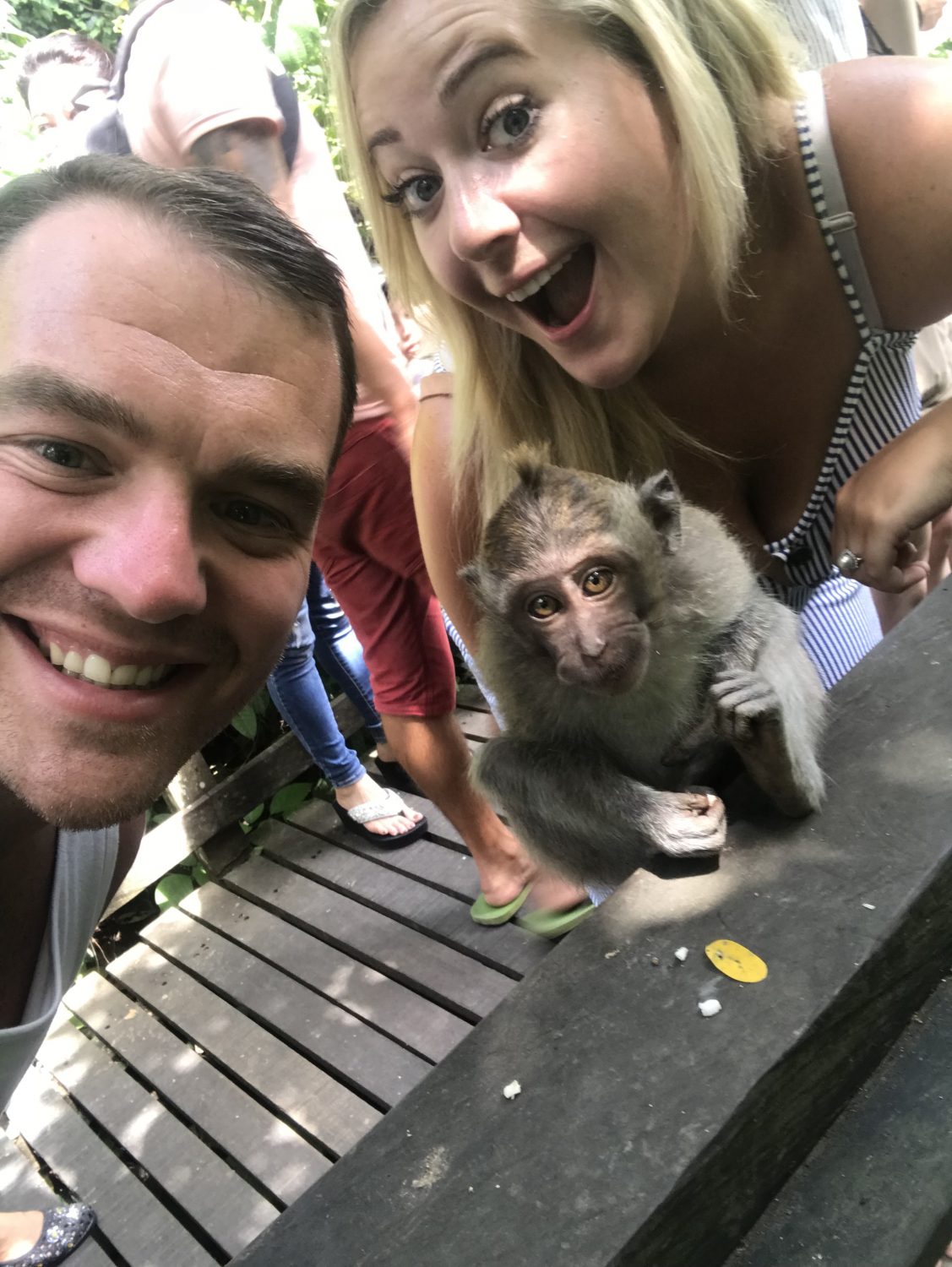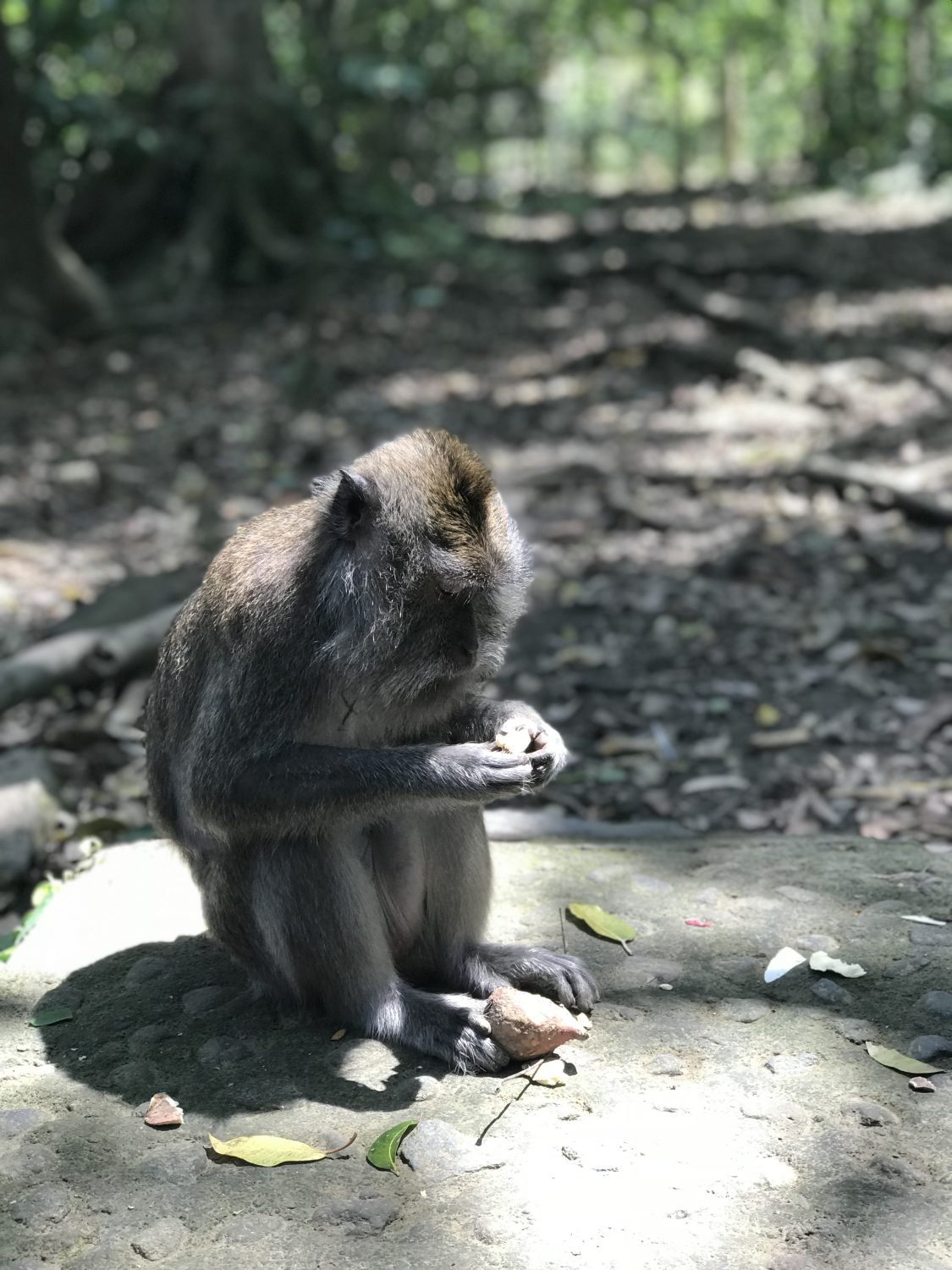 We then went on to a traditional market which was a bit disappointing to be honest as I expected to see something different with Ubud being more of a creative/arts area & hearing about the beautiful paintings but perhaps we went to the wrong place. We just had stalls upon stalls of people badgering you to look at exactly the same 'tat' as the one next to it.
After the market we went to Tegenungan Waterfall which was so beautiful. You can swim in the water too so great to cool you down but it was very busy.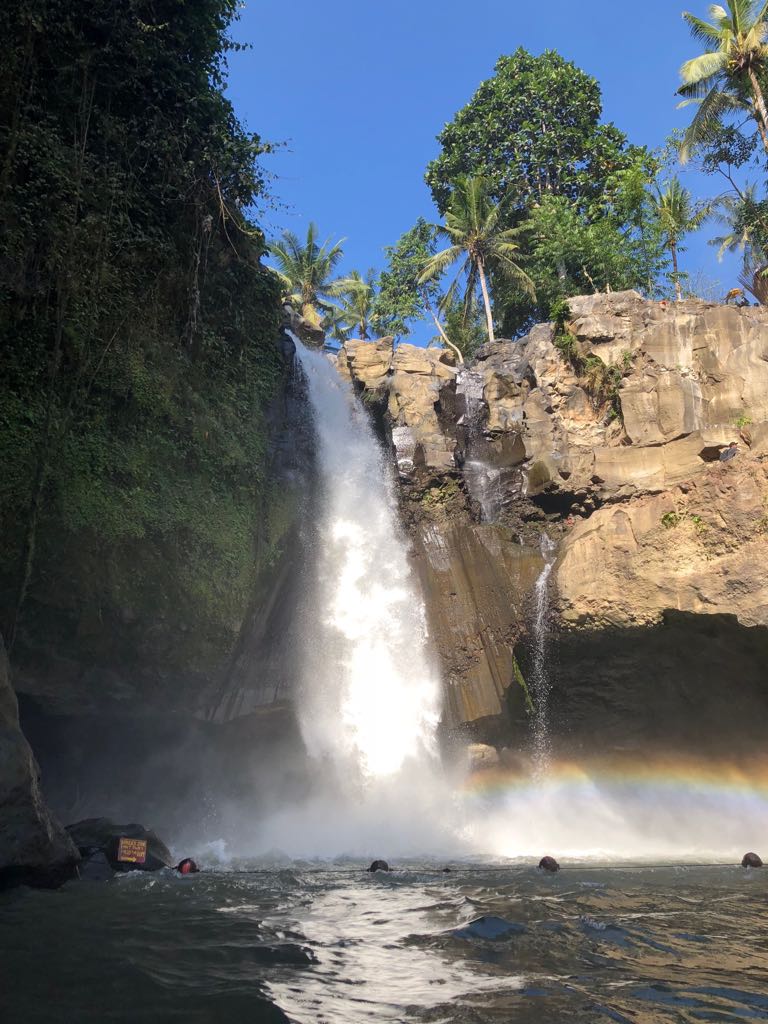 We also rented a scooter for one of the days when we were just planning on popping around locally to our villa. My mum wasn't too happy about this & I received a whatsapp telling me off (are you ever too old to be told off by your mum?) but it wasn't too bad & we stuck to side roads using google maps on walking rather than driving. So much quicker to get around as the main roads are so busy. It cost about £4 for the day & luckily we didn't die eek.
We saw SO many beautiful temples. They are absolutely everywhere you look in Bali & I wish I'd taken more pictures. Even the houses are designed so intricately & the craftsmanship with the ornate carvings is mind blowing.
Seeing as we couldn't go to the Gili Islands (which is supposed to be the best place for snorkelling/diving) we booked a day excursion to go over to Nusa Lembongan & Penida just off from Bali through Lembongan Watersports which was 990k (£55) per person inc transport, equipment & lunch. We were picked up from our hotel in Nusa Dua at around 7.45pm then caught the fast boat over to Nusa Lembongan where we got on another boat to go to 3 points for snorkelling. The weather unfortunately wasn't great & the sea wasn't playing ball either so it was really choppy.
Our first stop off was Manta point & as you pulled up you could see them (I mean, they are huge!) like big black shadows under the boat. It was right next to some cliffs & after about 5 minutes in the water, even though I'm a confident swimmer, I got back on to the boat which was being chucked around. I've never seen such huge waves & I don't know how they even considered letting us in (I suppose they don't have health & safety issues like over here…) but it was an amazing experience all the less.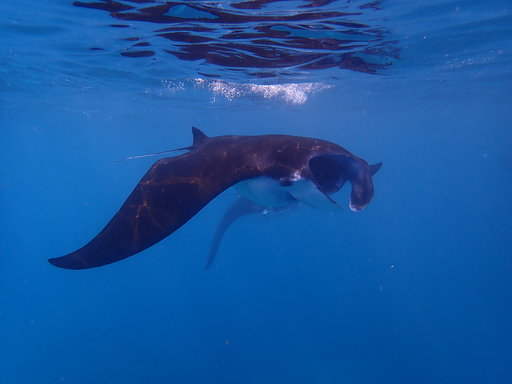 Our second & third stop offs were thankfully a bit calmer & the corals & fish were just beautiful…we saw tiny nemo's in anemones & to top it all off, a turtle! We then went back for a lunch followed by kayaking down the mangrove forest.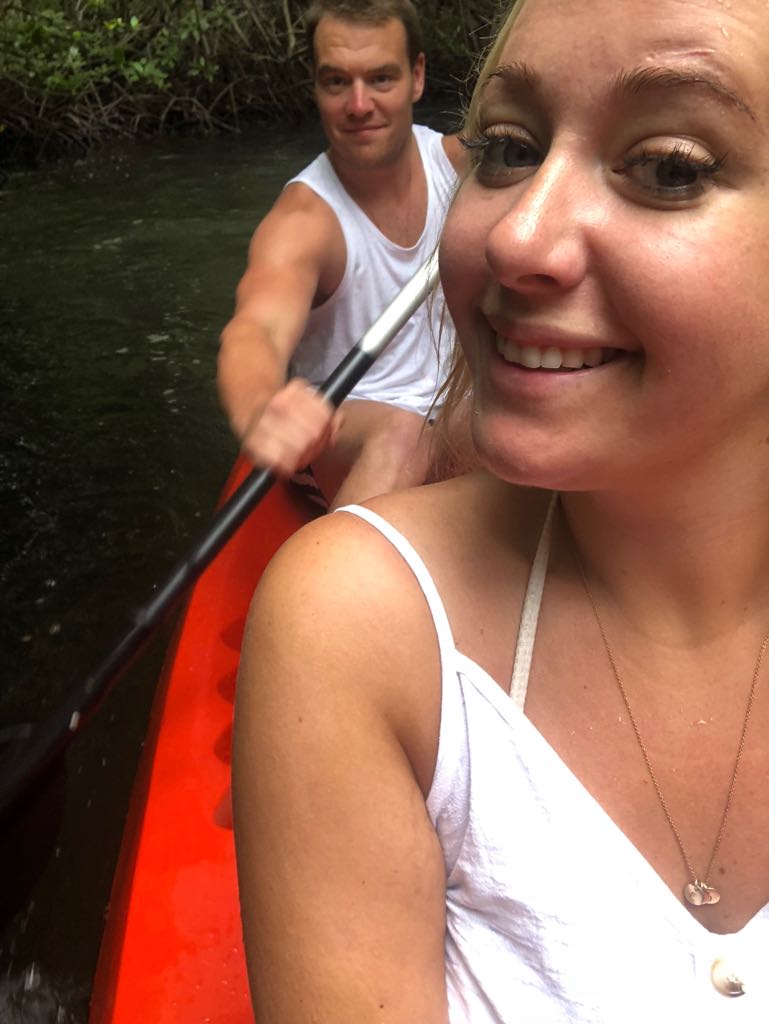 Speaking of turtles, another thing we did was to visit the Turtle Conservation Centre in Denpasar. This place saves turtles who are sick & injured in their sanctuary as well as hatching eggs that are in danger of being eaten or sold on the black market. It was such an amazing experience as we had a tour of the centre (run solely by volunteers) at these incredible endangered animals then were lucky enough to watch some eggs which had started to hatch in their hatching area. They run on donations so make sure to take cash!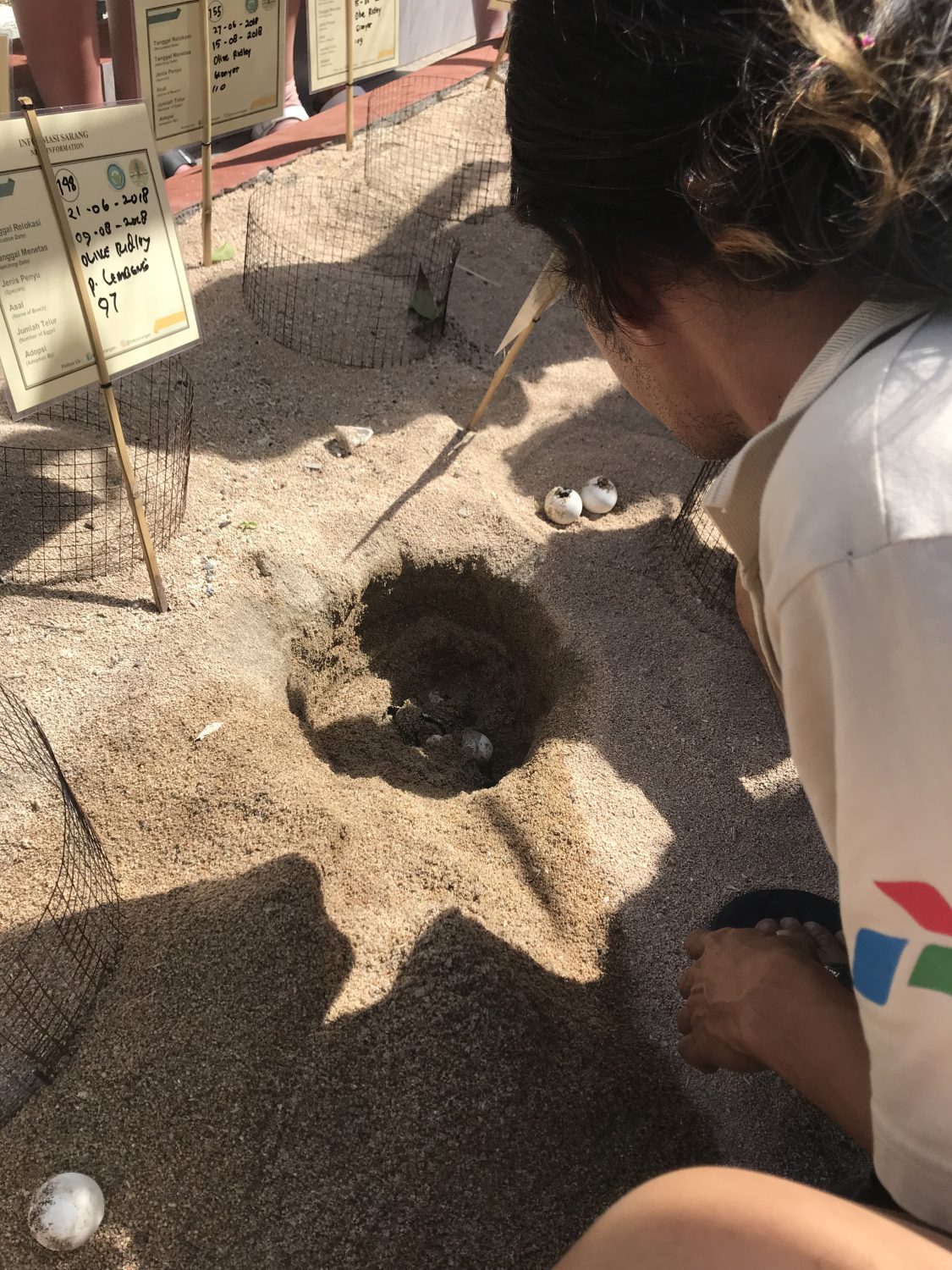 For 150k IR (£8) you can adopt a 1 week old baby turtle of the ones that have been saved & hatched at the sanctuary which you then take to the beach & release back in to the ocean. We called ours Elsa & Rory then got little certificates & a turtle necklace which we gave to the kids to keep in their memory boxes & hopefully those two tiny little turtles will go on to lead full & healthy lives & never have to end up back at the centre again, although it was heart breaking to learn that only 30% end up making it due to pollution & rubbish which was all too apparent around Bali as a whole.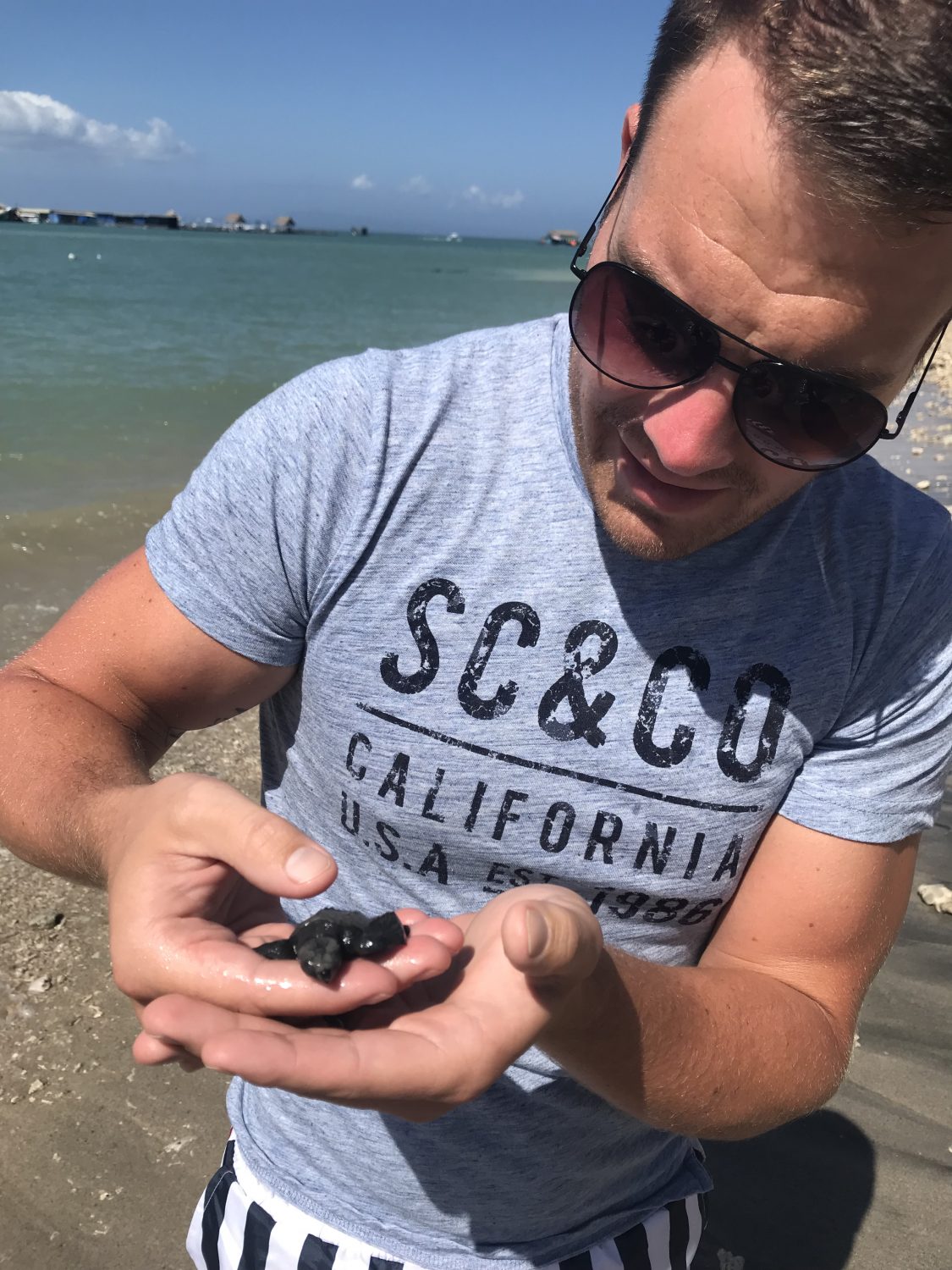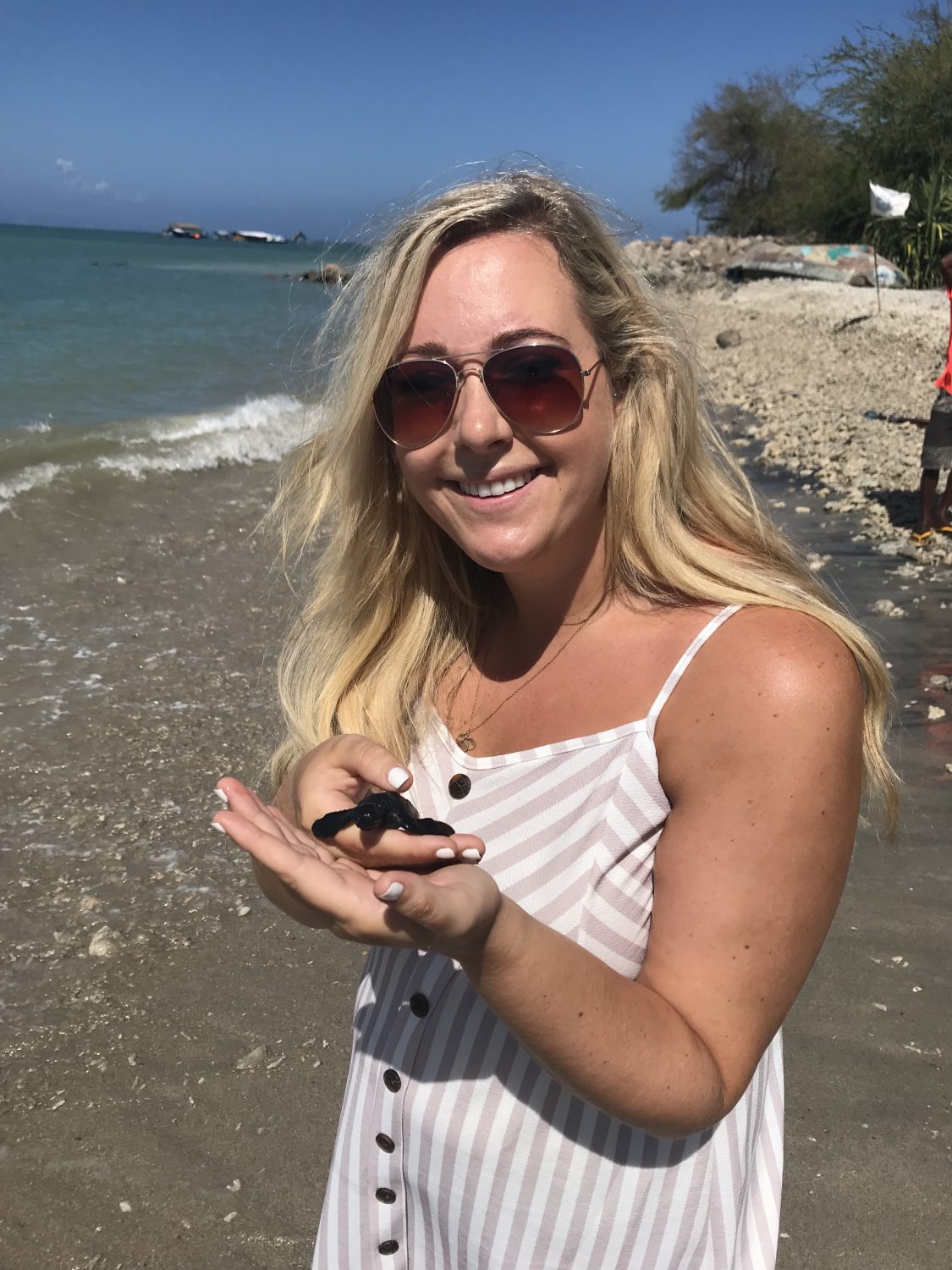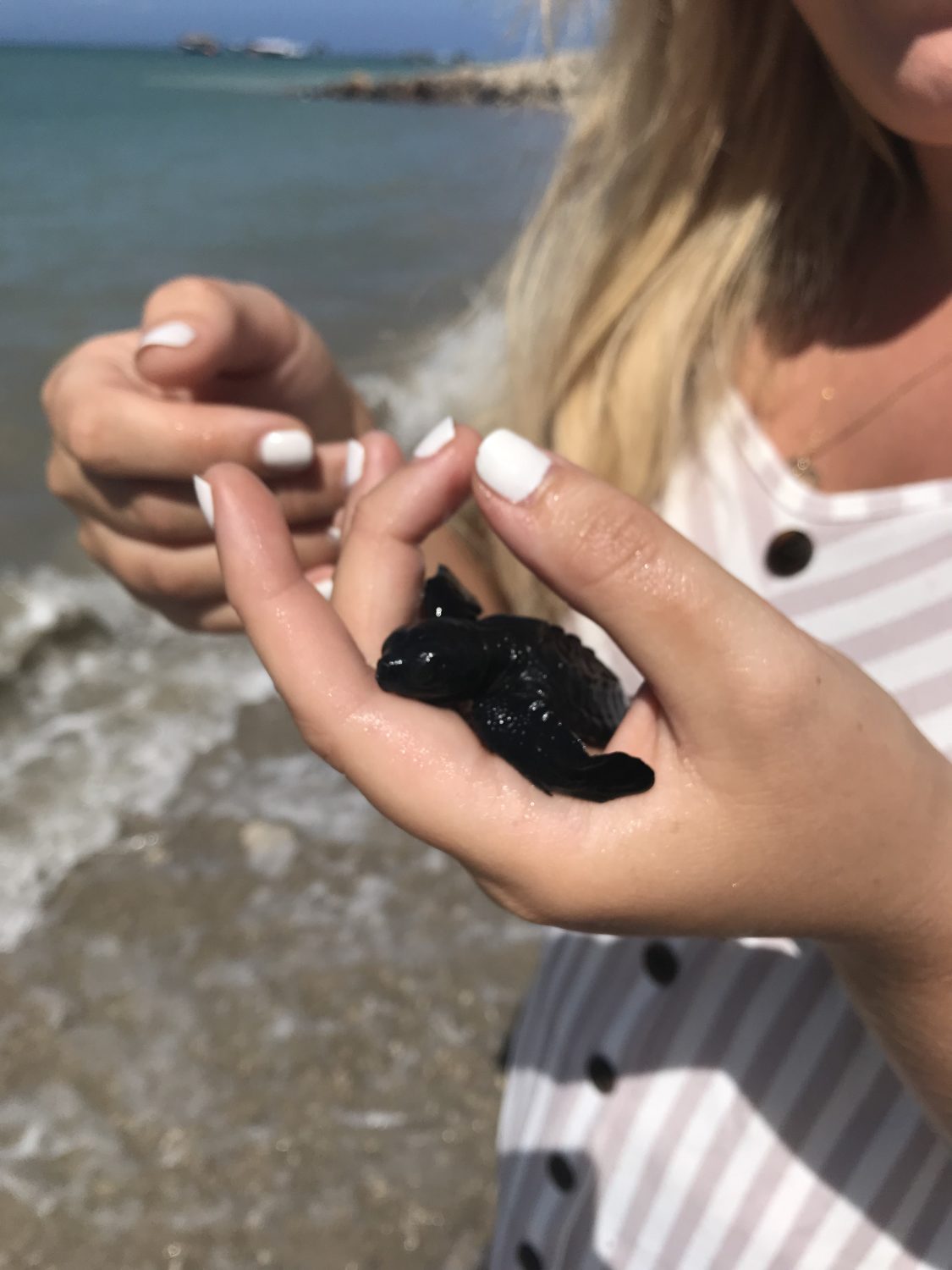 Now the best thing we did (saving until last) was a climbing up Mt Batur which is one of Bali's active volcano's. When we looked at excursions before coming away Joe pointed it out & I actually laughed & rolled my eyes at him because I didn't think I'd be able to do it. Hell, I even thought I couldn't do it when I was 1/4 of the way up & nearly ready to give up but I pushed on & honestly, the feeling from getting to the top when you're not the most physically fit (to say the least) & watching the sunrise on this beautiful country is INCREDIBLE. A definite highlight. We booked through Air BNB here which was £49 PP & went for a private tour which I'm really glad of as we could go at our own pace & our guide Ketut put up with a LOT of moaning. Make sure to take good trainers (the grip on mine wasn't great which made coming down difficult) & also warm clothes as it's seriously cold at the top. You get picked up around 1.45am then it's a couple of hours drive before you start walking in the pitch black with a torch. Afterwards we went to the hot springs to relieve our aching muscles.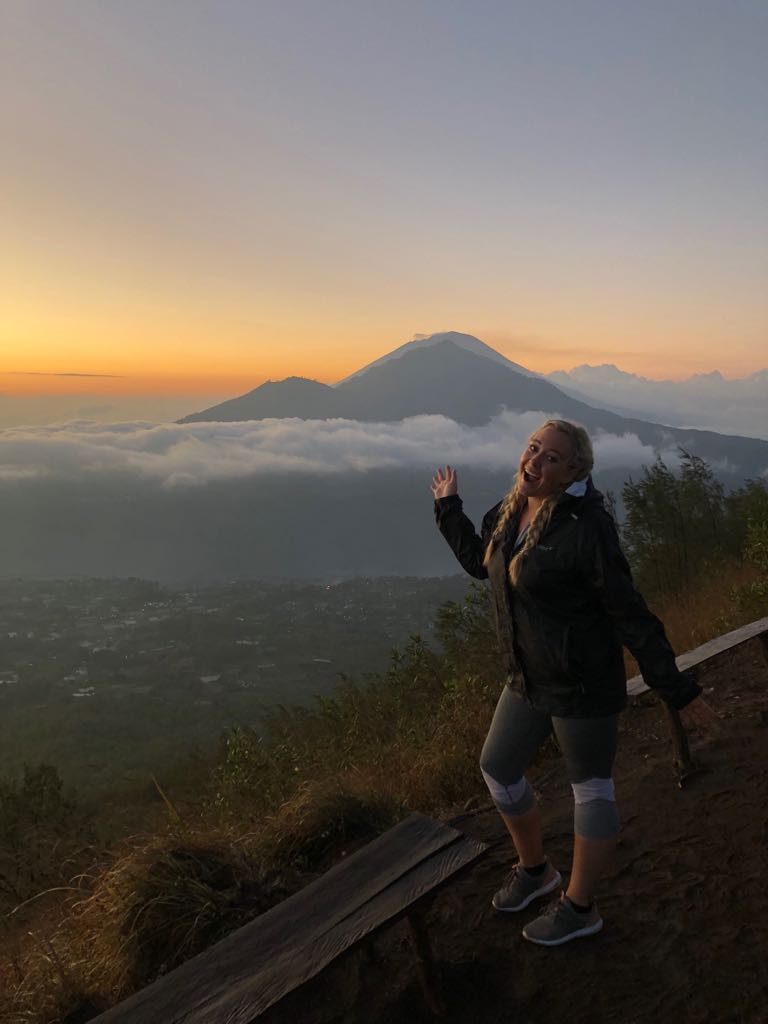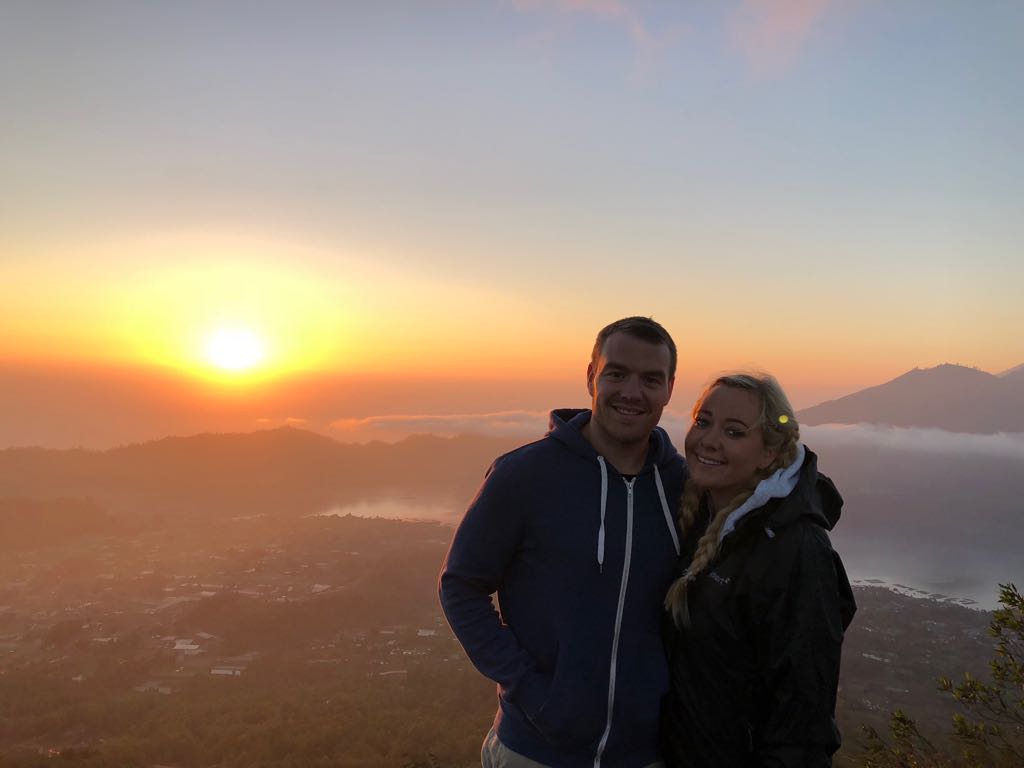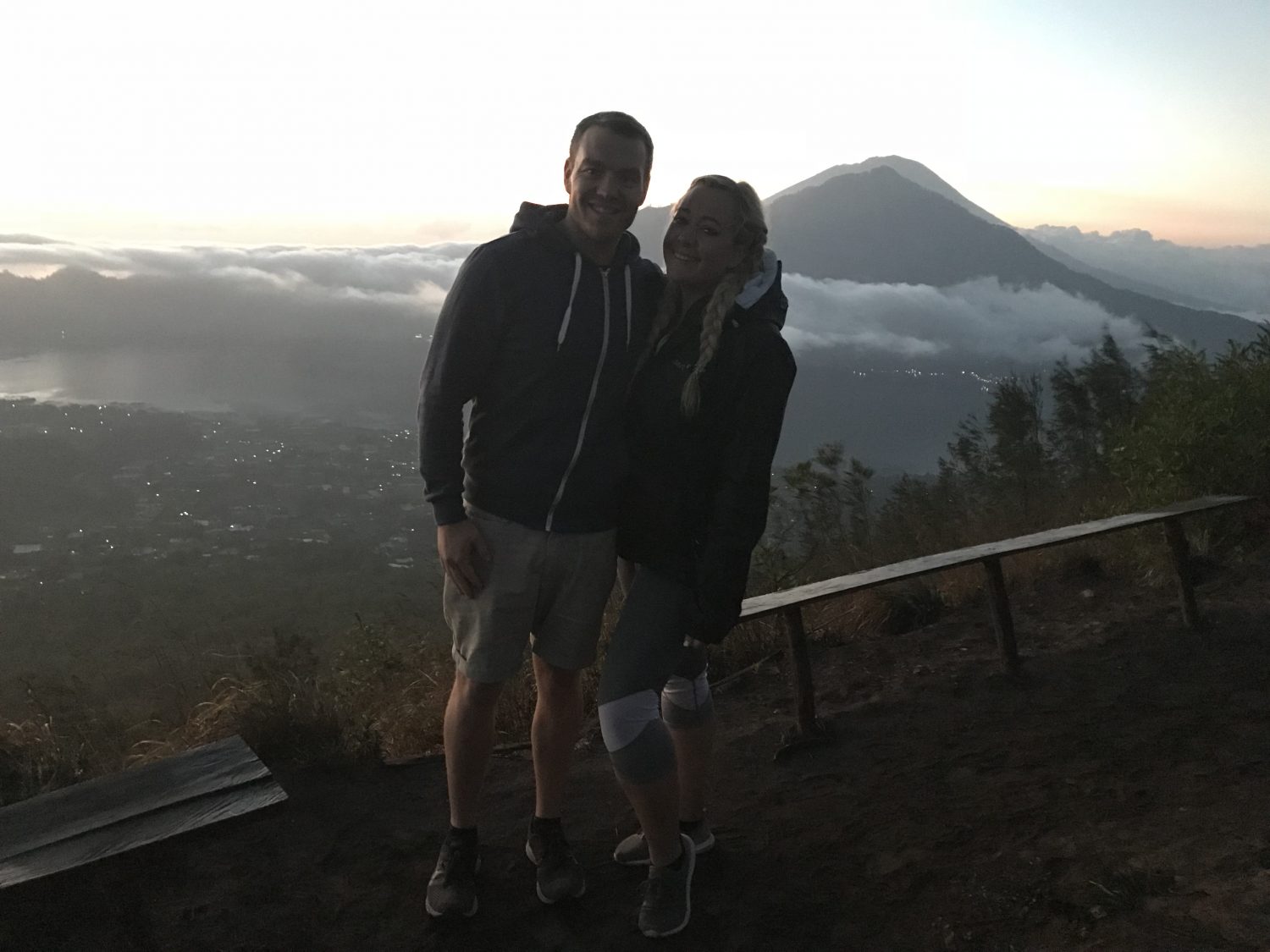 What are my top tips for Bali?
Get used to travelling around as quickly as possible – either rent a scooter (although just be warned, they do drive like maniacs so not for the faint hearted, although it weirdly seems to work…) or use Bluebird taxi's & always ask them to put it on a meter. If you're doing a day trip then you can usually get a day rate & expect to pay around £30.00! It really is cheap as chips out there but we always tipped well.
Take in the culture – Bali is the most amazing place with the most amazing people which was the thing that stood out for me the most. It's absolutely draped in culture & so wonderful to see because it's just so different to here in the UK. Their traditions & religion alone are worth the trip out there to see.
Eat in as many places as possible – I cannot express enough how INCREDIBLE the food is in Bali. You'll find something for everyone & a lot of it is Westernised but you'll find some traditional food too. Honestly, it makes the food here seem tasteless (even a burger or pizza!).
Pack for all weathers – we presumed it was going to be super hot & sunny throughout our stay however actually we only had 2 really sunny days, the rest were overcast (but still relatively warm) or unfortunately raining. August is supposed to be their dry season but this year the locals seem to be stumped as to what's going on.
It's not always as cheap as you think it'll be – some places have ended up being ridiculously cheap but others have been in line with UK prices. Getting around is cheap & so is the local Bintang beer (which I can't even tell you how much of it Joe drank…) but expect to pay £5 a cocktail.
Get a Revolut card – this was recommended by a friend who's fairly travel savvy & we couldn't have got by with out it. We took £500 in cash (Indonesian Rupiah's) but the majority of the time we used the Revolut as everywhere seemed to take it. We probably didn't need that much cash in the end as we only used it on things like taxi's & then purposely tried to use it up. The card is completely free (you just pay like £5 to have it sent) & offers the best exchange rates, 0% transfers around the world & no fee's. You also get an app where you can change the pin or lock the card…card skimming is pretty common in Bali so we ended up doing that when out & about anywhere then when we wanted to use it we'd go on the app & unlock. They apparently save the average customer £46 when abroad on holiday.
Anyway, we had the most incredible time & I honestly couldn't recommend Bali enough as a holiday destination. The country is beautiful & the people are just so friendly. If you ever get a chance to go then you honestly must!
More importantly, it was just incredible to spend some time with Joe & to remind ourselves that we aren't just Mummy & Daddy but also husband & wife. It was the honeymoon we didn't really have & I realised I could be anywhere in the world as long as I'm with him.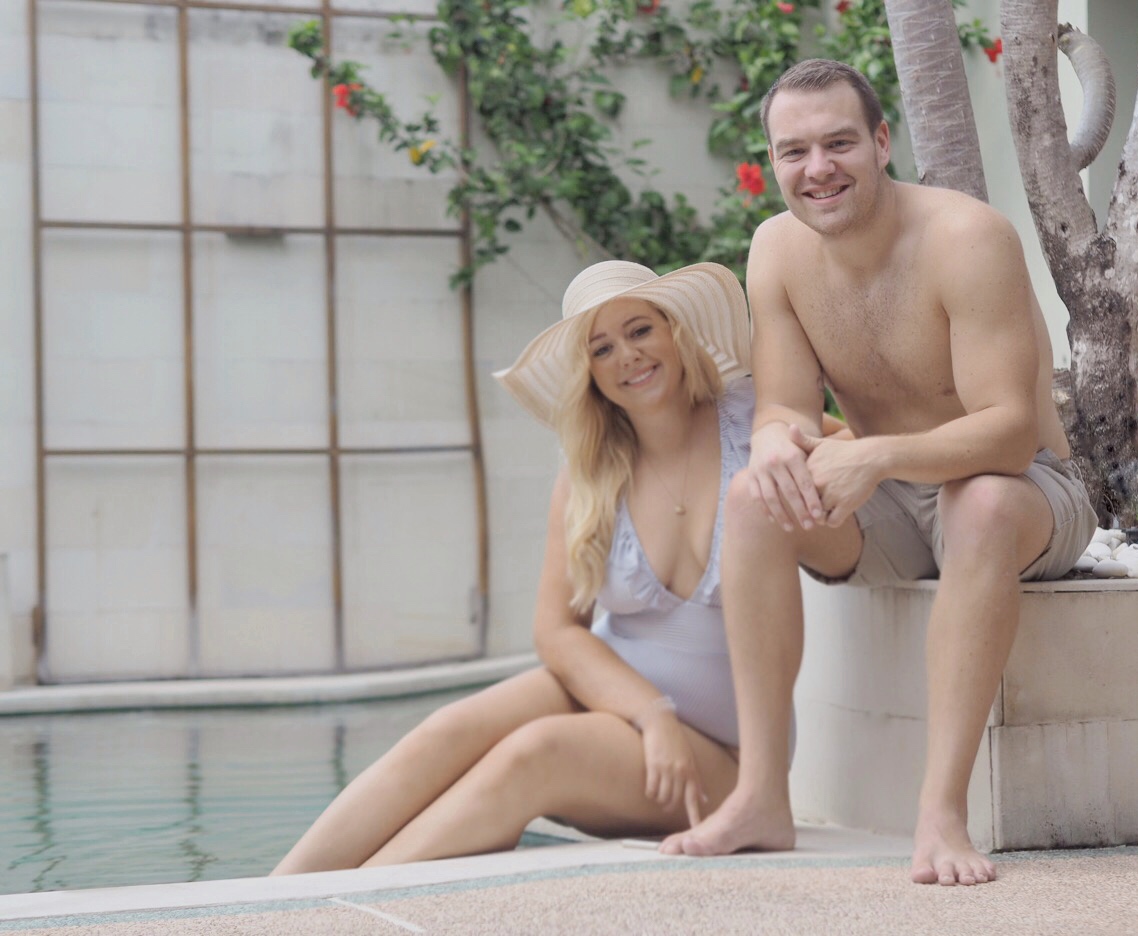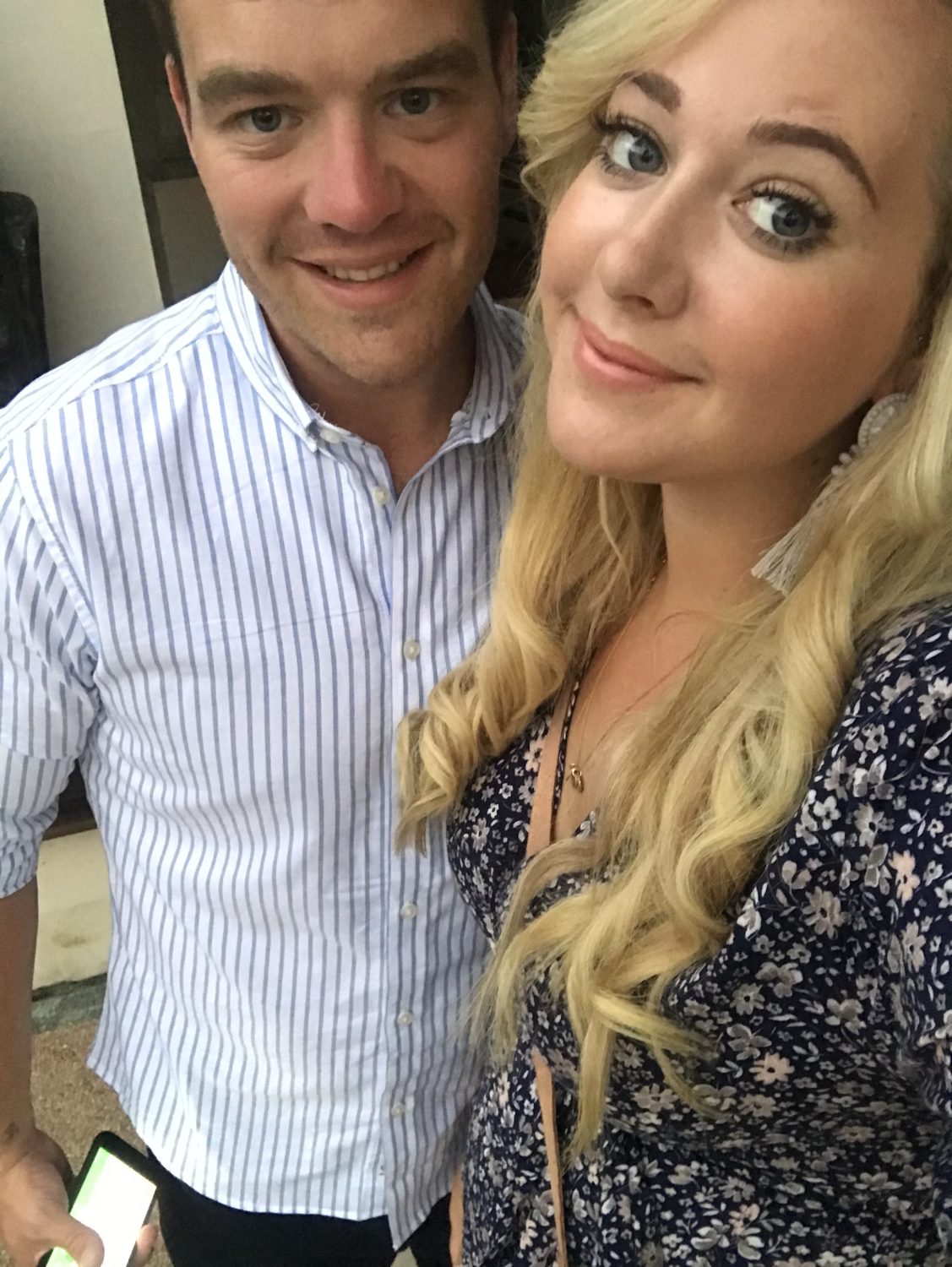 Happy to answer any questions too so fire away, sorry this is the longest post in the history of the world…
Love,